Where I live, the selection of beer and wine can be pretty dismal. Especially when quarantines are concerned. Normally, we get by with White Claws and Colt 45s, but I needed some fresh beer for my best friend's birthday. He's a brewer, so quality was needed, and rumor has it the freshest shop around is Fattey Beer Co. (fattey.beer)
Located at 5 Genesee Street in downtown Buffalo's Roosevelt Plaza, Fattey Beer Co. has all the trappings of a subtly posh cafe. When I visited, a few groups of patrons were sitting outside, all properly social distanced. Some with kids, some on break. All the age-appropriate folks were enjoying a fresh pour, and a few were snacking down on some banging hot chicken sandwiches.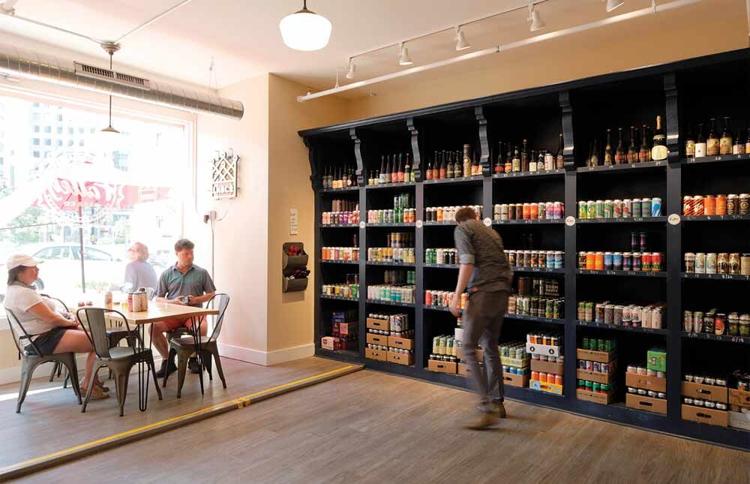 Inside, the shop is clean and stylish with a color palette I like to call "Hudson Valley coffee bar." The space is bright and open, with an old fridge for shower beers. Episodes of The Office play back to back, and PBR hard coffee is in the slushy machine. The chalkboard menu has current offerings on tap and a list of phone numbers in case you'd like to order a pizza. A quick air-fried hot chicken sandwich is available to take care of any liquid lunch woes. Fattey also sports one of the only mug clubs I've ever felt inclined to join. The staff is knowledgeable, and not a shred of booze world arrogance can be found. Only the beer and the customers are taken seriously; everything else is set to max chill. This trend of humility has been growing in the beverage world. If the beer scene is stigmatized with bros, then Fattey is one of the effusive, self-aware cool kids whose only fault is that they look better in Sperry's and chubby shorts.
The selection here is thoughtful with offerings that mirror the current local trends. There are various styles of IPA, a few stouts, a good chunk of sours, some nice quaffers, and some bottled ageables. Local offerings are plentiful, especially from the 585 region. While COVID has hampered availability, the selection seems aesthetically limited without feeling restrictiv—like if a beer geek took over a bodega and wanted to make sure no compromises were made, with a tight selection that turns over fast, allowing for fresher, more exciting options.
I was hooked early on when I heard about the unabashed Phase 1 offering: a pack of Ramen and a can of PBR with every curbside sale. I waltzed in during Phase 3, so I was able to grab a pint and a hot chicken sammie. I sat in the courtyard admiring the bustle and architecture of downtown. I expected an ordinary trip to a bottle shop, leaving with my pockets a little emptier and my head a little fuzzier. Instead, I left feeling a bit more pride in what this city has to offer.