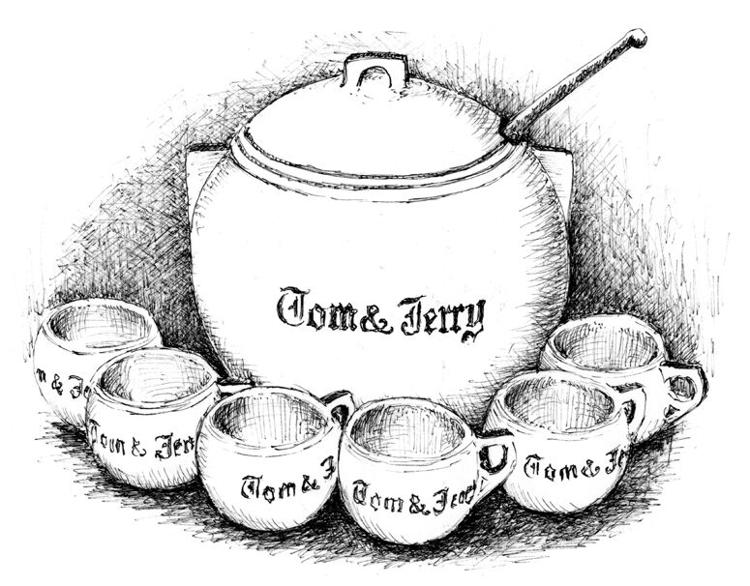 As a region we cling with pride to food traditions, and one of the lesser known—reserved for the weeks surrounding Christmas when snowy nights and holiday lights are even prettier seen through foggy pub windows—is the eggnoggy Tom & Jerry. (See recipe below.)
This sweet elixir blooms with warmth in the belly, imparting a good bit of cheer along the way. Most interpretations include a simple blend of spices, warm dark rum and brandy topped with a cloud of creamy-sweet meringue mixture made by whipping carefully separated farm fresh eggs. Despite the impracticality of serving a from-scratch nog in a contemporary bar setting, the old-fashioned Tom & Jerry remains a favorite of WNYers and the denizens of other cities surrounding the Great Lakes. Though its provenance is unclear, the Tom & Jerry is over 150 years old. Its staying power might be attributed to its ability to turn even the harshest winter night into a festive eve.
History has a way of becoming muddled and, when it comes to food, it seems even cloudier, since there is no shortage of people willing to take credit for the invention of a notable edible. Boozy beverages are no different. Some suggest that the Tom & Jerry was invented in 1820 by London writer Pierce Egan for the sole purpose of garnering interest in his book, Life of London: or Days and Nights of Jerry Hawthorne and His Elegant Friend Corinthian Tom. Another tale claims that the first celebrity bartender, Jerry Thomas, who authored one of the first bartending guides, How to Mix Drinks (c. 1862), concocted the beverage.
After all this time, it's clear that the circumstances of the drink's birth are relatively unimportant. Even those who foolishly believe that it was named after a rivalrous cartoon duo can attest that the Tom & Jerry is here to stay.
In the 1950s, Tom & Jerrys found a foothold among the fashionable cocktail set. Punch bowls with matching mugs bearing the beverage's moniker were a common sight at holiday shindigs. They were in such demand that many have survived and the full sets are easily found online or in local antique shops. They make a fun holiday gift and can help bring a vintage vibe to any seasonal soiree.
I offer my recipe below, with variations. The most widely available recipe calls for the addition of warm water to the frothy batter. But after some well-tested experimentation I've found that most people prefer the version available here, which uses warm milk, coffee, or a combination of both. I suggest that each person play around a little with the ratios to find a recipe that best suits their taste.
As with traditional eggnog, Tom & Jerrys require the use of raw eggs. Please be advised that many organizations, including the FDA, advise against the consumption of raw eggs. To be on the safe side, exercise caution. Buy your eggs fresh from a local farm, and don't allow the Tom & Jerry meringue batter to sit around at room temperature for extended periods of time. Grab the closest Christmas cookie for dunking, sit back, and enjoy.
Tom & Jerry
serves 10
5       eggs, separated
1/2    cup powdered sugar
1       cup brandy, warmed
1       cup dark rum, warmed
1       tsp quality vanilla extract
1       tsp cinnamon
1/2    tsp allspice
1/4    tsp nutmeg
Whole milk or coffee, warm (I suggest a blend of milk and coffee)
In a large, very clean bowl beat the egg whites. Add the powdered sugar gradually, beating until the whites begin to form stiff peaks. In a separate bowl, beat the yolks, vanilla, allspice, cinnamon, and nutmeg until combined. Carefully fold the yolk mixture into the egg whites.
Serve each drink by placing half a shot of brandy, half a shot of rum, and as much warm milk or coffee into the mug as you like. Top liberally with the yummy, frothy egg batter and serve.
Former Spree food editor, Christa Glennie Seychew, enjoys Buffalo's quirky food traditions and Tom & Jerrys are one of her favorites.