Always Something Farm
344 Sumner Road.
Darien; 536-2135 or Facebook: Always Something Farm
Moriarty's Meats
23 Grant Street
860-5200 or moriartymeats.com
---
A Mangalitsa pig looks like an ancient beast, the kind rendered in pen-and-ink illustrations that might accompany a woodsman's account of the wild things he encountered in a dark forest. Their high, rounded backs slope down to giant, droopy ears that nearly cover their eyes as they snout around the mud looking for roots, bugs, and other tidbits. Coarse, wiry fur in shades of red, white, and black covers their massive bodies, making them well-suited for colder climates; they'll shed their coats when summer comes along. They're a mid-nineteenth century Hungarian breed that's a cross between a wild boar and a domestic pig and can weigh up to 450 pounds by the time they're ready for market.
Despite their size and formidable appearance, these fuzzy animals are docile giants. In the pastures at Always Something Farm in Darien, the Mangalitsas come when called and roll over for belly rubs from farmers Michael and Stephanie Parkot. The Parkots are part of a small number of farmers who are trying to bring this heritage breed back from the brink of extinction; by the early 1990s, there were only about 200 left in the world. The breed has only been in the United States since 2007, and they're still hard to come by. After driving hundreds of miles to acquire each Mangalitsa, the Parkots have started a breeding program on their farm with the first piglets due to farrow early this summer. These beasts share six rotational pastures with nineteen other heritage cross pigs, 250 chickens, a family milking cow, two horses, a pony, and a pair each of dogs and children. The pigs particularly like the back sections of the four-year-old farm's forty-two acres, where they find treasure troves of wild blackberry roots and fallen apples in the hedgerow. Michael broadcasts root vegetable seeds into the pastures so the pigs can root for treats and aerate the soil at the same time.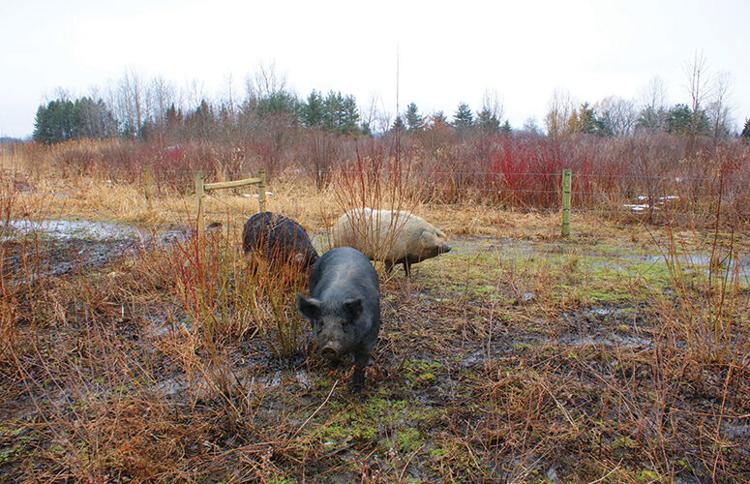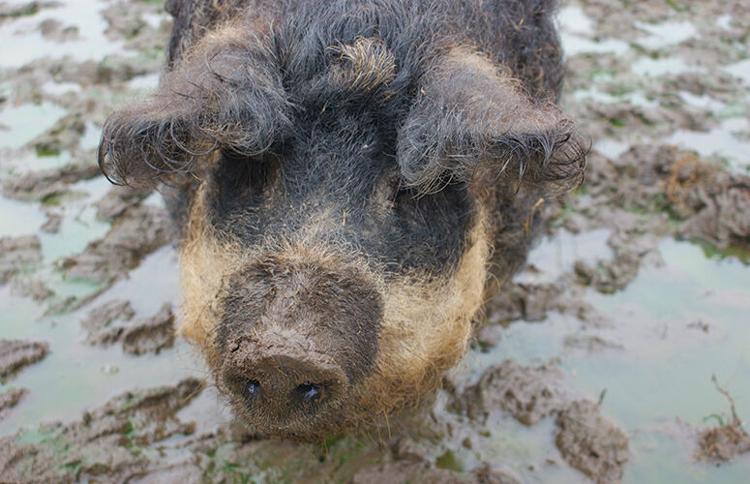 Aside from outward appearance, two related traits that set Mangalitsas apart from other heritage breed pigs are how long they take to mature and a high fat-to-meat ratio. While most pigs take just six to eight months to reach market weight, a Mangalitsa takes eighteen to twenty-four months. During that extra time, the lard breed pigs will slowly develop pure white fat in all the right places. As people have come to realize that sugar–not fat–is what's driving this country's obesity problem from a diet perspective, more chefs and home cooks are turning to heritage breeds and traditional cooking where fat plays an essential role in flavor and nutrition. As such, old world livestock raised on pasture is coming back into favor. In recent years, the Mangalitsa has been nicknamed the Kobe beef of pork, with price points to match, given their longer lives, smaller litters, and relative rarity.
The prized fat becomes most apparent when the hog reaches the hefty antique butchering block at Moriarty Meats, a new whole-animal specialty butcher shop on Grant Street, formerly owned by legendary Italian West Side butcher Frank Zarcone & Sons. Tom Moriarty, a laid-back thirty-something French-trained meat cutter and his wife Caitlin bought the shop, cleavers and all, from the Zarcones when they retired, and opened their own version of a neighborhood butcher shop earlier this year. Tom sources whole animals from local farms like Always Something, spends the week breaking them down into popular and harder-to-find cuts, and opens the doors on Saturdays from 10 a.m. to 5 p.m. to sell that week's fresh meat at the front counter and previous weeks' offerings from rows of old-school freezers along the walls.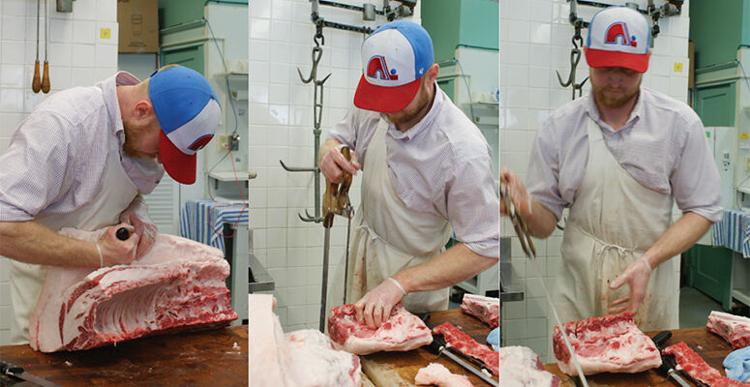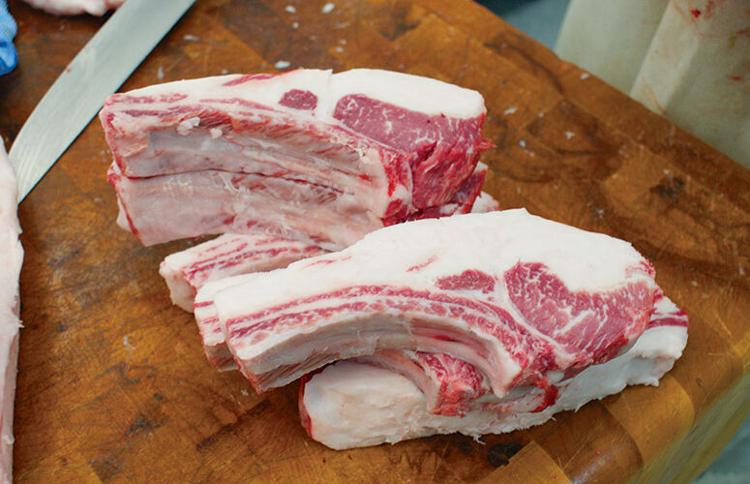 Tom slices into a side of Mangalitsa, revealing a fat cap that's nearly four inches thick–almost triple what's found on a standard pig. The leaf lard inside is soft and spreadable, even when cold, and pure white–the animals don't eat corn or soy, which can turn the lard yellow. This fat is ideal for baking and charcuterie, and there's plenty of it.
Amid the layers of fat, Tom carefully carves out the St. Louis ribs, the shoulder loin, then the roasts, chops, cutlets, and hams. The Mangalitsa's dark, beautifully marbled meat looks more like steak than the pale conventional common pork chop. Seared in a hot skillet, a Mangalitsa chop behaves like a bacon-wrapped porterhouse–a crust of crisp browned fat on the outside, dark meat basted in its own rendered marbling within.
The cuts of this particular Mangalitsa are destined for homemade charcuterie aficionados and restaurant chefs who will use every inch of the animal in modern takes on heritage techniques. They'll make pastry crusts, tortillas, bonbons, and salted whipped lardo from the prized fat. Precise cuts of meat will be transformed by salt, smoke, skill, and time into bacon, dried sausages, pâté, rillets, fall-apart ribs, and more. Even the trotters, ears, tail, and nine-pound jowls will be celebrated on a plate. It takes Tom up to five hours to break down half of a huge Mangalitsa pig, but only three for a standard-sized hog.
For now, Always Something Farms have a handful of Mangalitsas. Most are spoken for before they head to the slaughterhouse, but curious eaters can reserve portions directly with the farm (and go out to visit the piglets starting in June), or find special preparations occasionally at Roost in Buffalo (chef Martin Danilowicz was the one who encouraged Michael to raise the breed in the first place), Yoshi in East Aurora, or Black Sheep in Buffalo.