Little Woods Farm owner Teresa Kaczynski didn't grow up dreaming of being a farmer. Instead, the first-generation Polish American who spoke two languages at home became an English as a Second Language teacher. But, when two kinds of seeds—one for tomatoes, one for knowledge—fell into her hands later in life, Kaczynski couldn't ignore the signs that a land-based profession might be calling.
Soon after her family built their house on four acres in Alden, Kaczynski heard that the nearby Oles Family Farm was offering worker shares as part of their Promised Land CSA. In exchange for four hours of work each week of the twenty-six-week season, working members earned a heavy box of farm-fresh produce at the end of each shift. As a teacher with summers off, Kaczynski called Jane Oles and signed up immediately. The work was tedious but, while some workers didn't return after a few mornings spent painstakingly weeding tiny salad greens and pulling stalks of rhubarb in the early summer sun, Kaczynski was hooked.
Weeks into her new farm stint, Kaczynski happened upon the book Woman-Powered Farm: Manual for a Self-Sufficient Lifestyle from Homestead to Field by Audrey Levatino. On the cover, a woman with her hair pulled back confidently maneuvers a massive tractor through a field. The image felt like a well-timed omen. While she enjoyed teaching in a classroom, Kaczynski was thriving in the outdoor environment of farming and constant learning. These were lessons she could share with her own three children, who would grow up with a solid work ethic and know exactly where their food came from. "I could do that," she thought. "Why not?"
The practice of growing food was not entirely foreign to Kaczynski. Her father kept a huge vegetable garden every summer of her youth, and she'd pitched in planting, tending, and picking. But the difference between gardening for one family and farming to feed hundreds was vast. Kaczynski knew she had a lot to learn, and that she already worked at one of the best places to do so.
The Oles family, particularly late patriarch Daniel Oles, is known throughout the Western New York farming community for generosity with knowledge. They've helped nearly every young local farmer in some way, sharing answers, compost sources, equipment, and time. Kaczynski was already entrenched in the farm as a member worker and began spending more time apprenticing on the land and soaking up the Oles' expertise. She learned how to drive a tractor. Trellis cucumbers. Sow thousands of seeds in trays full of tiny soil compartments, staggering them by days or weeks to provide a continuous supply of seedlings to transplant into the fields. Size up a veggie in seconds to pick it with the kind of efficiency needed when the next tasks loom large.
"I wouldn't have done this if I had to look it all up on the internet," she explains. "I'm visual, and I have to see it in action."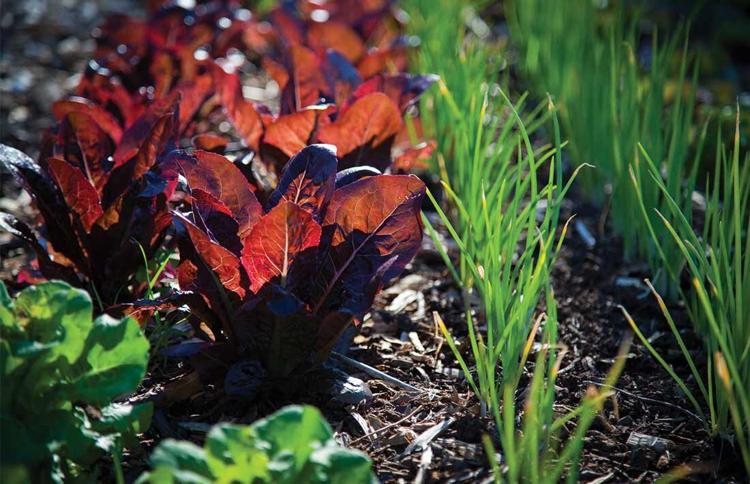 With a few years of apprenticeship with the Oles, Kaczynski went to Alden Town Hall and officially registered her own farm as a business in 2016. She named it Little Woods Farm for the quiet forest at the edge of the field where she planned to grow veggies. The woods began as an apple and pear orchard a century ago, with forgotten fruit trees still standing among newer ash, maple, locust, and beech.
As Kaczynski began to envision what she might grow, one crop was a given: yellow tomatoes sown from seeds her family had been saving since World War II.
During the war, Kaczynski's grandfather was an officer in the Polish Army when Germany  invaded Poland in 1939. Rather than being taken as a German prisoner of war, sent to a concentration camp, or shot on the spot, Kaczynski's grandfather and his fiance went into hiding with her brother, a priest in a Catholic parish in Brzeziny. There, he secretly married his bride, masqueraded as the priest's gardener, and saved seeds from the sweet yellow tomatoes he tended in the church garden.
Kaczynski's grandfather gardened for just one year before he had to flee when the SS arrested his brother-in-law and took him to Dachau (he survived). Over the next eighty years, those seeds traveled with the family throughout Poland, sometimes going twenty years or more without being planted as the family moved around.
Kaczynski's parents left Poland for Buffalo in 1978. When her father and she returned to Poland for her grandfather's funeral in 1981, her father collected seeds from the last yellow tomatoes her grandfather planted. Her father then grew them in the family gardens in North Buffalo and in Alden throughout Kaczynski's childhood. Now, they're a a customer favorite on Little Woods Farm.
The Kaczynski yellow tomato sparked an interest in unusual color and heirloom pedigree throughout the other plant varieties on the micro farm. Planted alongside every color of tomato available are strongly flavored pink celery; a rainbow of carrots; a Mardi Gras trio of beans in yellow, green, and purple; ruffled, copper-colored heads of lettuce; candy cane striped beets; black eggplant; pale silver slicer cucumbers; cut flowers that span the spectrum; and every shade of green in peas, basil, kale, salad greens, cabbage, striped watermelon, apples, leeks, and more. She saves many seeds from year to year and buys countless others as new varieties emerge.
"I like color a lot," admits Kaczynski. "And I'm still in awe of how pretty things are when they come out of the ground. Some girls collect purses. I collect seeds."
Little Woods got even more colorful when the farm's first animals arrived three years ago. Several of fifty laying hens peck at the grass around the Kaczynski kids' swing set. At the edge of the woods, bee boxes painted in pastel colors hold hives Kaczynski hopes will yield enough honey to start selling this year. Nearby, nineteen Freedom Ranger meat chickens enjoy the shade of the poultry palace built by her husband, Ken. The cabin-like tiny home provides shelter, bedding, and laying boxes where the hens deposit a daily cache of eggs in brown, white, and blueish-green. Later this summer, a few dozen Thanksgiving turkey chicks will join the feathered community at Little Woods. The family's two pet rabbits escaped from the house and now roam free permanently. Two roosters stand watch over the farmyard with the help of Silo, a fuzzy black Goldendoodle puppy who has been known to fall asleep on the job.
Managing the menagerie, the fields, and a family hasn't always been the utopia many envision when they muse about "just getting some land and starting a farm." A torrential downpour in the farm's second year sent a river running through the freshly planted beds, washing away the seeds. The chickens started a dangerous habit of dust bathing in the middle of the dirt road. Some veggies struggled in the greenhouse after thriving there the previous year. Raccoons, coyote, and a rumored bear in the area pose a constant threat to the chickens and bees.
"I am a worrier," says Kaczynski. "But I've learned to let it go. There's so much you can't control, so you do what you can do, and let the rest go. There's always something going well."
Little Woods Farm was a regular at the Alden Farmer's Market for its first few years. But, as interest in her produce grew along with the market's COVID-19 restrictions earlier this year, Little Woods Farm switched to CSA share distribution and welcomed its first fifteen member households. Two share sizes, small and family-sized, offer a base selection of produce plus the opportunity to customize the haul with additional veggies each week. The switch to a CSA model means fewer hours spent sitting at a market table and fewer veggies wasted when picked for market and left unsold.
Farming is still a constant study. In addition to tending her own land nearly full time, Kaczynski continues to work at the Oles' as many as thirty hours a week. She lends a practiced hand to their daily operations while learning how to improve Little Woods—including better ways to stake her family's storied yellow tomatoes so they'll thrive for generations to come.