Lucy Meifield partners:
Sara Chetkin Saelens, multitasker; Brecht Saelens, chocolatier
Location:
Lucy Miefield, 17 S. Main Street, Cassadaga; 617-794-3740, lucymeifieldchocolate.com
About the Saelens:
Sara attended an ICA chocolate program and baked at Baraka in Cambridge, MA. She's also a licensed acupuncturist. Brecht is a medium, graphic designer, and has been working in chocolate for almost two years.
Chocolate lovers, rejoice! Western New York is now home to two bean-to-bar chocolate makers. In 2015, our region's first bean-to-bar chocolatiers, Dark Forest, opened in Lancaster. Then, in 2017, Lily Dale residents, coffee shop operators, and happily marrieds Brecht Saelens and Sara Chetkin Saelens launched a chocolate business in a quiet Chautauqua County village best known as the home of a longtime spiritualist community.
Almost a decade ago, Sara met Brecht, a native of Belgium, at a retreat in rural Georgia. The two were wed soon after and settled in Cassadaga. Sara's Lily Dale coffee shop, Lucy's, found loyal customers early on, and Brecht's passion for chocolate and his limited access to the quality of chocolate he was accustomed to led him to order some home equipment to do research. Lucy Meifield (a conjoining of their middle names) functions as an addition to the coffee shop, and its single origin chocolate wrapped in brilliantly colored labels has been winning fans ever since. (A list of local retailers carrying LM bars can be found here.)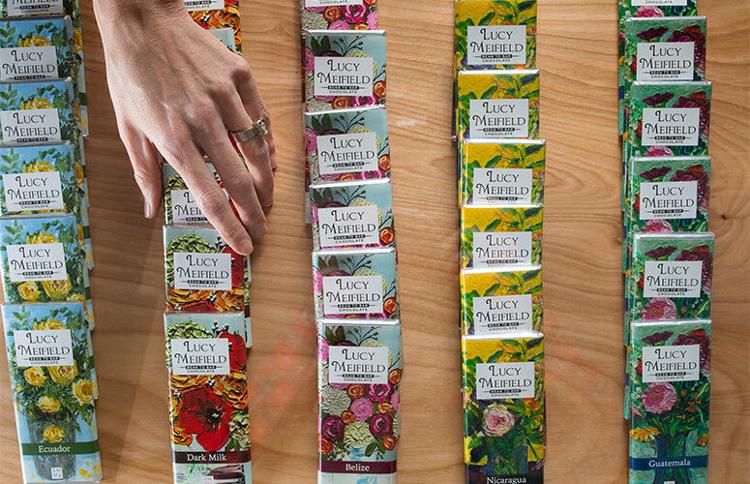 What attracted you to chocolate work and the chocolate business?
Brecht Saelens: [Once] I began experimenting, I enjoyed the process so much, and people seemed to really love the chocolate I was producing, so we started thinking bigger. The business grew out of that.
What made you think Lily Dale was ready for bean-to-bar chocolate?
SS: Chautauqua County is really flourishing; people are beginning to recognize the wealth of artisans and craftsmen that we have here. We're very excited to be a part of that movement.
Tell me about your beguiling labeling?
SS: We wanted to send some bars to friends for taste testing. We didn't have wrappers, so we used pretty pages from magazines we had at the house. We loved how it looked and thought it would be fun if we could [work with] artists. Now, we purchase work we love with the artist's permission to use the pieces on our packaging. You can find the artists' names on the backs of the bars.
What are the biggest challenges your business is facing?
BS: Educating people that single origin is not comparable to commercial chocolate. But I am excited to be at the beginning of this bean-to-bar chocolate wave. It's been going on for quite some time in major cities.
What was your first and/or most influential chocolate experience?
BS: My parents are friends with owners of a large chocolate factory in Belgium, and, when I was six, we jumped into a six-by-eight-foot tub filled with small wrapped chocolate eggs. That was beyond awesome!
SS: When I was a kid, my mom baked cakes frequently. We used to make a cake from Julia Child's The Way to Cook; it was called the Cambridge Cake. You had to melt chocolate and spread it out on parchment paper until it set just enough so that you could wrap it around the cake. A cake wrapped in chocolate—that was my dream come true!
Name your favorite way to enjoy LM chocolate besides eating it directly from the wrapper?
SS: We make boterwafels, which are these incredible Belgian waffles. They're closer to a cookie in density and are meant to be eaten by hand. I melt down our Guatemala and coat the waffles with it. You can eat it right away or let the chocolate set. They stay fresh for days and they are the best snack.
BS: I like to break up the chocolate and piece it together on bread with butter.