Jazzboline
5010 Main Street, Amherst
839-2220, jazzboline.com
Located next to upscale boutique hostelry Reikart House, Jazzboline Restaurant & Bar offers a lively atmosphere for everything from happy hour cocktails to intimate dinners. The restaurant's inspiration is tied to the legacy of the Reikarts, who, after years of performing on the Vaudeville circuit, relocated to Amherst. Frank and Dolly Reikart operated a variety of shops at their homestead on Transit Road in the early 1900s, and hosted many visitors, including fellow entertainers. They became well-known for their hospitality and entertainment, which served as inspiration for the restaurant, named for Frank Reikart's most popular musical creation, the jazzboline—an instrument with an angular body that's played like a banjo.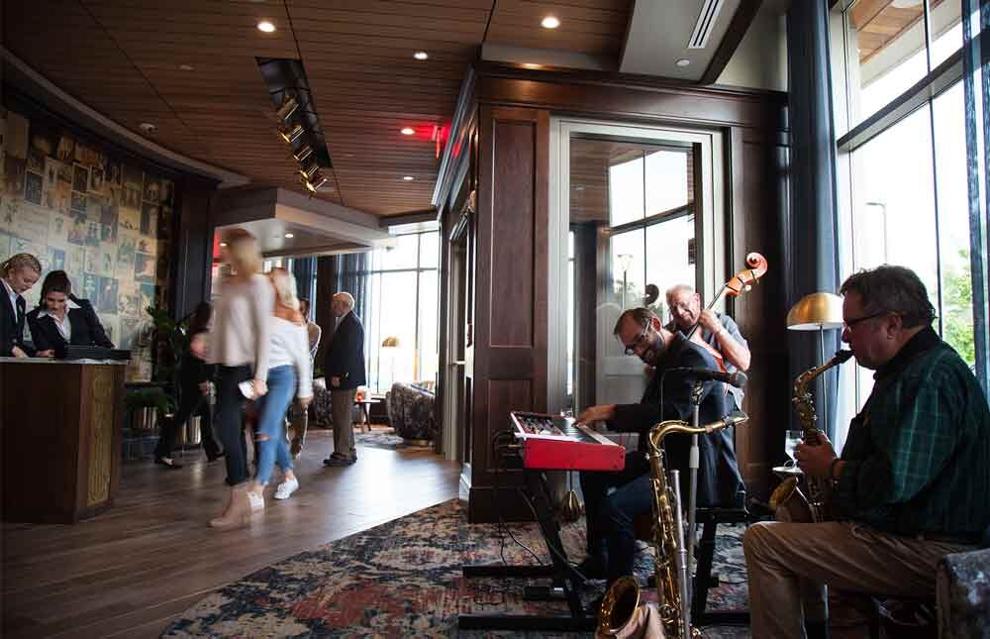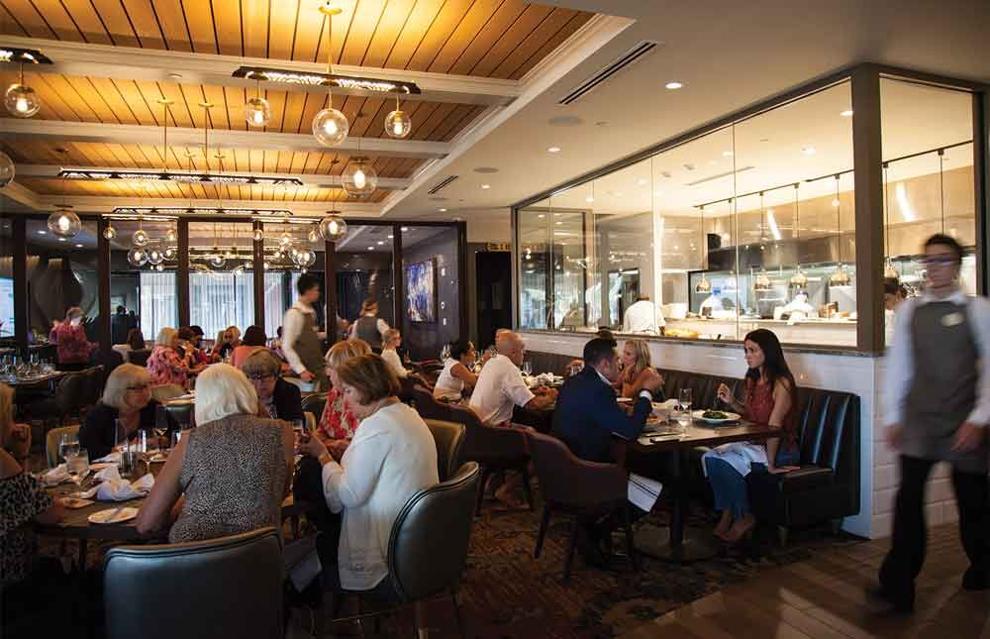 The restaurant's setting is nothing short of sumptuous, with sparkling furnishings and a grand feeling to its dining room. The menu—provided electronically on an iPad—is rather lengthy, featuring a long list of starters, soups, flatbreads, handheld sandwiches and burgers, sliders, shared plates, salads, entrées, and desserts. There is a long wine list and a short but solid list of cocktail options. The cuisine does not have a theme beyond, perhaps, New American, but the restaurant demonstrates a desire to be inventive, entertaining, and wholesome.
Of the small plates we tasted, the lamb ribs stood out most. The grilled ribs are tangy, sweet, and saucy, thanks to Appalachian Brewing Company root beer. The portion size is ample and perfect for sharing. The gluten- and lactose-free offering paired well with a herbaceous basil gin gimlet.
Perhaps the surprising hit of the meal is the Jazzboline burger, thanks to handground beef, decadent house sauce, and habit-forming pretzel bun. Topped with bibb lettuce, tomato, red onion, fresh pickles, and cheddar, the burger has every component necessary to make it a classically prepared favorite. It is served with housemade potato chips, which are as addictive as the pretzel bun. It's a straightforward winner.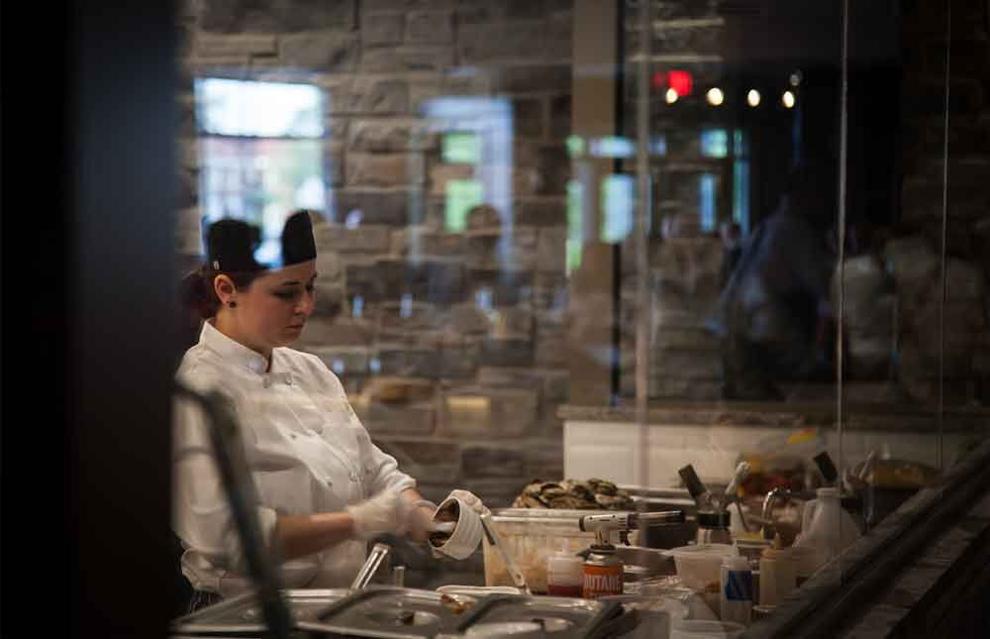 The restaurant is well equipped to serve larger groups, with its expansive dining room and array of larger tables. In line with the physical space, the menu includes a section titled Family Gathering and Sharing, including large plates made for passing. Choose from a seafood broil, local farmraised chicken, pork trio (tenderloin, pulled shoulder, and roasted belly), and Dolly Had a Little Lamb (lamb ribs, lamb pastrami, and slow roasted leg). All are served with the restaurant's signature Brussels sprouts and choice of herb roasted fingerling potatoes, rosemary garlic mashed potatoes, or cheese risotto.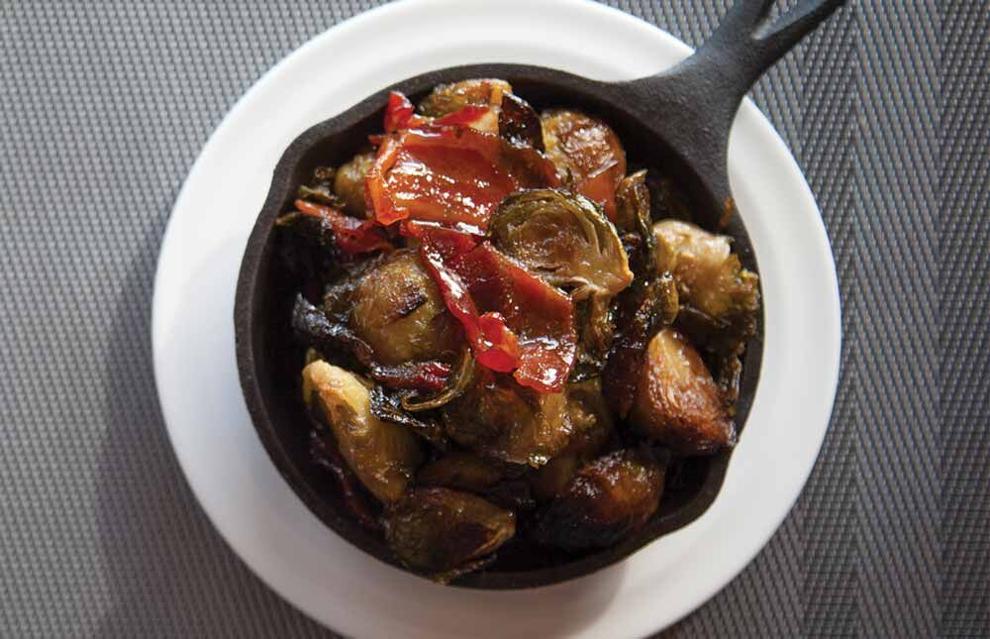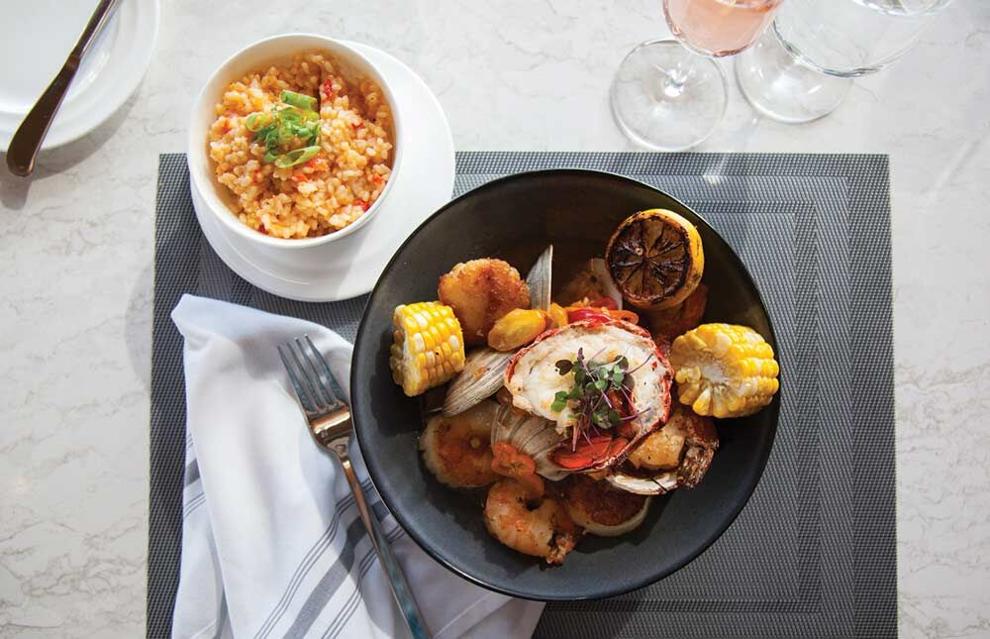 Our party could not resist the seafood broil and its intoxicating fragrance. It features a split lobster tail, scallops, clams, shrimp, and corn on the cob nestled in a light broth flavored with Old Bay. It's a dish reminiscent of a summer party in a coastal town; if you see a server bringing it to another table, it's nearly impossible to resist. Our server recommended the cheese risotto as an accompaniment, but the potatoes may have better suited the dish. The Brussels sprouts sounded like a sure bet, accompanied with smoked bacon and maple syrup, but they fell short of expectations. The only crispiness came from the crunchy pancetta. Thankfully, the seafood was fresh and its simple preparation was appropriate. The downside is the inadequate size for a plate that's intended for sharing.
After surveying the dessert offerings, we consulted the server for a recommendation. Brick oven strawberry-rhubarb crumble ($10) was on our short list and a favorite of the waitstaff at the restaurant so, despite its lack of seasonality, we gave it a chance. Studded with streusel and topped with Frank & Dolly's housemade vanilla ice cream, the crumble proves that dessert need not be flashy to be delicious. It is a humble and well-executed dessert for fruit lovers. Bonus: it's enough to share.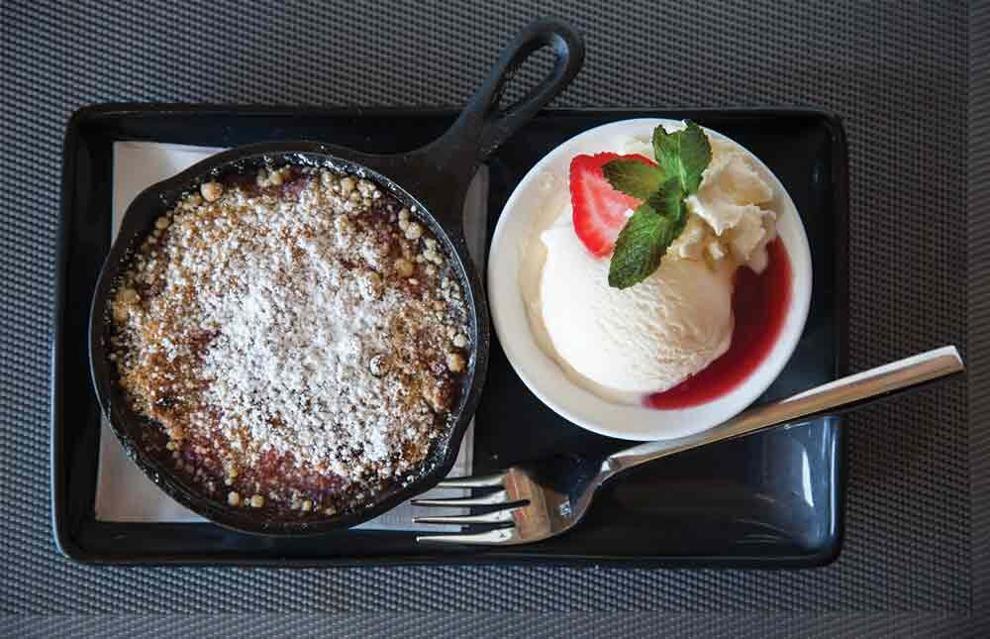 If you're craving a bit of opulence for your next dinner outing, or if you'd like to have a fancier spot for happy hour drinks, try Jazzboline. The menu has plenty of options so you can enjoy the luxurious ambiance while you eat anything from Oysters Rockefeller to beef on 'weck. The Reikarts would be happy here.