Lime House
424 Evans Street, Williamsville
276-3522, limehouserestaurant.com
Remember when Buffalo had one good Vietnamese restaurant and just a few Thai places? When the idea that a small but growing immigrant and refugee community would transform our local culinary scene was mostly just a fantasy? As recently as a decade ago, Burmese food was rarely found in Buffalo outside of private homes, small markets, and houses of worship. I was lucky enough to try it at one of the first Taste of Diversity festivals and, despite how delicious it was, I couldn't have imagined how quickly it would join wings, 'weck, and pierogi in the pantheon of local favorites.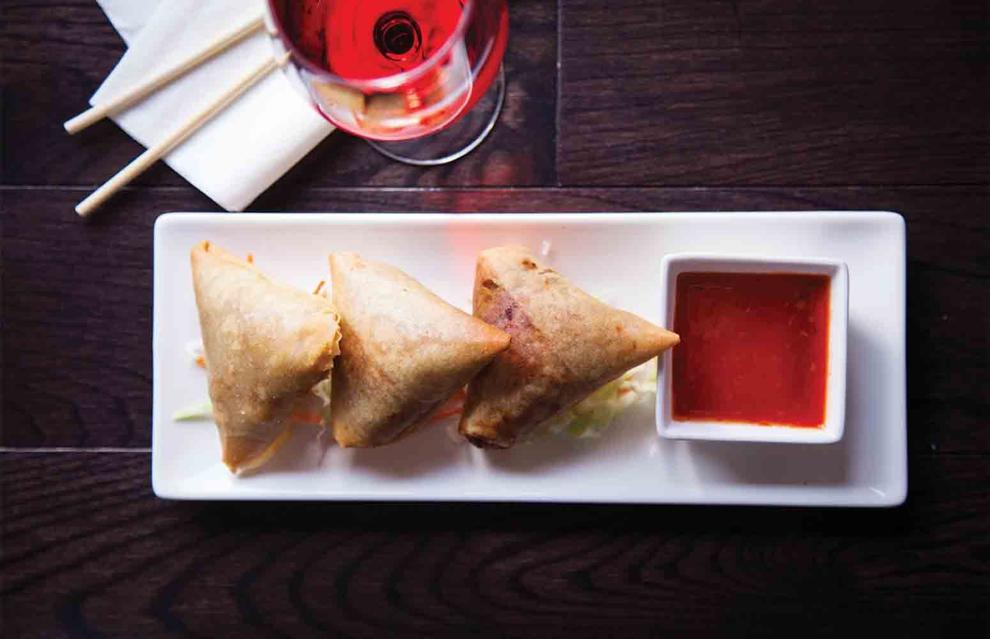 Today, the chicken coconut curry soup known as Oh No Khao Swe is seen on coffee shop and lunch counter menus around the region, and at least a dozen Burmese restaurants operate around Western New York. Many offer, alongside authentic Burmese dishes, Thai, Korean, or Vietnamese favorites. In the case of Lime House, which opened in a Williamsville plaza last year, Burmese specialties are joined by dishes like sushi, edamame, and dumplings.
Very hungry after work on a weekday evening, upon sitting down at Lime House, I quickly ordered a tofu tempura happy hour special before even looking over the full menu. I had forgotten that in a Burmese restaurant, "tofu" means something a bit different than folks used to eating in East Asian restaurants may be expecting. Rather than being cultured from soybeans, Burmese, or Shan, tofu, is made from chickpea flour (great for those who avoid soy). When battered and fried, its texture is less firm/jiggly like soy tofu and more creamy; it is also yellow, not white. Served very fresh, crunchy, and hot from the fryer with a sweet chili dipping sauce, the fried shan tofu makes a great happy hour snack and took the edge off our hunger.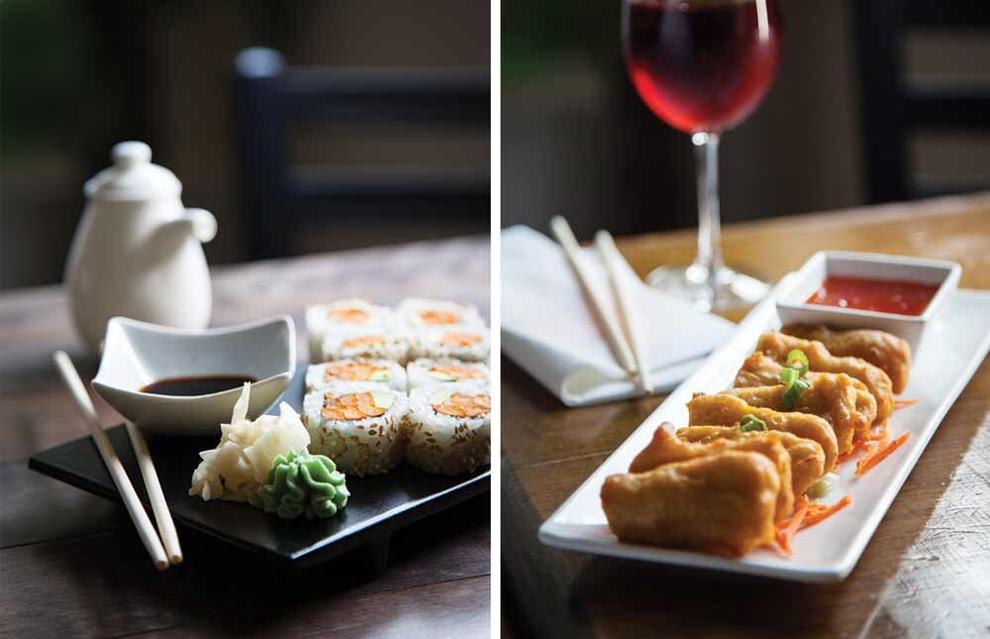 Sushi takes up quite a bit of the menu here, with basic rolls like yellowtail and spicy shrimp, and specialty rolls such as miso caramel crab and salmon firecracker. We tried the sweet potato tempura—a personal favorite at any sushi spot, a kind of sushi alternative to a French fry or hash brown—and the shrimp tempura. Both delivered just what one would expect from a sushi roll: light flavors, room temperature rice, and nori wrapper with just the right amount of bite.
We also tried the tea leaf salad, somewhat of a menu standard at local Burmese restaurants. Here, a dominant flavor of fried garlic played against peanuts, shredded fermented tea leaves, cabbage, crunchy broad beans, and tomatoes. The fish sauce flavor was not so heavy and pungent as in some tea leaf salads around town; the dish seemed to lack a little bit of acid despite the fermented leaves—maybe a  little vinegar or lime juice could have been added. But we enjoyed the crunch and the variety of flavor elements.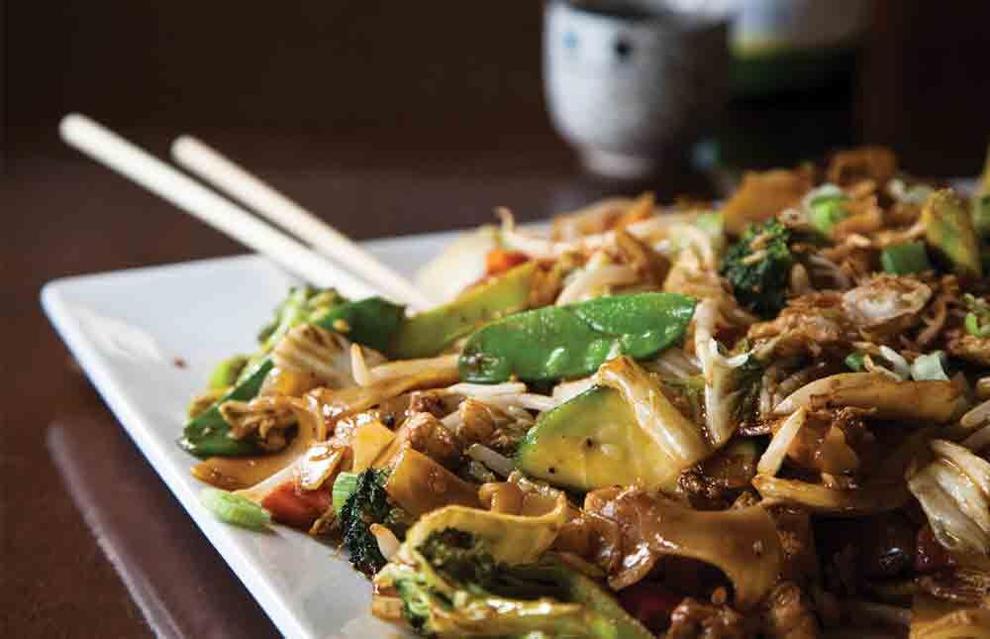 A friend tried the Kat Kyay Kite, a Burmese noodle dish that may be a bit too spicy for some American palates. The wide, flat rice noodles, similar to what can be found in Pad See Ew and other Thai noodle dishes, are well prepared, soft but not gummy, and, despite the heat, the sauce was highly flavorful.
The Burmese menu is fairly truncated and does not include Mohinga, the catfish stew often called the "Burmese national dish," (a description backed up by a family member of mine who visited Myanmar last year). It does, though, include what it describes as noodle soup with chicken, coconut cream and egg noodles. Also included are chicken, shrimp and egg curries, stir fries, noodles, and ramen made with pork or duck.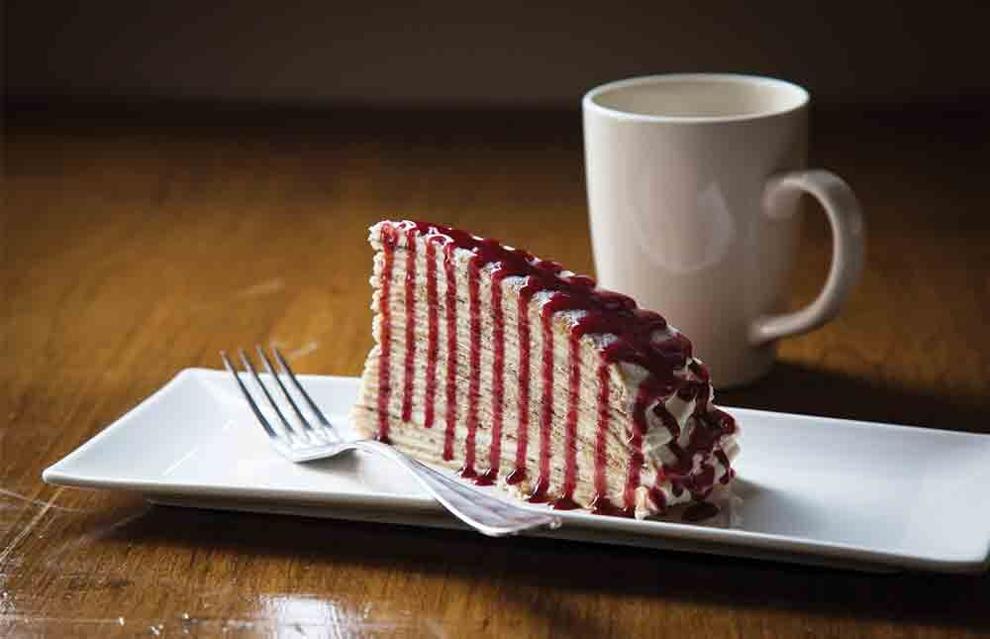 The dining room here is casual, but not overly so, with festive lighting and table service. Beer, wine, and cocktails are available, as well as desserts, which include mochi ice cream and an intriguing-looking crepe cake. Whether you are in the Northtowns looking for a quick stop for takeout sushi or an authentic Southeast Asian curry or noodle dish, add Lime House to your list of top choices.