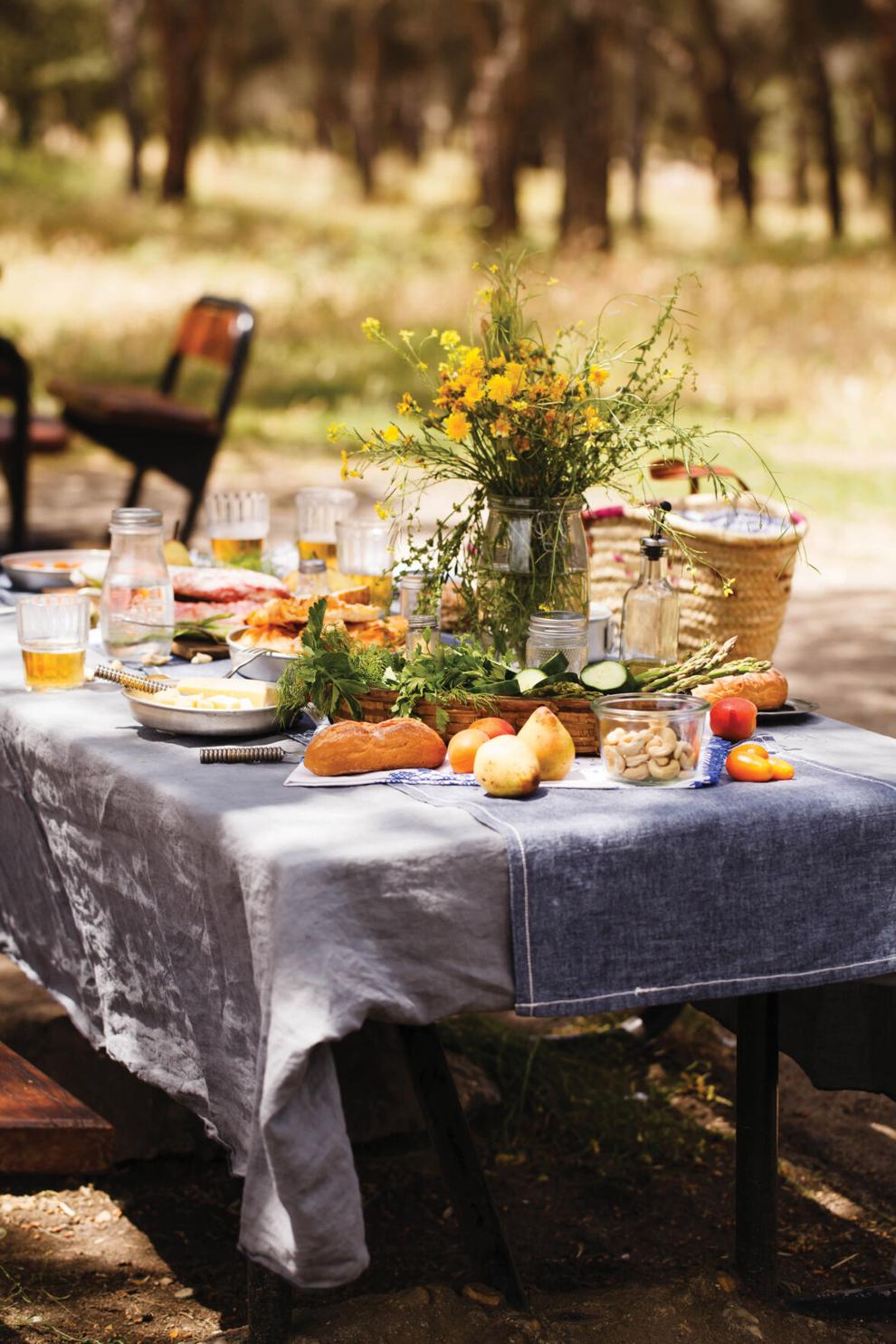 Chef, author, and television personality James Beard is often called the father of American cooking. His interest in both simple American dishes and refined, elegant fare confused some. His idiosyncratic ideology stood out in the otherwise class-centric world of cuisine. He also loved a picnic, a meal that clearly illustrates his embrace of food at all levels of sophistication. 
In 1960's James Beard's Treasury of Outdoor Cooking, his picnic menus run the gamut. "Snack Picnic" recommends a menu of Bloody Marys, sliced meats and cheeses for sandwiches on pumpernickel with pickles and mustard, hot coffee, and angel food cake. "A Luxury Picnic For Two" calls for chilled champagne, pâté, prosciutto, Lobster Newburg, camembert, fresh fruit, and espresso.
He also extols the meal's flexible nature: "The picnic may be a romantic dejeuner sur l'herbe for two or a gathering of the clan; it may be simple as a sandwich in wax paper, or as elaborate as appetite, inclination, and purse will allow. Let the circumstances of your picnic be your guide but include the quality touch wherever you can."
Whether your picnic dreams include a sumptuous, Pinterest-worthy spread replete with linens and wine pairings or a few chilled cans of seltzer and a pizza-to-go, take inspiration from Beard and don't let this summer slip by without one. Thanks to an abundance of public parks, Western New York is a fantastic place to picnic. Packing a memorable meal to eat outdoors is even easier with our best tips, picnic-worthy spots, and recipes for foods that travel well.
Picnic recipes and ideas
You can pick up everything you need to picnic in the prepared food aisle at your local supermarket, so don't let the idea of cooking and packing a meal get between you and the picnic of your dreams. But for those more inclined toward the kitchen and meal planning, give one of these picnic favorites a try.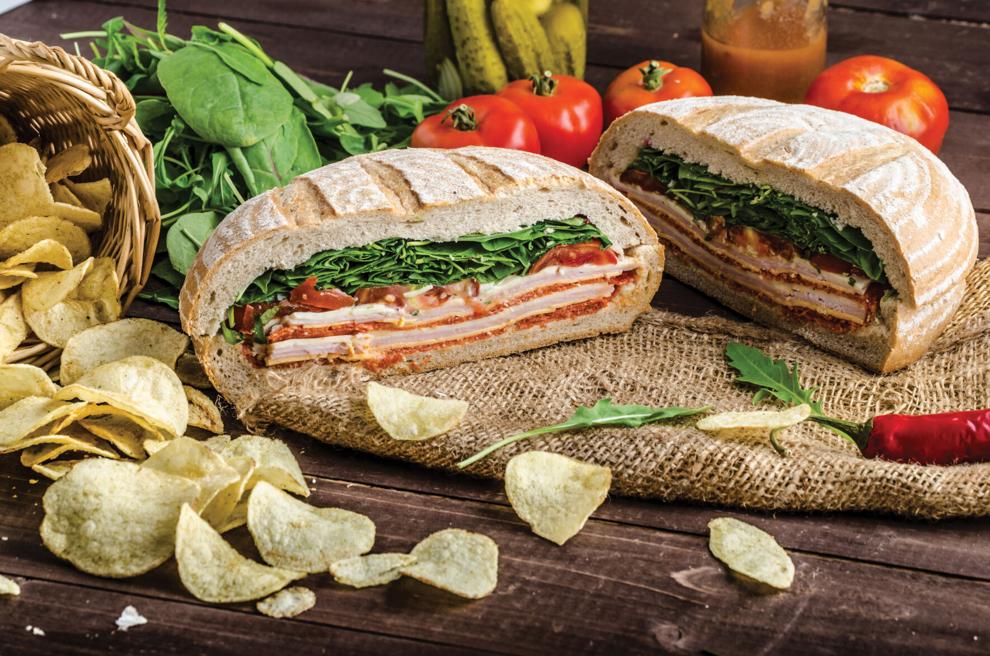 Pressed Picnic Sandwich (or DIY focaccia, smørbrød style)
Dial in on picky palates or forgo them entirely with this two-way take on a picnic centerpiece. The ingredients don't vary much, but their delivery does. 
To assemble the perfect picnic sandwich for a crowd, use an entire loaf of bread to build a pressed, loaf-sized sandwich at least six hours before your outing. Or, pack ingredients individually and swap the giant loaf for squares of fresh focaccia that each guest can top with whatever they'd like. 
While this recipe is Italian-themed, substitute as desired—a broader selection of meats, or fresh steamed and cooled broccoli rabe instead of spinach. Or change the theme, opting for roast beef and horseradish mayo with arugula, grilled chicken breast with kale and Caesar dressing, or other favorite combos. 
One big sandwich
• large, round loaf of very crusty bread
• good butter
• balsamic vinaigrette 
• roasted red peppers
• prosciutto
• Genoa salami
• fresh mozzarella or herbed ricotta
• fresh tomatoes
• fresh spinach
• fresh basil
• salt and pepper
• pickled artichokes or hot cherry peppers, if desired
Slice your bread round in half horizontally. Hollow out most of the interior, leaving about a half inch of bread and the crust intact. Evenly coat the inside of the entire loaf (both halves) with butter, effectively creating a moisture barrier between the ingredients and the bread. In the loaf's top half, add seasoned spinach and basil in an even layer against the butter. Now add the cheese. Sprinkle liberally with the balsamic vinaigrette.
On the bottom half of the loaf, layer slices of tomatoes (sans seeds and juices) and red peppers against the butter. If you're using artichokes or cherry peppers, layer them next. Top with an even distribution of meats. Place the top of the loaf back on the bottom half. Wrap in wax paper with string or plastic wrap and store in your refrigerator under a weighted baking sheet for six to twelve hours. Use  the weight of a cast iron pan or gallon of milk atop the baking sheet to press the sandwich while in the fridge to accelerate comingling of flavors. 
Crudite with dips
Skip the pricey cheese and charcuterie boards and make a gorgeous spread of fresh vegetables with dairy-free dips better suited to warmer temperatures. 
Summertime salad
It's hard to find salads that consider dietary restrictions or hold their own in summer temperatures. I've been making this salad for outdoor cookouts and potlucks for a decade. It travels well, retains its texture, and, in addition to making good use of summer produce, doesn't contain meat or dairy. 
Seasonal Barley Salad
• 1 C. quick-cooking barley
• assorted seasonal vegetables that are delicious raw and aren't too wet (peppers, carrots, snap peas, fresh corn, celery, kohlrabi, etc.)
• red onion
• plums, just under-ripe
• sheep's milk feta, if desired (omit for a vegan option)
• 1 Tbsp. high-quality mustard, Dijon recommended
• 1 1/2 Tbsp. sherry vinegar
• 1 Tbsp. fresh lemon juice
• 1/4 C. extra virgin olive oil
• 1/8 tsp. salt
• 1 clove of garlic
• Salt and pepper to taste 
Prepare barley according to package instructions (one cup uncooked barley makes about three cups cooked, so take that into account when deciding if you need to double or triple the recipe). This can be done ahead, so the barley has cooled, or you can turn it onto a baking sheet after cooking for faster cooling. Wash and chop vegetables into small dice. I prefer a 1/8-inch dice to keep texture and distribution of vegetables as uniform as possible. Chop plums and drain on a paper towel if necessary. Once the barley is cooled, combine produce and barley in a bowl.  
Dressing: In a container suitable for an immersion blender, add mustard, vinegar, oil, salt, and garlic and blend. (If you don't have an immersion blender, finely chop the garlic and whisk it all by hand). Toss the barley and other ingredients in the dressing, coating evenly. If using feta, mix it in now. Let stand for fifteen minutes before tasting for seasoning to taste with salt and pepper.  
Dessert
Sheet cakes were made for picnics. Served straight from their baking dish, they are easy to pack and carry. We have two great sheet cake recipes online from our Great American Cake feature a few years back. Texas Sheet Cake and Coca-Cola cake, both contributed by writer Nick Guy. Find those recipes at bit.ly/great_american_cake.
More picnic intel
Some of our simplest picnic tips