I'd been dabbling in baking, but once the pandemic hit, I started honing the craft. There was not much else to do at the time but bake—if you could find ingredients. Yeast seemed as elusive as Jimmy Hoffa. But I found a way and challenged myself to make a cake every week, taking some nice photos of them for the obligatory Facebook "reveal." Often, I'd finish by delivering them to friends around town, leaving exotic desserts on peoples' porches. 
Then, around Christmas time, a funny thing happened. I made a tray of Florentines and photographed myself holding them with an old vintage Christmas sweater I happen to own. It turns out I got just as many comments on my sweater as on the Florentines. The following week, I posed with a different sweater and dessert: this time, even more reaction. 
I called myself "Polyester Bakes" on Instagram and "a thing" was born. A very silly thing, I might add, but I've gone too far down the rabbit hole to stop. 
That's why I'm here with a sweet summer beauty known as "Hummingbird Cake." It's not your typical cake because it's made with oil instead of butter and has more fruit (bananas and pineapples) than flour. It originated in the Caribbean and was known as the "Doctor bird cake," after a nickname for one of Jamaica's local hummingbirds. Many suggest it was  so named because "it was so sweet it could attract hummingbirds."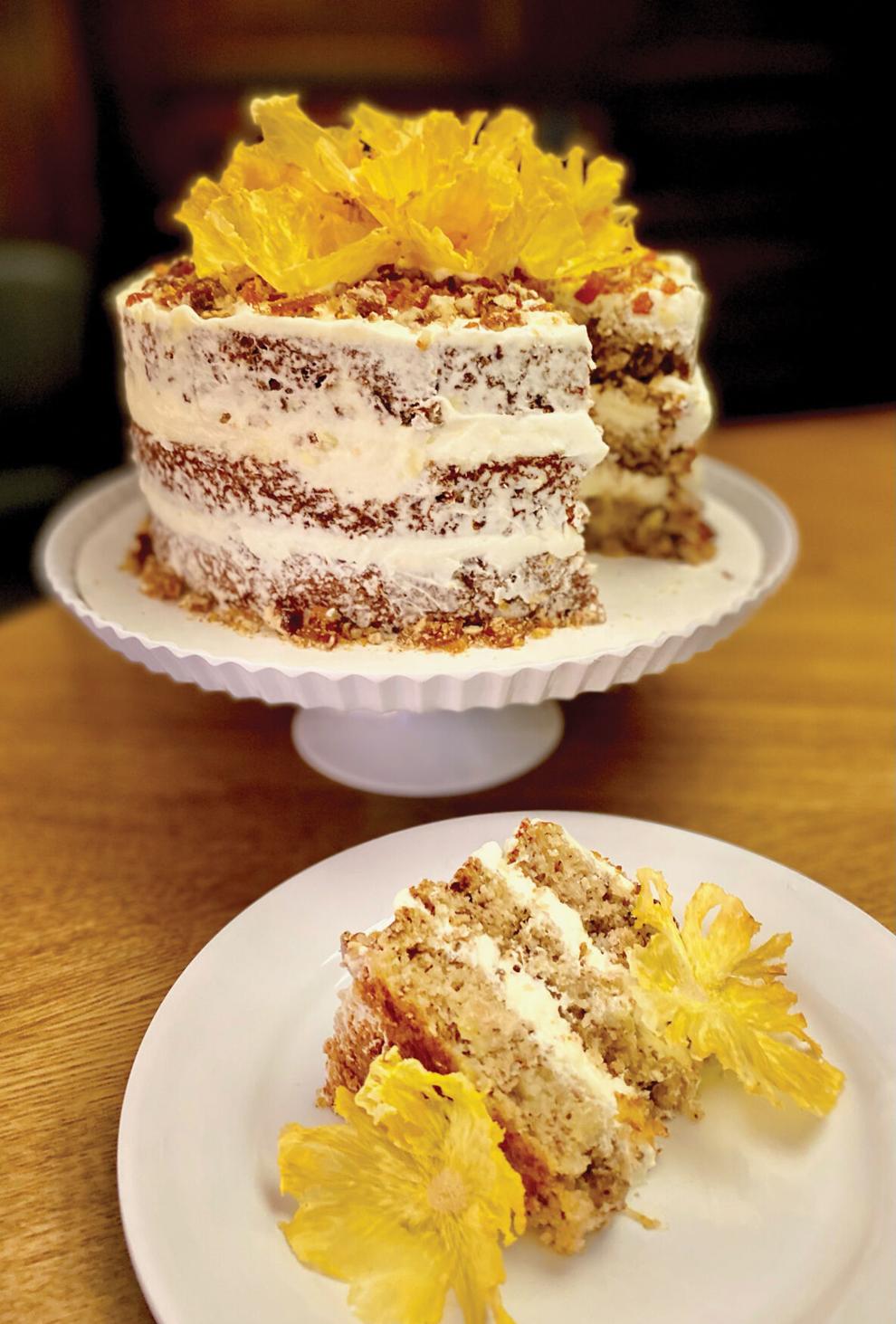 For the cake's decoration, I needed a mandolin (the slicer not the instrument) to make the beautiful pineapple flowers. The idea is simple enough: take a whole pineapple, sheer away the sides of it, and run it through the mandolin to produce nice, round, thin slices. It's not simple in practice. The pineapple was pretty juicy, so every time I ran it through the slicer, it came out as pulp on the other end. Okaaaay.  "So this is how it's gonna be, eh?" I said aloud, which prompted the clicking of my dog's nails as he wandered down the hall into the kitchen. "I wasn't talking to you, Desk," I said. He looked at me and then the pineapple sticking out of the contraption. He was interested enough to take a seat and watch. 
Back in the sixties, in order to drum up vacationers, Jamaica's tourism board sent press kits to the United States, that included local recipes, one of which was Hummingbird Cake. Over the next few years, similar recipes with different names started popping up in local publications, one of which blandly called it "the cake that does not last." 
Anyway, cutting this pineapple was not happening. The slices have to be very thin, because you bake them in the oven at 200 degrees Fahrenheit for about two hours until they get slightly crispy. My problem was that I'd now used half the pineapple and had nothing to show for it but an unimpressed Corgi. Desk looked at me as if to say, "When you go back out to buy another pineapple, I have to pee." I looked at him: "Oh ye pooch of little faith."    
I think the blade was too tight. I spaced it out a little more and with a little more hand pressure was able to start dropping some "phat" thin slices. I patted them dry with some paper towels and put them in the oven.  Okay, now onto the pecan brittle… 
The first time Hummingbird Cake appeared in print was Mrs. L.H. Wiggin's late-1970s recipe in Southern Living magazine, although it had already spread widely through county fairs and baking competitions by then. The cake was so popular that, in 1990, it became Southern Living's most requested cake recipe! The cake itself is a banana-pineapple spice cake with cinnamon, pecans, vanilla extract, served with cream cheese frosting.  In this version, it's topped off with pineapple flowers and a pecan crunch praline crumble. 
It took me a while to learn how to properly toast my nuts in the oven, but, this time, they were perfect after eight minutes on a parchment baking sheet. The praline caramel also stayed a nice amber hue rather than turning to burnt molasses. I'm not a huge cream cheese frosting fan, but this recipe called for a few cups of confectioners sugar which I think helped make it more frosting-like than cream-cheesy.  
Overall, Desk and I were happy with the cake, especially the bouquet of pineapple flowers on top. It's a dense, delicious, incredibly sweet cake with the crumbled pecan brittle providing a nice toasted crunch. I would compare it to a cross between carrot cake and banana bread, so if that floats your boat, I would say get humming and bake this summer classic. 
From my outfit, I paired a 1970s pastel green leisure jacket (Robert Hartford design for Hickok of Rochester NY) and a Dacron polyester dress shirt from Sears finished with a vintage ascot.