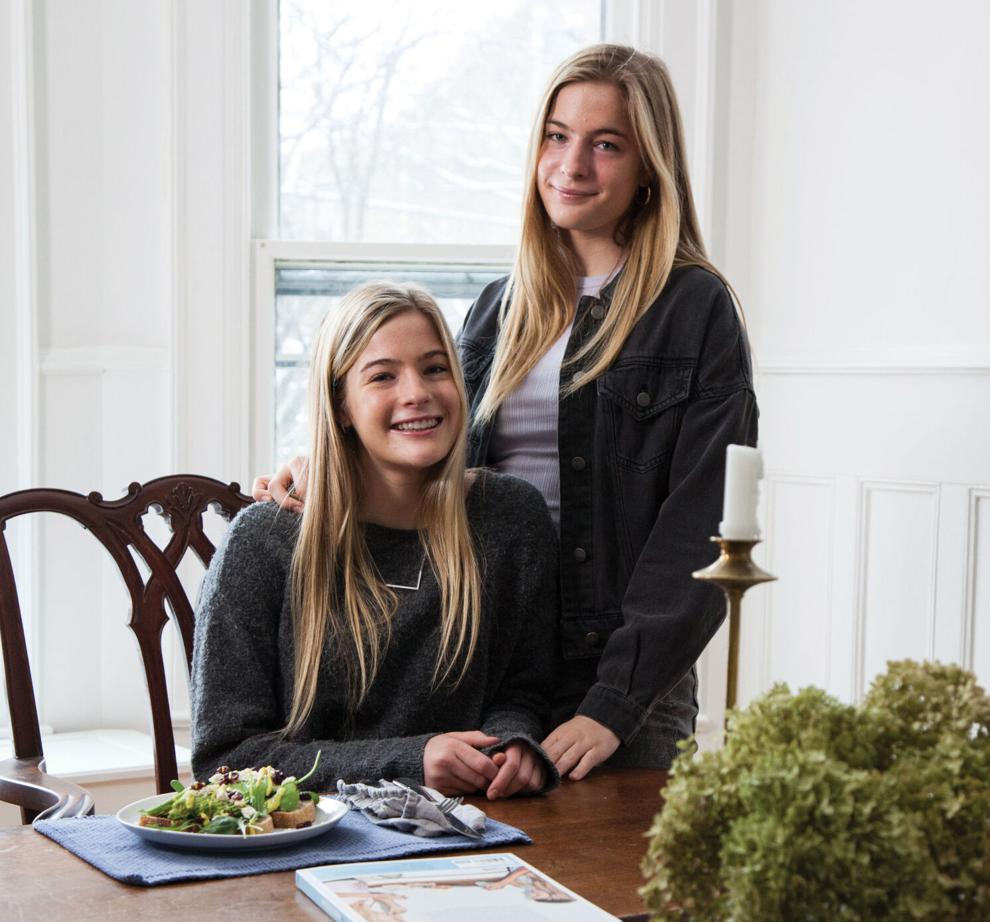 Lyla and Emily Allen are bona fide foodies. When they aren't studying, playing sports, or exploring the outdoors, the seventeen-year-old twins cook and experiment in their kitchen. The duo's passion for food developed early: they grew up around their parents' food business, The Perfect Snaque. At age nine, they started a food blog. Two years later, they launched their first product, Kitchen Twins Make Your Own Kale Chips Kit, which they sold in the produce section of Whole Foods Market and other retailers. Originally from Lawrenceville, New Jersey, these Nichols School juniors fully embrace the culinary community in Buffalo and the joy of sharing food.
"When we were younger, our parents were always in the kitchen cooking up a storm," Lyla says, recalling being in the kitchen with them, badgering them with questions about ingredients, and asking when the food would be ready so the twins could try it. Soon, the sisters started playing around with food on their own. They didn't always have success—apple cider vinegar cupcakes weren't a good idea, and they learned that chocolate and cucumber shouldn't be paired—but they soon felt at home in the kitchen. 
The pair has been vegetarian since first grade, so they focus on meat-free recipes and embrace an array of plant-based ingredients. This lifestyle makes sense to them because they love animals and feel a meat-free lifestyle is  better for the environment. "Not many seven-year-olds can say they have been cooking with puffed quinoa or dried lentils, but Lyla and I did," Emily says. "The kitchen was our science lab, the place we could and still go after a stressful day at school, and the first place we go the minute we wake up." She credits the kitchen for building her confidence and both credit cooking as the reason they are so driven today.
Over time, the girls received career building opportunities, including participation in a local shark tank competition—which they won—and Chopped Junior. They also had several stints on The Rachael Ray Show; their first was when they were eleven and sent a pitch to the show featuring broccoli stars and cheese crisps. "I think the fact that we were young, twin chefs helped us get on the show even more than our recipes," Emily says. Both were intimidated by the set, but attest that the crew and Ray were incredibly supportive. For their most recent appearance, the duo sent in a video for foods they used to hate, but now love, featuring mushroom white pizza and crispy smoky eggplant fries. "Rachael is an inspiration for both of us and is truly the nicest person," Lyla says.
Ray provided the introduction for the Kitchen Twins' 2019 cookbook, The Teen Kitchen. It was the twins' dream to share their recipes through a bigger outlet than their blog, so, for two years, they compiled their favorites and brainstormed new ones for a book project. Ten Speed Press (a division of Penguin Random House) responded to their pitch with interest. "I don't think I ever imagined I would be a published author my freshman year of high school, but that is how it happened," Emily says. "We spent an incredible amount of time perfecting each recipe, sometimes making up to ten recipes a day."
The twins understandably have a hard time picking favorites from their cookbook. "It would probably be the cauliflower truffle lasagna because it is rich, delicate, decadent, and all around delicious," says Lyla. As a soup and salad lover, corn maple bisque wins Emily's pick. She is also a devoted oatmeal and smoothie bowl fan and makes those frequently. 
When creating new recipes, Lyla and Emily model their process after Chopped Junior, giving each other baskets of ingredients to create new recipes. They also turn to favorite ingredients like avocados and coconut milk.
"Food is like a science and I love science," says Lyla, who wants to pursue a career in medicine and hopes to be a dermatologist. "Figuring out ratios of ingredients and what flavors go together, how long something should cook, or how much baking powder to put in pancakes fascinates me." Emily would also like to be a doctor, in addition to exploring food. Both want to continue to grow the Kitchen Twins brand.
The twins see cooking as a fun outlet to be creative, relieve stress, and eat well, and both encourage everyone to cook more. "It doesn't have to be anything fancy, but even making your own avocado toast for breakfast can make you feel good," Lyla says. "I also love cooking because you know what goes into your food and have so much control over how things taste."
Emily agrees: "Lyla and I find that when you cook using fresh, whole ingredients, you actually enjoy the end product more."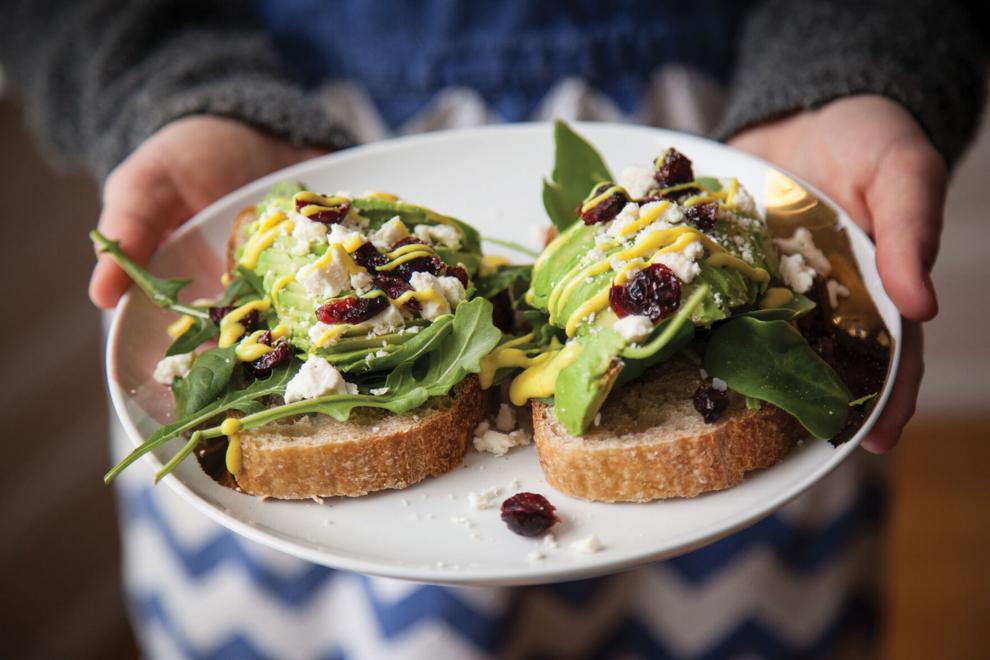 Dishing with the twins
What do you think of the Buffalo food scene?
Lyla: I love that there are so many different restaurants, each with their own cuisines and spins on recipes and friendly and homey culture.
Emily: Of course, it is more difficult right now to try and eat at different restaurants, but we already love the versatility of the restaurants and we very quickly noted how nice the people who work at the restaurants are!
How would you describe it to someone who's never been here?
Lyla: It is like a mosaic of delicious and fun food, each restaurant different from the next. Everyone loves food here, but not in an uptight way.
Emily: We are still trying to eat our way through the Buffalo food scene, and we are excited to see what new restaurants and cafés we find!
What is your favorite Buffalo area restaurant?
Lyla: I really love Thai food and Rin Thai has the best Pad Thai. They also have delicious appetizers and other entrées. If I could, I would seriously eat their Pad Thai every day.
Emily: JT's is so close to us and their pizza and arancini are insanely good. Pure comfort food. I could totally eat there every day.
Where do you like to grocery shop?
Lyla: We love to grocery shop at Lexington Co-op because it is close to us and has all of our favorite snacks and lots of kombucha choices. 
Emily: The final tipping point to us moving [to the area] was Lexington Co-op. When we tell you we go there every day, we are not kidding. We stop there at least two times a week before school to get treats like kombucha and bars or some chocolate.