Michael Hibbard grew up working in his family's beloved Lewiston custard stand, Hibbard's. His artistic talent was fostered at Niagara University and the Art Institute of Fort Lauderdale. That led to an early career as an artist, making and installing large-scale sculpture commissions around the country.
While living in Florida, however, his business instincts and muscle memory for the family business reappeared, and he started an ice cream line. M. Hibbard Super Premium Ice Cream achieved success in wholesale and was carried in Whole Foods stores. He closed that business in 2012, and moved back to Lewiston with his wife. They now have four children, and own and operate Gallo Coal Fire Kitchen, an Italian restaurant located at 800 Center Street in Lewiston.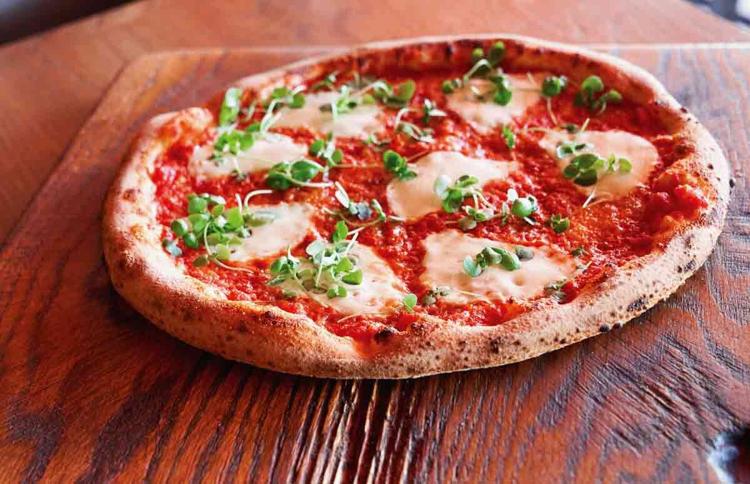 Tell about your family's history in the food industry.
My great-grandfather founded Hibbard's Custard in 1939. He had a Chevrolet dealership and saw an opportunity to sell ice cream to families who were car shopping. All of my family members started working in the custard stand at about age twelve or thirteen.
What's the appeal of business?
I've always been interested in the moving parts, and the progression—how you can create this thing from nothing. Everybody in my family is in business or owns their own business. They all work super hard, and they are successful. Seeing them motivates me.
What business advice would present you give younger you?
Focus on one thing. Don't try to do a million things in a short period of time.
Is it hard to succeed in the restaurant business?
It takes time. And timing. The timing was right for this concept in Lewiston. And, especially its infancy, you have to be there all the time; that can be a struggle.
What effects can you expect immersion in this business to have on your family life?
Well, when we go out for dinner, it's usually to our restaurant. And recently, I came home for dinner and found my son watching Netflix cooking shows instead of his normal YouTube videos.
What are the benefits of opening a restaurant in the Buffalo area?
Community-driven brand loyalty only happens here. Our customers are part of the growth of the brand.
What is the most rewarding aspect of restaurant ownership?
You constantly need people and talk to them about new ideas. That's a motivator. I'm humbled by being asked to help with fundraising for the Castellani Museum, and to join a committee for Lewiston Parks
and Recreation.
How has your management style changed?
My other business was kind of a one-man show. The restaurant business is an ongoing learning process. One of the keys is to hire people who are smarter or better than you. For the most part, I let them do their own thing. Sometimes I'll step in and say, "Is there a better way to do this?"
What's new at Gallo?
We just started "Gallo Pronto." We par-cook and vacuum seal our pizzas, and we're delivering to clients like BlackBird Cider Works in Buffalo.
If you could open any business without concern for money, what would it be?
Maybe a design studio where I could produce and make things and see if they could get to market. It's art and also product design.