Buffalo's infatuation with Italian cuisine is longstanding and deeply rooted. Among the pantheon of foods gluttonously Buffalonian, gooey spaghetti Parmesan has earned a rightful place at the top. Once, every neighborhood had its own fiercely defended red sauce joint, but times are changing, and only a handful of stalwarts remain to fulfill our mozzarella fantasies. That gives us even more reason to begin new traditions.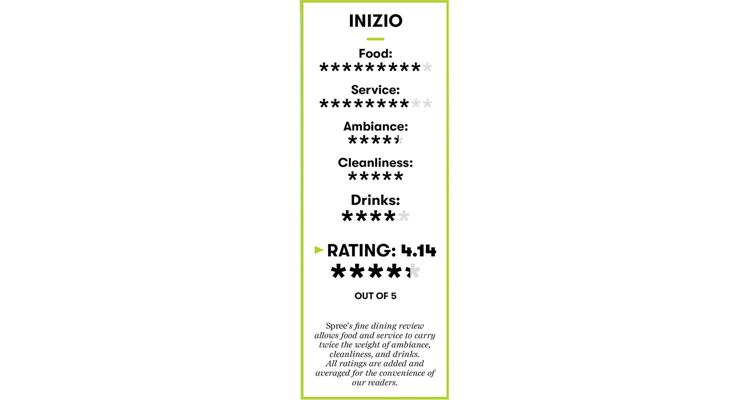 Palates and dining habits change. While some diners go out for comforting standards, others seek novelty and pleasant, edible surprises. Inizio calls out to those looking for a fresh take on pasta and Italian-style cuisine that strays from the predictable. Inizio, the recently opened Elmwood Village restaurant also represents a rebirth in Buffalo for chef Michael Gibney, who has established an impressive resume cooking and writing his way through NYC's premier kitchens. His motto of "tutto fatto a mano" (everything made by hand) rings through his seasonal menus. He sets a high bar for pasta potential and serves quality over quantity in every dish.            
The physical space has a Manhattan vibe. The warm and welcoming interior, with shelves full of cookbooks, a fireplace, and an upholstered bench built into a niche in the wall lends a  homey feel, eschewing the popular industrial and farmhouse styles. A wreath of olive leaves backed by sunny colors evokes a Calabrian countryside sunrise. Hightop tables surrounded by subway tile line the bar room, while the front room is circled by glass, offering panoramic views of the neighborhood. Each of the three dining rooms has a different, welcoming ambiance.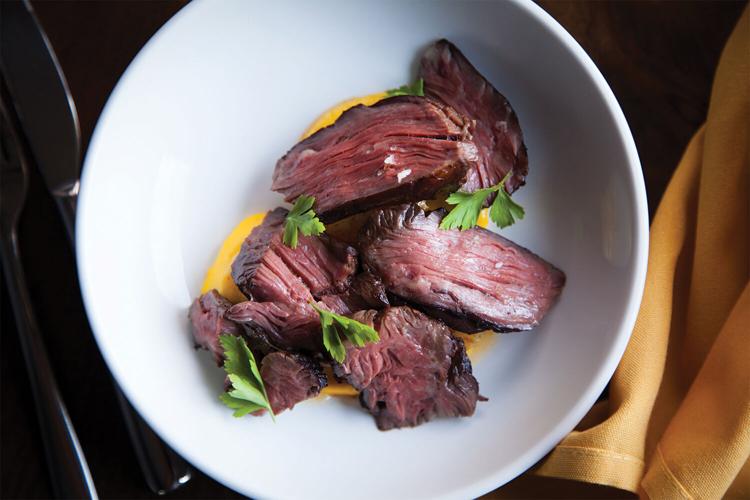 Inizio is the Italian word for beginning. The menu stays true to the restaurant's name by only covering the first few courses of a traditional Italian meal: apertivo, antipasti, and primi. Where it lacks plate-filling entrees, it offers a multitude of sharable small plates and exceptional pastas, dishes that can take a deserved center stage when there's no expectation of a large entree to follow. Dialing back the scale of the dishes gives  diners more options and frees the kitchen to feature luxury ingredients—like prosciutto di San Daniele, dainty rock shrimp, and lump crab—at affordable prices.
Every meal begins with a complimentary coupe glass of effervescent prosecco. Sparkling water is also offered gratis. The kitchen's house pain d'epi is epic, but sadly unavailable when I visited; bread from BreadHive bakery was used as the foundation of Inizio's bruschetta. Thick slices of bread are toasted just shy of charred, which prevents the bread from getting soggy when laden with decadent delights like stewed peaches—preserved at their peak and spiked with a sneaky bit of vanilla—and milky stracciatella cheese. The toasts are blanketed by velvety slices of prosciutto, hitting that perfect bliss point among salty, savory, and sweet.
Summer's bounty of zucchini is presented in a dizzying dish. The squash's heat treatment leaves it tender with a squeaky crunch. Paired with a charred eggplant puree, oyster mushrooms, and colatura (Italy's elegant version of aged fish sauce), the dish is savory times three and rich with umami. A plate of wild mussels, full-flavored and impossibly plump, seems to be a regular menu feature, though preparations vary. Ours were tossed with smoky pancetta and tender ribbons of fennel, and hit with a bright splash of acid—possibly from a tart white wine. Slices of bread came in handy for soaking up the remaining broth. The menu offers a single green salad: Romaine lightly tossed with a creamy dressing and topped with toasted bread crumbs and flakes of mild cheese. It evokes a Caesar, but is more restrained, lighter, and fresher. Carnivores will enjoy the single beef dish: robust hanger steak, served with a warm, pink interior and an exterior black from its bath in espresso.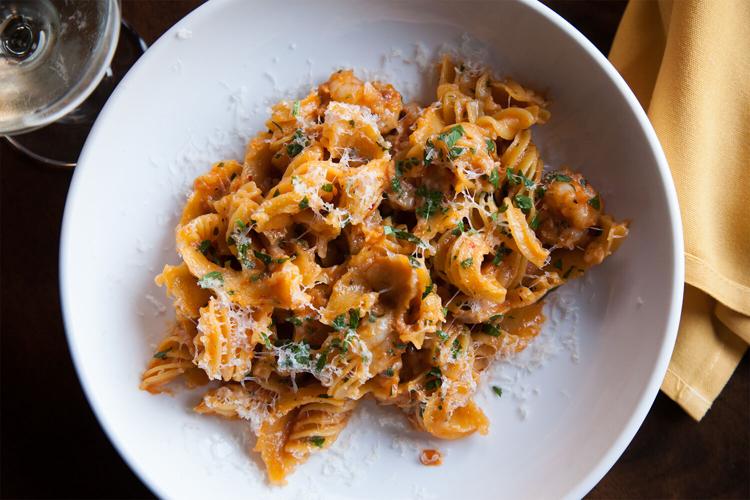 Handmade pasta comprises the other half of the menu. Our menu listed ten different dishes, each featuring a different pasta shape and sauce. It's worth noting, as it's likely intentional, that among the ten, none use spaghetti or tomato-based ragu. That's not to say you can't find classics like cacio e pepi, carbonara, pesto, and vodka sauce. All of the pastas we've sampled have been spectacular. Frilled campanelle dressed in a verdant pesto is garnished with skinned and stewed grape tomatoes, providing a welcome burst of flavor. A nest of bucatini carbonara is heavily coated in a lip-smacking combo of cheese, egg yolk, and starchy cooking water that leaves a black pepper tingle lingering on your tongue. It's studded with nubs of pork pancetta, lending strong notes of warm curing spices. The optional lump crab meat plays well alongside the other elements of the dish and shouldn't be skipped. Radiatore, with delicate gill-like ruffles, were perfectly paired with rock shrimp and clams. The sauce is built from spicy salami spread 'nduja, a funky partner for the clams that adds a bit of chili heat. It was one of the more memorable dishes of the night.
The wine list is compact and nicely curated. The whites run from an oaky chardonnay to a lively pinot bianco. We chose a Sartarelli Classico Verdicchio (Marche, IT). It was surprisingly complex, yet crisp and clean and the perfect foil for our wide-ranging meal. There is even an orange Skerk, which would complement the small plates very well. If you save room for dessert, which you should, consider pairing it with a digestif. When asked her opinion on the Amari, our server was helpful and conversant about the different offerings. We even had a brief chat about the fact that Inizio is currently in the process of making a batch of its own amaro. Be sure to ask for a taste.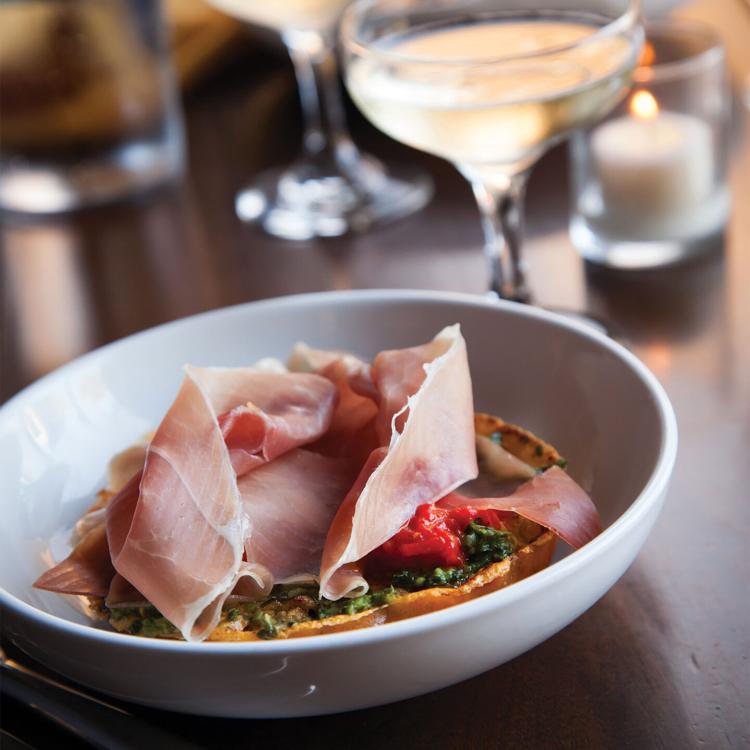 Inzio may excel at beginnings, but it also knows how to end a meal. We were dazzled by "strawberry shortcake" that pairs strawberry gelato with airy, whipped sour cream and a crispy basil shortbread cookie. Its base of strawberry puree, with a few drops of basil oil, helps it completely redefine a classic. If Inizio is a new beginning for our understanding of Italian cuisine, it's hard not to be excited about where it's headed.
---
534 Elmwood Ave, Buffalo, NY 14222