Lago 210
4038 Hoover Road, Hamburg
lago210.com, 246-3022
Waterfront restaurants are cherished in Western New York—especially when warm weather hits—but not always for the food, which often takes a back seat to the  ambiance provided by nature. I admit to not having high hopes when a new eatery opens on our lakefront, but  Lago 210 won me over with its focus on small plates and a no-fuss, casual atmosphere. Lago is part neighborhood spot and part destination.
There were good vibes from the start. Our server was attentive, prompt, and personable. She checked in with us regularly, but didn't interrupt our conversations, and was quick to recommend dishes based on our tastes. The drink menu boasts a good selection of cocktails, beer, wine, and mocktails. The jalapeño margarita was a miss for me. If I'm ordering a spicy margarita, that's the point, but this drink was heavy on the lime juice, which made the competing spice and acid flavors fall out of whack; the jalapeno should sing! My friend's Paloma with blood orange was well-prepared and refreshing.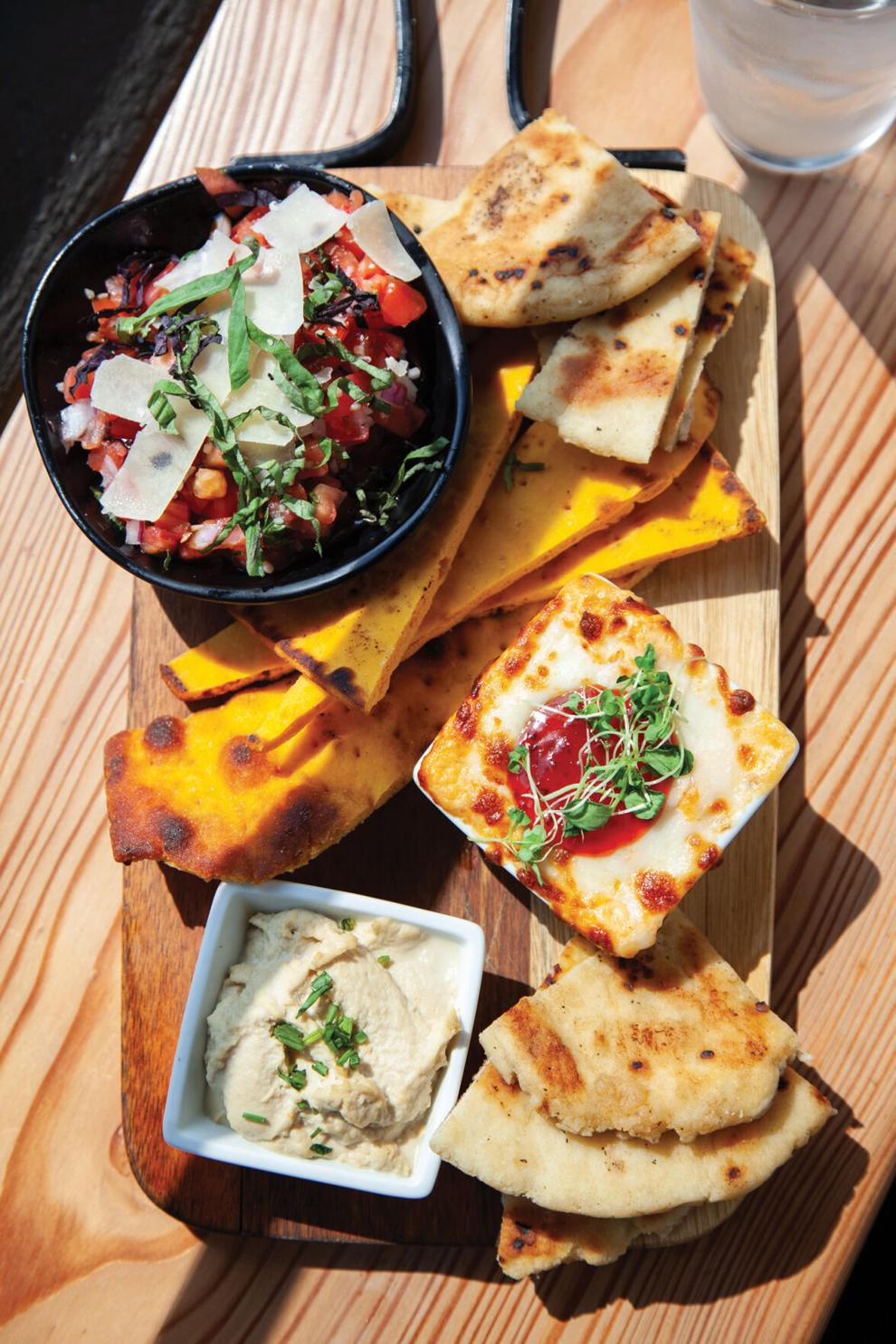 At our server's suggestion, we ordered a sampler platter appropriately named All the Dips ($16)—seasonal hummus, bruschetta, and crab Rangoon dip. Each dip had us reaching for more, but the surprise was the warm naan, cut into triangles that you could think were pita until you tasted it. The naan's thick, coarse bite made a sturdy and tasty vehicle for dips. Other grazing plates include charcuterie ($28) and mezze boards ($24).
The menu includes traditional Caprese and Caesar salads as well as an array of flatbreads, including Margherita ($13), funghi ($16), and Mediterranean ($16). The tempting sliders include apple pork ($15), short rib ($16), BBQ jack fruit ($15), and crab cake ($20). (Any of these can be served on gluten-free sweet potato buns.) We watched sliders on their way to other tables and had to try a couple.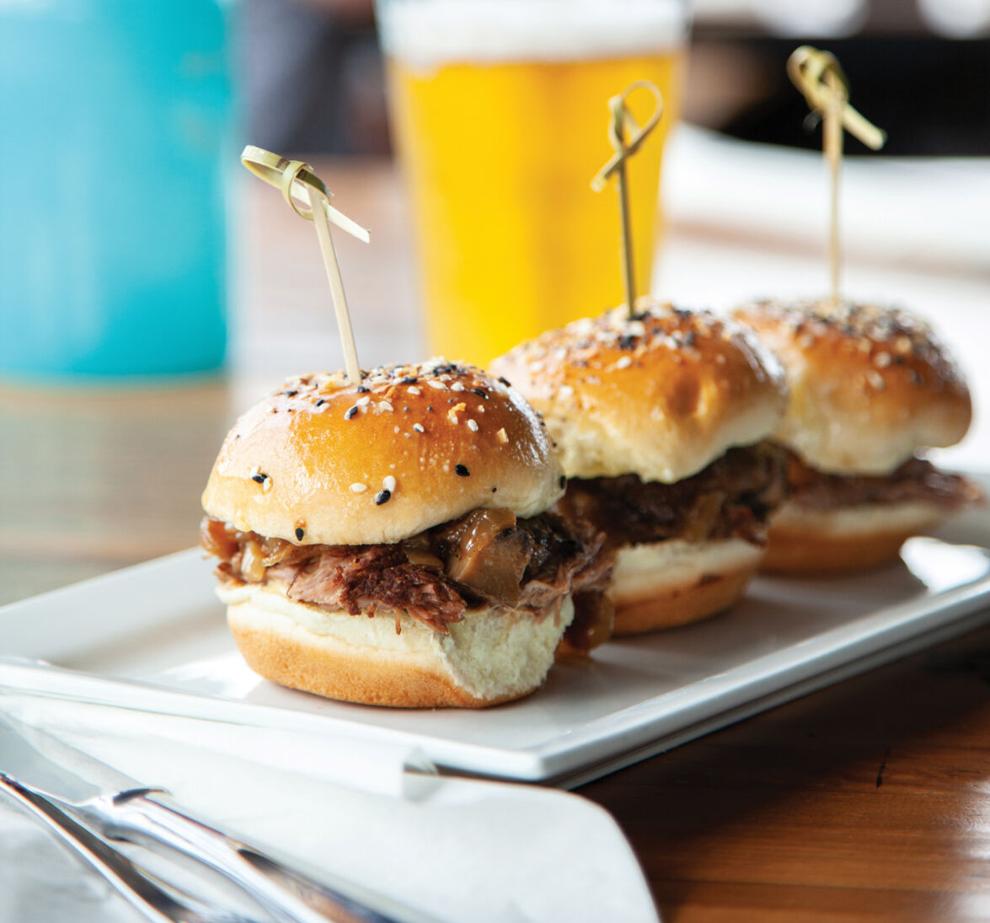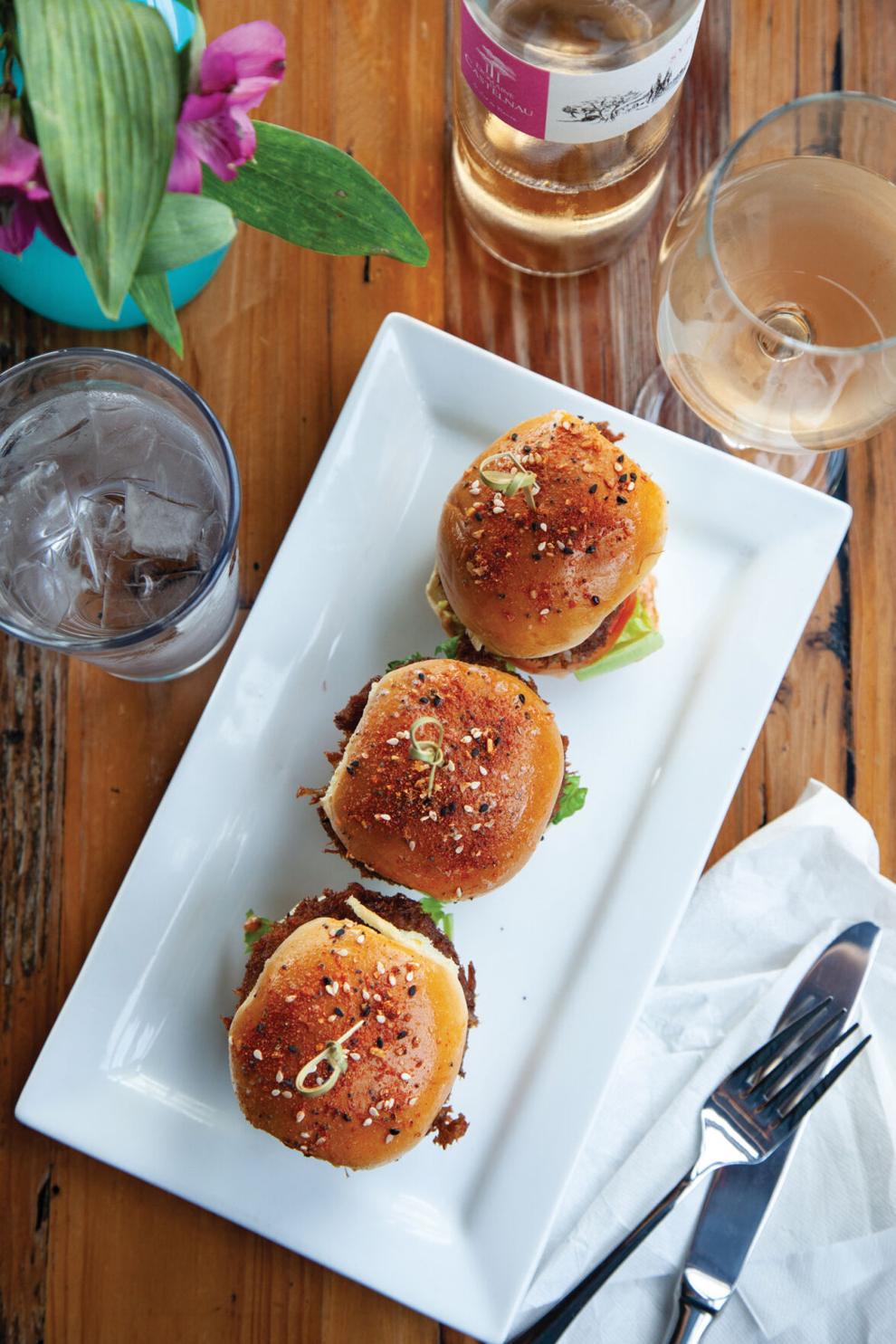 The winning slider stars slow-braised short rib, Bordelaise-style mushrooms and onions, porter demi, and malt vinegar hollandaise. The meat is incredibly tender, the caramelized onions lend sweetness to the savory flavors, and the tang from the malt hollandaise completes a flawless combination. Piled on top of buttered brioche buns with everything bagel seasoning, these are the guilty pleasures you return for, to pair with a favorite drink.
The crab cake sliders are a close second. Featuring Parisian-style crab cake (read: no fillers added), sliced tomato, romaine lettuce, and remoulade, they're also well-balanced. The thick fried crust is irresistible, not oily or heavy in the least. The simplicity of the flavor combinations and the lack of unnecessary wild card additions in the remoulade earned points from me.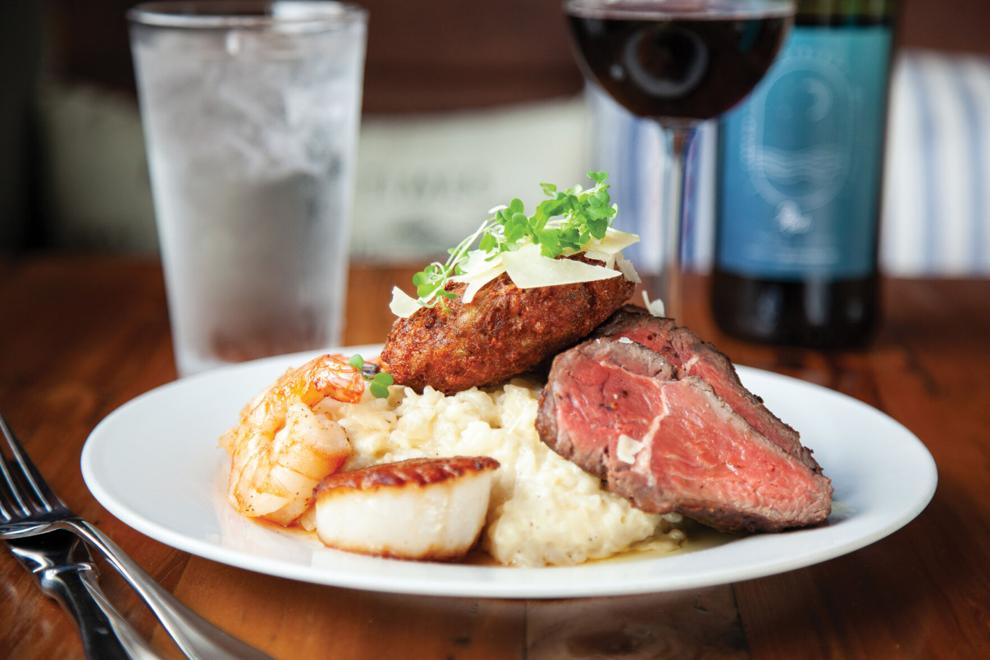 The surf and turf risotto ($32) features seared scallops, lump crab, a crab cake, shrimp, and sliced beef tenderloin, atop Parmesan risotto, finished with truffle oil. Truffle oil can be gratuitous as a fancify-it tool—too often an easy way out for chefs and home cooks—but it works here. The combination of cheese and truffle oil on risotto cooked with the right amount of bite left in the arborio rice is a perfect accompaniment to the seafood and tenderloin. 
Lago 210 leans into its geographic location with a few creative strategies. Guests can order from a separate beach drink menu in the afternoon and evening, Tuesday–Saturday, weather dependent. With a $50 deposit, you can reserve seating around one of the outdoor firepits and enjoy food and drinks from the full menu. Lago may be located right here in WNY, but it feels like a getaway.