Britesmith Brewing 
5611 Main Street, Williamsville 
britesmithbrewing.com, 650-4080
---

Does WNY need another brewery restaurant? Judging by the time it takes to get a table at Britesmith Brewery, the latest to open, I'd say we haven't reached a tipping point yet. I'll share what's obviously a poorly kept secret: Britesmith has some banging good food. Patience and flexibility are needed to try it; the brewery/restaurant is not currently taking reservations. 
Given the lead craftsmen in charge of turning this former blacksmith site into a brewery, it's no surprise Britesmith is so popular. Its owner and its chef are also owner and chef at Oliver's. The exceptionally talented Ross Warhol, having already made a name for himself as chef at Oliver's, has taken this new venture as an opportunity to expand his profile. His menu at the brewery shows thoughtfulness and an attention to detail. It may read like the greatest hits of Buffalo bar food, but the actual dishes are assembled and presented in a way that seems 180 degrees away from that genre. Scratch cooking, quality ingredients, and carefully made choices ring as loudly as a hammer hitting an anvil.
The physical space and the setting are nothing short of stunning. The original blacksmith shop was water-powered, immediately adjacent to a particularly swift stretch of Ellicott Creek. Large windows frame the creek view and provide a unique opportunity to Instagram your pizza with rapids in the background. The interior design features the ancient beams and exposed rafters of the original construction juxtaposed against bright, stainless steel, brewery tanks behind the bar. Artifacts found during construction that speak to the history of the site are also proudly on display. The downside to all this is that voices tend to bounce around the hard walls, with the background noise particularly pronounced in the second floor loft. On warm nights, diners with sensitive ears can escape to a table in the beer garden and listen instead to the burbling creek.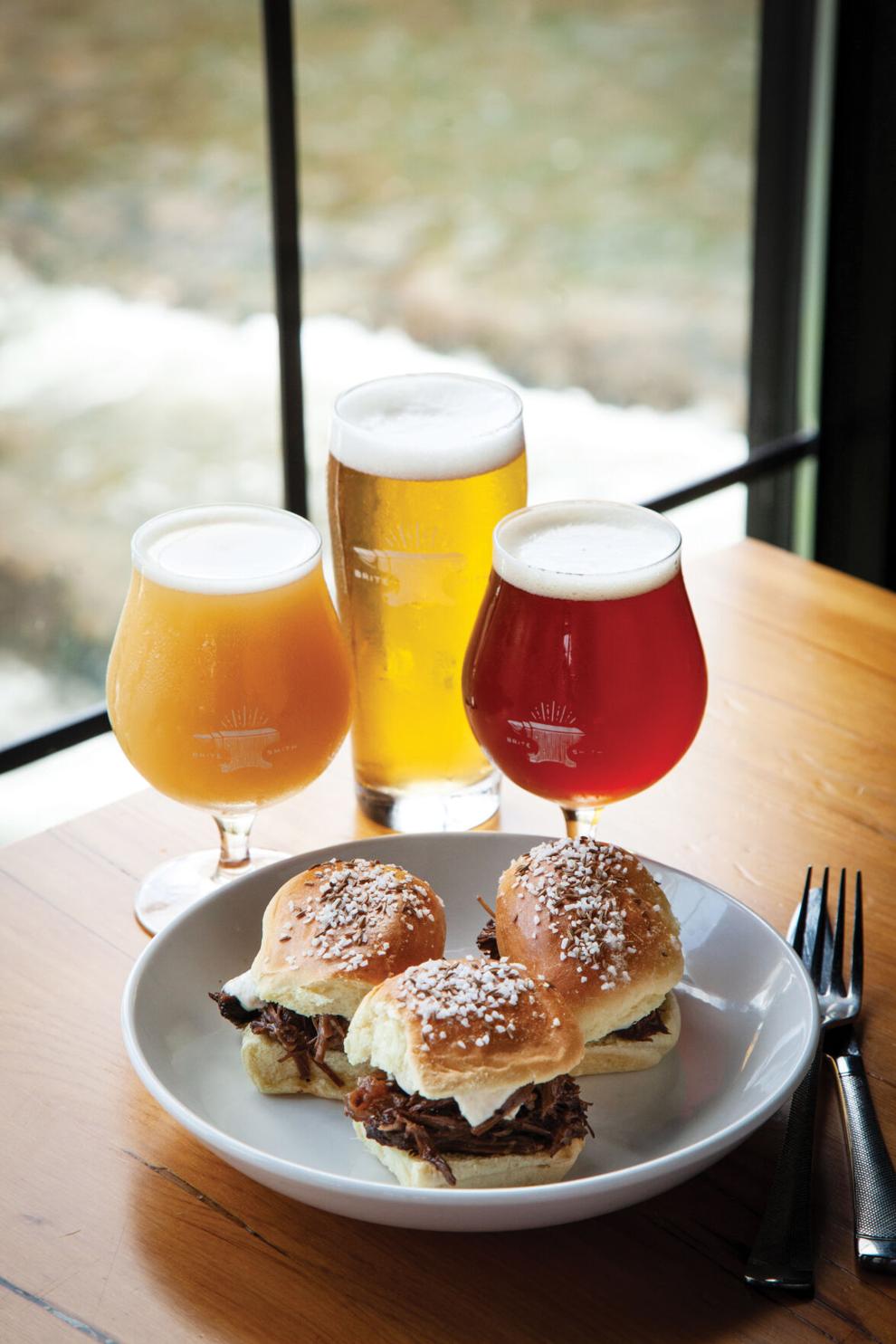 While Britesmith produces plenty of satisfying beers, the food that pairs with the beers stands out like a thoroughbred in a set of freshly wrought shoes. Most of the beer menu consists of classic styles that play well with food. In a time of over-the-top hazy IPAs, fruited sours, and pastry stouts, it's refreshing to see beer as a supporting player. While hops are the hot trend, Britesmith comfortably showcases malts in shades from straw to amber to black coffee. These styles are designed to complement, not overpower.
In the kitchen, a powerful wood-fired dome oven churns out dainty pizzas. "Wood-fired" doesn't automatically guarantee great pizza, but chef Warhol has perfected the process to produce top-tier pies. The size, shape, crisp, and chew of the crust are on par with the best in WNY, and the selection of composed pizzas are as interesting as they are satisfying. The wild mushroom features hefty chunks of oyster mushrooms and light garlic cream under a cheese mix that emphasizes buttery fontina. A gentle application of truffle oil finishes it, bringing up the roasted mushroom flavor. The sleeper pick is easily the Daniella. This stripped back, cheeseless composition of tomato, garlic, and basil is seasoned with brewer's yeast and olive oil. A first bite sings with shaved garlic and crispy, charred basil, backed up by fresh tomato sauce. The brewer's yeast lingers on the palate, creating a perfect bridge between the bite and a pint.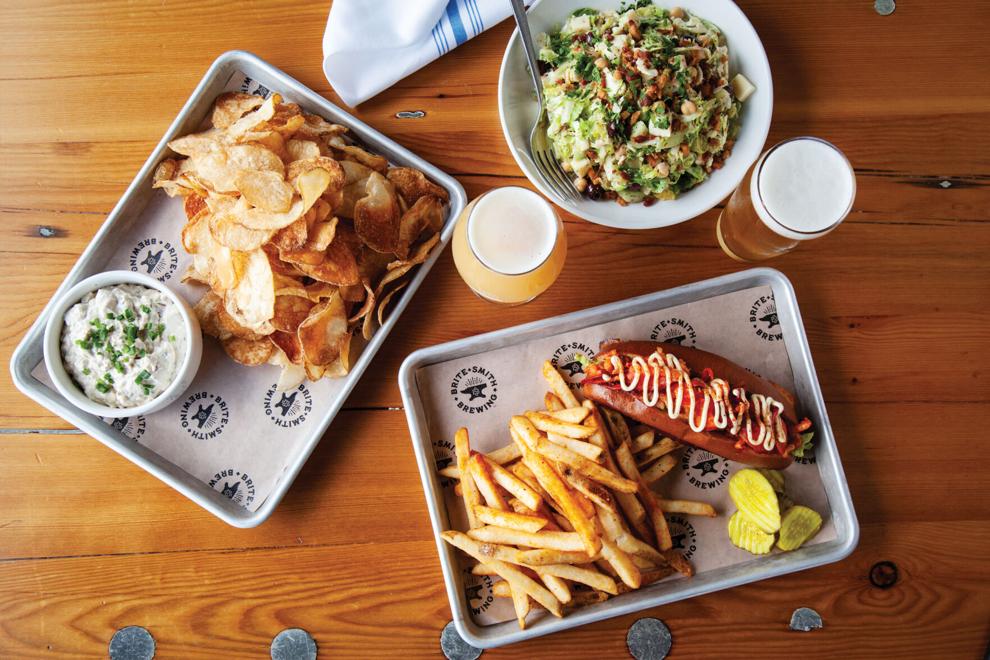 Pizza might be the ideal bar food, but Warhol has explored  plenty of other classics. If pickled eggs evoke Moe's bar on the Simpsons, be assured that these pickled eggs aren't merely a punchline. They are more like a hybrid of pickled egg and deviled egg, with the whites cured in vinegary beet juice, filled with creamy whipped yolk, and topped with bacon bits and chives. The onion dip plays on local favorite Bison French Onion, but ups the ante with a thicker mix, studded with caramelized onions and served with robust, homemade potato chips. And for anyone who's been let down by a tough, dry beef on 'weck, Warhol offers a "cheek on 'weck." The kitchen starts with grossly underrated beef cheeks, and given enough time, renders them into the richest, creamiest braised beef imaginable. The beef is piled on a trio of slider rolls that are pillowy soft and slightly sweet. This sandwich is a perfect example of Chef Warhol's ability to tinker with the classics. And don't skip the beef jerky, forged from lean slices of beef, heady with a warm, mix of Asian spices. Take some home to savor until the next visit.
While the menu lacks full entrees, there are plenty of stellar sandwiches for bigger appetites. The Korean cheese steak, once a special but now a featured menu item after a social media challenge, might sound odd but is actually incredibly delicious. It doesn't take much Googling to find Koreans are quite fond of adding gooey cheese to anything and everything; that's pretty much what we have here. Braised short ribs marinated in spicy, sticky sauce are layered with cucumber, kimchi, and cheese and topped with a spicy mayonnaise. A warm lobster roll is stuffed to overflowing with whole claw meat, a drizzle of mayo, and a dash of Old Bay. The lobster appears sauteed in a bit of brown butter that concentrates and amplifies the meat beyond what's possible with a cold lobster roll. Both sandwiches are served on a New England-style bun, a choice that allows the full exposed sides to be toasted with garlic butter, putting that flavor front and center with each bite.
While a brand-new brewery might not elicit the same amount of excitement it once did, Britesmith stands out. I eagerly look forward to the future they forge, once a sense of normalcy has returned and they can let the sparks fly.