Rin Thai Bistro
988 Elmwood Avenue
881-9900
What makes an ideal neighborhood restaurant? Quality food, of course. Variety, either within a longstanding menu or in frequent specials or seasonal refreshers. For many diners, a liquor license or at least small beer and wine list is a plus. Other key elements include consistency, a few healthy choices, good lighting and temperature levels, and  minimal noise—or a great soundtrack.
Judging by the very few open seats in Rin Thai Bistro on a winter Monday evening, for many in the Elmwood/Bidwell area, this is such a restaurant. More neighborhoods should be blessed with a place like this, with real silverware and napkins, food options that are recognizably green and don't come out of a deep fryer, and an overall feel that's convivial without being hectic.
On our visit, we started with a crispy tofu appetizer after learning they were out of fresh rolls, our first choice. Though we stuck to water, a small number of beer and wine choices are available, including Thai import Singha and local favorite Big Ditch, as well as sparkling water and Thai iced coffee.
The tofu was nicely fried, crispy not greasy and cooked through, and we enjoyed the equally fresh tasting and not oily peanut sauce. Other appetizers include dumplings, spring rolls, chicken satay, and small soups and salads.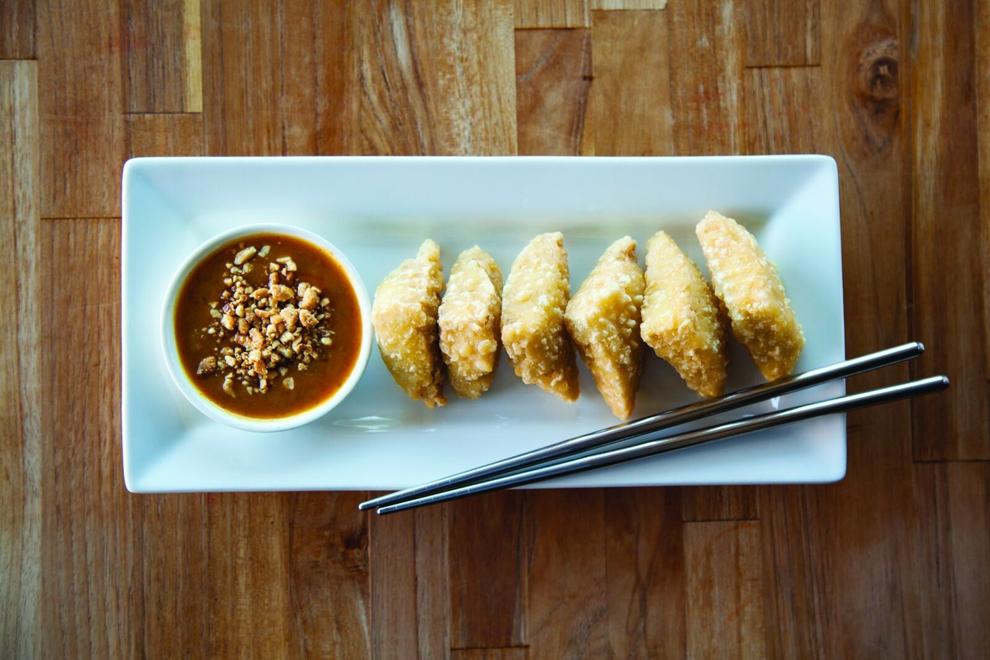 The curry of the day was a green curry; I ordered it vegetarian and was pleased that the vegetarian option includes tofu. I wanted some spice, and Rin Thai's spice scale goes from one to five (hottest). Dishes marked with an asterisk indicating "spicy" start at closer to a three, so the server recommended not adding extra spice. I found the heat level significant but not overwhelming.
My friends enjoyed the pud see ew with shrimp (wide, chewy rice noodles with vegetables, protein, and a brown sauce) and basil fried rice with chicken. The pud see ew was praised for the texture of its noodles, nice and chewy and not overdone. The chicken in the basil was not dry, but also did not taste much like the rest of the dish, a common result of offering multiple protein options.
All of our entrees were fairly similar to what is available in thousands of very casual restaurants all over the US, but were just a bit better: perfectly cooked rice, no mushy noodles, not too sweet, not too oily, the flavors more complex and the vegetables clearly fresh and cooked to order. Portions were not gigantic; two of the three of us finished our meals, and we had room to split black sticky rice with mango for dessert.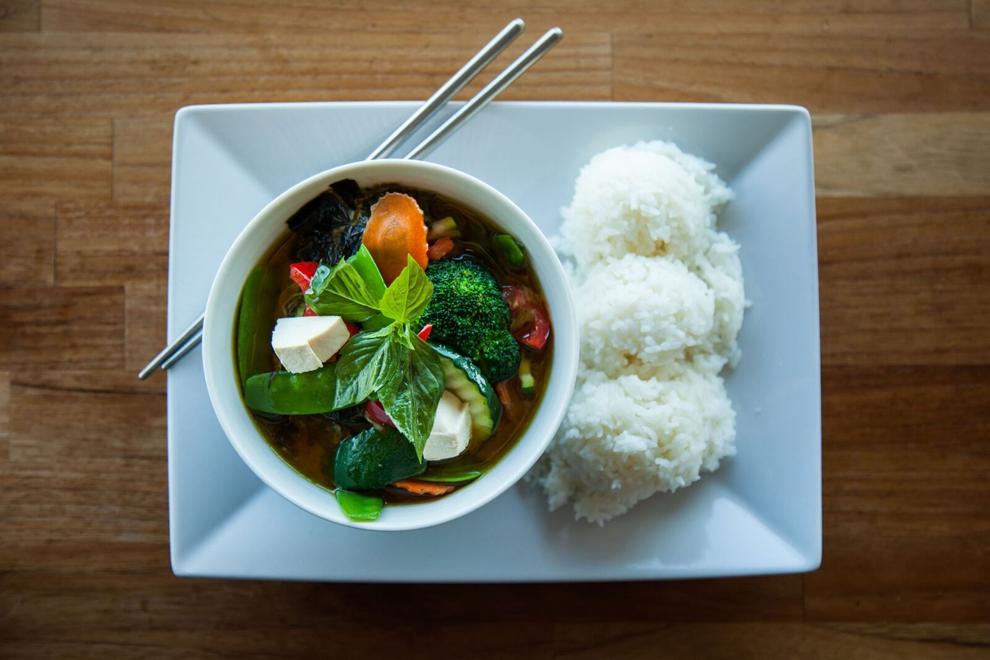 The menu also offers entree salads, fiery udon, pho, and American Thai restaurant standards such as pad thai and panang curry, generally in the range of $13-18. For a step up in price from other casual, takeout-oriented restaurants (though Rin Thai does offer takeout), diners get a step up in quality.
Rin Thai Bistro's online menu lists protein options of chicken, beef, and pork for most rice and noodle dishes, but the menu notes vegetarian and gluten free options are available. My vegetarian curry with firm, not fried tofu was excellent, and I am eager to return to try the shiitake and oyster mushrooms with snap peas.
In the age of Grubhub and Uber Eats, it seems more and more that when one walks into a neighborhood restaurant not particularly focused on alcohol, most seats sit empty while plastic bag after plastic bag moves across the host station and out the door. A place where people would rather meet friends or even leave the house with a significant other and spend an hour does not necessarily grace every street corner, but it does at the corner of Elmwood and Bidwell.