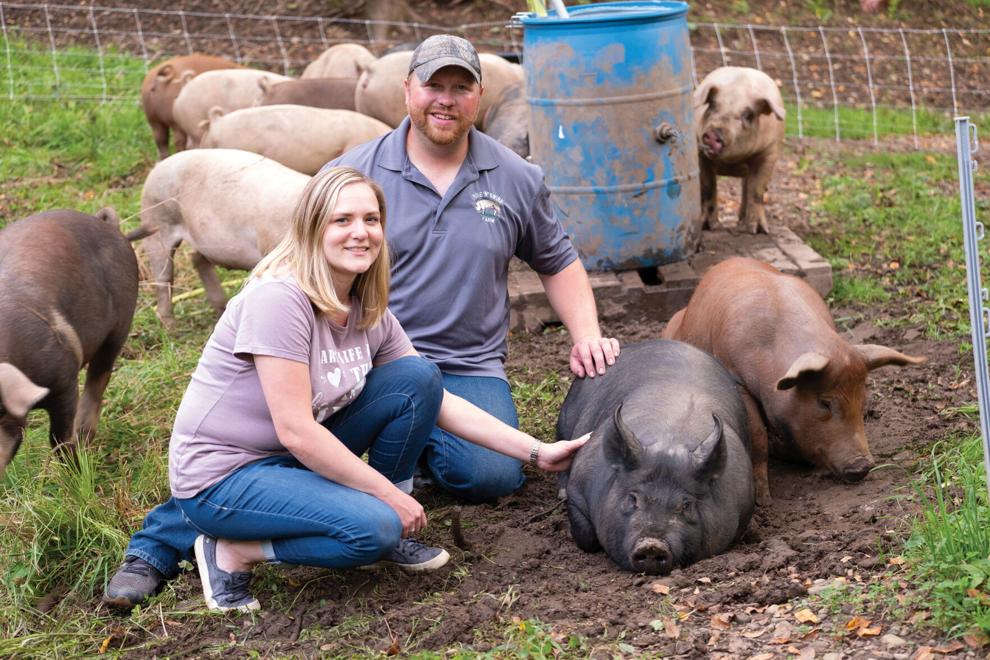 "Raising food "the way it oughta be."
For Greg and Elisabeth Putney of Rise 'n' Swine Farm in Holland, this is not just a tagline or a catchy mantra. This is the undercurrent of conviction that has powered the self-made farmers to tame impossible land, challenge authority, learn constantly, test tradition, and form priceless partnerships in order to breed, raise, and sell meat they believe in.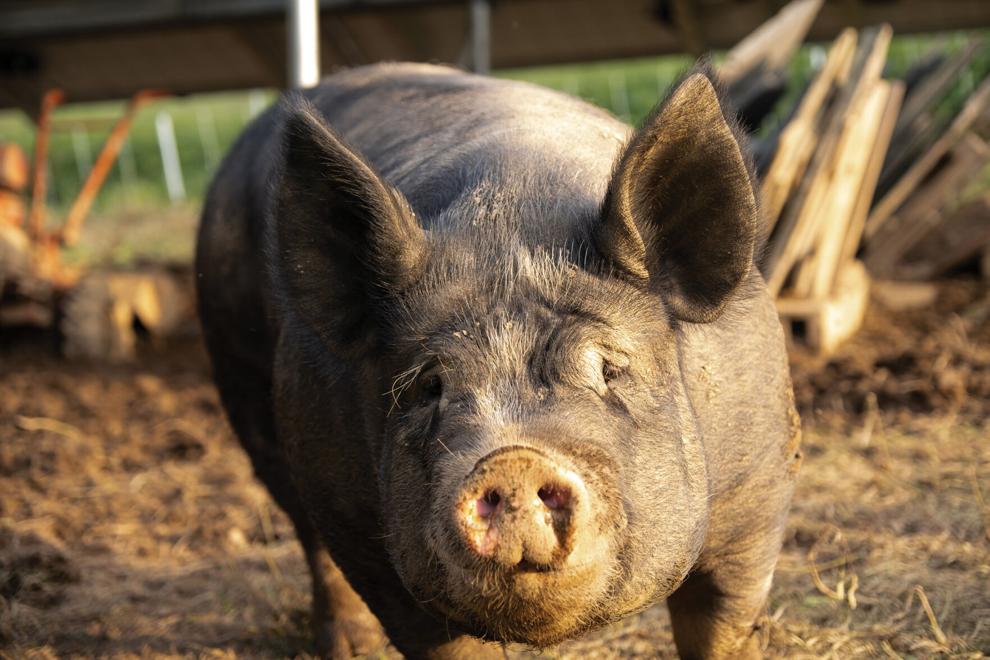 Like many growing farms, it all started with two pigs and a "why not?" The original goal was to raise meat for their family "the way it oughta be" —with plenty of access to fresh pasture, clean water, sunshine, and room to roam, resulting in happier animals and more nutritious food. Six years ago, the Putneys moved their two daughters and two pigs to their current location on sixteen acres. At the time, it hadn't been a working farm for almost fifty years and they weren't looking for it to be one. 
Shortly after the move, the pigs were joined by cows, a Scottish highland breed with long brown coats and bowl cuts atop broad curved horns. Like the hearty, fuzzy Berkshire cross pigs, the highland cattle are suited to Western New York's cold winters, not picky eaters, and generally have good attitudes. Next came the meat chickens, laying hens, and beehives for honey. All of the animals had a hoof, wing, and foot in helping the humans make the farm hospitable to the Putney's growing farm aspirations.
When the fledgling farmers first arrived on the Rise 'n' Swine land, which spans a little over a hundred acres including fields leased from a neighbor, there were no fences, tractor roads, or irrigation, nothing but wild, overgrown pasture and woods so thick with underbrush Greg could barely trudge through them. In just six years, the humans built the infrastructure, and the animals tamed the wild overgrowth. By creating fenced areas that could be moved every few days, the cows rotationally grazed their way around the farm mowing the overgrown pastures and fertilizing them with their manure, while the pigs rummaged and rooted down the thick weedy woodlands. It's this kind of natural animal behavior, enjoying fresh greenery in the sunshine, that the Putneys felt ought to be happening with more of the country's food supply.
Without natural ponds or springs, Greg built a gravity-fed water line system that gives the animals fresh drinking water almost anywhere on the farm. As a lineman for the electric company who still works full-time off the farm, running an interconnected network of water lines came naturally. Every other aspect of farm, animal, and land management he's eagerly learned along the way by constantly reading books, asking veteran farmers, searching for websites, and sharing knowledge and ideas among farms around the corner and around the country. All of the infrastructure has been designed to scale easily, so the Putneys aren't redoing or rebuilding anything as herds and business grow. 
As interest in their pork spread among first family, then friends, then neighbors, so did their sounder of swine; the farm went from sending two pigs to slaughter their first year to sixty-five total after a huge growth spurt last year.
"We knew we'd have a few more pigs but never imagined it would get to be this," says Elisabeth. 
Rise 'n' Swine's fast growth could be classified as accidentally on purpose. In late 2019, years into an ongoing shortage of meat processing options for Western New York farms, the Putneys saw a local slaughterhouse post a batch of processing dates for the following year that had inexplicably opened up. It was akin to winning the meat producers' lottery. They signed up for all of them. Slaughterhouse appointments fill up so far in advance that most animals aren't even born yet when their end date is determined. Farmers are driving animals hours away to any USDA abattoir who can take them, a market factor that bottlenecks many farms' ability to grow and consumers' access to locally raised meat. 
"As dumb luck would have it, we had decided to raise twenty pigs over the winter of 2019 into 2020," says Greg. "We hadn't tried it before, but here we were with the dates and the pigs to fill them."
The bonus processing dates fell months into the pandemic. As people started looking for low-contact food procurement, ways to support local businesses, and meat amid a shortage, the Putneys had plenty to sell. Every cut they had sold out instantly. And the demand didn't stop. The meat that won't even arrive from butchering dates in December 2021 was sold out by August. The rush for their pastured meat opened their eyes to the farm's full potential, and they cautiously looked for ways to keep the success going.
"We though this was awesome, but we have to work to keep customers when this is all over and everyone goes back to Tops," explains Elisabeth.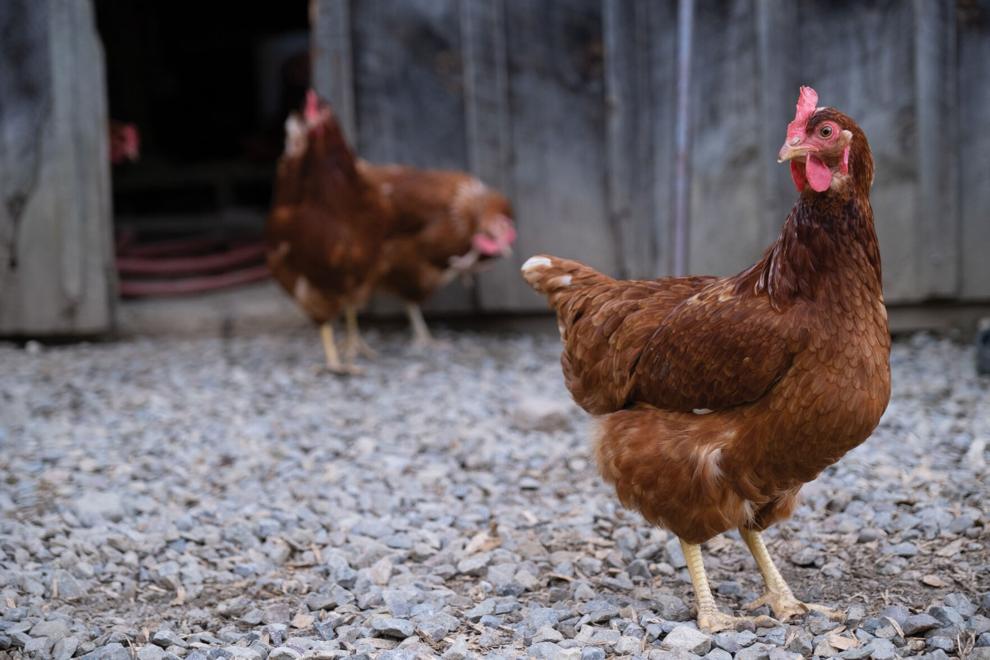 Up until that point, every chop and chicken leg sold directly to customers usually changed hands in the Putneys' garage. Elisabeth would meet people at all hours to make sales between her full-time off-farm job, raising two girls, and managing most of the books and marketing for Rise 'n' Swine. To make buying easier for both customers and family, Elisabeth wanted a dedicated place with set hours, like a store. They decided to build one on the farm.
Initially the town of Holland rejected the Putneys' plan to put a small retail operation on their property. But Elisabeth, who has worked for the state for fifteen years in an area that's made her comfortable digging into the legalities of real estate and zoning, did her research and found plenty of proof that they could, in fact, legally build a store on the farm. The town's own Right to Farm rules included language that paved the way for a variance permitting Rise 'n' Swine's new retail space to be built on the property. 
Greg used the slower winter months to build the store, handling everything from framing to finishing with a couple friends to help when they could. 
The shop, which opened in July, not only features glass-front coolers stocked with Rise 'n' Swine Farm meat, poultry, eggs, and honey, but also beautifully curated displays of products from a community of other local farm partners. There's maple syrup, hot sauces, soaps and balms, spices, breads, cheeses, milk, jams, ice cream, artisan wears, and so much more. Having a well-rounded inventory was important to the Putneys as the town's only food store is a Dollar General, with the closest supermarkets located in East Aurora and Arcade. With a steady stream of customers and more on the horizon, Elisabeth left her full-time job with its two-hour commute this past to dedicate more time to family and the farm. She's already taught herself to build a professional-quality website and social media presence, and has started working on a farm store map and event where people can visit and shop local on-farm food destinations the way they would on a wine or brewery tour.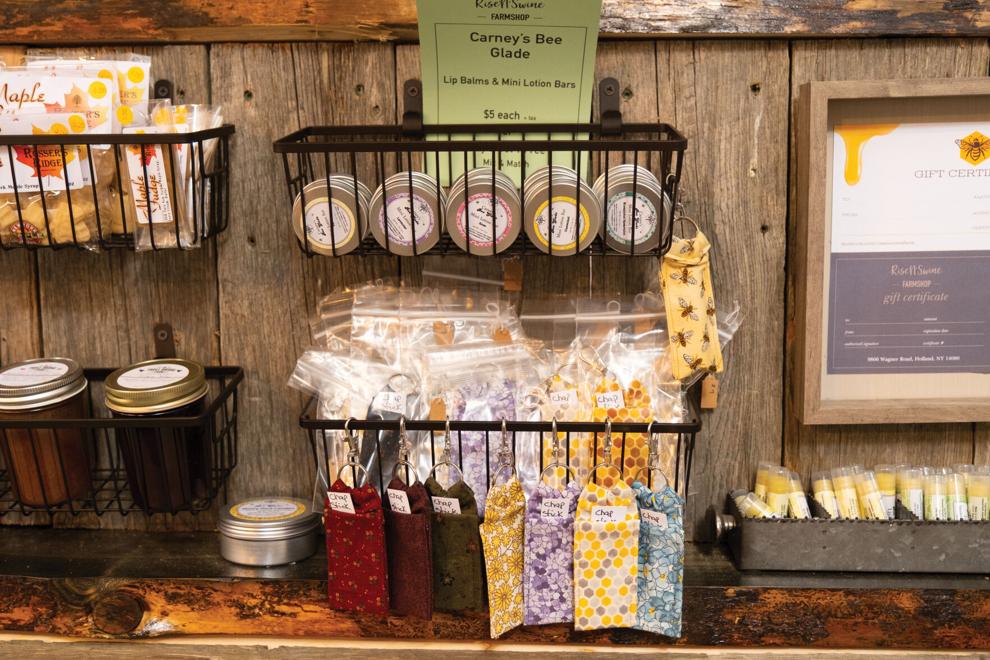 Before the blueprints for the store were finalized, the Putneys were already thinking bigger. What if, in addition to selling their own meat from the farm, they could butcher it on site? Initially they thought animal butchering had to be done in a USDA-inspected facility, but after a lot of research and question-asking—no central resource on such things really exists for enterprising farmers—they learned that regulations mandated USDA-inspected slaughter, but the actual meat-cutting could be done in a licensed kitchen similar to what caterers and restaurants have. That meant meat could be cut on the farm rather than getting caught in the USDA facility backlog. So the Putneys nearly doubled the footprint of the building plans to add a licensed 20C kitchen adjacent to the store for a butcher shop, plus space for another retailer to set up shop. The facility, slated for completion in fall 2021, will be one of the first of its kind in the region. In the future, other farms will be able to partner with Rise 'n' Swine's butcher to process their meat, too.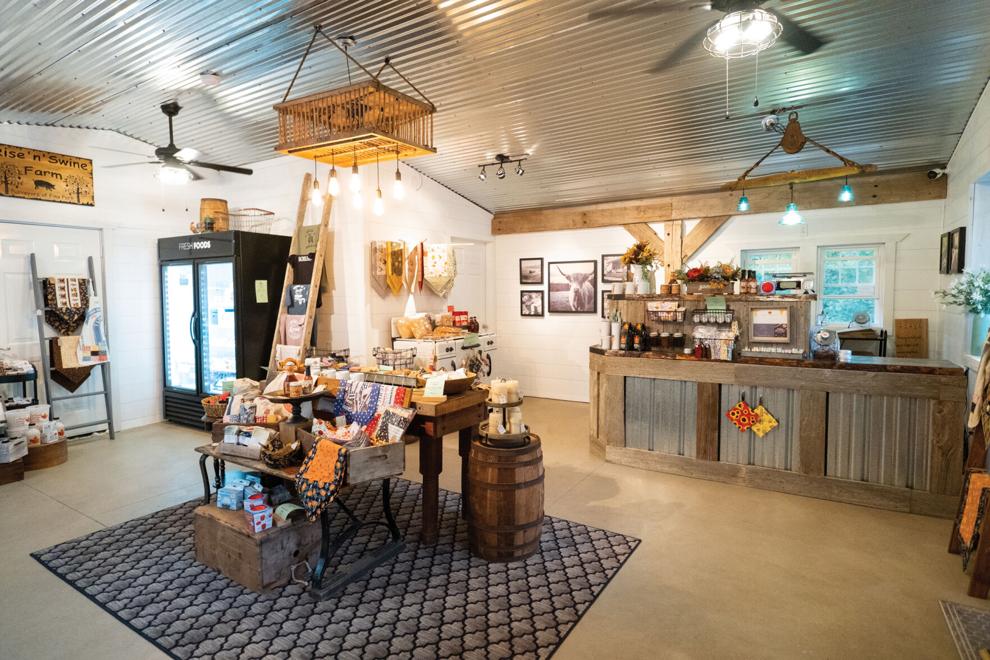 The shop has become a welcome center of sorts, not only inviting visitors to stock up on local goodies but also to strengthen their connections with their food and their neighbors. School and community groups can schedule guided tours of the farm to see the animals and the operation. A class schedule is in the works to learn about bee keeping, processing whole chickens into culinary cuts, and pork workshops for home cooks and chefs. There's talk of community barbecues on the farm shop lawn where the abundance of local food can be shared with neighbors. 
The way it oughta be.
To learn more, visit risenswinefarm.com.