Love affairs, big promotions, anniversaries, and visits from old friends come and go. What hasn't changed is my favorite setting in which to commemorate such occasions: San Marco.
I'm going to come right out and declare San Marco the best Italian food in Buffalo and the absolute best place to celebrate something wonderful. The elegant interior, particularly in the wine room, instantly infuses an evening with a kind of gentle sparkle; suddenly, nothing seems important except the person or people you're with. It takes an amazing restaurant to provide stellar food without drawing attention from the moment, but that's the name of the game at San Marco: you're having some of the best service and food of your life, but it somehow reflects its glow onto you and your company rather than itself.
Owner Frank Grimaldi greets each individual guest, seats the party, and presents the wine list and specials before placing his guests in the hands of his skilled staff. Grimaldi's knowledge of Italian wine is encyclopedic, should you need help with the lovingly chosen and mostly Italian wine list; the servers, too, offer honest and down-to-earth opinions and manage to be perfectly attentive without ever disrupting the magic of the evening.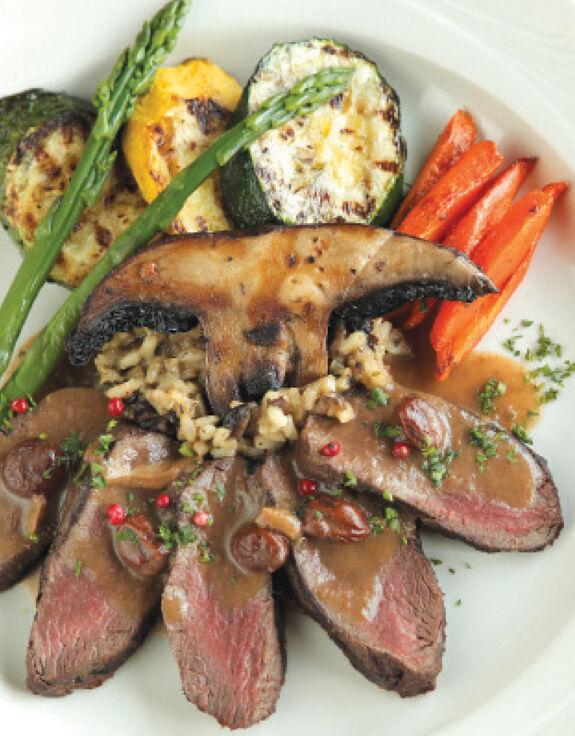 On this occasion, we wanted a special bottle, and, with the help of our server, settled on a Brunello we had never had before. The sensation of being surrounded by hundreds of bottles in the wine room evokes a sense of reverence, romance, and history in wine lovers like me; it forces the diner to slow down, take a breath, and enjoy a moment of gratitude for all that's good in the world. I'm generally opposed to restaurant marriage proposals, but one gets the feeling that this would be the kind of place to do it: it all feels so intimate, so personal. And then the food arrives. If you aren't in love yet, you will be.
We began with orders of bresaola and caprese. The caprese looks like the salad equivalent of Marilyn Monroe with its easy interplay between delicate and sensual. Gorgeously toasted tips of artichoke hearts are scattered like a lacey hem over a base of—rather than the traditional tomatoes—luscious, sultry roasted red peppers. The bresaola, a fitting accompaniment, features carnal slabs of air-dried beef jostling generously sliced parmesan shavings on a bed of arugula.
Eyes decidedly bigger than our stomachs, we split an order of bolognese as a second appetizer. Given San Marco's distinctive menu, I had never thought to try such a basic dish here, but am glad I did. The pasta has a wonderful texture, chewy and firm; the sauce sticks to your ribs without being heavy, and the whole is exalted by pungent fresh basil.
You could have a hundred comforting meals of bolognese and caprese here and never be disappointed, but it's San Marco's wild game offerings, including entrees such as boar, venison, quail, and rabbit, that truly set its menu apart.
My venison came with a portabella mushroom large enough to have its own postal address and gift shop (from Guercio & Sons, Grimaldi explained when I asked in disbelief), so aromatic and juicy it stood up to our Brunello, now singing beautifully. The venison itself, sinfully rare (don't order it past medium-rare or you're missing the point), was topped with big fat cherries and festive, bright juniper berries, adding a menthol/red-hot cinnamon note. My date's wild boar was perfectly tender, but the true highlight of the dish was the bed of risotto beneath. The fluffy rice, bursting with earth and garrigue flavor, complemented the boar so well that I couldn't bear to take a bite that didn't include both.
I've never felt weighed down or sluggish after a meal at San Marco, so it's never excessive to order dessert—on the contrary, I simply don't want the evening to be over. San Marco's Italian dessert wine offerings create a seamless transition, soothing the stomach and cleansing the palate. On this occasion we ordered Vin Santo and a shared bowl of pistachio gelato. Thick, chewy chunks of pistachio and the surrounding gelato had intensity and just the right amount of richness, making the dessert a perfect partner for the wine. Now, finally, with that hint of sweetness to punctuate the meal, the night felt complete. As Grimaldi walked us out and thanked us for visiting, I felt that same sense of gratitude for the things that make life worthwhile, and for the fact that San Marco is here to help us celebrate them properly. 
2082 Kensington Ave., Amherst
716-839-5876
Julia Burke writes on food, drink, and a variety of other topics for Buffalo Spree.