5 East Huron Street, Buffalo
716-848-5400
---
If you have not met her yet, let me introduce you to Oshun, the Santaria goddess of femininity, beauty, and love, who long ago resided in rivers and was romantically linked to the god Shango. She also happens to be the newest endeavor from chef Jim Guarino, whose University District restaurant, Shango, features comforting Cajun and Creole-tinged cuisine. Thus, two Western New York's eateries are connected by the passion of one local chef.
Oshun resides in the heart of downtown, where it's part of the ongoing redevelopment of Buffalo's former urban core. Five East Huron was once a Waldorf Lunch, a popular forties-era restaurant chain that sought to feed busy office workers with its sprinkling of eateries located throughout the northeast (including another Buffalo location at 935 Broadway). A relief of a W-imbued red apple still exists above the building's entrance. In more recent years, the space languished as a shoe store until it was mothballed in 2005. After nearly a year of renovations, it's been transformed into a modern restaurant that seamlessly blends large, original wall frescos and terrazzo floors with modern art deco styling.
Sweeping changes are the norm now, both for downtown development and within Buffalo's restaurant scene. Many chefs are pursuing new ventures and embracing trends that have gained momentum nationally. Oshun's menu, assembled and executed by chef Brett Brennan, is a prime example. There is a focus on small plates and shareable dishes, primarily constructed from sustainable seafood. Such an approach affords diners flexibility and the option of experiencing a greater range of flavors. Rather than limiting the menu to one regional cuisine, the focus is on quality and appeal. The result is a global greatest hits package.   
The raw bar features an impressive list of oysters, ranging in geographical provenance. It's wise to start there; tasting notes are supplied with the daily selections. Picking a few is the best way to appreciate the subtle variations in flavor offered by oysters from varying regions and conditions. Guarino worked the raw bar the night of our visit, so the bivalves were expertly shucked, each shell cradling plump meat in an icy cold pool of pristine oyster liquor. For those wary of raw on the half shell, the kitchen prepares Maryland oysters: battered, deep fried and slathered in a mix of sriracha and butter. It's Buffalo meets Vietnam, with the spicy nuggets nestled among napa cabbage slaw and sprigs of cilantro.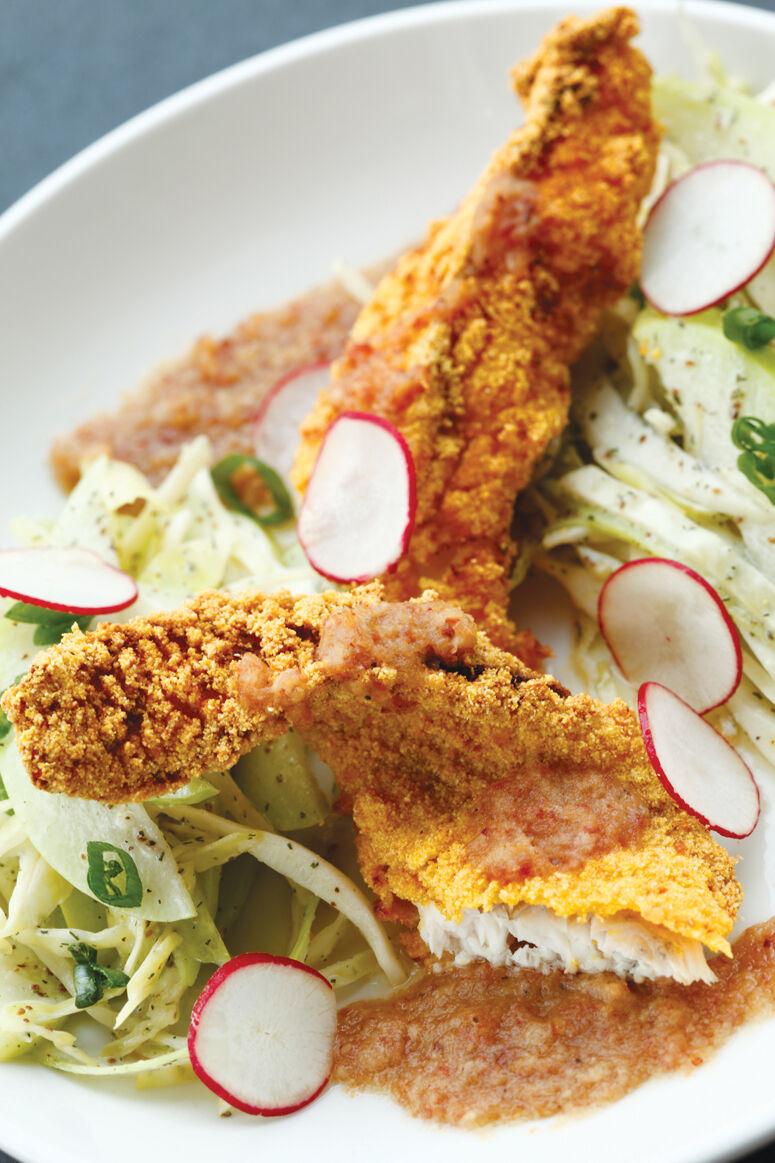 Oshun's seafood is of excellent quality, and, like the fried oysters, presented in captivating ways. The primary example of this is the diminutive bay scallops, lightly seared and tossed with a beguiling mix of silky coconut rice, mint, and citrusy tomatillos that play well against the scallop's natural sweetness. Popped corn is added, providing contrasting texture, and making you question why this ingredient is so often overlooked. Equally impressive is the catfish fillet, coated in a delicate cornmeal crust and finished with smoky bacon vinaigrette and a scattering of caviar-like pickled mustard seeds. Grilled salmon kebabs are perfectly cooked with tender, rosy centers and an exterior brightened by a glaze of honey mustard. I can't say whether the salmon was brined or if it was my imagination, but with the accompanying side of sauerkraut, the dish reminded me of everything I love about a Reuben sandwich. Save for a serving of shrimp that had a faint chemical taste (which seems all too common with the current state of shrimp), we were thoroughly impressed.
Salads, side dishes, and terrestrial proteins are available for the non-piscivorous. Prime sirloin steak is entrée-sized, but comes sliced—staying with the shared plates theme. It's partnered with a comforting potato salad and wedge of well caramelized onion. Served warm and christened with large crystals of salt, the Parker House rolls come with a sugar-enhanced butter that creates the irresistible combination of savory and sweet. An easily overlooked green leaf salad is thoughtfully assembled with feather light croutons and rich farmers cheese offset by a refreshing green goddess dressing and paper thin radish.
Both bar and wait staff are adequately pleasant and helpful. The bartender offered excellent food recommendations and our server pointed us in the direction of a very drinkable Spanish white wine. As with its sister Shango, Oshun's wine and beer list offer a well-curated collection of interesting, food-friendly beverages. While a craft cocktail program is in place, the local marketplace has established a high bar, and this is an area where Oshun could improve. Typical of restaurants that serve small plates, your server has the duty to inform you that dishes come out of the kitchen at unpredictable times. Our meal ended up feeling a little rushed and a few plates came out simultaneously, preventing us from being able to enjoy each dish's individual flavors, but this seems like a common practice with the small plates concept.
Welcome to your new downtown, Buffalo. Yes, big things are happening here, but in terms of edible progress, it's the little things—and the sweat equity of local talent—that prove most exciting. As the city's hub is swiftly remade, it's worthwhile to appreciate how quickly the restaurant scene is catching up.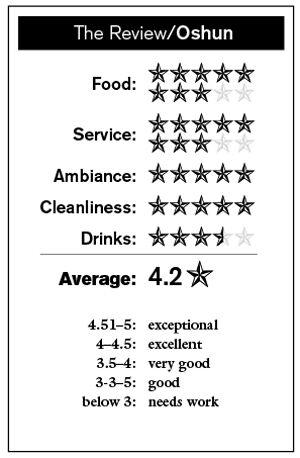 Jeff Biesinger reviews fine dining restaurants for Spree.