It's the little things that can make living in Western New York such a wonderful experience. For us, twenty-eight of those little things happen to be really good sandwiches. Before you think we're being silly, you should know that after being diagnosed with terminal cancer, singer/songwriter Warren Zevon was asked what the experience had taught him.
"Enjoy every sandwich," he responded. And we couldn't agree more; with this list and that advice, we hope you find that a few of our little things become yours.
—Christa Glennie Seychew, Spree food editor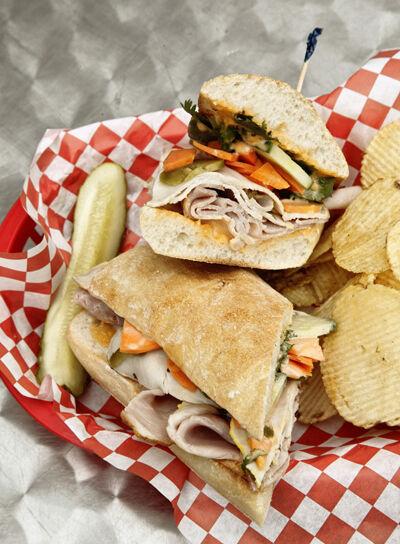 The Body
From: Joe's Deli—Buffalo
joesdelionline.com
Ingredients: Ciabatta bread, ham, spiced pork loin, pickled carrots and jalapeno, cucumber, cilantro, spicy mayonnaise
Sides: Dill pickle spear, chips
Price: $7.35
The Body, a sandwich from Joe's Deli on Hertel Avenue in Buffalo, takes its inspiration from the Vietnamese banh mi. But the Body riffs on a banh mi without being an exact replica of one. In other words, if you didn't know you were eating something that had its roots in Vietnamese cuisine, you could very well eat the Body and just enjoy it for what it is: a blend of ham and pork with some pickled vegetables, fresh cucumbers, and spicy mayonnaise on a crusty ciabatta bread. If you have enjoyed Vietnamese sandwiches in the past, then you'll appreciate the hat-tip to banh mi offered here.
But what makes this sandwich truly special is that the spiced sliced pork loin is created in-house, with a proprietary rub that really adds to the tenderness and depth of flavor of the meat. Joe's Deli is known for its attention to detail and use of high quality ingredients, and the Body really shows off this commitment. The Sahlen's ham provides a wonderful salty complement to the acidic tang of the pickled carrots, and the understated sriracha added to the mayonnaise is kicked up several notches by the jalapeno slices on the sandwich. (Please note that if you're not a major fan of spicy foods, you can—and probably should—ask for the Body sans jalapeno slices!) —Rachel Fix Dominguez
Vegetarian
From: Organic 3 Café—Multiple locations
organic3cafe.org
Contains: Avocado, red onion, cucumber, tomato, mixed greens, horseradish mayonnaise, and Provolone cheese, choice of bread
Sides: Asian coleslaw, green salad, blue corn chips, or fresh fruit
Price: $9.95
Organic 3's Vegetarian is its sole cold sandwich. It can be ordered on whole grain bread, dense ciabatta (best choice),  or gluten-free rolls. The sandwich has well-balanced crunchiness and creaminess, and—because everything here is organic—your unforgettable Vegetarian is as chem-free as it is delicious. —Nancy J. Parisi
Banh Mi
From: Black Market—Mobile
thebmft.com
Contains: House-baked baguette, various proteins (coconut beef, braised pork, lemongrass chicken, smoked trout, tofu, caramel beef, and more), cilantro, pickled carrots and onion, cucumber, white bean pâté, chili aioli
Price: $7 (can vary depending on the protein included)
The Black Market Food Truck's Vietnamese banh mi sandwiches are an addictive medley of hearty and refreshing. And here's where it gets interesting: the base of the banh mi is constant, but the protein always changes. Each time you visit the truck, you will find one of an array of banh mi sandwiches on rotation. In addition, vegetarian and vegan versions (such as the tofu banh mi) are offered. The coconut beef is braised and paired with toasted coconut for a rich and zesty vibe, while the lemongrass chicken is bright and invigorating.
The BMFT owners' playful attitude comes through with this diverse menu staple. As co-owners Christian Willmott and Michael Dimmer say, they like to keep their dishes fresh and keep their customers wondering what will come next. It's not exactly a traditional banh mi, but the flavor profile is spot on. Thanks to the power of social media, patrons can get a sneak preview of the day's menu from Twitter and Facebook posts that lure you with descriptions of the banh mi's layers, how long it took to braise the meat, or a photo of sandwich fixings as they're being prepped.
Be warned that this sandwich may cause embarrassment, thanks to the stray droplets of juicy sauce that wind up on your hands and clothing. But go ahead and indulge—the next person in line will understand once he takes his first bite. —Nina Barone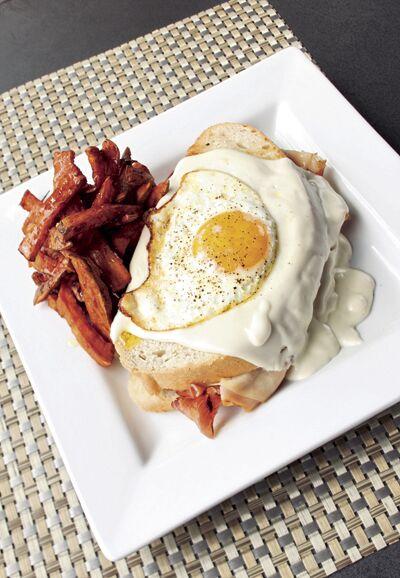 Croque Madame
From: Craving—Buffalo
cravingbuffalo.com
Contains: Sourdough bread, ham, Gruyere, aioli, mornay sauce, egg
Price: $8.50
Since moving to Hertel Avenue, Craving chef Adam Goetz (formerly of Allentown's Sample) has found he's busier than ever. It might be the expansive patio seating, nearby parking lot, or the addition of lunch service, but whatever the reason, the place is packed. I'd like to think it's the Croque Madame that's caused all the stir. According to Goetz, this incredibly addictive sandwich has earned a following with a large number of regulars who stop in for it daily. "Every once in a while, I remind them they ought to have a salad," jokes the chef, whose interpretation of the classic French staple requires a steak knife and a serious appetite.
The Madame is an established twist on the croque-monsieur, a fancy French ham and cheese. But this isn't any old grilled sandwich. Slices of off-the-bone ham and Gruyere are heightened by Craving's house-made thyme and whole grain mustard aioli. Pan-grilled and served with a ladle of mornay sauce (béchamel sauce infused with freshly grated cheese) and a perfectly fried egg, it's a sandwich that eats like a buffet. The combination of egg yolk, mornay, ham, and seasonings is decadent, and you'll find the commitment you silently made to yourself to "just eat half" is quickly waved aside. Heck, it may only be noon, but you might as well have a glass of wine while you're at it. If the folks at Craving saw fit to add the Croque Madame to the dinner menu, they would have to put an addition on the dining room. —Christa Glennie Seychew
Grilled Bologna
From: Sterling Place Tavern—Buffalo
1487 Hertel Ave.
Contains: Bologna, American cheese, caramelized onions
Price: $8.95
You can tell if it's the first time someone at the Sterling Place Tavern has ordered the grilled bologna sandwich by the way their jaw drops when they first set eyes on this meaty mountain of comfort and nostalgia.
"People come in and say, 'We've never seen a sandwich like this anywhere,'" says Sterling co-owner and chef John Gardon.  It's not just the size, which certainly matters here—each sandwich is loaded with about a week's worth of bologna—but Gardon's signature approach to this blue-collar classic. Rather than plopping cheese and onions atop one or two thicker steak cuts, Gardon layers eight to ten medium-thick slices, each one grilled on both sides (he needs to clear all the other orders off the grill to do this, so be patient), maximizing the surface area exposed to a glorious char. Strata of American cheese, caramelized onions, or both are layered between the slices, providing a perfect trinity of savory, sweet, and gooey in each bite. "This is the way my mom and dad made it when I was growing up, Gardon says of the layering. At home, of course, his parents fried the bologna, as do some places that dare to call their sandwiches grilled, a distinction he stresses is important: "This is truly grilled. So, from a health standpoint, it's not lying in a greasy fry pan. You get less fat by doing it this way."
While no one would exactly call this one healthy, not one milligram of sodium is regrettable. Why? "It's comfort food. It's peasant food,"Gardon says. "I'm old school—I believe in keeping it simple, using good, fresh product. It's not rocket science. It's basic, and I think that's so much better." —Jay Pawlowski
Reuben
From: Jonny C's—Amherst
jonnycs.com
Ingredients: Rye bread, corned beef, swiss cheese, sauerkraut, Russian dressing
Sides: Pickle and chips
Price: $8.24
Full disclosure: I have yet to completely eat my way through the menu at Jonny C's New York Deli, located in East Amherst. While I someday aspire to take one of the eating challenges offered by the restaurant, that day has yet to arrive, so when I say that the Reuben sandwich is one of my favorite selections at Jonny C's, well, you'll just have to take that information with a grain of salt. By my count, there are approximately seventy sandwiches on the menu, and that's not counting the burgers or the wraps or the salads on offer. I could eat there every day for a couple of months and still not try it all.
I do, however, know my way around a Reuben sandwich. And what I like most about the Reuben at Jonny C's is that it is a classic rendering of a sandwich that includes some of the most delicious flavor combinations I've ever consumed. Sauerkraut mixed with the salty tastiness that is corned beef? Doused in Russian dressing, smothered in melted Swiss cheese, and housed between two pieces of fresh rye bread? Why, yes, I think I will indulge, thank-
youverymuch!
It's always fun to see what is new and exciting in the world of food, but there are a few sandwiches that are so iconic and classic that they need not be improved upon. In my book, the Reuben is one of these. And Jonny C's does the Reuben proud. —Rachel Fix Dominguez
Fill-Me-More
From: Taste—East Aurora
tasteofeastaurora.com
Contains: Wheat wrap, chicken, walnuts, cranberries, red onions, lettuce, dressing
Sides: Small salad
Price: $8.50
The Taste menu says of the Fill-Me-More, "This one is to die for with Presidential Status." "It's by far our most popular sandwich," says co-owner Yvonne Evilsizor. Taste calls its sandwich wraps bistro blankets; unlike the doughy shells served by many, these wraps are grilled on a panini press, which gives them a toasted taste. The dressing that gently sweetens the chunky chicken salad is a closely guarded secret, a blend of about thirty ingredients. The most I could get out of the Taste staff is that there is some vinegar, some olive oil, a little of this, and a little of that. And if they told me the rest, they'd have to, well, you know. Whatever it is, its combination of sweet, sour, and tang makes the whole business taste great. —Rick Ohler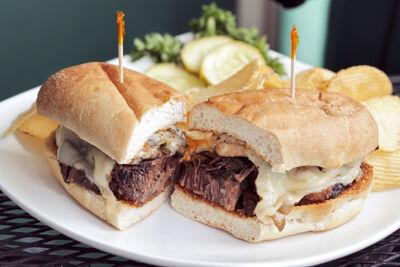 Pot Roast Sandwich
From: Wellington Pub—Buffalo
wellingtonpub.com
Contains: Pot roast beef, onions, mushrooms, choice of mayo, cheese, garlic-butter toasted hoagie roll.
Sides: Potato chips
Price: $8.99
Wellington Pub is one of the places where I can indulge my embarrassing devotion to heat-softened cheese and warm, melt-in-your-mouth beef. And every time, I ask myself: how do they always have perfectly cooked pot roast on hand at this magical place, where even the ever present, sports-blaring TVs cannot mar the enjoyment of this near perfect meat-based confection?
While the menu says that this sandwich is available on "white, wheat, rye, pumpernickel, weck, hoagie (plain or seasoned), or kaiser roll," you will notice that the menu prescribes that this sandwich is served on a hoagie. Don't change that, but feel free to choose between the Cajun, chipotle, garlic herb, or avocado mayo. I choose the garlic herb. As Liberace famously purred, "Too much of a good thing...is wonderful." If you've already got the garlic-toasted hoagie, why not garlic it up? I am not always interested in onions, either raw or cooked, but sometimes they are just right, and this is one of those times. The meat itself is onion-flavored, as a good pot roast would be.
The tooth to this sandwich is another marvel. Bite it. Warm bread. Warm cheese. Warm onions. Warm, lusciously tender beef. You will need those extra napkins. —Jana Eisenberg
Lamb Gyro
From: Bistro Europa—Buffalo
europabuffalo.com
Contains: Naan bread, ground lamb, peppadew peppers, feta, tzatziki
Sides: Giardiniera
Price: $12
While Buffalo may have limited access to doner kebab, Bistro Europa's lamb gyro is a more than adequate substitute. To begin, chef Steven Gedra recreates the texture and spice of kebab by combining fresh ground lamb with Eastern seasonings such as maharaja curry and sumac. The meat is formed into small patties and cooked crispy on the outside with a juicy interior. One might think the lamb would be overwhelmed once it's folded into a chewy and flavorful piece of housemade naan bread along with piquant Peppadew peppers, delicate French goat milk feta, and a curried tzatziki sauce studded with fresh cucumbers, but instead these additions pleasantly underpin the lamb's deep and satisfying flavor.
The modest restaurant's menu is seasonal (and almost entirely local), but each of its sandwiches are made with equal care, so if the gyro isn't on offer, we're certain you'll fall in love just as easily with another. But if you're anything like me, after your first little bit of lamb heaven, you'll find yourself pining for weeks to come, pouting over other subpar lunchtime offerings that just won't do, and finding excuses to make your way back to the Bistro midday more often. —Christa Glennie Seychew
Jambon Beurre
From: Elm Street Bakery—East Aurora
elmstreetbakery.com
Contains: Locally smoked ham and butter on a baguette
Price: $4.95 (half), $6.90 (whole)
When Elm Street Bakery opened in East Aurora two years ago, owners Jay and Kim DePerno were determined to keep things simple. All their offerings, from breads and pizzas baked in their wood-fired brick oven to soups, salads, and sandwiches from the café, would be made with fresh, seasonal, and wholesome ingredients from local sources, whenever possible. And every visit to the spacious, light-filled building on a quiet side street in the village would, according to Jay DePerno, "be a mini vacation for the customer."
So far their philosophy has worked. Elm Street has become a village hub, abuzz with activity and cheerful banter six days a week.
Emblematic of Elm Street's philosophy and its success is its most popular sandwich, the classic Jambon Beurre. The Jambon Beurre (French for ham and butter) couldn't be any simpler, or any more delicious. Slice a baguette from the brick oven, lengthwise. Butter the baguette with fresh butter from Upstate Farms, the dairy coop that includes most of Western New York's dairy farmers. Add smoked ham from one of a number of local sources—Mark Miller, Peaceful Pastures, Freeman Homestead, or Sahlen's—and, as the French say, voilá. Not included with the sandwich, but also available are seasonal soups, made fresh daily from scratch, and salads made with local greens and vegetables. To drink, there is Elm Street's coffee—roasted daily just down the street in their own roaster—or some New York State beers. —Rick OhlerJambon
Grilled Veggie
From: Globe Market—Multiple locations
theglobemarket.com
Contains: Eggplant, zucchini, red pepper, goat cheese, balsamic dressing, pesto, baguette
Sides: Colorful corn chips and a pickle
Price: $7.75
A vegetarian sandwich that doesn't attempt to masquerade some soggy portabello mushroom or cardboard-like soy item as meat? It is possible, and available at one of the city's most delightful lunch spots. Sometimes it's okay for vegetarian items to be geared toward people who actually enjoy the taste of vegetables, and for them, this is the real deal: juicy, hefty marinated-then-roasted-then-grilled veggies, tangy goat cheese, rich pesto, and just a twang of balsamic on a soft baguette for a big bite that manages to somehow stay relatively composed. Colorful, well seasoned, and hearty––that's how a vegetarian sandwich (well, any sandwich, really) should be. —Julia Burke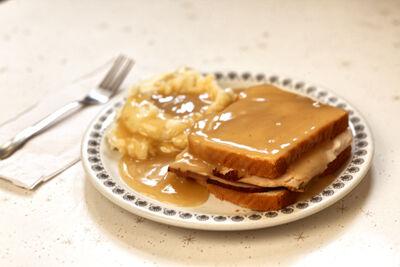 Hot Turkey
From: Nortel Grill—Buffalo
732 Hertel Ave.
Contains: White bread, turkey, gravy
Sides: Mashed potatoes
Price: $5.95
Enter the Nortel and you might think you've fallen through a rabbit hole. The wood paneled walls, Formica tables, and vintage call buttons located at each booth recall Buffalo's halcyon days, days my grandmother would recall to me as we ran errands around the city—her city. She would have loved the Nortel, a friendly spot with limited hours where the owners' sense of pride and adherence to old-fashioned scratch cooking have never been set aside. Open for lunch Monday through Friday (dinner is only served on Friday, and it's no surprise that only a fish fry is offered), the menu reads like the table of contents in a 1950s cookbook. But her favorite, and therefore mine too, would have been the hot turkey sandwich. For just a few bucks, Nortel serves up a heaping plate of house roasted and hand carved turkey, tucked between soft white bread, and smothered with hot, made-from-scratch gravy. The side of fresh, piping hot mashers are so good, you'll forget feeling bad about the lack of green (or any other color) on your plate. The Nortel hot turkey sandwich is comfort food at its finest. On a gray day, or any day, it's a little piece of what once made Buffalo great and will make Buffalo great once again—small business, pride, and quality. —Christa Glennie Seychew
CBLT
From: Fables Café—Buffalo
fablescafe.com
Contains: Italian bread, crab cakes, bacon, lettuce, tomato, chipotle mayonnaise
Sides: Green salad and cookie
Price: $8
It's hard to imagine that the builders of Buffalo's extensive Central Library ever imagined it packed with folks waiting in line for New Orleans-influenced lunch fare, but every Monday through Friday, Fables, its excellent lunch kiosk, feeds more than one hundred and fifty downtown workers. The CBLT sandwich is a favorite, and it's easy to see why after only a bite or two. The lightly grilled bread offers a crusty and sturdy foundation for two savory lump crab cakes, which makes it easy to hold and to eat, despite the thickness of its contents. Crab cake sandwiches often have the sad distinction of being mushy—the bread sort of traps the steam coming off the hot cakes and causes their crunchy exterior to soften—but that's not the case here. The traditional lettuce and tomato offer fresh and pleasant textural elements that cut through the soft density of the cakes and bread. The bacon, well, the bacon is crisp, thick, and imparts smoky-salty-meatiness to the whole event, acting as the perfect foil to the spicy chipotle-infused mayo. Add the quiet crowd, biblio-atmosphere, and the sandwich's complementary partners in crime—a fresh green salad and cookie—and it's hard to find any reason not to add Fables to your weekday lunchtime rotation. —Christa Glennie Seychew
Romeo and Giulietta
From: Romeo & Juliet's Bakery & Caffe—Multiple locations
rjcaffe.com
Contains: Focaccia, seasoned spinach, baked eggplant, tomato slices, provolone cheese
Price: $9.45
In keeping with the restaurant's Shakespearean namesakes, one of the best-selling panini here is the Romeo and Giulietta, heated in one of two imported presses. Each panino comes brushed with olive oil, with a green olive garnish on one half of the signature, heart-shaped sandwich. The focaccia is housemade, and the cooks tell me that one of their secret ingredients is house-made "seasonello," a blend of sea salt/rosemary/thyme/pepper/sage that is sprinkled on each panino. —Nancy J. Parisi
Candied Eggplant
From: Square 1 Sandwiches—Buffalo
square1sandwiches.com
Contains: Italian bread, eggplant, zucchini, onion, cheese, tomato, honey mustard, mayonnaise
Price: $7
Square 1 is housed in an old Airstream in Larkin Square, where it nourishes workers by day and revelers in the evening (during live concerts, food truck rallies, and other nighttime events). Its menu looks simple, but don't be fooled. Owner Harry Zemsky spent time honing his sandwich skills at Four Corners of the Earth, a beloved Burlington, Vermont sandwich shop. Many of the offerings are Zemsky's own creations, but the Candied Eggplant Sandwich is an adopted concoction unlike any sandwich I've ever eaten.
Thick slices of Costanzo's Italian bread act as the vehicle for transporting a sweet, savory, and spicy collection of ingredients, including shaved raw onion, shredded zucchini, cheddar cheese, slices of tomato, and a mayo-honey mustard sauce. But the highlight of the dish is the utterly revolutionized eggplant, perfectly cooked and seasoned with paprika, cayenne, honey, and olive oil. Gratifying and complex, this sandwich will please vegetarians and omnivores alike. Free from the quibbles anyone could easily have with eggplant, in terms of texture or flavor, this warm sandwich is an edible experience every food lover should have in their repertoire of unique eats. —Christa Glennie Seychew
Grilled Portobello Mushroom
From: Chris's NY Sandwich Co.—Buffalo
chrisnysandwichco.com
Contains: Spinach, crumbly goat cheese, roasted red peppers, red onion, garlic mayo, roll
Sides: None
Price: $9.25
I haven't really met anyone who's "meh" on mushrooms. Mushrooms are, I think, one of those things that people either love or hate. I love them—raw in my salad, sautéed in butter to accompany my steak, brushed in olive oil and grilled. Unsurprisingly, this sandwich is a natural for me. it's everything I want in a mushroom sandwich: warm and crusty bread, garlicky mayonnaise, spinach and onions, zesty cheese—all piled on the supporting mammoth mushroom.
It is not a tidy sandwich. If you are one of those who can tolerate dripping and finger-licking, and you don't mind adjusting for fillings that slide out the back of the sandwich, then this experience is for you.
It's a meltilicious mouthful of mushroomy goodness. —Jana Eisenberg
Classic Sub
From: John & Mary's—Cheektowaga
3513 Harlem Rd.
Contains: Italian meats, cold cuts, lettuce, tomatoes, oil or mayonnaise, hard roll
Price: $6.95–$8.70
Remember when a sandwich was a sandwich? When you didn't need to unhinge your jaw to fit it into your mouth? When you could recognize —and taste—each ingredient, and they didn't all spill out onto your plate after every bite, requiring either constant reassembly (and a heap of napkins) or eventual surrender to a knife and fork?
At the original John & Mary's on Harlem Road, they remember. They've been making submarine sandwiches the same way since 1952, using fresh ingredients, in just the right proportions, simply adorned with crisp lettuce, thinly sliced tomatoes, and your choice of mayonnaise or oil.
There's a reason for this. Jim Scott, the current owner, was trained by John and Mary in 1965. His dad purchased the restaurant a year later, and Jim and wife Anne Marie took over in 1985. "I do it the way I was taught," Scott says when asked why their subs are so good. "I keep it the same."
In addition to eschewing the bigger-is-better mania, the Scotts insist on quality ingredients. They use Sahlen's for turkey and ham, Lorigo's for Italian sausage, Battistoni for specialty meats, Tarantino for produce, and Costanzo's for rolls.
All two dozen or so subs and sandwiches on the menu are excellent, but many John & Mary's devotees (with minimal advertising and no website, they sell upwards of 200 subs a day) swear by the the Royal (Italian sausage, capicola), the Assorted (ham, capicola, salami) and the Club (turkey, bacon). But order whatever suits your fancy.
Chances are, you'll be back.  —Laura Silverman
Roasted Veggie
From: Curly's—Lackawanna
curlysgrill.com
Contains: Bread, eggplant, zucchini, red peppers, bleu cheese, olive oil
Price: $9
 Few things can impart more flavor to vegetables than grilling, and with the relatively new addition of a wood-fired grill to the Curly's kitchen, many of the popular restaurant's offerings have been transformed, imbued with smoke and char and all the wonderful things only cooking over wood-stoked flames can do.
The Lackawanna restaurant—family-operated for over seventy-five years—has always gone out of its way to offer dishes that are nutritious and friendly to guests with dietary concerns. A pioneer in terms of gluten-free menu options, chef and owner Krista Van Wagner uses the wood-fired grill to make tofu tasty and fish fantastic, and her lunchtime roasted veggie sandwich is no exception. Crusty grilled bread is drizzled with herb and garlic-infused olive oil, spread with smoked bleu cheese, and piled high with delicately oiled and expertly grilled slices of eggplant, zucchini, and red pepper. I know the terms "healthy" and "delicious" can sometimes seem incongruous, but in the case of Curly's roasted veggie sandwich, you'll find a harmonious blending of good and good for you. It's so satisfying, you'll find yourself wondering mid-bite how much it would cost to outfit your home kitchen with a wood-burning grill. —Christa Glennie Seychew
The Mike
From: Spot Coffee—Multiple locations
spotcoffee.com
Contains: Fried eggs, provolone cheese, cream cheese, meats (optional), bagel or muffin
Price: $4.95 and up, depending on additions
The name of this sandwich, which is available at all four Spot Coffee locations, harkens back to a previous owner—presumably one with a hearty appetite. The Mike is one of the more substantial breakfast sandwiches around town, a satisfying layering of eggs, cheese, and (optional) bacon, ham, or sausage. Spot's default bread for the Mike is a bagel, but it's best on an English muffin. Onions, peppers, mushrooms, spinach, or tomatoes may be piled on as well (fifty cents for each colorful embellishment). Every Spot sandwich is available as a wrap, but go for the traditional breads; they are better foils for this sandwich's hearty contents. —Nancy J. Parisi
Gorgonzola Steak Sandwich
From: Eagle House­—Williamsville
eaglehouseonline.com
Contains: Black Angus filet, gorgonzola cheese, lettuce, tomato, kaiser roll
Sides: Battered fries and a pickle
Price: $12
I've been going to the Eagle House for as long as I can remember. A family favorite, it was the site of my grandparents' fiftieth anniversary party, and I had my wedding rehearsal dinner there, as well as my baby shower. It's also an excellent spot for a nightcap after the Williamsville Old Home Days beer tent closes.
The Eagle House's Gorgonzola Steak Sandwich is a great pairing with a late night cocktail. Juicy steak, robust and stinky Gorgonzola cheese, and a nice hearty roll make for an excellent midnight/fourth meal (or lunch or dinner, for that matter).
This sandwich is built around a small filet, grilled to your specifications. I often dump the lettuce and tomato, because really, why mess with perfection? The flavors and textures of the cheese, meat, and roll meld beautifully. Some might worry about biting into a sandwich made with a whole cut rather than sliced steak, but the filet is so tender, you can chomp away without apprehension. The fries served on the side are the batter-dipped variety, adding extra crunch and taste. They're just delicious.
The sandwich can get a little messy and mushy toward the end, but soldier on! Even if you need a knife and fork to eat that last little bit, you'll want to clean your plate. —Jennifer Wutz-Lopes
The Vincenzo
From: Guercio & Sons—Buffalo
guercioandsons.com
Contains: Fresh mozzarella, arugula, marinated artichokes, roasted red peppers, tomato, Italian bread
Price: $4.99
Guercio & Sons sandwiches can require something of a pilgrimage, as they are only available from 7 a.m. to 3:30 p.m. on weekdays. But oh, are they worth it.
This small, family-owned grocery store (established by Vincent and Nancy Guercio in 1961 and now run by their five sons) has long been known as a great place to find local fare, fresh and moderately priced produce, imported specialty items, traditional Italian foods, and other ethnic comestibles.
The sandwiches served at the deli are lovingly, meticulously crafted. My favorite is the Vincenzo. Sweet and tangy all at once, the sandwich simply melts in your mouth. The flavors and different textures of the ingredients blend together for a unique combination of creamy softness and crispness. Once I've devoured it all, I spend days longing for one more bite.
My advice: arrive at Guercio & Sons at 7, before the work day begins, and save the sandwich for your lunch hour. While you savor it, you'll be the envy of each and every co-worker. —April Diodato
Roast Pork Hoagie
From: Niagara Café­—Buffalo
525 Niagara St.
Contains: Hoagie roll, roast pork, lettuce, tomato, mayonnaise
Price: $6 (cash only)
There are just two ingredients in the roast pork hoagie at Niagara Cafe: roast pork and bread. You can order it with lettuce, tomato, and mayo if you want. For fifty cents, you can also buy a portion of their famous mojito sauce to slather on top. But regulars order it plain. They know you can't improve on perfection. Slow roasted for twelve hours, this pork is tender, succulent, bursting with flavor. Don't bother asking for the recipe, though; it's a closely guarded family secret. "Puerto Rican-style seasoning" is the most Lilian Quintana, the daughter's owner, will divulge when asked (repeatedly) what makes their pork so impossibly delicious. "It's like that baked beans commercial. Only the dog knows."
The bread, however, is no secret: it's an eight-inch white sub roll from Costanzo's Bakery. Warm, plump, baked-that-morning fresh, it's the perfect foil for this pork: robust enough to contain a heaping mound of juicy meat (it's eyeballed, says Quintana, but she estimates about half a pound per sandwich), but not so robust the roll competes with the meat. Indeed, the outside of the roll stays dry and neat even as the inside melds with the juices, like a piece of Wonder bread at a southern barbeque—only better.
Family owned and operated since 1992, Niagara Cafe is a beloved West Side institution. You can get your hoagie to go, but it's more fun to stay. Order a passion fruit juice, a side of plantains, and soak up the homey vibe with the best Puerto Rican comfort food you'll find this side of Puerto Rico.  —Laura Silverman
The Hot Englishman
From: Shamus Restaurant—Lockport
theshamus.com
Contains: Turkey, applewood bacon, tomato, cheddar sauce, white bread
Sides: Pasta salad and pickle (can vary)
Price: $7.95
The quaint and welcoming atmosphere of the Shamus Restaurant in Lockport is an easy choice for lunchtime, when all you usually want is a good sandwich. Shamus has an exceptionally large lunch menu, including over a dozen choices of different sandwiches,  but my favorite is the Hot Englishman—which I always order because it makes me think of a dark and brooding Colin Firth as Mr. Darcy.
This open-faced sandwich is a bit more elegant than one you pick up to eat; it's serious and layered with saucy ingredients. You'll want to use a fork and knife, and have plenty of napkins available. The Hot Englishman is served in its own little casserole dish, the layers of bread, meat, and tomato smothered in a kind of béchamel sauce, with melty cheddar instead of Parmesan or Gruyere.
It's good-sized, so come with an appetite, as this is a sandwich best eaten right away. My attempt at reheating my leftovers did not bring back the feeling of the day before, and I was most certainly not thinking of Colin Firth while finishing it—I had more of a Marty Feldman sensation. Sigh. —Jennifer Wutz-Lopes
Clubhouse
From: Mike A @ Hotel Lafayette—Buffalo
mikealafayette.com
Contains: White bread, chicken, bacon, tomato, lettuce, mayonnaise
Sides: Chips
Price: $11
Mike A @Hotel Lafayette describes its daytime ambiance as ideal for an old school three-martini lunch, and I can't say that's wrong. I'm unsure how many could return to their workday after three high-octane beverages, but the restaurant's midday food and drinks are straight out of a scene from Mad Men.
Each selection pays homage to classic lunch fare from across the US, all in heaping, well-prepared portions. The club sandwich is often an under-whelming sandwich, whose typically soggy bread and dry chicken have been its undoing for decades, but not the Clubhouse here. The bread is baked daily, freshly toasted, and slathered with restaurant-grade mayonnaise. (If you've been wondering why many restaurant sandwiches taste better than the ones you make at home, this heavy-duty mayo might be the missing puzzle piece.) Juicy grilled chicken thighs are layered evenly, along with roasted bacon, tomato concasse, and crisp green lettuce. The beauty of the sandwich lies not only in cooking technique and assemblage, but also in the fact that the ingredients enhance the sandwich's long-standing flavor profile. The chef isn't relying on lackluster tomatoes. Nor is he expecting a grilled chicken breast to provide a satisfying poultry experience. By transforming the tomato into a fresh tomato spread, and by using luscious dark meat rather than breast, the sandwich is heightened even beyond what its Saratoga Springs inventor could have imagined. A few bites in, you'll find that second martini goes down pretty easily. —Christa Glennie Seychew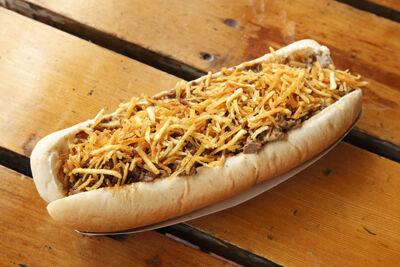 The Haystack
From: The Silo—Lewiston
(open seasonally)
lewistonsilo.com
Contains: Ground Angus beef, mozzarella, hash-brown potatoes, hoagie roll
Price: $6.49 (6-inch), $11.99 (whole)
There is nothing subtle about the signature dish at Lewiston's Silo. Known as the Haystack, this monument of a sandwich eschews any suggestion of subtlety or refinement.
This sandwich is made with one pound of lean, well-seasoned chopped Angus ribeye mixed with fresh mozzarella, and  stirred until combined. Golden potato hash browns are deep-fried to a perfect crispness and placed on top of the steak and cheese. It's all contained within a fresh, browned on the griddle, locally baked hoagie roll.
The Haystack is an ambitious, overwhelming concoction, characterized by Man v. Food host Alan Richman as the "holy trinity of dude food," although, from observation during several tasting visits, it appears that those ordering the Haystack are about evenly divided male and female with perhaps only a slight tilt to the men. One woman, upon picking up her order, asked the counter-man "How am I going to eat all this?" The response was instructive: "Well, you could take some home or just dig in hard and enjoy. Here are some extra napkins." —Margaret M. Toohey
Petite Pulled Pork Sandwich
From: Kentucky Greg's—Depew
kentuckygregs.com
Contains:  Pulled pork, sauce, coleslaw, Texas toast
Sides: Choice of one, including black-eyed peas and fried okra
Price: $5.99
Good barbecue doesn't need to be anything fancy—the less ostentatious, the better. It's all about flavor and tenderness. Southern hospitality helps, too.
Kentucky Greg's Hickory Pit fits the bill on all counts, and I do declare that the restaurant serves the most delicious barbecue around. I can't go there without ordering a pulled pork sandwich. The overstuffed sandwich contains slow-smoked, hand-pulled pork, accompanied by a sweet sauce with a bit of spice. For superior barbecue, the sauce is a fundamental requirement. Here, I always add extra, to the sandwich and my plate, for dipping. The petite-sized sandwich comes with one side, and I strongly recommend the potato salad.
At the restaurant, you can find owner Greg Engelhardt himself, as well as wife Pam, working hard and providing excellent service with warm, friendly smiles. During our meal, each stops by the table to ask how everything is. Covered in barbecue sauce and synchronously attacking our sandwiches, a plate of ribs, and a bevy of side dishes—all spread across the red gingham tablecloth—our breathless answer is, "Amazing."
When I asked Greg about the secret to that incredible sauce, his modest response was that he learned the tricks of his trade at home: "The sauce is from western Kentucky, which is where I'm from. Each region of Kentucky has its own sauce. All of the meat is smoked over wood."
If you've spotted a bright yellow sign with only the letters BBQ, you know you're in the right place—and in for an unforgettable meal. —April Diodato
Falafel on Samoon
From: Shish Kabab Express—Buffalo (lead image)
shishkababexpress.com
Ingredients: Samoon, falafel, onions, lettuce, pickles, tomatoes, yogurt sauce
Price: $5
The sandwiches at Shish Kabab Express are fresh, made to order, and huge. They come on your choice of bread (a wrap or an Iraqi samoon, which is a large, football-shaped roll), and I absolutely recommend that you choose the samoon. Not only does it have a great, spongy texture, it also provides a marvelous shape for your sandwich, one that helps ensure that your ingredients stay where they are supposed to.
I have tried many of the sandwich options at Shish Kabab Express, and I find that they are all quite tasty. The falafel sandwich is one of my favorites, in part because the falafel is always perfectly fried. And while the meats on offer (kabab and shwarma) are well-spiced and always fresh cut, I find that the falafel keeps well as leftovers. Five dollars nets you a great deal of food at Shish Kabab Express—so much food, in fact, that I cannot fathom eating it all in one sitting. So make sure you're hungry when you order the falafel sandwich on samoon bread, and be prepared to take some home. —Rachel Fix Dominguez
Farmer Cheese, Beet & Carrot
From: Cafe 59—Buffalo
cafe59.com
Ingredients: Farmer cheese, beets, carrots, lettuce, vinaigrette
Sides: Choice of chips, fruit, or pasta salad
Price: $6.95
Cafe 59's menu is a bonanza of delicious sandwiches, so many that you're apt to hold up the take-out line as you gaze transfixed at the selection of cold specialty, hot specialty, and build-your-own combinations. Ham & Hummus or Turkey & Zucchini? Roasted Veggie or The Italian? It all depends on your mood and dietary requirements. Whatever you choose, you can depend on fresh, high-quality ingredients, and plenty of them. The visually appealing Farmer Cheese, Beet & Carrot is perfect for a hot summer day. Like all of the cafe's offerings, the ingredients more than fill your choice of a Costanza roll or wrap, but the tastes are light and subtle. The fresh crunch of carrots and lettuce combine with the silky cheese and sweet beets much as they would in a salad. It's satisfying, but in that virtuous sort of way.
With two walls of windows facing Allen and Franklin Streets, this comfortable breakfast and lunch spot is great for people-watching and perfect for a solo lunch.  —Elizabeth Licata
Please note, the sandwich prices listed were correct at the time of publication (August 2013), please see the restaurant for current pricing.