It's the end of an era. And the beginning of another.
I've been feeling that way all year, as I see a restaurant and farming community where — once—everyone knew each other transform into one that has become so large, so varied, so successful that knowing everyone is hardly a possibility anymore. After a text conversation with a good friend last week, I think that's even truer today.
In 2009, I co-hosted a conference connecting chefs and farmers. At its close, I walked outside the ramshackle ski lodge where it was held to find my good friend, chef Bruce Wieszala, moving tiny, pink, squealing baby piglets from one vehicle to another. He'd been enlisted by a tall, dark-haired man whom I'd seen earlier in the day at Bruce's class about whole animal butchery.
Wieszala is a Buffalo native who trained under some great chefs in Atlanta and was, in WNY, a very early adopter of what we've come to know as the farm-to-table movement. In 2009, he was the only chef in the area who had a lot of experience with whole animal butchery and charcuterie—his trouble was that he struggled to find an owner who understood and appreciated the value of the concept. I'd hoped his leadership at the conference might convert a few others (and it did!). During his lecture, Bruce made friends with a Niagara County farmer, a hobbyist, really, who was raising heritage pig breeding stock. Some of these piglets made their way to a well-respected downstate farmer, Jen Small, who,  in turn, raised and "finished" those pigs and then sold them to some of Manhattan's most lauded restaurants. She'd attended the conference as a guest speaker, and the local farmer had killed two birds with one stone by using it as an opportunity to transfer some livestock to Small post-lecture.
That Niagara County farmer was Rich Tilyou. He's a public school teacher who'd purchased a long and narrow densely-covered plot of farmland in Newfane in 2005. While researching ways to clear the land of its massive poison ivy problem, he learned that certain breeds of pigs not only eat brush and foliage but clear entire trees. These pigs also happen to thrive while living outside in challenging weather conditions. In no time, Tilyou's property was clear and he had fat and happy hogs on his hands: too many fat and happy hogs on his hands.  He became familiar with the particular breed he was using, Gloucestershire Old Spot and its variants (of which there are four), and began to breed pigs as a side business, hoping, as he told me then, to increase the strength of the breed here in America. Those that weren't quite up to standard as breeding stock were sold to farmers raising hogs for market.
This was where Rich was at in 2009, when Bruce and I met him, his wife Bonnie, and their sons. They had maybe a dozen pigs or so. But over time, with tremendous effort on the part of the Tilyous, their processors, Wieszala, and his fellow chefs (Carmelo Raimondi and Steven Gedra), it seemed that by 2011 or so, the whole WNY universe knew about and wanted to buy T-Meadow pork.
At the height of T-Meadow's production, they were caring for two hundred and fifty hogs at a time. But over the years, the effort of small farm ownership began to take its toll. Rich suffered some health issues. The weather would destroy the grounds, with wet springs or not-cold-enough winters turning the farm to mud and making it impossible to use machinery. Grain prices went through the roof. There was the never-ending grind of a fleet of live animals needing attention every single day, something that's hard for fulltime farmers to manage, let alone part-time farmers. The family took on more help and tried to scale. But anyone who is familiar with the bottleneck of meat processing can see that—no matter what obstacles the Tilyou's faced and overcame—processing was always going to be the one insoluble problem.
When Rich texted me last week to tell me that he and Bonnie had decided to retire form hog farming and sell their stock to Kindred Kreek Farm, I knew we had to explain the situation to all the local T-Meadow fans. Below you'll find the Q&A I sent him, along with one I emailed to Steven Gedra, co-owner of The Black Sheep. The Sheep and its former incarnation, Bistro Europa, have easily butchered, cured, and sold more T-Meadow pork than anywhere else.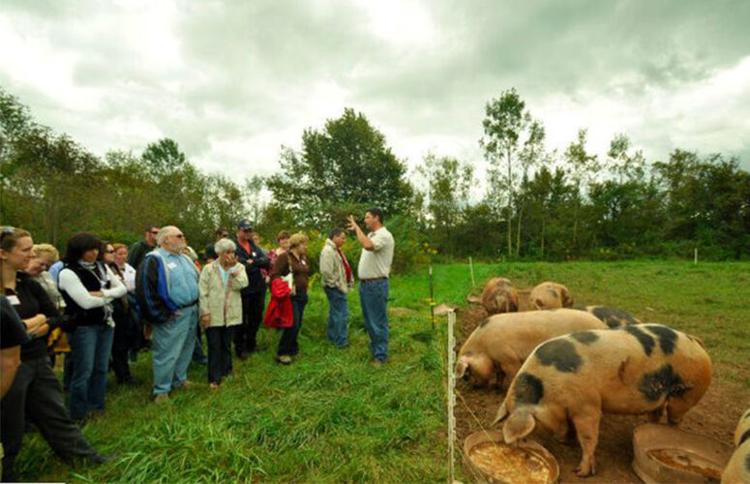 Christa Glennie Seychew: Why have you and Bonnie decided to sell the farm?
Rich Tilyou: This was not an easy decision, as we put so much time and energy into the farm. Several things evolved in our lives, and in my two son's lives, which made it very difficult to keep up the pace of farrow to finish, markets, and restaurant orders. The biggest reason is that I was hit with vertigo in November of 2015. I'm still having issues with it, and it has slowed me down. It's hard to describe, but I have had to adjust many things in my life to make it tolerable. Large groups of people moving around, walking on uneven ground— all are tiresome due to the concentration involved in not falling over. We have not sold the farm; we will continue to live here, and we are only selling the livestock and equipment.
I know this has a long and complicated answer, but what are the general hardships a small-scale livestock farmer in the US/NYS experiences?
One of the biggest issues we had is finding processing of cuts for resale, or under USDA inspection. The demand on processing dates makes it hard to be able to provide product at critical times, or with short notice. We ended up using several different processors to meet the demand. Scheduling and balancing inventory and taking on new customers is a lot of work.
You're selling your stock to Kindred Kreek. What made you choose them? How do you know them?
The guy with the biggest heart in the world, Steve Gedra, listened to my concerns about selling our stock. He introduced Jeff of Kindred Kreek to me. Jeff came out to the farm, and we came to an agreement. He and his family have a beautiful farm, and it is great that we can help each other.
What advice would you offer laymen thinking about farming or raising livestock?
I would suggest visiting as many farms as possible. Take ideas from the farms you like and visualize how they can be incorporated into your farm. No two farms are alike, so make your farm unique to you. Also, learn your product. I appreciate how all facets of farm-to-table have to work together to help each other. For instance, cutting pork gave me a complete understanding of the pig, and how specific instructions from customers could be conveyed to the processor. Communication is so important, too.
What could change in WNY to make more local livestock readily available to chefs or the dining public?
This is a simple question. We need more processing facilities in Erie and Niagara counties. The time and cost of processing and travel add quite a bit to the price of the finished product.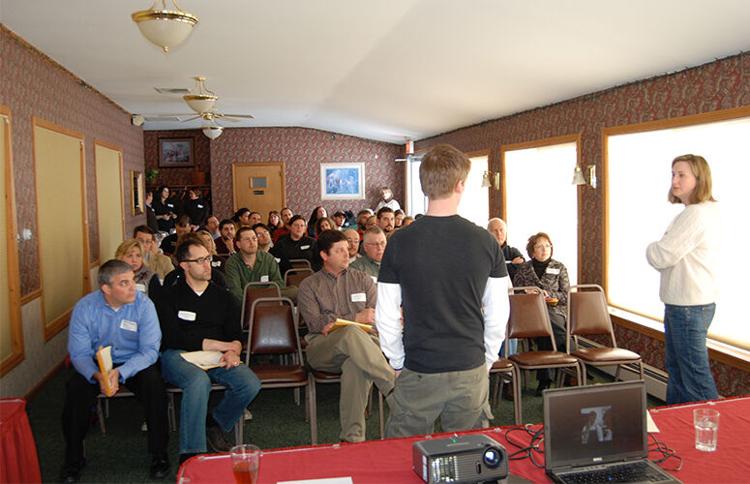 A talk with Black Sheep owner/chef Steve Gedra:
CGS: How would you quantify the impact of your relationship with T-Meadow on your business?
Steve Gedra: T-Meadow has been a lynchpin of our business and a focal point of our food philosophy for almost a decade. The quality of the product is second to none, and the Tilyous are just awesome to be in business with. As sad as this is, I'm glad that Rich is going to focus on his well-being because he's a way better friend than he is a business asset.
Do you remember the first time you tried Rich's pork? What was the circumstance?
I'm not totally clear on this, but I know Bruce Wieszala had something to do with it. I just remember how flavorful and rich and delicious it was, and I was immediately smitten.
You're the one who suggested he work with the folks at Kindred Creek farm?  What about Kindred Kreek makes you feel confident about their ability to handle the T-Meadow legacy?
Yes, I suggested that they work together. Rich wanted to get out, and Jeff of Kindred Creek was looking to expand so it seemed like a natural fit. Considering we already do business with Jeff, I was really excited to retain the genetics Rich has worked so hard to cultivate over the years. It really couldn't have worked out better for anyone who is a fan of T-Meadow. I'm glad I could connect the dots. I know Jeff has his own plans for what he'd like to do with the pigs, but he's really a smart and kind person who will continue to carry on the T-Meadow legacy for hopefully a long time.
How do you know Jeff and Kindred Kreek?
Jeff from Kindred Kreek just came into the restaurant one day and blew me up with a bunch of samples. Lamb, rabbit, duck, chicken. His stuff is really high quality, and he's a great guy who clearly cares a lot about animal husbandry.
LINKS:
Bottleneck (problems with processing)
Spree article on Bruce Wieszala by Lizz Schumer
Christa Glennie Seychew is Spree's former food editor and a current contributor.