We've written about Bistro Europa several times, both in print and online. Trailblazers when it comes to a fresh, seasonal approach and outlandish preparations, the little Elmwood Avenue restaurant has earned true fans and follwers in the two years since Chef Steve Gedra and his wife Ellen bought the place.
Last Sunday the 28-seat restaurant hosted its second annual Snout-to-Tail dinner, featuring heritage breed hogs from none other than T-Meadow Farm. Below you'll find course-by-course photos with my notes from the meal. Chef Gedra was assisted in the kitchen by Chef Bruce Wieszala of Carmelo's in Lewiston and Chef James D. Roberts of Park Country Club in Williamsville.
Fall and spring are seasons where many wine dinners and other prix fixe affairs are hosted by restaurants. For guests they provide a really excellent opportunity to taste new things, meet new people, and discover what your favorite chef can do when he's got total creative freedom. Make sure to join us on Tuesdays for our weekly Tuesday Tidbit columns, which often contain information about upcoming dinners and other newsy bits.
Bistro Europa's 2011 Snout-to-Tail Dinner
Carmelo's Cracklins - with cheese powder, vinegar powder, pimenton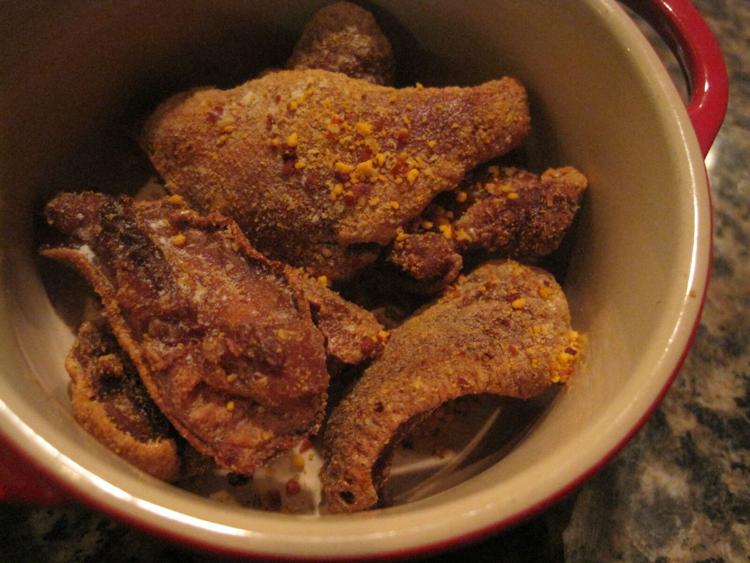 These piquant little cracklins made a reappearance from the last nose-to-tail dinner held at Europa. Chef Carmelo of Carmelo's in Lewiston was the mastermind behind these tasty snack treats. It was impossible to eat just one.
Charcuterie and Accoutrements - proscuitto, lardo, capicola, and all the fixings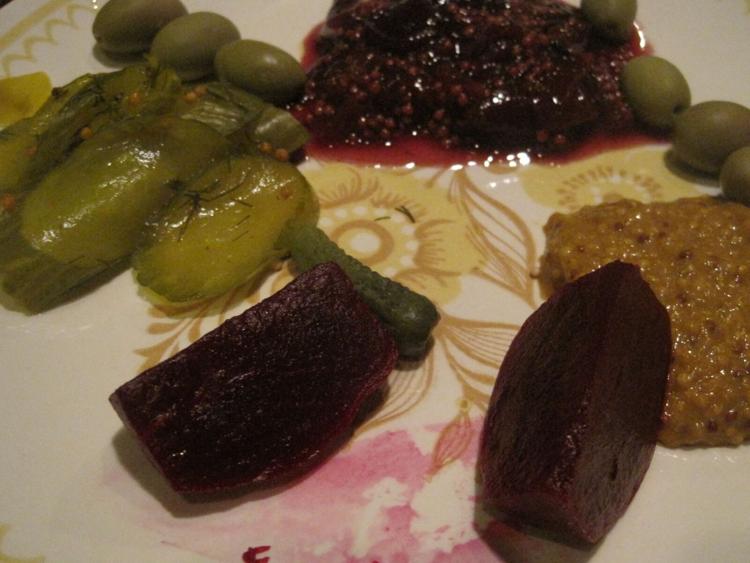 This picture should also include the melt-in-your-mouth lardo, bright and tender prosciutto, and earthy capicola made in-house by the Europa "squad", but I had trouble shooting the dish based on my angle and it took us mere seconds to inhale the entire plate of sheer porcine joy.
Bruleed Chicken Liver Pate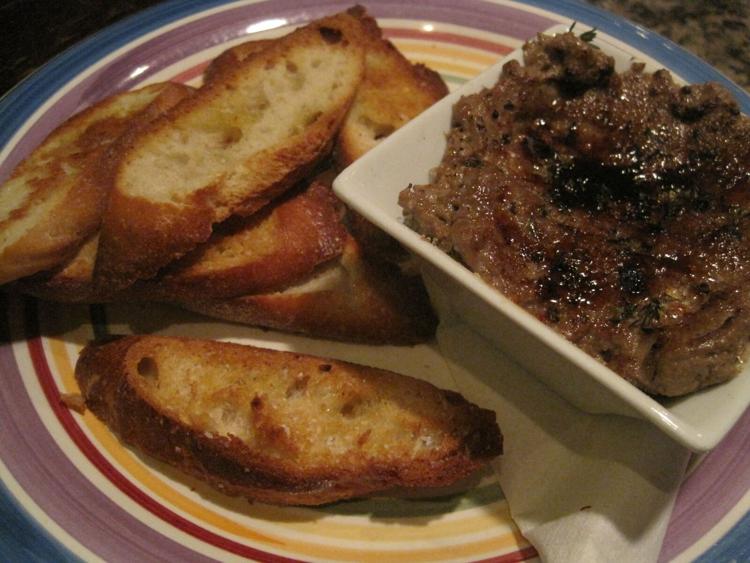 I've had chicken liver pate many times, but never bruleed. The additional texture and flavor imbued by the process made this an even more delicious dish. Look for this item on Europa's winter menu rotation.
Fried Thai Bologna Lettuce Wrap - rice noodles, housemade sweet chili sauce and extra hot mustard sauce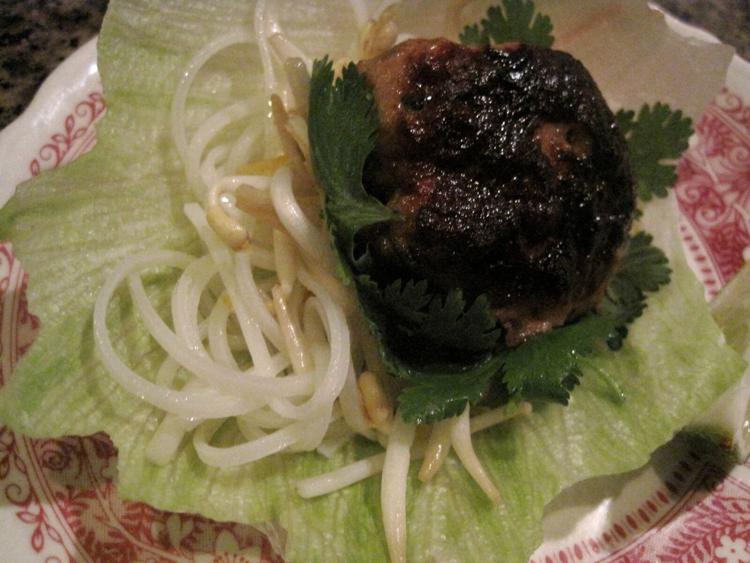 Chef Gedra was excited for this creation to make its debut, and rightly so. The emulsified pork mixture was tender and a spectacular playground for all of the Thai flavors. I was glad that I split mine in half, liberally dressing each side with one of the sauces provided. I especially enjoyed the extra flavor imparted by the brown and crispy exterior of the meatball, but I really can't wait to sample future incarnations of this dish.
Housemade Coppa di Testa and Porchetta di Testa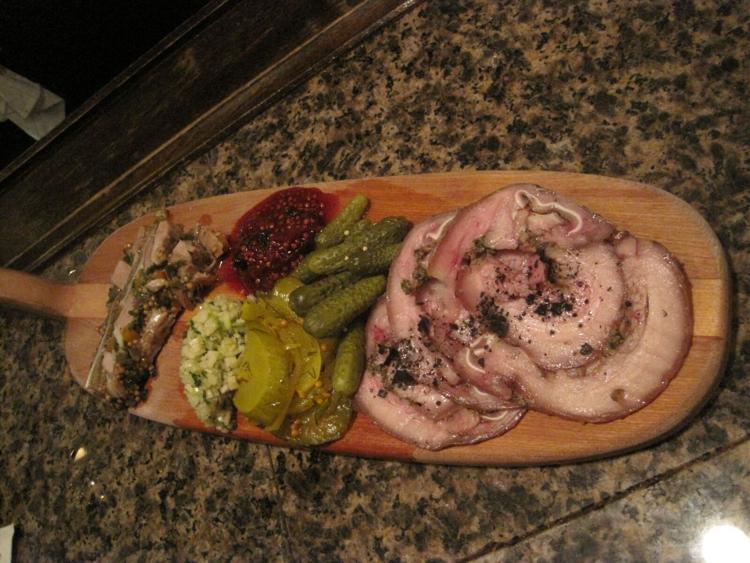 This was an excellent way to utilize the heads of the hogs. I preferred the thick meaty cubes that were part of the Coppa more than the Porchetta, but both were packed with flavor.
Heart Tartare - raw quail egg, turnip puree, marrow, chive oil, frites
I consider myself a very adventurous eater, but I was a little leery of a course featuring raw pig heart. But the earthy and slightly bitter turnip puree, unctuous marrow, earthy and bright chive, rich egg yolk, and crispy, salty frites made this dish a win—nearly my favorite of the night. It isn't often raw pig heart nearly beats out killer pork belly (which was my fav) when it comes to flavor, texture, and appeal, but this was a very close runner up.
Pork Belly Rillons - Oles' farm spaghetti squash, pomegranate molasses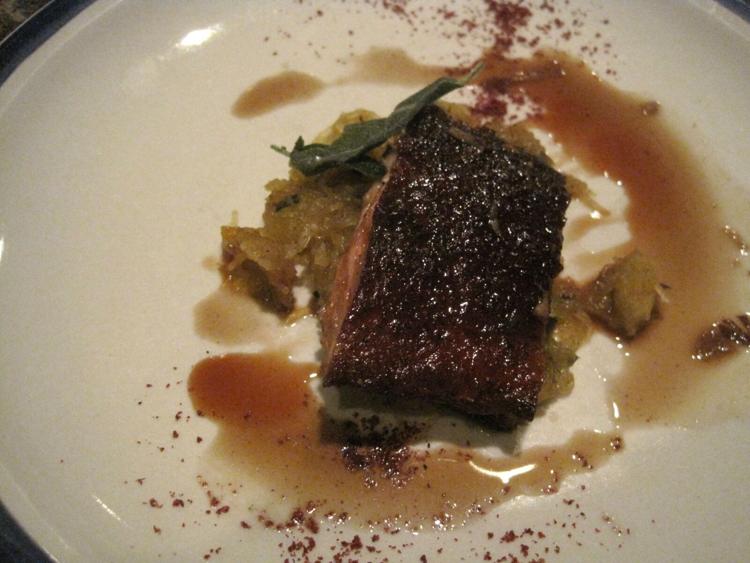 "Rillon" is a French term for a dish from Lyon that consists of small cubes of pork that are slow cooked until they become nearly candied. This was a large piece of belly, bigger than I expected, but I'm not complaining. It was as expertly prepared and superb. The butternut squash provided a nutty anchor and variance in texture while the sweet sauce helped to elevate and enhance the rich, subtly smoky flavor. Delicious!
Porchetta di Toscana - apple rosemary puree, bacon sausage jus
This porchetta ranks right up there as one of the best I've had. It wasn't just that the technique used to prepare it was perfect resulting in a crispy skin and succulent pork, but the stuffing was fabulous. The emulsified pork stuffing was herbacious and liberally strewn with the welcome textural addition of pine nuts. The apple rosemary puree was the prefect complement—something so good I think I could find a place for it on my dinner table throughout the chilly season.
Baked Dan Tower Apple - maple bacon ice cream and "pig tail" tuile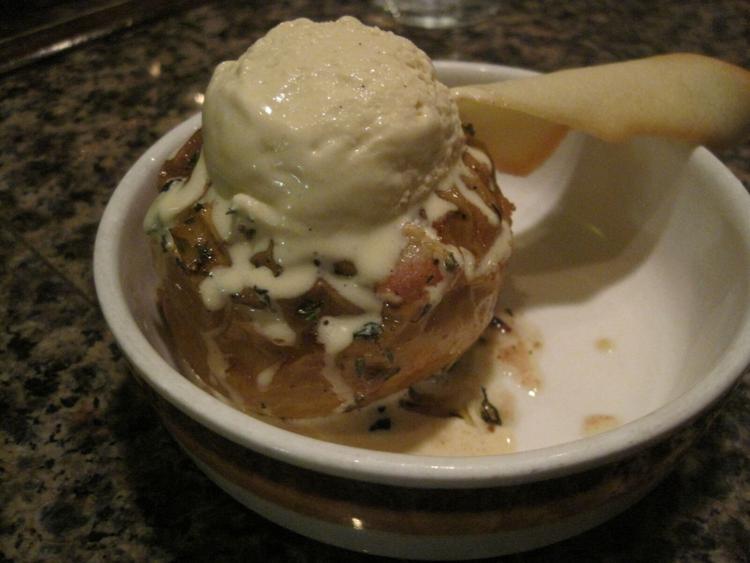 Dan Tower apples are among the finest in our area and this dessert really allowed them to shine. The maple bacon ice cream was a flavorful accompaniment (and helped earn Gedra the win at his Nickel CIty Chef event in 2010). Additionally, the dish wasn't overly rich or heavy, making it the perfect way to end the night.