This week one of Buffalo's most talented chefs will make his way to the James Beard Foundation for a fourth time. Presenting a dinner at the Beard House is a singular honor among chefs, which isn't lost on Chef Mike Andrzejewski of Sea Bar (formerly of Tsunami and Oliver's.) He and his staff have spent countless hours developing and honing the menu which will be served on February 16th in the former home of one of America's most important culinary figures.  
A writer, chef and passionate lover of food, James Beard (see inset image) is often credited with having established the American gourmet movement. He wrote over twenty books, and today the James Beard Foundation gives out several culinary awards and honors in his name. Additionally, they encourage the exploration and celebration of food through their extensive scholarship programs.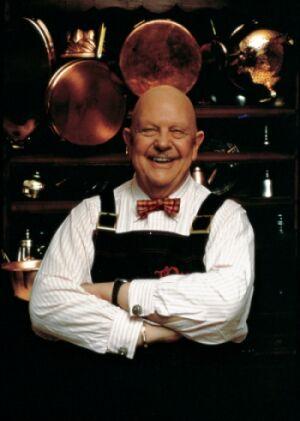 When Beard died in 1985, another of our country's greatest culinarians, Julia Child, suggested that his Greenwich Village brownstone serve as a gathering place for great ideas about food. Today it is operated as a not-for-profit organization by a board, and functions as the only historical culinary center in the country. The Foundation raises money for scholarships (over $2.2 million since 2001) and other educational endeavors by hosting dinners—open to Foundation members and the general public—featuring meals prepared by the world's best chefs nearly 225 nights a year. 
Chef Andrzejewski first cooked at the Beard House while he was Executive Chef at the venerable Oliver's. He and two other Buffalo chefs made the journey, representing some of Buffalo's best culinary talent at the time, Chef Sam Reda of Biac's and Chef Joel Chenet of the Buffalo Club. After earning critical acclaim on his own—and introducing Buffalo to fusion—with Tsunami, Andrzejewski was invited back again. In 2008 he proudly represented Sea Bar in its first incarnation, preparing a meal that prominently featured his abilities with sushi. Now that Sea Bar has evolved, both in appearance and offerings, he returns to The James Beard House with a different menu. 
As with all Beard dinners, guests begin their meal with a few passed hors d'oeuvres. Chef Andrzejewski will serve Pulled Pork Tempura, Oysters with Cucumber–Chile Salsa, Lobster Buns and Seabar Signature Chicken Wings.  
The dinner menu follows: 
Pacific Tuatua Clams with Bacon Consommé, Potatoes, and Sherry Vinegar Cream
Gekkeikan Zipang Junmai Sparkling Sake
Unagi and Foie Gras Torchon with Radish Salad and Mustard–Soy Emulsion
Domaine Carneros Brut Rosé NV
Seared Shrimp with Shrimp and Goat Cheese Pierogi and Red Wine Sauce
Viña Real Rioja Reserva 2001
Seafood Loco Moco with Seafood Sausage, Fried Rice, Egg, and Gravy
Loca Linda Torrontés 2010
Chicken and Herb Waffles with Maple Butter
Rémy Pannier Vouvray 2009
Warm Chocolate Rice Pudding
Cave Spring Indian Summer SLH Riesling 2007 
During a brief conversation in the lounge of his well-appointed downtown location, Chef describes how difficult it can be to travel such a distance, prepare in an off-site kitchen across town and then cook and plate the meal later that night in the Beard kitchen. Despite the effort that goes into planning the meal, the constraints of cooking outside of his own kitchen and the pressure of preparing a meal in such a revered setting, Chef Andrzejewski beams when discussing his visits to The Beard House and his esteem for the organization and its staff. 
"It is really such and affordable and amazing experience for the guest," he says. "Reservations are made very democratically, so anyone has the opportunity to have a seat at the table. They have interns from the French Culinary Institute on-hand to assist in the kitchen; they really couldn't be more accommodating. It is the temple of American cuisine, and I couldn't be more honored to be going back again."
At his side will be friend and chef/owner of Torches, JJ Richert, along with a staff member from Sea Bar's highly-trained kitchen. He will take along a specialty ingredient, a unique cream from WNY's own White Cow Diary, which will act as an accompaniment to his Shrimp and Goat Cheese Pierogi.
Izabela Wojcik serves as the Director of House Programming for the Foundation. In an email I asked her to tell me a little bit about the experience guests have, and also what motivated her to invite Chef Andrzejewski for another visit. 
"As a diner, you really do feel a sense of being in James Beard's former house, from walking through his kitchen and seeing his original framed pictures, to dining on the 2nd floor where he lived. Guests are dining on the finest cuisine and meeting renowned chefs from all over the country. By its nature, The Beard House is an ideal place to host a business client, to celebrate a special occasion, to share a night with good friends, and particularly to come alone since you'll immediately meet others.
"For chefs it's a prestigious performance space. They do feel the pressure and excitement of cooking for a very sophisticated and informed audience. Guests walk through the kitchen upon arrival to meet the chef and see the team in action. For both chefs and diners, it's the spectacle of cooking that unites them. And for chefs, cooking for an audience in such an intimate and direct setting provides immediate gratification and leaves a profoundly lasting impression. With dessert we bring the chef team out to meet and interact with all the guests. That kind of applause and direct access to chefs is thrilling.
"It was my honor to invite Chef Andrzejewski. He's cooked at the Beard House in the past. His July 2008 dinner was delicious, special, and immensely successful. He's critically lauded and well respected in his community. His food has such vibrant and enticing flavor profiles. He was selected because not only is he deserving of the opportunity, but he will add richness and diversity to my programs. We're thrilled to have Buffalo in the House!"
"I really do wish more people in Buffalo's culinary scene would join organizations that have a national presence," Chef Andrzejewski tells me. "Organizations like the Beard Foundation—these are the organizations that are going to help Buffalo be seen on a national platform."
Anyone interested in attending this event, or any other, at the James Beard Foundation can access their website at www.jamesbeard.org.