The influx of people from around the globe into Buffalo has brought the city a new vibrancy, as well as an opportunity for residents to experience the traditions and cuisine that these cultures have to offer. You can explore the diversity bonanza at Buffalo Without Borders, presented by M&T Bank and the Sastri Family Foundation, Thursday October 23 from 6-9 PM at the Hotel @ The Lafayette, 391 Washington Avenue in downtown Buffalo.
Benefiting the International Institute of Buffalo (IIB)—a nonprofit dedicated to helping refugees and immigrants to become independent, informed and contributing members of the community, and to promoting and supporting cultural competence, multiculturalism and global connectedness throughout the region—Buffalo Without Borders will put the focus on global culture and food, including fare from Sun Restaurant, Pure Peru, and Taste of Africa, as well as cuisine from more than a dozen other countries, including Ethiopia, Burma, India, Jamaica, Ireland, and Sri Lanka.
Plus, new this year, Blue Table Chocolates is creating three specialty chocolates exclusively for the IIB inspired by refugees the organization has helped settle in Buffalo from Iraq, Bhutan, and Burma. Guests can sample the chocolates at the event and purchase more for loved ones (or themselves), with proceeds going to the IIB.
When deciding what to wear to this event, consider that guests will be treated to music and dance from around the world, including DJ Projex spinning world music, Hebrew Klezmer music by Ahavaraba, traditional Latin American music performed by Buffalo Tango Quartet, Bollywood dance, and Bhangra dance performed by University at Buffalo students. Dancing shoes are optional, but recommended.
Be sure to bring your holiday gift list and questions for the spirits because the Souk and Den of Prophesy is back this year. David Tiftickjian & Sons will transform one of the hotel ballrooms into an authentic Middle Eastern bazaar featuring henna tattoo artists, mystics, and handmade crafts from around the world including merchandise from West Side Bazaar, Global Villages, and El Buen Amigo, with ten percent of proceeds benefiting the IIB. And if you have a burning desire to know if you will find love, work, or your lost keys, seek out a fortuneteller for answers. Or maybe they'll find you.
If your taste for foreign cultures is still not sated after all this, Buffalo Without Borders is debuting the third installment of the IIB's Map for Adventurous Eaters, showcasing local ethnic restaurants and markets so you can continue to experience the excitement and adventure of Buffalo Without Borders throughout the year.
This year marks the start of IIB's effort to collect the stories of immigrants and refugees the organization has served for 100 years through current clients and their descendants. The organization encourages locals to share their own cultural or immigrant stories, which will be a part of the International Institute's Centennial Celebration set for 2018.
This event always sells out, so order your tickets ASAP. Tickets are available for $35 at iibuff.org/bwb
Food Vendors
Passport Wines - Global
Sun Restaurant - Thailand
Pure Peru - Peru
Lucy's Ethiopian - Ethiopia
Caribbean Experience - Jamaica 
Rakapura Sushi - Burma
Wegman's - Japan
Gelato Gypsy  - Italy
Blue Table Chocolates - Iraq, Bhutan, Burma
Taste of Africa - South Sudan
The Irishman - Ireland
Go Veggies - Sri Lanka
Bavarian Nut Company - Germany, Taiwan
Entertainment
Ahavaraba (Klezmer group) - Israel
Devi Bollywood Dance - India
Buffalo Tango Quartet - Argentina
Bhangra Dancers - India
Mbaya Rama Drummers - Africa
Amor and Heritage Dance Company - Latin America
Souk
Henna Artists - Middle East
Fortune Tellers - Various
El Buen Amigo - Latin America
Sew REDI (Canisus College program to assist refugee women) - Bhutan
Global Villages - Africa
David Tiftickjian and Sons - Persia
Zeytouna Olive Oils - Middle East
Stitch Buffalo (non profit assisting refugee women) - Burma
Moonlady Arts & Crafts - Burma
Julienne Boutique - West Africa
Gysma's African Style - African, Sudan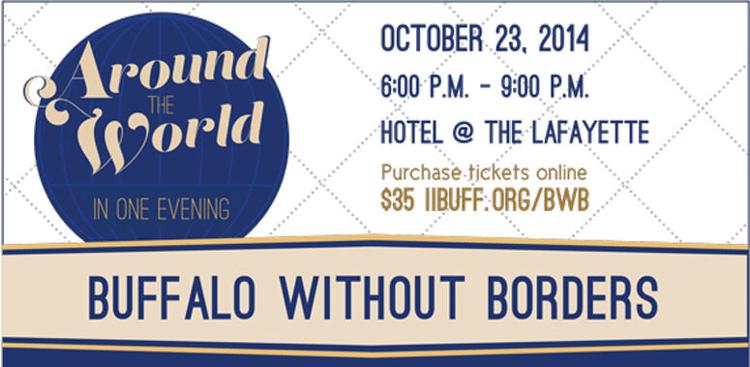 Wendy Guild Swearingen is a frequent contributor to Spree.