In 2005 when Deb Clark opened Delish, her bakery and cooking school formerly located near the corner of Auburn and Elmwood Avenue, it was just as that block of Elmwood was really coming into its own.
The street's evolution from its 1990's make up of fringe counter-culture shops speckled with bars to the polished and vibrant shopping district it is today seemed to happen in less than a decade—rapid growth by any standard. And in 2005, when the Lexington Co-op opened, and across the street from it Delish and Abraham's Jewelers opened their doors, it was a time when, in my mind at least, Elmwood became more of a neighborhood and less of what many people called it then—"The Strip."
But life is funny sometimes. This spring, as Delish was preparing for the upswing in business Elmwood sees with warmer weather, Clark learned that her rent would be increasing. Drastically. With negotiations at a standstill she realized Delish would have to move, and quick. On Elmwood, the only other locations large enough to house her business were spoken for. A visit to Hertel Avenue, the city's other popular shopping neighborhood, revealed similar concerns. Nearly as a last resort, Amherst Street, part of the recently invigorated Grant-Amherst neighborhood of Black Rock, seemed worth checking out.
"I was there, looking at property, and within a day or two I had emails, phone calls, and visits from people encouraging me to move into their neighborhood, telling me how much the neighborhood needed my business, and offering their support. I've never seen anything like it."
Other recent developments in the neighborhood helped seal the deal. Writer and restaurant owner Mark Goldman's new Black Rock Kitchen & Bar has just opened, Sportsmens Tavern is undergoing a huge expansion, the newly opened tavern Rohall's Corner is doing swift business, and Amherst Street favorites Spar's European Sausages and Wegmans bring foodies to that neighborhood on a daily basis. "These things, plus the galleries in the neighborhood, made it easy for me to take the idea seriously."
Finding a perfect storefront at 414 Amherst Street with enough room to significantly increase the retail side of her business was no less appealing. "The landlord is great, he's helping me finish the interior and really making it so that Delish is a perfect fit."
As soon as she signed the lease and began to move forward with the relocation, people from her new neighborhood continued to show her hospitality. "They are so excited," Clark said. "Comments were coming through Facebook and through email … we're still under construction and people are constantly knocking on the door to introduce themselves, or stopping me on the sidewalk to tell me much they can't wait for us to be open."
Some may look at moving their successful six-year-old business as an inconvenience, and Clark admits she was worried and even frightened by the prospect, " … but I can see now that it was a gift. Everything happens for a reason."
And by everything, she does mean everything. Take for instance the fact that her head baker found a new job during the transition, and her pastry assistant did too. "I was sick about it, but the next thing I knew, there was an email in my inbox."
Knowing the pastry assistant was leaving ahead of time, Clark had posted the part time opening on Craigslist days earlier. "So I get this email, and it's from Meghann. She is coming home to Buffalo after having been away in Boston, and she is willing to take the assistant's position, even though it's part time, in order to have a job when she arrives." It turns that Meghann Roberts is a Tonawanda native who happens to be a graduate of Johnson & Wales University's Baking and Pastry Arts program and also holds a Bachelor's in Food Service Management. She may have been a little overqualified for the part time position, but she and Clark hit it off via email and a few telephone sessions immediately.
"So I start to tell her about what's going on with the new location because I'd like to consider her for the head baker's job," Clark relates, "and I'm telling her how I would really like to add an element to the business by serving coffee and espresso drinks, and increasing the types of pastries we serve that complement that."
Roberts then tells Clark that her husband, Phil, just happens to be an accomplished barista, one who has managed coffee shops for the last few years, most notably the award-winning Thinking Cup in Boston, an outpost for the hottest name in coffee today—Stumptown. The Roberts worked there together, producing a fine coffeehouse experience that, based on the coffee alone, exceeds the standard we Buffalonians currently have available to us.
Stumptown, based in Portland, OR, are the leaders of the third wave coffee movement, specializing in single origin, small-batch roasted coffees that are accompanied by a heavy dose of solid coffee education for those who seek it—namely extolling the beauty of a bean's freshness and the unique terroir that each batch provides. Additionally, extreme care and solid science are used to brew each cup, insuring that these remarkable beans produce the best coffee possible.
Stumptown opened its Brooklyn roastery not long ago, allowing delivery to The Thinking Cup in Boston, and soon to Delish in Buffalo. Prior to that, no East Coast distribution of this highly sought after coffee was permitted because the company feels that coffee shipped from its West Coast location could not uphold the standard of freshness that Stumptown demands.
"Our goal isn't to alienate people from the coffee experience," Clark says. "We want to make sure that the coffee is approachable and priced right for the neighborhood. We just want to serve better coffee."
The Roberts' contributions to Delish will be notable, without a doubt. Coffee classes led by Phil will be available in addition to Clark's roster of popular cooking classes. Meghann's abilities will enhance that experience with delicious coffee-friendly pastries sold alongside Delish's best-loved cookies, cakes, and dessert bars.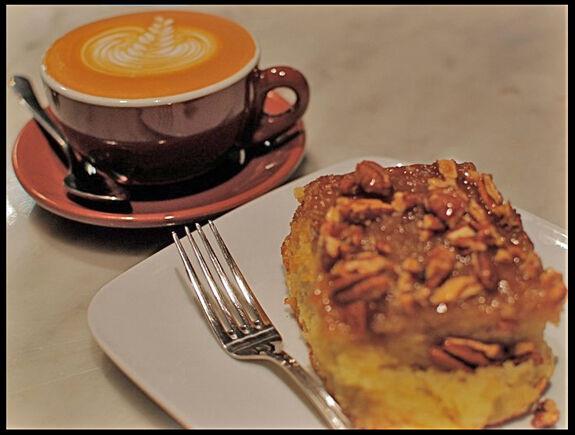 Since Clark has always adhered to the traditional European method of baking—using only the best ingredients and making everything by hand—her decision to provide Buffalo with its first sip of third wave coffee makes perfect sense. The marriage of the "from scratch" baking ideal to the practice of brewing carefully sourced and expertly roasted coffee aligns exactly with the standards that have made Delish a success all these years.
Additionally, Phil's passion for latte art, something not commonly available in Buffalo (displayed above in both images), will bring a level of artistry to the shop that is fresh and new.
"See," Clark says as we say goodbye, "everything really does happen for a reason." And she may be right. Perhaps Delish's re-opening will have an impact in a manner not unlike its role as part of Elmwood's graduation from "The Strip" to the "Elmwood Village". Having a coffee shop open from early until evening—attracting both a passionate coffee drinking clientele and the everyday cup o' joe crowd—may be just what the Grant-Amherst neighborhood needs to firmly and officially become Buffalo's next hottest neighborhood.
Readers can expect to read more about Delish and Stumptown coffee in the October issue of "Spree". Clark anticipates that Delish will be open sometime in September 2011. We'll keep you posted.