Yesterday, Artisan Kitchens & Baths hosted the last competition in Nickel City Chef's third season. Nickel City Chef Adam Goetz of Sample was challenged by Chef Louis Zanghi of The Delaware. Both chefs have entirely different approaches, and the competition showcased this in very distinct ways.
The featured secret ingredient was duck eggs, which were supplied by Bonnie George of Painted Meadow Farms, located in Franklinville, NY. Bonnie sells rabbit, chicken, ducks, turkeys, lamb and geese to many local restaurants. Her offerings include chicken, duck and goose eggs. Duck eggs are 30% larger than chicken eggs, but are otherwise rather similar. They are great for baking and are loved by chefs for their rich and creamy yolks.
Chef Louis Zanghi is classically trained and holds a degree from CIA. His menu featured a variety of egg dishes, many of which are classic French recipes dating back a hundred or more years. Execution of these dishes in the time frame allotted was no simple task. 
Chef Goetz, who is also classically trained and calls upon his understanding of French techniques in every challenge, employed many of them during the battle, but in the artful way many Sample fans have come to expect.
Judges for the event included well-regarded food critic Regina Schrambling of New York City, Nelson Starr of All Access Pass, and Chef Steve Gedra of Bistro Europa, who won a seat on the panel by beating a Nickel City Chef in Season Two. These judges performed excellently and gave some of the best commentary we've had all season.
Below you can view each of the chefs' offerings and the video from the event. See what our judges and chefs had to say.
Nickel City Chef Adam Goetz's Menu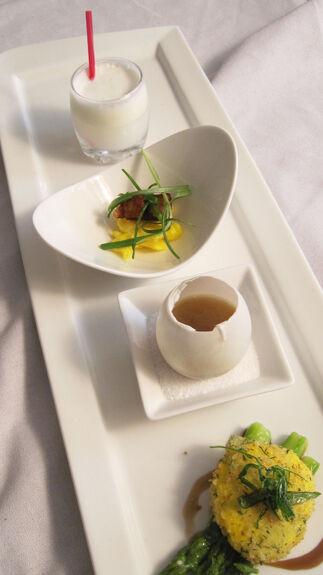 Asparagus Bearnaise with Sherry Vinegar Reduction and Breaded Fried Egg Yolk
Egg Drop Soup with Pork Jus, Crispy Braised Pork Belly with Poached Duck Egg "Drops"
Ramos Gin Fizz
Spring Ravioli with Pea Puree, Duck Egg Tempura King Crab, Lemon Vinaigrette, Sauce Choron and Pea Shoot Tomato Salad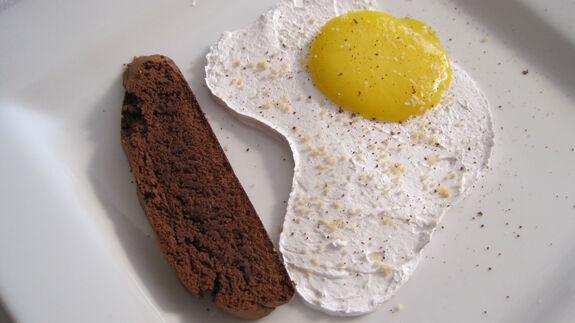 "Sunny Side Up Egg": Coconut Meringue, Pineapple Curd, Cocoa Nibs, Toasted Coconut and Chocolate Biscotti
Challenging Chef Louis Zanghi's Menu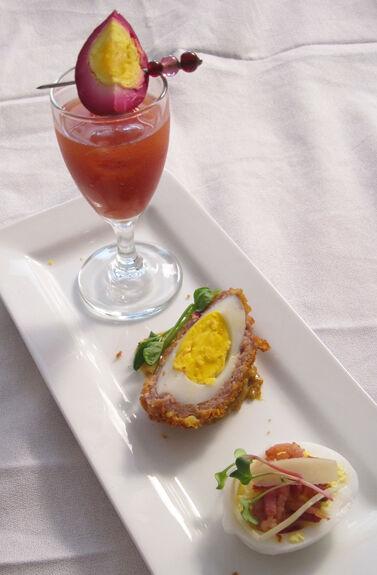 Deviled Duck Egg with NY Cheddar and Bacon / Scotch Egg with Whole Grain Mustard / Bloody Mary and Pickled Duck Egg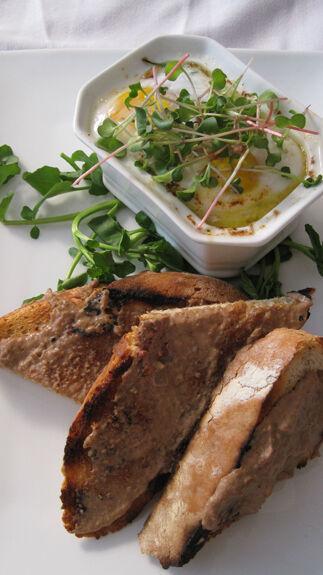 Duck Eggs En Cocotte with Shiitake, Spinach and Duck Confit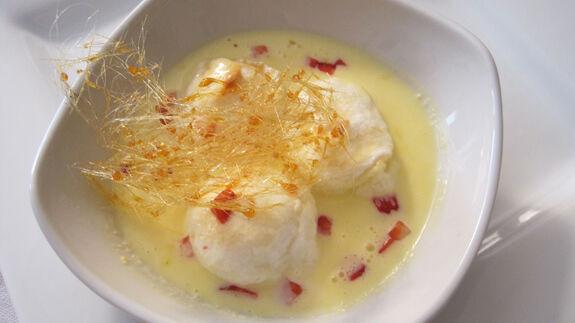 Floating Islands with Caramel "Cotton Candy"
The Final Score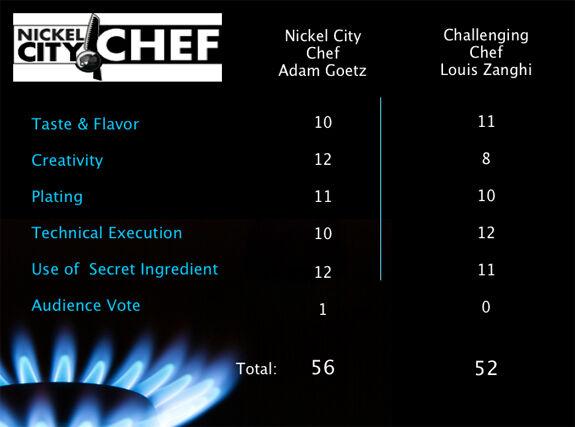 While this was the last NCC bout in Season Three, you can catch Nickel City Pastry Chef on May 1st, or any number of NCC challenges at this summer's Taste of Buffalo.