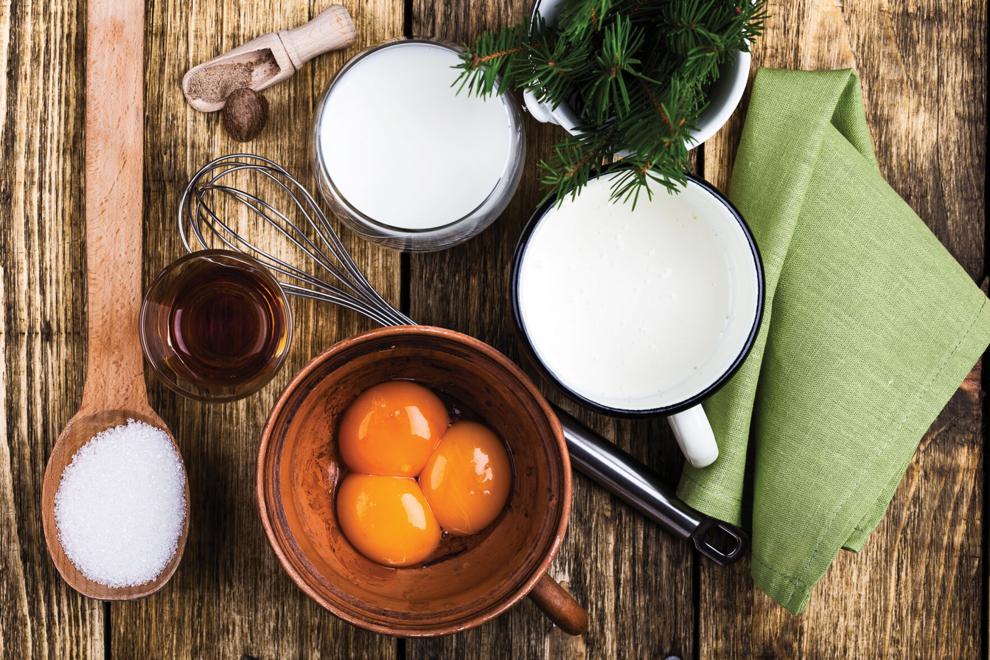 EGG NOG
Ingredients:
12 egg yolks
1 lb. caster sugar
(you can put regular sugar in the blender)
3 C. whole milk
3 C. heavy cream
1 C. dark Jamaican rum
1 C. cognac or decent  brandy
1 C. bourbon
A pinch of salt
1 tsp. fresh grated nutmeg
Instructions:
Beat yolks, sugar, and nutmeg until you achieve pale yellow ribbons. Separately, combine dairy, booze, and salt. Fold egg mix into the liquids until evenly combined. Pour into your cooled jars, cap, and store in the back of the fridge. Taste in a month to note changes in flavor and texture. Grate fresh nutmeg on top to serve.
MILK PUNCH
For a simple, single serving eggnog to enjoy without waiting, adapt a southern brunch staple, Milk Punch, by adding a single egg yolk. The recipe offered by famed barman Jerry Thomas in his 1862 The Bar-Tenders' Guide works perfectly (and is one of my favorites).
Ingredients:
1 yolk
1.5 oz. heavy cream
1 oz. VSOP cognac
1 oz. dark Jamaican rum
¾ oz. simple syrup
Instructions:
Shake everything together with plenty of ice, pour over a rocks glass of fresh ice or into a cocktail glass, neat, then garnish with fresh nutmeg.
However you enjoy the season and this classic drink, have the happiest of holidays. Cheers!