Preparation time: 15 minutes
Baking time: 35 minutes
Yield: 48 treats (using a 3-inch-long bone-shaped cookie cutter)
Ingredients:
5 cups flour–use all almond flour, or combine 2 cups millet or buckwheat flour to 3 cups almond flour
1 can/15 ounces pumpkin puree or 1 package (16 ounces) organic pumpkin
2 large eggs
4 tablespoons organic, smooth peanut butter. If you are a peanut butter-free home, substitute almond butter, cashew butter, or applesauce (see left). Add-ins:
¼ cup grated fresh carrot
1 teaspoon cinnamon (do not use a spice blend that may contain nutmeg, which is disorienting for dogs)
Peanut butter substitutions:
4 tablespoons applesauce
4 tablespoons almond butter, unless your pet has gastric issues
4 tablespoons cashew butter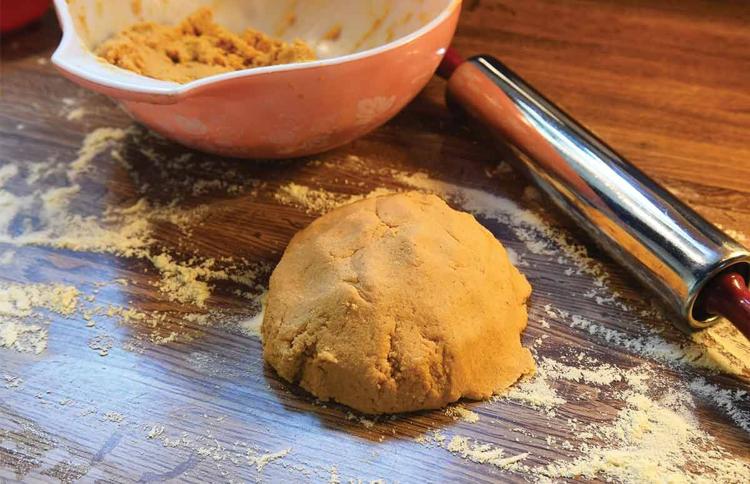 Directions:
1. Pre-heat oven to 350ºF
2. In a large mixing bowl combine the flour(s), pumpkin, eggs, peanut butter (or substitutions)–and the add-ins of carrots and/or cinnamon if you are using those. Mix all of the ingredients by hand, using a spatula to combine the errant bits on the side of the bowl.
3. The dough consistency should be firm and not too sticky. If the dough feels too wet or sticky, add ½ cup additional flour a small bit at a time.
4. Turn the dough out onto a generously-
floured surface.
5. Using a floured rolling pin, roll the dough out to a thickness of  half an inch.
6. Cut out the desired shapes with a cookie cutter, juice/small glass, or make small balls of the dough no more than two and a half inches across. The biscuits will not spread in the oven so the cut-out shapes may be placed close together on parchment paper or nonstick silicon baking mats on 2 regular-sized cookie sheets.
7. Bake in the pre-heated oven until the biscuits are firm, approximately thirty-five minutes.
8. After removing the cookie/biscuit sheets from the oven, lay the biscuits out on a towel
or cooling rack.
9. Cool completely before handing over one of these yummy treats to your best friend.
Read more about homemade dog biscuits here.