When August hits, a collective panic sets in all around Western New York. "Where did July go?!" "Summer is almost over!" "But, I didn't do anything yet!" Fear not. Evenings are still warm, sunsets are still late, and area restaurants are still slinging cold drinks and fresh, farm-inspired dishes in outdoor spaces that feel like a little slice of the balmy good life. Squeeze out the last drops of summer before the sweaters come out by donning some shades and relaxing on a patio. Here are ten of Buffalo's best (in no particular order):
Thin Man Brewery
492 Elmwood Avenue
Bright yellow chairs and umbrellas beckon beer lovers to this brewery gastro pub to enjoy a dozen creative taps, a full bar, and elevated pub fare by meat master and chef Bruce Wieszala. The spacious balcony feels like the restaurant's second floor simply extends over Elmwood Avenue; grab a table, or claim a stool at the outside bar.
Hydraulic Hearth
716 Swan Street
This Larkin District destination's playful beer garden is a sprawling oasis of candy-colored bistro tables, grassy areas with lawn chairs, corn hole, shuffle board, and an outdoor bar, all nestled under a maze of wooden pergolas (dogs welcome). Menus feature starters and wood-fired pizzas, craft beers including several brewed in-house by Community Beer Works, and a tasty list of inventive cocktails.
Tappo 
338 Ellicott Street
A cosmopolitan rooftop patio welcomes guests to nestle into bright red couches and table seating to enjoy an extensive wine list, full bar, classic Italian shareable apps and entrees, and live music on Monday nights. At night, the space is illuminated by torches and the nearby Electric Tower, with views of the sparkling city skyline.
Liberty Hound
1 Naval Park Cove
From the harborside boardwalk patio in the shadows of two decommissioned warships, diners can soak in the sunshine, the hubbub of neighboring Canalside, laughter from tour boats arriving and departing, and live music on Saturdays and Sundays. The menu celebrates seafood from around the country, classic cocktails, and cool beers.
The Terrace
199 Lincoln Parkway
There's a breezy, timeless country club feeling that defines sitting on the partially covered veranda that wraps around the historic Marcy Casino in Delaware Park, sharing well-composed dishes and sipping classic cocktails. The Terrace overlooks a string of wooden rowboats tethered in the center of Hoyt Lake, with lush trees, a stone bridge, and the white-columned history museum in the distance.
The Black Sheep
367 Connecticut Street
At a restaurant known for its experimental take on farm-to-table fare, it's no surprise that this back patio is surrounded by a raised-bed garden growing herbs, garlic, and greens; you might catch a cook snipping some as you sit, sip, and savor an ever-changing menu. With a side yard full of young fruit trees, barn board, and mural-painted walls, it's an intimate, funky, agri-urban mash-up that's always incredibly chill.
William K's
329 Erie Street
With lulling lake waves just a few yards away, this is the place to catch the sunset casting a pink glow onto the historic Buffalo lighthouse and boats leaving the Erie Basin Marina on their way out for a twilight cruise. With an upscale menu, white tablecloths, and water breezes, sharing a bottle of wine under the generous canopy feels like a romantic vacation.
Mac's on Hertel
1435 Hertel Avenue
Two levels of planter-lined patio sitting—one street level, the other on a huge second-story balcony—provide epic people-watching opportunities on the liveliest part of the perpetually enlivening Hertel strip. This popular brunch spot offers a new menu with tons of options, a fun martini list, and a modern, unfettered, easygoing vibe.
The Left Bank
511 Rhode Island Street
It's easy to visit this long-time Buffalo bistro and not even know there's a patio. It's tucked away through a single door in the corner that opens into an intimate urban oasis enclosed by tall blue picket fence and a soaring, ivy-covered brick wall. This verdant secret garden and its collection of potted plants is shaded by a canopy of trees, under which diners enjoy continental cuisine and an extensive wine list.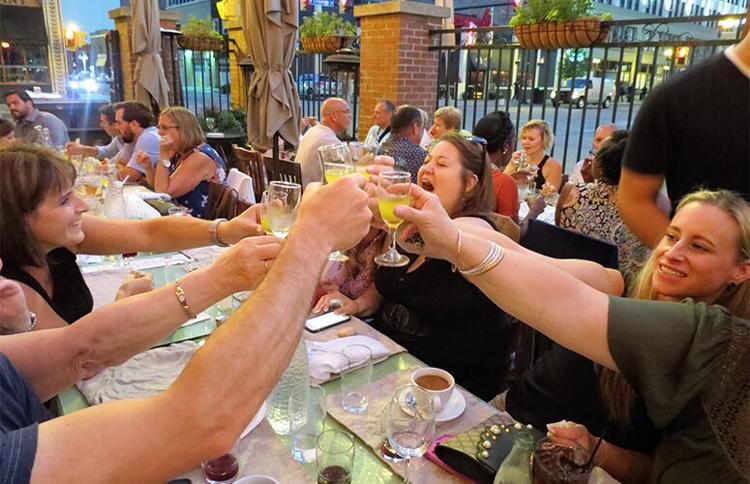 Frankie Primo's +39
51 West Chippewa
Dine al fresco on a wrought iron enclosed corner patio under strings of oversized Edison bulbs, surrounded by colorfully painted Mediterranean pots full of Italian herbs and veggies. The marble outdoor bar and laid-back tables are smack dab in the middle of the Chippewa strip, but diners are lulled by generous servings of antipasti, pasta, pizza, and soft jazz.
Devon Dams O'Connor is a freelance writer and journalist.