For many, spring is "gardening season," but my gardening season is perpetual: I'm always preparing to garden, outside or in. I've been looking outside all winter long, envisioning my "perfect" garden (which, of course, will never exist—we'd all do well to remember that perfect is the enemy of good).
I'm eager to get into the soil and check the progress of the spring bulbs—mostly daffodils—that I planted in the fall, but I also can't wait to see emerging spring flowers like primroses, hellebores, and alliums.  
We haven't been traveling or eating out much this past year, so it seemed natural to me to spend the savings on plants. Like you, I've been browsing garden catalogs, but I've only ordered plants, seeds, or herbs that are difficult to obtain locally. I've also ordered plants from the Botanical Gardens and will later order from Lockwoods. (I want everything; don't you?)
Are you an experienced gardener itching to getting outside again? Or is this your first garden? What would you like to grow? One of the best things about a garden is that it's completely your own. No one in the whole world will have a garden—big or small, formal or casual, and with whatever flowers, herbs, perennials, or veggies you choose—quite like yours! 
There are many ways to go about creating your garden; what matters is finding the right style for you. If your outdoor garden isn't quite ready for planting, consider container gardens. I've seen everything from old boots (seriously!) to dishware, large pots, old bathtubs, and fire rings used as containers. You can purchase soil mixes specifically designed for container gardening use. This method is convenient and a great gateway into other types of gardening.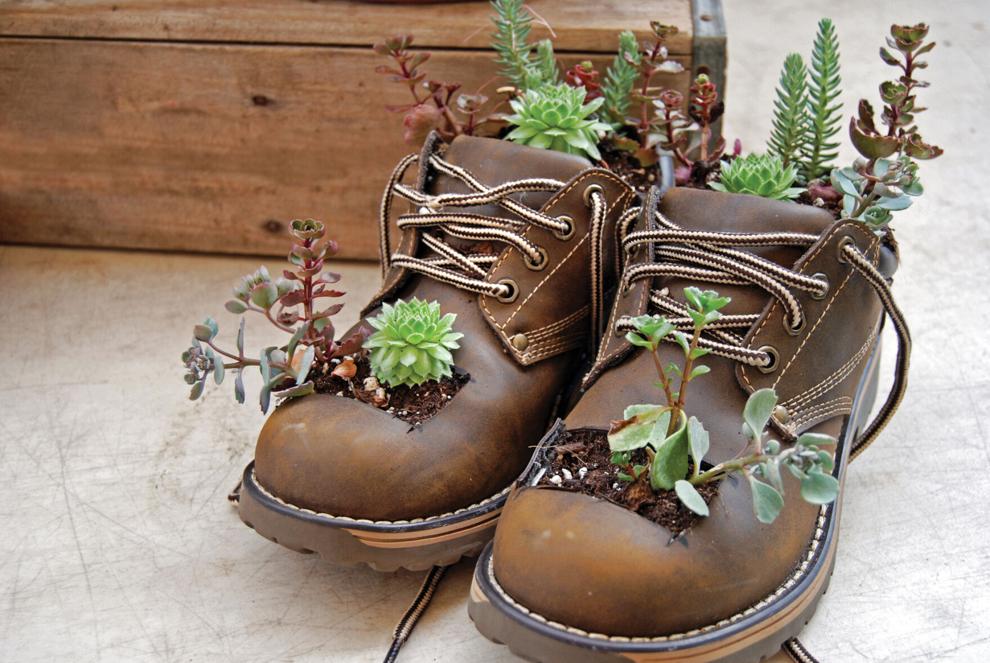 If your beds are unprepared, consider raised beds. I don't have any of my own, but I've helped set them up with schoolchildren and at community centers. Raised beds provide the ability to reach into the gardens and easily add soil or organic material without bending over—a gamechanger for many.
Whichever method you choose, it's important to set goals. Last year, my mission was to revamp parts of the back beds. I dug up overgrown perennials, and those for which flower production had decreased, and set them aside. Next, I worked compost into the soil and added some soil to areas that were low. The divided perennials were set on top, and new ones were added (leftovers given to friends.)  Finally, everything was replanted. 
Part of my overhaul was aesthetic. The sweet shrubs that grew in front of the beehives were disproportionally large. My grandson, Mitchell, dug them up and replanted them in the garden border. My son-in-law, Chuck, dug up a peegee tree that had outlived its usefulness and was frankly unsightly. (Two more things a gardener must learn: when to ask for help and when it's time to say goodbye.)
This year, I want to do some more renovation of the borders on both sides of the house. On one side, the Echinacea (purple cone flowers) have spread mostly toward the front; they need to be divided and moved toward the back to improve proportions. On the other, I plan to dig up all the hostas and give them to my brother-in-law. The hostas, partnered with ferns, have grown beautifully over the years, but as the area deer population has increased, so has their destruction (they're essentially deer candy). I'm tired of the struggle to protect these flowers; even wire mesh couldn't keep the deer away. Hot sauce and Plantskyd (a commercial product containing blood) also couldn't completely save these plants, as they're only effective if constantly reapplied. 
What are your goals this season? No goal is too big or small, but all come with important factors to consider. Take on what you can handle, and don't be afraid to start small—trust me; you can always go bigger next year. 
Do you want vegetables? Which ones? I bet you said tomatoes. They're as good a place to start as any! Last year, Mitchell decided to grow tomatoes in containers. He wanted my advice, and I was all too happy to oblige. We discussed the soil, type of tomatoes, seed or starts, spacing, supports, fertilization, watering, light exposure, and shadows. Rest assured, there is much to learn even from starting small.
Purchasing shrubs? Consider which shrubs will look attractive or interesting throughout the year, their expected height and width, disease resistance, and required maintenance. The current movement toward planting native species arose for good reason; these plants best adapt to the environment in which they're grown and more easily support wildlife. Some viable choices of native species include American elderberry (great jams and wine!), maple-leaved viburnum, buttonbush, nannyberry, and bayberry.   
Growing annuals? Decide if you want to grow from seed or starter plants. Annuals' primary benefit is that they are good for one year, making them great fillers between newly planted perennials, or a wonderful burst of color throughout the season. 
Pursuing some perennials? Is the garden site ready? Remember to plant at roughly the same depth as in the container. Spread the roots and dig a hole that is wider than the plant.
Finally, what are your mental, physical, and time constraints? All gardening requires time and physical effort, but that's part of what makes it so rewarding (I personally would rather work in a garden than clean my kitchen any day). Each year is a combination of thrills, chills, and disappointments, guaranteed to be different from the last. For me, gardening is a labor of love. I hope it will be for you too. 
I love hearing from you: caharlos@verizon.net