Back in January, when my husband and I started planning a trip for our fortieth anniversary in August, we kicked around several ideas. We ultimately decided on a closer-to-home weekend getaway to Watkins Glen in the Finger Lakes region, mainly because our youngest son would be heading off to college in mid-August, and we didn't want to travel far.
As the year progressed and the COVID-19 pandemic materialized, we questioned whether would actually be able to take this trip. We were pleased that by mid-summer, things opened up in the New York state, allowing for a safe experience.
We started out on a Friday morning; our first stop was lunch at Belhurst Castle, a luxury hotel that overlooks Seneca Lake in Geneva. It was a nice sunny day, so we were able to enjoy our meal outdoors on the patio, walk around on the grounds, and even enjoy a wine tasting at their in-house winery. (belhurst.com)
There are thirty wineries along the Seneca Lake Wine Trail, (senecalakewine.com). Note that during the pandemic, some wineries require advance reservations or have limited hours, check the websites for more information. We also stopped at Fox Run Winery for a tasting. If you go, be sure to note the unique metal sculpture at the entrance to this winery.
Our home away from home for the weekend was the Idlwilde Inn (idlwildeinn.com), a lovely bed and breakfast inside an 1892 Victorian mansion on a hill overlooking Seneca Lake. Since it was our anniversary, we reserved room 6, the master suite, which included a huge four-poster bed, a sitting room, enclosed sun porch, and even an outdoor porch with a view of the lake. I swear the room was bigger than our first apartment!
That evening, we drove the short distance into town for dinner at Seneca Harbor Station, which overlooks the lake. After dinner, we enjoyed a walk through town, including a stroll along the Watkins Glen pier.
The next morning, we enjoyed a hearty breakfast while sitting on the inn's wrap-around porch, before heading to the nearby Watkins Glen State Park (https://parks.ny.gov/parks/142/). Since it was Saturday, we made sure we got to the park before 9 a.m., as it tends to get crowded later in the day. The main attraction is the Gorge Trail, which features over 800 stone steps. Due to COVID-19, the trail is one-way from the main entrance to the one mile point, where you then take the Indian Trail along the gorge rim back to the main entrance. The very end of this trail features about 200 steps down to the main entrance; this is the only part of the hike that I felt was really difficult and hard on my arthritic knees.
Hiking boots or sneakers are a must! We also brought along hiking poles, which were very helpful; the stairs are steep in many spots and there are not many railings. Even though the trail is outdoors, you need to bring a face mask for spots where the trail gets crowded and you can't socially distance.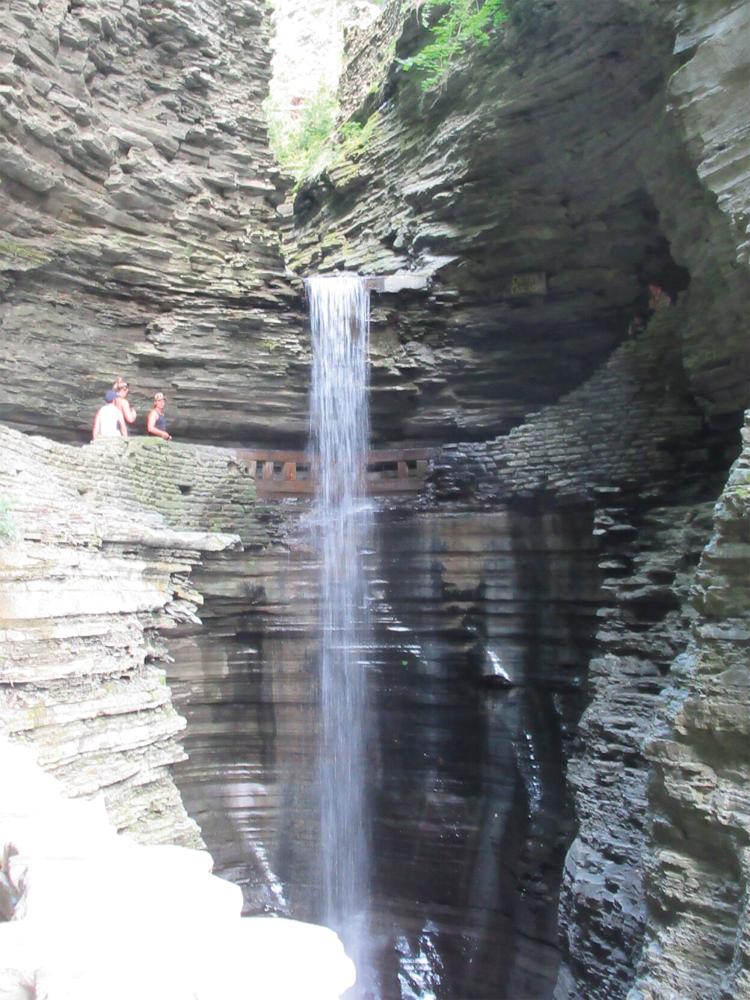 There are many scenic vistas along the trail, so be sure to take your time to enjoy the hike, allowing at least three hours to go up and back. You will see nineteen waterfalls along the trail, including the fifty-foot-high Cavern Cascade, which is one of the tallest waterfalls in the gorge. The most photographed area of the gorge is Rainbow Falls and Triple Cascade. Use caution as you walk behind Rainbow Falls; the path is narrow, and the rocks are slippery.
After our hike, we drove a short distance to the village of Montour Falls to view the iconic 156-foot-tall Shequaga Falls. Unfortunately, since it hadn't rained in a while, the falls was a mere trickle, but it still was interesting to see. A brochure is available that describes a self-guided walking tour of the village's historic district, if you have the time.
During our time in Watkins Glen, we enjoyed a variety of cuisines, including Thai, barbecue, and Mexican. We had our anniversary dinner at the Blue Pointe Grille in the Watkins Glen Harbor Hotel overlooking the lake.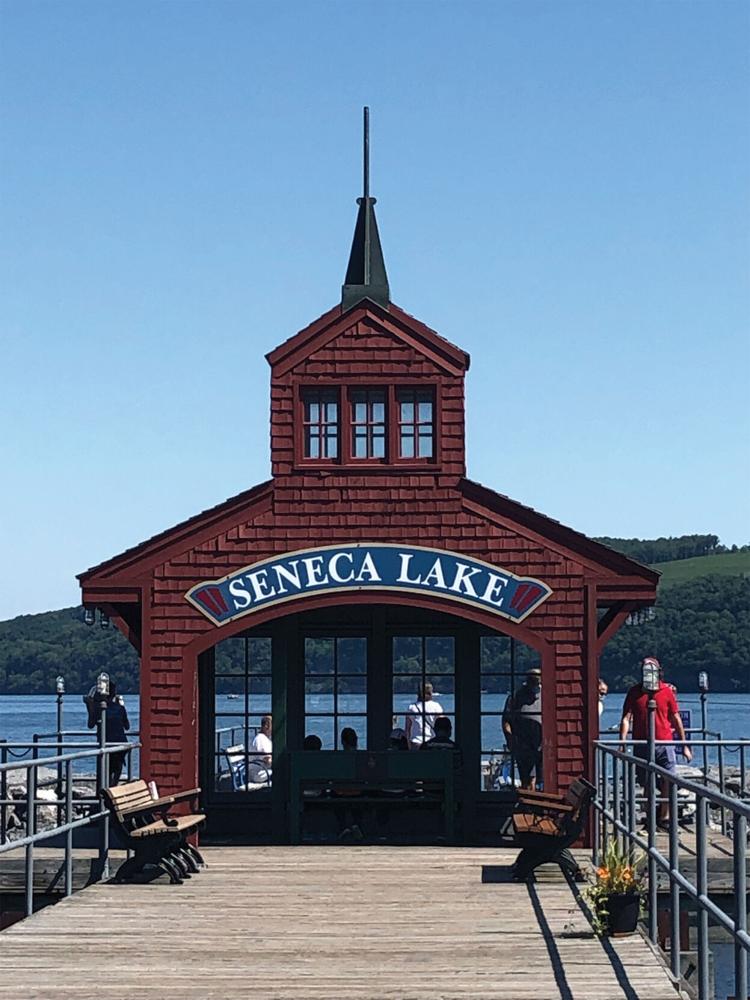 We didn't have the opportunity on this trip to "Drive the Glen" at Watkins Glen International Racetrack, where you can drive around the track in your own vehicle. Perhaps on our next visit, when we bring a sportier car and not our SUV! Drive the Glen is available until October 29. (theglen.com).
On our way home, we stopped at Weaver View Farms Amish Country Store in Penn Yan, (weaverviewfarms.com), which has all sorts of handmade quilts, baskets, canned items, and even reasonably priced handmade face masks. All the items sold are made by folks in the local Amish and Mennonite communities.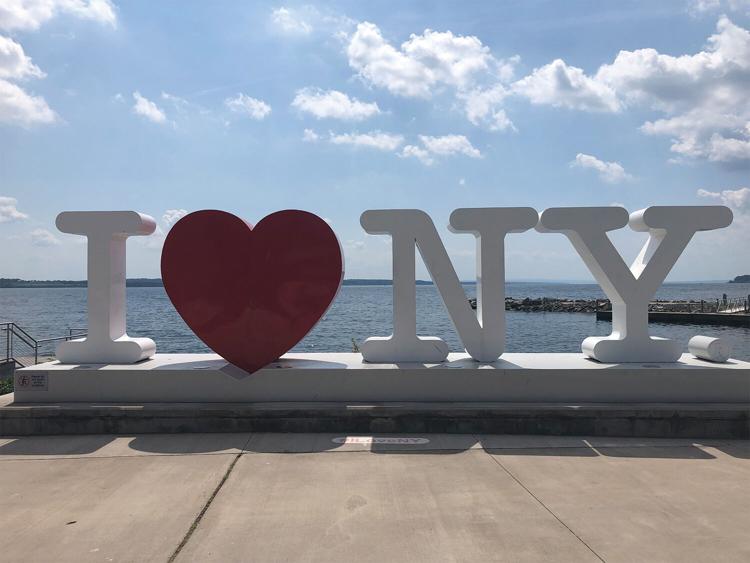 Our last stop before heading home was the I Love New York Welcome Center on the northern end of Seneca Lake in Geneva. We enjoyed a stroll along the lake before having lunch at the welcome center and browsing their selection of made in New York State items.
For more information:
Watkins Glen Area Chamber of Commerce - Schuyler County Visitor Center
214 North Franklin Street, Watkins Glen
Phone: (607) 535-4300
Fax: (607) 535-6243
Toll-Free: (800) 607-4552
Christine A. Smyczynski is a freelance writer and blogger and author of Western New York Explorer's Guide.