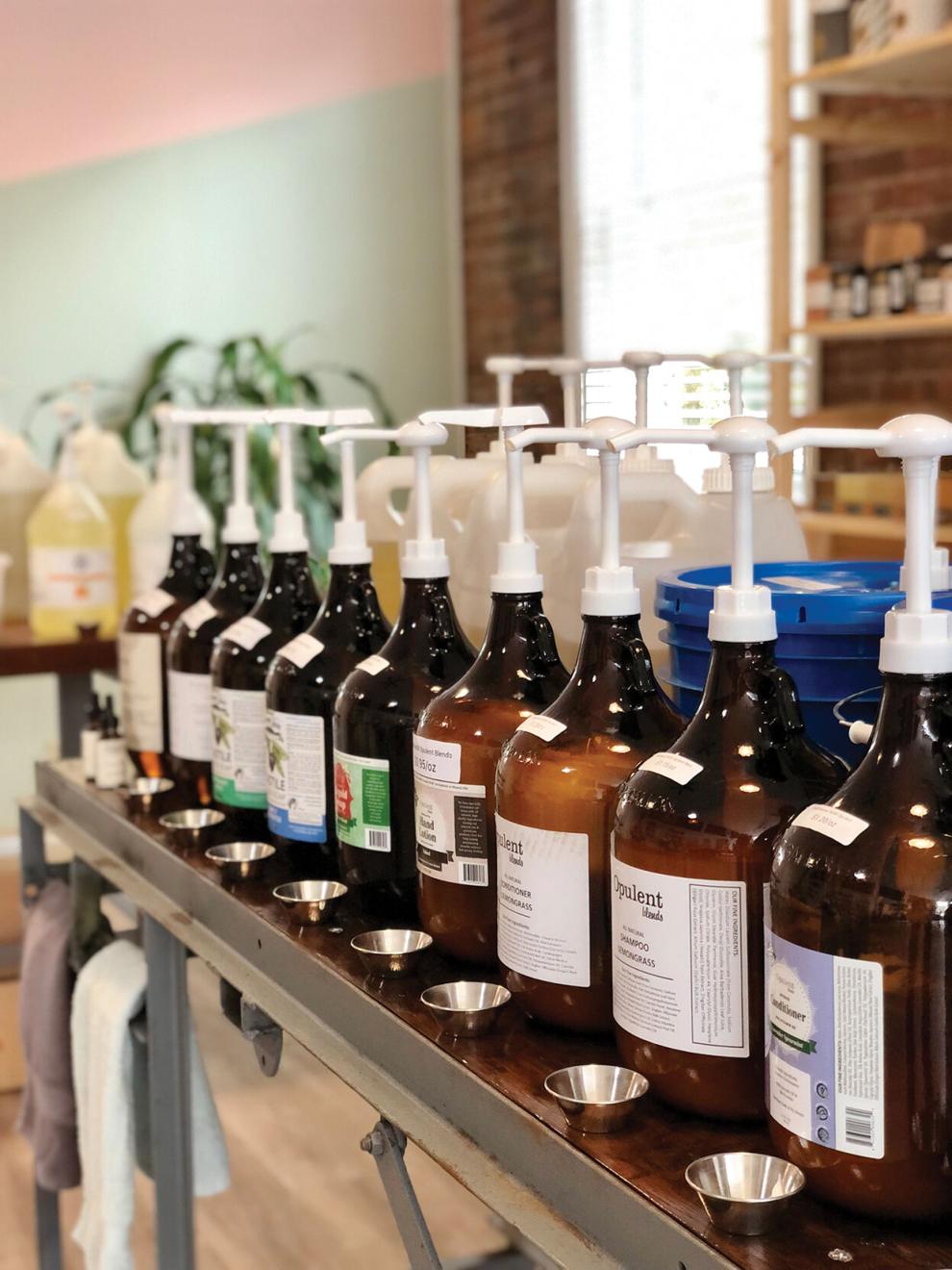 Reusable alternatives for disposable cotton swabs. A soap dish made from recycled concrete. Collapsible water bottles and food containers. Cocktail-inspired soaps in scents like mint mojito, limoncello, and Long Island iced tea. 
These are just a few of the products you'll find at Little Salmon, along with compostable iPhone cases, stainless steel straws, and adorable dryer balls that look like ladybugs and penguins. 
Opened in summer 2021, Little Salmon is Buffalo's first zero-waste shop. It aims to help customers reduce their carbon footprint with products made from sustainable and ethical sources. Before stocking an item, co-owner Tracey Wei scrutinizes every brand for quality and sustainability by examining labor practices, packaging (or lack thereof), and use of biodegradable, organic or recycled materials.
"Zero waste is the perfect goal that we want to work toward, but life isn't perfect. No one is perfect," says Wei, who owns the shop with partner Michael Mahoney. "We're all flawed and busy, so [the shop] is more of an offering to help people improve and keep the conversation going."
Located on Lexington Avenue in the Elmwood Village, Little Salmon is built on the principle of a circular economy, which seeks to eliminate waste and pollution by transforming how products are made and used. In contrast to a traditional linear economy, which rewards consumption of resources, the circular economy prioritizes renewable energy and encourages sharing and reuse. 
Around the artfully merchandised store, examples of the circular economy abound: tooth tabs that cut out plastic toothpaste tubes, Swedish dishcloths that replace paper towels, and shampoo bars that avoid plastic bottles. Wei's favorite is the beeswax wrap that replaces plastic clingwrap in her kitchen.
Little Salmon's refill station allows customers to fill up their own containers with everything from body wash, shampoo, and conditioner, to lotion, beard oil, and hand soap, thus eliminating another single-use bottle from the waste stream each time. Wei says customers can bring in their own clean containers, purchase one from the store, or use one that's been donated by a previous customer. 
To attract local customers, Little Salmon offers free delivery on orders over $30 within five miles of the shop, even on refill purchases. In that case, customers simply leave their containers outside, and Wei's team will pick them up, fill them, and return them within a couple days.
"It's definitely scarier; the unpredictability is higher," Wei says of opening a new business during a pandemic. 
Another challenge? Being the only store of its kind in the market.
"I took a leap of faith," Wei says. "There weren't craft beer places in Buffalo a while ago, and someone took a chance and opened one. We were banking on people wanting something new, something different. And we thought, 'Maybe if we're the first and only ones, then there's not much competition, right?'"
So far, the response has been positive, Wei says, with many repeat visits from customers who have embraced a low-waste mindset. 
In turn, those sales have already allowed Little Salmon to give back to the community by donating three percent of its profits to the Buffalo nonprofits Upward Design for Life and the Massachusetts Avenue Project. In addition, Wei says many of the brands featured in the store donate to their own causes, like animal welfare groups, ocean cleanups, WaterAid, and 1% for the Planet. 
"It's business with a purpose," says Wei. "We don't want to run a business purely for profit. We want to run a business with a story to tell, that engages with the community.
"Know that something good is happening when you purchase here. You're voting with your dollar."
For more information, visit littlesalmon.co. 
Matthew Biddle is a Tonawanda-based writer and frequent contributor to Buffalo Spree and Forever Young.