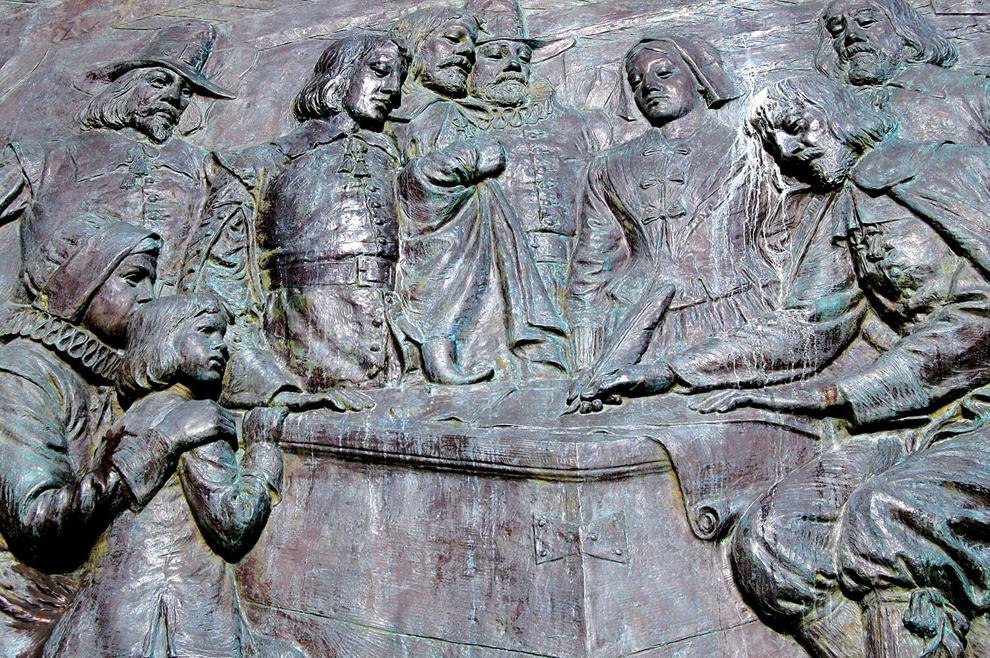 You know I'm a genealogy geek; what you may not know is I'm also a huge foodie, so Thanksgiving is a favorite holiday. We all know the story of the Plymouth colonists and Wampanoag Tribe sharing a feast that we now regard as the first Thanksgiving meal. The Mayflower landing in the New World is a significant event in American history, but have you considered that you may be descended from a Mayflowerpassenger?
As Thanksgiving approaches, there's no better time to think of that resilient little group of men and woman who left their imprint both on American history and every family's Thanksgiving table. And if you have American roots, chances are good you're descended from one of them. If you're unsure, go back a few generations on each branch of your family tree before beginning your Mayflower research. If you get past the major waves of immigration in the late nineteenth and twentieth centuries on a family line—and your ancestors are still showing birth locations in the US—there is a good chance someone in that line continues far enough into the American past to be a candidate.
Don't assume your family doesn't have early American history just because you have been told your ancestors came through Ellis Island. Family stories are often confused, incorrect, or leave out important chunks of lost history, especially when it concerns female lines. Now that you have your possible lines noted, see if you can match an ancestor to a known descendant.
The first place to look is The Mayflower Society (themayflowersociety.org), an association for those with proven Mayflower descent. Although there were approximately 100 passengers on the ship, nearly half died within a year of arriving, leaving just fifty-one to bear descendants. If you're lucky enough to share a surname with someone on the Mayflower Society's list of all passengers with known descendants, carefully research that line in your tree to find a connection. Of course, the surname is no guarantee, but it's certainly worth a look.
No free online search will tell you if you connect to a Mayflower passenger, but American Ancestors by New England Historic Genealogical Society at americanancestors.org does offer a wonderful searchable database of more than half a million records of Mayflower descendants. Membership is required, but this database can also be accessed from the Niagara County Genealogical Society Library for free. Library hours can be found at niagaragenealogy.org.
Likely the most complete website covering the Mayflower passengers, their history, and their genealogy is Mayflowerhistory.com. Besides the passenger list, this site has information on the lives of pilgrims, famous descendants of the Mayflower, reading suggestions, and much more. A proven direct line to one of the passengers will allow you access to the Mayflower Society (themayflowersociety.org) and maybe an extra slice of pumpkin pie, which is worth all the effort!
As we celebrate Thanksgiving, there is much to be grateful for. I'm lucky that my list is long and hope yours is, too. I also remember to take a quiet moment to give thanks to our ancestors. The small comforts we enjoy daily would not be possible without them. 
Carol DiPirro-Stipkovits is a National Genealogical Society member, Association of Professional Genealogists member, and freelance writer. Carol is also President and Board Chairman of the Niagara County Genealogical Society. Send questions or comments to her at noellasdaughter@gmail.com.