EAT THIS
To see the full list at a glance, click here.
---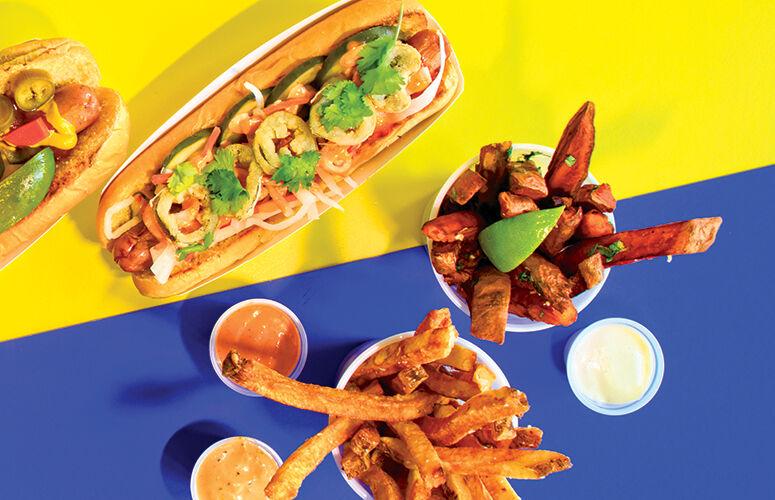 Best French Fries (City)
Frank Gourmet Hot Dogs
EXPO Market, 67 Main St., Buffalo; 218-8989 or findfranknow.com
You may be tempted to go on about the mayo-based dipping sauces that come with the fries. There's a choice of three that vary from day to day, like the creamy Sriracha-laced variety, the spicy and catsupy "Cane," and the salt and vinegar concoction, which is serioulsy killer. But, focus! The fries that Frank serves are magical. Through some super secret deep frying transmogrification, potatoes are rendered into the perfect golden dream of themselves. Ultra crisp on the outside and tender and light inside. How? And don't go with that friend who always says, "Do you want to split an order of fries?" You do not. You want them all to yourself.
Best French Fries (Northtowns)
Moor Pat
78 E. Spring St., Williamsville;   810-9957 or moorpat.com
Great fries require great commitment. Considering the miniature kitchen tucked behind the bar and the limited menu offerings, Moor Pat is 100 percent devoted to its fries. Hand cut, soaked, dried, low temp blanched, chilled, and rested before flash frying á là minute, they are golden, hefty, and satisfying. Truffle Parmesan is available for those who need to adulterate their purity. And you won't miss the ketchup when you opt for house made blue cheese sauce or chipotle mayo for dipping.
Best French Fries (Southtowns)
TIE
JuiCy Burger Bar
1 Buffalo St., Hamburg; 648.3200 or juicyburgerbar.com
This burger joint, located smackdab in the middle of Hamburg, gets a lot of things right. A lot. But the fries might be one of JuiCy Burger Bar's most spectacular feats (FTW: the sweet potato version is equally smashing). Handcut, cooked to perfection, dressed with salt and pepper, and not overly greasy, JuiCy's fries are noteworthy.
Steve's Pig and Ox
951 Ridge Rd., Lackawanna; 824-8601 or facebook.com/Steves-Pig-Ox-Roast
Steve's Pig & Ox Roast is best known for its beef on 'weck, but its fries have our attention. Handcut curly fries have a special place in our hearts, and a bountiful pile of Steve's twirly, crisp potatoes are the perfect accompaniment to any of its classic sandwiches.
Best Hot Dog (City)
Frank Gourmet Hot Dogs
EXPO Market, 67 Main St., Buffalo; 218-8989 or findfranknow.com
Frank Gourmet Hot Dogs started as a food truck in 2015, and opened a brick-and-mortar at EXPO Market in downtown Buffalo this year. All of its dogs are preservative, nitrate, and artificial ingredient free, and that commitment to quality shows on the plate. Spree named Frank the best hot dogs in the city last year, and we still can't top their perfectly done links, creative toppings, and addictive fries. With pork and beef blend, all-beef, and vegetarian dogs topped with everything from chili to guacamole and fried jalapeños to blueberry BBQ sauce and fried onions, there's something for everyone at Frank.
Best Hot Dog (Suburbs)
Ted's Hot Dogs
Multiple locations; 691-3731 or tedshotdogs.com
Ted's has been firing up the grill for its charcoal-broiled hot dogs since 1927, so they know a thing or two about quality dogs. In 1913, Greek immigrant Theodore Spiro Liaros, or "Ted" as he came to be known, landed in Western New York with little money and no English. He started with a horse-drawn hot dog cart before buying a Massachusetts Avenue shed in 1927. Today, Ted's has locations all over WNY, and even Arizona, so a great smoky hot dog is never far away.
Best Basic Burger (City)
TIE
Marble + Rye
112 Genesee St., Buffalo; 853-1390 or marbleandrye.net
Calling Marble + Rye's hamburger "basic" is doing it a disservice; it's the best expression of what beef, lettuce, onion, and special sauce on a bun can be. The patty is a blend of brisket, chuck, short rib, and bone marrow, ground in-house and always cooked perfectly to the requested temperature. The bun competes with the patty to be the star of the show. M+R makes its own rolls—rich, buttery, pillowy things (topped with sesame seeds, of course).
Allen Burger Venture
175 Allen St., Buffalo; 768-0386 or allenburgerventure.com
Come hungry. Be prepared to wait for a seat. Ask for extra napkins before the burgers hit your table. These are the cardinal rules of an Allen Burger Venture adventure. Here the menu features a wide range of creative burgers, each made of grassfed Angus beef. Lamb, sausage, and chickpea burgers are available as well, so there's something for everyone. Its killer beer selection and housemade tater tots don't hurt it either. (You'll thank us for the extra napkin tip first bite in.)
Best Basic Burger (Suburbs)
New York Beer Project
6933 S. Transit Rd., Lockport;   743-6927 or nybeerproject.com
After a highly anticipated opening, followed by crowds settling down to a manageable size, it seems as NYBP has finally found its comfort zone and is hitting its stride. Hefty burgers made from premium ground sirloin have an intense beef flavor that results from the quality grind and the hearty crust laid down by the grill. Built into one of six configurations listed on the menu, they are well balanced compositions, with Instagram-worthy presentation.   
Best Alt Burger (City)
Tokyo Burger at Thin Man Brewery
492 Elmwood Ave., Buffalo; 923-4100 or thinmanbrewery.com
Served on Texas toast and sitting in a slathering of beef sauce, an eight-ounce beef-and-bone-marrow patty finds itself encased in spicy mayo and Gruyère cheese, followed by layers of glazed pork belly, caramelized onions, and a fried egg. In this case, the cherry on top is a hefty onion ring with a side of pickle slices. Don't worry—a fork and steak knife are provided.
Best Alt Burger (Suburbs)
JuiCy Burger Bar
1 Buffalo St., Hamburg; 648.3200 or juicyburgerbar.com
Chef Andrew Murtha of JuiCy Burger Bar believes the perfect burger is a work of art, and it shows. All of his creative burgers showcase perfectly done beef first, creative toppings second, and accompanying fries that are always hot, crispy, and perfectly salted, third. The town that (allegedly) birthed the burger needed a solid spot, and JuiCy fills that niche with aplomb. Try the Big Poppa, which features a stuffed banana pepper on top, for a real Buffalove experience. If you want to go big before you go home, challenge yourself to the Grilled-Cheese-Burger, which employs a grilled cheese sandwich for the bun.
Best Buffalo-Style Pizza (City)
TIE
Imperial Pizza
1035 Abbott Rd., Buffalo;  825-3636 or imperialpizzabuffalo.com
Located in an unassuming building off Abbott, Imperial might not look like the bastion of some of the best pizza in WNY. Sans a marketing budget, mascot, loud sports bar, famous name, or posh dining room (there's no dining room at all, frankly), you can rest assured accolades earned by Imperial are solely for its slices. Never been? Go cup and char pepperoni and cheese on your first round, just to see how it ranks. Notice the crispy edges? The not-too-sweet-but-still-sweet-enough sauce? The tender dough that's never underbaked? The pools of spicy oil resting in the bottom of your perfectly bowed pepperoni? This is Buffalo-style pizza as God intended it, and it's been coming out of this little spot, fast and hot, all this time. What are you waiting for?
Bocce
4175 Bailey Ave., Buffalo;  833-1344 or bocceclubpizza.com
Considered the birthplace of Buffalo-style pizza by many, Bocce has aged well since its humble beginnings in 1961. Go for the classic cheese with cup and char pepperoni (add green olives if you want to try the pie beloved by Spree founder Larry Levite) and an order of medium wings, and it's easy to see how this style of pizza gained a sizable foothold here. Bocce set the standard and has managed to maintain it all these years. Want to gloat? Take advantage of its nationwide delivery options and show your out-of-state friends what they've been missing.
Best Buffalo-Style Pizza (Suburbs)
TIE
Picasso's
Multiple locations; picassospizza.net
Picasso's may come closer to the Platonic ideal of Buffalo-style pizza than any other restaurant in the area. The dough is the right combination of chewy and crisp, the sauce is just sweet enough, the cheese is plentiful, and oh, those pepperoni. Perfectly curled up with singed edges and grease inside, they simply don't get any better. A sprinkling of garlic and Parmesan cheese adds a little something that puts this pie over the top.
Franco's Pizza
Multiple locations; francospizza.com
Buffalo-style pizza may not have a huge following outside of the region, but there's no doubt that it rules the roost in our area. Franco's didn't invent the stuff, but it sure has perfected it. With five locations, capable delivery service, decent wings, and over twenty specialty pizzas on offer, it's easy to see why it's become the go-to pizza choice for so many locals. Unlike some other pizza chains, Franco's quality and reliability has not diminished with its growth.
Best Thin-Crust Pizza (City)
O. G. Wood Fire
Various locations; 258-0725 or facebook.com/ogwoodfire
An unassuming food truck churns out ten-inch pizzas made with carefully selected imported flour, cooked via wood fire at 900 degrees. Traditionally made Neopolitan-style pizza has an art that sets it apart from Buffalo-style pizza. With a focus on impeccably fresh ingredients and craft honed to perfection, owner Jay Langfelder is dedicated. Flavors include marinara, margherita, quattro formaggi (fresh mozzarella, provolone, Gorgonzola, and Parmigiana), the famous original (tomato sauce, light garlic, cheese blend, oregano, EVOO), and more. If you're lucky, you can get a Killer Bee (fresh mozzarella, tomato sauce, spicy salami, and local honey) or a carbonara-inspired pizza (featuring pancetta and egg). Fortunately for us, the brick and mortar location is set to open in September on Delaware Avenue in Kenmore.
Best Thin-Crust Pizza (Suburbs And Beyond)
Romeo & Juliet's
Multiple locations; rjcaffe.com
Romeo & Juliet's has been bringing authentic Italian cuisine to Western New York since 1998, and its DEK oven-style pizzas still stand up as some of the most satisfying thin-crust around. With ingredients imported from the old country, owners Vito and Susan Semeraro take their food seriously. Their crusty, scratch-made pizzas feature old standards, including the Spree Ultimate Pizza Challenge-winning pepperoni and mozzarella.
Best Wings (City)
Gabriel's Gate
145 Allen St., Buffalo; 886-0602 or Find it on facebook.com
While the debate rages between Anchor Bar and Duff's, Gabriel's Gate continues to serve consistently great wings in its unassuming, dimly lit dining room. They're always large, crisp, and properly saucy, and that consistency goes a long way.
Best Wings (North)
Judi's Lounge Bar and Grill
2075 Military Rd., Niagara Falls; 297-5759 or judisbarandgrill.com
Judi's has been serving consistently excellent wings to those in the know for decades. The tender meat shrouded by crispy, perfectly spicy skin comes away from the bone easily. The sauce has a very slight tomato essence, which adds a bit of depth and sweetness to the traditional wing recipe. An added accolade is that diners don't have to specify that they want the wings cooked "crispy." Judi's already knows. Prepared with obvious care, the bats are crackling and succulent and the flats are moist inside with the outside uniformly crisp.
Best Wings (Southtowns)
TIE
Bar-Bill Tavern
185 Main St., East Aurora; 652-7959 or barbill.com
If you haven't visited Bar-Bill yet to experience its wings, it is time. Its wooden interior, massive marble bar, and pub style atmosphere are cozy and welcoming. This warm, casual setting is perfect for downing a dozen wings and a cold beer. If you're a wing purist, these wings are everything you want—meaty, crispy on the outside, tender on the inside, and saucy. If you like to try more than hot sauce, you're in luck. Bar-Bill has a selection of sauces, including honey dijon, teriyaki, honey butter BBQ, and hot and spicy BBQ. Whatever you choose, enjoy—they're addictive.
Blackthorn Restaurant & Pub
2134 Seneca St., Buffalo; 825-9327 or blackthornrestaurant.com
The secret is out! Not too big and not too small, crisped just right and sauced perfectly, Blackthorn's wings are something to behold, admire, and set as the gold standard for anyone aspiring to a phenomenal Buffalo-style wing experience.
Best Tacos (City)
TIE
Casa Azul
128 Genesee St., Buffalo; 331-3869 or casaazulbuffalo.com
It should come as no surprise that Victor Parra Gonzalez's taco joint stands above the competition. Born in Acapulco and trained in French cooking technique in Montreal, the chef brings together both elements of his life at Casa Azul. The tacos have ingredients one may expect, but with quality and presentation that's rare. Consider going adventurous with tongue or sweetbread tacos, two of the strongest on the menu.
Lloyd
1503 Hertel Ave., Buffalo;  863-9781 or whereslloyd.com
When the sight of a lime green food truck elicits a Pavlovian response, its tacos must be good. Lloyd's Hertel Avenue Taco Factory and ubiquitous fleet of four trucks slings fresh, locally sourced, and wildly creative street food tacos like the classic Old School (choice of braised beef, grilled chicken, slow-roasted pork, or stewed local black beans; Colby jack; shredded cabbage chimi and roja sauces; fresh cilantro) and the Dirty South (buttermilk fried chicken, baby kale, bacon aioli, waffle pieces, maple syrup). Served on four-inch corn tortillas scratch-made on a mesmerizing contraption parked next to the restaurant's cash register, Lloyd tacos' size and $3 price mean you can try several.
Best Tacos (Suburbs)
Taqueria Los Mayas
3525 Genesee St., Cheektowaga;  906-3730 or facebook.com/TaqueriaLosMayas
Considering the Great Taco Pandemic that spread across Western New York this past year, there are plenty of great new taquerias to talk about. But one spot in Cheektowaga is inspiring the hottest salsa-induced fever. Taqueria Los Mayas, with its no frills taco menu loaded with the classic range of fillings supported by a well-stocked condiment station and a full-service bar with several ice-cold Mexican lagers on tap, is just what the doctor ordered. Standouts include the seductively charred al pastor, buttery lengua, and fiery chorizo served on fresh and warm corn tortillas that are incredibly sturdy yet silky smooth.       
Best Korean
Koreana
1010 Niagara Falls Blvd., Tonawanda; 836-5858 or facebook.com/Koreana-buffalo
From the best bibimbap in town to the braised pork shoulder or the garlic pepper chicken, Koreana's twelve-item menu may be small, but it's mighty; there's not a loser in the bunch. Trays of excellent banchan provide diners the ability to skew a dish's flavor profile to their liking. Long on charm and short on looks, Koreana is a family-run operation where cleanliness and good food rank higher than variety or decor. Counter service and no liquor license mean amenities are few and far between, but once you've tucked into one of Koreana's homestyle offerings, you won't mind a bit.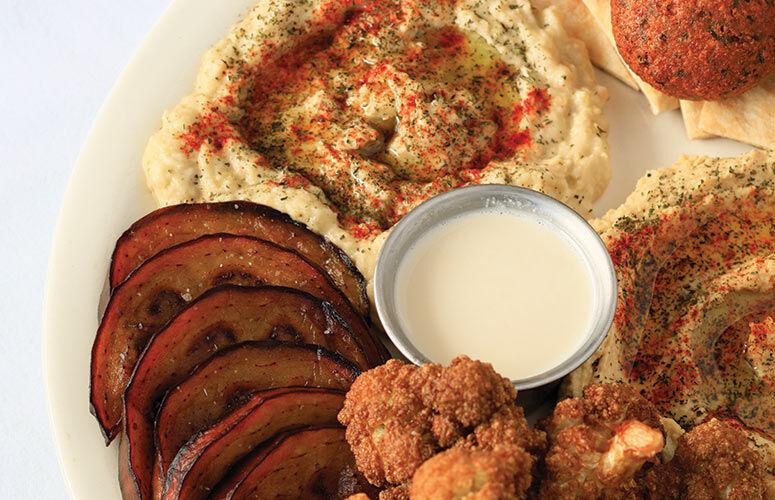 Best Middle Eastern/Mediterranean (City)
Shish Kabab Express
1207 Hertel Ave., Buffalo; 447-1207 or facebook.com/Shish-Kabab-Express
Shish Kebab Express is a hidden gem in the ever-growing Middle Eastern section of Hertel east of Delaware. It's one of the few Iraqi restaurants in the area, offering not only its namesake shish kabab, but also a handful of salads, large plates, and sides including some of the best housemade hummus around. The sandwiches are the real menu standout though. $5 gets you a heavenly, warm samoon roll stuffed with your selection of shawarmas, tikkas, and more.
Best Middle Eastern/Mediterranean (North)
755 Restaurant & Lounge
755 West Market Street, Niagara Falls; 205-8969 or 755westmarket.com
This year, we covered 755 in our vegetarian issue, but make no mistake, if you're remotely flexible in your dietary habits or just love good food, 755's Middle Eastern offerings are sure to please. Family-owned and operated, the service is gracious and adept. A newer menu option, The Feast ($35), allows diners to enjoy everything we love: hummus, babaganoush, falafel, fried cauliflower and eggplant, tahini, your choice of tabouli or fatoush, and two meat offerings, from kafta to kabob. It's a feast, all right, and one you shouldn't deprive yourself of any longer.
Best Middle Eastern/Mediterranean (Southtowns)
Rachel's Mediterranean
3860 McKinley Pkwy., Hamburg;  464-3857 or eatrachels.com
From the original Rachel's in Williamsville to its four fast casual spin-offs, Rachel's is paving WNY with top-notch tzatziki. Go pita, rice, or salad. Next, add shawarma, souvlaki, gyro, or falafel. Finally, dress it up with a broad range of delicious sauces and super fresh veggies. Rachel's is Buffalo's Mediterranean answer to Chipotle—fast, fresh, flavorful, and friendly.
Best Pho (City)
99 Fast Food
3398 Bailey Ave., Buffalo; 836-6058 or facebook.com/99fastfood
Long the standard bearer for city pho aficionados, 99 Fast Food continues to churn out Buffalo's best bowl of noodles. A well-balanced broth not lacking in either beef flavor or warm spice notes, it's a perfect antidote to a sloppy Buffalo winter. Pros know to order extra meat by the dollar and to keep an eye out for long sprigs of fresh and peppery cilantro that occasionally grace the side plate. Don't forget to start your pho with a couple of cigar-shaped Vietnamese spring rolls, and finish with an avocado shake.
Best Pho (Suburbs)
Phovana
1574 Eggert Rd., Buffalo; 833-3632 or phovana.com
At less than a year old, Phovana is the new kid on the block, but we like what we've seen so far. Its bowl of pho starts with a simple and light broth with enchanting floral notes. Lighter broth calls for lighter noodles, and Phovana fills its bowls with vermicelli instead of the standard wide noodles. A bountiful condiment bar allows diners to dress their pho any way they like. And with additional options like hot pot and a pho-burrito, there are plenty of other options to keep coming back for.
Best Ramen (City)
SATO
739 Elmwood Ave., Buffalo; 931-9146 or satobuffalo.com
SATO Ramen
3268 Main St., Buffalo; 835-7286 or sato-ramen.com
Chef Satomi Sakai Smith knows ramen. After growing up in a restaurant family in Fukui, Japan, Smith took her Fukui-style ramen to Buffalo to open SATO. Her pork tonkotsu, chicken bone torigara blend and balanced, hearty broth were so popular that she opened SATO Ramen in University Heights in 2016. Smith's commitment to housemade noodles, fresh ingredients, and authenticity are available at both locations. Sato Ramen is the place to go for the best selection, including the classic rich and hearty tonkotsu, locally focused Buffalo chicken ramen. For the most authentic taste, try the family recipe Sato Ramen.
Best Ramen (Suburbs)
Taisho Bistro
3332 Sheridan Dr., Amherst; 835-8088 or taisho-bistro.com
A neon-lit and family-friendly Japanese izakaya, Taisho Bistro serves sushi, yakatori, hibachi, and noodles, noodles, noodles! Tuck into a bowl of the spicy miso ramen or dial it back and order any one of the restaurant's iterations of the popular noodle soup—you won't regret it.
Best Brunch (City)
TIE
Lait Cru Brasserie
346 Connecticut St., Buffalo; 462-4100 or laitcrubrasserie.com
Buffalo's favorite cheesemonger, Jill Gedra Forster, tickled our fancies when she moved Nickel City Cheese & Mercantile from Elmwood to a larger space on Connecticut Street where she expanded the shop into a full-service, French-inspired brasserie. Culling from some of the best cheeses in the world, expect anything ordered off the menu to be delightfully lush. The grilled cheese is a beautiful balance of crunchy, sweet, and savory. Opt for pork belly or hash and eggs for a fuller meal. And if you like a bit more control, try the egg sandwich, which you can build with multiple options. It's also worth looking out for Lait Cru collaborations, as the pop-up brunches there are a real treat.
Betty's
370 Virginia St., Buffalo; 362-0633 or bettysbuffalo.com
This is a brunch you can rely on. Whether you're a basic eggs and toast kind of guy or a scrambled tofu hash-type girl, there's something on the menu for everyone. Hungover folks enjoy the spicy, cheesy, chilaquiles casserole, along with a make-your-own Mimosa, maybe, from the fully stocked bar. Many items are or can be made vegan and gluten free, too. Whatever you get, it will be scratchmade, fresh, delicious, and delivered to your table by friendly and knowledgable staff. Plus, the colorful, plant-filled dining room makes you feel sunny, no matter the weather.
Best Brunch (Suburbs)
TIE
Elm Street Bakery
72 Elm St., East Aurora;  652-4720 or elmstreetbakery.com
Elm Street Bakery's vaulted ceilings, large windows, and wood accents provide an ideal backdrop for brunch. In winter and fall, the bustling location feels cheerful and cozy, in summer it emanates a hum of vitality. In its kitchen, farm-sourced ingredients are transformed into vibrant homestyle fare, hearty enough to please the ravenous, fresh enough to thrill the most conscientious consumer. Bread and baked goods shouldn't be skipped either, regardless of how full you might be; take them home if you must!
Trattoria Aroma
4840 N. French Rd., East Amherst;  688-8848 or aromanorthfrench.com
The Aroma group of restaurants has long been known as a go to for terrific Italian dinners, but do yourself a favor one weekend morning, and treat yourself to an Italian twist on brunch favorites. Old standbys like hotcakes and biscuits are elevated to decadent but light lemon ricotta pancakes and savory "Caprese biscuits" (buttermilk biscuit, sunny-side-up egg, fresh mozzarella, arugula, basil, tomato aioli). You can still order your favorite salad, burger, or bolognese, too. The special brunch cocktail menu is full of unique offerings like the Rising Sun bloody Mary with sake, wasabi, cucumber, soy, and ginger.
Best Steak (City)
SEAR
200 Delaware Ave., Buffalo; 319-1090 or searbuffalo.com
SEAR is everything you want in a steakhouse. An array of raw and cold bar items, and small plates like tuna tartare, whet your appetite for the main course. The classic sides are well executed, from garlic creamed spinach to millionaire mashed potatoes to truffle fries. Steaks and chops include house prime and USDA prime beef, as well as Wagyu beef. There are signature and dry-aged options, and you may add lobster butter, blue cheese, béarnaise, or other sauces, not that the steaks need sauces. The chic atmosphere adds to the restaurant's appeal, but the focus on perfectly prepared steak sets it apart.
Best Steak (Southtowns)
Rick's on Main
687 E. Main St.; East Aurora; 652-1253 or ricksonmain.com
Rick's doesn't advertise itself as a steakhouse because its offerings are more extensive than a traditional, veg-on-the-side, baked-potato-in-foil steakhouse, but if you're in the market for a great steak in the Southtowns, Rick's is a solid bet. Go for the dry-rubbed NY strip, the garlicky ribeye, the gorgonzola encrusted sirloin—or skip the steak altogether! You can't do that at other steakhouses, but at Rick's everything is delicious, not just the beef.
Best Steak (Northtowns)
Russell's Steaks, Chops & More
6675 Transit Rd., Williamsville;  636-4900 or salvatoresgrand.com
Ask any local about Russell's and you'll hear three things: hospitality, steak, and hospitality. Or is it steak, hospitality, and steak? Either way, you see what we're getting at here, right? Russell's steaks are seasoned with a deeply flavored veal demi and cracked black pepper; you're sure to be satisfied whether you order the filet mignon, porterhouse, NY strip, or (foodie fave) bone-in ribeye.
Best Gluten-Free Options
Pizza Plant
7770 Transit Rd., Williamsville; 632-0800 or pizzaplant.com
If you think you won't find an array of gluten-free choices at a pizza joint, you'd be wrong. Pizza Plant developed its own proprietary gluten free flour mix to make as many gluten free items in house as possible one day a week (Wednesday) to avoid cross contamination. GF treats include nachos, pizza, pastas, burgers with Brian's Best GF Bun, and even gluten-free beers like Bard's Dragon Gold, Redbridge, and Green's Gluten Free. If you are going to be visiting on a day other than Wednesday, call ahead to make sure the restaurant has the specific items that you want.
Best Juicery
Tie
Ashker's
1002 Elmwood Ave., Buffalo; 886-2233 or ashkersbuffalo.com
Buffalo suddenly has an array of new options when it comes to juice, but Ashker's has held its ground as a mainstay. Check out fresh-pressed favorites like Upbeet (beet, apple, carrot, celery); Good Beginning (orange, carrot, banana, apple); or Green Machine (spinach, cucumber, celery, apple). The case in front of the register offers a rotating selection of colorful juice-filled Mason jars nestled in ice, and the berry and watermelon juices are especially refreshing in summer. If you're hungry for more, there are breakfast, lunch, and dinner options, as well as snacks and warm beverages.
Squeeze
Multiple locations; squeezejuicerybuffalo.com
A cold-pressed juicery, Squeeze serves Williamsville and the Elmwood Village smoothies and juice drinks with amusing monikers. Customers have come to expect Good Vibrations (orange, cranberry, pineapple, apple), Groove Is in the Heart (apple, raspberry, ginger), Sweet Child o' Mine (kale, spinach, kiwi, pear, cucumber), and other song-inspired favorites.
Best Vegan (City)
Grindhaus Cafe
160 Allen St., Buffalo; 725-6300 or facebook.com/grindhauscafe
It can be tough to find great vegan food on many menus, but at Grindhaus Cafe, it's impossible not to. The Allen Street cafe and coffee shop's menu is a vegan playground, with a solid sandwich menu that won't make anyone miss meat. The VLT is a smoky, satisfying answer to the classic BLT, which makes a beautiful barbecue meal with a side of cranberry and edamame-packed BBQ slaw. Try the lentil and brown rice mujadara topped with cucumber salad for a fresh, filling plate, and don't forget the chocolate avocado mousse for dessert. At Grindhaus, the casual, cozy atmosphere feels like a family kitchen, one where animals are not on the menu.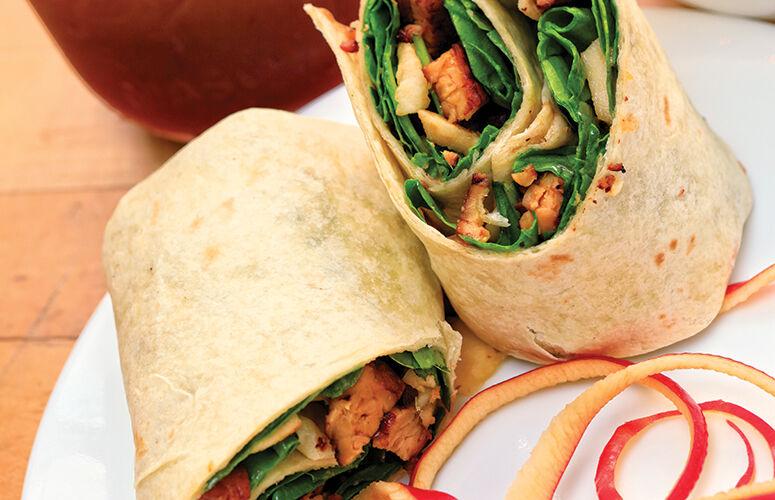 Best Vegan Menu Options (Suburbs)
Pizza Plant
7770 Transit Rd., Williamsville; 632-0800 or pizzaplant.com
This pizza place makes a real effort to provide a wide selection of vegan dishes—more so than many of the restaurants that bill themselves as vegetarian, we found. Pizza Plant takes care to make sure its vegan foods contain no animal products, dairy, or honey. And the list goes beyond salads with oil and vinegar. Try nachos with vegan cheese; vegetarian chili and soups; white, sesame, garlic, and spinach dough and rolls, soy sausage; and vegi burger and vegi chicken. Aside from the specifically vegan dishes, many menu items can be made vegan.
Best Barbecue
Kentucky Greg's Hickory Pit
2186 George Urban Blvd., Depew; 685-6599 or kentuckygregs.com
As the OG of WNY smoked meats, Greg Englehart has watched more than one barbecue chain come and go during his reign in Cheektowaga. But his purity of style with a simple salt and pepper rub and an assertive dose of hickory wood smoke is what wins the day. Some purists may scoff at the lack of brisket, but we find the smoked beef sandwich, with it's hybrid roast beef qualities, to be a menu high point. Next to a basket of fried okra and a pool of fiery vinegar sauce, it's as close to heaven as you'll get on your lunch break.
Best Barbecue Sides (City)
TIE
Dinosaur Bar-B-Que
301 Franklin St., Buffalo; 880-1677 or dinosaurbarbque.com
Despite its growth to nine northeast locations, Dino has maintained a high level of quality that should make other chains—and even local BBQ joints—jealous. When it comes to sides, all the usuals are on the menu, and they're all really, really good. The mac and cheese and coleslaw are classic pairings done right, but consider the Cajun corn or Asian cucumber salad if you're looking for something different.
Fat Bob's Smokehouse
41 Virginia Place, Buffalo; 887-2971 or fatbobs.com
Squirreled away on Virginia Place in Allentown, Fat Bob's may seem like it flies under the radar a bit, but, pop in on any weeknight, and you'll see it's just as busy as it was when it opened eons ago. Quick, satisfying, and affordable, Fat Bob's ticks a lot of boxes for diners looking for a family dining experience in the city. With a great selection of cans and bottles, friendly service, and a comfortable back patio, Fat Bob's is also prized by warm-weather happy hour enthusiasts.
Best Barbecue Sides (Suburbs And Beyond)
Smoke on the Water
77 Young St., Tonawanda; 692-4227 or sotw77.com
Smoke on the Water boasts traditional sides, such as coleslaw, sweet potato fries with honey butter, and cornbread. Also available are sides with fun twists: grilled potatoes are marinated in Chiavetta's prior to grilling, French fries dusted with Creole Voodoo Powder provide a nice Cajun kick, the savory macaroni and cheese is topped with crunchy Goldfish crackers, tater tots are smothered with hot-sauced nacho cheese, and the baked beans are dotted with mandarin oranges and escarole.
Best Seafood Restaurant (City)
TIE
Kuni's
226 Lexington Ave., Buffalo; 881-3800 or kunisbuffalo.com
Many Buffalonians know Kuni's for its fantastic sushi, but its fresh and authentic Japanese seafood excels beyond the roll. While the sushi menu is broad and almost universally excellent, its entrees and specialties are also worth a look. At Kuni's, both grilled and fried fish selections offer timid diners an opportunity to branch out. Specialties and entrees like whole grilled squid, hot (and they mean it) fish salad, and taco-su or ebi-su, which features thinly-sliced octopus or shrimp over cucumber and wakame, make more exotic seafood shine.
SeaBar
475 Ellicott St., Buffalo; 332-2928 or facebook.com/SEABAR
Diners have long depended on Seabar for the best traditional and nontraditional sushi and sashimi, as well as a changing array of fish and shellfish apps and entrées. Chef Mike Andrejewski's commitment to sourcing the freshest fish available remains unwavering.
Best Seafood Restaurant (Suburbs)
Remington Tavern
184 Sweeney St., North Tonawanda; 362-2802 or remingtontavern.com
The full name of this restaurant gives you an idea of why it's won this category. Remington Tavern and Seafood Exchange boasts a seafood-centric menu and one of the area's best raw bars. A daily selection of fresh raw oysters and clams of varying provenance top the list, which also includes grilled, broiled, and steamed versions for those who'd rather chew than slurp their bivalves. The menu frequently features whole Maine lobsters, as well as calamari and the ever-popular yellow pike fingers—kind of like the best fish sticks you've ever had. With a long list of daily features and happy hour specials, Remington has something to offer seafood lovers every day of the week.
Best Bagel
Bagel Jay's
Muliple locations; bageljays.com
Jay Gershberg and his brother Bob brought New York bagels to Buffalo in 1976, serving happy customers at more than two dozen Bagel Bros locations throughout the region for nearly a quarter century. Jay opened his first Bagel Jay's location in 2001 and now has three stores. Bagel Jay's is a true New York bagel; dense and chewy inside and baked crackling outside, Jay's does not compromise on the quality of its products. The dough is made fresh daily, and the bagels are boiled, seasoned, and baked at each location. While delicious on their own, the bagels are also excellent vehicles for the scores of fresh toppings and schmears on offer.
Best Artisanal Bagel
BreadHive
402 Connecticut St., Buffalo; 980-5623 or breadhive.coop
BreadHive uses a long-ferment sourdough process for their bagel (and all) dough, which makes them easier on the gut and helps them stay fresher longer, and then finishes with the traditional boiling and baking to produce its dense, chewy bagels. Almost more than the taste, which is amazing, the texture of BreadHive's bagels will convince you that these are the real deal. Is there a happier site on the West Side than row upon row of warm shiny bagels lined up on the pegged wall at BreadHive Cafe?
Best Restaurant Space (City)
Patina 250
250 Delaware Ave., Buffalo; 290-0600 or patinagroup.com/Patina250
It's rare for a new locally owned restaurant to work with local curators in choosing site-specific artwork for its space. It is absolutely unheard of for an incoming corporate restaurant group to do so. Nonetheless, Patina 250, a subsidiary of Delaware North, has gone further in collaborating with local artists than any restaurant in Buffalo. There is a mural, a sculptural installation, and many individual works in various media, all chosen with the participation of those who know Buffalo art best. In addition, the  restaurant is divided into several spaces, each with a different mood and feel. Patina 250 manages to be both elegant and fun, thanks to the care and planning that went into its design.
Best Restaurant Space (Suburbs)
The Grange Community Kitchen
22 Main St, Hamburg; 648-0022 or grangecommunitykitchen.com
Anyone who frequented Tina's Italian Kitchen during its 34-year tenure remembers the fake grape leaves, black and white family photos, Italian memorabilia and stuffed chef mannequin. Perhaps what makes The Grange Community Kitchen's transformation of the space so spectacular is the stark difference between the two. Its bright white palette shouts "fresh start." The portly white wood-burning stove, subway-tiled back bar, giant windows and blonde wood tables define clean and modern. Its minimalist mood is a sharp departure not only from its predecessor, but the Brooklyn-esque exposed brick and Edison bulb aesthetic that has dominated recent openings. Best of all, chef Brad Rowell's plates are as beautiful as the surroundings, making The Grange Community Kitchen a restaurant to watch and visit, again and again.
Best Charcuterie (City)
The Black Sheep
367 Connecticut St., Buffalo; 884-1100 or blacksheepbuffalo.com
Hand Steve Gedra and his crew an animal to butcher, and they'll hand you back a board chockfull of rillettes, pates, and links cured over months. More reserved eaters will appreciate conventional cuts done right, including hams and sausages. Those with more adventurous palates will be impressed by the offal cuts and sous chef Caleb Erb's terrines. Paired with Ellen Gedra's housemade bread, it's really hard to go wrong.
Best Charcuterie (Suburbs)
Aro Bar de Tapas
5415 Sheridan Dr., Williamsville; 631-1000 or arotapas.com
Aro has thoughtfully curated a roster of some of the best cured meats (and a phenonmenal selection of cheeses) from near and far from which to compose your version of the perfect charcuterie board. The small chef's charcuterie board ($15) and  large ($25) are a deal, especially if some of the items are new to you. At the top of the list are the jamón Serrano, delicate cured white ham; jamón Ibérico de Bellota, the world's very best ham from acorn-fed, black-hoofed pata negra pigs; cinco jotas 5J Ibérico de Bellota, the "rolls royce" of jamón ibérico, from free-range, 100 percent pure ibérico pigs; choirzo de Bellota, mildly spicy sausage, dry-cured paprika pata negra pork sausage; and Lomo de Bellota, herb- and spice-cured pata negra pork loin.
Best Dessert (City)
Oliver's
2095 Delaware Ave., Buffalo; 877-9662 or oliverscuisine.com
The most tempting dessert menu is found at Oliver's, thanks to its rotating plates of expertly crafted sweets—each with an unexpected twist. Blackberry mascarpone cheesecake sounds lovely, but add strawberry tuille, lemoncello sabayon, tarragon pebbles, and blackberry granita, and you have a decadently creamy masterpiece. The chocolate whip tart is a medley of honey and hazelnut mousse, caramel, and charred orange coulis served with smoked ice cream. The ice cream is vibrant with the rich honey, caramel, and chocolate, while the orange brightens up the deep flavors. The showstopper is Baked Alaska, featuring an impressive balance of almond marzipan cake, soufflé glace, cherry, pistachio, oat crunch, and lemon balm. Paul and Mary would be proud.
Best Dessert (Suburbs)
Giancarlo's
5110 Main St., Williamsville; 650-5566 or giancarlossteakhouse.com
Few restaurants boast a from-scratch dessert menu. At Giancarlo's, pastry chef Camille Le Caer creates an array of Italian classics, like tiramisu, and French favorites, such as profiteroles. Hailing from Brittany, France, the young pastry chef can execute a picture-perfect macaron and clearly enjoys playing with traditional flavor combinations. Favorites include the religiouse éclair, composed of pate choux filled with pistachio and white chocolate ganache, amarena cherry confit, and finished with almond and vanilla crust; and the rotating gelato selection. The menu changes seasonally to utilize fresh ingredients and keep patrons excited about the imaginative offerings. Le Caer's talents are worth sampling.
Best Doughnut
Paula's Donuts
Multiple locations; paulasdonuts.com
Paula's Donuts has won best doughnut before and for good reason: they're just that good. Paula's large-and-in-charge confections have a cult following in Western New York, and,  ever since it opened in 1996, Paula's has made its doughnuts onsite using only fresh ingredients, and the quality is evident. The expansive menu includes more than thirty flavors (including seasonal varieties), as well as other breakfast favorites.
Best Artisanal Doughnut
Butter Block
Various locations; butterblockshop.com
When Butter Block emerged on the Buffalo food scene, pastry bakeries seemed to be an endangered species. Its handcrafted doughnut recipe—airy dough, dusted with sugar, and packed with filling—stays interesting, thanks to the inspired choices: Blueberry lavender. Peanut butter caramel. Passionfruit orange guava. Strawberry and cream. The possibilities are as unlimited as the chef's imagination. You're in for a treat when you score a doughnut from Butter Block.
Best Sponge Candy
Watson's chocolates
Multiple locations; watsonschocolates.com
A perennial favorite, Watson's has successfully satisfied the sponge candy urges of Buffalonians—pat, expat, repat, and newpat, milk, dark, or orange—for seventy years. Demand for Watson's take on Buffalo's favorite confection is so great, the family business makes and sells over thirty-five tons of sponge candy each year.
Best Coffee Shop (City)
Tipico
128 Fargo Ave., Buffalo; 331-3954 or tipicocoffee.com
Jesse Crouse's Tipico Coffee lives up to everything a modern coffee shop should be. Its sparse, clean design wouldn't be out of place in Seattle or Brooklyn. The menu includes small plates and supports local vendors. In the summer, the giant windows open to blur the line between outside and in, while in the winter, the Kachelofen stove keeps the space toasty. But most important, the coffee is really good, and it's prepared by people who know just what they're doing.
Best Coffee Shop (Suburbs)
Steamworks
51 Canal St., Lockport; 727-0701 or steamworkscoffee.net
Located in the Locks District of downtown Lockport, this small batch artisanal roaster and coffee purveyor is brewing more than coffee. In addition to a selection of superior quality house-roasted coffee beans and beverages, fresh fruitades, an interesting assortment of hot and iced teas, and more matcha than you can shake a stirrer at, Steamworks gets in the community spirit by hosting several events a week, including paint nights, morning music series, and evening performances. Pour over a book in this well-appointed shop while sipping your fine pour-over beverage. Or get it to go for a stroll along the nearby Erie Canal.
Best New Restaurant (City)
TIE
The Dapper Goose
491 Amherst St., Buffalo; 551-0716 or thedappergoose.com
When we heard Philly bar star and Olean native Keith Raimondi was returning to WNY with staff in tow to open a restaurant, we assumed we'd have another place to get great drinks. Little did we know this team was packing a Swiss Army knife of skills and passion to create a restaurant with which Buffalo immediately fell in love. From the chef's modern but comforting farm-fresh fare to the adept cocktails, refreshing decor, eyeball-popping wine list, and the kind of service that people gush about online and with friends, well, welcome home, Goose Mafia. We Buffalove you.
Las Puertas
385 Rhode Island St., Buffalo; 807-1141 or facebook.com/LasPuertasBuffalo
What do you get when you take a chef born in Acapulco and give him classic French training in Montreal? You get Las Puertas. Chef and owner Victor Parra Gonzalez has brought something to Buffalo that it has never seen before: the vibrancy of authentic Mexican cuisine with subtle European nuances. The menu and restaurant space reflect each other perfectly: intimate, friendly, thoughtful, and inspired. Las Puertas houses an open kitchen and ceviche bar, and the chefs serve the diners personally to better ensure a most wonderful experience. Noteworthy are the seafood dishes, ramen with fresh housemade noodles, bone marrow, and the tasting menu.
Best New Restaurant (Suburbs)
TIE
The Grange Community Kitchen
22 Main St., Hamburg; 648-0022 or grangecommunitykitchen.com
It should come as no surprise that Brad Rowell, chef and owner of The Grange and previous Spree Best Chef winner, has put his hometown Village of Hamburg on the map as a must-dine-in Buffalo suburb. On the menu, you will find in-house charcuterie, produce from almost a dozen local farms, daily housemade breads and pastries, twenty-four- to forty-eight-hour fermented pizza doughs, homemade sauces and condiments (except ketchup), and so much more. Chef Rowell's palate and technical expertise ends up as home run on every single plate. Not to miss: pepperoni pizza, charcuterie, beef on weck or Reuben (call for availability), and the Swiss roll for something sweet.
Carte Blanche
61 Buffalo St, Hamburg; 649-2121 or carteblanchehamburg.com
The newest effort from Chef Andrew Murtha puts Hamburg on the map and Western New York on the plate, with his dedication to fresh, local ingredients showcased.The phrase carte blanche translates to "the freedom to act as one thinks best," and at Carte Blanche, diners are encouraged to sample and explore. Murtha's menu features the best ingredients from Butter Block, Native Offerings, Plato Dale Farms, Buffalo Cheese Traders, T-Meadow Farms, Flat 12 Mushrooms, Hudson Valley Foie Gras, and many others, in an effort to introduce Southtowns diners to the food being grown and raised right in their backyard. At Carte Blanche, visitors can find both familiar dishes done excellently and new adventures to elevate their experience, all in a comfortable, welcoming atmosphere.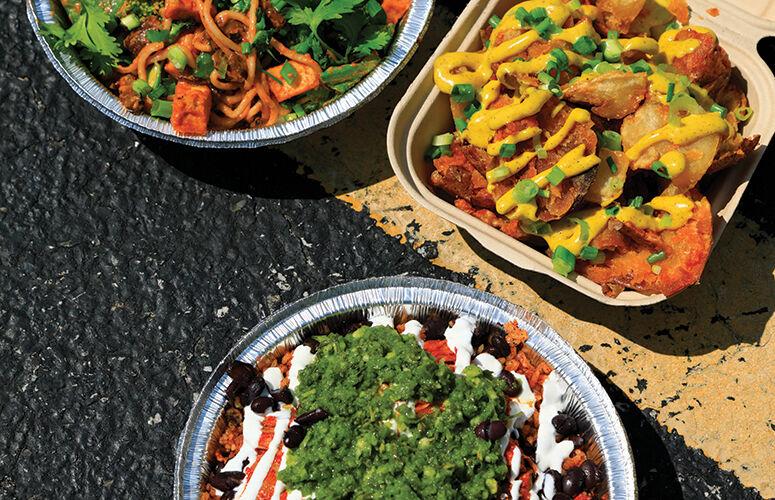 Best Food Truck
Lomo Lomo
341-3299 or lomofoodtruck.com
Lomo Lomo is a truck you're happy to stand in line for. It'd be impossible to play favorites with any one particular dish, because everything is just off-the-charts amazingly flavorful with flairs leaning toward Latin American and Asian street food. Standouts: the cracked potatoes, any of the fried rice dishes, anything with chimichurri, and the staff's enthusiastic personalities.
Best Chef (Established)
Ross Warhol at Oliver's
2095 Delaware Ave., Buffalo; 877-9662 or oliverscuisine.com
A native of Hamburg who spent his twenties cooking all over the world, Ross Warhol landed in Buffalo in spring of 2016 and is seemingly here to stay. Taking up the mantle at Oliver's, arguably Buffalo's most revered and iconic restaurant, Warhol transformed the restaurant's offerings while being sure old favorites remained to keep longtime diners happy. To be honest, they'd be wise to sidestep the familiar Chicken Milanese and give Warhol's tasting menu a whirl. After stints in the kitchens of the French Laundry, Ubuntu, elBulli, and Frantzen Lindeberg, to name a few, if Warhol's resume and invitation to prepare a second meal at the James Beard House in June isn't enough proof that the kid can cook, you may as well stay home and crack a can of SpaghettiOs.
Best Chef (New)
Will Petersen at Lait Cru Brasserie
346 Connecticut St., Buffalo; 462-4100 or laitcrubrasserie.com
A graduate of the Niagara Falls Culinary Institute, Chef Petersen earned his chops and honed his skills in some of Buffalo's best kitchens like Seabar, Park Country Club, and The Black Sheep. Now as head chef in the Horsefeathers Building at Lait Cru Brasserie, his thoughtfulness, attention to flavor profiles, and respect for ingredients make him a welcome force in Buffalo's dining scene. As a young chef, the amount of self-control he has in his dishes rivals that of a veteran chef, and his career is certainly one to watch.
Best Restaurant For A Family Gathering
Salvatore's Italian Gardens
6461 Transit Rd., Depew;  877-456-4097 or salvatoreshospitality.com
Taking a dozen people to dinner? Not every restaurant excels at feeding large groups. With a menu sure to satisfy most, attentive staff, and a kitchen comfortable with high-volume meal preparation, Salvatore's is a go-to for large family dinners or office get-togethers. And, if like us, you and your family or coworkers occasionally run out of things to talk about, Salvatore's over-the-top décor is sure to provide hours of conversational fun.
Best Waitstaff
Risorante Lombardo
1198 Hertel Ave., Buffalo;  873-4291 or ristorantelombardo.com
In another restaurant, the amount of attention lavished by Lombardo's abundant waitstaff might seem oppressive, but that never happens here. The service is attentive, skillful, and warm—but never overpowering.
Best Small Wine List (Bottle)
Mothers
33 Virginia Place, Buffalo; 882-2989
The list is simple: white on one side and red on the other, but take another look. There are none of the mass-produced and over-priced chards and cabs that plague other, similarly sized lists. Instead, find crisp sancerres, spicy Rhones, and other, lesser-known varietals for prices that are the best in town. Those in a mood to splurge (modestly) can peruse the stash and sparkling wine lists.
Best Large Wine List (Bottle)
Oliver's
2095 Delaware Ave., Buffalo; 877-9662 or oliverscuisine.com
This carefully curated twenty-five-page list includes excellent choices from all the major wine-producing regions. The restaurant also offers half price bottles on Sundays and other specials that make it easier to splurge. For special occasions, there are decently priced magnums (given their quality). Watch the restaurants website for notices of special wine events.
Best Wine List (By The Glass)
Dapper Goose
491 Amherst St., Buffalo; 551-0716 or thedappergoose.com
New kid on the block Dapper Goose flew into town last fall and has been wooing fans of good food and great wine ever since. With a wide range of young and exciting wines (some of which are available on tap) on its BTG list, the Goose has certainly set itself apart with its selection, but it's the service associated with the wine we can't get over. Know a lot about wine? You'll love it here. Know nothing about wine? You'll love it here. Want to explore your palate? You'll love it here. Just want a sparkly rosé with brunch? You'll love it here. There's a wine for everyone and the team at Dapper Goose are here to make sure you're comfortable, engaged, and truly enjoying your optimal wine drinking experience, whatever that may be.
Best Use Of Local Ingredients (City)
Billy Club
228 Allen St., Buffalo; 331-3047  or billyclubbuffalo.com
Billy Club's chef Scott Crombie is as committed to his ingredients as the staff is to excellent service, and it shows both on the plate and in the overall experience. While many restaurants around the area now take advantage of Western New York's wealth of local meat, produce, bread, and vegetables, Billy Club makes sure each ingredient shines on its own and works in harmony with the rest. The curated menu often features offerings from Flat #12 Mushrooms, BreadHive Bakery, and Nickel City Cheese & Mercantile, all showcased beautifully.
Best Use Of Local Ingredients (Suburbs)
Elm Street Bakery
72 Elm St., East Aurora; 652-4720 or elmstreetbakery.com
On a recent spring visit, we were moved by a savory strawberry gazpacho that was studded with berries poached in oil—distilling them into their jam-like essence—and tasting dramatically better than anything sitting in plastic in a grocery case. Equally impressive was a crunchy salad, bursting with delicate mint and snap peas with "just picked" vitality. With a seasoned crew headed by Chef Jen Boye, and its proximity to some of Western New York's most cherished producers, Elm Street Bakery is the spot to experience the best in local ingredients 365 days a year.
Best Local Winery
Arrowhead Spring Vineyards
4746 Town Line Rd., Lockport; 434-8030 or arrowheadspringvineyards
For decades, this winery has maintained its reputation for serious wine, using grapes that, until recently, had rarely been successfully grown in the Niagara region. It is deservedly famous for its Pinot Noir and red blends, but all the Arrowhead varietals reward the winery's thoughtful viticulture and its respect for low-intervention, low-impact winemaking.
Best Local Brewery
Big Ditch Brewing Company
TIE
55 E. Huron St., Buffalo; 854-5050 or bigditchbrewing.com
Big Ditch, named after the Erie Canal sobriquet, started out with two guys homebrewing in a garage, simply because they loved beer. Fast forward six years, and that love of beer has propelled Big Ditch to be one of the best craft breweries in the state of New York, earning multiple awards and country-wide recognition. Always respectful of the process and ingredients, Big Ditch's quality control is top notch—an independent tasting panel regularly ensures that its beers maintain integrity batch after batch. To say Big Ditch produces really great beer would be an understatement; your best bet would be to go to the brewery and try them all. You're sure to walk out with a couple favorites.
Community Beer works
15 Lafayette Ave., Buffalo; 759-4677 or communitybeerworks.com
This tiny, irreverent brewery offers big reasons to love it. The beer is really, really good, with an established roster of solid, true-to-style mainstays interspersed with frequent releases of inventive and well-executed seasonals and test batches. The "community" in the name is an apt nod toward their constant collaborations with other local breweries and restaurants, and their signature Friday "Be Like Frank" crowdfunding events that direct $5 from pints of their flagship American pale ale toward non-profits like Planned Parenthood, Hospice Buffalo, and Buffalo-Niagara Riverkeepers. With expansion plans in the works, CBW will be spreading their special brand of beer geekery even further later this year with a new location.
Best Local Distillery
Tommyrotter Distillery
500 Seneca St. #110, Buffalo; 312-1252 or tommyrotter.com
The star of Tommyrotter's limited portfolio is its American gin with bright fruit and spice notes. It's good enough to sip on its own, but it mixes excellently into a cocktail, especially a Negroni garnished with orange. There's also a tasty vodka, of course, and a really special barrel-aged gin. Bottled at cask strength of 122-proof, it's got a burn, but the six months spent in whiskey barrels provide a welcome complexity.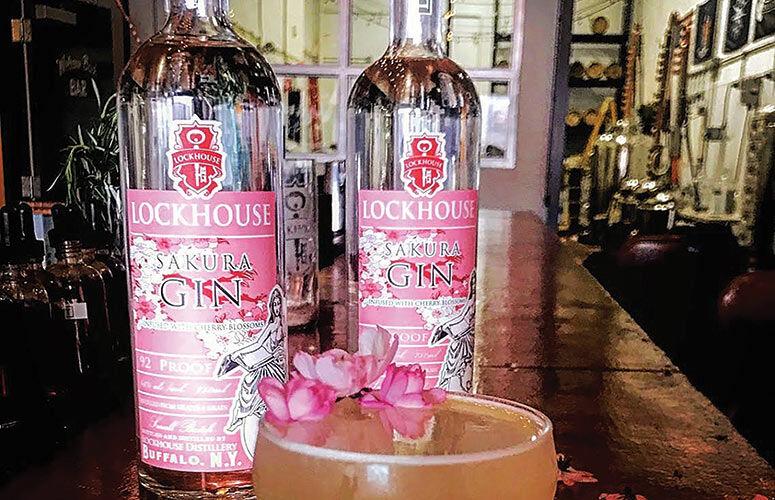 Sakura Gin from Lockhouse, winner of Best New Release
Best New Release
Sakura Gin from Lockhouse
41 Columbia St., Buffalo; 768-4898 or lockhousedistillery.com
Lockhouse was a pioneer in the increasingly crowded marketplace of local distilling. It's managed to stay ahead of the game by launching and operating the area's most successful distillery bar and also by diversifying its offerings. In partnership with the Buffalo Cherry Blossom Festival, Lockhouse released a limited run of blossom-infused gin in 2017, and it's one of the best local spirits we've sampled thus far. Lockhouse has an assortment of unique offerings in its current catalog; we can't wait to see what 2018 brings!
Best Décor
Angelica Tea Room
517 Washington St., Buffalo; 259-9025 or angelicatearoom.com
To walk from the entrance to the back wall of Angelica is to embark upon a voyage of discovery. It includes flamboyant floral wallpapers, patterned tiles, elegantly upholstered stools, framed and backlit shelves of liquor, mirrors, and, finally, at the end, a spectacular wall of beautiful drawings by Buffalo's master of witty nostalgia, Mickey Harmon. Enjoy the drinks, tea sandwiches, and the view.
.
Best Patio
TIE
Hydraulic Hearth
716 Swan St., Buffalo; 248-2216 or hydraulichearth.com
Whether your group plays a rousing game of outdoor shuffleboard, orders a few brick oven pizzas, or just enjoys the spacious beer garden, Hydraulic Hearth is a beautiful spot to enjoy a warm evening outdoors. As part of the historic Larkin District, Hydraulic Hearth has made itself a destination since opening in November 2014. In partnership with Community Beer Works, the restaurant offers both in-house and rotating guest taps to complement its brick oven specialties, and also hosts live music in the beer garden, weather permitting. Western New Yorkers love to get outside once the weather breaks, and the hearth is a gathering space made for just that.
Frankie Primo's +39
51 W. Chippewa St., Buffalo; 855-3739 or frankieprimos39.com
Chippewa is changing, thanks in no small part to restaurant owners like Jay Manno. He has owned Soho forever and recently opened Frankie Primo's on the corner of Franklin. Excellent renditions of simple Italian favorites and a casual-yet-professional vibe make FP an easy choice on any night, but the patio, while modest in size, has been gracefully appointed and provides a lovely European-style oasis in an unexpected downtown locale.
Best New Hotspot (City)
Falley Allen
204 Allen St., Buffalo; 464-3903 or falleyallen.com
In the heart of Allentown, where Rust Belt Books and La Tee Da used to reside, sits Falley Allen—a contemporary, open-concept fifty-seat restaurant and bar. With more than a dozen craft cocktails and a food menu that truly does have something for everyone, it's a great place to meet with people who have varying tastes in both food and beverage. And, if the prospect of finding a parking spot is daunting, the restaurant offers valet parking. Highlights: Billy Ogden's stuffed banana peppers, Poké bowl, pear and gorgonzola flatbread pizza, Falley Negroni.
Best New Hotspot (Northtowns)
Share Kitchen & Bar Room
5590 Main St., Williamsville; 906-3400 or sharekbr.com
Every restaurant that's opened on this corner of Main Street has struggled to find purchase, but not Share, which seems to offer just what Williamsville needs–casual and very approachable fare made from fresh ingredients in a laidback environment. Large windows, an outdoor patio, and a long bar augment the restaurant's more traditional dining room, providing guests a variety of ways to enjoy the village's newest hotspot.
Best New Hotspot (Southtowns)
Bica e Vinho
261 Mill Rd. #2, East Aurora; 714-9298 or facebook.com/BicaeVinho
Bica e Vinho specializes in carefully selected wines and a modest menu of plates suited to share. Who knew East Aurora needed a Portuguese wine bar? We're glad owners Lisa DeCarlo and Dan Buscaglia did. Can we have more of these, please?
Best Sports Bar (City)
(716) Food and Sport
7 Scott St., Buffalo; 855-4716 or 716foodandsport.com
While there's a lot to be said for watching the game at a low-key bar with a few friends, there's no arguing there's something special about experiencing the big plays on an even bigger screen. The thirty-eight-foot screen over the bar is the star of the show, but it's complemented by more than seventy TVs located everywhere from the booths to the bathrooms. (716)'s menu is a bit more adventurous than most sports bars, but it has the basics like wings and burgers, too.
Best Sports Bar (Suburbs)
Amherst pizza and Alehouse
55 Crosspointe Pkwy., Getzville; 625-7100 or amherstpizzaandalehouse.com
Polished in appearance and offering a menu of approachable food and drink, Amherst Pizza & Ale House is a great place to catch a game. Plenty of large screens and a friendly, efficient staff means lingering here to watch your favorite team win (or lose) is comfortable and easy.
Best Irish Pub
Conlon's Bar and Grill
382 Abbot Rd., Buffalo; 725-6072 or conlonsbarandgrill.com
Buffalo loves its Irish pubs, as evidenced by how many great choices it has. This year we're claiming Conlon's as our favorite. Head to this SoBo location for a menu of pub classics like a hearty reuben, pot roast worth Yelp-ing about, and that cozy-casual vibe Irish pubs do so well.
Best Craft Cocktails (City)
Tie
Buffalo Proper
333 Franklin St., Buffalo; 783-8699 or buffaloproper.com
Vera
220 Lexington Ave., Buffalo; 551-6262 or verabuffalo
Vera opened in 2011 a Buffalo's first dedicated craft cocktail bar and, over the years, its bar program has retained its high quality and creativity. Ingredients are precisely chosen with equal attention paid to science, beauty, and fun. The seasonally changing drink menu is one of the most innovative in town.
Buffalo Proper's Jon Karel, a Vera alum, continues to bring flare and dedication to the classics, staying true to Prohibition-era standards, while riffing on their basic themes. Proper's selections rotate seasonally, but there's a reason the Ginger Baker has remained on the menu since day one.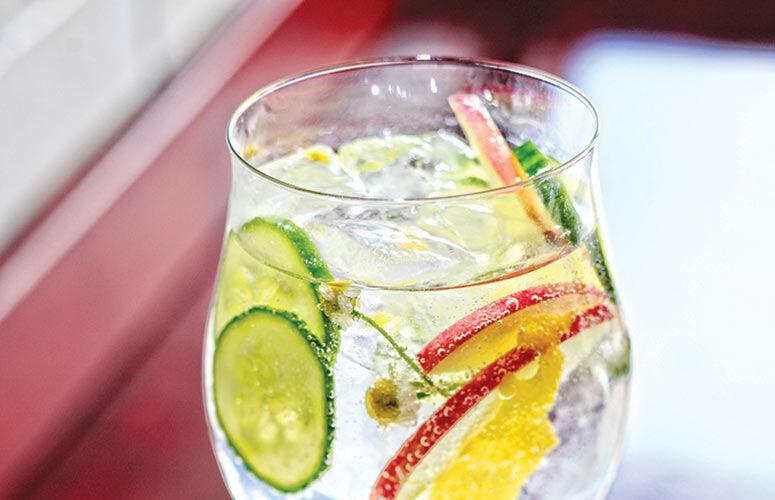 Gintonic with cucumber, lemon twist, apple, and elderflower from Aro Bar De Tapas, winner of Best Craft Cocktails (Northtowns)
Best Craft Cocktails (Northtowns)
Aro Bar de Tapas
5415 Sheridan Dr., Williamsville; 631-1000 or arotapas.com
A place that has over 100 varieties of gin and divides its menu of fifty-plus gintonics into four different categories ought to get some credit.  There are non-gin cocktails as well, but Aro bears away the prize for offering WNY its one and only chance to revel in the gintonic craze.
Best Craft Cocktail (Southtowns)
Winfield's Pub
1213 Ridge Road, Lackawanna; 821-0700 or winfieldspub.com
Which comes first, the exciting and quirky craft cocktail menu or the knowledgeable and creative bartender? At Winfield's, bar manager Thomas Daulton makes it happen simultaneously. For instance, if the thought of mixing yogurt into an alcoholic beverage makes you queasy, you must have missed the lovely specimen we saw in a recent Facebook post: "Moo-nage Daydream. A Lockhouse vodka and Ibisco bitter cocktail using White Cow dairy farms citrus berry yogurt along with Lillet Rouge, lemon, simple syrup, and house orange bitters." This drink is representative of Daulton's focus on using fresh, local, and housemade ingredients to create cocktails that please both the eye and palate.
Best Taps (City)
Ballyhoo
211 South Park Ave., Buffalo; 240-9901 or buffaloballyhoo.com
You could go to Ballyhoo every day and find something different on tap. At a glance, the draft menu appears simplistic, but it's actually quite thoughtful with twelve taps, daily changes, and a variety of styles always available. Equal attention is paid to breweries both locally and across the country. (Bonus points for being one of the most accommodating dog-friendly patios in WNY.)
Best Taps (Northtowns)
Griffon Gastropub
2470 Military Rd., Niagara Falls; 236-7474; 5445 Transit Rd., Clarence; 580-3701 or griffonpub.com
Griffon's Clarence pub boasts 100 taps—yes, 100—that change daily. While the quantity and variety could be daunting, the menu's arrangement by beer style helps narrow selections. Drafts include old standbys (Stella Artois, Guinness), small-batches from local breweries, offerings from quality American craft breweries (Avery, Brooklyn, Bell's), ciders, and imports from every corner of the earth. Beer lists are posted on Griffon's website, a rarity for a pub with so many ever-changing options, and flights of six-ounce pours are a great way to sample several beers in a sitting. Two more locations are in Niagara Falls (fifty taps) and the original pub in East Aurora (seventy-two taps).
Best Taps (Southtowns)
World of Beer
1 Walden Galleria, Cheektowaga; 683-0947 or worldofbeer.com
It used to be that having more than six taps meant a bar had a wide selection of draft beers. But in this new beer-centric age, it takes at least twice that to pass muster. World of Beer has six times that number, not to mention an exhaustive selection of micros, imports, and beer-snob-worthy bottles and cans.
Best Bottled Beer Selection
The Lenox Grille
140 North St., Buffalo; lenoxgrill.com or 884-1700
Walking down the steps into the Lenox Grill, located beneath the 120-year-old Lenox Hotel, can feel like a descent back in time—dimly lit, low ceilings, stately wooden back bar, and a handful of regulars with designated seats at the bar. At first glance, it doesn't look like a beer-lovers hangout; the shelves are stocked with liquor, but there's only three or four taps. Until a bartender hands over what they call a beer list, but others could classify it as a beer novel. It boasts pages and pages listing over 500 bottled selections of craft beer, cider, domestics, shandy, imports, mead, gluten-free beers—if you can swig it, they probably have it. Better yet, the bartenders know the list and can help direct selections..
EYE CANDY
To see the full list at a glance, click here.
---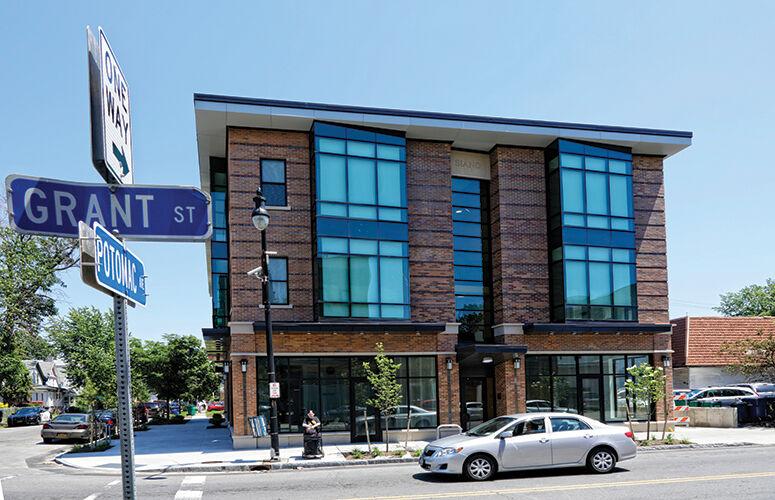 Best Looking New Building
363 Grant Street
(Mathew and Chris Diano, developers; John Wingfelder, architect)
When it comes to adaptive reuse of historic architecture, the finished developments are usually easy to love. Not so much with brand-new projects; to say that recent infill structures on Elmwood have met with mixed reviews would be a kind understatement. It's heartening, then, to be able to point to a new West Side project that has been highly, and deservedly, praised. The sleek brick, cast concrete, and glass exterior brings a sophisticated infusion of high-end residential and storefront space to an area that can use it.
Best Makeover Of An Existing Building
Hotel Henry Urban Resort Conference Center/The Richardson-Olmsted Campus
444 Forest Ave., Buffalo; 882-1970 or hotelhenry.com
From the crumbling vacancy of its recent past, this long-underused classic complex—designed by American architect H. H. Richardson in his signature Romanesque style—returns with a roar. After years of dedication, investment, and support, the main building and nearby grounds are in full swing as a swanky yet eminently accessible destination for tourists and locals alike.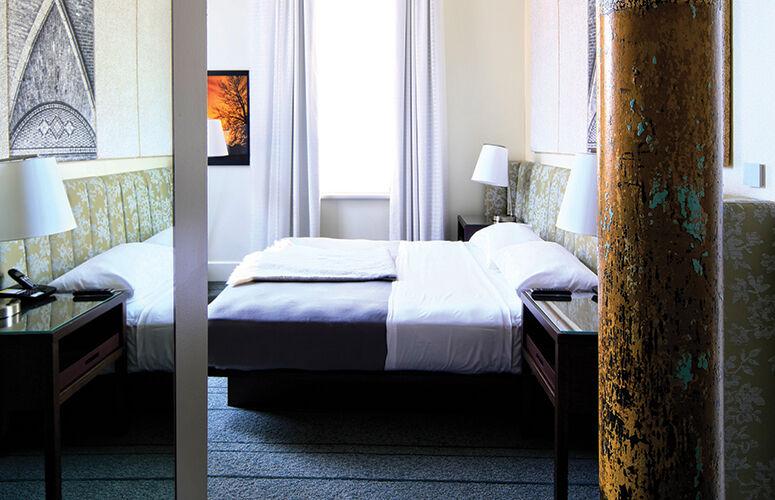 Best Sight You Won't See Anywhere But Here
Grain Elevators
From kayaking the Buffalo river
The grain elevators and the bustling boardwalk of Canalside represent Buffalo's industrial past and surging future. Paddling the Buffalo River, which snakes through these iconic sites, provides a view that is lovely, serene, and uniquely Buffalo.  Don't have a kayak? Not a problem: rent one!    
Best New Construction
Evergreen Health Services
206 S. Elmwood Ave., Buffalo; 847-2441 or evergreenhs.org
With its new 33,000-foot addition, Evergreen has greatly expanded its ability to help underserved populations with specialty medical care, housing, counseling, and many other services. The addition features a senstive and stylish transition from Evergreen's historic Roanoke building, using a five-story glass atrium and a terracotta facade. Rochester-based SWBR Architects are responsible for this sophisticated design.
Best Preservation Project
Darwin Martin Complex
125 Jewitt Pkwy., Buffalo; 877-377-3858 or darwinmartinhouse.org
As many Buffalo homeowners know, no house is ever really done. But the hard-working staff, consultants, and volunteers who have been laboring on the full restoration of the Martin House Complex—including the rebuilding of the pergola, conservatory, and carriage house; the restoration of the main house, Barton house, and Gardener's cottage; and the creation of the Greatbatch Pavilion—deserve a big round of applause. It's almost done. The installation of a replica of the original glass-tiled fireplace took place in June; it completes the first floor, leaving just the second floor, the Barton house, and the landscaping to finish. Not bad for a complex that was partially demolished when restoration started in the nineties.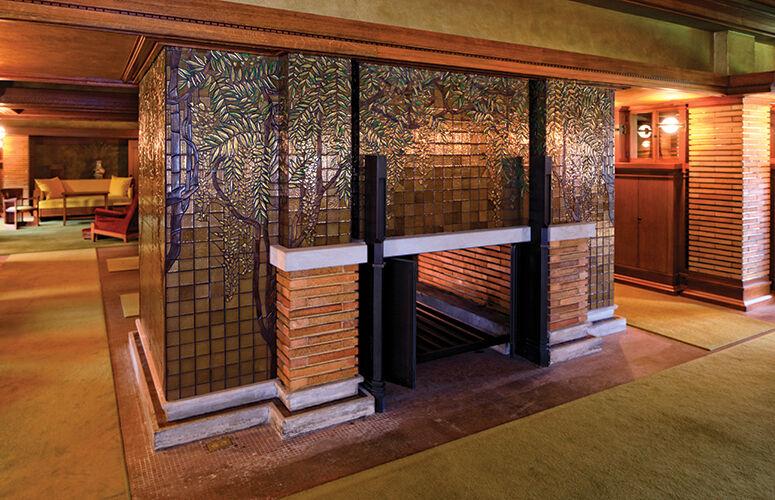 Best Use Of Taxpayer Dollars
Rails to Trails
Facebook/Queen City Rail Trails
Rails to trails transforms former railway corridors into safe paths for walking, running, and cycling. Locally, the project connects neighborhoods and towns throughout Erie County with the ultimate goal of connecting to the Erie Canalway Trail, which spans 300-plus miles across New York State.
Best Nature Preserve
Reinstein Woods Nature Center
93 Honorine Dr., Depew; 683-5959 or reinsteinwoods.org
Nestled in Cheektowaga, Reinstein Woods is a living classroom worth exploring. Spanning over 290 acres, the trails are well marked and provide an opportunity to see beavers, red-tailed hawks, and pileated woodpeckers. Dedicated staff and volunteers are on-hand at the visitor's center to answer questions and share knowledge. And be sure to take advantage of the guided tours and summer programs, which are suited for nature enthusiasts of all ages. 
Most Sustainable Project
PUSH West Side housing initiatives
People United for Sustainable Housing is living up to the S in its acronym. The organization has created a twenty-five-block area on the West Side called the Green Development Zone. Within this area, PUSH has concentrated on green construction, weatherization, renewable energy, and job training. Sustainability and affordability are intertwined; with proper weatherization, low-income residents are paying less for their heating bills. More than 215 homes have been repaired and weatherized, and more than fifty affordable housing units have been created.
Best Wildlife Habitat Project
Western New York Land Conservancy native plantings
In addition to creating new sanctuaries at Stella Niagara and Owens Falls, the WNYLC has been including the removal of invasive species and the planting of natives in many of its land protection projects. They understand that native habitats are necessary to encourage biodiversity and the survival of endangered species.
Best Local Winter Escape
TIE
Botanical Gardens
2655 South Park Ave., Buffalo; 827-1584 or buffalogardens.com
Ellicottville
An escape to the tropics is fewer than twenty miles away for most Western New Yorkers. An escape to a full-service winter wonderland is about thirty miles farther. Either way, we're lucky to have lush natural beauty and stimulating recreational opportunities within such easy reach during the gray winter months. The Botanical Gardens has upped its ante with its Lumagination display during February (in addition to ongoing displays, workshops, and other activities), while Ellicottville continues to add amenities and facilities for those who love winter sports—and those who don't.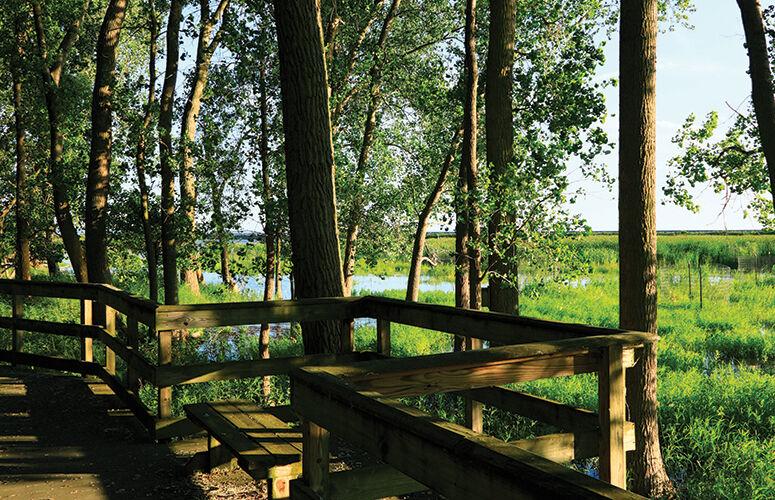 Best Nature Walk
Times Beach
Coast Guard Station S. Rd., Buffalo; friendsoftimesbeachnp.org
Drive north on Fuhrmann Boulevard or take the bike ferry from Canalside to enjoy the serene beauty and abundant wildlife of Times Beach. This is one of the few nature preserves located in an urban downtown, but, thanks to the intervening Buffalo River, most Buffalonians have no idea that this refuge exists. First home to a colony of squatters, then (briefly) an actual beach, the area was used for dumping and refuse throughout the mid-century. In the seventies, environmental organizations began to advocate for the wetlands and, in 1987, it was designated a significant coastal fish and wildlife habitat. Boardwalk trails, viewing blinds, and signage were added in 2004. Over 220 species of birds have been recorded at Times Beach, including local and migratory species. Careful hikers might also spot deer, turkeys, and foxes; springtime monarch butterflies pass through on their annual migratory pathways.
OUT & ABOUT
To see the full list at a glance, click here.
---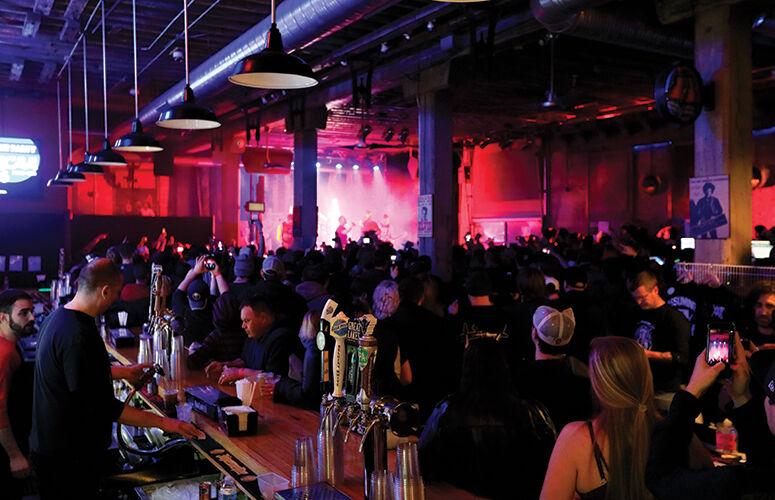 Best Summer Concert Series
Wednesdays at Larkinville
larkinsquare.com/live-at-larkin
The reasons: a consistently solid lineup of artists associated with our region, a beautifully thought out venue (folks who are just there to drink can do so without bugging the ones who are mainly there for the music), ample parking, food trucks galore, and several nearby options for post-concert drinks or dinner. Value added: Nanogolf!
Best Bar For Live Music (City)
Buffalo Iron Works
49 Illinois St., Buffalo; 200-1893 or buffaloironworks.com
In the relatively short time this venue has been open, it has quickly established itself as a centerpiece of the still-evolving Cobblestone District, serving as the anchor for a number of outdoor beer-and-blues block parties every summer. It's got everything adventurous music lovers could want: inviting atmosphere, convenient location, a solid beer selection, and a size and layout that offer just the right degree of intimacy. The music itself is skillfully curated, and two of last season's shows—the US. debut of British drum-and-bass DJ Stinkahbell and local favorites Lazlo Hollyfeld covering Radiohead—ranked among the best concerts of the year.
Best Bar For Live Music (North)
The Rapids
1711 Main St., Niagara Falls; 205-8925 or rapidstheatre.com
The progamming at this resuscitated movie theater just gets better and better, with marquee names including the Pixies, the 1975, Queens of the Stone Age, the Shins, and—in the months ahead—an enticing double bill of Flaming Lips and newcomer Mac deMarco. Sight lines are good, bar service is friendly and efficient, and the building itself is worth a trip. Here's hoping its success is a signal of further rebirth in the Falls.
Best New Hangout
Billy Club
228 Allen St., Buffalo; 331-3047 or billyclubbuffalo.com
The intimate, well-designed bar/restaurant offers a needed upscale environment for Allentown revelers to dine and drink. Billy Club serves a small but well-crafted brunch and dinner menu featuring local ingredients and fun twists on traditional American cuisine. The real draw to this charming spot is its ever-changing innovative cocktail menu, which always employs the freshest seasonal ingredients.
Best Innovative Theater Production (2016-2017)
Burden
Torn Space, 612 Fillmore Ave., Buffalo; 812-5733 or tornspacetheater.com
The earliest Torn Space events at Silo City, American Grain (2012) and Motion Picture (2013), were very little more than disconnected spectacles, but, with each year, these productions have become tighter and more infused with continuity of—if not meaning—purpose. These progressive tableaux ask audiences to take a literal journey through ongoing performances, but they also ask the audiences to think—about conflict, prejudice, beauty, and love. Last summer's production, Burden, was the most pointed example. It was part of Torn Space's first Response performance festival, which returns this month, August 18–20.
Best Production Of A Contemporary Show
TIE
The Shakespeare Stealer
Theatre of Youth, 203 Allen St., Buffalo, 884-4400 or theatreofyouth.org
So often, "fun for the whole family" is little more than code for "kids' show; parents welcome, too." Not so for The Shakespeare Stealer, smartly adapted for the stage by Gary L. Blackwood, author of the novel of the same name—it was tops among enjoyable shows of the season for patrons of any age. A cast of Buffalo stars led by perennial award-winning director Chris Kelly found the perfect balance among hijinks, humor, and heartfelt moments, punctuated by choreographed swordplay that raised the stakes in entertaining fashion. Perhaps most compelling was the nuanced plot, which had good guys, bad guys, and even guys in between, involved in an intriguing attempt to steal the Bard's words for personal gain. What theater lover wouldn't love that?
Motherfucker with the Hat
Road Less Traveled Productions, 500 Pearl St., Buffalo; 629-3069 or roadlesstraveledproductions.org
From the years-in-the-making cast to the keen direction of Victoria Perez, Road Less Traveled gave Pulitzer Prize-winner Stephen Adly Guirgis's Tony-nominated play—it lost to War Horse—everything it needed to succeed, and did it ever. Anthony Alcocer, in his 2017 Artie-winning Best Actor performance, dug deep to deliver gut truth unlike anything he's ever done on a Buffalo stage, and fellow nominee Greg Howze was a chilling counterpoint in their conflict over moral relativism; 2016 Artie Award winner Melinda Capeles Rowe was frenetically caught between them. Fast-paced, funny, and familiar, Perez made sure The Motherfucker with the Hat fired on all cylinders until both cast and audience were spent: that's theater at its best.
Best Production Of A Classic Show
Jitney
Paul Robeson Theatre, 350 Masten Ave., Buffalo; 884-2013 or aaccbuffalo.org
This past year, with August Wilson's Fences hitting the big screen and Jitney making its Broadway debut—it had previously been the only one of Wilson's ten American Century Cycle plays that hadn't—the timing of Paul Robeson's production was spot on. And so was the show. Director Willie Judson helmed an ensemble of some of Buffalo's finest—including himself—in depicting the ins and outs of the lives of unlicensed Pittsburgh cabbies in the 1970s. The result was a full evening of theater punctuated by moments that stick in the heart. Every cast member had one, but the one-named actor, Fisher, gets special attention for the kind of acting that made them all land; his entire body was present in every scene—a master class within a masterful production.
Best Ensemble
It's Only A Play
Buffalo United Artists; 886-9239 or buffalobua.org
The great thing about putting up a summer show is that there's far less competition for talent, which increases the probability of spot-on casting for each and every role. Such was the case with Buffalo United Artists' It's Only A Play; even before the show opened, buzz about Adam Hayes as the Coat Check Guy, Anthony Alcocer as the Genius Director, Michael Seitz as the Panicked Playwright, Mary Kate O'Connell (and dog Rosie) as the Novice Producer, Lisa Ludwig as the Doped-Up Diva, Anthony Chase as the Lethal Critic, and Jimmy Janowski as the Playwright's "Best Friend" was that this was a show not to be missed. And if there were any doubts that this cast delivered as promised, the sold-out run put them definitively to rest.
Must-See Art Exhibition, Large Gallery (2016-2017)
Picasso: The artist and his models
Albright-Knox Art Gallery, 1285 Elmwood Ave.; 882-8700 or albrightknox.org
You have to hand it to the folks at the Albright-Knox Art Gallery; they know how to make lemonade. Touring blockbuster exhibitions are costly, but the museum has one of the best collections of modern art in the world, with too little gallery space (soon to be rectified). So the curators have lately made their own blockbuster exhibitions by borrowing a handful of notable works from other museums, and building a show around them with work from the museum vault. Picasso: The Artist and His Models was perhaps the best one yet. Several spectacular works from different museums around the globe were accompanied by thoughtfully selected works from the collection that illustrate the artist's "models," here meaning both people and influences. And it looked good! It was well organized, thoughtfully installed, dramatically lit, and had instructive wall text. And, of course, the hottest marquee name in art made this a must see.
Must-See Art Exhibition, Small Gallery (2016-2017)
Mille Chen Prototypes at BT&C Gallery
1250 Niagara St., Buffalo; btandcgallery.com
Commercial gallerists have two ambitious pinnacles to aim for when presenting exhibitions. The first is to sell out the show. The second is to sell a piece or two to a museum for its permanent collection. A testament to the brilliance and importance of Millie Chen's recent exhibition Prototypes at BT&C Gallery is that the Albright-Knox Art Gallery purchased every single piece from the show. This vibrant and compelling exhibition features small gouache paintings, each created to be used as wallpaper patterns. The ten paintings each capture a turbulent event from the 1970s, Chen's formative years. In one corner of the exhibition, gallery director Anna Kaplan printed one of the paintings onto rolls of wall paper, which were then used as a backdrop for a "room" filled with period furniture. Both the artist's work and the layout of the show created a compelling, unforgettable atmosphere.
Best Small Concert (2016-2017)
Robert Glasper Experiment
Buffalo State Performing Arts Center, 1300 Elmwood Ave., Buffalo; 878-3005 or buffalostatepac.org
Genre-defying jazz pianist Robert Glasper has been at the forefront of the movement to integrate twenty-first century influences—hip-hop, rap, modern R&B—with traditional jazz forms. While many of those current influences are computer-driven studio creations, the Experiment does it all live (the drummer playing lightning fast electronic-like beats with dizzying precision). Glasper's relaxed and humorous persona gives his performances the air of a work in progress—creating the vibe that the audience is in on the experiment. As with any experiment, it doesn't always click. But when it does, which with Glasper at the helm is often, the results are exhilarating. At Rockwell Hall, a playful encore of Nirvana's "Smells Like Teen Spirit" laid down a satisfying soul groove and then exploded into a wall of prog sound directly from Todd Rundgren's Utopia. The audience wasn't dissecting the ingredients—they were just digging the brew.
Best Large Concert (2016-2017)
TIE
Joan Baez
Babeville, 341 Delaware Ave., Buffalo; 852-3835 or babevillebuffalo.com
Joan Baez has always been the real deal: an authentically engaged person with a great voice and great taste in material. Her voice remains lovely—she has lost some upper range, but this is compensated by a depth and warmth that makes her singing less show-offy. Asbury Hall is just about the perfect room for Baez, who could probably fill it without amplification. The audience for this performance was pleasingly diverse: older women with gray braids, young hippies with blond dreadlocks, entire families, up to four generations of Joan Baez fans. Bernie Sanders supporters mixed with Hillary Clinton voters, serene and happy in the knowledge that they could agree on this one thing. "Diamonds and Rust" is as mean a kiss-off song as anybody ever wrote, and, when you consider that she wrote it about Bob Dylan, the master of the genre, it is even more remarkable. We should all age as gracefully as she has.
Bob Dylan/Mavis Staples
Artpark, 450 S. 5th St., Lewiston; 754-4375 or artpark.net
In his mid-seventies, Bob Dylan continues to confound audiences—most recently by being one of the few artists of his generation who eschews a pat "greatest hits" show. For that reason alone, his performances stand out in a sea of knee-jerk nostalgia. This particular concert was uplifted by opening act Mavis Staples, well into her sixth decade as a performer and the voice of the gospel soul group The Staple Singers. Hitting the stage with a compact combo that captured the essence of her family's musical legacy, Staples wasted no time spreading genuine musical joy through the rapt audience. Closing her set with rousing classic "I'll Take You There," Mavis needn't have worried: we already were.
Best Outdoor Concert (2016-2017)
Ray LaMontagne at Artpark
Artpark, 450 S. 5th St., Lewiston; 754-4375 or artpark.net
First there was LaMontagne,  playing an acoustic set with his usual gentle melancholy. That was nice. But the moment many in the audience were waitng for came when he brought out his band—My Morning Jacket, minus singer Jim James. At this point, the concert became the stuff that summer dreams are made of. It was trippy, lush, and rapturous, and left its audience in a profoundly happy daze.
Best Fundraiser (Longstanding)
Squeaky Wheel's Dysfunctional Holiday Party
617 Main St., Buffalo; 884-7172 or squeaky.org
After a few years in the wilderness, the media access center's annual anti-holiday holiday party found its groove again in 2016 with a mix of locally sourced films, live performances, brews, snacks, and the best budget-conscious gift basket raffle in town.
Best Fundraiser (New)
Blizzard Ball Revival
Allentown Association, 61 College St.; 881-1024 or Allentown.org
The first Blizzard Ball was held in 1978, to celebrate the fellowship and community spirit that helped Buffalonians get through the Blizzard of '77. Organized by Allentown residents Carole Holcberg, Bruce Eaton, and Alison Fleischmann, the black tie party was a big hit and went on for several years, with the final two events celebrating the ten- and twenty-year anniversaries of the storm. On February 25, 2017,  the warmest night of the winter, the Allentown Association rang in the blizzard's fortieth anniversary by bringing the ball back after a twenty-year absence. The old-school black-tie gala trappings were discarded in favor of a hipster-oriented marketing campaign and participation from local restaurants, distilleries, and breweries. We say, welcome back! Buffalo's notoriety for blizzards and resilience (the theme of the new BB) deserve to be celebrated.
Most Unusual Cultural Event
Buffalo Stories
Road Less Traveled Productions, 500 Pearl St., Buffalo, 629-3069 or roadlesstraveledproductions.org
In the past year, Road Less Traveled Productions has produced two new musicals: if you blinked, you missed them, but that doesn't mean they weren't worth seeing—especially for the select spectators to whom they played. The subjects of the musicals, part of RLTP's new Buffalo Stories series, were former Buffalo mayor Anthony Masiello and ex-Bills running back Thurman Thomas; audiences were friends, family, and curiosity seekers willing to pay fundraiser prices for a chance to see original biographical theater full of heart and humor, as well as mingle with the celebrity subjects afterwards. RLTP has another Buffalo Stories planned for December: stay tuned to see whose life will next be put to music!
Fundraiser With Best Food And Drink
Buffalo Without Borders
International Institute, 864 Delaware Ave., Buffalo; 883-1900 or iibuff.org
There are plenty of reasons to love an event that celebrates Buffalo's newest residents, even without critiquing the refreshments. Buffalo Without Borders underlines the culinary riches that immigrants and refugees from countries like Burma, Somalia, Iraq, Bhutan, and others have brought to our region by featuring cuisine from as many as a dozen different countries. No rubber chicken here!
Best Outdoor Programming For Kids
Beaver Meadow Audubon Center
1610 Welch Rd., Java Center;  585-457-3228 or buffaloaudubon.org/beavermeadow.php
Year-round programming to teach children (and their handlers) to appreciate nature is the hallmark of Beaver Meadow, located on 324 acres in North Java, New York. North Java is a short distance from East Aurora and thirty-five miles from Buffalo. There are miles of trails (some wooded) to hike, ponds to see, and wetlands to traverse on rugged boardwalks. The park is an accredited site of National Audubon Society, an active organization promoting wildlife education and conservation. Beaver Meadow features hands-on displays in its education center that teach species of flora and fauna native to WNY. Activities for children include demonstrations (and tastes) of a working sugar shack that makes maple syrup in spring, guided nature walks with trained volunteers, summer camps for boys and girls, and other seasonal events. Past events include "Enchanted Forest" with adults in animal suits stationed in the woods to interact with children to do Q&A about animals. The full calendar of Beaver Meadow events can be viewed on its website.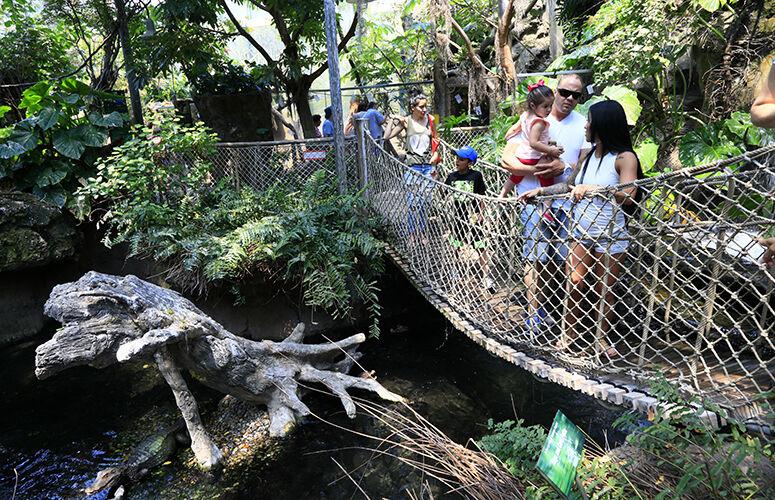 Best Family Fun (Summer)
Buffalo Zoo
300 Parkside Ave., Buffalo; 837-3900 or buffalozoo.org
"Family fun" often just means great stuff for kids that adults can tolerate. That's not the case here. Not only are the zoo's inhabitants fascinating to all age groups, the organization takes care to create programming and events carefully aimed at different constituencies. For the parents, just one example among many is Wines in the Wild, one of the summer's best fundraisers. For kids, there is so much: camps, workshops, tours, badge programs, and much more. The zoo does it all, all year round.
Best Family Fun (Winter)
Canalside
When two city blocks worth of parents and offspring are happy to wait patiently in winter weather for a chance to skate, somebody must have done something right. The crowds at Canalside are impressive in any season, but the site's ability to draw thousands when the temperatures are in the single digits is a ringing tribute to those who built it, maintain it, and program it.
Best Event (Winter)
East Aurora's Carolcade
Main St., East Aurora; facebook.com/EACarolcade
Started in 1972 by a group of caroling Girl Scouts singing merrily in front of famed Vidler's 5 & 10, East Aurora's Carolcade has grown into a festive town-wide tradition. Nearly 2,000 people mosey and mingle along East Aurora's Main Street, blocked from vehicular traffic. Ice skating at nearby Healthy Zone Rink on Riley Street, dinner at one of the many restaurants in town, and open houses at businesses and galleries make Carolcade even more festive. All shops stay open on this evening so it's a great time to holiday shop. At the appointed time, 7 p.m. sharp, and from the stage near Vidler's, musicians and emcee lead the crowd in a series of traditional Christmas carols. Carolcade is held the third Saturday of December, and is highly recommended for groups of friends, couples, and families.
Best Event (Summer)
Buffalo Infringement Festival
Amazingly, every summer, there are people who admit to never having heard of the Buffalo Infringement Festival, an all-volunteer-run event that spans eleven days, from the last Thursday in July through the first Sunday in August (this year, July 27-August 5). It offers an eclectic assortment of performance art—musicians, actors, artists, puppeteers, poets, playwrights, and more—presented in various venues around the city from dedicated spaces to street corners. Events are all free or very low cost (Infringement prohibits admission prices over ten dollars), and most run more than once, so you don't have to miss anything. Visit infringebuffalo.org, and use the detailed, cross-referenced schedule to plan your day.
Best Event (Indoor)
The World's Largest Disco
In 1993, businessman philanthropist Dave Pietrowski, after noting the dearth of downtown activities on the Saturday after Thanksgiving, founded the World's Largest Disco. Based on the 1979 Guinness Book of World Records event of same name held at Buffalo's Convention Center with 13,000 attendees, Pietrowski expected 600 at his first WLD, held at the same venue. Approximately 1,800 revelers showed up and several hundred were turned away. These days, WLD attendance is capped at 7,000. Attendees dress in flamboyant outfits that may or may not include sky-high platform shoes/boots, faux 'fros, and ensembles of vivid polyester. WLD has a VIP section on the lower level of Buffalo Niagara Convention Center with its own dance floor, bars, buffet, and huge lounge area outfitted with seventies-style sofas, lamps, and signage from notorious Buffalo nightclubs of the era. The World's Largest Disco is a charity event; to date, it has raised nearly two million dollars for the beneficiary, Camp Good Days and Special Times, a sleepaway camp for children with cancer. WLD tickets sell out quickly, and this night of dance fun also means a run on downtown hotel rooms, limousines, and vintage tux rentals.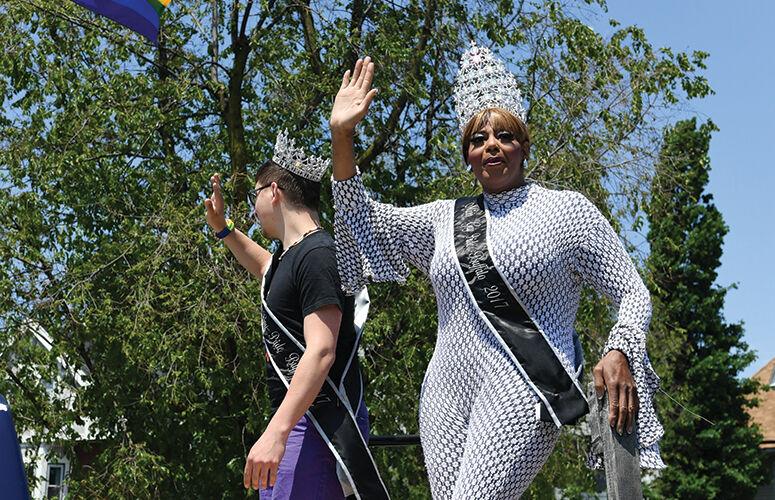 Best Festival (City)
Pride
Pride festivals can be controversial, although, at this point, the controversy is largely confined to members of the LGBTQ community. Have they become too mainstream? Are they too far out on the fringe? Is it too political? Not political enough? These are important conversations for the members of the community, but if you are an ally, Pride is a glorious explosion of diversity and acceptance; a celebration of our entire community. Church groups march and so do banks. Drag queens and politicians, high schools and hospitals. Cops. Car dealers. It is easy to get caught up in political pessimism in the Age of Trump, but, during Pride, we have a glorious moment to realize that social progress is possible, and that maybe our differences are what unite us.
Best Festival (Suburbs)
Suburban Taste of Buffalo offshoots
Taste of Buffalo is the largest two-day food festival in the country, and, as such, crowds are part of the eclectic culinary experience. But the size, plus the sixty-plus vendors to choose from, means going to TOB isn't a quick bite; it's the better part of a day. It stood to reason, then, that local versions of the concept—Taste of the Tonawandas, Taste of Williamsville, Taste of Cheektowaga, etc.—have cropped up over the past two decades. These events not only allow festivalgoers a more relaxed meal, but foster community as they familiarize residents with gastronomic offerings closer to home.
IT'S THE PEOPLE
To see the full list at a glance, click here.
---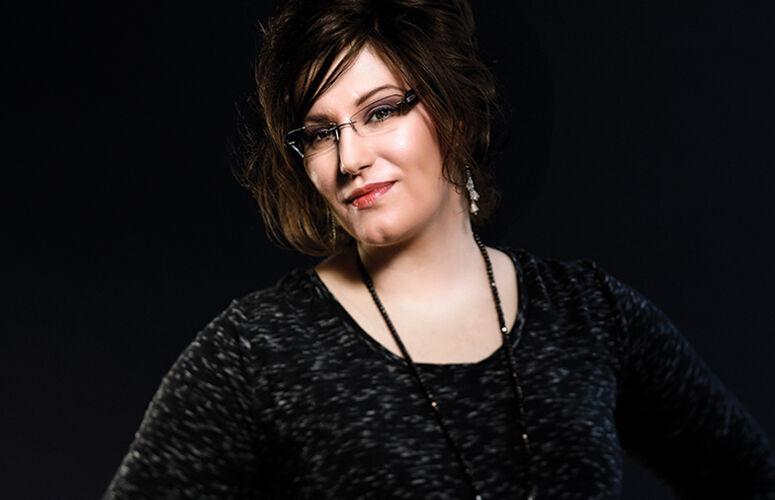 Best Friend Of The Arts
Jeffrey Gundlach
With one big gift, a project that seemed little more than a pipe dream—a massive Albright-Knox Art Gallery expansion—became a surety. The man responsible for that gift is Jeffrey Gundlach, a WNY native now based in Los Angeles. Gundlach provided $42.5 million, a little more than half of the cash needed for the gallery's expansion plans. Thanks largely to his initiative, WNY's most important cultural institution gets a physical capacity worthy of its collection.
Best Actor
David Lamb, The Father
Though it has a cast of six, The Father—a play that seeks to show the audience the mind of a man descending into dementia—is a showcase vehicle for its lead. The role not only demands command of a gamut of emotions, but also that the actor retain autonomous detachment from the rest of the cast. Frank Langella won the Tony for the Broadway production, and Kavinoky artistic director David Lamb—in a long-awaited return to the stage—gets our top award for his alternately disturbing, funny, touching, and all too real portrayal of a man losing contact with reality.
Best Actress
Kelly Meg Brennan, The Unfortunates
Inside the Ten Bells pub, prostitute Mary Jane Kelly tries to sell a Jack the Ripper artifact hours before she leaves for the night and becomes the serial killer's final victim. It's no easy task to inhabit the myriad denizens of Ten Bells, but Kelly Meg Brennan is up to it, switching between men, women, colleagues, customers, and her own no-good man with expert ease, and also weaving her own tale of woe into the mix; the stories are all the more poignant because the audience knows what poor Mary Jane does not. Never losing focus or steam, Brennan breathes humanity into the lives of the "unfortunates," her working girl colleagues whose lives were so brutally snuffed out.
Best Character Performance
Joseph Donohue III, Million Dollar Quartet
One could argue that Elvis Presley, Johnny Cash, Carl Perkins, and Jerry Lee Lewis were all larger than life personas, but if you take what happened onstage at MusicalFare this past spring as canon, Joseph Donohue III's performance puts Jerry Lee at the top of the heap. A former member of the Albrights, Donohue's hyperkinetic energy, frenzied piano playing, and youthful exuberance meant you just couldn't keep your eyes off him or his over-the-top hair. His performance was all the buzz at intermission and after the show, and, in June, he picked up an Artie Award for Best Supporting Actor in a Musical. We completely concur.
Best Movie Theater
TIE
The Screening Room Cinema Café
Boulevard Mall, 880 Alberta Dr., Amherst; 837-0376 or thescreeningroom.net
While area film-lovers have long been well-served by the Dipson chain of theaters, The Screening Room Cinema Café offers yet another welcome alternative for cinema buffs beyond the standard megaplex fare, showing cult classics, foreign films, and first-run independent movies in a relaxed environment (with a selection of reasonably priced beer and wine available at the Lobby Bar) tucked into the Boulevard Mall building. Recent showings of Saving Banksy and Chasing Trane: The John Coltrane Documentary gave viewers the chance to see much-discussed releases while they were still on their initial run. A hidden gem, it's worth arriving a bit early to secure one of the prime lounge chairs and settle in before the show starts.
Dipson Amherst
3500 Main St., Buffalo; 834-7655 or amherst.dipsontheatres.com
Sure, it was upgraded last fall with reclining seats, but unlike many other houses, Dipson is not just a comfortable place to watch mainstream Hollywood fodder. Dipson routinely programs indie and other prestige films and is also home to such acclaimed series as Buffalo Film Seminars and Thursday Night Terrors.
Best Columnist
Adam Zyglis
The Buffalo kid who liked to draw is now a Pulitzer Prize winning cartoonist. His daily cartoons in the Buffalo News both enhance and counterbalance the paper's in-house editorials and op-eds. Zyglis's lively, provocative drawings represent his (changing) views, start conversations, and lend depth to Buffalo's political discourse.
Best Reporter (Broadcast)
John Murphy
When John Murphy, play-by-play radio voice of the Buffalo Bills and host of the John Murphy Show on WGR-AM, took over as the voice of the Buffalo Bills in 2004 after the retirement of the legendary Van Miller, he had shoes to fill as big as Buffalo Bob Lanier's (size 22) basketball sneakers. But Murphy has proven beyond a doubt that he is up to the task. His knowledge, aversion to meaningless statistics, congenial radio presence (refreshing in an era of ego-driven media personalities), and ability to infuse his work with a grounded positivity during The Drought have made him the quintessential home team broadcaster—a reliable friend to hardcore and casual fans alike through the ups (hold on…they're coming…someday) and downs of following the Bills.
Best Reporter (Print)
Investigative Post
Local reporting needs an occasional sharp edge; that edge is getting harder to find in WNY's traditional media. That's where Investigative Post steps in. The team, led by former Buffalo News reporter Jim Heaney, produces its intensively researched stories on vital topics for various local outlets, including The Public, Buffalo's weekly alternative paper. It is the only news organization in the area devoted to watchdog journalism.
Best Curator
Elisabeth Samuels
With over twenty-five years of curating experience, Elisabeth Samuels has been the owner/director of Indigo Art since 2008. Two years ago, she moved the gallery to a spacious, smartly designed space at 74 Allen Street. Since then, she's mounted an impressive string of outstanding shows, and her second year was no sophomore slump! Samuels often groups artists that you might not expect to see together. Pairing painter Amy Greenan with sculptor Patrick Robideau, with their shared affinity for ethereal architecture, is one of those forehead-slapping ideas that makes you wonder why no one thought of it before. Intention comprised artists who make art with craft materials, from the widely exhibited Jozef Bajus to seldom seen Lilly Booth. Solo shows by Reinhard Reitzenstein, Peter Sowiski, and John Dickson were also standouts. Sowiski's monumental, politically charged, handmade paper works, were arguably some of the most powerful "paintings" on view this year.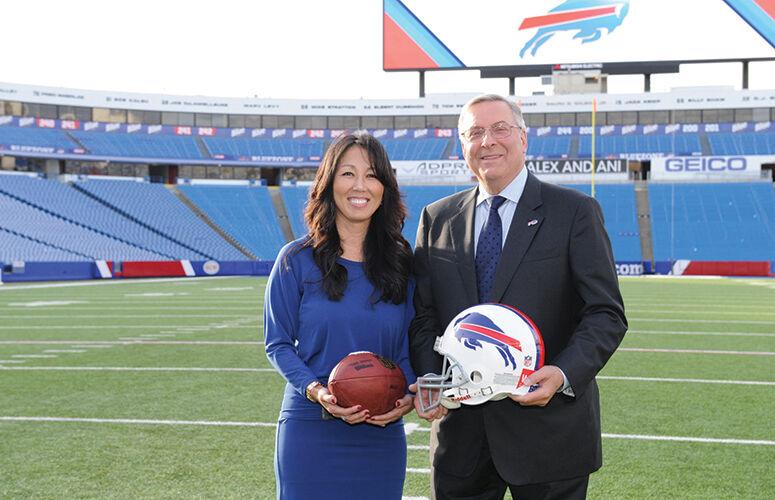 Best Power Couple
Kim and Terry Pegula
Was there really any other choice? First of all, the two are really a power couple, described by people who know them as, "joined at the hip." Both are deeply involved in the day-to-day operation of their businesses, which now include ownership of the Buffalo Bills, Buffalo Sabres, Buffalo Bandits Lacrosse team, and the $230 million HarborCenter on the waterfront. Together, they possess a combination of qualities rarely seen in Buffalo since the turn of the twentieth century: entrepreneurship, commitment, and vision, plus, the funds to back those up. Recently, they purchased the former Peerless Manufacturing building at 79 Perry Street (Hi-Temp Fabrications is relocating). Plans for the mixed-use facility include office space for Labatt USA, and a first-of-its-kind US flagship restaurant and test brewery. Buffalonians will help choose new brews before they go to market. With great power comes great responsibility, and the Pegulas have been cleaning house at the Sabers' and Bills' front offices this year, evidence of their determination to bring a sports championship to Buffalo.
Best Arts Administrator
Alma Carillo
As Buffalo Arts Studio's third executive director, Alma Carillo is revitalizing the organization's commitment to generosity and diversity. Under Carillo, BAS hosted a panel discussion on artists and audiences of color and the disconnect that often impedes their access to the larger art community. The result is BAS's current Open Buffalo Emerging Artist Program. Carillo has also presided over an exciting series of events celebrating BAS's twenty-fifth anniversary and its continuing education, studio, and public art programs.
Best Local Musical Act (Original)
Tiny Rhymes
Facebook/Tiny Rhymes
This adorable chamber folk group has been together just a little over three years, but they've been writing and gigging up a storm during that time, with dates scheduled in Atlanta, Chattanooga, Nashville, Baltimore, and Pittsburgh (as we went to press). The group's luminous sound includes beautiful, sweeping strings and clear, sweet vocal harmonies. Catch them when they're in town and consider downloading their EP, A Kinder History.
Best Blogger (Independent)
Buffalovebirds
This is particularly recommended for newcomers to the area or anyone considering relocating here. The married duo who write this charming series of Buffalo-based adventures explain: We started our social blog as a way to explain and show friends & family outside of downtown Buffalo exactly what the city was going through. In 2012, we were the first tenants at the Hotel Lafayette and have been able to experience the rebirth of Buffalo right outside our door. Five years later, the enthusiasm has not waned.
Best Gadfly
Art Giacalone
Read his blog With All Due Respect to get a sense of the dedication and persistence with which this longtime attorney (now retired) and activist has battled what he feels are environmental, land use, and development injustices. Whether you're in agreement or not, clearly, there are easier ways to get along as an attorney than to take up the series of daunting challenges that have defined Giacalone's practice for decades.
Best Tweeter
Terry Sullivan
(@lastnametaco)
One of the all-time greats of Buffalo rock turns out to be almost as electrifying online, as he curates and comments on posts from a dizzying range of sources about the entire history of popular music, visual art, politics, and what used to be called the counterculture.
Best Facebooker
Step Out Buffalo
They're so excited—about everything. But Step Out Buffalo's enthusiasm is Buffalo's gain. This digital publication also instagrams, tweets, and snapchats, but stick with SOB on Facebook for daily and weekly guides to every possible event and destination, including many of its own quick-to-sell-out happenings.
Best Activist Group
Partnership for Public Group
Through working with other progressive organizations, PPG acts as a sane and sensible hub for initiatives aimed at making Buffalo more "just, sustainable, and culturally vibrant." PPG's proposals and policy stands are founded in research and facts and fueled by compassion and inclusion.
Best Player, Sabres (2016-2017)
Jack Eichel
Looking back, it's hard not to believe that the 2016-2017 Buffalo Sabres season was over before it started, doomed symbolically if not outright by Jack Eichel's pre-season ankle injury. By the time he returned to action two months later, the Sabres were on course for another disappointing season. While proving not immune to controversy (he evidently hates losing as much as the fans do), Eichel performed up to all expectations as an elite NHL talent—and one with considerable room to grow. One can only hope that the new Sabres coach and GM develop a winning environment that will encourage Eichel to mature as a player and stay in Buffalo for long into his career.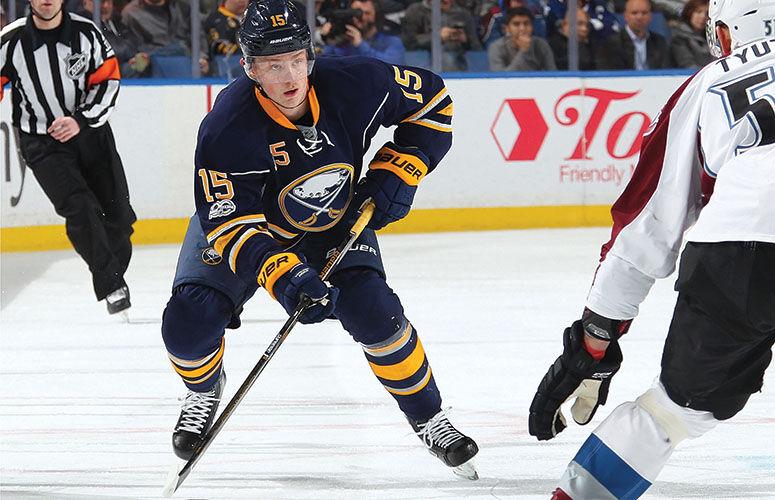 Best Player, Buffalo Bills (2016-2017)
Lorenzo Alexander
Signed as a free-agent versatile role player at an age when most players are already out of the league, Lorenzo Alexander was one of the great stories of the 2016-2017 NFL season. Working his way up the depth chart, Alexander was in the starting line-up by the season opener and went on to have an All-Pro season at outside linebacker, finishing third in the NFL with 12.5 sacks. A prominent role model in the community, his experience and leadership will most certainly be an asset on a defense featuring many new faces. And a new two-year contract with the Bills is an encouraging sign that he won't be wearing a Patriot uniform any time soon, if ever.
Best Sports Good News
Everyone Gets Fired
One of the biggest fallacies in the professional world is that success in one area automatically translates into other endeavors. It's fair to say that perhaps both Terry and Kim Pegula and Buffalo sports fans didn't adequately consider that there might be a learning curve for owning a major league sports franchise (let alone two of them). But enough time has passed and the swift and decisive housecleanings of management and coaches at One Bills Drive and the KeyBank Center suggest that the Pegulas—after having been around the block and burned a few times—have found their footing. While the true tests of new management will be determined on the scoreboards, it's encouraging that the swept-out regimes that obviously weren't working weren't rewarded with undue patience.
Funniest Local News
The Sub-eating Guy
Apparently, even the most mundane actions can have major consequences. Lancaster resident John Pawlowski had been parking under a certain tree on Zimmerman Street in Tonawanda for months so he could relax and eat his favorite lunch, a ham and turkey sub. Pawlowski works in Tonawanda, so this was a convenient spot to get a short distance away from the office. However, some residents of the block became suspicious, followed the insurance worker back to his office, and asked that he not return to the neighborhood. Five Buffalo News stories, an Esquire interview, a Food & Wine article, and a Buzzfeed item later, Pawlowski became the most famous sub eater in America and what many have called the greatest local news story ever.
Best Local Scandal (2016)
Carl Paladino in Artvoice
This past December, Artvoice posed a roundup question about hopes for the new year to a variety of local well-known names. While most answered in the optimistic spirit of the query, developer, school board member, and former gubernatorial candidate Carl Paladino used the opportunity to disparage President Barack Obama and wife Michelle. The remarks quickly went viral, and were even reported internationally; locally, Buffalonians called for Paladino's dismissal from the school board—a cry that's been ongoing in the months since. No amount of excuse making—Paladino claimed the remarks were meant to be humorous—seemed to quell the outrage, and the brunt of it came down on Artvoice, which was already suffering backlash for its recent change in editorial direction.
Best Local Politician
Sean Ryan
Any politician can stand on a dais and take credit, but that's not Sean Ryan's style. Ryan stands up and takes stands for his constituents, taking principled positions and acting on them. When you see a story about someone in Albany doing the right thing, it is usually Sean Ryan. Universal kindergarten, adaptive re-use of older buildings, refugee resettlement funding, education reform, environmental reform. Have you ridden the Bike Ferry yet? Ryan. Support for craft breweries, wineries, cideries, and distilleries? How Buffalo is that? Scajaquada Corridor Redesign? He's making it happen. An Albany dateline usually means a news story about corruption or incompetence, with one shining exception. What a pity we can't elect Ryan to everything.
SHOPAHOLICS
 To see the full list at a glance, click here.
---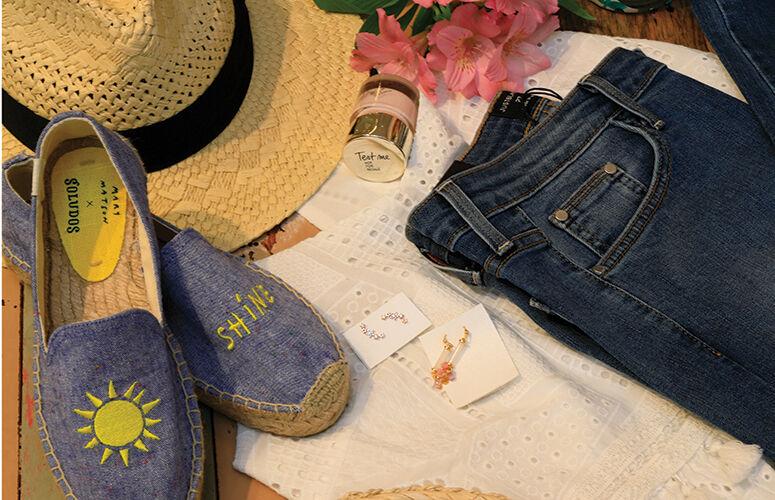 Best New Small Retail Business (Open In 2016 Or Later)
Fred Handmade Wares
385 Franklin St., Buffalo; 550-1492 or fredhandmadewares.com
This cool corner shop is located on the corner of Franklin and Edward, hence the abbreviated name FRED. Its mission is to connect independent creators and artists with an outlet to showcase their goods. Etsy lovers can shop here for local and national handmade wares. Fred also sells pour-over coffee, which makes for excellent browsing fuel.
Best New Clothing Boutique
TIE
Half & Half
1088 Elmwood Ave., Buffalo; 239-1652 or Facebook/Half & Half
Half and Half has a fresh look and youthful new energy thanks to the mother daughter team of Jennifer and Kilby Bronstein. Taking the torch from long-time owners Debbie and Bill Sidel, Jen and Kilby have put their own mark on the Elmwood staple by expanding the women's offerings and adding men's clothing and housewares.
RuthAnn Boutique
5350 Main St., Williamsville; 626-7000 or Facebook/RuthAnn Boutique
This bright and elegant new shopping magnet brings the fun and the names—including Greylin, n:philanthropy, Elizabeth and James, Steve Madden, Black Orchid, and many more.
Best Shop For Jeans
Tony Walker & Co
5110 Main St., Williamsville; 626-3280 or tonywalker.com
Jeans are one of those items where brand can be important, and that's why we reccommend a trip to Tony Walker for one of the best selections of high-end jeans brands within 200 miles. The sales staff is knowledgeable and can help you find the right fit according to what you are looking for and your body type. There are three-way mirrors, and even cameras, so you can see what everyone else will see when you hit the street in those new blues.
Best Clothing Boutique (Established)
AnnArlette
3959 Main St., Amherst; 833-7000 or annarlette.com
Jaded shoppers who've given up on finding truly exciting fashion choices should put AnnArlette at the top of their lists. The well-appointed store is bright, fun, and sophisticated. Put away the black uniforms and peruse the colorful choices at AnnArlette.       
Best Shop For Formal Wear (Men's)
Napoli's
6815 Main St., Buffalo; 568-1910 or shopnapolis.com
Napoli's is a cult classic among menswear aficionados. Founded in 1972 by the Napoli family, this shop has been providing great style and customer service to dapper Buffalo men for decades. It just recently moved into a beautiful new building on Main Street, filled with premium brands, footwear, and accessories.
Best Men's Boutique
Riverside Men's Shop
6470 Transit Rd., Depew; 833-8401 or riversidemens.com
This classic and beloved shop has changed locations over the years, but it hasn't changed its reliable, reasonably priced selection of everything men need, including Buffalo-themed items, suits, jackets, shirts, hats, ties, and more.
Best Shop For Women's Party Wear
Danahy's
3099 Sheridan Dr., Amherst; 831-0773 or mabeldanahy.com
Danahy's knows fashion. This truly historic Buffalo boutique (founded in 1925) continues to deliver an eclectic mix of casualwear and formalwear, featuring designers such as Eileen Fisher, Lafayette 148, Elie Tahari, and Teri Jon.
Best Shop For Handmade Jewelry
Vania & David
1007 Elmwood Ave., Buffalo; 480-6021 or vaniaanddavid.com
Vania Leticia Escauriza Gagliardone is a Buffalo-based jewelry designer with roots in Paraguay. Her vibrant personality radiates throughout her work and her adorable shop on Elmwood Avenue, co-owned with husband David. Vania works with natural stones and luxe metals to create bold statement pieces. Her work can be seen in the pages of fashion magazines and on the necks, ears, and arms of celebrities worldwide.
Best Shop For Traditional Jewelry
Scherer's
4567 Main St., Buffalo; 839-4060 or scherersjewelers.com
This family-owned business has been bringing Buffalo high quality jewelry, jewelry design, diamonds, engagement rings, gemstones and Swiss watches for 110 years and five generations. Its customer service lives up to its pedigree.
Best Shop For Funky Accessories
MMW Style Studio
403 Main St., Buffalo; 812-0937 or mmwstylestudio.com
Trendy fashionistas flock to MMW Style Studio, located in Lafayette Square. Whether your style is fun, fierce, or funky, this boutique with  New York City flare carries the latest trends in women's clothing, jewelry, and accessories.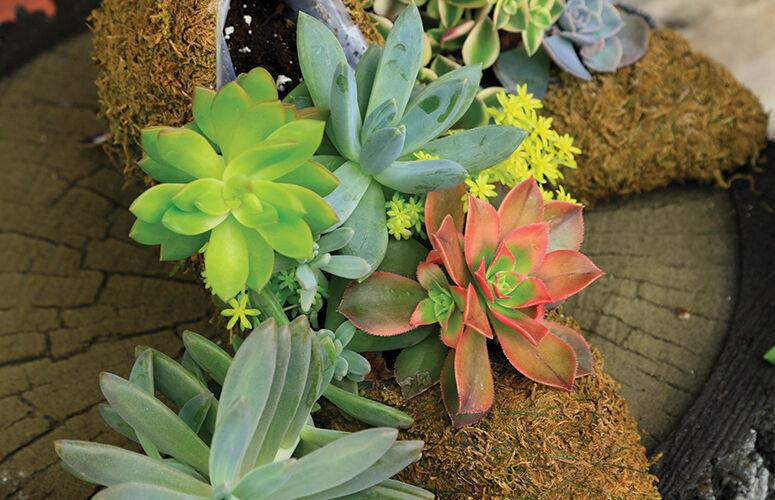 Mischler's, winner of Best Flower Shop (Suburbs)
Best Shop For Furniture
TIE
Ro
732 Elmwood Ave., Buffalo; 240-9387 or rohomeshop.com
Ro is named after the Old Norse word for "peaceful, calm, tranquil," and owner/artist Hayley Carrow-Janecki clearly embodies this philosophy. The store's décor and stock are based on a concept of calm living through functional design. In addition to a curated selection of soft goods, ceramics, and art for the home, look for furniture designed and produced locally, by Norman Cramer, and from the Toronto-based Gus* Modern line.
Ethan Allen
3875 Sheridan Dr., Amherst; 839-4484 or ethanallen.com
Solve your furnishing dilemmas the easy way. Worried that a gorgeous sofa will be too big for the space? Feeling absolutely clueless about how a room should look? Ethan Allen associates can make house calls, measure rooms, create entire house plans, and much more—at no charge. Ethan Allen has a beautiful selection of items, sure, but—even more important—it removes the anxiety from furniture shopping.
Best Shop For Vintage Furniture
CooCooU
111 Tonawanda St., Buffalo; 432-6216 or coocoou27.com
Persistency has paid off for CooCooU owner Michael Merisola. After opening in 1987 on Elmwood and Allen, the store has had several addresses, most notably (and for the longest period of time), on Hertel Avenue. Now at 111 Tonawanda Street, the lofty showroom totals 5,000 square feet with an additional 7,000 square feet of storage.  Known as the place to go to buy and sell mid-century modern furniture, CooCooU also carries art deco and industrial design furnishings, vintage musical instruments, art, and sculpture. If you're looking for eclectic and unusual wares this is the spot, and its website allows for easy shopping with shipping worldwide.
Best Interior Design
Tres Jolie Mason
249-7330 or tjminteriordesign.com
This husband-and-wife team is showing its staying power, continuing to wow clients in Buffalo; Naples, Florda; Toronto, and beyond.
Best Shop For Home Decor
Tesori
5688 Main St., Williamsville; 626-3282 or tesorihome.com
Tesori means "treasures" in Italian and this eclectic home décor store lives up to its name. It's filled with antiques, accessories, handcrafted furniture, lighting, artwork, and many one-of-a-kind finds. Tesori offers everything from funky pillows to perfect end tables. Follow them on Facebook to see their latest treasures.
Best Thrift Shop
Serendipity Thrift Shoppe
1 Symphony Circle, Buffalo; 248-0232 or buffaloserendipityshoppe.com
This charming secondhand shop is filled with vintage and contemporary items at all price points. Offerings include costume jewelry, fine glassware, books, artwork, furniture, and more. Proceeds benefit the     Buffalo AIDS Plus Fund of WNY.
Best Shop For Unique Gifts
Fern & Arrow
773 Elmwood Ave., Buffalo; 882-5858 or @fernandarrowshop
Owner Joanne Dina Scherer has been at the helm of cult favorite Anna Grace for over a decade, which is impressive longevity for an indie boutique in Buffalo. When Positively Main Street (an Elmwood Village classic) retired, Joanne took over the space and remodeled it to create Fern and Arrow, featuring handcrafted and well-edited goods for both men and women. It's the perfect place to find gifts for special someones, cute greeting cards, and (cool) Buffalo themed items.
Best Shop For Men's Gifts
Sole Man
565 Elmwood Ave., Buffalo; 836-6464 or solemanbuffalo.com
Sole Man is a men's accessories and shoe store that keeps the old-school shoe shop tradition alive. Owner Brian Gavigan is a wizard when it comes to shoe repair and has an excellent selection of designer goods, including hats, belts, and coats, as well as shoes. Everything is carefully selected, with a nod to traditional menswear shop nostalgia. He even has some original display units and signs from Buffalo's department store history. If there's such a thing as a modern cobbler shop,  Sole Man is it.
Best Shop For Women's Gifts
Blush
Multiple locations; shopblushny.com
This on-point boutique began as a clothing website in 2010: the Elmwood Village location opened in 2013. Each store offers essential wardrobe items, accessories, and handbags. Shoppers will also find a pleasant and helpful shopping experience: previews of what's in store may be seen on Blush's neatly organized website.
Best Sporting/Outdoor Life Store
Spoke & Dagger Co.
1434 Hertel Ave., Buffalo; 616-0777 or spokeanddaggerco.com
Here's a shop for those who love to hit the open road. Spoke & Dagger Co. is a motorcycle apparel, accessories, parts, and gear shop aimed at the "cool" rider, builder, and motorcycle enthusiast. Customers love the shop's West Coast vibe. If you're a rad babe or gent who enjoys long rides, head to Spoke & Dagger for your badass gear.
Best Baby Gifts
Babyroom
1400 Hertel Ave., Buffalo; 939-2692 or room-buffalo.com
Why shouldn't a baby's room be stylish, even cool? The selection at Babyroom ensures that the other shower attendees will actually look at your gift and that your favorite new mom will treasure it.
Best Place For Organic Food
Lexington Co-op
807 Elmwood Ave., Buffalo; 886-2667 or Lexington.coop
In addition to its wide array of organic foods, locally grown produce, meats, and eggs, the co-op also carries organic fair trade teas and coffees (boxed and bulk). The food displays are always artful, the staff is knowledgeable, and this is a place to run into friends—so try not to be in too much of a hurry. There are organic health and beauty products and the prepared foods (salad bar, steam tables, and grab & go aisle) also feature organic items daily. A much-anticipated second location, on Hertel Avenue, opens later this year.
Best Small Garden Store
Urban Roots
428 Rhode Island St., Buffalo; 362-8982 or urbanroots.org
Urban Roots Community Garden Center has been growing strong since 2004. A colorful oasis of flora and accessories, Urban Roots has an excellent selection of perennials and annuals, shrubs, and trees, given its size. There is plenty of room in the large lot behind the store to browse, plot, and plan. Urban Roots is also known for its heirloom seedlings. Helpful staff are always available and the store is involved with its neighborhood via educational programs and improvement projects.
Best Big Garden Store
Lockwood's Garden Center
4484 Clark St., Hamburg; 649-4684 or weknowplants.com
Arguably the healthiest and most well-selected stock of perennials and annuals can be found here; Lockwood's quickly discovers new, high-performance plants and makes them available to customers, along with knowledgable explanations of which plants work best in which types of gardens. This is also the best place for native plants, new hydrangea cultivars,  succulents, and other specialty plants.
Best Flower Shop (City)
Fern Croft
291 Bryant St., Buffalo; 445-3389 or ferncroftfloral.com
Fern Croft focuses on the subtlety possible in floral design. Whether it's a few stems in a vase or an elaborate centerpiece, owner Erin Lalley Bauer brings an new esthetic to the Elmwood Village. The shop also offers classes and is a must follow on Instagram at @fern_croft.
Best Flower Shop (Suburbs)
Mischler's
118 S. Forest Rd., Williamsville; 632-1290 or mischlersflorist.com
For over seventy years, Mischler's has done double duty as a florist and garden center for its community. Floral designers can work from online selections or create custom arrangments that can be delivered that day. It's a charming venue to browse during any season, especially for its huge selection of poinsettias in winter and geraniums in late spring.
Most Environmentally Conscious Retail Business
Reuse Action
980 Northampton St., Buffalo; 894-3366 or reuseaction.com
Neighborhood-based and community-focused, ReUse Action ("Restore. Reclaim. Renew.") offers green home demolition, gutting, salvage, consulting and cleanouts. In addition, the far East Side "social enterprise" emphasizes sustainability—weekly offerings in their retail store may include insulation, lumber, barn wood, flooring and siding, plus new and reclaimed doors, windows, tubs, sinks, lighting, and trim. They also offer training and employment to young people, spreading their mission of putting both materials and people back to work in the community.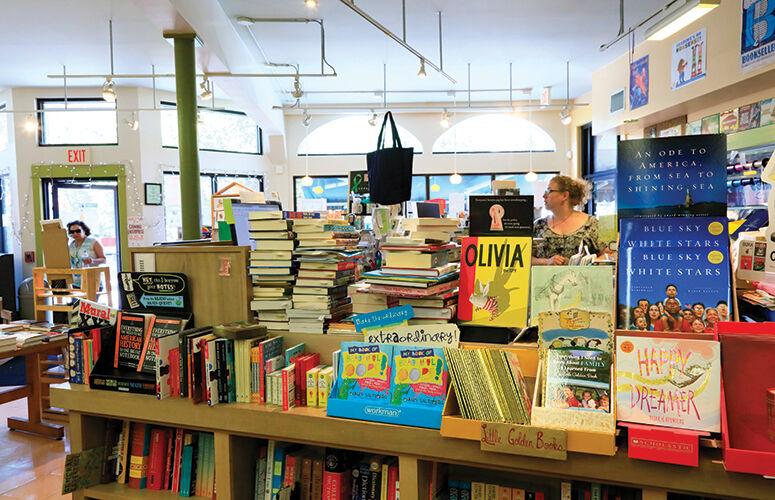 Best Customer Service
TIE
Talking Leaves
951 Elmwood Ave., Buffalo; 884-9524 or tleavesbooks.com
Buffalo's oldest independent bookstore was founded in 1971 by a small cooperative of University at Buffalo graduate students. It's now co-owned by husband and wife team Martha Russell and Jonathon Welch, who regularly bring nationally known authors to Buffalo for readings and book signings. The Elmwood store is a browser's dream; in addition to its well-stocked shelves of books, there's an eclectic magazine selection and Aroma cafe is right next door. Friendly, knowledgeable associates are ready to wrap books, take orders, and provide intelligent discussion of selections.
Delta Sonic
Multiple locations or deltasoniccarwash.com
Car upkeep is nobody's favorite thing, but Delta Sonic makes it easy. The technicians here cheerfully pull off inspection, car washing, detailing, and other services quickly and efficiently. The waiting rooms are clean and pleasant and there are always places to get refreshments and reading material nearby.
Best Place For Wine Tasting
City Wine Merchant
715 Main St., Buffalo; 931-9114 or citywinemerchant..com
Tastings here are not the usual mixed-bag of bottles distributors happen to have on hand. In fact, some tastings are so specific and feature wines of such rarity that they need to be by invitation only. Other times, the store offers its own curated selection that it would love customers to try. Get on CWM's email list if you want to fall in love with wines you've never heard of.
Best Big Liquor/Wine Store
Gates Circle liquor
1430 Delaware Ave., Buffalo; 884-1346 or gatescircleliquor.com
One of the city's busiest places to shop for adult liquid refreshments, Gates takes online orders and offers complimentary delivery throughout Buffalo for orders of $75 or more. For deliveries under $75, $5 gets your bottles there. The staff is rarely stumped by questions about the stock and freely offers advice on wine pairings. At holiday time, Gates has gift packs displayed prominently, as well as champagne selections. The store features regular Thursday, Friday, and Saturday evening tastings and the store's website (gatescircleliquor.com/blog) will tell you who–and what–will be pouring. The site also features interesting alcohol-related informational tidbits such as "Will absinthe make me hallucinate?" Gates also has wine and scotch subscription clubs with special deliveries left on your doorstep monthly.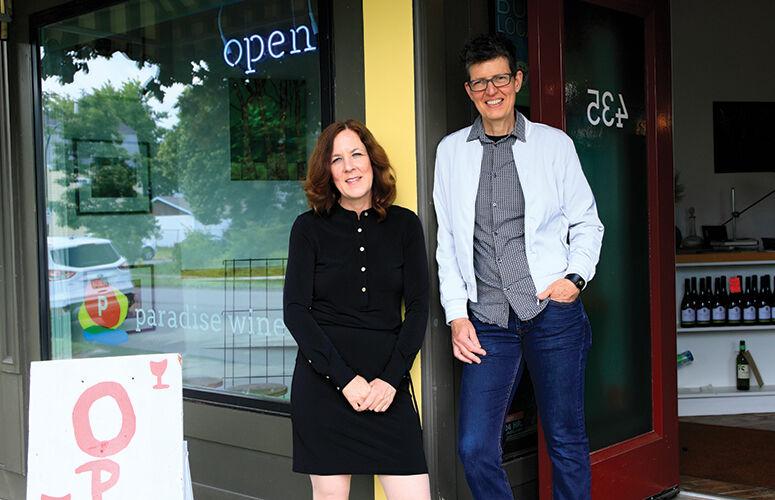 Paradise, winner of Best Boutique Wine/Liquor Store
Best Boutique Wine/Liquor Store
Paradise Wine
435 Rhode Island St., Buffalo; 322.5396 or paradisewinebuffalo.com
The reasons to venture west to Paradise are many: co-owner Paula Paradise's obvious enthusiasm about the shop, the stock, and the very existence of wine is uppermost. The self-dubbed "wine nerd in residence" speaks about her wares in direct yet almost poetic language that quickly eases customers' minds. She also tries to keep her approachable array of small-batch wines, all either sustainably, organically, or biodynamically produced, at around the $10–20 mark.
Most Fun Place to Shop
Hertel Avenue
When the panels of experts met and the tallies from our Best Of poll were counted, it was amazing to see how many popular and praised retail businesses are located on Hertel Avenue. Five years ago, Elmwood would have been at the top of anyone's list of great shopping spots. No longer.
Best Pet-Related Business
Daisy's Doghouse
1448 Hertel Ave., Buffalo; 998-1257 or buffalopetstore.com
Here's a place to mingle, sniff, chat and then sniff some more. Daisy's Doghouse isn't for humans; it's for precious pooches or fantastic felines. The top-of-the-line pet store is stocked with everything from holistic food to stylish collars to unique toys.
Best Fitness Classes
Long and Lean Pilates
515 Elmwood Ave, Buffalo; 881-2057 or longandleanpilates.com
This dynamic workout is available at two beautiful locations—on the corner of Elmwood/West Utica and in Amherst at Hive. The individually designed programs give your body the attention it needs to meet your goals. Though based in pilates, Long and Lean also provides massage, stretching, strength training, and yoga techniques.
Best Dance Classes
Baila Salsa
With regular Sunday lessons at their headquarters and frequent salsa nights at locations all over WNY, including Gypsy Parlor, and Larkin Square, Baila makes it easy to get your salsa on. Cofounders and award-winners Calvin Rice and Fanny Olaya have been dancing together for almost ten years.
Best Yoga
Love in Motion
1250 Niagara St., Buffalo; 262-8145 or loveinmotionyoga.com
Love In Motion Yoga may be the new kid on the yoga block, but the experience of its owners and their style of practice, along with the spacious studio's loft-like setting made it our top-pick this year. Owners Kate Rogers and Kathleen Englehardt have over twenty-four years of combined yoga experience. They, along with seven other instructors, lead vinyasa-style classes with an emphasis on posture alignment and sequencing in an environment that is inclusive, warm, and welcoming. Students will find classes from beginner level to slow-moving classes for restoration, as well as advanced classes for a more challenging practice. Rogers and Englehardt appreciate their new community on Niagara Street, and demonstrate their gratitude by offering donation-based classes on Friday evenings, with proceeds donated to a charity of the month.
Best Cycle Shop
Campus Wheelworks
744 Elmwood Ave., Buffalo; 881-3613 or campuswheelworks.com
Campus Wheelworks has been an Elmwood staple and a cyclist's destination since 1996. In addition to bike rentals, sales, and service, Campus excels at community events for cycling enthusiasts. Last year alone, it held over 120 cycling events, each beginning and ending at the shop on Elmwood. Choices include a "Be Chatty" leisurely ride, a "Be Sweaty" faster ride, and a "Be to A" ride that includes instruction and training. In the off season, Campus rents and sells snow shoes and cross-country skiis while organizing snow-related events to get people outside in winter.
Best Tattoo Shop
6th Order Tattoo
3503 Genesee St., Cheektowaga; 633-7171 or 6thorder.com
"A no-drama, unintimidating, easy place to be." That's how owner Chris Coppola describes 6th Order Tattoo, which offers all forms of tattoo artistry, ranging from traditional motifs to realism to Japanese designs. The space is pristine, and 6th Order is proud to say it's one of the few shops in the area with private rooms, so that the tattoo experience remains between artist and client.
Best At A Glance
Best French Fries (City) Frank Gourmet Hot Dogs findfranknow.com
Best French Fries (Northtowns) Moor Pat moorpat.com
Best French Fries (Southtowns) TIE JuiCy Burger Bar juicyburgerbar.com; Steve's Pig and Ox facebook.com/Steves-Pig-Ox-Roast
Best Hot Dog (City) Frank Gourmet Hot Dogs findfranknow.com
Best Hot Dog (Suburbs) Ted's Hot Dogs tedshotdogs.com
Best Basic Burger (City) TIE Marble + Rye marbleandrye.net; Allen Burger Venture allenburgerventure.com
Best Basic Burger (Suburbs) New York Beer Project nybeerproject.com
Best Alt Burger (City) Tokyo Burger at Thin Man Brewery thinmanbrewery.com
Best Alt Burger (Suburbs) JuiCy Burger Bar juicyburgerbar.com
Best Buffalo-Style Pizza (City) TIE Imperial Pizza imperialpizzabuffalo.com; Bocce bocceclubpizza.com
Best Buffalo-Style Pizza (Suburbs) TIE Picasso's picassospizza.net; Franco's Pizza francospizza.com
Best Thin-Crust Pizza (City) O. G. Wood Fire facebook.com/ogwoodfire
Best Thin-Crust Pizza (Suburbs And Beyond) Romeo & Juliet's rjcaffe.com
Best Wings (City) Gabriel's Gate Find it on facebook.com
Best Wings (North) Judi's Lounge Bar and Grill  judisbarandgrill.com
Best Wings (Southtowns) TIE Bar-Bill Tavern barbill.com; Blackthorn Restaurant & Pub blackthornrestaurant.com
Best Tacos (City) TIE Casa Azul casaazulbuffalo.com; Lloyd whereslloyd.com
Best Tacos (Suburbs) Taqueria Los Mayas facebook.com/TaqueriaLosMayas
Best Korean Koreana facebook.com/Koreana-buffalo
Best Middle Eastern/Mediterranean (City) Shish Kabab Express facebook.com/Shish-Kabab-Express
Best Middle Eastern/Mediterranean (North) 755 Restaurant & Lounge 755westmarket.com
Best Middle Eastern/Mediterranean (Southtowns) Rachel's Mediterranean eatrachels.com
Best Pho (City) 99 Fast Food facebook.com/99fastfood
Best Pho (Suburbs) Phovana phovana.com
Best Ramen (City) SATO satobuffalo.com; SATO Ramen sato-ramen.com
Best Ramen (Suburbs) Taisho Bistro taisho-bistro.com
Best Brunch (City) TIE Lait Cru Brasserie laitcrubrasserie.com; Betty's bettysbuffalo.com
Best Brunch (Suburbs) TIE Elm Street Bakery elmstreetbakery.com; Trattoria Aroma aromanorthfrench.com
Best Steak (City) SEAR searbuffalo.com
Best Steak (Southtowns) Rick's on Main ricksonmain.com
Best Steak (Northtowns) Russell's Steaks, Chops & More salvatoresgrand.com
Best Gluten-Free Options Pizza Plant pizzaplant.com
Best Juicery TIE Ashker's ashkersbuffalo.com; Squeeze squeezejuicerybuffalo.com
Best Vegan (City) Grindhaus Cafe facebook.com/grindhauscafe
Best Vegan Menu Options (Suburbs) Pizza Plant pizzaplant.com
Best Barbecue Kentucky Greg's Hickory Pit kentuckygregs.com
Best Barbecue Sides (City) TIE Dinosaur Bar-B-Que dinosaurbarbque.com; Fat Bob's Smokehouse fatbobs.com
Best Barbecue Sides (Suburbs And Beyond) Smoke on the Water sotw77.com
Best Seafood Restaurant (City) TIE Kuni's kunisbuffalo.com; SeaBar facebook.com/SEABAR
Best Seafood Restaurant (Suburbs) Remington Tavern remingtontavern.com
Best Bagel Bagel Jay's bageljays.com
Best Artisanal Bagel BreadHive breadhive.coop
Best Restaurant Space (City) Patina 250 patinagroup.com/Patina250
Best Restaurant Space (Suburbs) The Grange Community Kitchen grangecommunitykitchen.com
Best Charcuterie (City) The Black Sheep blacksheepbuffalo.com
Best Charcuterie (Suburbs) Aro Bar de Tapas arotapas.com
Best Dessert (City) Oliver's oliverscuisine.com
Best Dessert (Suburbs) Giancarlo's giancarlossteakhouse.com
Best Doughnut Paula's Donuts paulasdonuts.com
Best Artisanal Doughnut Butter Block butterblockshop.com
Best Sponge Candy Watson's chocolates watsonschocolates.com
Best Coffee Shop (City) Tipico tipicocoffee.com
Best Coffee Shop (Suburbs) Steamworks steamworkscoffee.net
Best New Restaurant (City) TIE The Dapper Goose thedappergoose.com; Las Puertas facebook.com/LasPuertasBuffalo
Best New Restaurant (Suburbs) TIE The Grange Community Kitchen grangecommunitykitchen.com; Carte Blanche carteblanchehamburg.com
Best Food Truck Lomo Lomo lomofoodtruck.com
Best Chef (Established) Ross Warhol at Oliver's oliverscuisine.com
Best Chef (New) Will Petersen at Lait Cru Brasserie laitcrubrasserie.com
Best Restaurant For A Family Gathering Salvatore's Italian Gardens salvatoreshospitality.com
Best Waitstaff Risorante Lombardo ristorantelombardo.com
Best Small Wine List (Bottle) Mothers 882-2989
Best Large Wine List (Bottle) Oliver's oliverscuisine.com
Best Wine List (By The Glass) Dapper Goose thedappergoose.com
Best Use Of Local Ingredients (City) Billy Club billyclubbuffalo.com
Best Use Of Local Ingredients (Suburbs) Elm Street Bakery elmstreetbakery.com
Best Local Winery Arrowhead Spring Vineyards arrowheadspringvineyards
Best Local Brewery TIE Big Ditch Brewing Company bigditchbrewing.com; Community Beer works communitybeerworks.com
Best Local Distillery Tommyrotter Distillery tommyrotter.com
Best New Release Sakura Gin from Lockhouse lockhousedistillery.com
​Best Décor Angelica Tea Room angelicatearoom.com
Best Patio TIE Hydraulic Hearth hydraulichearth.com
Frankie Primo's +39 frankieprimos39.com
Best New Hotspot (City) Falley Allen falleyallen.com
Best New Hotspot (Northtowns) Share Kitchen & Bar Room sharekbr.com
Best New Hotspot (Southtowns) Bica e Vinho facebook.com/BicaeVinho
​Best Sports Bar (City) (716) Food and Sport 716foodandsport.com
Best Sports Bar (Suburbs) Amherst pizza and Alehouse amherstpizzaandalehouse.com
Best Irish Pub Conlon's Bar and Grill conlonsbarandgrill.com
Best Craft Cocktails (City) TIE Buffalo Proper buffaloproper.com; Vera verabuffalo
Best Craft Cocktails (Northtowns) Aro Bar de Tapas arotapas.com
Best Craft Cocktail (Southtowns) Winfield's Pub winfieldspub.com
Best Taps (City) Ballyhoo buffaloballyhoo.com
Best Taps (Northtowns) Griffon Gastropub griffonpub.com
Best Taps (Southtowns) World of Beer worldofbeer.com
Best Bottled Beer Selection The Lenox Grille lenoxgrill.com 
EYE CANDY
Best Friend Of The Arts Jeffrey Gundlach
Best Actor David Lamb, The Father
Best Actress Kelly Meg Brennan, The Unfortunates
Best Character Performance Joseph Donohue III, Million Dollar Quartet
Best Movie Theater TIE The Screening Room Cinema Café thescreeningroom.net; Dipson Amherst amherst.dipsontheatres.com
Best Columnist Adam Zyglis
Best Reporter (Broadcast) John Murphy
Best Reporter (Print) Investigative Post
Best Curator Elisabeth Samuels
Best Power Couple Kim and Terry Pegula
Best Arts Administrator Alma Carillo
Best Local Musical Act (Original) Tiny Rhymes Facebook/Tiny Rhymes
Best Blogger (Independent) Buffalovebirds
Best Gadfly Art Giacalone
Best Tweeter Terry Sullivan (@lastnametaco)
Best Facebooker Step Out Buffalo
Best Activist Group Partnership for Public Group
Best Player, Sabres (2016-2017) Jack Eichel
Best Player, Buffalo Bills (2016-2017) Lorenzo Alexander
Best Sports Good News Everyone Gets Fired
Funniest Local News The Sub-eating Guy
Best Local Scandal (2016) Carl Paladino in Artvoice
Best Local Politician Sean Ryan
Out + About
Best Summer Concert Series Wednesdays at Larkinville larkinsquare.com/live-at-larkin
Best Bar For Live Music (City) Ironworks buffaloironworks.com
Best Bar For Live Music (North) The Rapids rapidstheatre.com
Best New Hangout Billy Club billyclubbuffalo.com
Best Innovative Theater Production (2016-2017) Burden tornspacetheater.com
Best Production Of A Contemporary Show TIE The Shakespeare Stealer theatreofyouth.org; Motherfucker with the Hat roadlesstraveledproductions.org
Best Production Of A Classic Show Jitney aaccbuffalo.org
Best Ensemble It's Only A Play buffalobua.org
Must-See Art Exhibition, Large Gallery (2016-2017) Picasso: The artist and his models albrightknox.org
Must-See Art Exhibition, Small Gallery (2016-2017) Mille Chen Prototypes at BT&C Gallery btandcgallery.com
Best Small Concert (2016-2017) Robert Glasper Experiment buffalostatepac.org
Best Large Concert (2016-2017) TIE Joan Baez babevillebuffalo.com; Bob Dylan/Mavis Staples artpark.net
Best Outdoor Concert (2016-2017) Ray LaMontagne at Artpark artpark.net
Best Fundraiser (Longstanding) Squeaky Wheel's Dysfunctional Holiday Party squeaky.org
Best Fundraiser (New) Blizzard Ball revival Allentown.org
Most Unusual Cultural Event Buffalo Stories roadlesstraveledproductions.org
Fundraiser With Best Food And Drink Buffalo without Borders iibuff.org
Best Outdoor Programming For Kids Beaver Meadow Audubon Center buffaloaudubon.org/beavermeadow.php
Best Family Fun (Summer) Buffalo Zoo buffalozoo.org
Best Family Fun (Winter) Canalside canalsidebuffalo.com
Best Event (Winter) East Aurora's Carolcade facebook.com/EACarolcade
Best Event (Summer) Buffalo Infringement Festival infringebuffalo.org
Best Event (Indoor) The World's Largest Disco theworldslargestdisco.com
Best Festival (City) Pride buffalopridefestival.com
Best Festival (Suburbs) Suburban Taste of Buffalo offshoots
It's the People
Best Friend Of The Arts Jeffrey Gundlach
Best Actor David Lamb, The Father
Best Actress Kelly Meg Brennan, The Unfortunates
Best Character Performance Joseph Donohue III, Million Dollar Quartet
Best Movie Theater TIE The Screening Room Cinema Café thescreeningroom.net; Dipson Amherst amherst.dipsontheatres.com
Best Columnist Adam Zyglis
Best Reporter (Broadcast) John Murphy
Best Reporter (Print) Investigative Post
Best Curator Elisabeth Samuels
Best Power Couple Kim and Terry Pegula
Best Arts Administrator Alma Carillo
Best Local Musical Act (Original) Tiny Rhymes Facebook/Tiny Rhymes
Best Blogger (Independent) Buffalovebirds
Best Gadfly Art Giacalone
Best Tweeter Terry Sullivan (@lastnametaco)
Best Facebooker Step Out Buffalo
Best Activist Group Partnership for Public Group
Best Player, Sabres (2016-2017) Jack Eichel
Best Player, Buffalo Bills (2016-2017) Lorenzo Alexander
Best Sports Good News Everyone Gets Fired
Funniest Local News The Sub-eating Guy
Best Local Scandal (2016) Carl Paladino in Artvoice
Best Local Politician Sean Ryan
Shopaholics
Best New Small Retail Business (Open In 2016 Or Later) Fred Handmade Wares fredhandmadewares.com
Best New Clothing Boutique TIE Half & Half Facebook/Half & Half; RuthAnn Boutique Facebook/RuthAnn Boutique
Best Shop For Jeans Tony Walker & Co tonywalker.com
Best Clothing Boutique (Established) AnnArlette annarlette.com
Best Shop For Formal Wear (Men's) Napoli's shopnapolis.com
Best Men's Boutique Riverside Men's Shop riversidemens.com
Best Shop For Women's Party Wear Danahy's mabeldanahy.com
​Best Shop For Handmade Jewelry Vania & David vaniaanddavid.com
​Best Shop For Traditional Jewelry Scherer's scherersjewelers.com
Best Shop For Funky Accessories MMW Style Studio mmwstylestudio.com
Best Shop For Furniture TIE Ro rohomeshop.com; Ethan Allen ethanallen.com
Best Shop For Vintage Furniture CooCooU coocoou27.com
Best Interior Design Tres Jolie Mason tjminteriordesign.com
Best Shop For Home Decor Tesori tesorihome.com
Best Thrift Shop Serendipity Thrift Shoppe buffaloserendipityshoppe.com
Best Shop For Unique Gifts Fern & Arrow @fernandarrowshop
Best Shop For Men's Gifts Sole Man solemanbuffalo.com
Best Shop For Women's Gifts Blush shopblushny.com
Best Sporting/Outdoor Life Store Spoke & Dagger Co. spokeanddaggerco.com
Best Baby Gifts Babyroom room-buffalo.com
Best Place For Organic Food Lexington Co-op Lexington.coop
Best Small Garden Store Urban Roots urbanroots.org
Best Big Garden Store Lockwood's Garden Center weknowplants.com
Best Flower Shop (City) Fern Croft ferncroftfloral.com
Best Flower Shop (Suburbs) Mischler's mischlersflorist.com
Most Environmentally Conscious Retail Business Reuse Action reuseaction.com
Best Customer Service TIE Talking Leaves tleavesbooks.com; Delta Sonic Multiple locations or deltasoniccarwash.com
Best Place For Wine Tasting City Wine Merchant citywinemerchant..com
Best Big Liquor/Wine Store Gates Circle liquor gatescircleliquor.com
Best Boutique Wine/Liquor Store Paradise Wine paradisewinebuffalo.com
Most Fun Place to Shop Hertel Avenue
Best Pet-Related Business Daisy's Doghouse buffalopetstore.com
Best Fitness Classes Long and Lean Pilates longandleanpilates.com
Best Dance Classes Baila Salsa salsabuffalo.com
Best Yoga Love in Motion loveinmotionyoga.com
Best Cycle Shop Campus Wheelworks campuswheelworks.com
Best Tattoo Shop 6th Order Tattoo 6thorder.com