EAT THIS
Best seafood (city)
Dobutsu
500 Seneca St., Buffalo; 322-6004 or dobutsubuffalo.com
Toutant's chef and owner James Roberts opened his much-anticipated California-inspired seafood spot in May. Fish here is prepared carefully and simply. It's also served a la carte, so be sure to order a few appetizers for the table. Roberts is bringing fish in fresh from the coast daily, an effort we're grateful for, especially since it's an unusual (and expensive) choice for Western New York restaurant operators. Cod, tuna, halibut, or salmon—you can see the quality in the seafood case located near the front door.
Best seafood (suburbs)
Remington Tavern and Seafood Exchange
184 Sweeney St., North Tonawanda; 362-2802 or remingtontavern.com/wordpress
If Remington's massive raw bar stocked with fresh clams and multiple varieties of boutique oysters isn't your thing, there are other options. Clams can be steamed or casino style, and oysters grilled or broiled Rockefeller. Friday fish fries skews from the ubiquitous cod/haddock formula for locally slanted yellow pike, which is available daily in appetizer format. Standards like farmed salmon, yellow fin tuna, shrimp, and scallops come with out-of-the-ordinary preparations.   
Best Poke
Fresh Catch Poke Co.
5933 Main St., Williamsville; 271-7653 or freshcatchpoke.co
Poke couldn't have been more on trend in 2017 and with the dearth of high-quality fresh fish in WNY restaurants, the arrival of Fresh Catch was well-timed. We can't decide what we like better, the house selections or the DIY bowls we dream up for ourselves, but the bamboo rice is downright ambrosial and we can't say enough about the fish and toppings. Unfamiliar with poke? If you're a sushi eater, you'll love this place!
Best fish fry (city)
Joe's Deli
Multiple locations; joesdelionline.com
Not sure we can count all the awards we've given Joe and the team at Joe's Deli, or the number of times we've featured them in the magazine, but all those awards and mentions are well-deserved. Joe's is just as good today as it was when it first came to town and made our sandwich dreams come true. Its fish fry is equally excellent, with scratchmade sides and a fish fry system (yes, that's a thing) that seems unbreakable, given that the tiny Hertel location alone fields hundreds of fish fry orders on any Lenten evening. In fact, it's so popular, Joe's added it to the daily menu a couple years ago. Did you hear that, WNY? Now you can get your fish fry on anytime!
Best fish fry (northtowns)
The Audubon North
3050 Sweet Home Rd., Amherst; 691-9248 or facebook.com/TheAudubon
A well-kept secret among area residents, Audubon offers hearty renditions of Buffalo classics every day. From epic chicken fingers to beef on 'weck, from crispy wings to sauteed pierogi, Audubon is the kind of throwback bar that just doesn't exist any more. With a traditional fish fry that hangs off the plate and sides the size of most entrees, there's no denying this joint is a little old-school, but we'll take that classic WNY fare and hospitality as often as we can get it.
Best fish fry (southtowns)
Wiechec's lounge
174 Clinton St., Buffalo or 823-2828
Fish frys rule on Fridays at Wiechec's, and we know, because it's impossible to get an order of wings! The dedicated fryer insures a delicious, freshly fried fish fillet (say that ten times) every time. The golden brown fish is  balanced atop perfectly prepared fries, coleslaw, and both potato and mac salads. Easy to see why this place is always nominated for the fish fry prize. After all that, it's probably gluttonous to suggest that you should try to leave room for a cup of clam chowder, but we're doing it anyway. Really, we insist.
Best gluten-free fish fry
Kith & Kin Bake Shop & Bistro
6429 Dysinger Rd., Lockport; 471-3305 or kkbakeshop.com
This charming cafe is 100 percent gluten-free. There are paninis, sandwiches, and wraps, as well as a Friday-only fish fry. The biggest raves K&K gets are for items that normally have gluten, so you know they're doing something right. Just note that K&K closes at 6 on weekdays and even earlier on weekends.
Best steak (city)
SEAR Steakhouse
200 Delaware Ave., Buffalo; 319-1090 or searbuffalo.comhttp://searbuffalo.com
Located in the Avant and co-owned by Dave Schutte (Oliver's) with a smattering of esteemed businessmen and Buffalo Bills, it's safe to say there's a fair amount of steak know-how happening here. Prime beef is available in signature cuts, American kobe from Snake River Farms can be ordered in a varying level of A ratings and cuts, and farm-raised options are punctuated by the day's Butcher's Cut. While some folks prefer a sauce or compound butter with their favorite steak (and at SEAR those are made from scratch), we think the steak is of good enough quality and preparation that just a little salt and pepper is required. It's also important to note that SEAR's wide range of delicious made-from-scratch appetizers and sides are a steakhouse rarity we can't emphasize enough.
Best steak (northtowns)
>>> Tie
Giancarlo's Sicilian Steakhouse
5110 Main St., Williamsville; 650-5566 or giancarlossteakhouse.com
Russell's Steaks, Chops & More
6675 Transit Rd., Williamsville; 636-4900 or salvatoresgrand.com/russells-steakhouse
Giancarlo's is one of the few places executing an approachable fine dining experience in the Northtowns, and they're doing it well. The place is packed most nights, and while there's a wide array of entrees available, the steak is often recommended by regulars. The bone-in rib eye, cooked sous vide before it's seared on a hot grill, is like meat butter. Wagyu, prime cuts, tender little petite filets—they're all here.
You'd be hard-pressed to find the kind of old school-Buffalo hospitality Russell's has in spades. And steaks—let's not leave out the steaks! Pick your cut, order sides for the table and a bottle of wine, sit back, and relax! You're at Russell Salvatore's place!
Best charcuterie (city)    
Craving
1472 Hertel Ave., Buffalo; 883-1675 or cravingbuffalo.com
From bread and pasta to pickles and charcuterie, everything at Craving is not only made in-house, it's often local, too. The house's charcuterie program uses pork from Erba Verde Farm, and chef Adam Goetz, along with his sous, Ken Mogford, employ certain cuts to create guanciale, culatello, copa, and salumi. Once it's ready, they cook with it—rendering all of the fat for frying, and using the end pieces for brodo—but it's also served as a charcuterie plate, gloriously augmented with housemade pickles and mustard.
Best charcuterie (suburbs)
AC Meat Company
6472 Southwestern Blvd., Lake View; 980-3018 or acmeatcompany.com
Located in Lake View, a hamlet of Hamburg, AC Meat Company took the popular vote in this year's Best Ofs, and we think it may be because of its beloved and revered Beef Bouquet! Made of house-cured jerky (bbq cajun and soy/ginger), beef sticks and pepperoni, it comes wrapped in a beer mug, ready for your favorite carnivore. If delicious handmade sausages are also your thing, AC's got some of those, too.
Best charcuterie (retail)    
Battistoni Italian Specialty Meats
81 Dingens St, Buffalo; 826-2700 or battistonibrand.com
From cappicolla to chorizo, Battistoni has been an artisan-founded supplier since 1931, providing both businesses and home cooks with excellent Italian dry-cured meats. Battistoni has recently added an organic line.
Best food truck
Lomo Lomo
341-3299 or lomofoodtruck.com
Lomo Lomo is the truck to beat! We said the same last year, so if you didn't listen then, now is the time. Global flavors? Check. Original creations? Check. Large portions? Check. Reliable and consistent quality? Check.
Best new hotspot (southtowns)
The General Riley House
644 Oakwood Ave., East Aurora; or elmstreetbakery.com
Elm Street Bakery has dominated the East Aurora food scene since its opening, but this year it one-upped itself by launching Riley House. Utilizing an adjacent historic home, the tiny but intimate private room is ideal for entertaining fewer than forty people—a rental space size that's needed here, but really hard to find. Baby showers, birthday parties, wine dinners, graduation parties, and other small events have quickly found homes here, augmented by the baked goods and customer service ESB's fans have come to love and expect.
Best brunch (city)
>>> Tie
Toutant
437 Ellicott St., Buffalo; 342-2901 or toutantbuffalo.com
The Black Sheep Restaurant & Bar
367 Connecticut St., Buffalo; 884-1100 or blacksheepbuffalo.com
It's a tough call: a Southern brunch featuring deep-fried deliciousness and top notch customer service, or a globally inspired porkcentric breakfast feast? Whichever you may choose, the one thing the brunch offerings at Toutant and Black Sheep have in common is fantastic pastries, so bring your appetite. Whether you're out with friends, attempting to appease a hangover, or taking mom for a bite after church, Toutant or Black Sheep have got you covered.
Best brunch (southtowns)
Carte Blanche
61 Buffalo St., Hamburg; 649-2101 or carteblanchehamburg.com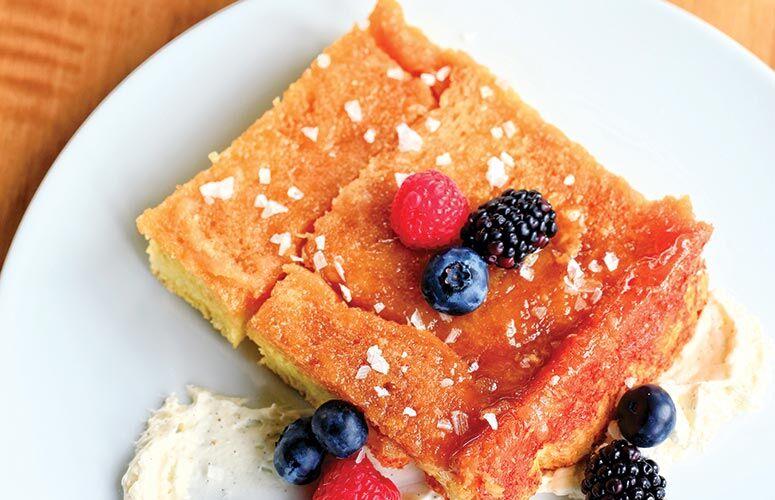 What could be better than all of the decadence of brunch with none of the chaos? Carte Blance serves up instagrammable choices like a stuffed popover carefully overflowing with eggs and sausage, poached eggs perched just so on an English muffin or plate of hash, and an indulgent salt caramel French toast, topped with a bruleed, custard-like layer. Pitchers of brunch cocktails are available, as is high-quality French press coffee. As good as the food is, and it is good, what really sets Carte Blanche apart is its attention to details, accepting reservations and providing fast but unharried service even at peak hour, as well as a sleek environment free from jostling or drafts. If you want to brunch like a grownup and can count on your friends to make a reservation you secured in advance, Carte Blanche is your go to.
Best bloody mary (city)
Sophia's restaurant
749 Military Rd., Buffalo; 447-9661 or sophiasrestaurant716.com
Sophia's doesn't do anything the easy way. Or in moderation. Everything at this Military Road diner is made from scratch and super-sized; its bloody mary is no exception. Sporting a veritable parade of accouterments, from slices of bacon and dilly beans to lemon wedges and jalapenos, Sophia's serves the most Instagrammable brunch sidekick we've found. Cheers!
Best bloody mary (suburbs)
YOLO restaurant + lounge    
5841 Transit Rd., East Amherst; 688-4479 or yolobuffalony.com
Brunch acolytes, your fave meal of the week is served every day until 4 p.m. at the one and only YOLO on Transit. Obviously, mimosas and bloodies are on the menu, but here the bloody marys are, as they call them, "loaded." Bacon, grilled shrimp, lemons, an assortment of spices, green olives, and lemon wedges mean this bloody eats like an appetizer.
Best coffeeshop (city)
Tipico Coffee
128 Fargo Ave., Buffalo; 331-3954 or tipicocoffee.com
With its house-made coconut milk (try it in a cold brew or iced chai), patterned tin ceiling, breezy storefront, and, of course, avocado toast, Tipico is everything you want in a circa-2018 coffee shop. Yes, it is stylish, and, yes, you will see many a millennial working on a laptop here, but Tipico has the substance to back up the style with great food focusing on breakfast, savory toasts and A+ americanos, lattes, and more. The style may be reminiscent of New York City but the friendly attitude and ample seating are pure Buffalo.
Best coffee shop (northtowns)
Steamworks Coffee Roasters
51 Canal St., Lockport; 727-0701 or steamworkscoffee.net
Not just your morning cup of joe, Steamworks searches out some of the best green beans from around the world, then roasts small batches in-house. With a solid philosophy of the better the ingredients and process, the better the end result, Steamworks crafts a superior cup of pour-over coffee. The store is also a big part of the community, hosting musical acts, bike rides, and pop-up coffee events throughout the region.
Best coffeeshop (southtowns)
Taste
634 Main St., East Aurora; 655-1874 or tasteofea.com
Long-standing quality coffee shops occupy the same space as beloved diners or neighborhood bars—the food is always good, the atmosphere is always comfortable, and when planning where to go, they're always on the list of possibilities. A fixture on East Aurora's Main street with indoor and outdoor seating and steaming cup of coffee sign, Taste specializes in espresso drinks, breakfast items, salads, and sandwiches. Try a Belgian waffle, Sunrise Benedict (a veggie take on the classic), or breakfast burrito for brunch. Lunch offerings include the Cali Dreamer (a wrap with avocado, corn, black beans, and chipotle hummus), paninis, a chicken Caesar salad wrap, quesadillas, and grilled cheese. Taste also features nut milks made by local purveyor Elmhurst Dairy, for those eschewing animal products or looking to try something new.
Best basic burger (city)
Lucky Day Whiskey Bar
320 Pearl St., Buffalo; 322-0547 or luckydaywhiskeybar.com
Lucky Day's Thrasher Burger is only $5. And if you want one, you're going to have to sit on a stool (or at a table) in the sexy-chic, dimly lit surrounds of downtown's newest (and coolest) whiskey bar, Lucky Day. Made in-house with a grind just different enough to set it apart from your average burger (beef and bacon!), at $5, the Thrasher would be tough to beat even if it weren't good, but it is. It really is. We'll take ours with a shot (or two) and a beer. Thanks!
Best basic burger (northtowns)
>>> Tie
Grover's Bar & Grill
9160 Transit Rd., East Amherst; 636-1803
Buffalo BrewPub
6861 Main St., Williamsville; 632-0552 or buffalobrewpub.com
Formerly Grover Cleveland's hunting lodge, Grover's is famous for its tasty, behemoth burgers comprising twelve ounces of ninety percent lean certified Angus beef. Especially hungry guests can order the Bruiser—an oversized certified Angus ground beef patty with grilled onions and crumbled blue cheese on a buttered roll. Plus, the prices are small, the portions are huge, and there's a full, well-stocked bar. Carnivores, rejoice.
As the oldest brewpub in New York State, the Buffalo Brewpub has been slinging suds and bar food since 1986. The fourteen-item burger menu includes a ten ounce Angus beef  that comes with your choice of sides. It's a great match for a cold one from the pub's three-dozen-plus tap selection.
Best basic burger (southtowns)
Stack Burger
174 Orchard Park Rd., West Seneca; 288-8204 or stackburgerny.com
Every fast food joint can offer single burgers with an order of fries for under ten bucks, but that's where the similarity ends. At Stack Burger, the burgers are fresh and made to order, the fries are handcut, and there are some irresistable oddities on the menu— like a deep-fried PB&J (for dessert).
Best gourmet burger (city)
Allen Burger Venture (ABV)
175 Allen St., Buffalo; 768-0386 or allenburgerventure.com
There's a burger for everyone at ABV, with an assortment of styles to choose from and an array of patties sure to please veg-heads and paleo peeps alike. But no matter what you order, come hungry, because these burgers are huge. So huge, in fact, they typically require a fork and a steak knife. Don't worry, the staff knows and typically makes sure customers have one of each!
Best gourmet burger (northtowns)
Griffon Gastropub
810 Center St., Lewiston; 405-7291 or thegriffonpub.com
The fourth and newest edition of Griffon Gastropubs is housed in a beautifully renovated building on Center Street in Lewiston where the iconic Clarkson House fed diners for decades. The Griffon House Burger is a meaty, decadent treat starting with eight ounces of house-ground short ribs, chuck, and sirloin grilled how you like it, then topped with an herbed bone marrow spread, applewood smoked bacon, and Gruyere cheese. A smattering of sautéed forest mushrooms and arugula is a nod toward plant-type things.
Best gourmet burger (southtowns)
Juicy Burger Bar
1 Buffalo St., Hamburg; 648.3200 or juicyburgerbar.com
Juicy grew such a large following so quickly, that it tripled (maybe even quadrupled) in size, with a huge remodel/refresh a hot minute later. Now it's pumping out scratchmade burgers as fast as Hamburgians can eat them. We usually stick to the classics, but the variety of tempting menu options doesn't make that an easy task.
Best beef on 'weck (city)
Eckl's
703 Seneca St., Buffalo; 331-3242 or eckls.com
Eckl's is a classic Buffalo joint and its beef on 'weck has been well regarded since it opened its doors in 1934. After a brief shuttering in 2016, its name and fare continue to enchant beloved regulars and new fans, both at its original location in OP and at its newborn (and fancier) second location in Larkin Square. Hand-carved the old fashioned way, there's a reason this iteration of Buffalo's timeless roast beef sandwich was a standout for Roadfood's Jane and Michael Stern.
Best beef on 'weck (northtowns)
>>> Tie
Charlie the Butcher
Multiple locations; charliethebutcher.com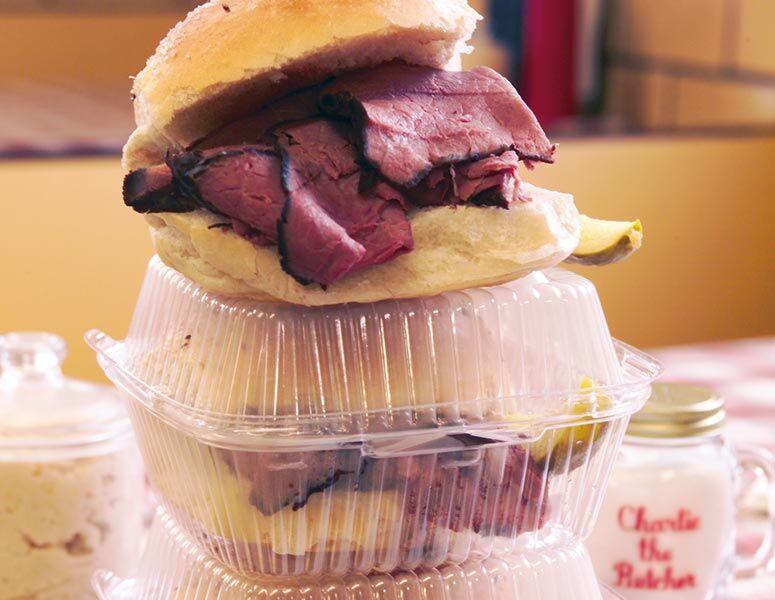 How many travelers stop by the Charlie the Butcher near the airport on their way in or out of Buffalo? Based on the anecdotes we've heard, the answer is a lot. And who can blame them? A taste of home on the way in or out of town is a solid move we fully support. But with a handful of other CtBs sprinkled across the region, it seems this is the go-to not just for those who know they will miss (or are missing) Buffalo, but also for those of us who know just how good we've got it.
The Glen Park Tavern
5507 Main St, Buffalo; 626-9333 or glenparktavernbuffalo.com
On the other hand, what could be better than a neighborhood tavern that caters to a fathful crowd of regulars who have come to rely on consistently excellent pub fare, including a stellar beef on 'weck? That's the appeal of Glen Park Tavern, which now features a designated carving station.
Best beef on 'weck (southtowns)
Bar-Bill Tavern
185 Main St., East Aurora; 652-7959 or barbill.com
The indomitable chicken wing powerhouse of East Aurora takes attention to detail to new heights in all regards, including its very craveable beef on 'weck sammie. Carved to order with dazzling efficiency, Bar-Bill's beef on 'weck can stand alone or function as the ideal complement to a single order of medium wings, both split with a dining companion.
Best grilled cheese
>>> Tie
Melting Point
244 Allen St., Buffalo; 768-0426 or buffalomeltingpoint.com
lait Cru Brasserie
346 Connecticut St., Buffalo; 462-4100 or laitcrubrasserie.com
A restaurant that specializes in cheese and another that specializes in grilled cheese can both be expected to deliver well-executed grilled cheese sandwiches. Although Melting Point and Lait Cru live up to those expectations, they provide distinctly different experiences. Melting Point offers a large and comprehensive sandwich-based menu, while Lait Cru's  grilled cheese is part of a French-inspired fine dining program. Cheese-lovers should rejoice that both of these delicious options exist.
Best tacos (city)
>>> Tie
Casa Azul
128 Genesee St., Buffalo; 331-3869 or casaazulbuffalo.com
Casa Azul combines the ambiance of a hip new downtown hotspot with an almost beach-y flair: blue walls, casual seating, counter service, streamlined menu, and ample margaritas and Coronas. But the tacos, not their environment, are the true stars of the show. All the basics are covered—shrimp, carne asada, fried fish, and a vegetarian squash mixture—as well as some more adventurous choices like braised goat, or, in a non-taco choice, guacamole with cricket brittle.  Chef Vincenza (Zina) Lapi's respect for tradition is enlivened with frequent dashes of creativity and innovation.
Lloyd Taco Factory
1503 Hertel Ave, Buffalo; 863-9781 or whereslloyd.com
Beloved by many Buffalonians from its years as a food truck-only operation, Lloyd—its trucks and its Taco Factory—does Mexican the way Americans have grown to love it, but better, with fresh and often local ingredients, brightly flavored pickled veggies, high-quality sauces and tortillas, and zero neon-orange cheese. At the stationary city location on Hertel Avenue, all the truck favorites, such as braised beef, slow-roasted pork, and local black beans, are on the menu, but you can also try a taco with buttermilk fried chicken or fried organic tofu with peanut sauce. Never fear, the famous nachos and burrito bowls are available as well, along with Lloyd's highly regarded margaritas.
Best tacos (northtowns)
La Divina Dos
4125 Transit Rd., Williamsville; 580-7674 or ladivinados.com
The concept is the same as at the original (and beloved) La Divina in Kenmore:  order your choice of taco (or quesadilla, nachos, etc.), add sauces and garnishes at the toppings bar, including salsas, sauces, chopped cilantro, and limes, and tuck in. You'll find your basic ground beef taco, but be brave and try the lengua (beef tongue), which melts in your mouth. The asada and the barbacoa tacos are authentic bites you might find at taco stands in any Mexican city.
Best tacos (southtowns)
Mexico City
5569 Camp Rd., Hamburg; 202-1397 or mexicocityhamburg.com
Located in a can't-miss bright-orange building en route to the Village of Hamburg, this taco hotspot has some of the best tortillas around, not to mention the fillings and salsas, which score points for quality and for authenticity. Try the carne asada, the al pastor, or, for a great vegetarian (though not vegan) choice, the chile renello; or, if you're feeling like something out of what Americans would consider the ordinary, try the chapulin (grasshopper), cactus, and beef tongue. Tacos are served either Mexican style (with onions, cilantro, and salsa) or Texan style (with lettuce, tomato, sour cream and cheese). You know that Mexican style is the best, right? Especially with this excellent salsa verde, made from tomatillos instead of tomatoes, for that true taqueria flavor.
Best Buffalo-style pizza (city)    
>>> Tie
Lovejoy Pizza
Multiple locations; lovejoypizza.com
La Nova

     
Multiple locations; lanova.com
An old classic and a hungry upstart, that's how we'd classify these two contenders for a title no one wants to lose. It's hard to argue with La Nova, as it's been delivering Buffalo-style 'za to area homes since delivery was born. We prefer the dine-in La Nova experience, but you can't beat a piping hot pie from this venerable West Side establishment. And over here in the right corner, we have the East Side's Lovejoy Pizza, whose owner still makes pies and wings all day, who never skimps on quality or labor, whose 'za sings whether its fresh outta the oven or taking a twenty-minute trip home on the passenger seat of your car. Founded in 2012, they may not seem like upstarts to an outsider, but when you're trying to earn a place among the Buffalo pizza contenders, you gotta play the long game.
Best Buffalo-style pizza (northtowns)
>>> Tie
Bocce Club Pizza
4175 Bailey Ave., Buffalo; 833-1344 or bocceclubpizza.com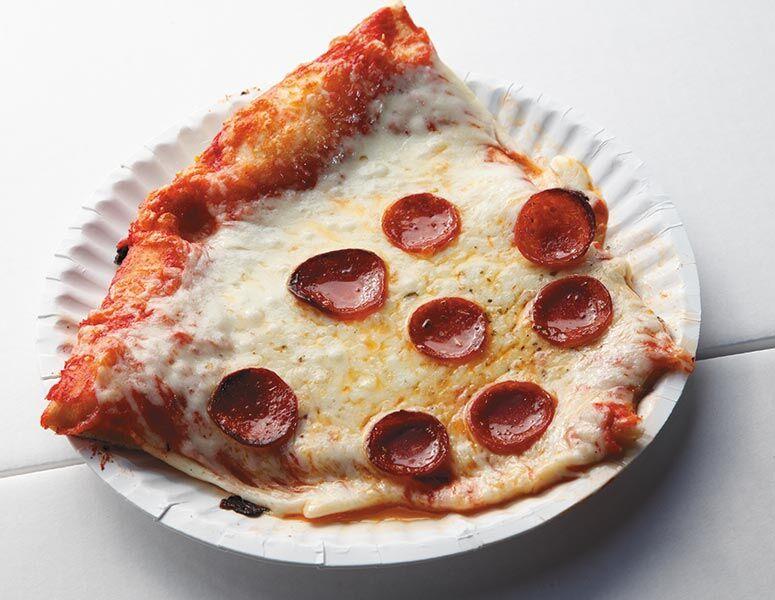 Franco's pizza
1153 Kenmore Ave., Buffalo; 427-6848 or francospizza.com
As far as we're concerned, Bocce not only invented Buffalo-style pizza, but perfected it. And they've stayed on their game all this time, which is not an easy thing to do. When some poor out-of-town sap asks you what Buffalo pizza is, point 'em at the internet. First so they can Google "cup and char," but primarily for the purpose of having a Bocce pie shipped to their door. In a city with a pizza origin story like this, it's no wonder Domino's failed in our market. Another Buffalo-style stalwart, Franco's, has become the go-to pizza choice for so many locals. With five locations, capable delivery service, decent wings, and over twenty specialty pizzas on offer, Franco's quality and reliability has not diminished with its growth.
Best Buffalo-style pizza (southtowns)
Imperial Pizza
1035 Abbott Rd., Buffalo; 825-3636 or imperialpizzabuffalo.com
Imperial is undergoing an extensive refresh, and for that we are eternally grateful. It looks like the days of driving from South Buffalo with a piping hot "cheese pull" stretched between our mouths and our slice-holding right hand while steering only with our left are finally coming to an end, as a 7,000 square feet expansion is underway for one of our all-time favorite pizza joints. No more scalding hot, single handed-while-driving pizza consumption for us, soon there will be plenty of room to tuck into one of Buffalo's best pies on the spot.
Best thin crust pizza, (city)
Romeo & Juliet's
Multiple locations; rjcaffe.com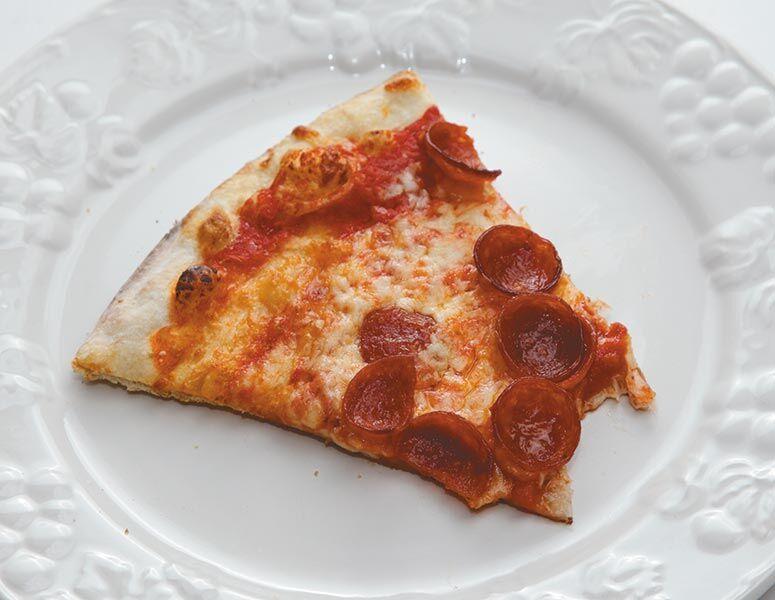 R&J beat the crowds and the cool kids to thin-crust pizza rage decades ago. As a bakery, R&J has a passion for all things dough-related and its dedication to a quality thin-crust pizza is something we can all get behind. Go classic margherita or play around a bit; just be sure to order an extra one if you expect to take some home.
Best thin crust pizza (northtowns)
>>> Tie
Jay's Artisan Pizza
2872 Delaware Ave., Kenmore; 322-1704 or jaysartisan.com
Rocco's Wood Fired pizza
5433 Transit Rd., Williamsville; 247-5272 or roccoswoodfiredpizza.com
News that the OG Wood Fire Pizza truck retired might bum you out, but thank goodness it's because its owners have opened a permanent location in Kenmore, Jay's. True-to-style thin crust pizzas are what Jay's is known for, and rightfully so, but the local pizza guru's obsessive effort to perfect a Detroit-style pizza means some of those are often available as well. Get it to go or stay and have dinner!
   Five Italian guys who know great food founded Rocco's in 2011. Their motto: "It's the wood that makes it good." Two massive brick ovens loaded with burning cordwood ensure well-browned crusts on the wide array of excellent pizzas Rocco's offers. Bonus: crispy chicken wings and thighs are another delicious wood-roasted specialty here.
Best thin crust pizza (southtowns)
Elm Street Bakery
72 Elm St., East Aurora;  652-4720 or elmstreetbakery.com
We love the baked goods at Elm Street, and its lunch program is adorable and efficient, but one of the things that brings East Aurora residents back again and again is the pizza that comes out of its mammoth wood fired oven. While the margherita is the standard by which all pizza anywhere should be judged, we suggest you venture toward the more creative aspects of the ESB pizza menu—the bacon pizza with goat cheese and the market green pizza (be sure to add an egg), are our faves.
Best Middle Eastern/Mediterranean (city)
>>> Tie
Shish Kabob Express
1207 Hertel Ave., Buffalo; 447-1207 or shishkabobexpress.com
House of Hummus
1150 Hertel Ave., Buffalo; 322-6484 or houseofhummusbuffalo.com
Together, these two eateries comprise a little falafel district on Hertel Ave. Both are excellent in their own ways, but don't miss the intensely seasoned shawarma meat piled high on rotating spits served on samoon bread at Shish Kabob Express. And if you're feeling nontraditional, dive into House of Hummus's oddly satisfying falafel "cheesesteak" hoagie.
Best Middle Eastern/Mediterranean (northtowns)    
The 755 Restaurant & Lounge
755 West Market St., Niagara Falls; 205-8969 or 755westmarket.com
Take a large group with you and order The Feast, a meal replete with conscientious service and a sampling of everything we love to eat here: falafel, fried cauliflower and eggplant, hummus, baba ganoush, your choice of tabouli or fatoush, and a selection from assorted meat offerings. We're convinced you'll love this family-owned and operated Niagara Falls restaurant as much as we do.
Best Middle Eastern/Mediterranean (southtowns)
Rachel's Mediterranean
3860 McKinley Pkwy., Hamburg; 464-3857 or eatrachels.com
Simple, fresh and fast: these are the three imperatives that have made Rachel's so succssful. For delicious souvlakis, gyros, falafel, salads, and more, as well as easy online and app ordering—Rachel's is the place. It's perfect for those who don't have much time, but still want a healthy, tasty lunch.
Best pho (city)
99 Fast Food Vietnamese Restaurant
3398 Bailey Ave., Buffalo; 836-6058 or 99fastfood.com
There are other really great Vietnamese/Thai places in town, and lots of people have favorites they swear by, but it's hard to argue that anyone does pho better than 99. That's why, on cold days, you can find the booths crammed with chefs and restaurant folks, as well as a Thai and Vietnamese diners. The broth here is what's unmistakably superior. It's delicately balanced but also packed with all of the healing and soothing benefits "bone broth" connotes. Go for the raw beef tendon (extra meat is available for $1 incremental upcharges) and steam away your allergies, head colds, and maybe a worry or two.
Best pho (suburbs)
Red Pepper Chinese and Vietnamese Restaurant
3910 Maple Rd., Amherst; 831-3878 or redpepperbuffalo.com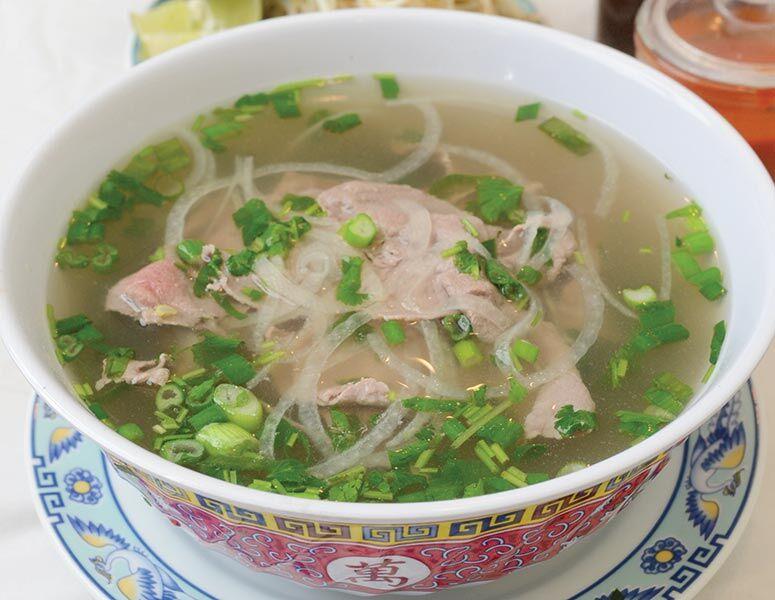 Long established, with crowds of regulars, Red Pepper might be best known for its extensive list of American Chinese favorites. But its small menu of Vietnamese specialties should not be overlooked. Big bowls of clear broth loaded with noodles and studded with sliced beef are a delight to slurp. Pair them with slim Vietnamese spring rolls—the best in town—and you'll forget all about that sweet and sour chicken you came for.
Best ramen
Sato Ramen
Multiple locations; satorestaurantgroup.com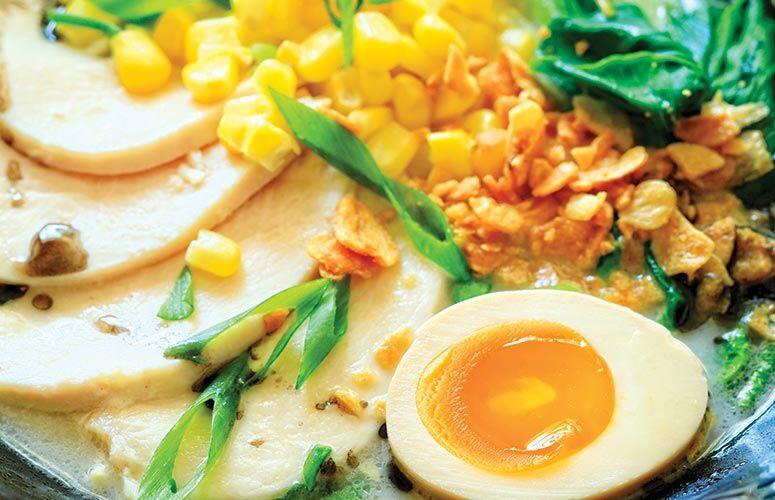 The Sato dynasty is now made up of three unique locations, the fast casual Sato Ramen near UB's south campus, the original location on Elmwood Avenue with a slick dining room and broad menu, and the smash hit izakaya, Sato Brewpub, located in the Dun Building on Pearl Street. We love the Shio Butter ramen with pork and chicken broth brightened by lemon, the Vegan Green Curry ramen with coconut milk, and even the Buffalo Chicken ramen. Each Sato establishment has a slightly different ramen menu, so be sure to look online if one of these piques your interest. There are plenty of other hits on their menus as well, but working your way through the ramen menu is a good place to start.
Best french fries (city)
>>> Tie
Jim's Steakout
Multiple locations; jimssteakout.com
Soho Buffalo
64 Chippewa St., Buffalo; 856-7646 or sohobarbuffalo.com
Fancy fries served with shaved truffles are fine. But it's also great to get down and dirty on a big heap of Jim's fries at 2 a.m. like any self-respecting Buffalonian (especially if there's a chicken finger sub in the mix (blue cheese and mayo, no oil). Get 'em to go or eat 'em while surrounded by other slightly intoxicated humans, whatever works for you. Just remember they're so damn hot they need at least five minutes to cool—finish off the sub while you're waiting.
For a slightly elevated fry experience, but also perfectly suited for barfly noshers, Soho offers crispy, hand-cut fries until 11 p.m. or midnight, depending on the night.
Best french fries (northtowns)
Frank Gourmet Hot Dogs
Multiple locations; findfranknow.com
Last year, the boys from Frank added a pop-up at Downtown's Expo Market to their repertoire. This year they've expanded to their own stand-alone location on Kenmore Avenue. Frank's fries are like heaven—perfectly cut, par-cooked with love, and finished in a piping hot fryer to a crispy shade of golden brown. You could desecrate them with ketchup, but we suggest you order one of Frank's custom sauces on the side instead. Warning: you'll be ruined for other fries … forever.
Best french fries (southtowns)
Connors Hotdog Stand
8905 Lake Shore Rd., Angola; 459-1257 or connorshotdogstand.com
Connors is only open during the warm weather months, when Angola's beach is vying for its own version of The Jersey Shore, so the window of opportunity for Connors french fry consumption is limited. That might be part of what makes them so good. That and the fact that they're hand-cut from fresh potatoes every day. Hunched over a picnic table under the covered outdoor dining area, you take temporary relief from the sun while teenagers goof around in the parking lot and the sound of motorboat engines cascades over the tops of beachfront houses and into your ears. Summer is fleeting. Eat good fries outdoors while you can.
Best gluten free (city)
>>> Tie
Feature Meals
598 Main St., Buffalo; 845-7060 or featuremeals.com
Sun Cuisines
1989 Niagara St, Buffalo; 447-0202 or suncuisines.com
Take meals to go, dine in-house, or order enough meal prep to get you through the week, this brightly decorated eatery on the corner of Chippewa and Main is here to meet all of your dietary allergies, restrictions, and preferences with healthy freshmade meals just for you. With only a singular exception (BreadHive bagels are featured on the breakfast menu) all of Feature Meals'  food is gluten free, from the breadcrumbs in the meatloaf to the substitution of liquid aminos for soy sauce, so go ahead and get your grub on!
Meanwhile, at Sun Cuisines, gluten free has always been in style, as you'd expect from a restaurant with so much great sushi on offer. But that's not the only health-related reason we love Sun; its black rice menu adds delicious nutritional benefits, upping the ante on an already stellar gluten-free game.
Best gluten free (northtowns)
Fresh Catch Poke Co.
5933 Main St., Williamsville; 271-7653 or freshcatchpoke.com
We know most gluten free-leaning diners can find their way around any menu just fine, but it's especially easy with Williamsville rice and protein-centric poke mecca, Fresh Catch. Here clear menu labeling combined with a super fresh menu make avoiding gluten not just easy but healthy, delicious, and satisfying.
Best gluten-free (southtowns)
Sweet Pea Bakery
One Buffalo St., Hamburg; 202-1192 or sweetpeabakerywny.com
The breakfast, lunch, and cake menus here would be tempting for anyone,  regardless of gluten preferences, but, from what we've heard, the cakes are getting the raves. Stop in for a sandwich or panini; follow it up with a Red Velvet cupcake.
Best vegan options (city)
Betty's
370 Virginia St., Buffalo; 362-0633 or bettysbuffalo.com
Known for years as a solid choice for vegans and vegetarians with its tofu scramble brunch and many healthy options for breakfast (soy yogurt is available, and a veganizeable veggie hash), lunch (try tofu peanut wrap or a barbecue pulled veggie sandwich) and dinner (polenta with roasted squash can be made vegan), Betty's has upped its vegan game, adding grilled tofu as a protein option for its many salads (including a stellar thai noodle, my standard order) and a host of frequent dinner specials with regional flare, such as a vegan tater tot poutine and a vegan garbage plate. All menu items are clearly marked as to whether they are or can be altered to be vegan, vegetarian, gluten-free or dairy free. Opened in 2004, Betty's is an old favorite with a menu that has evolved with the times.
Best vegan options (northtowns)
CoreLife Eatery
1595 Niagara Falls Blvd., Amherst; 276-0071 or corelifeeatery.com
Do you ever go to a restaurant and think: I want a kale salad, but not with that dressing, and actually not with those toppings either, and also, I wonder if I could get that with croutons? Or could I get that with chickpeas instead of chicken, and absolutely no onions? If menus are often not quite right for what you have in mind, CoreLife is your ideal destination. It features broth bowls, salads, and grain bowls with a build-your-own option for all, as well as combinations that come pre-suggested (but can still be customized). For a great vegan choice, try the sriracha ginger roasted tofu as a salad or as an ancient grains bowl, or the veggie broth bowl with mushrooms and roasted tofu. Or build your own! With plenty of hearty vegan stir-ins such as black beans, edemame and avocado, this is one health food spot where vegans will not go hungry. CoreLife features two Northtowns locations: in Amherst and Clarence.
Best barbecue and barbecue sides (city)
Fat Bob's smokehouse
41 Virginia Pl., Buffalo; 887-2971 or fatbobs.com
With great sauces and efficient service, Fat Bob's ticks a lot of boxes for diners looking for a laidback and tasty dining experience in the city. Packed full of young city dwellers, families, and travelers, the vibe here is always good. Choose a cold one from the extensive beer list, order up a pile of barbeque, and strap yourself in for a fun and chill night at one of Buffalo's favorite old-school city joints.
Best barbecue (northtowns)
>>> Tie
Suzy Q's Bar-b-que

 

Shack
2829 Niagara St., Buffalo; 873-0757
One-eyed Jack's Smokehouse Grill
5983 S Transit Rd., Lockport; 438-5414 or oneeyedjacksbbq.com
It's usually a positive indication that good barbecue is around when you can smell aromatic wood smoke outside of the restaurant—as you will at Suzy Q's. Huge sandwiches are piled high with barbecued meat that's been lightly kissed by that wood smoke and dressed with a tangy complementing sauce. Ribs might have bit more chew than you are used to, but cooking them just shy of falling off the bone is a barbecue law that's respected by true pitmasters.
Travel northeast and you'll find the gang's all here at Jack's, including succulent pulled pork, dry-rubbed brisket, and smoked chicken wings (for something a little left of classic). It's easy to get overfull at Jack's, but save room for dessert.
Best barbecue (southtowns)
BW's Smokin' Barrels Barbecue
5007 Lake Ave, Buffalo; 824-7455 or bwbbq.com
Fun decor, homemade sauces, and a selection of smoked and grilled meats that have earned the loyalty of a large fan base are among the reasons BW's reigns supreme in the Southtowns. There's even a brunch, though it's only available January–June. Fan tip: try the ribs.
Best barbecue sides (northtowns)
Smoke on the Water
77 Young St., Tonawanda, 692-4227 or sotw77.com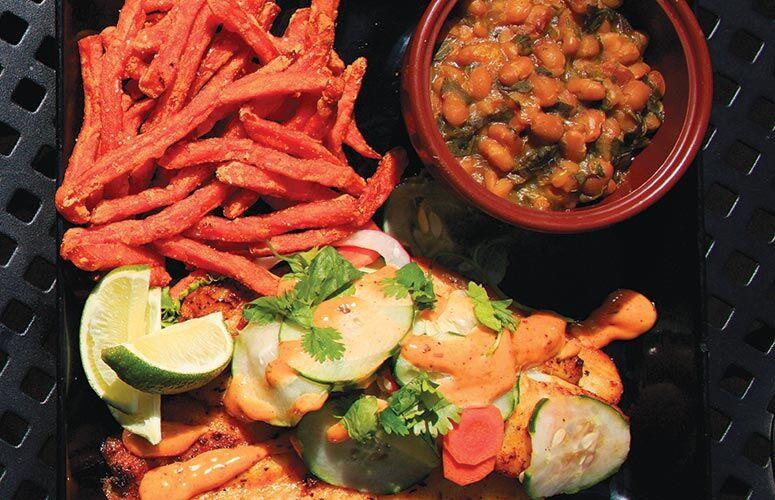 Tater tots are robed in nacho cheese and dotted with hot sauce. Salty, smoky baked beans make the acquaintance of fruits and veggies via mandarin oranges and collard greens. Brussels sprouts arrive shining with maple syrup and butter. Even the basic French fry gets fancied up with a dusting of Creole VooDoo powder. Whatever sides you're used to getting at a barbecue joint, Smoke on the Water adds its own playful twist in surprisingly delicious ways.
Best bagel (city)
>>> Tie
Breadhive
402 Connecticut St., Buffalo; 980-5623 or breadhive.com
Bagel Jay's
Multiple locations, bageljays.com
While Breadhive's many delights—exceptional bread, great sandwiches, desserts, canned wine, and local beer on tap—extend far beyond its bagel selection, unless you are not a fan of sourdough, these are the best bagels in town. Try one toasted with cream cheese, add tomato or lox, a white bean spread for the vegans, or some local goat cheese. The bagels are also excellent vehicles for breakfast sandwiches made with tofu scramble, eggs, and more.
Traditional New York-style bagels in a wide variety of styles (seeded, seasoned, rye, pumpernickel, and more) are available in Buffalo thanks to Jay Gershberg, who cofounded another iteration of the business in 1976 and rebranded it as Bagel Jay's in 2001.  This is the place for a bagel and schmear as you've always known and loved them.
Best bagel (northtowns)
Power City Eatery
444 Third St., Niagara Falls; 299-0124 or powercityeatery.com
They say it's the public water that makes New York City bagels so magically delicious. Pshaw! We don't need no stinkin' NYC H20 to make great bagels here in WNY. PCE's four varieties of bagels—plain, everything, sesame, and multigrain—are chewy on the inside and crisp on the outside, nothing like the sleeve of white bread circles you get in the supermarket freezer. Each are created with fresh, homemade dough, boiled, and finished in the oven. Try one with one of Power City's homemade schmears or as backbone of its fabulous sandwiches.
Best hot dog (city)
Frank Gourmet Hot Dogs
Multiple locations; findfranknow.com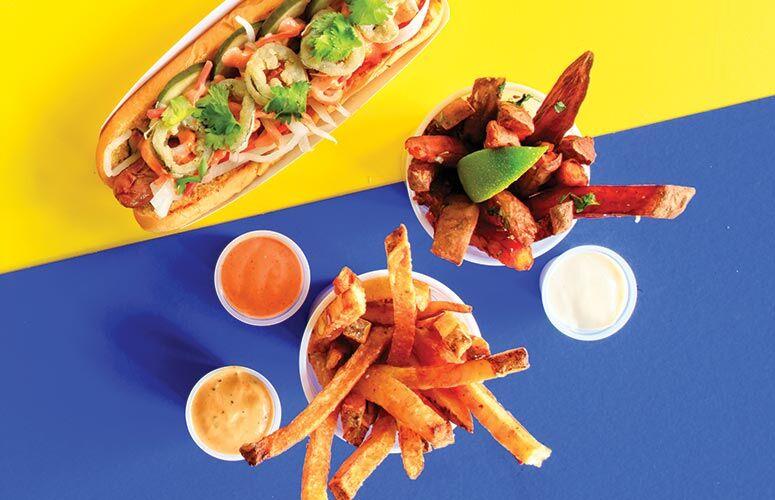 Frank's has partnered with a New York State farm to develop the perfect, most delicious, healthiest hot dog around. Their custom dogs are free of hormones, nitrates, and antibiotics. At Frank's, those dogs are nestled into scratchmade buns and covered with creative housemade toppings. These are the elements that make Frank's dogs the best dogs we've ever had, and according to our poll, you feel that way, too. And guess what, dog lovers? With a new location in Kenmore, Frank's dogs are easier to get than ever.
Best hot dog (suburbs)
Ted's hot dogs
Multiple locations; tedshotdogs.com
A visit to Ted's hot dogs is as indelible a WNY childhood memory as a stop at the Falls, and infinitely more impressive. (Sorry, Wonder of the World.) The details are key—the dogs are charcoal broiled, the hot sauce isn't too hot, the French fry and onion ring orders are enormous, and, of course, there's the Loganberry. And don't ignore the burgers and chicken sandwiches, or the simple joy of watching your food being prepared by employees who are pleasant and cheerful. A rarity, that.
Best classic wings (city)
>>> Tie
Kelly's Korner
2526 Delaware Ave., Buffalo; 877-9466
the Lenox Grill
140 North St., Buffalo; 884-1700 or lenoxgrill.com
We've done exhaustive wing research, not just for our wing issue a few years back, but ongoing. After all, the wing is a Buffalo "thing," and, therefore, local media are expected to stay on top of all things wing. There are a lot of great places to eat wings in WNY for sure, and we know that everyone has their favorites and uses their own sets of criteria. But what we want are really good wings, every time, no matter who's ordering or who is in the kitchen—and Kelly's delivers. You don't have to ask for extra crispy or do somersaults for the waitstaff, just order the heat level you like and enjoy. (Pro tip: the beef on 'weck is pretty great, too.)
At Lenox Grill, wing lovers can enjoy excellent wings in their choices of seven different styles with the added bonus of access to the top selection of bottled beers in town. This killer combo is part of what makes Lenox such a serious contender. It's also one of Allentown's most convivial hangouts —with a fun, lively crowd at the bar most nights.
Best wings (northtowns)
>>> Tie
Duff's Famous Wings
Multiple locations; duffswings.com
Judi's Lounge, Bar & Grill
2075 Military Rd., Niagara Falls; 297-5759 or judisbarandgrill.com
Duff's is one of WNY's all-time favorite wing spots. If a place is frequented by Food Network watchers, out-of-town visitors, lifers, and Presidents, it's got to have its act together. Given those criteria, we declare Duff's our favorite spot for classic medium hot wings among all the wing joints in the Northtowns. That is, with the exception of Judi's in Niagara Falls, who ties for this category. Judi's has its own take on the traditional Frank's Red Hot and butter combo, one that you can't balk at for straying from the accepted style, because it simply improves it. We don't know what the secret is, but Judi's wings offer a broader depth of flavor and fresh tomato-ness we just can't live without.
Best wings (southtowns)
Bar-Bill tavern
185 Main St., East Aurora; 652-7959 or barbill.com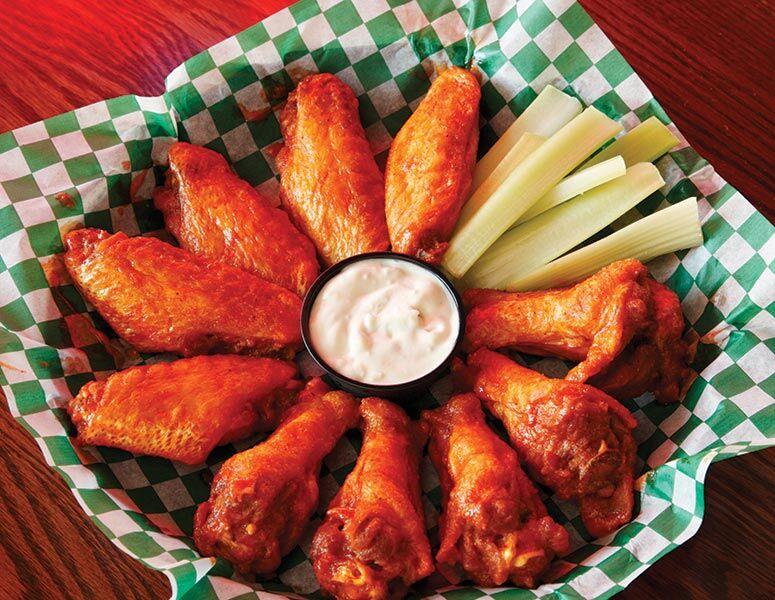 Look, they paint every wing by hand. Which means that not only is your plate arranged prettily and your wings sauced with incredible consistency, it also means that the staff are, to some extent, examining each wing before serving it. Bar-Bill has turned wing preparation from a task to a craft, and we can't find anything but respect for that.
Best dessert, restaurant (city)
Las Puertas
385 Rhode Island St., Buffalo; 807-1141 or laspuertas-buffalo.com
Most Buffalonians know by now that Chef Victor Parra Gonzalez was nominated by the James Beard Foundation for Best Chef-Northeast this year on the strength of his diminutive West Side eatery, Las Puertas. What they might not realize is that Madeline Chase's pastry program runs in lockstep, turning out the most refined, deftly-balanced desserts served in any WNY restaurant right now. You don't need a sweet tooth to find deep satisfaction here. Dessert at Las Puertas is a truly perfect ending to one of the best meals to be had in the area.
Best dessert, restaurant (northtowns)
Siena
4516 Main St, Snyder; 839-3108 or siena-restaurant.com
Siena takes top honors on the strength of their epic DIY cannoli set. When they serve it, you can't help but smile at the ingenuity of the setup. Diners are provided with a small piping bag, allowing them to fill the pastry tubes as they see fit, ensuring maximum crispiness. An array of toppings allows for more creative choices, making this especially clever for a large group.
Best dessert, restaurant (southtowns)
Elm Street Bakery
72 Elm St., East Aurora;  652-4720 or elmstreetbakery.com
As befits a restaurant where baking is the prime directive, ESB does not just have a pastry chef, it has a pastry team. Expect excellence, from the pies, cookies, and doughnuts in the pastry case to the plated desserts offered at dinner.
Best doughnut (city)
>>> Tie
Public Espresso + Coffee
Lafayette Hotel, 391 Washington St., Buffalo; 367-9971 or publicespressoandcoffee.com
Fry Baby Donut Company
336 South Elmwood Avenue, Buffalo; 783-7837 or facebook.com/frybb/
You wouldn't think it would be hard to compare two donut places to one another, but Public Espresso + Coffee and Fry Baby couldn't be more different. Public's quiet, minimal, uptown vibe and drool-inducing menu of baked goods requires even more reverence when considering its Friday cruller special (you say croo-ler, I say cruh-ller). Prepared by esteemed baker Lucy Levere, upon first bite of the ethereally delicate confection you'll find you've closed your eyes to ward off any distractions from what can only be likened to a religious experience. Over in Allentown at Fry Baby, donut-seekers will find dozens of massive neon-frosted vegan fry cakes flying out a tiny, pastel-drenched hole-in the-wall in the hands of pastry-starved vegans at lighting speed. But omnivores should feel welcome, too, because a good doughnut is a good doughnut.
Best doughnut (northtowns)
Paula's Donuts
Multiple locations; paulasdonuts.com
If Alton Brown loves Paula's Donuts, who are you to argue? We know you won't. Because you're from Buffalo, and here in Buffalo, we loved her as one of our own long before she caught the eye of food celebrities. Brown's endorsement does make us feel justified in our hopeless addiction to Paula's—our need to hoover the icing-coated peanut crumbles from the bottom of the box, to leave our brown bag lunch in the fridge until tomorrow while we polish off two (yeah, we said it) sour cream glazed old fashioneds in its place, to pretend that we only bought twelve doughnuts instead of the baker's dozen because we ate the thirteenth one in the car on our way to the party. No, Alton, you didn't tell us anything we didn't already know, but you did make us feel better about it.
Best doughnut (southtowns)
Donut Kraze
406 Dingens St., Buffalo; 824-4527 or donutkrazebuffalo.com
If doughnut shops should be measured by their old-fashioned sour cream, Donut Kraze might take top honors. It's deeply browned, extra craggy, and crunchy, with a restrained glaze that doesn't require a tall glass of milk to recover from. And that's just one of a solid lineup of donuts that includes the standards along with unique varieties like peanut butter and jelly, strawberry cheesecake, and blueberry crumble.
Best cake (city)
Fairy Cakes
289 Parkside Ave., Buffalo; 688-0361 or fairycakesbuffalo.com
Cupcakes are the new cake in bakeries across the US; Buffalo is no exception to this trend. The adorable little confections rise in pyramids at weddings and other formal occasions, fill trays at kids' parties, and disappear from breakrooms everywhere. Fairy Cakes is cupcake central for many here, with good reason. The flavors range from the expected (S'mores, Brownie Batter, Key Lime) to "what?!" (Pancake/Bacon, Buffalo Hot Wing, and Lucky Charms come to mind.) There are infinite customized options, enough to suit even the most outlandish theme party.
Best cake (northtowns)
>>> Tie
Dessert Deli
716 Maple Rd., Williamsville; 689-2115  or dessertdelibakery.com
Muscoreil's Fine Desserts & Gourmet Cakes
3960 Niagara Falls Blvd.; 692-9081 or muscoreils.com
These two veterans of the local sweets scene consistently deliver top-notch cakes, tarts, cookies, and other confections. It would take pages to describe the delicious offerings from both, so let's just focus on cakes. A glance at Muscoreil's website cake gallery shows cutesy creations like Stanley Cup cakes, Volkswagon bug cakes, and lots of cakes in the shapes of beloved pets, but the wedding cakes are breathtakingly elegant. It's hard to believe that any other bakery could  produce work at this level.
But then,  there's Dessert Deli, with a website displaying an equal array of stunning confections. Spree staffers have veen lucky enough to sample wares from both these bakeries and we have wisely decided not to pick a favorite.
Best ice cream shop (city)
Churn Soft Serve
1501 Hertel Ave., Buffalo; 863-9781 or churnsoftserve.com
Yes, it might be limited to soft serve, but doing only one thing has its advantage, and Churn does it extremely well. Ice cream made from real whole milk (from Pittsford Dairy) and not some unholy mix of skim milk, thickeners, emulsifiers, and whipped air, is noticeably richer and creamier in terms of flavor and mouthfeel. Chef Jen Boye, who is no stranger to the Best Of awards in her own right, recently joined the team and is finding ways to make great soft serve even better.
Best ice cream shop (northtowns)
Lake Effect Artisan Ice Cream
Multiple locations; lakeeffecticecream.com
LEIC has become synonymous with Buffalo. It's everywhere, and we aren't complaining. People love its extensive menu of local-centric custom flavors (Paula's Glazed Donut and Revolution Coffee flavors, we're looking at you!), kooky sundaes, freezie pops, ice cream cakes, and more. We especially love its original location in Lockport, which overlooks the canal and has plenty of places to sit inside and out, but, to be honest, we'll take Lake Effect Ice Cream anyway we can get it.
Best ice cream shop (southtowns)
Fran-Ceil Custard
3411 South Park Ave., Blasdell; franceilcustard.com
Handmade, old-fashioned, real deal custard can be found at Fran-Ceil's, just off South Park Avenue. Only two or three other spots in all of WNY are making custom custard creations from scratch—most places are using prefab stuff that's low on dairy and high on chemical additives. We love Fran-Ceil's banana custard. And the tangerine. And the chocolate. And the pistachio … we digress. Once you've had the custard at Fran-Ceil's, you'll realize it's impossible to confuse it with anything else, In fact you may be unwilling to eat any other "soft serve" ever again. We wouldn't blame you.
Best juicery
>>> Tie
Squeeze Juicery
Multiple locations; squeezejuicerybuffalo.com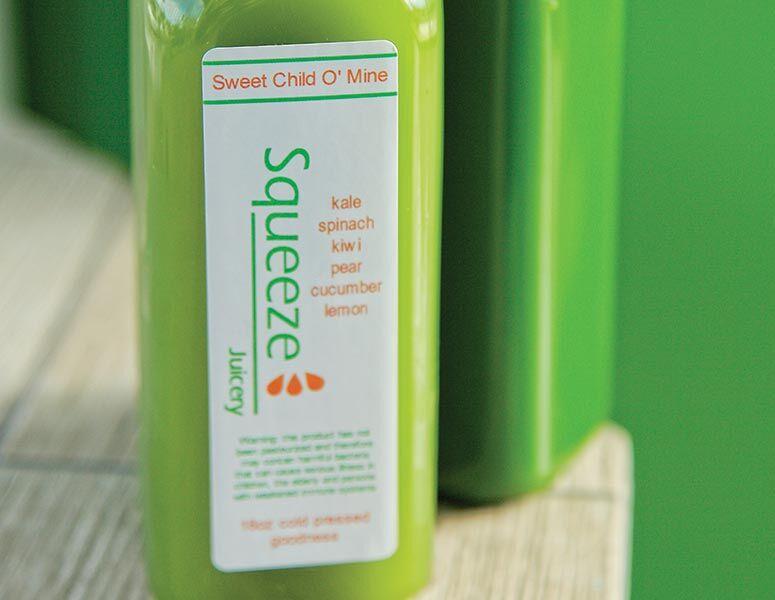 Ashker's
Multiple locations; ashkersbuffalo.com
Sometimes it's about more than just juice: now with three locations, Ashker's offers a surprisingly varied and creative menu featuring—in addition to fresh juices and smoothies—salads, grilled sandwiches, desserts, and daily specials. Ashker's also uses quality ingredients, local when available. Sometimes, a juicery is mainly about the juice, as with Squeeze. Though Squeeze does offer wraps, salads,  and granola bowls, depending on location, its juice and smoothie menu is formidable, including fruit, green, citrus, root, nut milk, and shots, among other categories. If you can't find a juice you like at Squeeze, you probably don't like juice.
Best new restaurant
Swan Street Diner
700 Swan St., Buffalo; 768-1823 or swanstreetdiner.com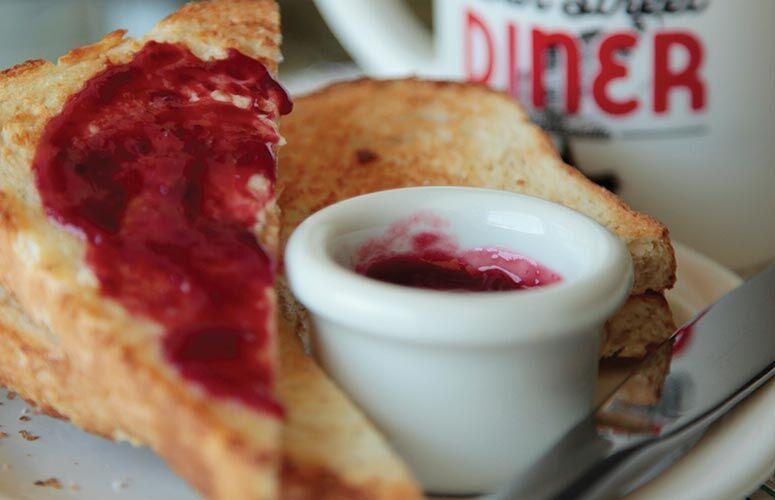 Place a reimagined diner inside a restored thirties-era dining car, position it carefully on the grounds of a rehabilitated neighborhood, add a mug of black coffee with a hot-from-the-fryer doughnut chaser and you'll have Western New York's Best New Restaurant. A partnership between comfort food-enthusiast Amanda Amico (Amy's Food Truck) and Harry Zemsky (Hydraulic Hearth), Swan Street Diner offers homey classics (like chicken pot pie) and classical classics (like a tarragon-laced French-style omelet) at family-friendly prices for breakfast and lunch every day of the week. Just think, this means that if you are very lucky, you can enjoy two-thirds of your weekly meals at this beautiful little bastion of kind service and good food in the heart of Larkinville.
Best new restaurant (suburbs)
This Little Pig
4401 Transit Rd., Williamsville; 580-7872 or thislittlepigeats.com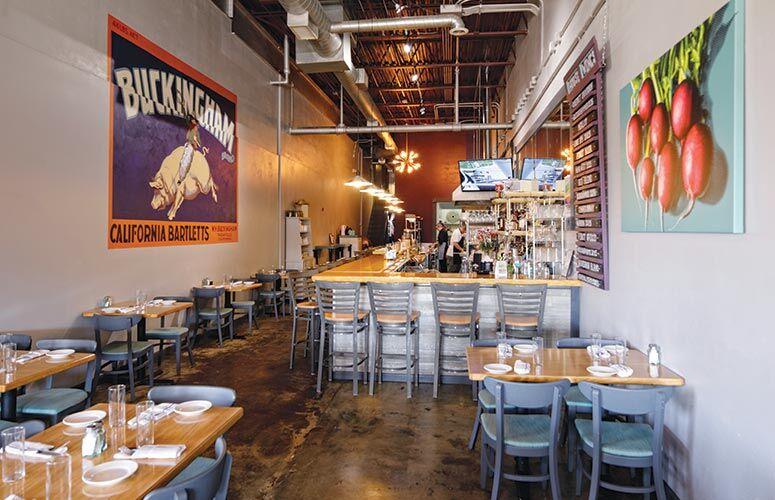 This Little Pig's been charming diners only since mid-summer 2017, but it already has a strong following. The reason: this cozy locally-owned-and-operated restaurant is doing so many things right. Housemade pastas, sauces and condiments, sausages, and pizza/bread doughs all play a role in virtually every dish on the menu. As a family-driven business with owners working alongside relatives daily, This Little Pig's mindfulness of the diner's experience far exceeds its nearby corporate competition.
Best restaurant for a special occasion (city)
Ristorante Lombardo
1198 Hertel Ave.,
Buffalo; 873-4291 or ristorantelombardo.com
Ristorante Lombardo checks all the boxes for the ideal evening out. From the valet to the bartender to the waitstaff, there is acute—but not overbearing—attention to your needs. Hearty Northern Italian dishes are well composed and sure to please most palates. And a stellar wine menu offers standouts at multiple price points. So assemble your celebratory crew, and make a reservation; it's a lock that no one will leave disappointed.
Best restaurant for special occasion (northtowns)
Salvatore's Italian Gardens
6461 Transit Rd., Depew; 456-4097 or salvatoreshospitality.com
When a large group—family or otherwise—needs to get together for great food in a fun place with excellent service, there are just a few options, especially when there are ten or more people. Salvatore's has long been one of the most reliable of these options, with private dining and the ability to accommodate large groups seamlessly. You'll feel special here, and so will your loved ones.
Best restaurant for special occasion (southtowns)
The Grange Community Kitchen
22 Main St., Hamburg; 648-0022 or grangecommunitykitchen.com
It's hard to successfully convey how The Grange gets so many little things right, but it just does. By day the bustling and casual eatery is sunlit and cheerful; by night it's romantic and understated. Ask for a corner table, order a bottle of wine, and concentrate on your dining companion. Or book the large community table for a jubilant, glass-clinking feast with seven of your closest friends. No matter what the occasion, The Grange is the place to celebrate it.
Best decor (city)
>>> Tie
Rowhouse Bakery and Restaurant
483 Delaware Ave., Buffalo; 500-2253 or rowhousebuffalo.com
Patina 250
250 Delaware Ave., Buffalo; 290-0600 or patinagroup.com/patina-250
Just a few blocks from each other on Delaware Avenue, these two restaurants demonstrate very different architecture and aesthetic priorities, but both achieve the type of ambiance that leads diners to forget their appetites and wander about in admiration. Rowhouse  does this through its use of a spectacular, multileveled combination of three historic townhouses. Patina 250 does this through its thoughtful and hyperlocal art installations.
Best décor (northtowns)
Sinatra's
945 Kenmore Ave., Kenmore; 877-9419, or sinatraswny.com
When Sinatra's announced its move, we could not have envisioned the Sinatra's of today. While keeping to its roots, the new location (just across the street from its original location) is elegant, timeless, and exquisitely appointed thanks to the efforts of designer Michael P of Hertel Avenue's design firm, room. Finally, Sinatra's appearance and vibe matches its well-earned reputation as one of the best restaurants in Western New York.
Best decor (southowns)
Carte Blanche
61 Buffalo St., Hamburg; 649-2101 or carteblanchehamburg.com
The simple but smart and meorable touches here include a main bar and first floor dining room smartly dressed in warm wood and natural elements, including suspended branches and a burbling fountain. The overall feel is sleek but warm, homey but never cluttered.
Best chef (established)    
Adam Goetz, Craving
1472 Hertel Ave., Buffalo; 883-1675 or cravingbuffalo.com
His nickname is the "OG" for a reason. Though most know him as the owner of Craving, owner of the former Allentown eatery, Sample, and as a Nickel City Chef, Goetz has a pretty great resume that predates his return to Buffalo in the mid-aughts. But it's okay that you don't know it, because the people who need to, do, and they're often on the other end of the line with questions for him about a mothballed cooking technique, breaking down an entire cow, or how to cost a menu. An early adopter of the farm-to-table movement, Goetz has been an integral and underrated part of bringing Buffalo's food scene from the nineties into modern times, and for that we can't thank him enough.
Best chef (new)
Joseph Fenush III, Toutant
437 Ellicott St., Buffalo; 342-2901 or toutantbuffalo.com
As chef de cuisine of downtown's popular Toutant, Joseph Fenush excels at kitchen management, quality, and inventory controls for one of the busiest scratchmade kitchens in the region. But it's his creative dexterity and inventiveness that has us really excited. We've featured him in the pages of Spree, with a recipe for a black pepper and strawberry tart we can't stop thinking about, but you can taste his penchant for fermentation, interesting ingredients, and fascinating cooking techniques by ordering any of the magical vegetable plates featured on Toutant's daily menu.
Best use of local ingredients (city)
Marble + Rye
112 Genesee St., Buffalo; 853-1390 or marbleandrye.net
Many Buffalo-written farm-to-table lists would overlook Marble + Rye. Why? Because here the farm relationships aren't a marketing effort, a badge of honor, or a bro fest. You'll find a small list of farms posted on a wall, but otherwise it's hard to tell that chef and co-owner Michael Dimmer's super-seasonal menu is chockablock with local fare. These fresh ingredients work in concert with his skill and vision to quietly bolster a menu of handmade pastas, impeccable desserts, memorable appetizers, and one of the best all-local handground burgers in town.
Best use of local ingredients (northtowns)
Trattoria Aroma
4840 North French Rd., Amherst; 688.8848 or aromagroup.com
For a lesson on how to do restaurant empires right, would-be kingpins would do well to look to WNY's Aroma Group. For starters, all three of its fine dining venues excel in thoughtfully composed menus of Italian favorites, offer craft cocktail programs, and seat patrons in beautiful spaces. In addition, all three look to local farmers for fresh ingredients, including the newest of the bunch, Trattoria Aroma on North French. Onsite farm dinners are also offered, to further enlighten local diners about the importance of locally sourced cuisine.
Best use of local ingredients (southtowns)
The Grange Community Kitchen
22 Main St., Hamburg; 648-0022 or grangecommunitykitchen.com
The hardest thing about sourcing local is how to manage all winter long without losing your mind. Rowell and the team at The Grange have figured out how to do that well, with a menu that turns turnips, beets, onions, and potatoes into crave-able, worth-driving-all-the-way-to-Hamburg kinda meals. From the local lamb pita to the local beet hummus with falafel, this year we found ourselves excited about eating at The Grange in the depth of winter. Imagine the exceptional dishes they deliver during the golden days of summer and fall.
Best waitstaff/service
Oliver's
2095 Delaware Ave., Buffalo; 877-9662 or oliverscuisine.com
The wait staff at Oliver's, efficient and attentive in their long white aprons, is nearly as important to the overall experience here as the food. Servers are knowledgeable and well-equipped to counsel on wine choices, and will cheerfully discuss varietals, food pairings, and other details about every aspect of your meal.
Best small wine list (bottle)
Billy Club
228 Allen St., Buffalo; 331-3047 or billyclubbuffalo.com
Billy Club sees "small" as a strength. Take for example its modest Allentown location, which is minimally (though tastefully) decorated. Or examine its tight menu of select food offerings, its decisive back bar, and the tiniest, most efficient host stand you've ever seen. Its wine offerings are no different, despite its owners' affection for the stuff. With under ten perfect bottles on its list, all of which are available by the glass ($8) and by the bottle ($32), it might be the smartest list in town, even if it's one of the shortest.
Best large wine list (bottle)
Tempo
581 Delaware Ave., Buffalo; 885-1594 or tempobuffalo.com
Small curated wine lists are fine most of the time. But when you want to splurge, Tempo is the place. What if the occasion demands a Billecart-Salmon, Brut Rosé Mareuil-Sur-Ay? No problem. Or how about a 1998 Barola Riserva? You'll find it here as well as some other stellar Italian choices, and, considering the quality, prices are reasonable. This is the type of wine list that's a pleasure to peruse even if you end up having the house white.
Best wine list (by the glass)
Dapper Goose
491 Amherst St., Buffalo; 551-0716 or thedappergoose.com
Spree food writer Christa Seychew has stated "The wine at Dapper Goose may be its most compelling offering." Some might argue with her there, but there's no question that DG includes some of the most interesting wines you've never heard of, both in its bottle list and on its by-the-glass menu. The list changes regularly, but expect organic producers, lesser-known wine-growing areas, and great alternatives to the usual range of cabs, pinots, and chards.
Best local winery
Liten Buffel
8822 Pearson Rd., Middleport; litenbuffel.com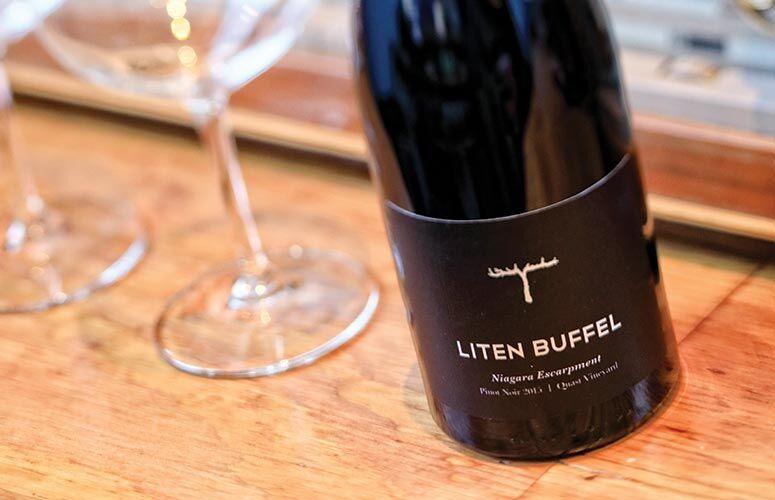 We've talked about Liten Buffel a lot this year, online and here in the pages of Spree. As one of the state's only natural wineries, they'd surely garner attention no matter what, but the truth is, they're consistently producing really drinkable, modern (read: old school) wines unlike anyone else on this side of the state. Look for their name on the menu at Ristorante Lombardo and The Dapper Goose, pick up a bottle for dinner at Gates Circle, or take a slow and pretty Sunday (or any day) drive out to Middleport for a tasting.
Best local distillery
Tommyrotter Distillery
500 Seneca St. #110, Buffalo; 312-1252 or tommyrotter.com
You probably already know that Tommyrotter has won a lot of attention for its gin, but did you know that attention has stretched far beyond Western New York? With distribution all over the northeastern US, Tommyrotter is taking Buffalo's spirit boom to new heights. We recently spotted it on the shelves of several fancy Boston cocktail bars. And don't forget that its vodka, American whisky, bourbon, and barrel-aged gin have found footholds of their own. Keep an eye on the team at Tommyrotter; they're going for broke.
Best local distillery offering
Lockhouse Distillery's Coffee Liqueur
41 Columbia St., Buffalo; 768-4898 or lockhousedistillery.com
The first distillery to open in Buffalo since Prohibition is known for its award-winning vodka and other basic spirits, but it doesn't stop there. There has also been a series of intriguing specialty releases, including an Ibisco bitter liquer, the lovely Sakura gin, an amaro, and Revolution coffee liqueur, which is a special collaboration with Public Espresso + Coffee. We're late to the party taking note of this intense, cold-infused spirit; it's one of the many reasons we love Lockhouse.
Best craft cocktails (city)
>>> Tie
Marble + Rye
112 Genesee St., Buffalo; 853-1390 or marbleandrye.net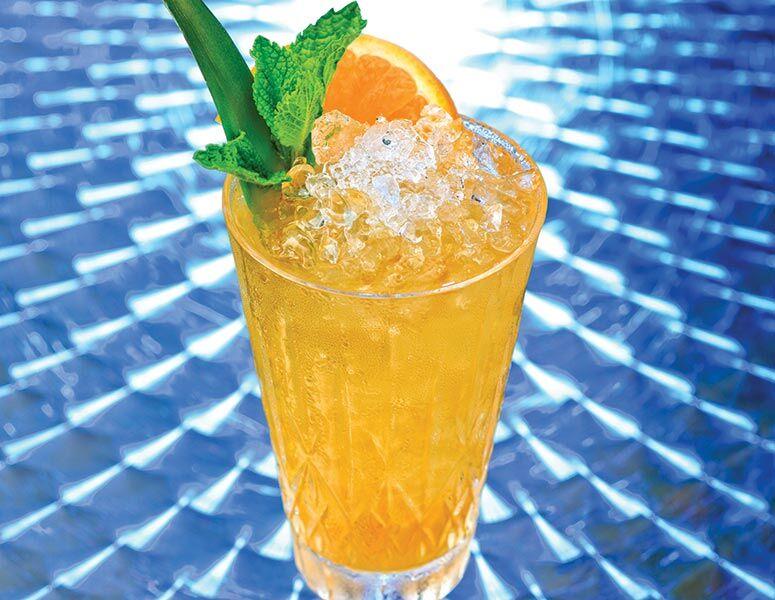 Vera
220 Lexington Ave., Buffalo; 551-6262 or or verabuffalo.com
Megan Lee has been assembling graceful, astute, unconventional cocktails in WNY since she first took her place at the head of Marble + Rye's cocktail program. Not only does the vibe at this bar feel unlike anywhere else we've ever been for drinks, but the original concoctions on her menu are more then just noteworthy, they're headliners. As for Vera, Buffalo's first craft cocktail venue (we can't believe it's been seven years!) does not rest on its laurels. With each new menu, Vera ups its cocktail game, while the experience here remains fun and friendly.
Best craft cocktails (northtowns)
Lloyd Taco Factory    
5933 Main St., Williamsville; 863-9781 or wheereslloyd.com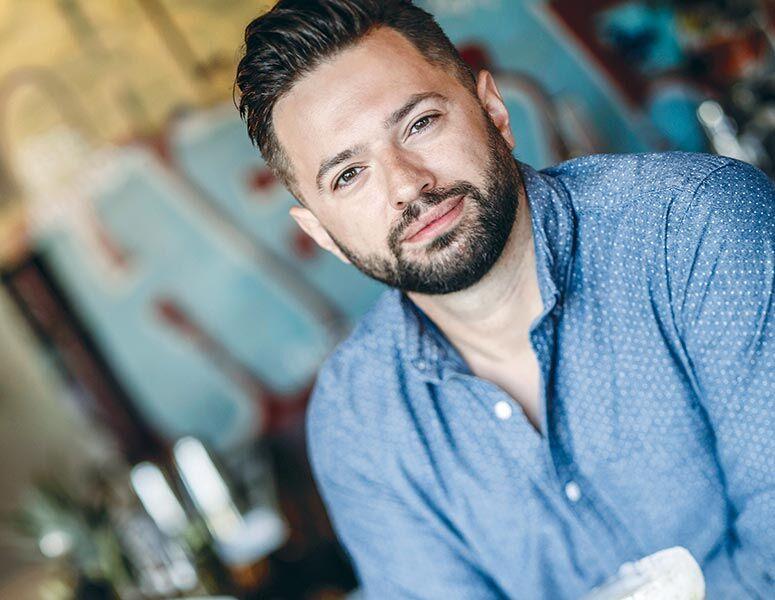 Bar manager Yuri Polyachenko has created a fantastic bar program for Lloyd. Both its original Hertel Avenue location and its newer iteration on Main Street in Williamsville benefit from his careful stewardship. From a mind-boggling mezcal selection to frozen drinks to a daily punch special, the 'burbs now have access to a cocktail program unlike anything they've ever had before.
Best craft cocktails (southtowns)
Winfields Pub
1213 Ridge Rd., Lackawanna; 821-0700 or winfieldspub.com
Tab Daulton and son Thomas have made Winfields a destination location for anyone paying attention and a remarkable neighborhood joint for anyone lucky enough to live nearby. Chef Tab's excellent scratchmade pub fare is complemented by Thomas's adept cocktail skills. Drinkers will find excellent renditions of the classics, but also unique and creative originals. What are you waiting for? Call an Uber and make a night of it.
Best margarita (city)
Casa Azul
128 Genesee St., Buffalo; 331-3869 or casaazulbuffalo.com
Rejoice, the days of bright green slush dispensed from a machine may be coming to a close. There are now a number of restaurants in Buffalo that serve honest, well-balanced margaritas, made with fresh juice. Casa Azul offers a superb basic margarita, using Azteca Azul Blanca. Even better, these well-crafted drinks are only $5 during happy hour.
Best margarita (suburbs)
Arriba Tortilla
40 Riley St., East Aurora; 333-0172 or arribatortilla.com
We've heard that fans of this Mexican/American fusion eatery love the enchiladas and corn cakes, but also attribute their loyalty to the restaurant's extensive margarita menu, housemade mixes, and selection of ninety-some tequilas.  Sounds reasonable to us!
Best local brewery (city)
Community Beer Works
15 Lafayette Ave., Buffalo; 759-4677 or communitybeerworks.com
Community Beer Works is one of the rare venues where, if its brewers make something and it sounds like a questionable combination, try it anyway, because it's bound to be good. Other shops may attempt something as ambitious as a sour raspberry stout, a low-alcohol saison with lemongrass, or an ale brewed with English Rose tea, but more than any other brewers in the Buffalo area, Community Beer Works, or CBW, can be counted on to do it right. In addition to its great brews—and they make an IPA or a lager as well as anyone, for those who prefer the classics—CBW has also become known for the many charitable benefits held at its small West Side taproom, and for its presence at local festivals such as Pride. With new locations opening soon on the Lower West Side and in Niagara Falls, CBW continues to live up to its name.
Best local brewery (northtowns)
12 Gates Brewing Company
80 Earhart Dr., Williamsville; 906-6600 or 12gatesbrewing.com
Tucked away in an office park in Amherst, 12 Gates might be hard to find, but, despite that, the tasting room is always packed. And with good reason: the freshly brewed tap selections provide a range of styles that range from hoppy West Coast Style IPA and dark Coffee Porter to lighter pilsners and hefeweizen. Regular canning insures that its beers can be found in grocery stores around the area.
Best local brewery (southtowns)
42 North
25 Pine St., East Aurora; 805-7500 or 42northbrewing.com
Easily one of the top breweries in all of WNY, 42 North makes great beers and serves them in a spacious taproom. High risk, high reward offerings like wild saison, hazy IPA, and Russian Imperial Stouts prove that this brewery excels where others fear to tread. And with a farm-to-table kitchen, there's mighty fine grub to go with your pint of ale.
Best taps (city)
>>> Tie
Colter Bay
561 Delaware Ave., Buffalo; 436-5197 or colterbaybuffalo.com
Coles
1104 Elmwood Ave., Buffalo; 886-1449 or colesbuffalo.com
It's a Shatzel project, need we say more? Thanks to Mike and his team, Colter Bay is finally back to being somewhere people want to be, and, as we've come to expect from the Beer King of Buffalo, it offers a plethora of prized potables on tap. From unexpected ales to scarce sours and beyond, though every Shatzel project is known for its beer, Colter Bay's forty-four taps might make it the jewel in the crown.
Best taps (northtowns)
>>> Tie
Moor Pat
78 E. Spring St., Williamsville; 810-9957 or moorpat.com
Pizza Plant
Multiple locations; pizzaplant.com
Northtowns beer-lovers have so many excellent choices now. Cofounded by Mike Shatzel, Moor Pat offers an exciting and ever-changing list of specialty microbrews. Pizza Plant has long been the beer aficionada's go-to with its thirty-beer-long tap list and beer flights for those who want to try a few different styles.
Best taps (southtowns)
Aurora Brew Works
191 Main St., East Aurora; 652-2337
Being more shop than bar lends a laid back feel to Aurora Brew Works and makes for a relaxing stop before or after dining at one of East Aurora's prime restaurants. Rare and unique beers dominate the tap list, and all are available in a range of sizes, from tastes to half and full pints. In addition to growlers, the shop stocks a great selection of craft beer in cans and bottles— the trick is resisting buying too much with impaired inhibitions.
Best patio (city)
>>> Tie
Hydraulic Hearth
716 Swan St., Buffalo; 248-2216 or hydraulichearth.com
Frankie Primo's +39
51 W. Chippewa St., Buffalo; 855-3739 or frankieprimos39.com
The sprawling Larkinville beer garden attached to Hydraulic Hearth seems to find ways to improve with each passing year. Live music and an assortment of outdoor games keep beer-quaffing guests entertained for hours on end, but a new outdoor menu of affordable grilled favorites insures they'll stay full (and perhaps standing upright), too. No surprise that the design-focused Zemsky family continues to make Larkville the place to be no matter what time of day or month of the year it might be.
Best outdoor patio (northtowns)
The Shores Waterfront Island Restaurant & Marina
Tonawanda Island; 693-7971 or shoreswaterfront.com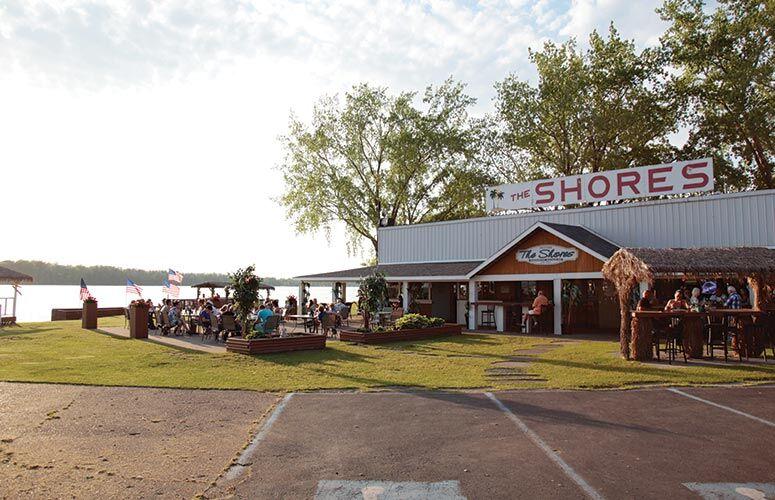 This Tonawanda casual dining spot has spectacular views of the upper Niagara River, Grand Island, and Niawanda Park. Come for the gorgeous summer sunset, stay for the laidback fun.
Best outdoor patio (southtowns)
The Public House on the Lake
4914 Lake Shore Rd., Hamburg; 627-5551 or publichouseonthelake.com
Technicolor Lake Erie sunsets can be enjoyed in comfort from both the enclosed and outdoor dining areas here. Live music on weekends, outdoor firepits, and a great beer selection add to the enjoyment.
Best new hotspot (city)
Remedy House
429 Rhode Island St., 250-7724 or facebook.com/RemedyHouseBuffalo
Opening earlier than many coffee shops at six a.m. daily, and staying open into the evening with stylish low-key cocktails and snacks, Remedy House is a neighborhood hotspot for day and night. Everything about this coffeehouse and cafe is designed with attention to detail—the wicker chairs and small marble-topped tables reminiscent of a Parisian-style cafe (or its imitators on the Upper West Side of Manhattan), the well-crafted espresso drinks, the chrome fixtures, the awning-topped sidewalk cafe, the glasses of rosé, and the spot-hitting Aperol spritz that are just what you want on a breezy, rambling night before or after a meal or a party. If you need a spot to hash out your business plan, dish about your weekend, or meet with your wedding planner (multiple such conversations have been overheard here), Remedy House is your go-to on the West Side.
Best new hotspot (northtowns)
Tacos, Community & Beer
6449 Transit Rd., East Amherst; 458-0380 or tcbbuffalo.com
True, the gourmet tacos are delectable and imaginative. And a wide selection of Mexican, domestic, and craft beer (and wine and cocktails) offer refreshment and variety. However, what draws you back again and again is the community. Bar-height tables with stools on either side run the length of the bar area, inviting strangers to chat and connect. Music coming from the speakers adds to the fun ambiance, without making conversation impossible. The space has a clean, airy feel, and a patio rounds out the conviviality. TCB's middle name is "Community," after all, and they do it right.
Best sports bar (city)
>>> Tie
Buffalo Riverworks
359 Ganson St., Buffalo; 342-2292 or buffaloriverworks.com
(716) Food and Sport
7 Scott St., Buffalo; 855-4716 or 716foodandsport.com
The vibes are very different at these two massive, sports-themed hangouts on the downtown waterfront, but there are also similarities. Both are big, both have multiple big screens, and both have rinks where live contests can be watched. Finally, both are long awaited and desperately needed additions to an area of town that once boasted little or no entertainment options. How far we've come. It must be noted that RiverWorks is also one of the most popular special event venues in the area and has recently added a brewery.
Best sports bar (northtowns)
Amherst Pizza & Ale House
55 Crosspoint Pkwy., Getzville; 625-7100 or amherstpizzaandalehouse.com
The decor might be best described as "frat house meets man cave," but there are plenty of screens (including four centrally suspended in jumbotron configuration) to keep patrons entertained. A nicely curated beer list and half-price drink specials during games is a major win, especially when the teams don't. Finally, Ale House's pepperoni pizza is an absolute ode to excess and must be seen to be believed.
Best sports bar (southtowns)
J.P. Fitzgerald's
4236 Clark St., Hamburg; 649-4025 or jpfitzgeralds.com
This warm, attractive Irish pub has the beer selection and multiple big screens expected of any sports bar as well as a full menu. There's also a popular darts scene and regular travel packages to Ireland (natch), Spain, Portugal, Germany, and Italy.
IT'S THE PEOPLE
Best gadfly
Paul Morgan
As we went to press, Paul Morgan may or may not have been placed (once again) in Facebook jail for his beyond-outspoken musings, usually on national and international politics or controversies, but often on important local issues. Morgan takes no prisoners, but his impassioned, unfiltered rants come from a lifelong commitment to activism and advocacy. If you don't read him on Facebook, expect to see him at protests addressing issues like gun violence, discrimination, immigrant rights, and more.
Best blogger (independent)
Steve Cichon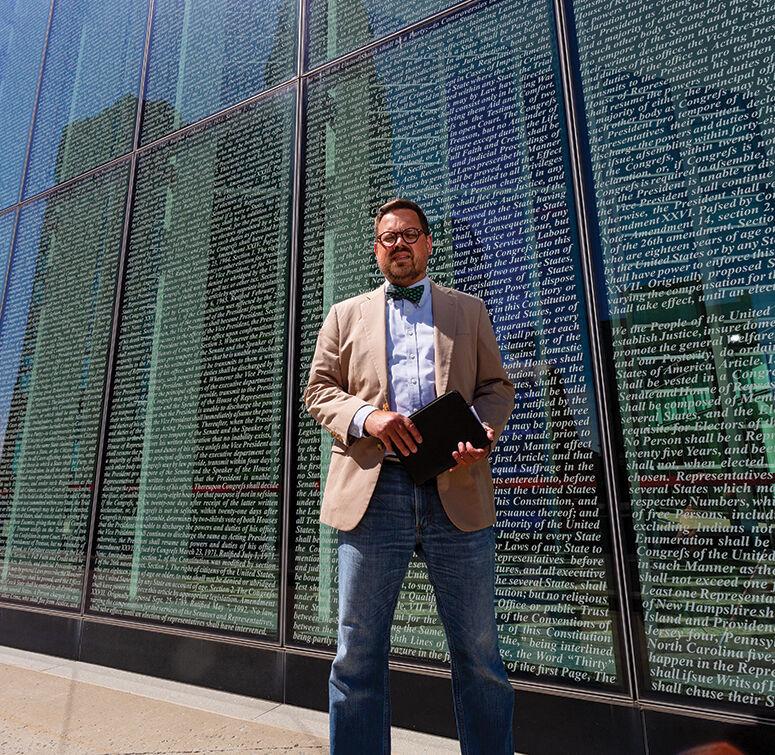 We already knew that Steve Cichon was an excellent writer, knowledgable historian, and super nice guy, but we did not know how heartfelt, honest, and compelling his writing could be until we read his June 9 post, "A brief memoir in depression and anxiety." Bravo, Steve, for touching (and probably helping) so many of your readers.
Best columnist
Jerry Sullivan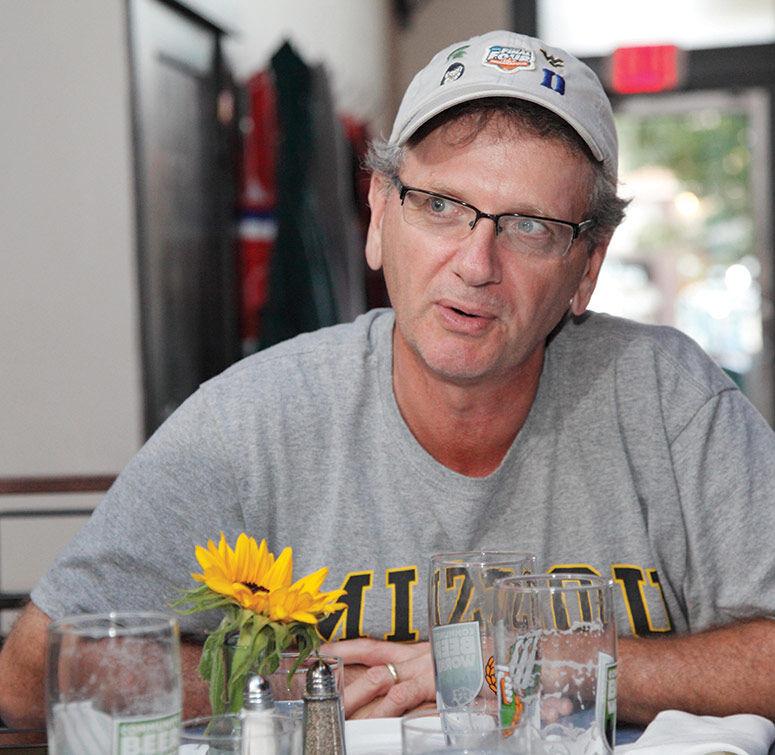 When longtime sports columnist Jerry Sullivan was recently shown the door by the Buffalo News, one reason given was that he was bad for business (there was even an online petition calling for his firing). And while it's true that Sullivan's commentary about our local teams was often acerbic and even downright skeptical, consider the performance of the teams he had to cover. Fans are by nature an optimistic bunch, but did anyone really expect a real journalist to serve up endless bromides in the face of seemingly endless failure? What Sullivan represented was the vanishing breed of old-school sports reporters who call it as they see it and eschew that "hot take" mentality that's invaded and cheapened sports journalism. Like commentator Howard Cosell, Jerry spoke his mind and wore his heart on his sleeve. Whether you agreed or disagreed with him, he was always worth reading. And in today's rapidly evolving world of journalism, that's become an increasingly rare commodity. 
Best reporter (broadcast)
WBFO news team
Awards are a way of life for the men and women who gather news and create stories for WBFO. The station routinely wins multiple honors from the New York State Broadcasters Association, the New York Associated Press, Public Radio News Directors, and other organizations. Our favorite of these awards is Outstanding News Operation. At a time when reporters are beng laid off, local newspapers shut down, and commercial radio becomes more and more devoted to the extremes, WBFO provides consistent, clear-eyed local news. It also maintains special desks for education, the arts, racial equity, and other issues important to Western New Yorkers.
Best reporter (print)
Mark Sommer
As the reporting staff at the News continues to shrink, Mark Sommer has had to wear an increasing number of hats, but he continues to do his best reporting on preservation efforts and adaptive reuse; in fact, Sommer was the first to report on Spree's move to its current historic headquarters. But we'll be reading whatever Sommer bylines; he proves that news reporting and compelling writing need not be mutually exclusive.
Best friend of the arts
Tomy Zambito
With our rich jazz history, there's always been vibrant local interest in the artform. But absent a local jazz radio station or consistent media coverage, the local jazz community has lacked a center for too long and floundered as a result. Enter Tony Zambito. Returning to the area after a career as a pioneer in digital marketing and customer relationships in Silicon Valley, Zambito—a musician and bandleader himself—set about to fill the void. The result: jazzbuffalo.org. Applying his time and talent, and funding his efforts out-of-pocket, he set about building a professional level email list to publicize area jazz events. Under the jazzbuffalo.org umbrella, he's produced concerts at a range of venues, including PAUSA, MusicalFare, and, most notably, the out-of-the-gate successful jazz series at the Hotel Henry. The past year has been the best year for live jazz in WNY in decades—due in significant part to Zambito's efforts—and with a new website and recently established nonprofit status, jazzbuffalo.org promises to usher in even bigger things for jazz in WNY in the coming years.
Best curators
Resource:Art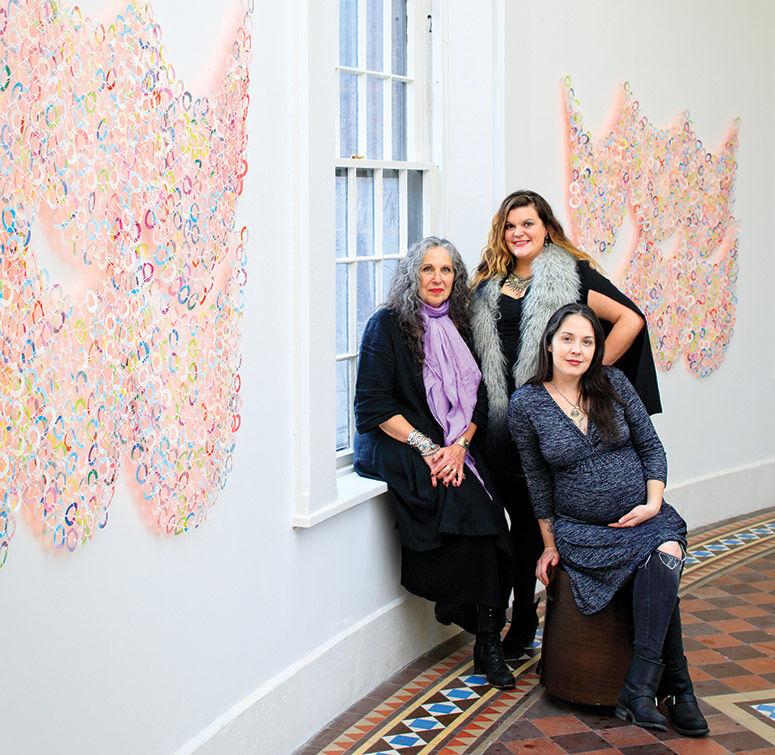 Not just one, but three talented curators, each bringing her own unique skills to the group—what could be better than that? Individually, Anna Kaplan, Elisabeth Samuels, and Emily Tucker direct galleries and numerous art events. But together, they are Buffalo's art-scene Avengers. They forged a partnership with Hotel Henry to create the Corridors Gallery. They showed-up at Trimania, held a Pride Week pop-up for Ryan Arthurs, exhibited Ian de Beer and Craig Sheperd at Big Orbit, featured the Freedom Wall artists at Buffalo Center for Arts and Technology, and sponsored a Max Collins Mural project, dovetailing with a Milton Rogovin exhibit. Perhaps most of all, the dynamic trio have endeavored mightily to elevate the commercial status of Buffalo art and artists.
Best arts administrator
Jen Swan, Arts services initiative
In the stressful world of nonprofits, it's important to have people who remain consistently cheerful, helpful, and competent. Jen Swan is all of these things in an organization that is essential for pulling together WNY's diverse world of arts organizations.
Best tweeter
@HeyRaChaCha
The "garbage plate kid living in a chicken wing world" continues to enliven the tweetiverse with his funny and often provocative posts. When you read tweets like "His talk of "grooming" makes me vaguely nauseous," "May the patron saint of online heckling bless you," and "Wetting Our Beak with Your Water Since 1949," you just have to click on the entire conversation to see what it's all about.
Best Facebooker
Grovey Cleves
Leave it to artist, impresario, and living perpetual motion machine Mickey Thoren Harmon to revisit—er, reboot—the legacy of one of Buffalo's native sons in the age of social networking. What began as a series of playful sketches morphed into a 2014 book, and in subsequent years into a lively, quirky, and queer (in every sense of the word) daily feed exploring the city's current-day triumphs, follies, and local celebs. The persona is no more, but—like his namesake—Grovey's impact is bound to live on.
Best Instagram account
Julian Montague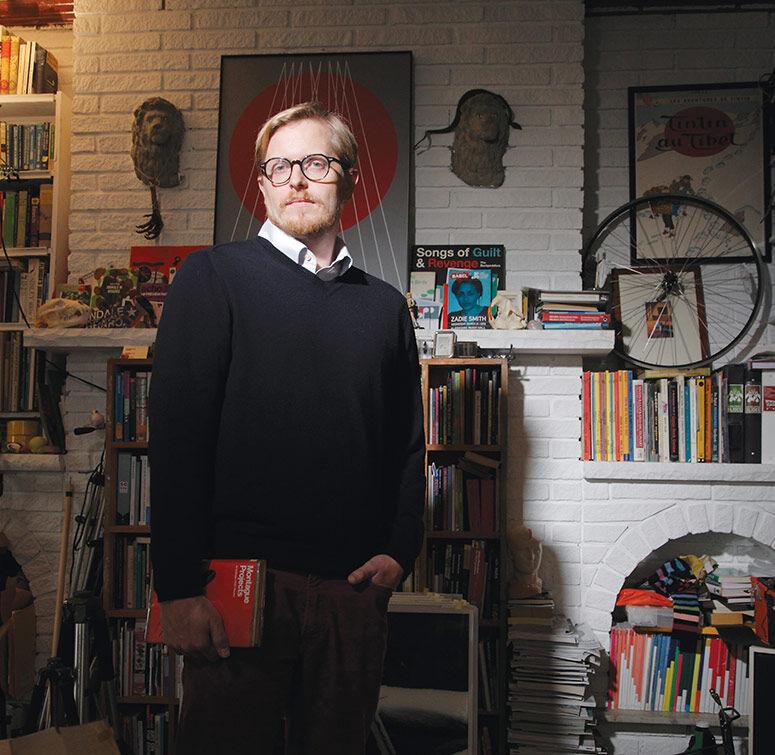 Visual artist and designer Montague's fascination with the bold graphics of mid-century paperback book covers has fueled his multilayered conceptual installations in galleries for years; on IG he shares some of his finds (now including vintage LP art as well) with more than 45,000 enthusiastic followers around the world. In the process, he's assembling a visual chronicle of a bygone era as sharp, clear-eyed, and optimistic as the artifacts he curates.
Best actor
Roosevelt Tidwell  in Ma Rainey's Black Bottom
Paul Robeson Theatre had an amazing season, scooping up the most Artie Awards—five—of any theater in town, and another could easily have gone to Roosevelt Tidwell III for his stunning performance as the tragic Levee in the first-written of August Wilson's Century Cycle plays. Wilson isn't known for his brevity and it's only the strongest of actors who can parse that wealth of words to take full command of a character borne of unfortunate circumstance, fueled by hot ambition, short-sighted in his methods, and, most of all, unfailingly human. Tidwell's portrayal was riveting star power, and, as Robeson heads into next season with its third Century Cycle play—King Hedley II—we can only hope that there's room for Tidwell.
Best actress
>>> Tie
Priscilla Young-Anker in 'night, Mother
Though both characters in 'night, Mother have clear objectives—Jessie wants to kill herself, mother Thelma wants to stop her—it's Thelma who scrambles throughout the play to mine past, present, and future for any means that might prevent tragedy. And in employing that wide range of tactics, Priscilla Young-Anker puts a full range of authentic emotion on display—there's no faking it when the actors are so close, the audience can smell the candy they're eating. It's a tour-de-force role and Young-Anker was fully up to it, giving us disbelief, hope, fear, anger, terror, helplessness, resignation, and abject grief as if we'd never seen them before.
Verneice Turner in Skeleton Crew
It's a rare treat to see Verneice Turner on stage. Her last major role may have been From the Mississippi Delta at Road Less Traveled in 2012, and viewers of both will recognize the quiet dignity that Turner brings to any role. It particularly served her in Skeleton Crew, where she played Faye, a homeless employee who needs just one more month on the job at a failing factory to lock in her thirty-year pension—and suffers a crisis of morality in trying to make that happen. Turner's brand of wisdom and warmth made every moment she was on stage compelling as she anchored this production in humanity and truth.
Best character performance
Eric Rawski in Cinderella
The Cinderella story is so well-known that attempts to make the material fresh are not just welcome but applauded. And nobody got more applause at New Phoenix's version of the fairy tale than Eric Rawski in the role of the evil stepmother. To say that having the stepmother and stepsisters played by men in drag is all the show needed to liven it up is to completely discount Rawski's theatrical and comedic chops in making the stepmother the sassy, snarky star of the show. From cutting the rug to cutting one-liners, Rawski kept the audience howling until there was no doubt: this was not their childhood Cinderella.
Best movie theater
Dipson Amherst Theatre
3500 Main St., Buffalo; amherst.834-7655 or dipsontheatres.com
It is the home of Buffalo Film Seminars, the beloved screening/discussion series hosted by Diane Christian and Bruce Jackson. It regularly simulcasts ballet and opera productions, as well important indie releases. And it has comfortable seats and great popcorn. Sign up for the Dipson newsletter to get early word on new films, upcoming simulcasts, and more.
Best activist group
Showing Up for Racial Justice Buffalo
showingupforracialjustice.org/about
In the wake of Trump's election, several local branches of nationally known liberal activist groups have formed. None have been more in the public eye than Showing Up for Racial Justice (SURJ). The group has more than 1500 members, and has put itself in harm's way to fight for social justice in the city of Buffalo. Over the past eighteen months, SURJ members have been arrested and/or detained while protesting events from President Trump's fundraising to Carl Paladino holding a position on the Buffalo School Board. The group single-handedly shut down a school board meeting in February of 2017, which played a large role in Paladino's eventual dismissal from the Board. SURJ Buffalo meets monthly and continues to attract new members for its organized events.
Best sports news
THE BILLS END THEIR SEVENTEEN YEAR PLAY-OFF DROUGHT
Seriously. Did you think it could possibly be anything else?  
Favorite local sports team 
UB BULLS MEN's AND WOMEN'S BASKETBALL
Compared to the heydays of local basketball when the Little Four could pack the Aud and the Buffalo Braves (now the LA Clippers) were making NBA playoff runs, the interest in local basketball in sports-centric Buffalo has waned on the surface in recent years. But under the respective leadership of coaches Nate Oates and Felisha Legette-Jack, the UB Bulls men's and women's basketball teams made significant runs into their respective NCAA tourneys. As the basketball season unfolded, local hoops fans stepped away from their television screens and flocked to Alumni Arena in growing numbers, ultimately rewarded for their support by the men's MAC championship and stunning March Madness road upset of Arizona and the women's run right into the Sweet Sixteen.  Expectations are high that the teams will pick up right where they left off (as of this writing, the men's team is ranked in the top twenty-five in some preseason polls) and further move college basketball back to the forefront of the local sports scene.
Scandal of the year 
>>> Tie
Buffalo Billion Trials
The Buffalo Billion may not have yet created the jobs the initiative promised (unless you're a lawyer), but it has been a wellspring for scandal. It all started with "ziti"—the term immortalized in The Sopranos for under-the-table pay-offs—exchanging hands, leading to the conviction on bribery charges of a former top aide to Governor Cuomo. More recently, Buffalo developer Louis Ciminelli went to trial as a co-defendant in an alleged scheme to rig bids for $500 million (now that's a lot of ziti) in construction contracts. One charge has been dropped, but this probably won't be the last of Buffalo Billion scandals, especially if the Solar City location ends up as the next Super Flea as some skeptics have predicted.
Frontier House
Meanwhile to the north, the fate of the historic Frontier House on Center Street has embroiled the VIllage of Lewiston. Long-rumored to harbor the ghost of a murdered Freemason who threatened to reveal secrets, the long-vacant landmark last was home to a McDonald's that closed in 2004. A recent proposal for Lewiston to purchase the property set off a firestorm of debate, with Anne C. Welch, a vocal opponent of the deal, winning the recent mayoral race by a mere four votes (yes, every vote does count). While the outcome of the controversy has yet to be decided, one wonders if the ghost stashed away a horde of Big Macs while he had the chance or submitted an absentee ballot.
Best local politician
Erie County Executive Mark Poloncarz
Mario Cuomo once said, "We campaign in poetry and govern in prose." No doubt Mark Poloncarz has poetry in his soul, but, as Erie County Executive, he governs in a style that makes the assembly instructions on a box of Legos seem like William Butler Yates. This is an excellent quality in a time when it seems as though most politics is an arm-waving, spittle-flecked, screaming match. Poloncarz runs the county government in an efficient, civil manner. It shouldn't be high praise to say that a governmental official does his job, but it is, and Poloncarz does.
EYE CANDY
Best sight you won't see anywhere but here
Statue of Liberty replicas on the Liberty Building rooftop
424 Main St., Buffalo; mainliberty.com
The Liberty Bank Building isn't the tallest building in the city, but it's one of the more popular downtown skyscrapers. Designed by British architect Alfred C. Bossom, the building was constructed in 1925. At twenty-two-stories, it features Statue of Liberty replicas at the top of each of its two towers; their impressive torches burn a fiery yellow color against the night sky every evening. The reason they're there? The German-owned bank changed its name after World War I and commissioned the patriotic sculptures, made by artist Leo Lentelli.
Best makeover of an existing building
The Mentholatum
1360 Niagara St., Buffalo; thementholatum.com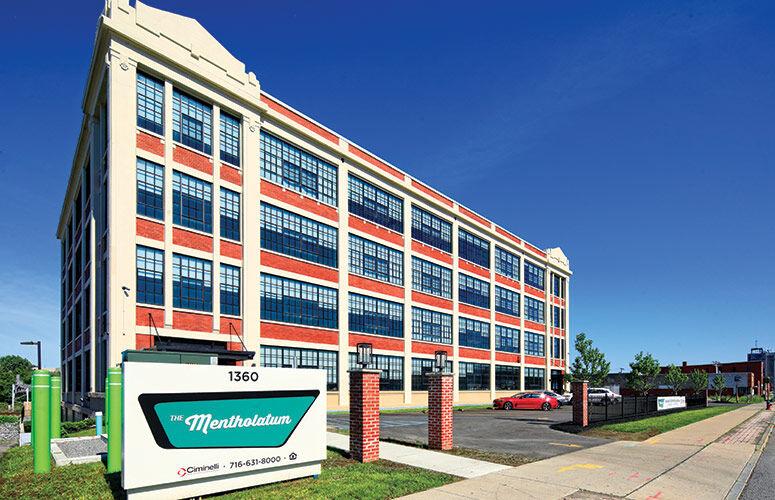 This former daylight factory, built in 1919, was an easier adaptive reuse lift than most because it's been occupied for most of its nearly 100 years on Niagara Street. First home to locally owned Mentholatum (now under Japanese owners) and most recently the headquarters for Garrett Leather, the concrete structure now holds forty-nine light-filled apartments with street-level commercial space available. The views from the upper floors are said to be eye-popping.
Best new construction
Explore & More Children's Museum at Canalside
This popular East Aurora-based institution has been programming outdoor activities at Canalside for more than two years now; soon, they are adding year-round indoor offerings to the mix. The planned spring 2019 completion is eagerly awaited; a common criticism of Canalside offerings is that there are too few brick-and-mortar amenities.
Best preservation project
Hotel Henry Urban Resort Conference Center, Richardson Olmsted Complex
444 Forest Ave., Buffalo; hotelhenry.com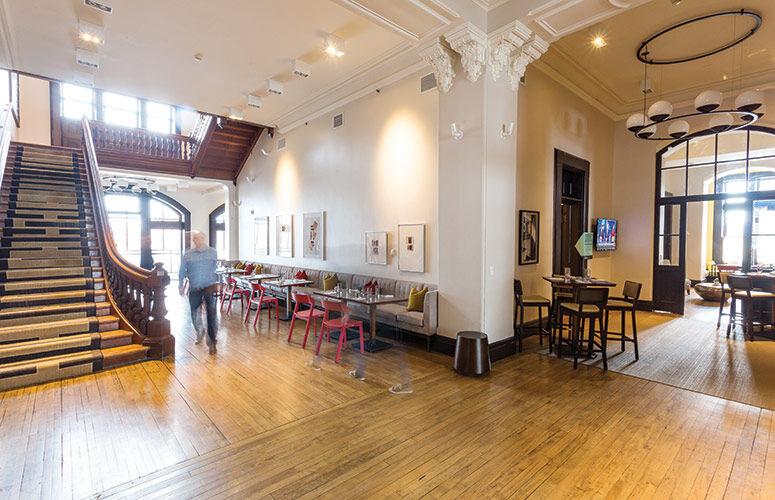 Not every historic property of this stature welcomes the public in on a daily basis, but at Hotel Henry, visitors can wander the hallways,  look out the windows, and, finally, pull up a chair and relax with a drink as they continue to admire the splendor that surrounds them. As the entire complex continues its restoration and reuse efforts, Hotel Henry offers a superb front-row view.
HOTEL HENRY BY STEPHEN GABRIS; UB MEDICAL SCHOOL BY KC KRATT
Best looking new building
University at Buffalo Jacobs School of Medicine and Biomedical Sciences
955 Main St., Buffalo; medicine.buffalo.edu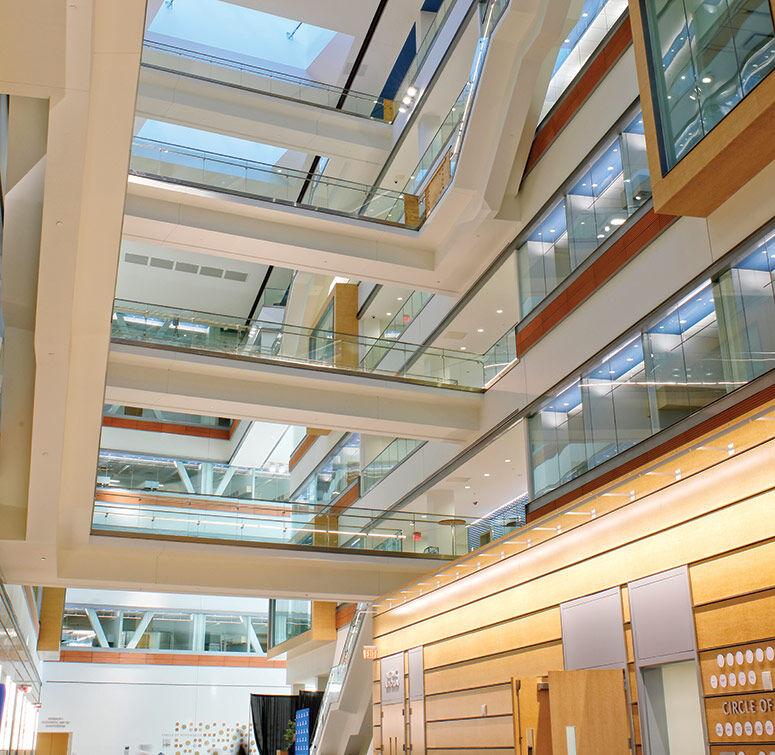 When the images of the completed interior started appearing in local media, there was one universal reaction: wow. Remarkable for its terra cotta cladding, its asymmetrical volumes, and, above all, the light-flooded atrium with its multifloor views, this complex has lived up to even the most optimistic expectations.
Most sustainable project
Outer Harbor parkland
It used to be that Tifft and Times Beach nature preserves were the only public amenities offering the proper infrastructure in which to enjoy walks amid the Outer Harbor's flora and fauna. These magnificent facilities have recently been joined by Wilkeson Pointe, Bell Slip, and Outer Harbor State Park, Buffalo's newest state park. While there is some controversy about possible development, these new park areas provide restored habitat for wildlife and well-maintained trails and recreational space for humans.
Best wildlife habitat project
Buffalo Niagara Waterkeeper shoreline and habitat improvements
To fix the water, it is also necessary to restore the shoreline surrounding it; Buffalo Niagara Waterkeeper has thoroughly grasped this fact and the science behind it. To date, the organization has implemented Living Shoreline projects along the Niagara River in Grand Island, Hyde Park Lake in Niagara Falls, and Ellicott Creek in Tonawanda.
Best local winter escape
Ellicottville
It's rated as among the top ski facilities in the eastern US, but those not after winter sports will have just as much fun as the skiers, boarders, and tubers. More amenities are added each year to this winter wonderland an hour south of Buffalo.
Best nature walk
Forest Lawn Cemetery
1411 Delaware Ave., Buffalo; forest-lawn.com
As anyone who has walked here knows, Forest Lawn is not only one of the best places to find migrating bird species in spring and fall, it is also a thriving wildlife habitat at all times. The 269-acre facility provides homes for deer, squirrels, owls, hawks, heron, among many other species. It is also an important arboretum.
SHOPAHOLICS 
Best new small retail business
Molly + Kate
35 Main St., Hamburg; 926-9200 or mollynkate.com
Molly + Kate was established by two sisters who are complete opposites. Kate has been working in the fashion industry for the past sixteen years in Atlanta and Boston, while Molly stayed in Buffalo to pursue accounting and raise a family. Together they decided to open Molly + Kate, a lifestyle boutique with a "New England" vibe. This shabby chic shop is one of the many reasons the village of Hamburg is a trendy destination. One step into the store is enough to see that everything is handpicked with love, including beautiful clothing, accessories, home décor, gifts, and even some cute items for the little people in your life.
Best new clothing boutique (women's)
August Market
650 Main St., East Aurora; 432-7661 or augustmarket.com
Husband and wife team Kwame Taylor-Hayford and Tamara Tribula have brought a "slow fashion" boutique to Western New York. August Market is an incredibly beautiful shop that makes its customers feel incredibly happy. The shop showcases a well-curated selection of womenswear, accessories, and home goods. There's a sense of intention and methodology behind every item in the store—whether it's a Rachel Comey kimono-style jacket or earrings by local jewelry designer Peg's Hardware. The entire inventory can be shopped online. 
Best clothing boutique (established, city)
Half & Half
1088 Elmwood Ave., Buffalo; 239-1652 or Facebook/Half & Half
Jen and Kilby Bronstein have enlived this longtime Elmwood staple by expanding the women's offerings and adding men's clothing and housewares. Its Instagram feed features everything from stylish watering cans, pretty notecards, and unusual holiday oprnaments, in addition to the fabulous apparel lineup that we've come to expect.
Best clothing boutique (established, suburbs)
Danahy's
3206 Sheridan Dr., Buffalo; 831-0773 or mabeldanahy.com
It's rare to leave this longstanding favorite without finding exactly the right outfit or outfit element. Danahy's is one of the few go-tos in WNY for designer wear, but designer doesn't have to mean fancy. There are great choices here for work and play.
Best shop for formal wear (men's)
Bureau
830 Elmwood Ave., Buffalo; 259-8141 or bureaumade.com
This custom-made menswear shop takes traditional Italian and British style to another level. With stylistic heroes such as David Bowie and Serge Gainsbourg and jazz legends Miles Davis and John Coltrane, this shop is the epitome of cool. Co-owners Joseph Stocker and Jon Eisenberg opened Bureau in 2013 with the intention of showing men in Buffalo how to rock a custom suit and how important it is to feel good in what you wear. Whether it's for your wedding day, business attire, or just everyday style elevation, Bureau can make the look work. Come, sit down, listen to some records, get to know Joe & Jon and let them help you design a suit that fits your personality.  
Best shop for formal wear (women's)
Annarlette
3959 Main St., Amherst; 833-7000 or annarlette.com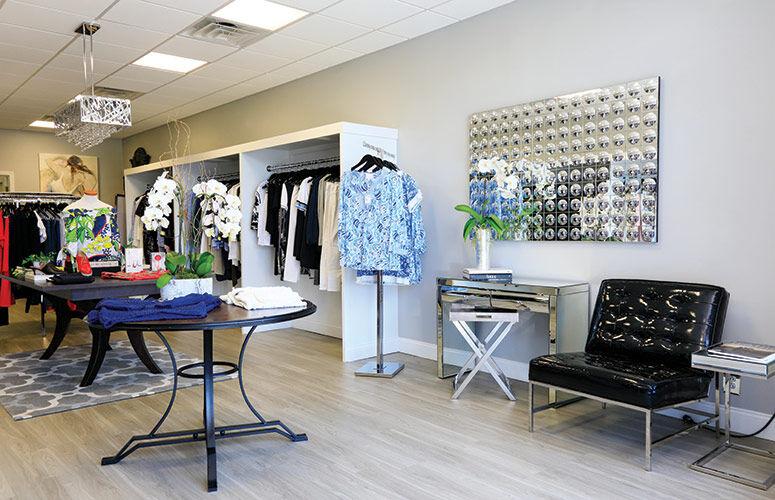 Annarlette is Buffalo's answer to high fashion. Since 2015, owners Patti Lawley and Mindy Shine have worked to bring designers and the best of luxury brands to the Queen City. This retail destination is filled with a finely curated selection of head-to-toe looks, including beautiful gowns by Toronto designers Lucian Matis, Wayne Clark, and Frascara. Famed designer Matis (who dresses Sophie Grégoire Trudeau) makes frequent appearances at the shop for local charity events and trunk shows. Patrons of this shop will not have to worry about seeing their outfits on other attendees at the same event.
Best shop for handmade jewelry
Wild Things
224 Lexington Ave., Buffalo; 882-3324 or wildthingsartisans.com
Sure, the merchandise is diverse and delightful here, combining as it does precious/semiprecious, vintage, campy, and quirky. But the friendly atmosphere and laidback attitudes of the artisans who staff Wild Things is what pushes this shop to the top. No wonder it has been thriving for more than thirty years.
Best shop for traditional jewelry
Brian Michael's Jewelers
1150 Niagara Falls Blvd., Tonawanda; 833-0700 or brianmichaelsjewelers.com
Choose from an extensive list of top jewelry designers here or work with the shop's jewelers to design your own. Either way, you'll come away with a piece to be cherished forever.
Best shop for funky accessories
MMW Style Studio
403 Main St., Buffalo; 812-0937 or Facebook
This cool shop is downtown Buffalo's go-to for on-trend and affordable women's clothing and accessories. For those who dare to be different, MMW Style Studio has a colorful selection of unique pieces for all sizes, mixed with bold and funky jewelry and accessories. From bright clutches to G-baby bows, there's something for every diva.
Best shop for furniture
Ethan Allen
3875 Sheridan Dr., Amherst; 839-4484 or eaofwny.com
There are many reasons to love Ethan Allen, but probably the most important is the ease of the shopping experience here.  Ethan Allen's showrooms presents a series of  rooms that anyone would want to live in forever and deciding which one you want is enjoyable and fulfilling.
Best shop for vintage furniture
Mimo Decor
1251 Hertel Ave., Buffalo; 873-0727 or mimo-decor.com
Midcentury modern is hot; industrial is even hotter. It's a good thing Mimo Decor is here with furniture and home decor in both those styles, as well as others. The items available when we looked included Marcel Breuer chairs, a gorgeous diamond face bar cabinet, a rosewood and walnut Stanley dresser set, and much more. Better hurry.
Best shop for home decor
room
1400 Hertel Ave., Buffalo; 939-2692 or room-buffalo.com
This go-to for all things furniture and design is run by two of the coolest people we know, Michael Poczkalski and David Brugh. Items range from home décor accents to full-on investment pieces. The in-house design team, Michael P. Design, has worked with HGTV and the DIY network, designing beautiful spaces nationwide. Buffalo's lucky to have this level of hometown talent. Peep room's Instagram to start your "want" list.
Best thrift shop
Habitat for Humanity ReStore
501 Amherst St., Buffalo; 1675 South Park Ave., Buffalo
852-6607 or habitatbuffalo.org
ReStore is the place to check out frequently if you're working on an ongoing home improvement project—especially in an older home—or are decorating on a budget. Inside its two locations are neatly organized with donated and used home appliances, furniture, and building materials. Prices are reasonable and 100 percent of the proceeds go to Habitat for Humanity Buffalo, which has helped in the rehabbing of hundreds of homes for low-income residents since the mid-eighties.
Best shop for unique gifts
Thin Ice
719 Elmwood Ave., Buffalo; 881-4321 or thiniceonline.com
With two friendly resident felines and a bevy of Buffalo-themed home décor items, Thin Ice is the place to find gifts for any person, near or far, who loves the Queen City. Most prominent in the shop are the jewelry cases; the designs are mostly organic with some bisoncentric. All types of artful objects for garden, kitchen, and walls are available. Some of the most popular items at Thin Ice are the hockey puck bottle openers, decorated with sporty and proud Buffalo themes.
Best shop for men's gifts
Riverside Men's Shop
6470 Transit Rd., Depew; 883-8401or riversidemens.com
Everything you can throw onto a well-dressed man may be found at Riverside Men's Shop, a WNY staple (since 1918) that offers casual to formal attire, as well as accessories. The store sells Buffalo-emblazoned shirts, ties, and hats, and gift wrapping is free.
Best shop for women's gifts (city)
Fern + Arrow
773 Elmwood Ave., Buffalo; 882-5858 or @fernandarrowshop
Fern + Arrow, with its bright white interior and concrete floors, brings a Brooklyn vibe to the Elmwood Village. This beautiful lifestyle store is the extension of the clothing boutique Anna Grace. Owner Joanne Dina has immaculate taste and has curated a fun shop. From handcrafted home décor and jewelry to great coffee table books, shoppers will find friends and loved ones gifts they will cherish forever.
Best shop for women's gifts (suburbs)
Tony Walker & Co.
5110 Main St., Williamsville; 626-3280 or tonywalker.com
This iconic retail destination is the perfect place to shop for women's gifts of all kinds. Tony Walker & Co. has pioneered the shop-in-shop concept with brands such as Lilly Pulitzer, Jonathan Adler, Tory Burch, John Hardy, Mackenzie Childs, and more. This store has morphed into a full-fledged lifestyle brand that just keeps growing and growing!
Best sporting/outdoor life store
Gear for Adventure
305 Buffalo St., Hamburg; 646-4327 or gearforadventure.com
Whether you paddle, ski, board, camp, hike, play disc golf, or are still looking for your ideal sport, this colorful and extensive retailer channels your inner adventurer.
Best place for organic food
Lexington Co-operative Market
807 Elmwood Ave. and 1678 Hertel Ave., Buffalo; lexington.coop
With two handsome locations, this longstanding provider of the local and organic has become more accessible than ever. Two locations mean two great cafes, two places to get goods normally only available at farmers markets, and two places that offer that rare thing—an enjoyable grocery shopping experience.
Best small garden store
Urban Roots Community Garden Center
428 Rhode Island St., Buffalo; urbanroots.org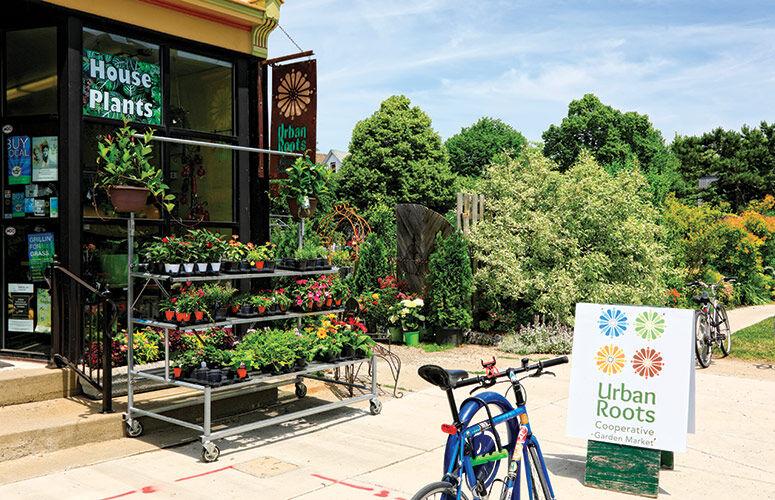 Every year, this West Side garden center gets better, which means it's become a go-to for all of Western New York, not just its intended urban customers. From handsome ceramic pots to native perennials to ergonomic tools, you'll find it here.
Best big garden store
Lockwood's Garden Center
4484 Clark St., Hamburg; 649-4684 or weknowplants.com
Lockwood's does know plants, from the roots up. It grows them, finds unusual varieties of them, and takes care of them once they're on the garden center shelves. Many of the newest varietals can be found at Lockwood's first, and the friendly staff is always knowledgeable and helpful.
Best florist
Petrichor Flora
1203 Hertel Ave., Buffalo; 949-0033 or petrichorbuffalo.com
It's easy to identify a Petrichor arrangement. Just look for lesser-known plants, striking color combinations, and close attention to texture. Once known for his flower cart, Denis Guerin has developed Petrichor into Buffalo's go-to for flowers people remember long after they've faded.
Best shoe repair
Sole Man
565 Elmwood Ave., Buffalo; 836-6464 or solemanbuffalo.com
Sole Man keeps the old-school shoe shop tradition alive. Owner Brian Gavigan is a wizard when it comes to shoe repair—if there's such a thing as a modern cobbler shop,  Sole Man is it.
Best shoe repair (suburbs)
Evanstown Shoe Repair
20 Evans St., Williamsville; 633-6608
Long WNY winters can be particularly hard on our soles—pun intended—but if yours wear out, or a heel pops off, all is not lost! Breathe new life into your broken-in boots, pumps, and shoes with efficient service and fair prices at Evanstown Shoe Repair. Keep in mind this classic cobbler shop is cash only.
Best pet grooming
Laundromutt
2964 Delaware Ave., Kenmore; 768-4004 or buffalolaundromutt.com
Here's a place that offers pet grooming with options: patrons can use the self-service wash stations  to clean their own pets (without the mess to clean up at home) or the professional stylists can do the job for you. It all adds up to a very popular operation, as our poll responses easily demonstrate.
Best pet boarding
Cara Mia Pet Resort
6429 Transit Rd., Williamsville; 568-2272 or caramiapetresort.com
Pampered might be an understatement for the furry friends visiting Cara Mia Pet Resort. Boarding packages include luxurious, climate-controlled suites with clean comfortable beds, room service, premium bottled water, and calming classical music. Over-the-top amenities, such as a heated swim spa, relaxing stroller rides, and rose petal whirlpool bubble baths with warm towels and robes are the ultimate in luxury for your pet, while service for the humans is top-notch, too. To accommodate busy schedules, drop-offs by appointment are as early as 4 a.m. and pick-ups as late as midnight.
Most environmentally conscious retail business
EcoVerde Organics
1773 Blakeley Rd., East Aurora; 209-3166 or ecoverdecompost.com
Sometimes, it's a good idea to leave composting to the professionals, especially when the professionals belong to EcoVerde Organics, a company which makes compost on a large scale, in the process helping to stem the huge tide of food waste that is so prevalent in Buffalo and throughout the US.
Best customer service (retail)
Delta Sonic
Many locations; 800-843-5477 or deltasoniccarwash.com
Car upkeep is nobody's favorite thing, but Delta Sonic makes it easy. The technicians here cheerfully pull off inspection, car washing, detailing, and other services quickly and efficiently. It doesn't hurt that there is a nice clean waiting room with snacks and reading material nearby.
Best place for wine tasting
>>> Tie
Paradise Wine
435 Rhode Island St., Buffalo; 322-5396 or paradisewinebuffalo.com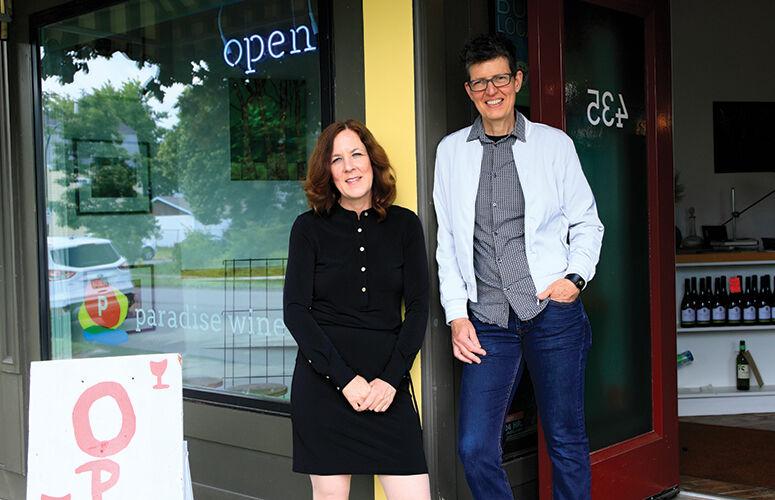 It was recently named in a list of Bon Appetit magazine's favorite natural wine shops, but most Western New York wine lovers don't need a national endorsement to confirm that Paradise Wine offers something Buffalo has never had before: an expertly curated lineup of wines and small batch spirits with a focus on biodynamic and organic producers. Tastings are weekly, always with fun themes.
Winkler & Samuels
500 Seneca St., Buffalo; 235-8121 or winklerandsamuels.com
The most recent wine purveyor in Buffalo offers classes, personal sommelier services, and wine storage. It's much more than a wine store, and it's located in the beautiful 500 Seneca complex. The wines have been personally selected by proprieter Melissa Winkler and free tastings are held on Fridays and Saturdays.
Best big wine/liquor store
Gates Circle wine & liquor
1430 Delaware Ave., Buffalo;  884-1346 or gatescircleliquor.com
Gates is not all that big, which is a good thing. It's small enough to be easily navigated, but large enough to contain a wide selection of wines and liquors—definitely enough to supply any home bar or s party. The staff is very friendly and customers are usually greeted and offered help as soon as  they arrive. There is alwasy a great line-up of bottles on the tasting table.
Best boutique wine/liquor store
City Wine Merchant
715 Main St., Buffalo; 931-9114 or citywinemerchant.com
Buffalo's first truly curated wine store is still killing it. The selection is smart and diverse; you'll find a few familiar names, stocked for their continuing high quality, as well as rare bottles from small producers. The prices are diverse too, with plenty of space devoted to value, as well as those special-occasion bottles that are well worth their pricetags.
Best boutique wine/liquor store (suburbs)
On the Rox liquors
4382 Bailey Ave., Amherst; 838-4000 or ontheroxliquors.com
With its intriguing upsidedown signage, prominent placement, and expansive parking, this cute store makes a stop-in very easy.  There are regular tasting and the staff is eager to help.
Most fun place to shop
>>> Tie
Elmwood Village farmers market
Elmwood Ave., Buffalo; elmwoodmarket.org
It's so much more than the fresh, local produce. There are dogs, musicians, coffee vendors, beer tastings, and—most important—all your friends.
Vidler's
676-694 E. Main St., East Aurora; 652-0481 or vidlers5and10.com
If you haven't visited this place yet, what's stopping you? It's worth the trip to East Aurora just to shop shelf after shelf of merchandise you had no idea existed or needed to exist. There are also plenty of useful items here, but the fun part is browsing the thousands of just-plain-insane goods that are—unbelievably—for sale here.
Best fitness classes
Revolution Indoor Cycling
1716 Main St., Buffalo; 908-0622 or revolutionbuffalo.com
One of the online reviewers of this fitness studio mentions that she loves Revolution but is hesitant to let others in on the secret. Too late. The secret is out now, as our poll results clearly demonstrate. Revolution has a fan base unlike any other such facility in WNY.
Best fitness classes (suburbs)
Rebel Ride
6449 Transit Rd., East Amherst; 691-7433 or rebelride.com
The exciting high-intensity workouts here come complete with music and theatrical effects. Particpants get the feeling they're dancing as much as riding; anything that makes fitness this much fun deserves a try. And the first ride at Rebel Ride is always free.
Best dance classes
>>> Tie
Swing Buffalo at Polish Cadets
927 Grant St., Buffalo; swingbuffalo.com
Vintage dance styles like Lindy Hop, Balboa, and Jitterbug are alive and well in WNY, thanks to Swing Buffalo. Newbies are welcome and no special clothing or equipment is needed. Swing Buffalo even supplies newcomers with partners. It's low pressure and fun, qualities that most of us prefer when it comes to dance classes.
Baila Salsa Dance Company
208-0461 or salsabuffalo.com
With regular Sunday lessons at their headquarters at the Pucho Olivenia Center,  261 Swan Street, and frequent pop-ups at locations like canalside and Delaware Park, Baila makes it easy to get your salsa on. Cofounders and award-winners Calvin Rice and Fanny Olaya have been dancing together for almost ten years.
Best yoga
Love in Motion
1250 Niagara St., Buffalo; 262-8145 or loveinmotion.yoga
We love this from their mission statement: "serious yoga for those who don't take life all that seriously." Classes include basic, vinyasa, and the famous Downward Goat at Alpine Made Farms.
Best new workout movement
November Project buffalo
1285 Elmwood Ave., Buffalo; november-project.com/buffalo-ny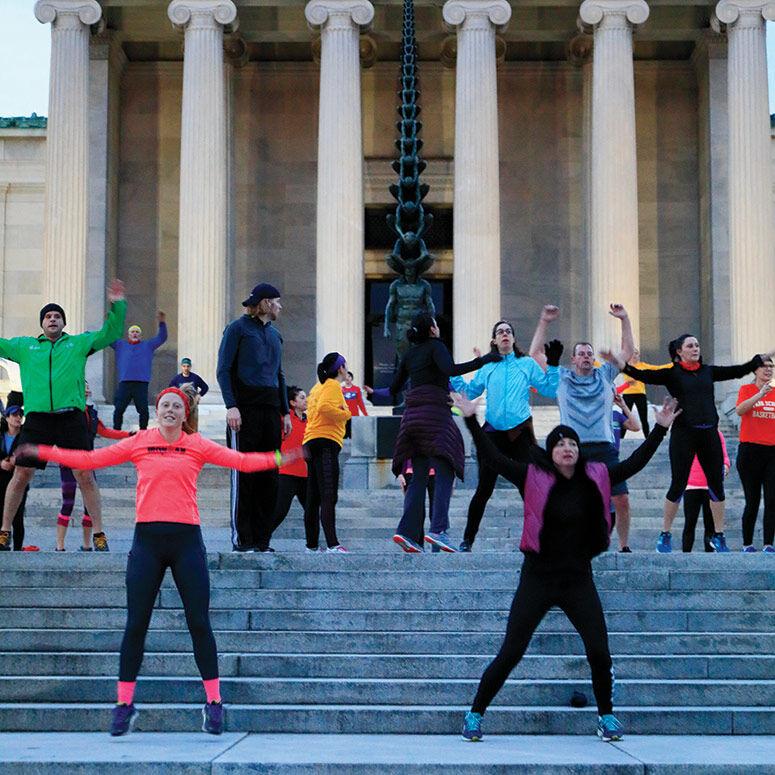 In rain or shine, snow or sleet, a tribe shows up at 6:10 a.m. every Wednesday behind the Albright-Knox Art Gallery, ready to work out with the November Project, a free fitness movement that began in Boston in 2011 and now has a presence in forty-five cities across North America, Asia, and Europe. Locally, fitness buffs Jason Jerome and Steven Procknal organized their first group workout last May and were officially welcomed as a November Project tribe a month later, celebrating the occasion with a special group workout out at Coca-Cola Field.
Best cycle shop
Tom's Pro Bike
Multiple locations; tomsprobike.com
This bicycle shop specializes in road bikes, service, and custom fitting; it's also a go-to for serious bikers looking for high-end professional equipment. Newbies are welcome too; word is that Tom's won't upsell customers when all they need is a basic bike.
Best tattoo shop
Divine Machine Tattoo
82 Elmwood Ave., Buffalo; 883-1300 or divinemachinetattoo.com
Six resident artists do the inking at Divine Machine, conveniently located in tattoo-rich Allentown. Walk-ins are welcome but reserving a favorite artist is highly recommended: examples from each are available on the shop's website. Patrons are able to message their chosen tat artist directly, outlining concepts for their custom skin art.
Best spa treatment & best customer service salon
Excuria Salon and Spa
5725 Main St., Williamsville; 839-3106 or excuriaspa.com
Savor every moment of your rejuvenating spa experience at Excuria. The menu offers treatments to cleanse, nourish, and hydrate the skin. Services are provided in elegant, private treatment spaces that allow you to relax and recharge both body and mind.
Best hair color
Chez Ann Salon
5140 Main St., Williamsville; 632-2258 or chezannsalon.com
Whether you want a subtle enhancement, bold change, or color correction, the experienced staff at Chez Ann live up to their reputations for meticulous work and great service. Not sure what color works best for you and your lifestyle? Book a free fifteen-minute consultation to get all your questions answered in person.
Best massage
>>> Tie
Trés Auraé Spa
Wyndham Lobby, 5195 Main St., Suite 1B, Williamsville; GR8-SKIN or spabuffalo.com
When the stress of life has your body tense and your head spinning, experience the healing power of touch at Trés Auraé Spa. Choose from a variety of custom therapeutic, prenatal, oncologic, and relaxation treatments, or let the experienced massage therapists make a recommendation. Your body (and mind) will thank you!
The Woodhouse Day Spa
5933 Main St., Williamsville; 458-5700 or buffalo.woodhousespas.com
A four-handed massage? Yes, please. This is among the dozens of therapeutic massage options at Woodhouse Day Spa, each assuring tension release, circulation enhancement, and overall wellness. Each massage incorporates a foot cleansing ritual and essential oil treatment to induce deep relaxation.   
Best manicure
Serendipity Salon & Day Spa
466 Evans Rd., Williamsville; 634-4058 or serendipitysalononevans.com
With more than forty years' experience, manicurists at Serendipity offer nail options from natural manicures to gels, from traditional to trendy. Enjoy a cozy, comfortable environment, great customer service, and, above all, perfectly manicured nails.
Best pedicure
Corto's Salon and Seasons Spa
Multiple locations; cortossalonandspa.com
Whether to relax and catch up with friends while getting sandal-ready (the Hamburg location has eight chairs), or just enjoy a quiet, exclusive experience (visit the Orchard Park spa), Corto's has you covered. From the initial soak to the exfoliation and hydrating lower-leg and foot massage, nothing is more pampering or relaxing than a great pedicure. Signature, essential, or wellness treatments are available, as well as junior pedicures for those twelve and under.
Best blow-out
Capello Salon & Spa
Multiple locations; capellosalon.com
Since the establishment of its flagship salon in the Village of Williamsville in 1970, the Capello family business has grown to three WNY locations offering a full range of salon and spa services. After a new cut and color or between services, a wash and style from Capello is a good-hair-day guarantee.
Best facial
The Spa at Seneca Niagara Resort & Casino
310 Fourth St., Niagara Falls; 278-3696 or senecaniagaracasino.com/stay/spa-salon
Amid the exciting action one expects from a casino is a tranquil oasis offering luxury facials among a full menu of spa and salon offerings. Add a citrus mint scalp massage to your treatment for ultimate relaxation.
Best medispa
>>> Tie
Spa Niagara
6932 Williams Rd., Suite 1700, Niagara Falls; 205-0039 or spaniagarausa.com
WNY Plastic Surgery Medical Spa
7 Hopkins Road, Williamsville; 202-8409 or wnyplasticsurgery.com/medical-spa
Interest in MediSpa services that offer transformative results without invasive surgery has exploded in recent years. Results-driven treatments are customized to client needs and overseen by a medical professional. Both Spa Niagara and WNY Plastic Surgery Medical Spa offer top-notch service and treatments for a wide range of skin care concerns.
Best haircut (women's)
Studio M Hair Design, Inc.
5987 Main St., Williamsville; 632-9670 or studiomhairdesign.com
A great haircut is the start of every good hair day. Michael Bryant and daughter Nicole Bryant-Lupas call on artistic flair and years of experience to create the perfect cut for your hair and lifestyle.
Best haircut (men's)
Hair Works Salon
671 Delaware Rd., Tonawanda; 873-3163 or hairworkswny.com
From conservative, classic looks to cutting-edge trendy styles, master barber and salon owner Angelo Albert has been barber to legions of WNY men for more than five decades. Loyal fans agree that he's perfected the art of the perfect cut.
Best salon for weddings & Best make-up services
Salon Elizabeth
720 Jamison Rd., Elma; 863-8489 or lizzydugan.com
Not only are owner Lizzy Dugan and her team of beauty pros talented, they also make wedding day preparations fun and relaxing. Located just off Route 400, the gorgeous salon boasts a private bridal suite, beautiful marble garden patio, and photo-ready interior design. Whether you're looking for on-site or in-salon services, bold glamour or natural beauty look, enlist make-up services from Salon Elizabeth for any special occasion.
OUT + ABOUT 
Best local music act
>>> Tie
Humble Braggers
Don't be surprised if these folks become the next Buffalo band to make waves on the national scene; they've got a great feel for hook-filled dream pop that looks back to the synth-driven '80s while also embracing the more organic vibe of 21st century indie rock. The result is music that is both instantly accessible and artistically interesting. Live shows are friendly and fun affairs, while their 2017 album I Know Better, I'm No Better establishes that they also know how to capture their signature sound in the studio.
Little Cake 
littlecake.bandcamp.com, soundcloud.com/littlecakesounds
Maybe you haven't yet heard of Little Cake (comprising singer/songwriter/muli-instrumentalist Ana Vafai and various backup performers) but you will. Little Cake is the name of the band and Vafai's stage name (think Annie Clark and St. Vincent). It has a couple live albums out, which are woefully inadequate in conveying the live show experience. This is really a music act, with songs faintly reminiscent in musical complexity and myriad influences of Frank Zappa and the early Mothers of Invention, as well as in their infectious absurdity. Vafai's unbridled stage presence might remind you of Bette Midler at her wildest. Ultimately though, comparisons are insufficient in describing Little Cake, a totally fresh and original act.   
Best summer concert series
ARTPARK
450 S. 4th St., Lewiston; 754-4375 or artpark.net
Yes, it's a bit of a drive for most Western New Yorkers. Yes, the traffic, parking, and the crowds can be a bit of a hassle. But, for the sheer firepower of its lineup and low ticket prices for concerts that often command triple-digits in other markets, it is hard to top Artpark. While classic rock acts dominate the season, there's enough variety for virtually every taste. And where else can you sit back and enjoy a double bill of Steve Miller and Peter Frampton performing against the spectacular backdrop of the Niagara Gorge for a mere $17? To paraphrase the English music critic Charles Shaar Murray, if you're too cool for that, you may just be too cool.
Best bar for live music (city) 
PAUSA art house
19 Wadsworth St., Buffalo; 697-9075 or pausaarthouse.com
In Buffalo's vibrant arts community, there is no shortage of venues to see regional fine art or hear a variety of dynamic musical acts. There are, however, very few spaces that have it all. Within the cozy confines of PAUSA Art House on the edge of Allentown, patrons can experience phenomenal music and curated fine art exhibitions while enjoying an elegant glass of wine, delicious small plates, and hearty sandwiches. The intimate nature of the venue allows patrons and creatives to mix and mingle in a multi-sensory space that is so much more than a bar.
Best bar for live music (southtowns)
189 Public House
189 Main St., East Aurora; 652-8189 or oneeightynine.com
Located near the East Aurora "Y," where Buffalo Road, Hamburg Street, and Main Street converge, 189 presents a full calendar of standing weekly shows, local bands, and touring acts. The majority of shows are free, including the weekly Acoustic Sundays gig, and the summer series Thursdays in the Alley. Concerts indoors (always reasonably priced) are usually standing room only. The stage, along one wall, dominates the barroom; the second-floor provides wide-open views of the ground floor and band-watching sightlines are stellar.
Best bar for live music (northtowns) 
The Irishman Pub & Eatery
5601 Main St., Williamsville; 626-2670 or irishmanpub.com
The Irishman has long been revered as a neighborhood staple, providing authentic and delicious pub food and drinks served up by famously friendly staff. This fun and vibrant bar is also a destination for live music lovers. On its website, you'll find a robust calendar of musical events ranging from open mic nights to solo and group acts. The Irishman also participates in "Music on Main," where every Thursday night live musical acts are featured at as many as ten different venues along Main Street in the village of Williamsville.  
Best concert (small venue)
Bill Frisell at Albright-Knox Art Gallery Art of Jazz
Frisell's appearance was the first return engagement by an artist in this series, and, this time, he brought a friend, young bass player Thomas Morgan. It was an evening of profoundly deep music, concluding with a version of "What the World Needs Now" that was so sublime, you could hear the audience exhale after having held its collective breath during the number. For the record, the world does need love, and, for a moment, it felt like maybe we'd get it.
Best large concert
David Byrne at UB Center for the Arts
Last year, Byrne tweeted that his upcoming tour would be "the most ambitious show I've done since the shows that were filmed for Stop Making Sense." That's a pretty bold claim, but it turns out it's true. Byrne travels with an eleven-piece group of highly skilled musicians, dancers, and singers—all grey-suited, bare-foot, and instrumentally untethered. From drums to keyboard, everyone performs in constant motion, their instruments around their necks, on a completely bare stage, surrounded by a heavy chain curtain. Every idiosyncratic movement is precisely choreographed, with lighting and effects that complement the musical mood. Byrne includes highlights from his forty-year career from Talking Heads (which he fronted) up to his new album, American Utopia, with tight, crystal-clear sound, all performed live.
Best outdoor concert
Earth Harp and Plasticiens Volant at Artpark
​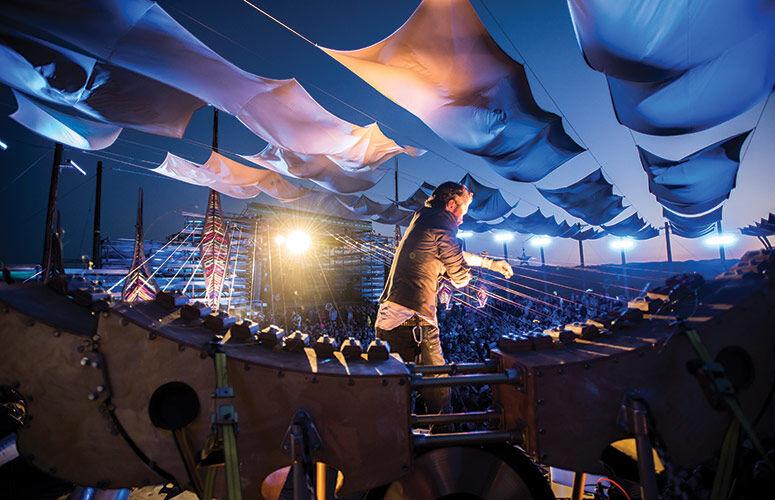 ​
The stunning centerpiece of the instrumentation–the earth harp–is one of the many new and cutting-edge instruments in this dynamic show. Meanwhile, a group of costumed actor-operators from France interact with the audience using giant, exotic, illuminated, inflated puppets and ojects to present stories from history, mythology, and literature against the evening sky. An amazing spectacle.
Best new hangout
Lucky Day Whiskey Bar
320 Pearl St., Buffalo; 322-0547 or luckydaywhiskeybar.com
Lucky Day is both quintessentially Buffalo and simultaneously decidedly not Buffalo at all. We love this about it, as well as the sophisticated decor, massive whisky selection, great taps, subtly funky dinner menu, and all the beautifully balanced and smart service and aesthetic choices Tim and Morgan Stevens seem to effortlessly imbue into their businesses (Ballyhoo, Drambox). We're glad to see the guys in suits who work downtown find this place as awesome as we do, and the live music program is pretty excellent, too, but we like it here when there aren't as many people around and we can chat up the barkeeps. Either way, a tavern that's as great when it's packed as it is when it's not-so-packed is pretty special.
Best production of contemporary show
The Night Alive, Irish Classical Theatre Company
New plays are tricky. Without benefit of years of established productions—sometimes even film interpretations—presenting a new work can be a miss as often as a hit. Succeeding in creating the latter comes down to making unprecedented choices that work, and that's exactly what made The Night Alive soar. From the Artie Award-winning direction of Brian Cavanagh and through to the cast and designers (in the middle of the ICTC in-the-round, the sink had running water!), the play crackled nonstop. Tone is tricky in these dark Irish comedies, but this crew nailed it.
Most innovative theater production
Stellaluna at Theatre of Youth
From the minute patrons entered Theatre of Youth, they could feel the magic. The moon beckoned from a set that applied otherworldly lighting to a nonspecific earthly location. And then the bats and birds arrived. The impressive puppets were handled skillfully by quintet of performers who imbued the creatures with grace, personality, and harmonious voices. Director Kyle LoConti and puppet designer Adam Kruetinger took home Artie Awards for this show, but the whole creative team was deserving (and nominated). There hasn't been a show quite like this on stage in Buffalo in recent memory, if ever.
Best production of a classic show
'night, Mother, Brazen-Faced Varlets
The opposite of what it takes to successfully present a contemporary show, presenting a classic requires creatives to take material that's had definitive interpretations and make it fresh. For 'night, Mother, which had its premiere in 1982, it also takes chemistry between the leads, and an ability to find humor in absolute tragedy. The almost too intimate space in the back of Rust Belt Books only heightened Brazen-Faced Varlets' haunting and beautiful production of this Pulitzer Prize-winning mainstay, surely one of the company's best offerings to date.
Best large exhibition
>>> Tie
Tony Conrad: A Retrospective at Albright-Knox Art Gallery, University at Buffalo Art Gallery, and Hallwalls Contemporary Art Center
Conrad is the hometown favorite here. The iconoclastic artist, musician, composer, theorist, media and computer pioneer, and UB professor—who died in 2016—was a beloved local figure. This extensive backward look at the artist's career organized by Cathleen Chaffee (AKAG) and Rachel Adams (UB), managed to encompass Conrad's incredibly diverse interests in a wide array of disciplines and media—including work that had never been exhibited—and make sense of it all. Well, as much as that's possible with Conrad.
Wanderlust at University at Buffalo Art Galleries
Curator Rachel Adams continues her hot streak of exceptional—and exceptionally ambitious—exhibitions. Spread out between two galleries, Wanderlust was an impressive collection of video, photo-documentation, installations, text, and live performance, covering fifty years of work by artists who venture out of the studio and into the world to make art. The long list of artists included Vito Acconci, Janine Antoni, John Baldessari, Allan Kaprow, Ana Mendieta, Richard Long, several Buffalo-based artists, and many more.
Best small exhibition
>>> Tie
belit sag at Squeaky Wheel
617 Main St., Buffalo; 884-7172 or squeaky.org
belit sag, a Turkish artist based in Amsterdam with an international pedigree, has had exhibitions at high-profile venues such as the Documenta Festival in Germany and TIFF, and had her first solo show at Squeaky Wheel last fall. Curator Ekrem Seder hosted the ambitious show, called Let Me Remember, which was a copresentation with the Flaherty Film Seminar and featured five video installations focused on a series of brutal, racially motivated murders of migrants committed by NSU, a neo-Nazi group in Germany. These revelatory video works, installed in Squeaky Wheel's gallery and storefront window, created an immersive experience both tender and furious, with sag's committed yet gentle whispered voice-over filling the room. The work is both indictment and reflection of the white supremacy insidiously embedded in our culture, from the related courtroom trials to media representations of the victims.  A glowing review in ArtForum described the key questions of the show: What can be remembered, who can do this remembering, and which remembrances count?
Entwined at Indigo gallery
47 Allen St., Buffalo; 984-9572 or indigoartbuffalo.com
Individually, artists Jesse Walp and Bethany Krull create visually and intellectually compelling work. But when the real-life partners make art in tandem, each contributes something extra to the other's work. Some of the art in Entwined was made by the artists individually, but three pieces were collaborations, where the Krull and Walp's skills "entwined" to create a unique artistic hybrid. One of these, Becoming Brand New, deserves an award on its own. The sci-fi-creepy wall-mounted installation comprises more than a hundred clear cast-rubber spheres of various sizes, each with a black ceramic tadpole "developing" inside. And Krull's cute/macabre pile of newborn (porcelain) mice are the sort of thing you don't soon forget.
Best longstanding fundraiser
The Ride for Roswell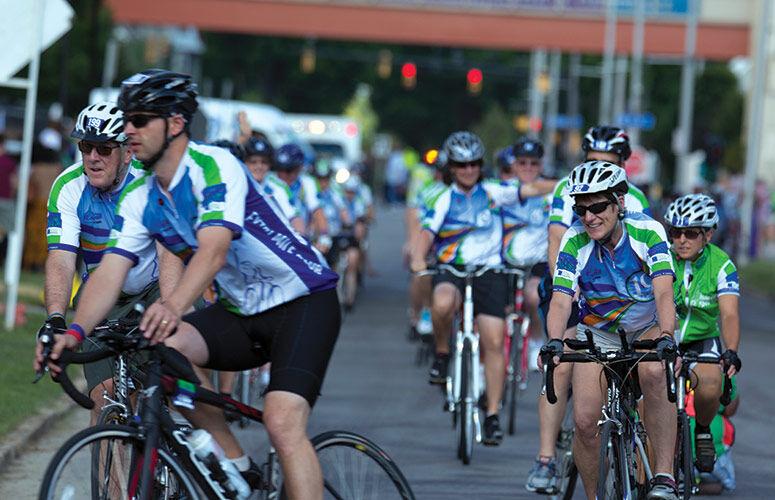 Ride for Roswell is one of the area's most well-respected, well-run, and well-received fundraisers. What began in 1996 as an idea suggested by a single volunteer has grown from three routes to eleven with a preride rally called the Celebration of Hope. Today it's certainly one of Buffalo's most noteworthy fundraisers, not just because it's for a great cause, but also because it's really just fantastic fun.
Best fundraiser (new)
11 Day Power Play
880-7080 or 11daypowerplay.com
In its inaugural year, the 11 Day Power Play has made a huge impact. Forty players have participated in 250 consecutive hours of hockey and raised more than $1.2 million for Roswell Park Cancer Institute.The event was conceived and created by local hockey lovers Mike and Amy Lesakowski. Amy battled an aggressive form of breast cancer, while Mike lost his mother Evelyn to the disease. The couple's intense personal experiences with cancer paved the way for their creation of this record-breaking fundraising event, which ran from June 22 to July 3, 2017, shattered the world record for longest hockey game, and brought in donations from 3,272 individuals. In its second year, the organization is raising funds for cancer research and wellness programs at Roswell Park, Make-A-Wish WNY, and Camp Good Days.  This year's event took place July 5–July 15 at HarborCenter (after Spree went to press).
Best fundraiser with food and drink
A Cooks Tour
Spurred by the tragic suicide of Anthony Bourdain and the discussion of depression and mental health issues among restaurant pros that followed it, good friends Jill Gedra (owner of Lait Cru Brasserie) and Kate Elliott (general manager of Community Beer Works' restaurant operations) pulled in some of their industry peers to offer Buffalo a unique fundraiser at Kleinhans in June. It's always wonderful to see (and taste) the collaborative efforts of Buffalo's restaurants, particularly for an important cause. The event sold out quickly and all profits were donated to the American Foundation for Suicide Prevention.
Most unusual cultural event
Response Performance Festival, Torn Space Theater
Silo City (100 Childs St.; tornspacetheater.com or 812-5733)
There might be nothing more exciting happening in Buffalo performance than Torn Space's work at Silo City. Among its significant and wildly imagined theater/performance pieces is the multi-dimensional Response Festival. Within its sophomore year, multiple components work together to create an intricately woven narrative of—according to creators—"a parallel society with its own system of symbols, rituals, and governance." Torn Space visionary Dan Shanahan and associate director Melissa Meola have curated and developed the Festival as a series of performances, including unique events being held in August and November. Be sure to get tickets while you can.
Best outdoor programming for kids
Canalside
44 Prime St.; 574-1537 or canalsidebuffalo.com
We don't have enough space to list all the programs for kids at Canalside, but they include story times, Explore and More Museum, dance and acrobatics, an outdoor movie series, beach sand play area, plenty of free lawn and table games including ping pong, billiards, foosball, bean bag toss, and much more. A new Explore and More Museum is slated to open at Canalside in 2019.
Best family fun (winter)
Lumagination at Buffalo and Erie County Botanical Gardens
2655 S. Park Ave.; 827-1584 or buffalogardens.com
Imagine standing outside gazing at a vast glass building pulsing light as snow falls quietly around you. Well, you don't have to imagine it, because each winter, the Lumagination show at the Botanical Gardens transforms the greenhouse and its environs with amazing light displays and creative designs while interactive features provide fun for all ages. Plus, it's warm inside.
Best family fun (summer)
Buffalo Zoo
300 Parkside Ave.; 837-3900 or buffalozoo.org
This zoo offers a truly fun and rewarding experience for all members of the family. It's inhabitants run the gamut from cuddly to carnivorous, and the staff clearly take great pains to make their educational material entertaining as well as informative. Kids will enjoy  camps, workshops, tours, badge programs, and much more. The zoo does it all, all year round.
Best winter event  
Buffalo Motorama 
Buffalo isn't the Motor City but with our local Ford and GM plants still roaring, the automobile still figures large in both our local economy and our culture. The locally produced, enthusiast-driven car show Buffalo Motorama doesn't feature the latest model cars. Instead, you'll find a fascinating array of carefully restored vintage automobiles and one-of-a-kind custom cars that pay tribute to the invention that revolutionized the world. A great end-of-winter (it takes place in late March) outing for kids and adults alike, Buffalo Motorama is throwback to the era when every car didn't look the same and working on your car was a national pastime. Bonus: you won't be tempted to open your wallet by the allure of new vehicles for sale.   
Best summer event
Bisons Star Wars Night
1 James D. Griffin Plaza, Buffalo; 846-2000 or milb.com/buffalo
Initiated in 2008, the Buffalo Bisons' annual Star Wars Night is inundated with The Force, selling out 16,907 seats, and drawing enthusiastic, costumed crowds to Coca-Cola Field every June. For those who don't own light sabers, formidable space weaponry is available for sale. The climax is an on-field battle between Jedi Knights and the Dark Side, followed by a fireworks display, shining mightily over downtown Buffalo.
Best indoor event
Nickel City Con
Remember when being a nerd wasn't cool? Not anymore. Nerd culture is now big business, and in Buffalo, the most conspicuous evidence of this is Upstate New York's largest pop culture and comic book convention. It's the place to let your geek flag fly! This year the event brought plenty of muscle to Buffalo, in the form of Hulk Hogan, Lou Ferrigno, Jimmy Hart, and Ricky Steamboat. Plus, star power: Barbara Eden, Jason Mewes, Lori Petty, and Corbin Bernsen, among others. (Don't recognize some of these names? Not everyone can talk nerdy.) Maybe, the biggest Nickel City coup was bringing Richard Dreyfuss to the North Park Theater for a special viewing of Jaws, followed by a Q&A. All the while, cosplayers lent the whole event a surreal quality.
Best festival (city)
Elmwood Avenue Festival of the Arts
Always held the last weekend of August, Elmwood Avenue Festival of the Arts has been celebrating regional artisans and artists of various genres since 1999. Vendors, three performance stages, a dance tent, and a kidsfest area are set up along the avenue between Saint James Place to the north and West Ferry Street to the south. The festival emphasizes community and invites local nonprofits to disseminate news, as well as traditional vendors. It ends with a raucous parade and a street dance party on Sunday evening.
Best festival (suburbs)
East Aurora Music Fest
This relative newcomer to the region's overstuffed summer schedule celebrates homegrown music, showcasing eighty WNY-based bands from all over the stylistic map on a Saturday afternoon in early June. But walking or taking the shuttle to the twenty indoor and outdoor venues also gives visitors a chance to check out just how much EA has to offer in terms of restaurants, bars, and shops both on and off the beaten path. As if that weren't enough, the budget-priced admission fee gets donated to a revolving group of local nonprofits.