Best Bagel
[City]
Breadhive
Open on the city's West Side since 2014, this women-owned, worker-owned bakery collective is starting to seem like an institution, with its bread and soft pretzels available at restaurants and breweries all over town. Sourdough forms the base for all BreadHive breads, as well as the much-loved bagels, which come in traditional flavors like sesame and everything as well as rosemary sea salt, and which make an excellent vehicle for some of Buffalo's best breakfast sandwiches. Try a veggie spin on the Courtney (all sandwiches are named after famous female singers) by requesting seitan, instead of pastrami with the eggs, Swiss, greens, and spicy whole grain mustard. Or get an egg instead of tofu in your otherwise-vegan Shania with tempeh bacon, roasted vegetables, and turmeric.
402 Connecticut Street, Buffalo; 980-5623, breadhive.com
Best Bagel
[Suburbs]
Bagel Jay's
Some of WNY's best New York-style bagels are made each morning at Bagel Jay's, and they have been since 2001. We think most people have a favorite go-to order at Jay's, but maybe you should consider mixing it up a bit? After all, Jay's makes bagels sammies in a wide variety of traditional and not-so-conventional flavor profiles. Recently a friend ordered a toasted cinnamon bagel with honey cream cheese that made us regret our classic pumpernickel with nova (but only for a fleeting moment).
Multiple locations; bageljays.com
Best Barbecue
[City]
Fat Bob's Smokehouse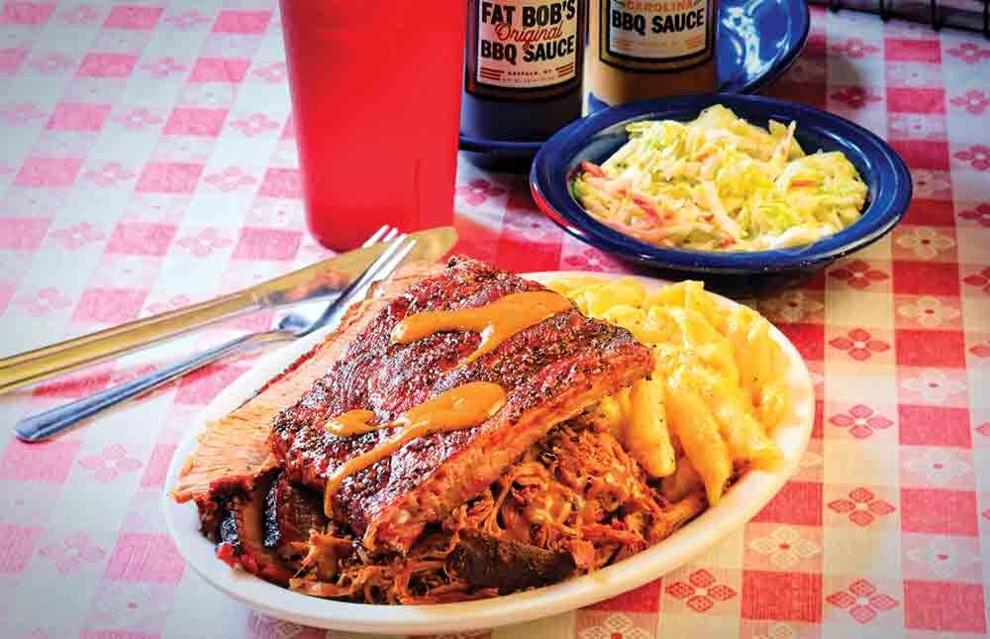 In the heart of Allentown, Buffalo's favorite barbecue joint is celebrating twenty years of slinging some of the best low-and-slow fare in town. Wafts from the custom-built Texas smoker out back beckon diners from blocks away to enjoy tender, fall-apart brisket, chicken, ribs, turkey, and pulled pork piled high on platters, sandwiches, and mac. A selection of homemade sauces spans the south from mustardy Carolina style to sweet Kansas City.
41 Virginia Place, Buffalo; 887-2971,  fatbobs.com
Best Barbecue
[suburbs]
Smoke on the Water
While suburban barbecue joints come and go, Smoke on the Water, with its dive bar vibe and excellent patio that spills onto boat docks, has stood the test of time and built a loyal following. The barbecue isn't too shabby either, especially piled high on a loaded baked potato affectionately named the hand grenade.   
77 Young Street, Tonawanda; 692-4227, sotw77.com
Best Barbecue Sides
[City]
Dinosaur Bar-B-Que
Dinosaur scared up a fervent following in Rochester, and has been slinging BBQ in the heart of Buffalo's Theater District since 2014. Everything is homemade, right down to the bleu cheese dressing, and hot or cold sides include fresh cut fries, mac 'n' cheese, chili, Cajun corn, and BBQ fried rice. But the cold sides shine with fresh sweet & sour cucumber salad, the addictive Harlem potato salad, and coleslaw you'll want to pile onto everything on your plate.
301 Franklin Street, Buffalo; 880-1677, dinosaurbarbque.com/buffalo
Best Basic Burger
[City]
TIE:
Allen Burger Venture
Sometimes you just want a good burger, you know? No fried egg, no bone marrow or weird ingredients or add-ons. While ABV does do weird well, its plain ol' burger is guaranteed to exceed expectations without a lot of fanfare, just big, juicy, and cooked to order.
175 Allen Street, Buffalo; 768-0386, allenburgerventure.com
Lucky Day
In a sea of $15 overloaded gourmet burgers, Lucky Day's $5 Thrasher burger is a thing of beauty. Built from a double stack of patties smashed thin, and topped with lettuce, tomato, onion, and remoulade (cheese is extra), it hits all the right buttons. Unfortunately, as happens to all good things, it couldn't last, and now appears to be available solely as a happy hour special.
320 Pearl Street, Buffalo; 322-0547, luckydaywhiskeybar.com
Best Basic Burger
[Northtowns]
Buffalo Brew Pub
The oldest brew pub in New York State has had a lot of time to perfect its burger. The juicy, fresh and never frozen ten-ounce Angus Burgers are heaven on a bun.
6861 Main Street, Williamsville; 632-0552, buffalobrewpub.com
Best Basic Burger
[Southtowns]
Stack Burger
A new location and new menu items have not changed the quality and deliciousness of these fan favorites. It was under our radar for a while, but now we know why burger-lovers rave about Stack's big, flavorful, always fresh patties, whether single, double, or triple stacked.
1506 Abbott Road, Lackawanna; 288-8204
Best Beef on Weck
[City]
Eckl's@Larkin
A unique modern-day steak house, Larkin District also features chops, seafood, and, of course, Eckl's classic carved roast beef on 'weck. (The 'weck-curious can start out with the prime rib-n-'weck eggrolls.) Add a serving of Eckl's superior fries to sop up the jus and you've got yourself a Buffalo classic.
703 Seneca Street, Buffalo; 331-3242, eckls.com            
Best Beef on Weck 
[Northtowns]
TIE:
Adrian's Custard and Beef
Worth driving over any bridge for, the beef on 'weck sandwich at Adrian's on Grand Island comprises a firm fresh roll dotted with salt and kummelweck seeds that stands up to the mass of tender, nicely-seasoned, piled-high roast beef. You'll want the curly fries here. The new space is big and bright—a summer classic.
2352 Grand Island Boulevard, Grand Island; 773-9242, adrianscustardandbeef.com
Glen Park Tavern
The beef on 'weck at this venerable and popular eatery gets high marks for  flavor, texture, and the fact that  the meat is served as ordered—from rare to well done.
5507 Main Street, Williamsville; 626-9333, glenparktavernbuffalo.com
Best Beef on Weck
[Southtowns]
Schwabl's
There's a reason Alton Brown picked this beef on 'weck as the best in town. Schwabl's opened in 1837, and its BoW epitomizes the old school meat and potatoes experience. Hand carved roast beef mounded on a Kümmelweck roll (you can practically taste the umlaut) is served with homemade German potato salad and coleslaw or pickled beets.
789 Center Road, Buffalo; 675-2333, schwabls.com
Best Beer Selection
Shatzel Group
If there's one thing that Allen Burger Venture, Brennan's Bowery Bar, Cole's, Colter Bay, Liberty Hound, The Marcy Casino, Moor Pat, The Terrace at Delaware Park, and Thin Man Brewery have in common—aside from all of them being owned or co-owned by Mike Shatzel—it's the sheer number of variety of beers available on tap and in bottles in cans at each establishment. One could argue that Shatzel has done more to broaden Buffalonians' beer tastes more than any other person. Cheers, Mike!
Everywhere, Buffalo
Best Brunch
[city]
TIE:
Betty's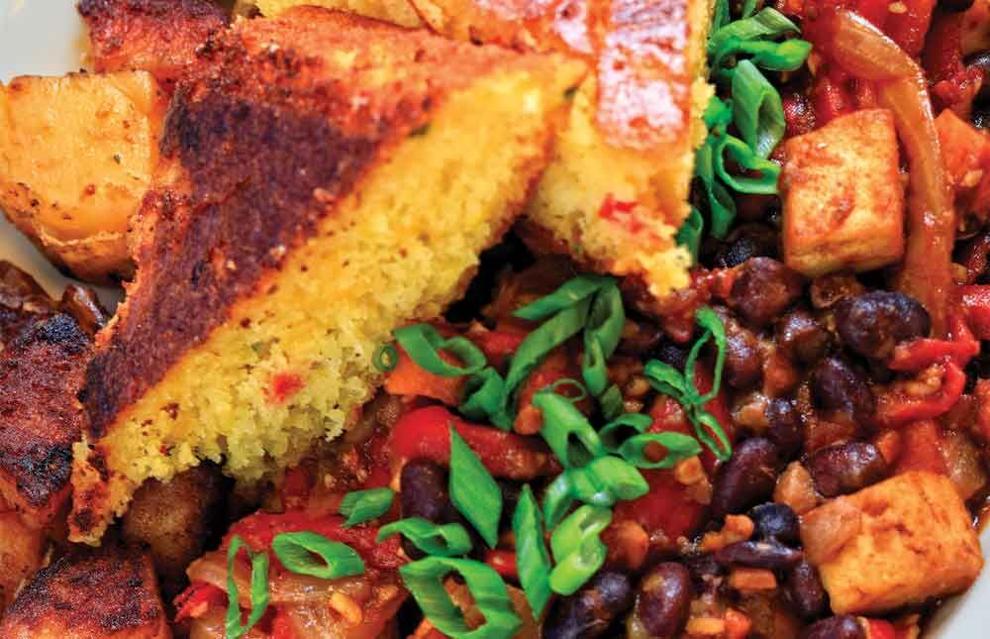 A favorite that's been serving this corner of Allentown since 2004, Betty's has managed to preserve its beloved classics while also growing with the times. The breakfast burrito, scrambled tofu hash, chilaquiles, and a range of Benedicts fill the menu as always, while specials typically include a healthy egg and vegetable scramble, something on the sweeter side, and an ever-growing array of vegan choices. Get there early on Sundays (doors open at 9) or be prepared to wait for a table.
370 Virginia Street, Buffalo; 362-0633; bettysbuffalo.com
Roost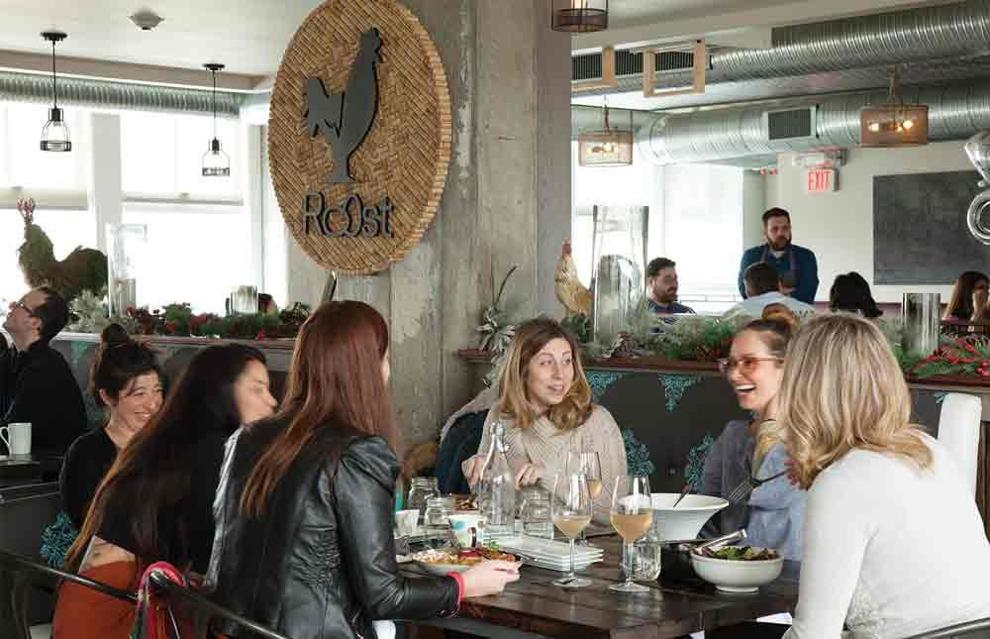 With an ever-changing and seasonal menu and a relaxed vibe, Roost is always a great bet for brunch. Choose from a selection of gourmet pizzas including lemon, ricotta, thyme; breakfast; fig and prosciutto, and a generous selection of scratchmade entrees including salads, egg dishes, chicken, specialty pancakes, and salmon. Top it off with a brunchy craft cocktail or pitcher of red or white sangria.
1502 Niagara Street, Buffalo; 259-9306, roostwny.com
Best Brunch
[Suburbs]
The Grange Community Kitchen
The Grange gets so many things right, and brunch is no exception. Actually, brunch here is exceptional. From the handmade pastry to homemade salads, soups, creative breakfast sandwiches, frittatas, and specialty pizzas, the food and sense of community provides a perfect place to relax and enjoy good food cooked well with your loved ones.
22 Main Street, Hamburg; 648-0022 grangecommunitykitchen.com
Best Chef
[Established]
Mike Andrzejewski
Mike A's signature restaurant, Seabar, brought a twist on Asian-American fusion to Buffalo and is one of the rare restaurants to earn a perfect "10 plates" from Buffalo News food editor Andrew Galarneau. Mike A has mentored or taught the very best chefs in WNY. Mike A has cooked at the James Beard House more times than some people change their socks. Mike A is a master of plating. Mike A beat Bobby Flay. Mike A is the standard by which aspiring  and seasoned chefs judge themselves. Mike A is a pretty good cook.
Seabar, 475 Ellicott Street, Buffalo; 332-2928, seabarsushi.com (closed)
Best Chef
[new]
Nate Beardsley of Billy Club
Raised in Wyoming County, Chef Nate Beardsley is what the industry calls self-taught, though he'd likely credit his tutelage to early influencers, from the chef he worked under in Wyoming County to the owner of Sophia's, where, as a young cook, he learned about scratch cooking and hard work. Perhaps most influential are the several years he worked as a sous chef under chef Edward Forster, as well as the two years he spent living and working on a farm in Central New York. These two experiences are where he began to not just enjoy cooking, but to be inspired by it. He returned to Buffalo recently, taking the helm at Allentown's Billy Club. Here, his very fresh and seasonal menu highlights his relationships with local farmers and features his simple and approachable cooking style. We're so glad to have him back.
228 Allen Street, Buffalo; 331-3047, billyclubbuffalo.com
Best Chinese
[city]
TIE:
Ming
Tin-Tin
Still open four hours per day at the absolute most, still with no liquor license, still unseen on food delivery apps, still closed for extended periods, still cash only, Ming Cafe remains among the best. The menu resembles typical American Chinese—wontons, dumplings, crispy duck, fried rice, kung pao chicken—but the noticeable use of ingredients like sherry, fermented black soybeans, chilis, ginger, spring onions, and citrus is evident in  every bite. Tin Tin offers a more typical takeout experience, but its Chinese comfort food is top-notch and accessibly priced. Recommended: dumplings, lo mein, chicken in garlic sauce.
Ming: 3268 Main Street; 833-6988
Tin-Tin: 695 Kenmore Avenue; 835-8989
Best Chinese
[suburbs]
Peking Quick One
China is home to some of the oldest and most diverse cuisines in the world. Sadly, we rarely get to experience this as most stateside Chinese restaurants stick to a Westernized, fast food formula. That's why those who crave authenticity and novel experiences cherish Peking Quick One. Its "homestyle" menu, which started out as a way to comfort homesick UB students and professors, is a treasure trove of delights far removed from fried chicken in a sticky sweet sauce.
359 Somerville Avenue, Tonawanda; 381-8730
Best Coffee Shop
[city]
Public espresso + coffee
Nothing against the old Seattle-style coffeehouses, which are great places to meet friends or pass the time with a book, but you can tell a WNY expat hasn't been here for a while if that's what they still think of as Buffalo coffee culture. The current Buffalo coffee scene is fully 2019 and example number one is Public, with its latte components like turmeric, chili, lavender, and oat milk, as well as a sleek, modern style. In addition to its excellent and on-trend coffee drinks, and its utility as a great place for business meetings downtown, Public offers a breakfast and lunch menu and is especially beloved for its in-house pastry program and homemade doughnuts.
391 Washington Street; 367-9971, publicespresso.com
Best Coffee Shop
[northtowns]
Spot Coffee
Spot Coffee's signature tagline is right; it really is a neighborhood cafe! Founded in 1996, with twelve locations across WNY, there's a Spot Coffee for everyone. We love their locations in the Northtowns for their homey feel. They serve as respites for workers, readers, people taking meetings, and friends looking to connect. Read the newspaper, finish that proposal, or meet a friend—maybe even a few. Enjoy your Spot.
Multiple locations; spotcoffee.com
Best Coffee Shop
[southtowns]
Taste Bistro and Coffee Bar
Built in a century-old grain mill, Taste radiates a comfy-cozy energy while retaining its position as the coolest cafe in the southtowns. Take pleasure in its selection of signature drinks and the breakfast, lunch, and dinner menu its local clientele can't get enough of. Tuck into a plate of thick-cut, fluffy French toast, or grab a cup of coffee and soak up the tunes at one of its regular live music events.
634 Main Street, East Aurora; 655-1874, thetastebistro.com
Best Craft Cocktails
[City]
Buffalo Proper
Since opening in 2014, Proper has provided a lovely, warm, and welcoming enviroment in which to quaff expertly executed cocktails. Many a would-be Shea's patron has missed the first act as she lingered too long at this cozy-chic hangout, unable to leave her perfectly mixed drink half drunk.
333 Franklin Street; 783-8699, buffaloproper.com
Best Craft Cocktails
[SUBURBs]
Black Iron Bystro
As you sit at the bar watching your drink being crafted, prepare for an education in mixology. Out come the droppers and tinctures and bottles of homemade potions. Things may be set on fire. Citrus rinds will be coaxed to mist their oils over glass rims. You will probably be asked lots of questions about what you like to drink/eat/read/listen to. Then, at last, you'll be handed the drink you never knew you really, really wanted.
3648 South Park Avenue, Blasdell; 240-9830, blackironbystro.com
Best Date Night
[city]
Dapper Goose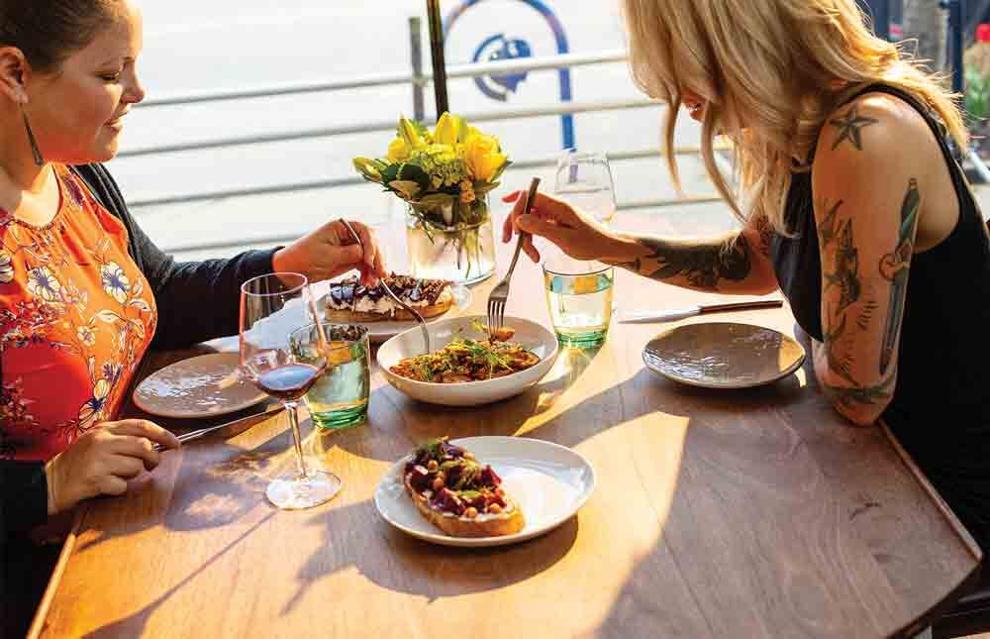 In winter, it's cozy and candlelit. In autumn, the big front windows allow the glow of early sunsets to permeate the room. In spring, it vacillates between a homey shelter from the drizzle and a peepshow for sun-shot trees showing off their baby buds and bright green leaves. In summer, the dining room is hushed and cool while the backyard patio is packed with enthusiastic diners enjoying the restaurant's tiny and verdant oasis. No matter what season, Dapper Goose is mood, mood, mood, and its ability to transfer that vibe to your next date is reliant simply upon your ability to allow it.
491 Amherst Street; 551-0716, thedappergoose.com
Best Date Night
[northtowns]
Carmelo's
The longish drive north from the city is well worth it, considering the quiet and intimate setting offered by Carmelo's. Expertly prepared, scratch made Italian favorites are sure to please even the pickiest of palates, while specials from seasonal, local ingredients tease the more adventurous. A post dinner hand-in-hand stroll down Lewiston's charming Center Street burns off a few calories.
425 Center Street, Lewiston; 754-2311, carmelos-restaurant.com
Best Date Night
[southtowns]
Roycroft Inn
The Roycrofters knew how to live. If you're unfamiliar with their ethos or history, just reserve a table at the Roycroft Inn and you'll see what we mean. During the warmer months, when nights are breezy and gardens are lush, dinner on the Inn's peristyle leaves little to be desired. But every night is a good night for a date at the Roycroft. Once you pull open its mammoth, hand carved door and cross the threshold, you'll feel the hand hewn wood, the luminous stained glass, and the quiet of the room all working together to enfold you. Romantic and soothing, you'll become as enamored with the Roycroft as we are.
40 South Grove Street, East Aurora; 652-5552, roycroftinn.com
Best Day Drinking
[City]
Chez ami, Curtiss Hotel
Those who'd like some adult beverage service earlier than 5 p.m. often find themselves with limited choices, especially if they're going for quality.  Fortunately, Buffalo's new crop of boutique hotels includes this rehabbed downtown beauty, with a revolving bar that opens at 11:30 a.m.
210 Franklin Street;  954-4900, curtisshotel.com
Best Dessert
[City]
100 Acres, Hotel Henry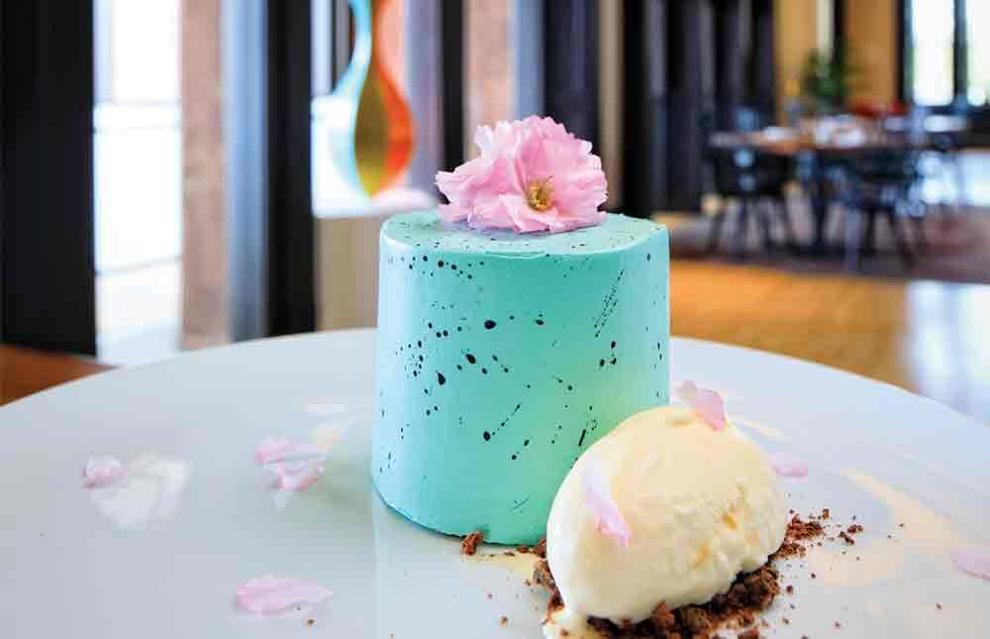 The exquisitely constructed confections here match the tone and elegance of their surroundings.
444 Forest Avenue; 882-1970, hotelhenry.com
Best Dessert
[Northtowns]
Dessert Deli
For more than thirty years, this gourmet bakery and dessert shop has been providing consistant excellence.
716 Maple Road, Williamsville; 689-2115, dessertdelibakery.com
Best Dive Bar
[city]
Allen Street Bar and Grill "Old Pink"
Say what you will about the looming, flame-licked shanty that watches over Allentown each night—we've heard it all and it doesn't change a thing. We'll take your dirty bathrooms and raise you the best DJ in town. We'll take your wobbly, shredded bar stools precariously perched upon the dirty, pitched floor and raise you the best steak sandwich any bartender will ever grill for you. (We'll stop there, but we could go on.) So when the National Historic Trust named the Old Pink not just one of seven, but #1 of seven of the most historic dive bars in the country last August, we knew the jig was up. She's no longer just our favorite dive bar. Now she's everyone's favorite dive bar.
223 Allen Street; 884-4338
Best Dive Bar
[northtowns]
Betty's Grill
We haven't been in a bar like this since long before Buffalo's renaissance—we'll mark 1995 as an approximation. This is a shot and a beer kind of place, but the regulars will be kind to you even if you're foolish enough to try and order a fussy cocktail. (We've been there.) Homey comfort food options, extremely reasonable pricing, a Betty Boop theme, and a no-fuss, neighborly camaraderie collude to make Betty's one of our favorite dive bars in WNY.
215 Main Street, North Tonawanda; 693-6422
Best Dive Bar
[southtowns]
Nine-Eleven Tavern
Nine-Eleven doesn't really deserve the dive bar designation, given how skillfully managed it is, but its feel is dive bar, for sure. It also happens to be home to arguably some of the very best wings in WNY. Good wings take time, so don't think you're gonna pop in and have some reheated pizzeria wings here. In fact, bring a friend to keep you company; Nine-Eleven's wing prowess means it's quite accustomed to strangers sidling in for a brew or a few, so make the trip. We promise you, it's worth it!
9-11 Bloomfield Avenue, Lackawanna; 825-9939
Best Doughnut
[city]
Donut Kraze
The doughnuts at Donut Kraze, in some ways, push doughnut boundaries you didn't know you had. You'll find yourself wondering just how many candy-bar-doughnut-mashups one can eat in a single sitting. At what point, you'll think, how much bacon is "too much," and is that amount adjustable if maple frosting is in play? Or is the diameter of a cinnamon roll an important consideration when evaluating whether said roll of cinnamon is one portion or two? After only a single trip to Donut Kraze, it's pretty standard for one's internal dialog to become constantly disrupted by pressing questions like these, which, come to think of it, might be how the shop's owners came up with the name.
365 Somerville Avenue, Tonawanda or  406 Dingens Street, donutkrazebuffalo.com
Best Doughnut
[northtowns]
Paula's
We don't know who is responsible for electing foods to the unofficial Buffalo food hall of fame. Whomever you are, Paula's Donuts is awaiting its sash and crown. Now, which Paula's doughnut deserves a place on the dais next to chicken wings, beef on 'weck, sponge candy, an extra large loganberry drink, and a Ted's hot dog is unclear, as most customers would fight for their faves. So how about we just skip the doughnut and sit Paula herself up there, with the citation and plaque she and her beloved confections deserve?
Multiple locations; paulasdonuts.com
Best Fish Fry
[City]
Wiechec's Lounge
Fish frys rule on Fridays at Wiechec's. The dedicated fryer insures a delicious, freshly fried fish every time. The golden brown fish is  balanced atop perfectly prepared fries, coleslaw, and both potato and mac salads. Easy to see why this place is always nominated for the fish fry prize.
1748 Clinton Street; 823-2828
Best Fish Fry
[Northtowns]
McPartlan's Corner
In spite of the ubiquity of fish fries throughout the region, this spot has retained its position near the top of most lists for more than fifty years. (Some say it's the macaroni salad.)
669 Wehrle Drive, Amherst; 632-9896, mcpartlanscorner.com
Best Fish Fry
[Southtowns
Wallawein's Hotel
This old school hangout (there has been a bar here for more than 100 years) has been known for its fish fry for a few decades. Expect a crowd of happy regulars and probably a bit of a wait; it's worth it.
641 Oakwood Avenue, East Aurora; 652-9801
Best Food Truck
Amy's truck
Maybe it's not the flashiest truck, but born and bred from a well-loved, long established breakfast joint on Main Street, Amy's inexpensive and hearty Mediterranean-infused offerings consistently please both vegetarians and carnivores alike.
Best French Fries
[City]
Frank Gourmet Hot Dogs
Frank's fries are perfectly cut, par-cooked, and finished in a piping hot fryer to a crispy shade of golden brown. Try one of  Frank's custom sauces instead of ketchup.
707 Kenmore Avenue; 322-5933, findfranknow.com
Best French Fries
[Northtowns]
Moor Pat
Enjoy these handcut, twice-fried beauties plain or with mayo or gravy.
78 E. Spring Street, Williamsville; 810-9957, moorpat.com
Best French Fries
[Southtowns]
Juicy Burger bar
Great burgers demand great fries, and Juicy delivers. Its fry bar offers nine choices, including poutine, Greek, and chili cheese.
One Buffalo Street, Hamburg; 648-3200, juicyburgerbar.com
Best Gluten-Free
[City]
Two Wheels Bakery & Cafe
This is a dedicated gluten-free kitchen; those with gluten sensitivities can safely eat everything on the menu. It's all delicious, by the way.
435 Ellicott Street; 370-1505
Best Gourmet Burger
[City]
Marble + Rye
Made from house-ground chuck and short ribs, with a touch of marrow, burgers are a thing here, with silky texture and intense flavor.
112 Genesee Street; 853-1390, marbleandrye.net
Best Gourmet Burger
[Northtowns]
Griffon Gastropub
Custom-blended choices here include a superior beef option as well as wild game, seafood, turkey, and vegan.
5445 Transit Road, Clarence; 580-3701, thegriffonpub.com
Best Gourmet Burgers
[Southtowns]
Juicy Burger bar
This Hamburg-based operation justifies the town's rep as home of the burger with a great variety of scratchmade options.
One Buffalo Street, Hamburg; 648-3200, juicyburgerbar.com
Best Guilty Pleasure
TIE:
Foie gras at Tempo
We don't think we're the only ones who categorize foie gras as an indulgence, and a favorite one at that. While it only appears on Tempo's menu as a special, the kitchen's preparation is always seasonally influenced and utterly delectable. Served as a light-as-air torchon or pan seared until it's crisp on the outside and melty on the inside, the foie at Tempo is always beautifully prepared and ideally seasoned.
581 Delaware Avenue; 885-1594, tempobuffalo.com
Beef on 'weck roll at Seabar
Diners have long depended on Seabar for excellent sushi as well as a changing array of notable entrées. But no matter how many delicious meals we've had here, it's the beef on 'weck roll for which we pine. Vinegary, toothsome sushi rice plays backup to tender beef carpaccio, highlighted with just the right amount of rock salt, toasted caraway seeds, and the best spicy-sweet horseradish sauce we've ever had (Seabar, can you start bottling this, please?) It's a Mike A riff on a Buffalo classic, and for that alone it gets a nod, but never has a riff been such a wildly delicious, conceptually refreshing, totally obsession-worthy jaunt.
475 Ellicott Street; 332-2928 or seabarsushi.com
Best Hangover Cure
[City]
Jim's Steakout
Whether as a preventative the night of or as a stomach-coating restorative the day after, we recommend one of this place's many hoagy options, especially the Jefferson: sausage, chicken or steak, fried onions, melted cheese, and Secret Sauce.
194 Allen Street;  886-2222, jimssteakout.com
Best Hangover Cure
[suburbs]
Sophia's Bloody Mary
Bloody Marys (and Caesars) are a ubiquitous brunch offering. Because a Bloody is a tried and true morning-after cure. Off Military Road, local favorite Sophia's loves to go overboard, so it's no surprise its Bloody Mary closely resembles a well-stocked supermarket. From slices of bacon and dilly beans, stalks of celery and fried onion rings, to lemon wedges and jalapenos, Sophia's Bloody Mary eats like a meal.
749 Military Road, Tonawanda; 447-9661
Best Hot Dog
[City]
Frank Gourmet Hot Dogs
These custom dogs are made from locally raised meats, served in scratchmade buns, and covered with creative housemade toppings.
707 Kenmore Avenue;  322-5933, findfranknow.com
Best Hot Dog
[Northtowns]
Ted's Hot Dogs
These legendary charbroiled dogs are synonymous with growing up in WNY.
multiple locations; tedshotdogs.com
Best Hot Dog
[Southowns]
Red Top
In business since 1946, this crowd pleaser chargrills custom Wardynski dogs. There's also a nice lakefront view.
3360 Big Tree Road, Hamburg; 627-5163
Best Ice Cream Shop
[city]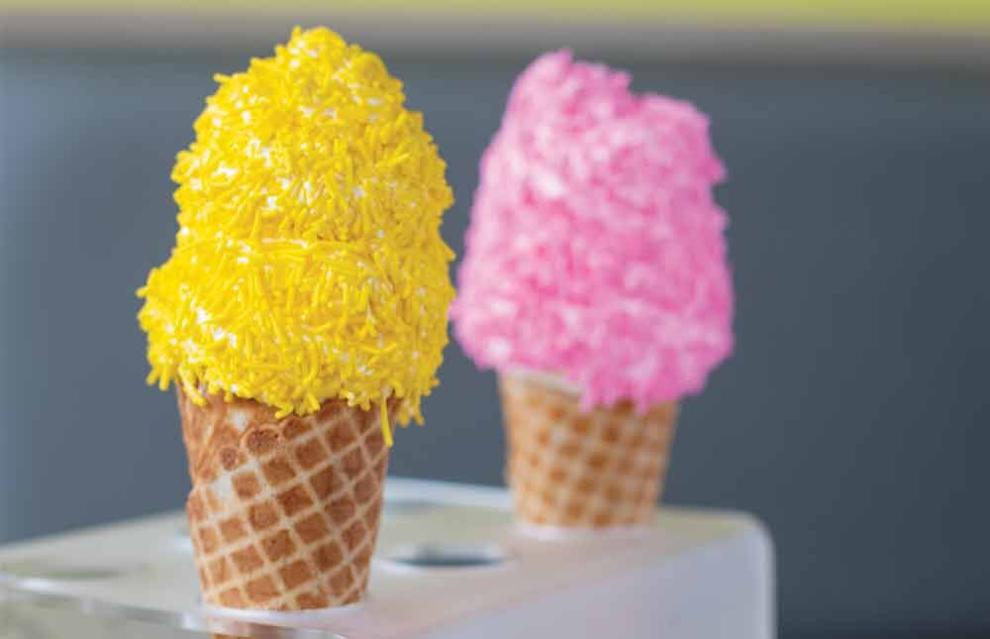 Churn
Now two years old, Churn has hit its stride. We argue Churn is making the best soft serve in WNY, and dare you to put that statement to the test. Now, if you don't like real ingredients like local cream and cane sugar, maybe this ice cream isn't for you. But since the line is out the door and halfway around the block every time we try to go, we're guessing y'all are as happy with Churn as we are—and, btw, have you tried one of Churn's scratchmade ice cream sandwiches? What are you waiting for?
1501 Hertel Avenue; 863-9781, churnsoftserve.com
Best Ice Cream Shop
[Northtowns]
Lake Effect Artisan Ice Cream
The Lake Effect Ice Cream flavor board routinely features more than twenty-five choices, each one more creative and crave-worthy than the next. Each rich and creamy selection is made in-house from premium ingredients blended into locally inspired combos like loganberry, Revolution coffee, Paula's glazed donut, butter lamb, and sponge candy.
79 Canal Street, Lockport or 1900 Hertel Avenue; lakeeffecticecream.com
Best Ice Cream Shop
[Southtowns]
Nick Charlap's Ice Cream
More than fifty years in operation, this family-owned favorite is known for its inventive custards.
Multiple locations; Facebook/Nick Charlap's Ice Cream
Best Large Wine List
[Bottle]
Oliver's
Sometimes, a small, selective list just won't do. If you want a full choice among countries, varietals, and styles—with the ability to splurge—this is the place.
2095 Delaware Avenue; 877-9662, oliverscuisine.com
Best Local Brewery
[city]
Community Beer Works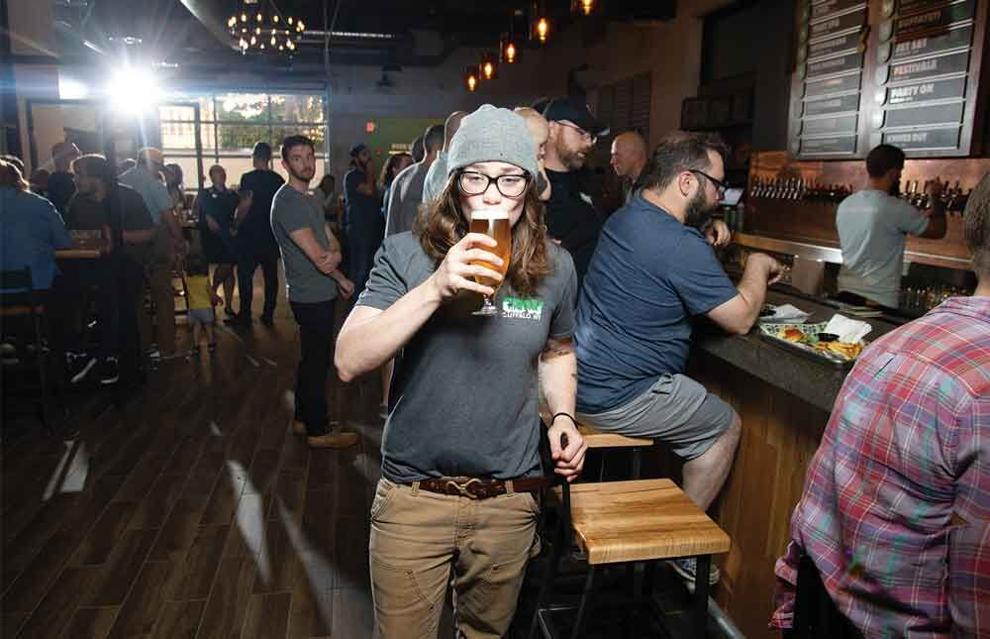 One of the first and one of the best, there's no doubt CBW has the hearts [and votes] of local beer drinkers. The brewery has done a ton of collabs this year, on top of opening its new facility, replete with a restaurant and taproom. Every time we stop in, there some great community event being held, and we love the game room off the mezzanine. We can't wait to see what the team at CBW will do next.
520 7th Street; 759-4677, communitybeerworks.com
Best Local Brewery
[northtowns]
12 Gates
It's tucked away in an office park in Amherst, but 12 Gates can't hide from the loyal following who pack the tasting room daily. With good reason—the freshly brewed tap selections provide a range of styles that go from hoppy West Coast Style IPA and dark Coffee Porter to lighter pilsners and lagers, and even include a range of fruited sours. Cans are available at better beer stores all over WNY.
80 Earhart Drive, Williamsville; 906-6600, 12gatesbrewing.com
Best Local Brewery
[southtowns]
42 North Brewing Company
East Aurora's 42 North not only makes really good beer, it's also a solid place to hang out. So much so, that, in February, it announced a massive expansion, adding 6,600 square feet for event space, a canning operation, and four Airbnb rentals in addition to more refrigerated storage. Readers can expect the space to be done by early summer.
25 Pine Street, East Aurora;  805-7500, 42northbrewing.com
Best Local Winery
Liten Buffel
Natural wine is where it's at, kids. We couldn't be more excited to have Liten Buffel here in WNY, creating incredibly interesting and quaffable natural wine close to home. Twice in the last year, this local winery graced the pages of Bon Appetit. Most of the winery's juice is allocated to restaurants and wine sellers in NYC,  but a handful of locals have caught on, so if you can't make it out to Middleport, there's no good reason for not having tasted its wine yet; check out local sellers posted on its website.
8822 Pearson Road, Middleport; litenbuffel.com
Best New Hotspot
TIE:
Misuta Chow's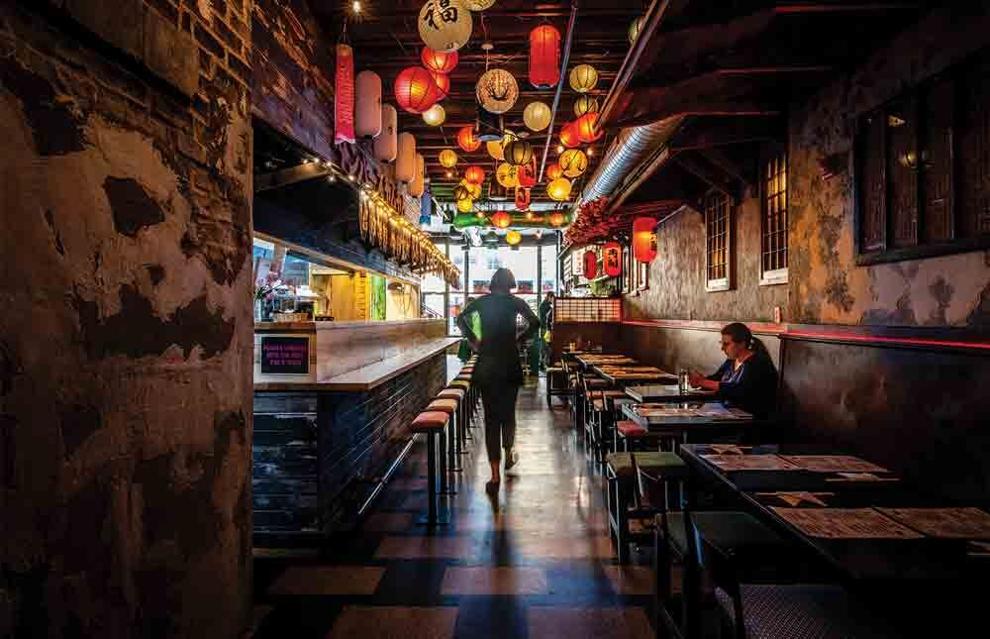 At Misuta Chow's, two vibrant floors of bar and play space pay homage to Japanese culture (downstairs) and the 1980s (upstairs), connected by the Instagram sensation hot pink Hello Kitty staircase. Old-school arcade games like Skee-ball and pinball, sake on tap, neon, kitch, faux building facades, a Japanese street food menu, and countless little surprises transport visitors to another time and place entirely.
521 Main Street; 259-8228, misutachows.com
The Little Club
The Little Club, a wine bar opened by Tommy Lombardo across the street from his family's landmark high-end Italian restaurant, offers a relaxed after-work or evening sip in an open Mediterranean-vibed space. The menu centers around well-curated wines by indie makers and upscale snack plates, with a few cocktails and draft beers for the viNOPEs among us.
1197 Hertel Avenue; 427-6200, thelittleclub.bar
Best New Restaurant
Daniela.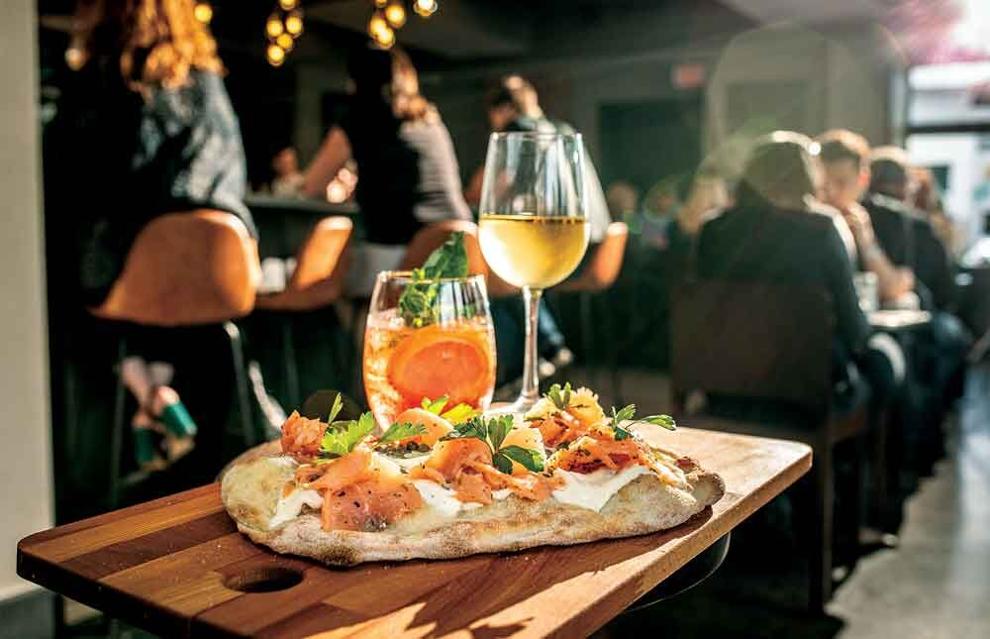 It's exciting when a new restaurant also brings a different cuisine—Buffalo had no pinsa until Daniela. came along. Trust us, this spin on Roman-style pizza is a major gift to Buffalo diners.
387 Forest Avenue; 235-8598
Best New Restaurant
[suburbs]
Prescott's Provisions
Here's a welcome new addition to the up-and-coming restaurant scene in the city of Tonawanda. A sort of jack of all trades, Prescott's does a morning coffee bar, lunch, and dinner service, fueled by a wood-fired pizza oven and grill. An expansive patio overlooking the Erie Canal adds to the experience.
40 E. Niagara Street, Tonawanda; 525-1260, prescottsprovisions.com
Best Noise Levels
Kuni's
Too often, sound is the last element restarant owners and designers think about, so we cherish those few places where it's possible to have a quiet conversation. Thank you, Kuni's.
226 Lexington Avenue; 881-3800, kunisbuffalo.com
Best Outdoor Space
[City]
Tappo
We already loved Tappo's rooftop, a great place to watch a summer sunset, but now there's an enchanting wintertime igloo option. That's going above and beyond the usual patio dining set-up.
338 Ellicott Street; 259-8130, tappoitalian.com
Best Outdoor Space
[suburbs]
Public House on the Lake
If you enjoy a glorious Lake Erie sunset with your dinner, look no further than this expansive restaurant, which also has a nice live entertainment schedule.
4914 Lake Shore Road, Hamburg; 627-5551, publichouseonthelake.com
Best People Watching
[City]
Hydraulic Hearth
Whether its the pickleball players, the food truck devotées, or the  music fans, HH offers a front row seat to top-notch Larkinville action.
716 Swan Street; 248-2216, hydraulichearth.com
Best Pizza
[Buffalo-style, City]
La Nova
La Nova has been a Buffalo institution since 1957, and all you need to do is bite into one of its gooey, cheesy slices to understand why. The sauce has a hint of sweetness, the crust isn't too thin, and the pizza never disappoints.
371 West Ferry Street; 881-3303, lanova-pizza.com
Best Pizza
[Buffalo-style, northtowns]
Franco's
Franco's has managed to grow into one of the largest local pizza chains while still producing high-quality Buffalo-style pizza. This a beautiful and hard-to-duplicate accomplishment. When evaluating this category, the benchmark is, of course, a cheese-and-pepperoni pie. Franco's nails it. Its trademark fluffy crust sports a crispy edge, good cheese/sauce ratio, and a hearty layer of cup-and-char augmented with those little pools of hot pepperoni grease we think deserve their own call-out on the menu. Five locations strong, Franbco's isn't too far from most Buffalonians.
Multiple locations; francospizza.com
Best Pizza
[Buffalo-style, Southtowns]
TIE:
Imperial Pizza
If you're new to the Imperial experience, go cup and char pepperoni and cheese on your first round, just to see how it ranks. Notice the crispy edges, the not-too-sweet sauce, and dough that's tender but not underbaked. This is Buffalo-style pizza at its best; fast, hot, and reliably delicious.
1035 Abbott Road;  825-3636 or imperialpizzabuffalo.com
Picasso's Pizza
Picasso's is close to the Platonic ideal of Buffalo-style pizza. With dough both chewy and crisp, sweet-ish just-right sauce, plentiful cheese, and perfectly curled pepperoni with singed edges and grease inside, it doesn't get much better.
Multiple locations; picassospizza.net
Best Pizza, Thin-Crust
[city]
Hearth + Press
Though it isn't a stickler for adherence to the VPN-style guidelines (for those who don't speak pizza, that's short for Vera Pizza Napoletana, an officially designated Italian pizza theology), Hearth + Press turns out a solid thin-crust pizza with a flavorful dough. Open downtown for lunch and dinner, H+P's quick-fire oven and well-trained staff can satisfy pizza hankerings with very little fuss at lunch, before a show, or after a concert.
665 Main Street; 262-0866, hearthandpress.com
Best Pizza, Thin-Crust
[northtowns]
Jay's Artisan Pizza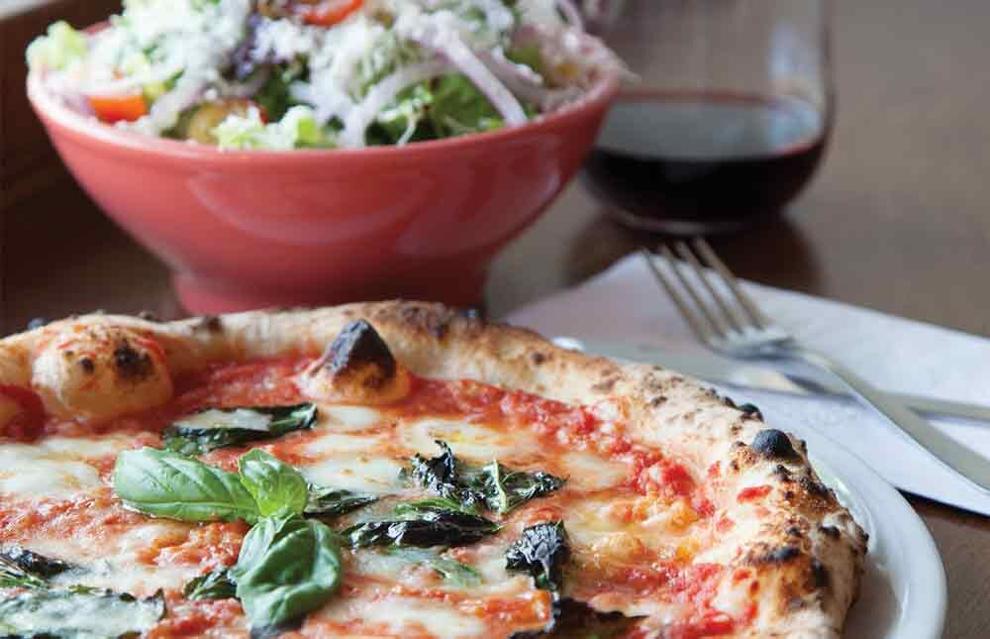 The opening of Jay's in 2017 is one of the most significant moments in Buffalo culinary history. Don't believe us? Spend a couple hours immersed in the world of American pizza cognoscente. Arthur Bovino, the author of Buffalo Everything and a certified pizza snob told Spree, "If Jay Langfelder was stretching out pies in Brooklyn or Manhattan, the national food media would've been all over him a long time ago… Buffalo has one of the country's premier pizzaiolos, someone committed to quality who knows how to play by the rules and knows when to buck them. Jay turns out some of America's best Neapolitan pies, and his tinkering with Detroit-style, focaccia, and other next-level creations make Jay's a must-visit destination for pizza nerds who consider themselves in the know."
2872 Delaware Avenue, Kenmore; 322-1704, jaysartisan.com
Best Thin-Crust Pizza
[southtowns]
The Grange community kitchen
Like everything else at The Grange, a farm-to-table foodie paradise tucked into a quiet village storefront a dozen miles from downtown Buffalo, the pizza menu shifts a bit with the seasons, focusing on tomatoes, root veggies, or fresh greens as they're ready for harvest. But no matter the time of year, diners can count on a tomato/basil margherita, a pepperoni, another spicy cured meat or two, and expect an appropriately crisp and chewy crust fired in a wood-burning oven visible from the front of the restaurant.
22 Main Street, Hamburg; 648-0022, grangecommunitykitchen.com
Best Place to Impress
100 Acres, Hotel Henry
What could be more impressive than a hotel and restaurant that wows visitors with its spectacular architecture before they even get inside? Built in 1870 and designed by one of the most celebrated architects in US history, Henry Hobson Richardson, this former asylum's distinctive silhouette towers over the surrounding area. Inside, in addition to a hotel and the well-regarded 100 Acres restaurant, it offers a coffee counter that can be used as a co-working space, weekday happy hours, a series of lounges, galleries, and special events—such as the annual holiday market. Whether you're visiting from out of town or a lifelong resident, this landmark is worth a look around.
444 Forest Avenue; 882-1970, hotelhenry.com/food-drink
Best Ramen
Sato Ramen
If you pay attention to these things, you might see ramen pop up in the least expected places as chefs jump onto the next new thing. But as simple as a bowl of noodles sounds, a proper bowl of ramen requires techniques best left to a dedicated kitchen. Sato, with housemade noodles and bowls built with layers of flavor, is the undisputed ramen champ in the 716.
3268 Main Street; 835-7286, satorestaurantgroup.com/sato-ramen
Best Red Sauce Joint
[City]
TIE:
Chef's Restaurant
The dish that made Chef's famous is a saucy, cheesy, carb-lover's dream. It arrives on a platter completely covered in a thick, gooey blanket of mozzarella with a dish of sauce on the side. While the pasta is sauced lightly, that side sauce allows diners to augment at will. When packing up leftovers (and you will), get a to-go cup of sauce too, to keep it moist when reheating. Especially for cheese fans, spag Parm is one local staple not to be missed.
291 Seneca Street; 856-9187, ilovechefs.com
Frankie Primo's +39
Owner Jay Manno spent several years traveling the world, experiencing the best casual Italian eateries from the Amalfi Coast to Chicago to South Beach to Toronto. And it shows. The menu at Frankie Primo's +39 is a culmination of his family's time trusted Italian-American recipes and his favorites from the road.
51 West Chippewa Street; 855-3739, frankieprimos39.com    
Best Red Sauce Joint
[Suburbs]
Mulberry Italian Ristorante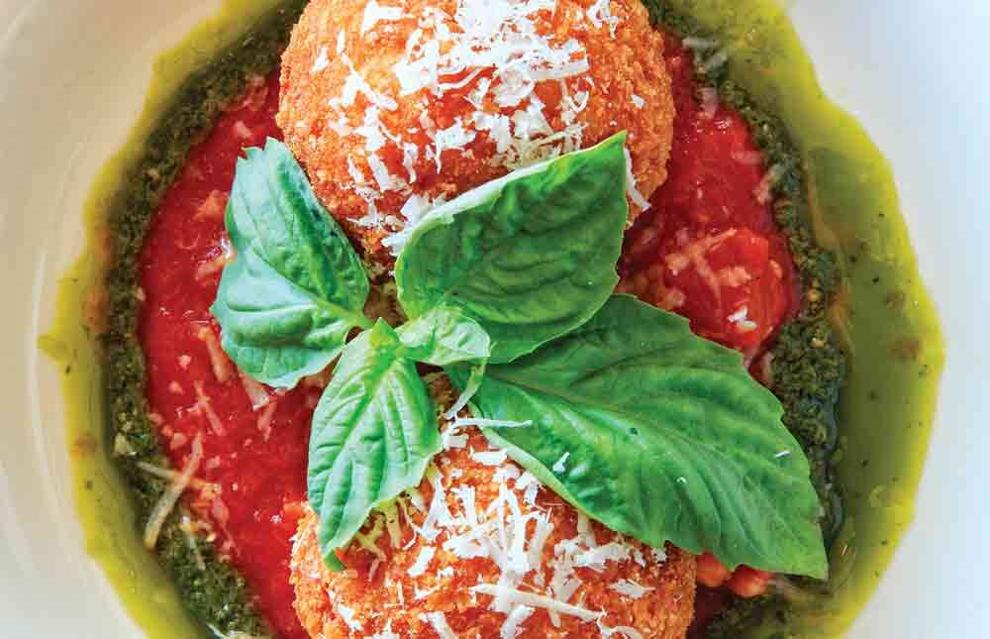 This quiet little restaurant at the end of a quiet little street packs big flavors into its traditional Southern Italian dishes.
64 Jackson Avenue, Lackawanna; 822-4292, mulberryitalianristorante.com
Best Restaurant for a Special Occasion
[City]
Patina 250
The contemporary artwork, the elegant circular bar, the three tiers of comfortable seating, and the spotless open kitchen add up to a welcoming, beautifully designed restaurant that's perfect for any special meal.
250 Delaware Avenue; 290-0600, patinagroup.com/patina-250
Best Restaurant for a Special Occasion
[Northtowns]
Salvatore's Italian Gardens (Italian | Prime at Salvatore's)
Everything about this place—from the extravagant, conversation-starting hallway decor to the elegant dining areas—says special event. Whether it's dinner for two or a family treat, Salvatore's is the place.
6461 Transit Road, Depew; 456-4097, salvatoresitalianprime.com
Best Restaurant for a Special Occasion
[southtowns]
Carte Blanche
With relative recent-comers like Sweet Pea Bakery, Prima Cafe, Alchemy, and, of course, the Grange all arriving on the scene, the village of Hamburg is a strong contender for the Southtowns' top restaurant destination. Among the standouts luring diners from outside the village, Carte Blanche boasts the most formal setup, with reservations recommended and an entrees-and-pastas-focused menu. Try their take on classics like coq au vin and strip steak, or get a touch more experimental with mushroom gnocchi or a smoked duck salad. Carte Blanche also offers oysters, not seen on every local menu, and almost twenty wines by the glass, in addition to an attractive space and well-organized service.
61 Buffalo Street, Hamburg; 649-2101, carteblanchehamburg.com
Best Seafood
[City]
Dobutsu
Meticulous sourcing and fresh, Asian-tinged preparations have made this bright, airy venue an instant hit, deservedly so.
500 Seneca Street; 322-6004, dobutsubuffalo.com
Best Seafood
[Suburbs]
Remington Tavern and Seafood Exchange
A massive raw bar, daily offerings of fish like yellow pike, and outside-the-box preparations make this spot perfect for seafood fans.
184 Sweeney Street, North Tonawanda; 362-2802, remingtontavern.com/wordpress
Best Small Wine List
[bottle]
Mile 303
Medina isn't as far away as you think, and if you're nervous about losing your otherwise-iron clad self-control once you peep the Mile 303 wine list (don't feel bad, we are all too familiar with this predicament), then book a room at the Hart House and make a day of it. The carefully curated wine list is almost incongruent with the other loosey goosey elements of M303's menu and vibe—with the exception of the decor, with which it pairs perfectly. It's unexpected, obvious but ingenuous, daring and bold, visionary, and fantastical but anchored in reason. Go with your mind open and a thirst to quench. When it comes to the Mile 303 bottle list, we'll give you one piece of advice: buckle up!
416 Main Street, Medina; 585-206-1407, mile303.com
Best Spirits
[vodka]
Lockhouse Distillery
Pioneer Lockhouse Distillery served Buffalo its first bottle of local booze since Prohibition ended, and we are forever indebted. Since the new Lockhouse opened, it's moved downtown and added a barroom. These days, Lockhouse is a favorite stop for people attending events at Canalside and Key Bank Center. All of this distillery's spirits are notable, but its vodka seems to be a perennial favorite. Maybe it's the triple distilling. Maybe it's the subtle floral notes. Gold medal winner in its category at the 2014 American Distilling Institute Spirit Competition, and winner of the 2019 Best of WNY Best Vodka award, it should probably be on everyone's shopping list.
41 Columbia Street; 768-4898, lockhousedistillery.com
Best Spirits
[gin]
Tommyrotter
We'd already collected a massive number of votes for Tommyrotter before this news broke: its cask-strength gin, aged in bourbon barrels, has taken the Chairmen's Trophy at the Ultimate Spirits Challenge. It's true that in the booze industry, awards are often more about marketing than achievement, but that's not the case here, where the competition's tagline is "No shortcuts. Just honest, impartial judging." This special gin earned 95 points out of a 100, a major achievements in a crowded marketplace, achievements no gin-drinking Buffalonian should overlook.
500 Seneca Street, #110; 312-1252, tommyrotter.com
Best Sports Bar
[City]
(716) Food and Sport
To watch the big game, you need a big screen, and nobody has more of them than this place.
7 Scott Street; 855-4716, 716foodandsport.com
Best Sports Bar
[Suburbs]
Amherst Pizza & Ale House
Four words: Hockey Night in Amherst.
55 Crosspoint Parkway, Getzville; 625-7100, amherstpizzaandalehouse.com
Best Steak
[city]
Sear
Our favorite place in the city proper for a juicy, well-seasoned, and perfectly prepared steak is Sear, where it's accompanied by delicious scratchmade sides, an attractive-but-casual dining room, and really great table service. All the classics are here, done with care and consistency—from a ribeye or filet mignon to a forty-five-day aged Kansas City Strip or twenty-ounce cowboy steak.
200 Delaware Avenue; 319-1090, searbuffalo.com
Best Steak
[Northtowns]
Giancarlo's Sicilian Steakhouse
Expect perfectly executed steaks with elegant Italian flair here. Its warm sophistication sets this place apart.
5110 Main Street, Williamsville; 650-5566
Best Tacos
[City]
Lloyd Taco Factory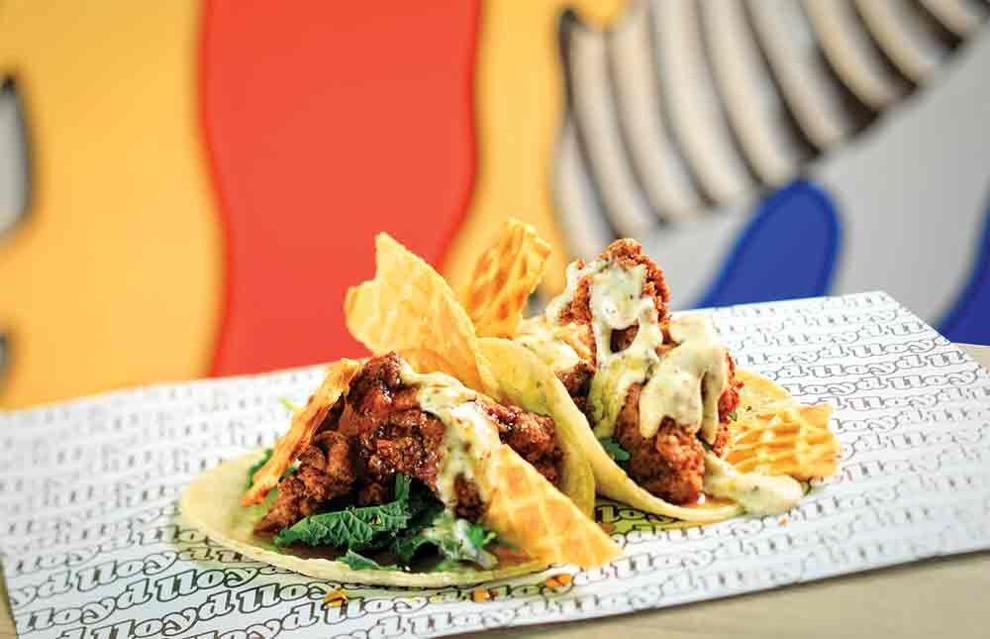 Lloyd Taco has a fleet of trucks serving all of WNY and drop-off catering in addition to the brick and mortar shops on Hertel and Elmwood. We'd argue that Buffalo is better off for having a delicious Lloyd offering always within arm's reach. Lloyd is serving up everything taco from chicken and waffles to cheeseburger to Thai tofu, alongside more traditional fillings and forms.
1503 Hertel Avenue;  863-9781, whereslloyd.com
Best Tacos
[northtowns]
La Divina
Since its 2015 opening, Kenmore's only prize-winning taco shop has had its ups and downs, but there's no question it remains one of the most authentic-leaning (not to mention affordable) taquerias in Western New York. Even when one considers the sudden prodigality of the almighty taco (pardon the pun), La Divina still ranks near the top of the heap, despite its makeshift dining area and self-serve methodology. Pro tip: save the chicken taco for your next drive-thru dinner and go for La Divina's more exotic offerings like lengua.
2896 Delaware Avenue, Kenmore;  447-8989, lladivinataqueria.com
Best Tacos
[Southtowns]
Left Coast Taco
Enjoy a taste of San-Diego-street-taco authenticity at this popular spot, complete with carne asada, lengua, camarones, and other traditional standards.
603 Oakwood Ave, East Aurora; 805-7724, leftcoasttacoea.com
Best Use of Local Ingredients
Craving
An early adherent of local sourcing, Craving chef Adam Goetz is still scouring the local markets for the freshest, most interesting ingredients he can find.
1472 Hertel Avenue; 883-1675, cravingbuffalo.com
Best Vegan Menu
[City]
Root & Bloom
The menu at this bright little café on Elmwood is eclectic, evolving, and one hundred percent plant-based—a rarity in a city that loves its meat. Animal-free fare ideas gathered on a year-long quest around the country in a converted cargo van inform an array of sweet and savory dishes, including their signature house-cultured mac and "cheese" topped with southern greens and fried barbecue tofu, and a churro waffle topped with tropical compote and sprinkled with cinnamon and sugar.
423 Elmwood Avenue; 768-1878, rootandbloomcafe.com
Best Vegan Menu
[northtowns]
Sun Cuisines
"Buffalo food" doesn't mean just wings and 'weck any more, or even pierogi and red-sauce Italian. Little known in much of the US, Burmese food has become a favorite in Western New York as a growing immigrant and refugee community from Myanmar calls this area home. Sun Cuisine, originally located on Niagara Street but having expanded to the 'burbs, remains a favorite for omnivores, but vegans and vegetarians, as well as those avoiding gluten, will be happy to note every menu item is labeled with regard to dietary restrictions. Vegan choices on offer include soups, salads, half a dozen appetizers, and specialty items such as fried rice, stir-fried bean noodles, a pumpkin stew, eggplant, and Pad Thai.
5759 Main Street, Williamsville; 313-2211, suncuisines.com
Best Waitstaff/Service
Ristorante Lombardo
The amount of attention lavished on guests by Lombardo's adept waitstaff is skillful and warm—never overwhelming. The place runs like a finely-oiled machine. Orchestrating such graceful service with impeccable timing requires a level of consistency and conscientiousness that can only be attributed to the restaurant's ownership. The Lombardos have blessed WNY with their restaurant for over forty years, and it shows in the best ways.
1198 Hertel Avenue; 873-4291, ristorantelombardo.com
Best Wings
[city]
Gabriel's Gate
The wing debate is heated enough when you look to the north and the south of the city, but downtown denizens are even more wildly and fervently divided. For someone tasked with introducing "real" Buffalo wings to visiting wing virgins (who also happen to be rock stars), Donny Kutzbach, owner of Town Ballroom, relies on Gabe's Gate. And, according to our survey, readers do, too. "I love Gabriel's Gate,"  says Kutzbach, a self-described picky wing consumer. "The place just has that Buffalo tavern feel and the wings are consistently and reliably great, which I can't say about most places." A standard caveat that any order should include a specific request that wings be "extra crispy" has circulated among enthusiasts, but, given the acrobatics we've gone through at lesser locations to receive only passable wings, we're OK with that.
145 Allen Street; 886-0602
Best Wings
[northtowns]
Duff's famous wings
Tucking into a plate of wings may not be the healthiest activity, so it's really a waste of calories to eat subpar wings. Consistent reliability of a wing joint is paramount, and there is no better example than the OG Duff's of Amherst. The speed with which its servers can churn through a packed anteroom of elbow-to-elbow people is also a sign of a business that knows what it's doing.
3651 Sheridan Drive, Amherst; 834-6234, duffswings.com
Best Wings
[southtowns]
Bar-Bill Tavern
Bar-Bill is undeniably the king of the Buffalo wing—at least in the Southtowns, though we know plenty of city folk who drive to East Aurora for the sole purpose of satiating their wing hankering. (Soon, they'll be able to head to Clarence, now that owners have announced a second location.) Wings at Bar-Bill take time—each wing is painted with sauce by hand and arranged carefully on the plate before its shuttled through the always-packed dining room. They are piping hot, perfectly crispy, and have just the right amount of buttery sauce.
185 Main Street, East Aurora; 652-7959 or barbill.com
To keep up with the top restaurants, best chefs, finest bakeries, wineries, distilleries, and breweries + more all year round—subscribe to Buffalo Spree today!