Best Bar for Live Music
[city]
Sportmen's Tavern
This Black Rock institution is more than a venue: it is very nearly a genre. What's it like? Well, it usually features guitars, and is at least somewhat informed by the blues. If you have ever imagined yourself in a Bonnie Raitt song, or actually hanging out with Bonnie Raitt, Sportsmen's might be the bar you've pictured. Pretty good wings, very good taps, not a bad seat in the house, and you can pretty much count on something going on there any time.
326 Amherst Street; 874-7734, sportsmensbuffalo.com
Best Bar for Live Music
[northtowns] 
Stamps the Bar
Have you been missing the Old Buffalo, where unassuming joints like the Continental routinely served up both energetic young bands and drinks that you could pay for with a ten-dollar bill and get change back? The dream of the '90s is alive and well at this friendly dive, once the go-to tavern for workers at the nearby post office and now home to one of the most eclectic rosters of entertainment in WNY. The free Buffalo Jazz Composers Workshop events on the first and third Monday of every month are the stuff of local legend, while other nights bring punk, hip-hop, ska, spoken word, and electronic acts.
98 Main St., Tonawanda; stampsthebar.com
Best Bar for Live Music
[southtowns]
189 Burger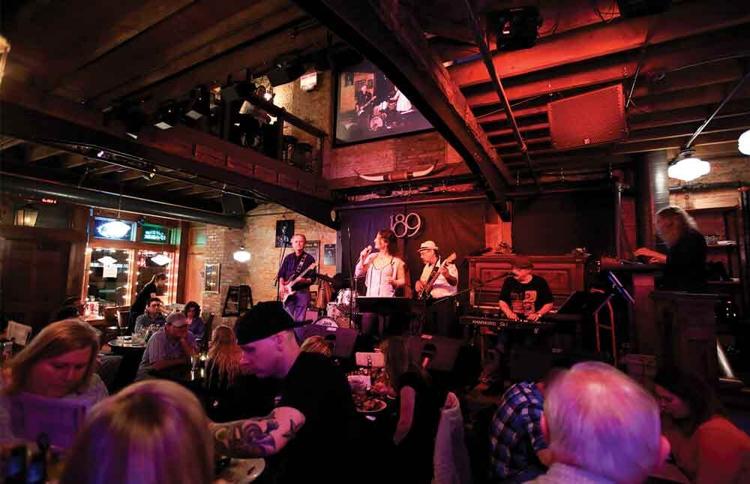 Sooner or later we may have to retire this award—or maybe get out a little more—but we can't help our affection for the cozy venue formerly known as 189 Public. And they keep earning it: the programming favors top-notch local and nationally touring acts from the realms of folk, blues, jazz, and other primarily acoustic genres, and an impressive number of concerts are free. The recent name change calls attention to the menu, which also showcases whiskeys and craft cocktails, but it's the music that will always bring us back for more.
189 Main Street, East Aurora; 652-8189, oneeightynine.com
Best Beach
Beaver Island State Park
Western New York beaches tend to be overlooked as locals flock over the border, but there are lovely spots here. Think of Evangola's gorgeous rock formations, Bennet's dunes, Woodlawn's boardwalk and—always—the wide expanses of Beaver Island State Park, which provide great vantage points from which to birdwatch and enjoy a sunset as well as picnic and swim. There are also several canoe and kayak launches and nature trails. Concessions have been added recently for both the park and golf course.
Best Concert
[large]
Rhiannon Giddens at Babeville
Giddens came through WNY twice last summer, at two of our most iconic venues: Babeville and the Chautauqua Institute. At the former, she appeared with a full band, including her long-time collaborator from the Carolina Chocolate Drops,  Hubby Jenkins; at the latter, she played with Italian percussionist Francesco Turrisi, workshopping material for a new project. Describing what Giddens does can make her work sound as though it is a bloodless academic enterprise. The reality is that it is anything but: she draws a great deal of what she does from minstrelsy and related African-American traditions. There is deep emotional resonance in her material, and it swings like crazy.
Babeville, 341 Delaware Avenue; 852-3835, babevillebuffalo.com and Chautauqua Amphitheater, 31 Roberts Avenue, Mayville; 357-6250, chq.org
Best Concert
[outdoor]
Borderland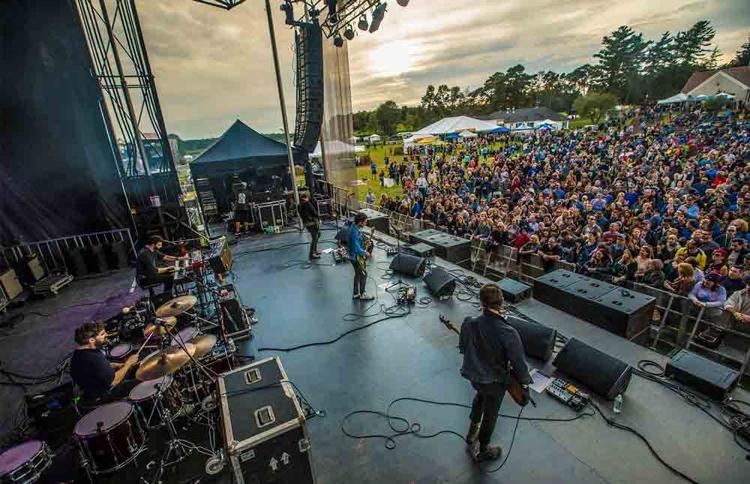 A blues-and-bluegrass-tinged music festival that celebrates Western New York's strategic location, Borderlands takes full advantage of a beautiful park setting (Knox Farm State Park) and offers a full range of artisan booths, food and drink options, and more. We chose it for best concert because we couldn't think of an outdoor music event that topped it.
Best Concert
[Small]
The Slackers at Mohawk Place
New York City's The Slackers may hail from downstate, but they have found a second home in Buffalo. The band's annual Mohawk Place gig was a communal affair—ska veterans and newcomers all sharing in the fun. This night was all about that atmosphere. Lead singer and organist Vic Ruggiero crafted the set-list on the fly to further buoy the mood. Crowd favorites like "Wasted Days" found audience revelers matching Ruggiero word-for-word, dancing with arms locked in unison. A perfect metaphor for the Slacker's reggae-infused pathos: no negativity, no judgement.  
47 East Mohawk Street; 312-9279, buffalosmohawkplace.com
Best Concert Series
Canalside Live
Like many things in WNY, the Canalside series would be amazing in a city twice our size. The acts that come through are always a pleasant surprise and geared to multiple constituencies. The waterfront venue is exactly what enthusiastic urbanists tell us is what's great about living in a place like the Buffalo, and, above all, it is a stone cold scene, a once-a-week Coachella all summer long.
44 Prime Street; 574-1537, canalsidebuffalo.com
Best Escape Room
Queen City Escape
A time traveler has gone back to the dawn of the Buffalo chicken wing and stolen the recipe—now it's up to you to rewrite history and prevent our namesake from becoming known as "Cincinnati wings." At press time, this was one of three escape rooms—and the first designed locally about Buffalo—available to play here. All escape rooms have the same basic premise: working with a group, solve a series of riddles and puzzles to escape within one hour. Where Queen City Escape excels is in developing immersive, challenging, and creative experiences, which, in addition to the Buffalo-themed room, were inspired by Stranger Things and Carmen Sandiego.
225 Louisiana Street; queencityescape.com
Best Exhibition
[Large Gallery]
We the People at the Albright-Knox Art Gallery
Visually spectacular, conceptually tight, and full of eye-opening cultural references, this show is also an impressive demonstration of the wide and diverse range of the museum's recent acquisitions. It further demonstrates, as if such demonstration was needed, that the Albright-Knox really needs expanded exhibition space so that works like these can be seen more frequently.
1285 Elmwood Avenue; 882-8700, albrightknox.org
Best Exhibition
[Small Gallery]
Shasti O'Leary Soudant: Do Not Mistake Our Softness for Weakness, Eleven Twenty Projects
For a few years now, Eleven Twenty Projects has been steadily presenting a series of exhibitions that seem tied together by nothing more than the need to present a body of work that nobody's seen yet. They've all had merit, but we were struck by the bright, totemic sculptures presented last fall by Shasti O'Leary Soudant, who is adept at cramming difficult concepts into easy-to-love packages. Her Priapic Yin and Burst Star series filled the gallery with a colorful clash of symbology.
1120 Main Street; eleventwentyprojects.com
Best Family Fun
[Winter]
Bumper Cars at Canalside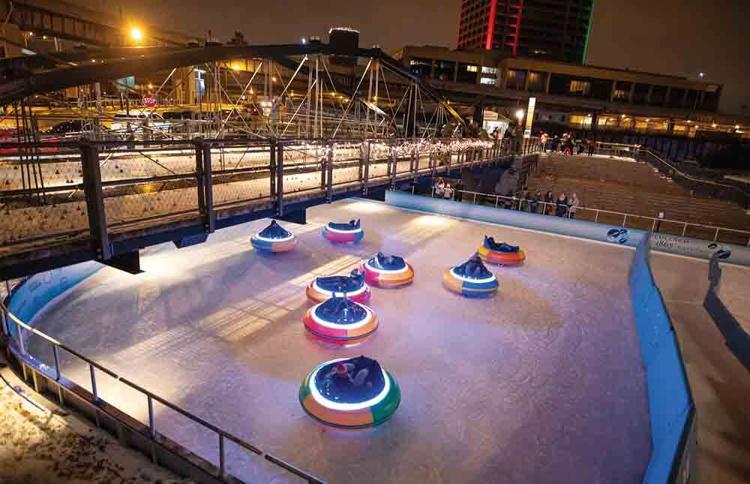 We were still thrilling to ice bikes when the fun folk at Canalside announced their latest offering: electric bumper cars built for ice! On a sunny day with temps in the thirties and holiday music playing over the speakers, you couldn't ask for a better family battle activity.
Best Family Fun
[Summer]
Bisons Game
It's not even necessary to like baseball to enjoy a night at Sahlen's Field. Programming like Star Wars Night, which hosts Jedi/Dar Side battles in between innings; fridaynightbash!, with spectacular fireworks; and the summer family campout series welcomes families every summer, while budget-friendly ticket prices make everything accessible.
milb.comn/buffalo
Best Farmers Market
Elmwood Village Farmers Market
See your friends, show off your dog, enjoy live entertainment, grab a morning coffee, and—oh yes—enjoy one of the widest selections of local farm produce and other locally produced consumables in Western New York at Elmwood/Bidwell every Saturday.
Best Festival
[summer]
Taste of Diversity
Buffalo has become fertile ground for an exciting assortment of restaurants featuring cuisines previously hard to find or non-existent in our area. The appreciation for these new flavors, preparations, and the people who have lovingly brought them to us has been met with big appetites and warm hearts. At Taste of Diversity Festival, the taste is not only literal, but also theoretical. Each summer, the growing and increasingly multicultural neighborhood known to most quite simply as the West Side opens its doors to the rest of the city, inviting everyone to an event filled with delicious food, entertainment and music, handmade goods, and more. This year's event takes place on June 29.
Best Festival
[Winter]
Labatt Blue Pond Hockey
Ever since it moved to RiverWorks, this annual amateur tournament is a reliable reason to head for the Blue-draped grain elevators. Besides the action on the ice, there are vendors, live music, and plenty of refreshments at the well-equipped facility.
labattbluepondhockey.com/buffalopond
Best Hiking
Niagara Gorge
When we say hike, we mean it: wear appropriate footwear and be prepared to get winded. We sometimes lose track of why the Falls are so impressive: it's not just that it is a lot of water, it's because the course that water takes is both deep and steep. At the base, there are ample bouldering opportunities, and the climb back up will leave you with a feeling of accomplishment. Best of all, unlike the unchanging hydrology on view at the top of the Falls, the gorge changes with the seasons, which makes it worth revisiting all the time.
Best Innovative Theater Production
1984, Kavinoky
Kavinoky's spring production of 1984 may not be innovative in the traditional sense, but artistic director Loraine O'Donnell's solution to an untenable problem—namely, the rights for To Kill A Mockingbird being pulled eleven days from opening—was. O'Donnell made a last-minute substitution decision, and, just minutes after making the dreaded announcement to the cast, invited anybody interested to adjourn to another room for a table read of the new play, i.e., the first rehearsal in a brand new process. Roles were reassigned, the set torn down and hauled away, a new set built, accompanying video recorded, and new lines learned. Anybody seeing the show could never have guessed what the cast and crew had been through, so for innovation in the face of the seeming impossible, Kavinoky gets the ultimate "The Show Must Go On" award.
Best Fundraiser - Food and Drink
Dining Out for Life
An oldie but a goodie, Dining Out for Life continues to appeal to both restaurant goers and owners alike—a very hard balance to strike. On a select day each year, participating restaurants across the country donate twenty-five percent (or more) of each table's tab to the fight against HIV/AIDS. In Buffalo, over $1.2 million has been raised.
diningoutforlife.com/city/buffalo-wny/
Best Fundraiser
[longstanding]
Ride for Roswell
Since 1996, the Ride for Roswell has raised $48 million for cancer research and patient care at Roswell Park Comprehensive Cancer Center. Each year, it gets bigger and bigger, attracting more than 7,500 riders of all skill levels who can choose from routes that span three to a hundred miles, including two that cross the border. For many, the fundraiser's late June date is an unofficial kickoff to summer—and a way to fight a disease that touches so many in our community.
Best Fundraiser
[New]
Squeaky Wheel's Excellent Adventure
This brilliant mashup of scavenger hunt and selfie culture encouraged participants to travel across Western New York for a day, making pictures and videos of the tasks given to them at a 9 a.m. unveiling. Imagery was uploaded and judged in real time, with teams collecting a wide variety of prizes at a concluding party. This was truly family-friendly, educational, and, most of all, super fun, as the exuberant images flooding Facebook/Instagram that day made clear.
617 Main Street; 884-7172, squeaky.org
Best Movie Theater
North Park Theatre
Since its original opening in 1920, North Park Theatre has been a beloved fixture of its community. While we could get lost in the details of its beautiful architecture and the variety of its screenings (from blockbusters to small budget films), there are even more reasons to love North Park. We eagerly await the exciting special events, from Q&A screenings with cast and crew to its annual partnership with the Cherry Blossom Festival. And you can enjoy your movie with the coolest selection of theater snacks in town. Fresh popcorn, imported candies, and a glass bottle of Strawberry Fanta for us, please!
1428 Hertel Avenue; 836-7411, northparktheatre.org
Best Nature Walk
Tifft Nature Preserve
Try a guided option to learn more about the fauna and flora of Western New York, or go it alone. There are always discoveries to be made here.
1200 Fuhrmann Boulevard; 825-6397, tifft.org
Best Neighborhood Stroll
Village of Hamburg
The best day is Saturday, when you can take in the stellar famers market as well as adjacent shops and your pick of excellent restaurants. New and intriguing businesses pop up on a regular basis in this attractive and approachable hamlet.
Best Outdoor Programming for Kids
Explore & More, The Ralph C. Wilson Jr. Children's Museum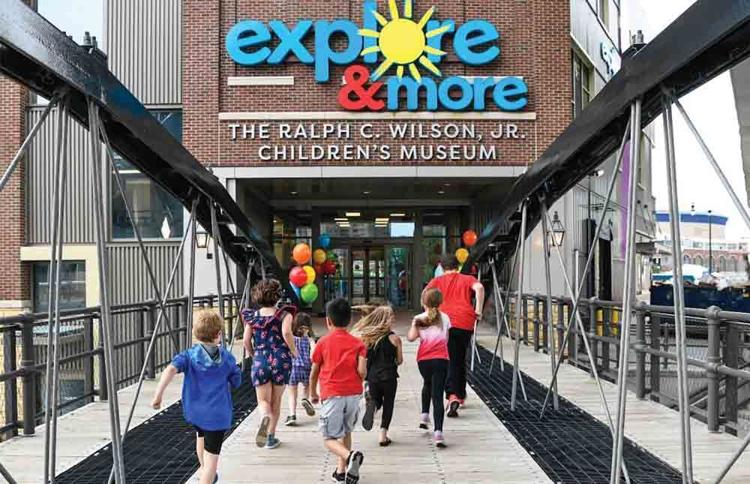 Every summer, Explore & More takes the fun outside with a free line-up of outdoor activities at Canalside that engage children of many ages. Last year's programming celebrated a different section of the new four-story museum every week. Over the course of the summer, kids created a community mural, learned about various cultures, played giant-sized versions of classic games, explored all things transportation, and built their own instruments. With seven play zones in the new museum, and many daily programs and special events planned, the fun promises to get even bigger this summer and beyond with Explore & More.
Best Place to Dance
Buffalo Iron Works
A great place to move to music at any time, this former factory hosts special dance-centric events regularly, including Silent Discos, Saturday Night Safety Dances, All Night Kanye Parties, and the annual Cure Vs. Smiths Dance Party.
49 Illinois Street; buffaloironworks.com
Best Place to Take Kids
The Buffalo Zoo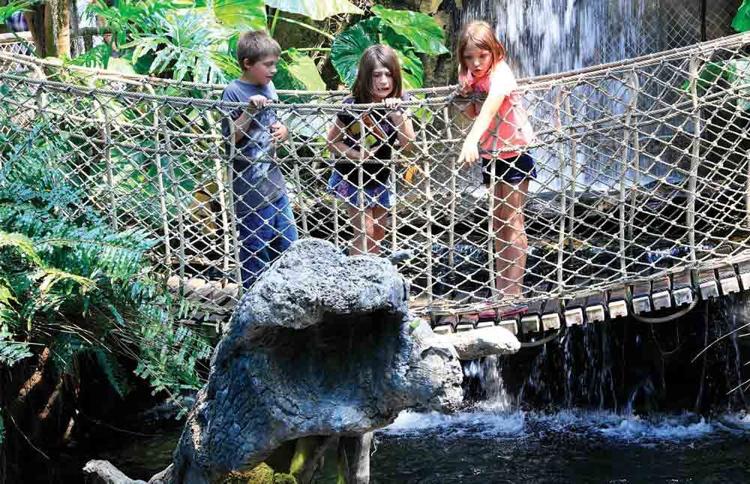 There's nothing like seeing the Buffalo Zoo through the wide eyes of children—watching them observe the lions, try to touch the polar bears as they swim by, and jump when a monkey suddenly lands in front of them behind the glass. Plus, the Zoo offers many programs and experiences for children and families, including camps, sleepover events, family fun nights, and more. A gem in our Olmsted Parks System, the Buffalo Zoo—the third oldest in the nation—is a staple of summer family outings in Western New York.
300 Parkside Avenue; buffalozoo.org
Best Production of Contemporary Show
Frost/Nixon, Irish Classical Theatre Company
The mission at Irish Classical Theatre Company is roughly "Irish, classic, or outstanding plays of literary merit." That last part is a ubiquitous theater mission get-out-of-jail free card that allows theaters, when so moved, to produce something just because its leadership wants to. Most often, ICTC hews overwhelmingly toward its eponymous mission, but when it veers into contemporary, it does it so well, we wish it happened more often! For the third time in seven years (Next to Normal in 2013, The Night Alive just last year), Spree recognizes ICTC for its incisive contemporary choice (this play's resonance with our current day politics was both eerie and disheartening; Watergate seems like child's play in 2019), which was seamlessly executed in the round and superbly cast: Adriano Gatto and Jack Hunter as Frost and Nixon were well-matched dynamite in this explosive cat-and-mouse performance.
Best Production of a Classic Show
Much Ado About Nothing, Shakespeare in Delaware Park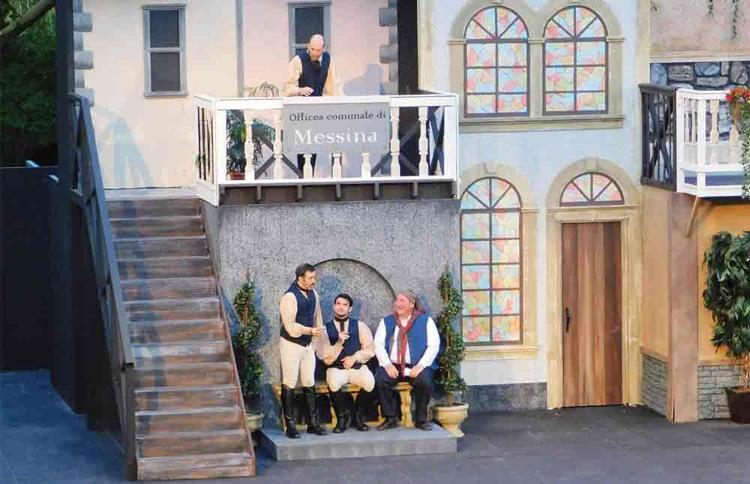 The Bard is a fixture in Western New York, thanks to Shakespeare in Delaware Park, the second largest free Shakespeare festival in the country (and when New York City is number one, second is a pretty big achievement). Kate LoConti Alcocer and Todd Benzin landed Beatrice and Benedick's biting wit in ways natural and new, Nick Stevens and Melinda Capeles gave Hero and Claudio all the rooting value the couple deserves, and Greg Gjurich made Dogberry's Elizabethan malapropisms hilarious and understandable. Under Kyle LoConti's stalwart direction, it was a Shakespeare show that landed for all, and isn't that what everyone wants from an evening on the hill?
Best Staycation
Botanical Gardens in Winter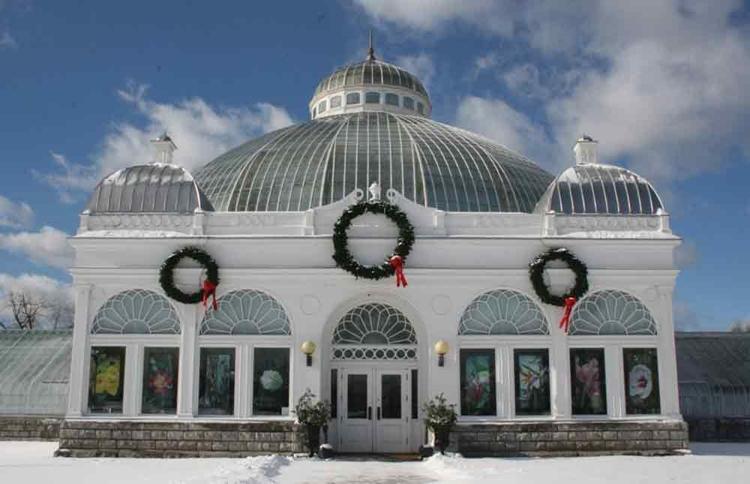 Don't have the resources for a tropical vacation at the moment? Take a drive to the Botanical Gardens of Buffalo and Erie County, where it's always lush and balmy. Bonus points for its grand Lumagination event throughout February, which includes Friday happy hours with tropical drinks, further adding to the cruise vibe.
2655 South Park Avenue; 827-1584, buffalogardens.com
Best Theme Park
Olcott Beach Carousel Park
While other amusement parks cater to thrill-seekers and concert-goers, Olcott Beach Carousel Park is all about nostalgia. Located on the site of the original 1940s Olcott amusement park and modeled after parks of that era, the carousel park features a 1928 Hershell-Spillman two-row carousel, as well as five vintage rides for toddlers and young children: a car and fire truck ride and sky fighter ride—both from Hershell as well—plus a boat ride, swings, and Ferris wheel. Each only costs twenty-five cents, so for a few dollars your family can spend an entire summer afternoon here and strolling the nearby boardwalk of shops.
Best Tourist Attraction
Anchor Bar
We're pretty sure that most of our (meat-eating) out-of-town visitors mention wings before they mention Niagara Falls. Which makes this an easy and pleasant job. Find the nearest Anchor Bar location—there are four in WNY—grab a seat and enjoy some hot, medium, or mild with a beverage.
Multiple locations; anchorbar.com
Best Tours
Explore Buffalo
If you want to explore the history and architecture of Buffalo, hop on an Explore Buffalo tour—by foot, kayak, bike, boat, or bus. Now in its sixth year, the nonprofit offers year-round downtown tours, as well as a slew of specialty tours that ramp up during warmer months. You can explore the history of prominent local women, sports, and crime (in four different neighborhoods!), and tour architectural gems like Corpus Christi Church, the Tri-Main Center, and the Frank Lloyd Wright-designed Fontana Boathouse. The group even engages local schools for tours that help children discover the fascinating heritage of the city they call home.
Best Water Amusements
Water Bikes, Kayaks at Canalside
After months of walking gingerly on snow and ice, when the summer sun shines, Buffalonians head to the water. And one of the best ways to experience our region's greatest asset is at Canalside, where you'll find  variety of watercraft options. If you want to truly appreciate Buffalo's waterways and catch some rays, climb aboard one of these contraptions and gaze up at the grain silos as you pedal or row down the river.
Best Winter Escape
Ellicottville
No need to be a skier to enjoy the options this fun village has to offer, which include a beautiful resort, which adds amenities yearly, a walkable village, fun festivals, and daily opportunities to eat, drink, shop, and spa. It's a vacation town for all seasons.
Know where to go and what to do all year round—subscribe to Buffalo Spree today!