EAT THIS
Best Bagel
[City]
Breadhive
Open on the city's West Side since 2014, this women-owned, worker-owned bakery collective is starting to seem like an institution, with its bread and soft pretzels available at restaurants and breweries all over town. Sourdough forms the base for all BreadHive breads, as well as the much-loved bagels, which come in traditional flavors like sesame and everything as well as rosemary sea salt, and which make an excellent vehicle for some of Buffalo's best breakfast sandwiches. Try a veggie spin on the Courtney (all sandwiches are named after famous female singers) by requesting seitan, instead of pastrami with the eggs, Swiss, greens, and spicy whole grain mustard. Or get an egg instead of tofu in your otherwise-vegan Shania with tempeh bacon, roasted vegetables, and turmeric.
402 Connecticut Street, Buffalo; 980-5623, breadhive.com
Best Bagel
[Suburbs]
Bagel Jay's
Some of WNY's best New York-style bagels are made each morning at Bagel Jay's, and they have been since 2001. We think most people have a favorite go-to order at Jay's, but maybe you should consider mixing it up a bit? After all, Jay's makes bagels sammies in a wide variety of traditional and not-so-conventional flavor profiles. Recently a friend ordered a toasted cinnamon bagel with honey cream cheese that made us regret our classic pumpernickel with nova (but only for a fleeting moment).
Multiple locations; bageljays.com
Best Barbecue
[City]
Fat Bob's Smokehouse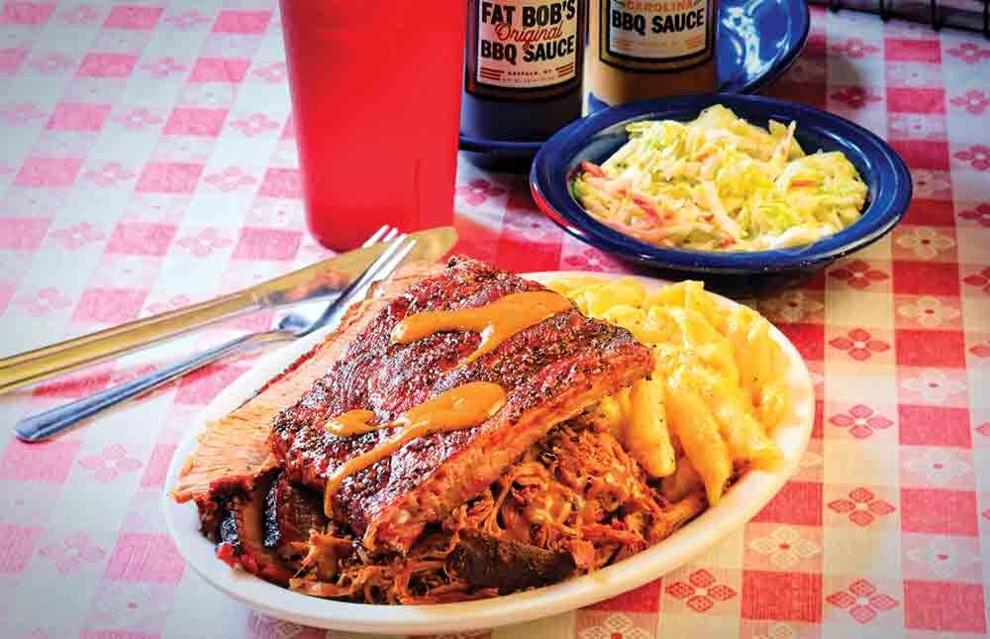 In the heart of Allentown, Buffalo's favorite barbecue joint is celebrating twenty years of slinging some of the best low-and-slow fare in town. Wafts from the custom-built Texas smoker out back beckon diners from blocks away to enjoy tender, fall-apart brisket, chicken, ribs, turkey, and pulled pork piled high on platters, sandwiches, and mac. A selection of homemade sauces spans the south from mustardy Carolina style to sweet Kansas City.
41 Virginia Place, Buffalo; 887-2971,  fatbobs.com
Best Barbecue
[suburbs]
Smoke on the Water
While suburban barbecue joints come and go, Smoke on the Water, with its dive bar vibe and excellent patio that spills onto boat docks, has stood the test of time and built a loyal following. The barbecue isn't too shabby either, especially piled high on a loaded baked potato affectionately named the hand grenade.   
77 Young Street, Tonawanda; 692-4227, sotw77.com
Best Barbecue Sides
[City]
Dinosaur Bar-B-Que
Dinosaur scared up a fervent following in Rochester, and has been slinging BBQ in the heart of Buffalo's Theater District since 2014. Everything is homemade, right down to the bleu cheese dressing, and hot or cold sides include fresh cut fries, mac 'n' cheese, chili, Cajun corn, and BBQ fried rice. But the cold sides shine with fresh sweet & sour cucumber salad, the addictive Harlem potato salad, and coleslaw you'll want to pile onto everything on your plate.
301 Franklin Street, Buffalo; 880-1677, dinosaurbarbque.com/buffalo
Best Basic Burger
[City]
TIE:
Allen Burger Venture
Sometimes you just want a good burger, you know? No fried egg, no bone marrow or weird ingredients or add-ons. While ABV does do weird well, its plain ol' burger is guaranteed to exceed expectations without a lot of fanfare, just big, juicy, and cooked to order.
175 Allen Street, Buffalo; 768-0386, allenburgerventure.com
Lucky Day
In a sea of $15 overloaded gourmet burgers, Lucky Day's $5 Thrasher burger is a thing of beauty. Built from a double stack of patties smashed thin, and topped with lettuce, tomato, onion, and remoulade (cheese is extra), it hits all the right buttons. Unfortunately, as happens to all good things, it couldn't last, and now appears to be available solely as a happy hour special.
320 Pearl Street, Buffalo; 322-0547, luckydaywhiskeybar.com
Best Basic Burger
[Northtowns]
Buffalo Brew Pub
The oldest brew pub in New York State has had a lot of time to perfect its burger. The juicy, fresh and never frozen ten-ounce Angus Burgers are heaven on a bun.
6861 Main Street, Williamsville; 632-0552, buffalobrewpub.com
Best Basic Burger
[Southtowns]
Stack Burger
A new location and new menu items have not changed the quality and deliciousness of these fan favorites. It was under our radar for a while, but now we know why burger-lovers rave about Stack's big, flavorful, always fresh patties, whether single, double, or triple stacked.
1506 Abbott Road, Lackawanna; 288-8204
Best Beef on Weck
[City]
Eckl's@Larkin
A unique modern-day steak house, Larkin District also features chops, seafood, and, of course, Eckl's classic carved roast beef on 'weck. (The 'weck-curious can start out with the prime rib-n-'weck eggrolls.) Add a serving of Eckl's superior fries to sop up the jus and you've got yourself a Buffalo classic.
703 Seneca Street, Buffalo; 331-3242, eckls.com            
Best Beef on Weck 
[Northtowns]
TIE:
Adrian's Custard and Beef
Worth driving over any bridge for, the beef on 'weck sandwich at Adrian's on Grand Island comprises a firm fresh roll dotted with salt and kummelweck seeds that stands up to the mass of tender, nicely-seasoned, piled-high roast beef. You'll want the curly fries here. The new space is big and bright—a summer classic.
2352 Grand Island Boulevard, Grand Island; 773-9242, adrianscustardandbeef.com
Glen Park Tavern
The beef on 'weck at this venerable and popular eatery gets high marks for  flavor, texture, and the fact that  the meat is served as ordered—from rare to well done.
5507 Main Street, Williamsville; 626-9333, glenparktavernbuffalo.com
Best Beef on Weck
[Southtowns]
Schwabl's
There's a reason Alton Brown picked this beef on 'weck as the best in town. Schwabl's opened in 1837, and its BoW epitomizes the old school meat and potatoes experience. Hand carved roast beef mounded on a Kümmelweck roll (you can practically taste the umlaut) is served with homemade German potato salad and coleslaw or pickled beets.
789 Center Road, Buffalo; 675-2333, schwabls.com
Best Beer Selection
Shatzel Group
If there's one thing that Allen Burger Venture, Brennan's Bowery Bar, Cole's, Colter Bay, Liberty Hound, The Marcy Casino, Moor Pat, The Terrace at Delaware Park, and Thin Man Brewery have in common—aside from all of them being owned or co-owned by Mike Shatzel—it's the sheer number of variety of beers available on tap and in bottles in cans at each establishment. One could argue that Shatzel has done more to broaden Buffalonians' beer tastes more than any other person. Cheers, Mike!
Everywhere, Buffalo
Best Brunch
[city]
TIE:
Betty's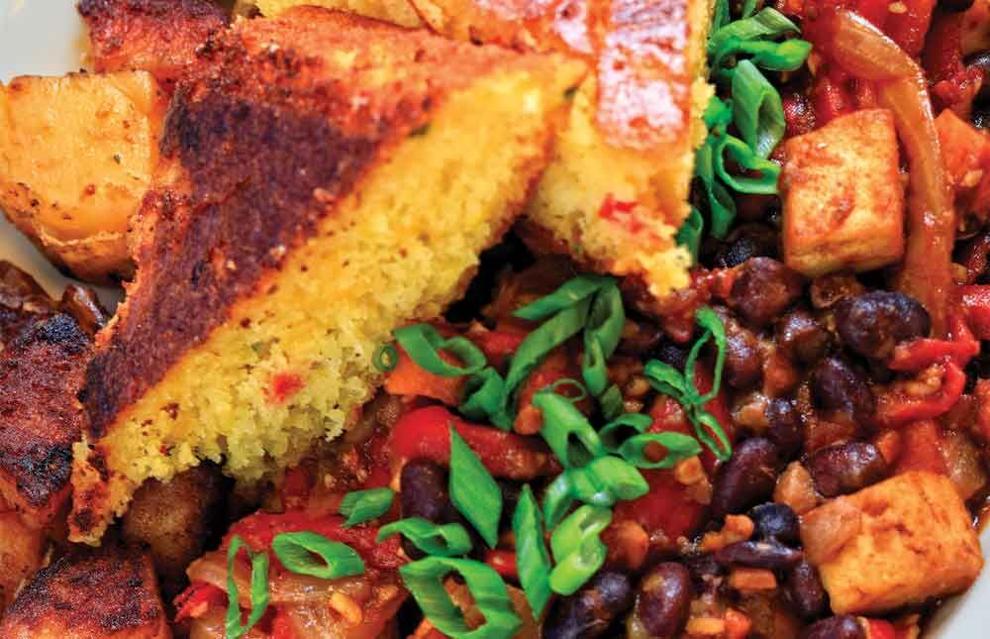 A favorite that's been serving this corner of Allentown since 2004, Betty's has managed to preserve its beloved classics while also growing with the times. The breakfast burrito, scrambled tofu hash, chilaquiles, and a range of Benedicts fill the menu as always, while specials typically include a healthy egg and vegetable scramble, something on the sweeter side, and an ever-growing array of vegan choices. Get there early on Sundays (doors open at 9) or be prepared to wait for a table.
370 Virginia Street, Buffalo; 362-0633; bettysbuffalo.com
Roost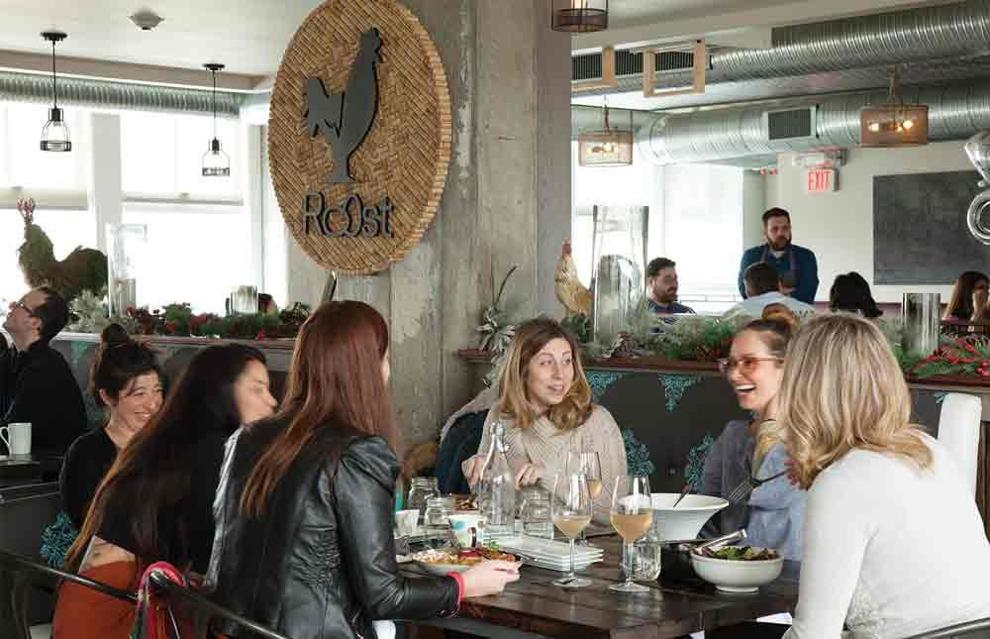 With an ever-changing and seasonal menu and a relaxed vibe, Roost is always a great bet for brunch. Choose from a selection of gourmet pizzas including lemon, ricotta, thyme; breakfast; fig and prosciutto, and a generous selection of scratchmade entrees including salads, egg dishes, chicken, specialty pancakes, and salmon. Top it off with a brunchy craft cocktail or pitcher of red or white sangria.
1502 Niagara Street, Buffalo; 259-9306, roostwny.com
Best Brunch
[Suburbs]
The Grange Community Kitchen
The Grange gets so many things right, and brunch is no exception. Actually, brunch here is exceptional. From the handmade pastry to homemade salads, soups, creative breakfast sandwiches, frittatas, and specialty pizzas, the food and sense of community provides a perfect place to relax and enjoy good food cooked well with your loved ones.
22 Main Street, Hamburg; 648-0022 grangecommunitykitchen.com
Best Chef
[Established]
Mike Andrzejewski
Mike A's signature restaurant, Seabar, brought a twist on Asian-American fusion to Buffalo and is one of the rare restaurants to earn a perfect "10 plates" from Buffalo News food editor Andrew Galarneau. Mike A has mentored or taught the very best chefs in WNY. Mike A has cooked at the James Beard House more times than some people change their socks. Mike A is a master of plating. Mike A beat Bobby Flay. Mike A is the standard by which aspiring  and seasoned chefs judge themselves. Mike A is a pretty good cook.
Seabar, 475 Ellicott Street, Buffalo; 332-2928, seabarsushi.com (closed)
Best Chef
[new]
Nate Beardsley of Billy Club
Raised in Wyoming County, Chef Nate Beardsley is what the industry calls self-taught, though he'd likely credit his tutelage to early influencers, from the chef he worked under in Wyoming County to the owner of Sophia's, where, as a young cook, he learned about scratch cooking and hard work. Perhaps most influential are the several years he worked as a sous chef under chef Edward Forster, as well as the two years he spent living and working on a farm in Central New York. These two experiences are where he began to not just enjoy cooking, but to be inspired by it. He returned to Buffalo recently, taking the helm at Allentown's Billy Club. Here, his very fresh and seasonal menu highlights his relationships with local farmers and features his simple and approachable cooking style. We're so glad to have him back.
228 Allen Street, Buffalo; 331-3047, billyclubbuffalo.com
Best Chinese
[city]
TIE:
Ming
Tin-Tin
Still open four hours per day at the absolute most, still with no liquor license, still unseen on food delivery apps, still closed for extended periods, still cash only, Ming Cafe remains among the best. The menu resembles typical American Chinese—wontons, dumplings, crispy duck, fried rice, kung pao chicken—but the noticeable use of ingredients like sherry, fermented black soybeans, chilis, ginger, spring onions, and citrus is evident in  every bite. Tin Tin offers a more typical takeout experience, but its Chinese comfort food is top-notch and accessibly priced. Recommended: dumplings, lo mein, chicken in garlic sauce.
Ming: 3268 Main Street; 833-6988
Tin-Tin: 695 Kenmore Avenue; 835-8989
Best Chinese
[suburbs]
Peking Quick One
China is home to some of the oldest and most diverse cuisines in the world. Sadly, we rarely get to experience this as most stateside Chinese restaurants stick to a Westernized, fast food formula. That's why those who crave authenticity and novel experiences cherish Peking Quick One. Its "homestyle" menu, which started out as a way to comfort homesick UB students and professors, is a treasure trove of delights far removed from fried chicken in a sticky sweet sauce.
359 Somerville Avenue, Tonawanda; 381-8730
Best Coffee Shop
[city]
Public espresso + coffee
Nothing against the old Seattle-style coffeehouses, which are great places to meet friends or pass the time with a book, but you can tell a WNY expat hasn't been here for a while if that's what they still think of as Buffalo coffee culture. The current Buffalo coffee scene is fully 2019 and example number one is Public, with its latte components like turmeric, chili, lavender, and oat milk, as well as a sleek, modern style. In addition to its excellent and on-trend coffee drinks, and its utility as a great place for business meetings downtown, Public offers a breakfast and lunch menu and is especially beloved for its in-house pastry program and homemade doughnuts.
391 Washington Street; 367-9971, publicespresso.com
Best Coffee Shop
[northtowns]
Spot Coffee
Spot Coffee's signature tagline is right; it really is a neighborhood cafe! Founded in 1996, with twelve locations across WNY, there's a Spot Coffee for everyone. We love their locations in the Northtowns for their homey feel. They serve as respites for workers, readers, people taking meetings, and friends looking to connect. Read the newspaper, finish that proposal, or meet a friend—maybe even a few. Enjoy your Spot.
Multiple locations; spotcoffee.com
Best Coffee Shop
[southtowns]
Taste Bistro and Coffee Bar
Built in a century-old grain mill, Taste radiates a comfy-cozy energy while retaining its position as the coolest cafe in the southtowns. Take pleasure in its selection of signature drinks and the breakfast, lunch, and dinner menu its local clientele can't get enough of. Tuck into a plate of thick-cut, fluffy French toast, or grab a cup of coffee and soak up the tunes at one of its regular live music events.
634 Main Street, East Aurora; 655-1874, thetastebistro.com
Best Craft Cocktails
[City]
Buffalo Proper
Since opening in 2014, Proper has provided a lovely, warm, and welcoming enviroment in which to quaff expertly executed cocktails. Many a would-be Shea's patron has missed the first act as she lingered too long at this cozy-chic hangout, unable to leave her perfectly mixed drink half drunk.
333 Franklin Street; 783-8699, buffaloproper.com
Best Craft Cocktails
[SUBURBs]
Black Iron Bystro
As you sit at the bar watching your drink being crafted, prepare for an education in mixology. Out come the droppers and tinctures and bottles of homemade potions. Things may be set on fire. Citrus rinds will be coaxed to mist their oils over glass rims. You will probably be asked lots of questions about what you like to drink/eat/read/listen to. Then, at last, you'll be handed the drink you never knew you really, really wanted.
3648 South Park Avenue, Blasdell; 240-9830, blackironbystro.com
Best Date Night
[city]
Dapper Goose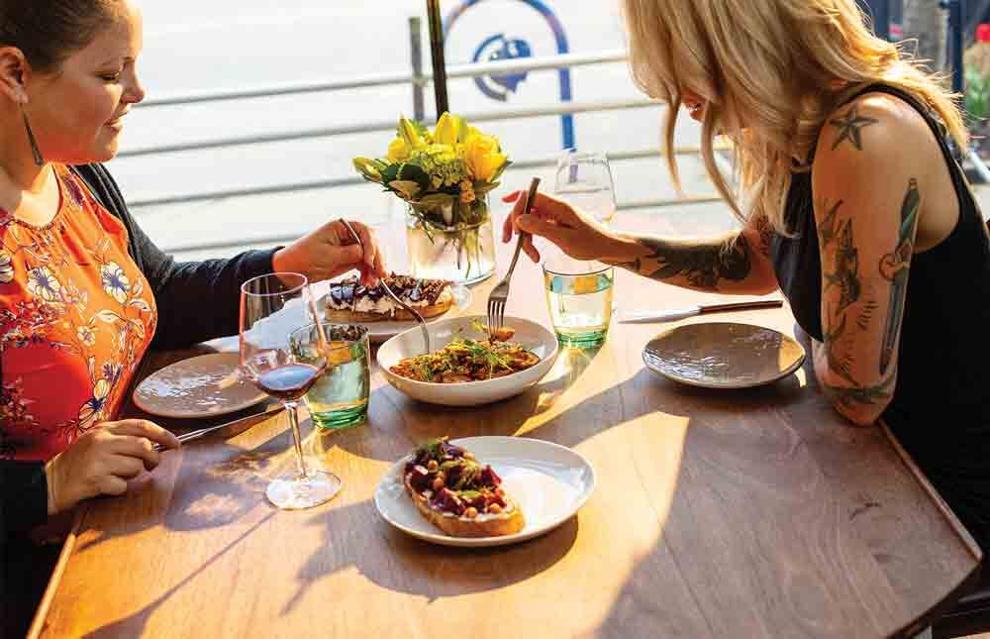 In winter, it's cozy and candlelit. In autumn, the big front windows allow the glow of early sunsets to permeate the room. In spring, it vacillates between a homey shelter from the drizzle and a peepshow for sun-shot trees showing off their baby buds and bright green leaves. In summer, the dining room is hushed and cool while the backyard patio is packed with enthusiastic diners enjoying the restaurant's tiny and verdant oasis. No matter what season, Dapper Goose is mood, mood, mood, and its ability to transfer that vibe to your next date is reliant simply upon your ability to allow it.
491 Amherst Street; 551-0716, thedappergoose.com
Best Date Night
[northtowns]
Carmelo's
The longish drive north from the city is well worth it, considering the quiet and intimate setting offered by Carmelo's. Expertly prepared, scratch made Italian favorites are sure to please even the pickiest of palates, while specials from seasonal, local ingredients tease the more adventurous. A post dinner hand-in-hand stroll down Lewiston's charming Center Street burns off a few calories.
425 Center Street, Lewiston; 754-2311, carmelos-restaurant.com
Best Date Night
[southtowns]
Roycroft Inn
The Roycrofters knew how to live. If you're unfamiliar with their ethos or history, just reserve a table at the Roycroft Inn and you'll see what we mean. During the warmer months, when nights are breezy and gardens are lush, dinner on the Inn's peristyle leaves little to be desired. But every night is a good night for a date at the Roycroft. Once you pull open its mammoth, hand carved door and cross the threshold, you'll feel the hand hewn wood, the luminous stained glass, and the quiet of the room all working together to enfold you. Romantic and soothing, you'll become as enamored with the Roycroft as we are.
40 South Grove Street, East Aurora; 652-5552, roycroftinn.com
Best Day Drinking
[City]
Chez ami, Curtiss Hotel
Those who'd like some adult beverage service earlier than 5 p.m. often find themselves with limited choices, especially if they're going for quality.  Fortunately, Buffalo's new crop of boutique hotels includes this rehabbed downtown beauty, with a revolving bar that opens at 11:30 a.m.
210 Franklin Street;  954-4900, curtisshotel.com
Best Dessert
[City]
100 Acres, Hotel Henry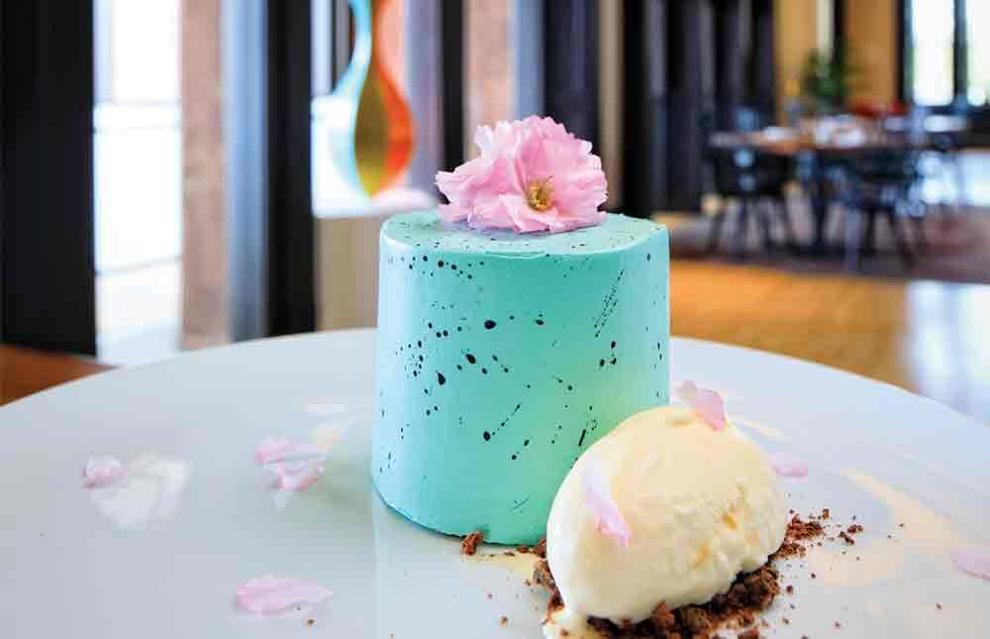 The exquisitely constructed confections here match the tone and elegance of their surroundings.
444 Forest Avenue; 882-1970, hotelhenry.com
Best Dessert
[Northtowns]
Dessert Deli
For more than thirty years, this gourmet bakery and dessert shop has been providing consistant excellence.
716 Maple Road, Williamsville; 689-2115, dessertdelibakery.com
Best Dive Bar
[city]
Allen Street Bar and Grill "Old Pink"
Say what you will about the looming, flame-licked shanty that watches over Allentown each night—we've heard it all and it doesn't change a thing. We'll take your dirty bathrooms and raise you the best DJ in town. We'll take your wobbly, shredded bar stools precariously perched upon the dirty, pitched floor and raise you the best steak sandwich any bartender will ever grill for you. (We'll stop there, but we could go on.) So when the National Historic Trust named the Old Pink not just one of seven, but #1 of seven of the most historic dive bars in the country last August, we knew the jig was up. She's no longer just our favorite dive bar. Now she's everyone's favorite dive bar.
223 Allen Street; 884-4338
Best Dive Bar
[northtowns]
Betty's Grill
We haven't been in a bar like this since long before Buffalo's renaissance—we'll mark 1995 as an approximation. This is a shot and a beer kind of place, but the regulars will be kind to you even if you're foolish enough to try and order a fussy cocktail. (We've been there.) Homey comfort food options, extremely reasonable pricing, a Betty Boop theme, and a no-fuss, neighborly camaraderie collude to make Betty's one of our favorite dive bars in WNY.
215 Main Street, North Tonawanda; 693-6422
Best Dive Bar
[southtowns]
Nine-Eleven Tavern
Nine-Eleven doesn't really deserve the dive bar designation, given how skillfully managed it is, but its feel is dive bar, for sure. It also happens to be home to arguably some of the very best wings in WNY. Good wings take time, so don't think you're gonna pop in and have some reheated pizzeria wings here. In fact, bring a friend to keep you company; Nine-Eleven's wing prowess means it's quite accustomed to strangers sidling in for a brew or a few, so make the trip. We promise you, it's worth it!
9-11 Bloomfield Avenue, Lackawanna; 825-9939
Best Doughnut
[city]
Donut Kraze
The doughnuts at Donut Kraze, in some ways, push doughnut boundaries you didn't know you had. You'll find yourself wondering just how many candy-bar-doughnut-mashups one can eat in a single sitting. At what point, you'll think, how much bacon is "too much," and is that amount adjustable if maple frosting is in play? Or is the diameter of a cinnamon roll an important consideration when evaluating whether said roll of cinnamon is one portion or two? After only a single trip to Donut Kraze, it's pretty standard for one's internal dialog to become constantly disrupted by pressing questions like these, which, come to think of it, might be how the shop's owners came up with the name.
365 Somerville Avenue, Tonawanda or  406 Dingens Street, donutkrazebuffalo.com
Best Doughnut
[northtowns]
Paula's
We don't know who is responsible for electing foods to the unofficial Buffalo food hall of fame. Whomever you are, Paula's Donuts is awaiting its sash and crown. Now, which Paula's doughnut deserves a place on the dais next to chicken wings, beef on 'weck, sponge candy, an extra large loganberry drink, and a Ted's hot dog is unclear, as most customers would fight for their faves. So how about we just skip the doughnut and sit Paula herself up there, with the citation and plaque she and her beloved confections deserve?
Multiple locations; paulasdonuts.com
Best Fish Fry
[City]
Wiechec's Lounge
Fish frys rule on Fridays at Wiechec's. The dedicated fryer insures a delicious, freshly fried fish every time. The golden brown fish is  balanced atop perfectly prepared fries, coleslaw, and both potato and mac salads. Easy to see why this place is always nominated for the fish fry prize.
1748 Clinton Street; 823-2828
Best Fish Fry
[Northtowns]
McPartlan's Corner
In spite of the ubiquity of fish fries throughout the region, this spot has retained its position near the top of most lists for more than fifty years. (Some say it's the macaroni salad.)
669 Wehrle Drive, Amherst; 632-9896, mcpartlanscorner.com
Best Fish Fry
[Southtowns
Wallawein's Hotel
This old school hangout (there has been a bar here for more than 100 years) has been known for its fish fry for a few decades. Expect a crowd of happy regulars and probably a bit of a wait; it's worth it.
641 Oakwood Avenue, East Aurora; 652-9801
Best Food Truck
Amy's truck
Maybe it's not the flashiest truck, but born and bred from a well-loved, long established breakfast joint on Main Street, Amy's inexpensive and hearty Mediterranean-infused offerings consistently please both vegetarians and carnivores alike.
Best French Fries
[City]
Frank Gourmet Hot Dogs
Frank's fries are perfectly cut, par-cooked, and finished in a piping hot fryer to a crispy shade of golden brown. Try one of  Frank's custom sauces instead of ketchup.
707 Kenmore Avenue; 322-5933, findfranknow.com
Best French Fries
[Northtowns]
Moor Pat
Enjoy these handcut, twice-fried beauties plain or with mayo or gravy.
78 E. Spring Street, Williamsville; 810-9957, moorpat.com
Best French Fries
[Southtowns]
Juicy Burger bar
Great burgers demand great fries, and Juicy delivers. Its fry bar offers nine choices, including poutine, Greek, and chili cheese.
One Buffalo Street, Hamburg; 648-3200, juicyburgerbar.com
Best Gluten-Free
[City]
Two Wheels Bakery & Cafe
This is a dedicated gluten-free kitchen; those with gluten sensitivities can safely eat everything on the menu. It's all delicious, by the way.
435 Ellicott Street; 370-1505
Best Gourmet Burger
[City]
Marble + Rye
Made from house-ground chuck and short ribs, with a touch of marrow, burgers are a thing here, with silky texture and intense flavor.
112 Genesee Street; 853-1390, marbleandrye.net
Best Gourmet Burger
[Northtowns]
Griffon Gastropub
Custom-blended choices here include a superior beef option as well as wild game, seafood, turkey, and vegan.
5445 Transit Road, Clarence; 580-3701, thegriffonpub.com
Best Gourmet Burgers
[Southtowns]
Juicy Burger bar
This Hamburg-based operation justifies the town's rep as home of the burger with a great variety of scratchmade options.
One Buffalo Street, Hamburg; 648-3200, juicyburgerbar.com
Best Guilty Pleasure
TIE:
Foie gras at Tempo
We don't think we're the only ones who categorize foie gras as an indulgence, and a favorite one at that. While it only appears on Tempo's menu as a special, the kitchen's preparation is always seasonally influenced and utterly delectable. Served as a light-as-air torchon or pan seared until it's crisp on the outside and melty on the inside, the foie at Tempo is always beautifully prepared and ideally seasoned.
581 Delaware Avenue; 885-1594, tempobuffalo.com
Beef on 'weck roll at Seabar
Diners have long depended on Seabar for excellent sushi as well as a changing array of notable entrées. But no matter how many delicious meals we've had here, it's the beef on 'weck roll for which we pine. Vinegary, toothsome sushi rice plays backup to tender beef carpaccio, highlighted with just the right amount of rock salt, toasted caraway seeds, and the best spicy-sweet horseradish sauce we've ever had (Seabar, can you start bottling this, please?) It's a Mike A riff on a Buffalo classic, and for that alone it gets a nod, but never has a riff been such a wildly delicious, conceptually refreshing, totally obsession-worthy jaunt.
475 Ellicott Street; 332-2928 or seabarsushi.com
Best Hangover Cure
[City]
Jim's Steakout
Whether as a preventative the night of or as a stomach-coating restorative the day after, we recommend one of this place's many hoagy options, especially the Jefferson: sausage, chicken or steak, fried onions, melted cheese, and Secret Sauce.
194 Allen Street;  886-2222, jimssteakout.com
Best Hangover Cure
[suburbs]
Sophia's Bloody Mary
Bloody Marys (and Caesars) are a ubiquitous brunch offering. Because a Bloody is a tried and true morning-after cure. Off Military Road, local favorite Sophia's loves to go overboard, so it's no surprise its Bloody Mary closely resembles a well-stocked supermarket. From slices of bacon and dilly beans, stalks of celery and fried onion rings, to lemon wedges and jalapenos, Sophia's Bloody Mary eats like a meal.
749 Military Road, Tonawanda; 447-9661
Best Hot Dog
[City]
Frank Gourmet Hot Dogs
These custom dogs are made from locally raised meats, served in scratchmade buns, and covered with creative housemade toppings.
707 Kenmore Avenue;  322-5933, findfranknow.com
Best Hot Dog
[Northtowns]
Ted's Hot Dogs
These legendary charbroiled dogs are synonymous with growing up in WNY.
multiple locations; tedshotdogs.com
Best Hot Dog
[Southowns]
Red Top
In business since 1946, this crowd pleaser chargrills custom Wardynski dogs. There's also a nice lakefront view.
3360 Big Tree Road, Hamburg; 627-5163
Best Ice Cream Shop
[city]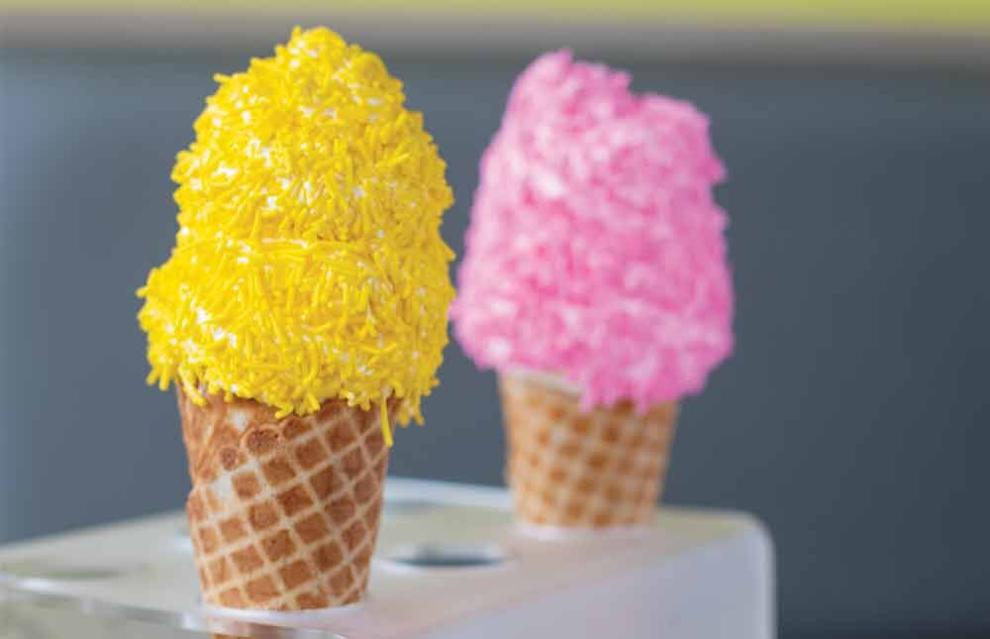 Churn
Now two years old, Churn has hit its stride. We argue Churn is making the best soft serve in WNY, and dare you to put that statement to the test. Now, if you don't like real ingredients like local cream and cane sugar, maybe this ice cream isn't for you. But since the line is out the door and halfway around the block every time we try to go, we're guessing y'all are as happy with Churn as we are—and, btw, have you tried one of Churn's scratchmade ice cream sandwiches? What are you waiting for?
1501 Hertel Avenue; 863-9781, churnsoftserve.com
Best Ice Cream Shop
[Northtowns]
Lake Effect Artisan Ice Cream
The Lake Effect Ice Cream flavor board routinely features more than twenty-five choices, each one more creative and crave-worthy than the next. Each rich and creamy selection is made in-house from premium ingredients blended into locally inspired combos like loganberry, Revolution coffee, Paula's glazed donut, butter lamb, and sponge candy.
79 Canal Street, Lockport or 1900 Hertel Avenue; lakeeffecticecream.com
Best Ice Cream Shop
[Southtowns]
Nick Charlap's Ice Cream
More than fifty years in operation, this family-owned favorite is known for its inventive custards.
Multiple locations; Facebook/Nick Charlap's Ice Cream
Best Large Wine List
[Bottle]
Oliver's
Sometimes, a small, selective list just won't do. If you want a full choice among countries, varietals, and styles—with the ability to splurge—this is the place.
2095 Delaware Avenue; 877-9662, oliverscuisine.com
Best Local Brewery
[city]
Community Beer Works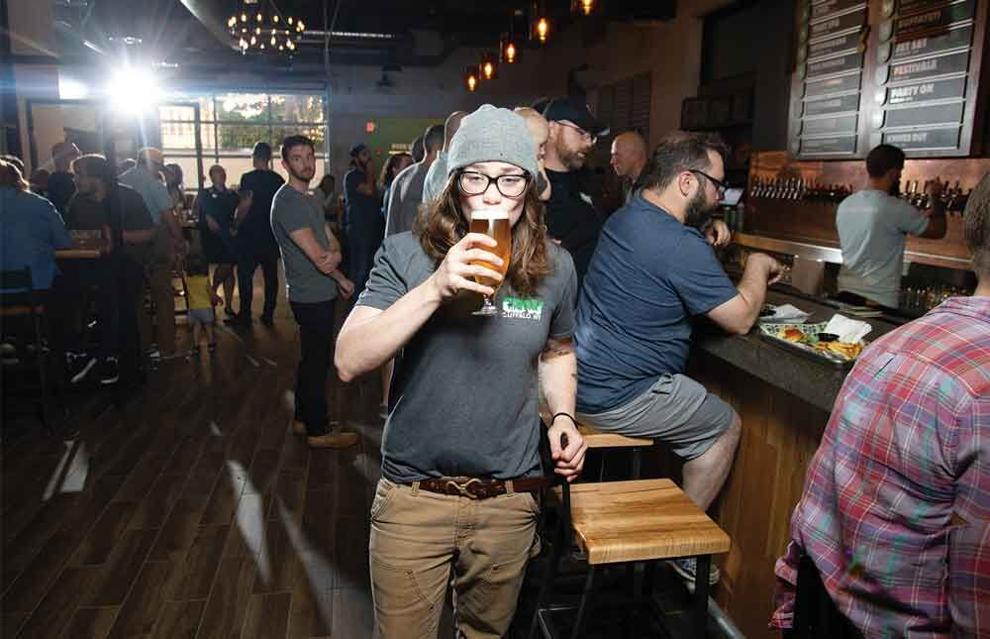 One of the first and one of the best, there's no doubt CBW has the hearts [and votes] of local beer drinkers. The brewery has done a ton of collabs this year, on top of opening its new facility, replete with a restaurant and taproom. Every time we stop in, there some great community event being held, and we love the game room off the mezzanine. We can't wait to see what the team at CBW will do next.
520 7th Street; 759-4677, communitybeerworks.com
Best Local Brewery
[northtowns]
12 Gates
It's tucked away in an office park in Amherst, but 12 Gates can't hide from the loyal following who pack the tasting room daily. With good reason—the freshly brewed tap selections provide a range of styles that go from hoppy West Coast Style IPA and dark Coffee Porter to lighter pilsners and lagers, and even include a range of fruited sours. Cans are available at better beer stores all over WNY.
80 Earhart Drive, Williamsville; 906-6600, 12gatesbrewing.com
Best Local Brewery
[southtowns]
42 North Brewing Company
East Aurora's 42 North not only makes really good beer, it's also a solid place to hang out. So much so, that, in February, it announced a massive expansion, adding 6,600 square feet for event space, a canning operation, and four Airbnb rentals in addition to more refrigerated storage. Readers can expect the space to be done by early summer.
25 Pine Street, East Aurora;  805-7500, 42northbrewing.com
Best Local Winery
Liten Buffel
Natural wine is where it's at, kids. We couldn't be more excited to have Liten Buffel here in WNY, creating incredibly interesting and quaffable natural wine close to home. Twice in the last year, this local winery graced the pages of Bon Appetit. Most of the winery's juice is allocated to restaurants and wine sellers in NYC,  but a handful of locals have caught on, so if you can't make it out to Middleport, there's no good reason for not having tasted its wine yet; check out local sellers posted on its website.
8822 Pearson Road, Middleport; litenbuffel.com
Best New Hotspot
TIE:
Misuta Chow's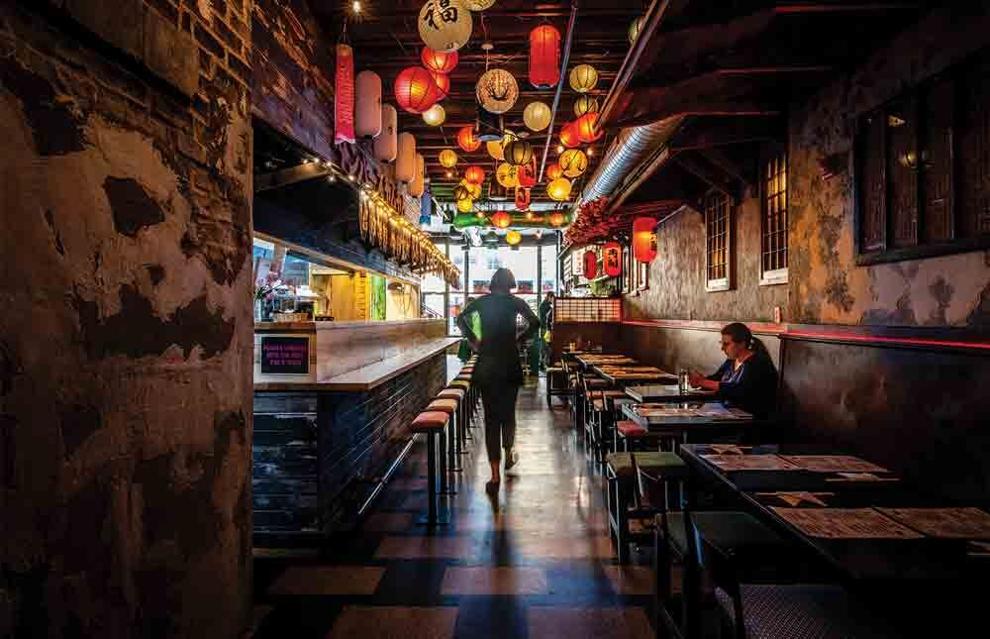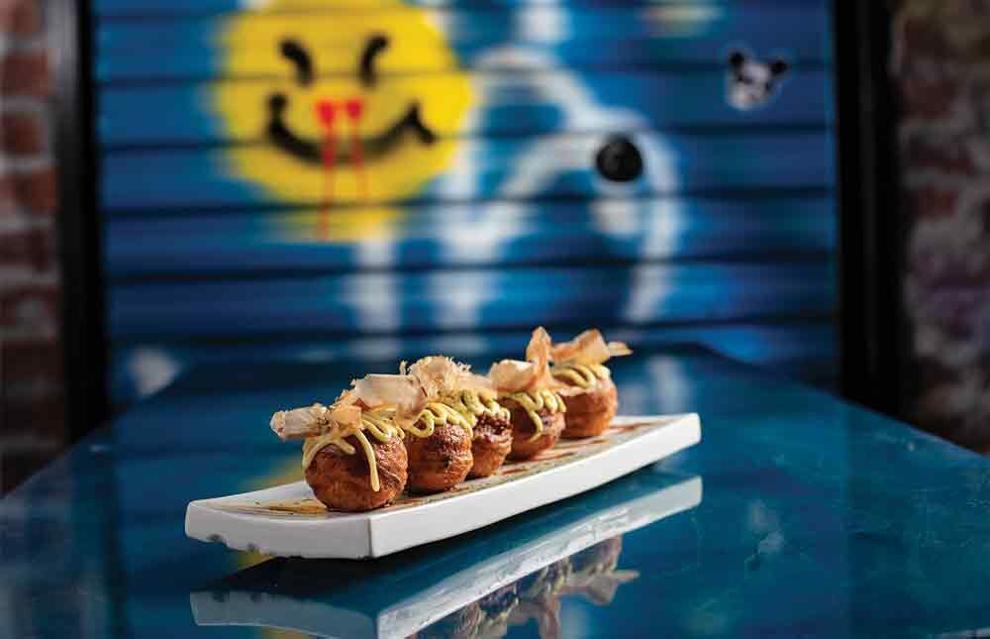 At Misuta Chow's, two vibrant floors of bar and play space pay homage to Japanese culture (downstairs) and the 1980s (upstairs), connected by the Instagram sensation hot pink Hello Kitty staircase. Old-school arcade games like Skee-ball and pinball, sake on tap, neon, kitch, faux building facades, a Japanese street food menu, and countless little surprises transport visitors to another time and place entirely.
521 Main Street; 259-8228, misutachows.com
The Little Club
The Little Club, a wine bar opened by Tommy Lombardo across the street from his family's landmark high-end Italian restaurant, offers a relaxed after-work or evening sip in an open Mediterranean-vibed space. The menu centers around well-curated wines by indie makers and upscale snack plates, with a few cocktails and draft beers for the viNOPEs among us.
1197 Hertel Avenue; 427-6200, thelittleclub.bar
Best New Restaurant
Daniela.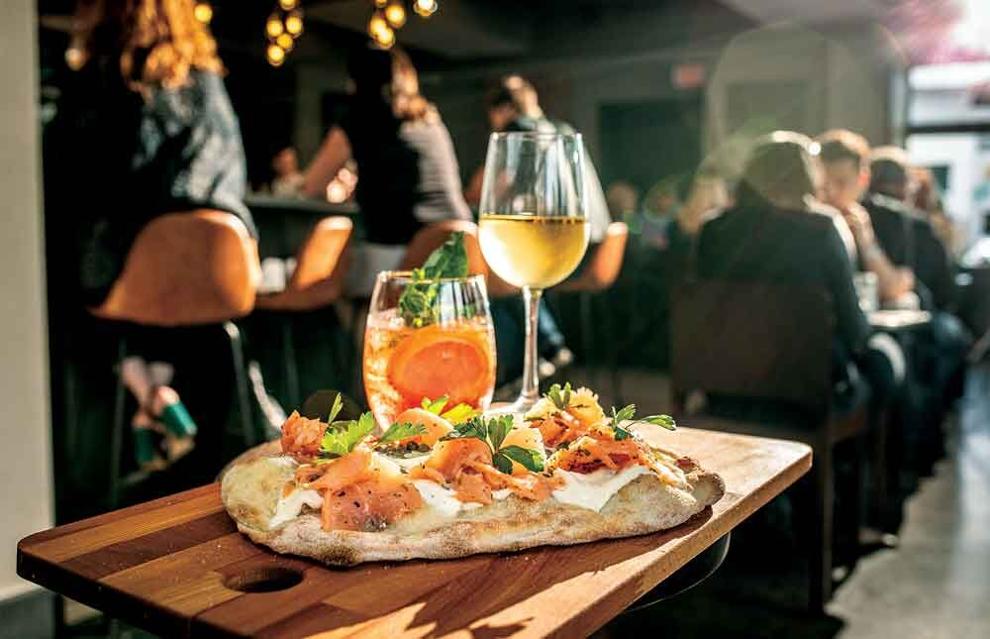 It's exciting when a new restaurant also brings a different cuisine—Buffalo had no pinsa until Daniela. came along. Trust us, this spin on Roman-style pizza is a major gift to Buffalo diners.
387 Forest Avenue; 235-8598
Best New Restaurant
[suburbs]
Prescott's Provisions
Here's a welcome new addition to the up-and-coming restaurant scene in the city of Tonawanda. A sort of jack of all trades, Prescott's does a morning coffee bar, lunch, and dinner service, fueled by a wood-fired pizza oven and grill. An expansive patio overlooking the Erie Canal adds to the experience.
40 E. Niagara Street, Tonawanda; 525-1260, prescottsprovisions.com
Best Noise Levels
Kuni's
Too often, sound is the last element restarant owners and designers think about, so we cherish those few places where it's possible to have a quiet conversation. Thank you, Kuni's.
226 Lexington Avenue; 881-3800, kunisbuffalo.com
Best Outdoor Space
[City]
Tappo
We already loved Tappo's rooftop, a great place to watch a summer sunset, but now there's an enchanting wintertime igloo option. That's going above and beyond the usual patio dining set-up.
338 Ellicott Street; 259-8130, tappoitalian.com
Best Outdoor Space
[suburbs]
Public House on the Lake
If you enjoy a glorious Lake Erie sunset with your dinner, look no further than this expansive restaurant, which also has a nice live entertainment schedule.
4914 Lake Shore Road, Hamburg; 627-5551, publichouseonthelake.com
Best People Watching
[City]
Hydraulic Hearth
Whether its the pickleball players, the food truck devotées, or the  music fans, HH offers a front row seat to top-notch Larkinville action.
716 Swan Street; 248-2216, hydraulichearth.com
Best Pizza
[Buffalo-style, City]
La Nova
La Nova has been a Buffalo institution since 1957, and all you need to do is bite into one of its gooey, cheesy slices to understand why. The sauce has a hint of sweetness, the crust isn't too thin, and the pizza never disappoints.
371 West Ferry Street; 881-3303, lanova-pizza.com
Best Pizza
[Buffalo-style, northtowns]
Franco's
Franco's has managed to grow into one of the largest local pizza chains while still producing high-quality Buffalo-style pizza. This a beautiful and hard-to-duplicate accomplishment. When evaluating this category, the benchmark is, of course, a cheese-and-pepperoni pie. Franco's nails it. Its trademark fluffy crust sports a crispy edge, good cheese/sauce ratio, and a hearty layer of cup-and-char augmented with those little pools of hot pepperoni grease we think deserve their own call-out on the menu. Five locations strong, Franbco's isn't too far from most Buffalonians.
Multiple locations; francospizza.com
Best Pizza
[Buffalo-style, Southtowns]
TIE:
Imperial Pizza
If you're new to the Imperial experience, go cup and char pepperoni and cheese on your first round, just to see how it ranks. Notice the crispy edges, the not-too-sweet sauce, and dough that's tender but not underbaked. This is Buffalo-style pizza at its best; fast, hot, and reliably delicious.
1035 Abbott Road;  825-3636 or imperialpizzabuffalo.com
Picasso's Pizza
Picasso's is close to the Platonic ideal of Buffalo-style pizza. With dough both chewy and crisp, sweet-ish just-right sauce, plentiful cheese, and perfectly curled pepperoni with singed edges and grease inside, it doesn't get much better.
Multiple locations; picassospizza.net
Best Pizza, Thin-Crust
[city]
Hearth + Press
Though it isn't a stickler for adherence to the VPN-style guidelines (for those who don't speak pizza, that's short for Vera Pizza Napoletana, an officially designated Italian pizza theology), Hearth + Press turns out a solid thin-crust pizza with a flavorful dough. Open downtown for lunch and dinner, H+P's quick-fire oven and well-trained staff can satisfy pizza hankerings with very little fuss at lunch, before a show, or after a concert.
665 Main Street; 262-0866, hearthandpress.com
Best Pizza, Thin-Crust
[northtowns]
Jay's Artisan Pizza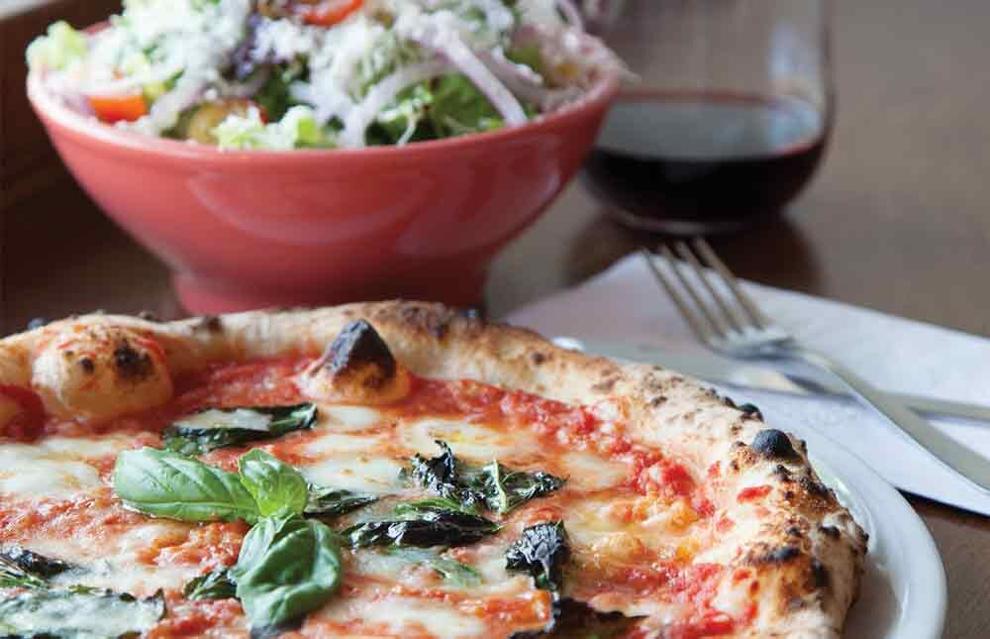 The opening of Jay's in 2017 is one of the most significant moments in Buffalo culinary history. Don't believe us? Spend a couple hours immersed in the world of American pizza cognoscente. Arthur Bovino, the author of Buffalo Everything and a certified pizza snob told Spree, "If Jay Langfelder was stretching out pies in Brooklyn or Manhattan, the national food media would've been all over him a long time ago… Buffalo has one of the country's premier pizzaiolos, someone committed to quality who knows how to play by the rules and knows when to buck them. Jay turns out some of America's best Neapolitan pies, and his tinkering with Detroit-style, focaccia, and other next-level creations make Jay's a must-visit destination for pizza nerds who consider themselves in the know."
2872 Delaware Avenue, Kenmore; 322-1704, jaysartisan.com
Best Thin-Crust Pizza
[southtowns]
The Grange community kitchen
Like everything else at The Grange, a farm-to-table foodie paradise tucked into a quiet village storefront a dozen miles from downtown Buffalo, the pizza menu shifts a bit with the seasons, focusing on tomatoes, root veggies, or fresh greens as they're ready for harvest. But no matter the time of year, diners can count on a tomato/basil margherita, a pepperoni, another spicy cured meat or two, and expect an appropriately crisp and chewy crust fired in a wood-burning oven visible from the front of the restaurant.
22 Main Street, Hamburg; 648-0022, grangecommunitykitchen.com
Best Place to Impress
100 Acres, Hotel Henry
What could be more impressive than a hotel and restaurant that wows visitors with its spectacular architecture before they even get inside? Built in 1870 and designed by one of the most celebrated architects in US history, Henry Hobson Richardson, this former asylum's distinctive silhouette towers over the surrounding area. Inside, in addition to a hotel and the well-regarded 100 Acres restaurant, it offers a coffee counter that can be used as a co-working space, weekday happy hours, a series of lounges, galleries, and special events—such as the annual holiday market. Whether you're visiting from out of town or a lifelong resident, this landmark is worth a look around.
444 Forest Avenue; 882-1970, hotelhenry.com/food-drink
Best Ramen
Sato Ramen
If you pay attention to these things, you might see ramen pop up in the least expected places as chefs jump onto the next new thing. But as simple as a bowl of noodles sounds, a proper bowl of ramen requires techniques best left to a dedicated kitchen. Sato, with housemade noodles and bowls built with layers of flavor, is the undisputed ramen champ in the 716.
3268 Main Street; 835-7286, satorestaurantgroup.com/sato-ramen
Best Red Sauce Joint
[City]
TIE:
Chef's Restaurant
The dish that made Chef's famous is a saucy, cheesy, carb-lover's dream. It arrives on a platter completely covered in a thick, gooey blanket of mozzarella with a dish of sauce on the side. While the pasta is sauced lightly, that side sauce allows diners to augment at will. When packing up leftovers (and you will), get a to-go cup of sauce too, to keep it moist when reheating. Especially for cheese fans, spag Parm is one local staple not to be missed.
291 Seneca Street; 856-9187, ilovechefs.com
Frankie Primo's +39
Owner Jay Manno spent several years traveling the world, experiencing the best casual Italian eateries from the Amalfi Coast to Chicago to South Beach to Toronto. And it shows. The menu at Frankie Primo's +39 is a culmination of his family's time trusted Italian-American recipes and his favorites from the road.
51 West Chippewa Street; 855-3739, frankieprimos39.com    
Best Red Sauce Joint
[Suburbs]
Mulberry Italian Ristorante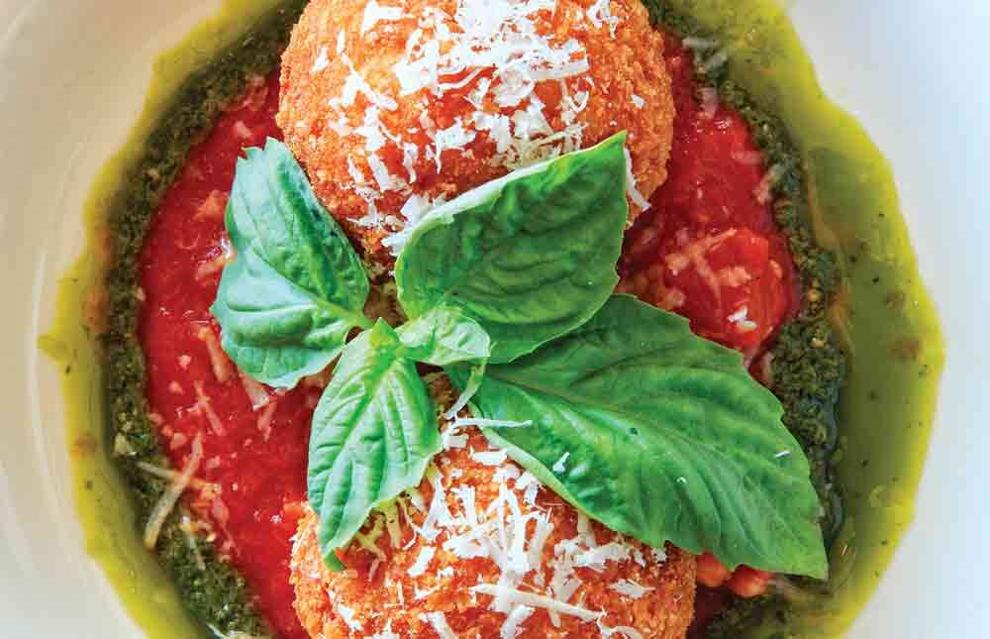 This quiet little restaurant at the end of a quiet little street packs big flavors into its traditional Southern Italian dishes.
64 Jackson Avenue, Lackawanna; 822-4292, mulberryitalianristorante.com
Best Restaurant for a Special Occasion
[City]
Patina 250
The contemporary artwork, the elegant circular bar, the three tiers of comfortable seating, and the spotless open kitchen add up to a welcoming, beautifully designed restaurant that's perfect for any special meal.
250 Delaware Avenue; 290-0600, patinagroup.com/patina-250
Best Restaurant for a Special Occasion
[Northtowns]
Salvatore's Italian Gardens (Italian | Prime at Salvatore's)
Everything about this place—from the extravagant, conversation-starting hallway decor to the elegant dining areas—says special event. Whether it's dinner for two or a family treat, Salvatore's is the place.
6461 Transit Road, Depew; 456-4097, salvatoresitalianprime.com
Best Restaurant for a Special Occasion
[southtowns]
Carte Blanche
With relative recent-comers like Sweet Pea Bakery, Prima Cafe, Alchemy, and, of course, the Grange all arriving on the scene, the village of Hamburg is a strong contender for the Southtowns' top restaurant destination. Among the standouts luring diners from outside the village, Carte Blanche boasts the most formal setup, with reservations recommended and an entrees-and-pastas-focused menu. Try their take on classics like coq au vin and strip steak, or get a touch more experimental with mushroom gnocchi or a smoked duck salad. Carte Blanche also offers oysters, not seen on every local menu, and almost twenty wines by the glass, in addition to an attractive space and well-organized service.
61 Buffalo Street, Hamburg; 649-2101, carteblanchehamburg.com
Best Seafood
[City]
Dobutsu
Meticulous sourcing and fresh, Asian-tinged preparations have made this bright, airy venue an instant hit, deservedly so.
500 Seneca Street; 322-6004, dobutsubuffalo.com
Best Seafood
[Suburbs]
Remington Tavern and Seafood Exchange
A massive raw bar, daily offerings of fish like yellow pike, and outside-the-box preparations make this spot perfect for seafood fans.
184 Sweeney Street, North Tonawanda; 362-2802, remingtontavern.com/wordpress
Best Small Wine List
[bottle]
Mile 303
Medina isn't as far away as you think, and if you're nervous about losing your otherwise-iron clad self-control once you peep the Mile 303 wine list (don't feel bad, we are all too familiar with this predicament), then book a room at the Hart House and make a day of it. The carefully curated wine list is almost incongruent with the other loosey goosey elements of M303's menu and vibe—with the exception of the decor, with which it pairs perfectly. It's unexpected, obvious but ingenuous, daring and bold, visionary, and fantastical but anchored in reason. Go with your mind open and a thirst to quench. When it comes to the Mile 303 bottle list, we'll give you one piece of advice: buckle up!
416 Main Street, Medina; 585-206-1407, mile303.com
Best Spirits
[vodka]
Lockhouse Distillery
Pioneer Lockhouse Distillery served Buffalo its first bottle of local booze since Prohibition ended, and we are forever indebted. Since the new Lockhouse opened, it's moved downtown and added a barroom. These days, Lockhouse is a favorite stop for people attending events at Canalside and Key Bank Center. All of this distillery's spirits are notable, but its vodka seems to be a perennial favorite. Maybe it's the triple distilling. Maybe it's the subtle floral notes. Gold medal winner in its category at the 2014 American Distilling Institute Spirit Competition, and winner of the 2019 Best of WNY Best Vodka award, it should probably be on everyone's shopping list.
41 Columbia Street; 768-4898, lockhousedistillery.com
Best Spirits
[gin]
Tommyrotter
We'd already collected a massive number of votes for Tommyrotter before this news broke: its cask-strength gin, aged in bourbon barrels, has taken the Chairmen's Trophy at the Ultimate Spirits Challenge. It's true that in the booze industry, awards are often more about marketing than achievement, but that's not the case here, where the competition's tagline is "No shortcuts. Just honest, impartial judging." This special gin earned 95 points out of a 100, a major achievements in a crowded marketplace, achievements no gin-drinking Buffalonian should overlook.
500 Seneca Street, #110; 312-1252, tommyrotter.com
Best Sports Bar
[City]
(716) Food and Sport
To watch the big game, you need a big screen, and nobody has more of them than this place.
7 Scott Street; 855-4716, 716foodandsport.com
Best Sports Bar
[Suburbs]
Amherst Pizza & Ale House
Four words: Hockey Night in Amherst.
55 Crosspoint Parkway, Getzville; 625-7100, amherstpizzaandalehouse.com
Best Steak
[city]
Sear
Our favorite place in the city proper for a juicy, well-seasoned, and perfectly prepared steak is Sear, where it's accompanied by delicious scratchmade sides, an attractive-but-casual dining room, and really great table service. All the classics are here, done with care and consistency—from a ribeye or filet mignon to a forty-five-day aged Kansas City Strip or twenty-ounce cowboy steak.
200 Delaware Avenue; 319-1090, searbuffalo.com
Best Steak
[Northtowns]
Giancarlo's Sicilian Steakhouse
Expect perfectly executed steaks with elegant Italian flair here. Its warm sophistication sets this place apart.
5110 Main Street, Williamsville; 650-5566
Best Tacos
[City]
Lloyd Taco Factory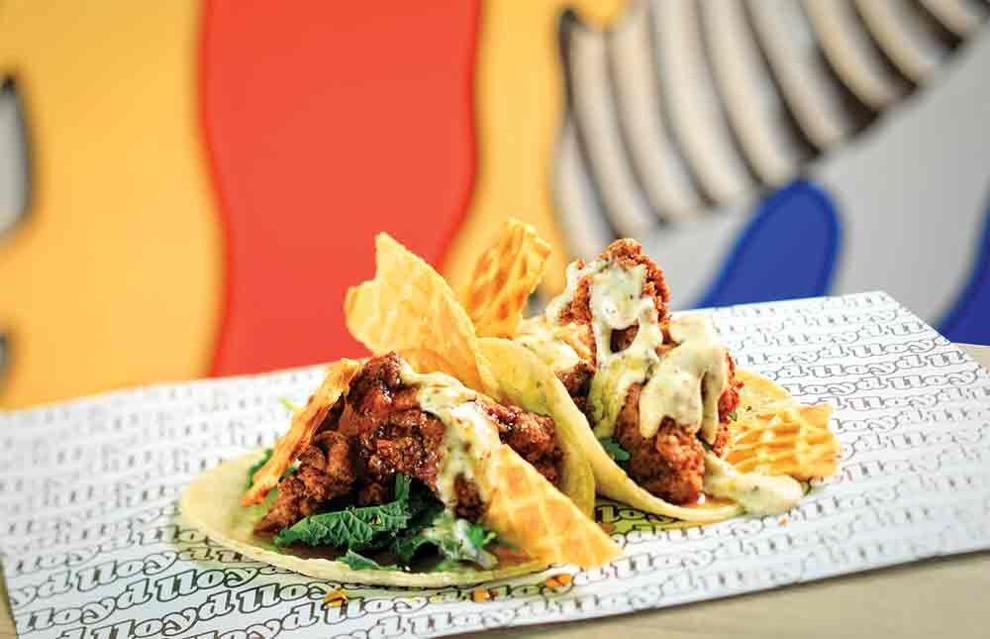 Lloyd Taco has a fleet of trucks serving all of WNY and drop-off catering in addition to the brick and mortar shops on Hertel and Elmwood. We'd argue that Buffalo is better off for having a delicious Lloyd offering always within arm's reach. Lloyd is serving up everything taco from chicken and waffles to cheeseburger to Thai tofu, alongside more traditional fillings and forms.
1503 Hertel Avenue;  863-9781, whereslloyd.com
Best Tacos
[northtowns]
La Divina
Since its 2015 opening, Kenmore's only prize-winning taco shop has had its ups and downs, but there's no question it remains one of the most authentic-leaning (not to mention affordable) taquerias in Western New York. Even when one considers the sudden prodigality of the almighty taco (pardon the pun), La Divina still ranks near the top of the heap, despite its makeshift dining area and self-serve methodology. Pro tip: save the chicken taco for your next drive-thru dinner and go for La Divina's more exotic offerings like lengua.
2896 Delaware Avenue, Kenmore;  447-8989, lladivinataqueria.com
Best Tacos
[Southtowns]
Left Coast Taco
Enjoy a taste of San-Diego-street-taco authenticity at this popular spot, complete with carne asada, lengua, camarones, and other traditional standards.
603 Oakwood Ave, East Aurora; 805-7724, leftcoasttacoea.com
Best Use of Local Ingredients
Craving
An early adherent of local sourcing, Craving chef Adam Goetz is still scouring the local markets for the freshest, most interesting ingredients he can find.
1472 Hertel Avenue; 883-1675, cravingbuffalo.com
Best Vegan Menu
[City]
Root & Bloom
The menu at this bright little café on Elmwood is eclectic, evolving, and one hundred percent plant-based—a rarity in a city that loves its meat. Animal-free fare ideas gathered on a year-long quest around the country in a converted cargo van inform an array of sweet and savory dishes, including their signature house-cultured mac and "cheese" topped with southern greens and fried barbecue tofu, and a churro waffle topped with tropical compote and sprinkled with cinnamon and sugar.
423 Elmwood Avenue; 768-1878, rootandbloomcafe.com
Best Vegan Menu
[northtowns]
Sun Cuisines
"Buffalo food" doesn't mean just wings and 'weck any more, or even pierogi and red-sauce Italian. Little known in much of the US, Burmese food has become a favorite in Western New York as a growing immigrant and refugee community from Myanmar calls this area home. Sun Cuisine, originally located on Niagara Street but having expanded to the 'burbs, remains a favorite for omnivores, but vegans and vegetarians, as well as those avoiding gluten, will be happy to note every menu item is labeled with regard to dietary restrictions. Vegan choices on offer include soups, salads, half a dozen appetizers, and specialty items such as fried rice, stir-fried bean noodles, a pumpkin stew, eggplant, and Pad Thai.
5759 Main Street, Williamsville; 313-2211, suncuisines.com
Best Waitstaff/Service
Ristorante Lombardo
The amount of attention lavished on guests by Lombardo's adept waitstaff is skillful and warm—never overwhelming. The place runs like a finely-oiled machine. Orchestrating such graceful service with impeccable timing requires a level of consistency and conscientiousness that can only be attributed to the restaurant's ownership. The Lombardos have blessed WNY with their restaurant for over forty years, and it shows in the best ways.
1198 Hertel Avenue; 873-4291, ristorantelombardo.com
Best Wings
[city]
Gabriel's Gate
The wing debate is heated enough when you look to the north and the south of the city, but downtown denizens are even more wildly and fervently divided. For someone tasked with introducing "real" Buffalo wings to visiting wing virgins (who also happen to be rock stars), Donny Kutzbach, owner of Town Ballroom, relies on Gabe's Gate. And, according to our survey, readers do, too. "I love Gabriel's Gate,"  says Kutzbach, a self-described picky wing consumer. "The place just has that Buffalo tavern feel and the wings are consistently and reliably great, which I can't say about most places." A standard caveat that any order should include a specific request that wings be "extra crispy" has circulated among enthusiasts, but, given the acrobatics we've gone through at lesser locations to receive only passable wings, we're OK with that.
145 Allen Street; 886-0602
Best Wings
[northtowns]
Duff's famous wings
Tucking into a plate of wings may not be the healthiest activity, so it's really a waste of calories to eat subpar wings. Consistent reliability of a wing joint is paramount, and there is no better example than the OG Duff's of Amherst. The speed with which its servers can churn through a packed anteroom of elbow-to-elbow people is also a sign of a business that knows what it's doing.
3651 Sheridan Drive, Amherst; 834-6234, duffswings.com
Best Wings
[southtowns]
Bar-Bill Tavern
Bar-Bill is undeniably the king of the Buffalo wing—at least in the Southtowns, though we know plenty of city folk who drive to East Aurora for the sole purpose of satiating their wing hankering. (Soon, they'll be able to head to Clarence, now that owners have announced a second location.) Wings at Bar-Bill take time—each wing is painted with sauce by hand and arranged carefully on the plate before its shuttled through the always-packed dining room. They are piping hot, perfectly crispy, and have just the right amount of buttery sauce.
185 Main Street, East Aurora; 652-7959 or barbill.com
To keep up with the top restaurants, best chefs, finest bakeries, wineries, distilleries, and breweries + more all year round—subscribe to Buffalo Spree today!
OUT & ABOUT
Best Bar for Live Music
[city]
Sportmen's Tavern
This Black Rock institution is more than a venue: it is very nearly a genre. What's it like? Well, it usually features guitars, and is at least somewhat informed by the blues. If you have ever imagined yourself in a Bonnie Raitt song, or actually hanging out with Bonnie Raitt, Sportsmen's might be the bar you've pictured. Pretty good wings, very good taps, not a bad seat in the house, and you can pretty much count on something going on there any time.
326 Amherst Street; 874-7734, sportsmensbuffalo.com
Best Bar for Live Music
[northtowns] 
Stamps the Bar
Have you been missing the Old Buffalo, where unassuming joints like the Continental routinely served up both energetic young bands and drinks that you could pay for with a ten-dollar bill and get change back? The dream of the '90s is alive and well at this friendly dive, once the go-to tavern for workers at the nearby post office and now home to one of the most eclectic rosters of entertainment in WNY. The free Buffalo Jazz Composers Workshop events on the first and third Monday of every month are the stuff of local legend, while other nights bring punk, hip-hop, ska, spoken word, and electronic acts.
98 Main St., Tonawanda; stampsthebar.com
Best Bar for Live Music
[southtowns]
189 Burger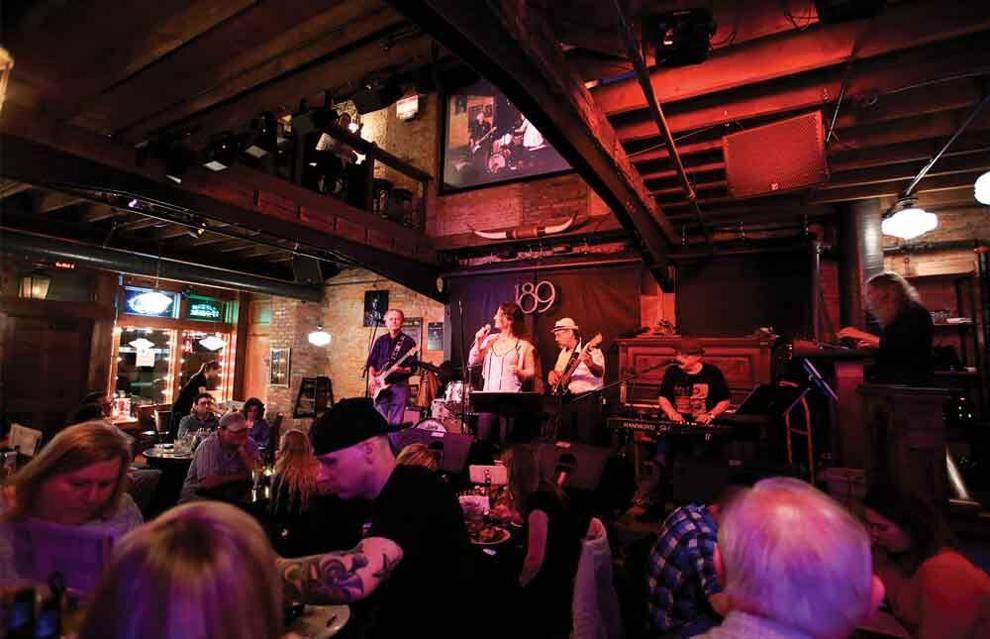 Sooner or later we may have to retire this award—or maybe get out a little more—but we can't help our affection for the cozy venue formerly known as 189 Public. And they keep earning it: the programming favors top-notch local and nationally touring acts from the realms of folk, blues, jazz, and other primarily acoustic genres, and an impressive number of concerts are free. The recent name change calls attention to the menu, which also showcases whiskeys and craft cocktails, but it's the music that will always bring us back for more.
189 Main Street, East Aurora; 652-8189, oneeightynine.com
Best Beach
Beaver Island State Park
Western New York beaches tend to be overlooked as locals flock over the border, but there are lovely spots here. Think of Evangola's gorgeous rock formations, Bennet's dunes, Woodlawn's boardwalk and—always—the wide expanses of Beaver Island State Park, which provide great vantage points from which to birdwatch and enjoy a sunset as well as picnic and swim. There are also several canoe and kayak launches and nature trails. Concessions have been added recently for both the park and golf course.
Best Concert
[large]
Rhiannon Giddens at Babeville
Giddens came through WNY twice last summer, at two of our most iconic venues: Babeville and the Chautauqua Institute. At the former, she appeared with a full band, including her long-time collaborator from the Carolina Chocolate Drops,  Hubby Jenkins; at the latter, she played with Italian percussionist Francesco Turrisi, workshopping material for a new project. Describing what Giddens does can make her work sound as though it is a bloodless academic enterprise. The reality is that it is anything but: she draws a great deal of what she does from minstrelsy and related African-American traditions. There is deep emotional resonance in her material, and it swings like crazy.
Babeville, 341 Delaware Avenue; 852-3835, babevillebuffalo.com and Chautauqua Amphitheater, 31 Roberts Avenue, Mayville; 357-6250, chq.org
Best Concert
[outdoor]
Borderland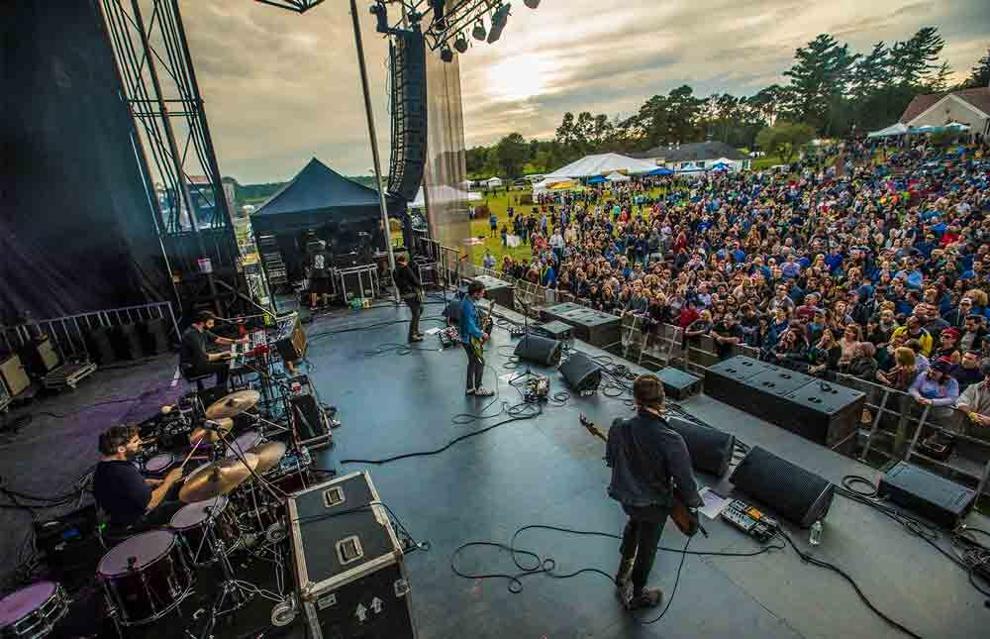 A blues-and-bluegrass-tinged music festival that celebrates Western New York's strategic location, Borderlands takes full advantage of a beautiful park setting (Knox Farm State Park) and offers a full range of artisan booths, food and drink options, and more. We chose it for best concert because we couldn't think of an outdoor music event that topped it.
Best Concert
[Small]
The Slackers at Mohawk Place
New York City's The Slackers may hail from downstate, but they have found a second home in Buffalo. The band's annual Mohawk Place gig was a communal affair—ska veterans and newcomers all sharing in the fun. This night was all about that atmosphere. Lead singer and organist Vic Ruggiero crafted the set-list on the fly to further buoy the mood. Crowd favorites like "Wasted Days" found audience revelers matching Ruggiero word-for-word, dancing with arms locked in unison. A perfect metaphor for the Slacker's reggae-infused pathos: no negativity, no judgement.  
47 East Mohawk Street; 312-9279, buffalosmohawkplace.com
Best Concert Series
Canalside Live
Like many things in WNY, the Canalside series would be amazing in a city twice our size. The acts that come through are always a pleasant surprise and geared to multiple constituencies. The waterfront venue is exactly what enthusiastic urbanists tell us is what's great about living in a place like the Buffalo, and, above all, it is a stone cold scene, a once-a-week Coachella all summer long.
44 Prime Street; 574-1537, canalsidebuffalo.com
Best Escape Room
Queen City Escape
A time traveler has gone back to the dawn of the Buffalo chicken wing and stolen the recipe—now it's up to you to rewrite history and prevent our namesake from becoming known as "Cincinnati wings." At press time, this was one of three escape rooms—and the first designed locally about Buffalo—available to play here. All escape rooms have the same basic premise: working with a group, solve a series of riddles and puzzles to escape within one hour. Where Queen City Escape excels is in developing immersive, challenging, and creative experiences, which, in addition to the Buffalo-themed room, were inspired by Stranger Things and Carmen Sandiego.
225 Louisiana Street; queencityescape.com
Best Exhibition
[Large Gallery]
We the People at the Albright-Knox Art Gallery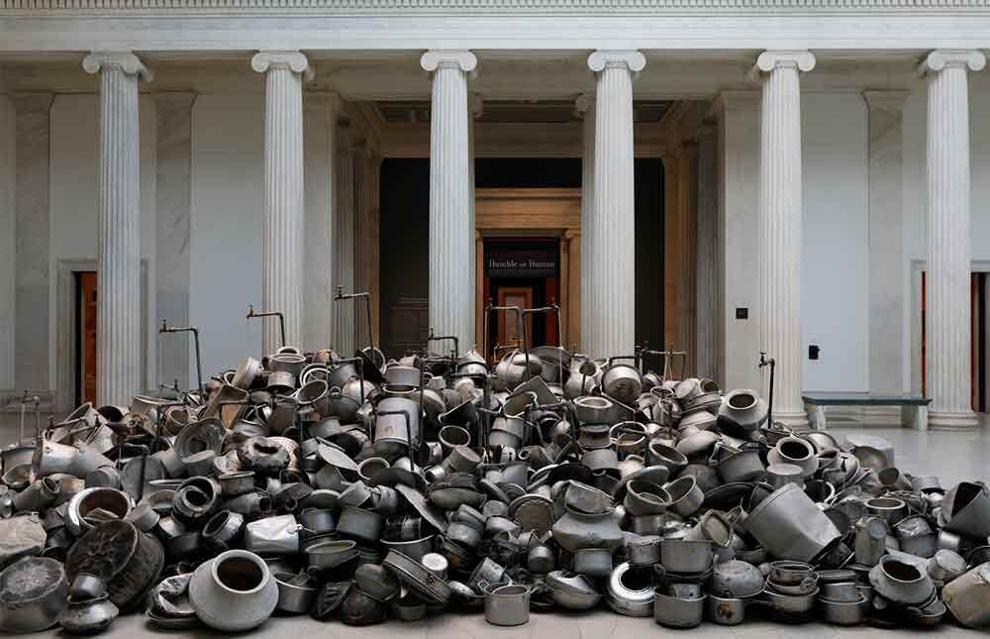 Visually spectacular, conceptually tight, and full of eye-opening cultural references, this show is also an impressive demonstration of the wide and diverse range of the museum's recent acquisitions. It further demonstrates, as if such demonstration was needed, that the Albright-Knox really needs expanded exhibition space so that works like these can be seen more frequently.
1285 Elmwood Avenue; 882-8700, albrightknox.org
Best Exhibition
[Small Gallery]
Shasti O'Leary Soudant: Do Not Mistake Our Softness for Weakness, Eleven Twenty Projects
For a few years now, Eleven Twenty Projects has been steadily presenting a series of exhibitions that seem tied together by nothing more than the need to present a body of work that nobody's seen yet. They've all had merit, but we were struck by the bright, totemic sculptures presented last fall by Shasti O'Leary Soudant, who is adept at cramming difficult concepts into easy-to-love packages. Her Priapic Yin and Burst Star series filled the gallery with a colorful clash of symbology.
1120 Main Street; eleventwentyprojects.com
Best Family Fun
[Winter]
Bumper Cars at Canalside
We were still thrilling to ice bikes when the fun folk at Canalside announced their latest offering: electric bumper cars built for ice! On a sunny day with temps in the thirties and holiday music playing over the speakers, you couldn't ask for a better family battle activity.
Best Family Fun
[Summer]
Bisons Game
It's not even necessary to like baseball to enjoy a night at Sahlen's Field. Programming like Star Wars Night, which hosts Jedi/Dar Side battles in between innings; fridaynightbash!, with spectacular fireworks; and the summer family campout series welcomes families every summer, while budget-friendly ticket prices make everything accessible.
milb.comn/buffalo
Best Farmers Market
Elmwood Village Farmers Market
See your friends, show off your dog, enjoy live entertainment, grab a morning coffee, and—oh yes—enjoy one of the widest selections of local farm produce and other locally produced consumables in Western New York at Elmwood/Bidwell every Saturday.
Best Festival
[summer]
Taste of Diversity
Buffalo has become fertile ground for an exciting assortment of restaurants featuring cuisines previously hard to find or non-existent in our area. The appreciation for these new flavors, preparations, and the people who have lovingly brought them to us has been met with big appetites and warm hearts. At Taste of Diversity Festival, the taste is not only literal, but also theoretical. Each summer, the growing and increasingly multicultural neighborhood known to most quite simply as the West Side opens its doors to the rest of the city, inviting everyone to an event filled with delicious food, entertainment and music, handmade goods, and more. This year's event takes place on June 29.
Best Festival
[Winter]
Labatt Blue Pond Hockey
Ever since it moved to RiverWorks, this annual amateur tournament is a reliable reason to head for the Blue-draped grain elevators. Besides the action on the ice, there are vendors, live music, and plenty of refreshments at the well-equipped facility.
labattbluepondhockey.com/buffalopond
Best Hiking
Niagara Gorge
When we say hike, we mean it: wear appropriate footwear and be prepared to get winded. We sometimes lose track of why the Falls are so impressive: it's not just that it is a lot of water, it's because the course that water takes is both deep and steep. At the base, there are ample bouldering opportunities, and the climb back up will leave you with a feeling of accomplishment. Best of all, unlike the unchanging hydrology on view at the top of the Falls, the gorge changes with the seasons, which makes it worth revisiting all the time.
Best Innovative Theater Production
1984, Kavinoky
Kavinoky's spring production of 1984 may not be innovative in the traditional sense, but artistic director Loraine O'Donnell's solution to an untenable problem—namely, the rights for To Kill A Mockingbird being pulled eleven days from opening—was. O'Donnell made a last-minute substitution decision, and, just minutes after making the dreaded announcement to the cast, invited anybody interested to adjourn to another room for a table read of the new play, i.e., the first rehearsal in a brand new process. Roles were reassigned, the set torn down and hauled away, a new set built, accompanying video recorded, and new lines learned. Anybody seeing the show could never have guessed what the cast and crew had been through, so for innovation in the face of the seeming impossible, Kavinoky gets the ultimate "The Show Must Go On" award.
Best Fundraiser - Food and Drink
Dining Out for Life
An oldie but a goodie, Dining Out for Life continues to appeal to both restaurant goers and owners alike—a very hard balance to strike. On a select day each year, participating restaurants across the country donate twenty-five percent (or more) of each table's tab to the fight against HIV/AIDS. In Buffalo, over $1.2 million has been raised.
diningoutforlife.com/city/buffalo-wny/
Best Fundraiser
[longstanding]
Ride for Roswell
Since 1996, the Ride for Roswell has raised $48 million for cancer research and patient care at Roswell Park Comprehensive Cancer Center. Each year, it gets bigger and bigger, attracting more than 7,500 riders of all skill levels who can choose from routes that span three to a hundred miles, including two that cross the border. For many, the fundraiser's late June date is an unofficial kickoff to summer—and a way to fight a disease that touches so many in our community.
Best Fundraiser
[New]
Squeaky Wheel's Excellent Adventure
This brilliant mashup of scavenger hunt and selfie culture encouraged participants to travel across Western New York for a day, making pictures and videos of the tasks given to them at a 9 a.m. unveiling. Imagery was uploaded and judged in real time, with teams collecting a wide variety of prizes at a concluding party. This was truly family-friendly, educational, and, most of all, super fun, as the exuberant images flooding Facebook/Instagram that day made clear.
617 Main Street; 884-7172, squeaky.org
Best Movie Theater
North Park Theatre
Since its original opening in 1920, North Park Theatre has been a beloved fixture of its community. While we could get lost in the details of its beautiful architecture and the variety of its screenings (from blockbusters to small budget films), there are even more reasons to love North Park. We eagerly await the exciting special events, from Q&A screenings with cast and crew to its annual partnership with the Cherry Blossom Festival. And you can enjoy your movie with the coolest selection of theater snacks in town. Fresh popcorn, imported candies, and a glass bottle of Strawberry Fanta for us, please!
1428 Hertel Avenue; 836-7411, northparktheatre.org
Best Nature Walk
Tifft Nature Preserve
Try a guided option to learn more about the fauna and flora of Western New York, or go it alone. There are always discoveries to be made here.
1200 Fuhrmann Boulevard; 825-6397, tifft.org
Best Neighborhood Stroll
Village of Hamburg
The best day is Saturday, when you can take in the stellar famers market as well as adjacent shops and your pick of excellent restaurants. New and intriguing businesses pop up on a regular basis in this attractive and approachable hamlet.
Best Outdoor Programming for Kids
Explore & More, The Ralph C. Wilson Jr. Children's Museum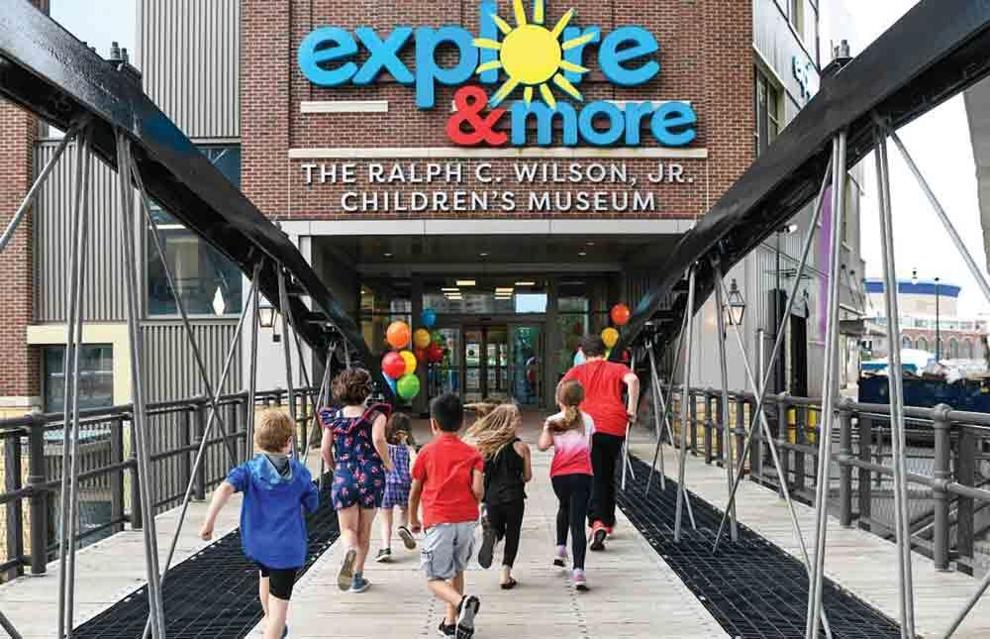 Every summer, Explore & More takes the fun outside with a free line-up of outdoor activities at Canalside that engage children of many ages. Last year's programming celebrated a different section of the new four-story museum every week. Over the course of the summer, kids created a community mural, learned about various cultures, played giant-sized versions of classic games, explored all things transportation, and built their own instruments. With seven play zones in the new museum, and many daily programs and special events planned, the fun promises to get even bigger this summer and beyond with Explore & More.
Best Place to Dance
Buffalo Iron Works
A great place to move to music at any time, this former factory hosts special dance-centric events regularly, including Silent Discos, Saturday Night Safety Dances, All Night Kanye Parties, and the annual Cure Vs. Smiths Dance Party.
49 Illinois Street; buffaloironworks.com
Best Place to Take Kids
The Buffalo Zoo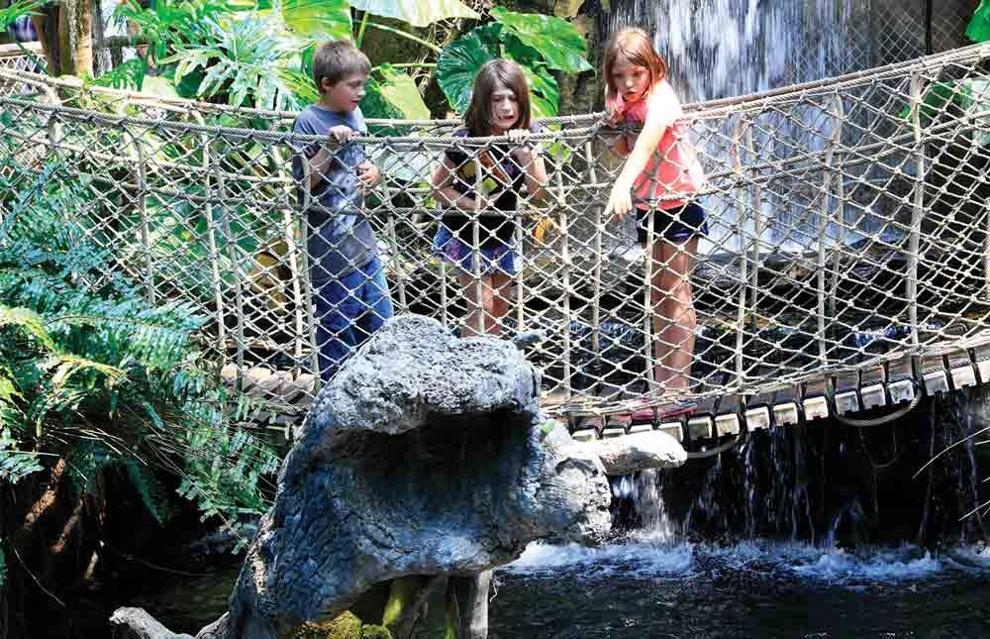 There's nothing like seeing the Buffalo Zoo through the wide eyes of children—watching them observe the lions, try to touch the polar bears as they swim by, and jump when a monkey suddenly lands in front of them behind the glass. Plus, the Zoo offers many programs and experiences for children and families, including camps, sleepover events, family fun nights, and more. A gem in our Olmsted Parks System, the Buffalo Zoo—the third oldest in the nation—is a staple of summer family outings in Western New York.
300 Parkside Avenue; buffalozoo.org
Best Production of Contemporary Show
Frost/Nixon, Irish Classical Theatre Company
The mission at Irish Classical Theatre Company is roughly "Irish, classic, or outstanding plays of literary merit." That last part is a ubiquitous theater mission get-out-of-jail free card that allows theaters, when so moved, to produce something just because its leadership wants to. Most often, ICTC hews overwhelmingly toward its eponymous mission, but when it veers into contemporary, it does it so well, we wish it happened more often! For the third time in seven years (Next to Normal in 2013, The Night Alive just last year), Spree recognizes ICTC for its incisive contemporary choice (this play's resonance with our current day politics was both eerie and disheartening; Watergate seems like child's play in 2019), which was seamlessly executed in the round and superbly cast: Adriano Gatto and Jack Hunter as Frost and Nixon were well-matched dynamite in this explosive cat-and-mouse performance.
Best Production of a Classic Show
Much Ado About Nothing, Shakespeare in Delaware Park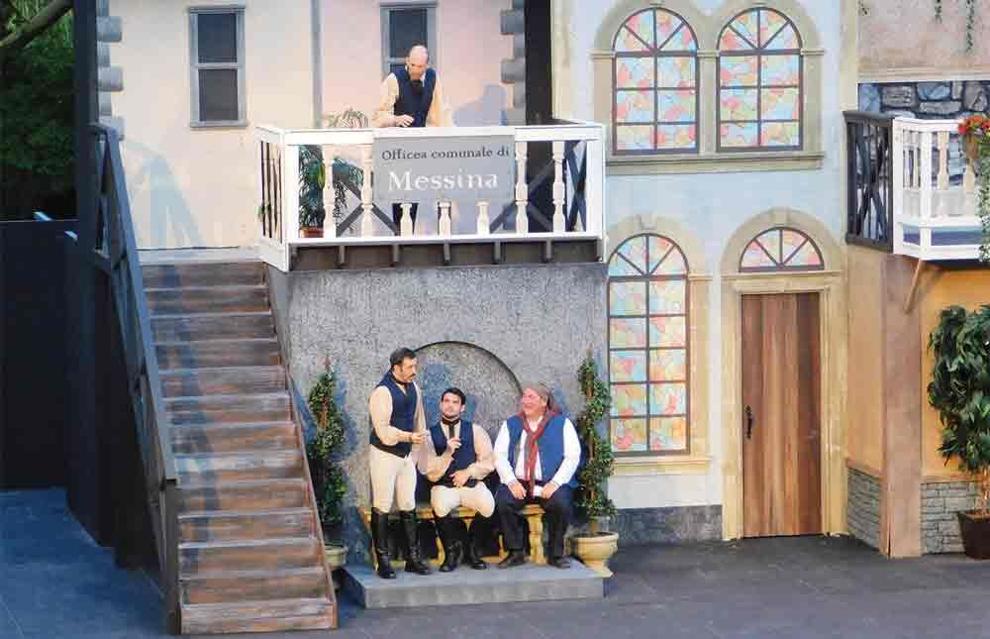 The Bard is a fixture in Western New York, thanks to Shakespeare in Delaware Park, the second largest free Shakespeare festival in the country (and when New York City is number one, second is a pretty big achievement). Kate LoConti Alcocer and Todd Benzin landed Beatrice and Benedick's biting wit in ways natural and new, Nick Stevens and Melinda Capeles gave Hero and Claudio all the rooting value the couple deserves, and Greg Gjurich made Dogberry's Elizabethan malapropisms hilarious and understandable. Under Kyle LoConti's stalwart direction, it was a Shakespeare show that landed for all, and isn't that what everyone wants from an evening on the hill?
Best Staycation
Botanical Gardens in Winter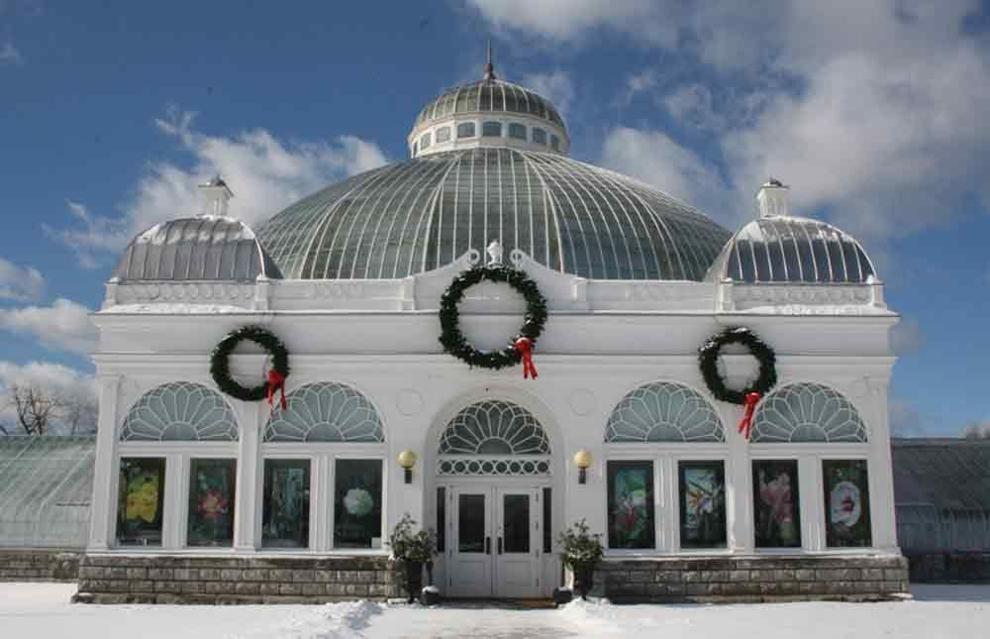 Don't have the resources for a tropical vacation at the moment? Take a drive to the Botanical Gardens of Buffalo and Erie County, where it's always lush and balmy. Bonus points for its grand Lumagination event throughout February, which includes Friday happy hours with tropical drinks, further adding to the cruise vibe.
2655 South Park Avenue; 827-1584, buffalogardens.com
Best Theme Park
Olcott Beach Carousel Park
While other amusement parks cater to thrill-seekers and concert-goers, Olcott Beach Carousel Park is all about nostalgia. Located on the site of the original 1940s Olcott amusement park and modeled after parks of that era, the carousel park features a 1928 Hershell-Spillman two-row carousel, as well as five vintage rides for toddlers and young children: a car and fire truck ride and sky fighter ride—both from Hershell as well—plus a boat ride, swings, and Ferris wheel. Each only costs twenty-five cents, so for a few dollars your family can spend an entire summer afternoon here and strolling the nearby boardwalk of shops.
Best Tourist Attraction
Anchor Bar
We're pretty sure that most of our (meat-eating) out-of-town visitors mention wings before they mention Niagara Falls. Which makes this an easy and pleasant job. Find the nearest Anchor Bar location—there are four in WNY—grab a seat and enjoy some hot, medium, or mild with a beverage.
Multiple locations; anchorbar.com
Best Tours
Explore Buffalo
If you want to explore the history and architecture of Buffalo, hop on an Explore Buffalo tour—by foot, kayak, bike, boat, or bus. Now in its sixth year, the nonprofit offers year-round downtown tours, as well as a slew of specialty tours that ramp up during warmer months. You can explore the history of prominent local women, sports, and crime (in four different neighborhoods!), and tour architectural gems like Corpus Christi Church, the Tri-Main Center, and the Frank Lloyd Wright-designed Fontana Boathouse. The group even engages local schools for tours that help children discover the fascinating heritage of the city they call home.
Best Water Amusements
Water Bikes, Kayaks at Canalside
After months of walking gingerly on snow and ice, when the summer sun shines, Buffalonians head to the water. And one of the best ways to experience our region's greatest asset is at Canalside, where you'll find  variety of watercraft options. If you want to truly appreciate Buffalo's waterways and catch some rays, climb aboard one of these contraptions and gaze up at the grain silos as you pedal or row down the river.
Best Winter Escape
Ellicottville
No need to be a skier to enjoy the options this fun village has to offer, which include a beautiful resort, which adds amenities yearly, a walkable village, fun festivals, and daily opportunities to eat, drink, shop, and spa. It's a vacation town for all seasons.
Know where to go and what to do all year round—subscribe to Buffalo Spree today!
PERSONALITY PLUS
Best Actor
TIE:
Ben Michael Moran, Angels in America
Jimmy Janowski, The Absolute Brightness of Leonard Pelkey
This season's top two male performances—hard chosen from a field bursting with talent—were so different that they couldn't be compared in any way that made us feel comfortable declaring one as superior. Janowski, best known for his summer camp drag roles at Buffalo United Artists, gave audiences a rare glimpse of his range in a one-man journey through thirteen characters from a gruff detective to a shy teenaged girl. Each fully realized portrayal was a brush stroke in the full portrait of Leonard Pelkey, the title character absent from the dramatic canvas—one that Janowski nonetheless painted expertly.
On the other hand, Ben Michael Moran's portrayal of the iconic Prior Walter in Angels in America, Part I: Millennium Approaches required a different display of craft, namely mining one character's journey for all its depth, humanity, and truth, then baring it on stage in a unique portrayal that didn't borrow from the many that went before, but instead imbued the role with new authenticity as powerful as any predecessors'.
Like we said—too hard to choose; what we know for sure is how lucky we are to have both these actors in Buffalo.
Best Actress
TIE:
Aleks Malejs, Sive
Bethany Burrows, After the Fall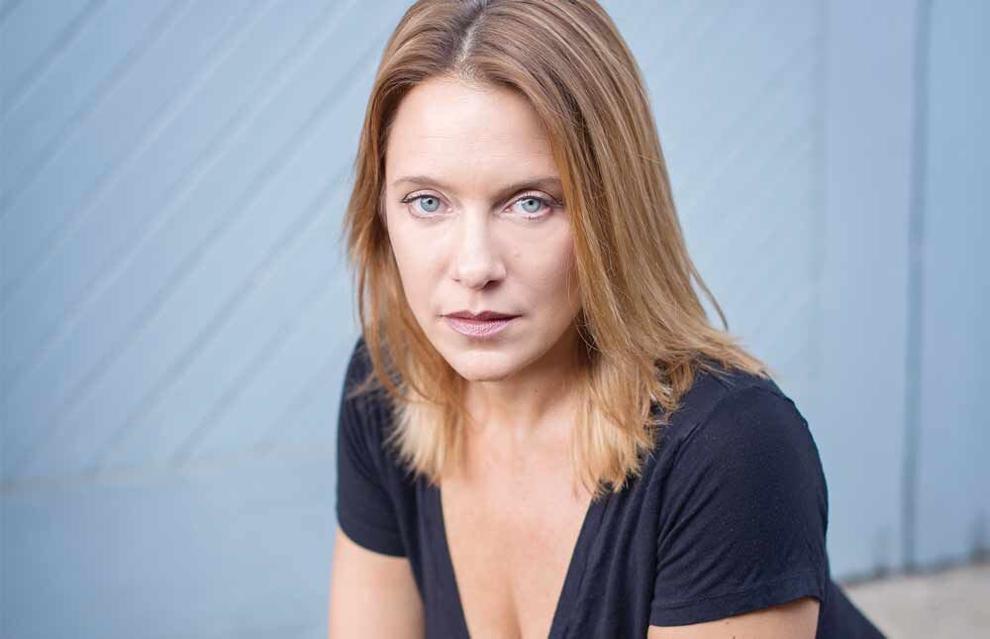 There really isn't a role that Aleks Malejs doesn't do well, but in Sive, she so fully embodied Mena, a desperate woman driven to desperate acts, that the audience sat tensely, never knowing when her anger—which often bubbled just below the surface—would boil over. She was a character we might love to hate, if only she weren't so mesmerizing.
Bethany Burrows, whom we haven't seen nearly enough on Buffalo stages (thankfully, that changes next season), shone in After the Fall, a lesser-seen Arthur Miller play that's autobiographical enough for us to know that Burrows is channeling Marilyn Monroe. With incredible nuance, she takes us through Marilyn's undoing under Arthur's thumb, simultaneously giving us all of her charms and all of her insecurities, without ever going over the top.
Best Arts Administrator
Daniel Hart
Is the symphony orchestra an endangered species? Not in Buffalo or in many US cities where philharmonics have learned how to make it work for their communities. We know that having the superb JoAnn Falletta, who is celebrating her twentieth year as music director, hasn't hurt the BPO's success with local, national, and international audiences. We also know that it doesn't hurt to have a comfortable endowment, strong educational partnerships, ambitious collaborations, and vigorous outreach. Credit for this must go in large part to executive director Dan Hart, whose enthusiasm and savvy management has helped keep the BPO in the black as it expands its involvement with its WNY constituency.
Best Character Performance
Jake Hayes, Little Shop of Horrors
In Jake Hayes' full season of performances—Once in My Lifetime, Little Shop of Horrors, Barcelo on the Rocks, Ragtime, and Hamlet—it might seem odd to single out the one where we never saw his face. And yet when Audrey II roared to life and song in O'Connell and Company's Little Shop of Horrors, that plant was so commanding that the first question on everyone's lips was "Who is that?!" It's a question being asked less and less as Hayes becomes increasingly popular on the Buffalo theater scene. No matter the role, his focused attention to detail, seemingly easy stage presence, and voice stand out. Look for him as the lead in Road Less Traveled Productions' Superior Donuts at Shea's 710 this fall.
Best Columnist
Jeff Miers, Buffalo News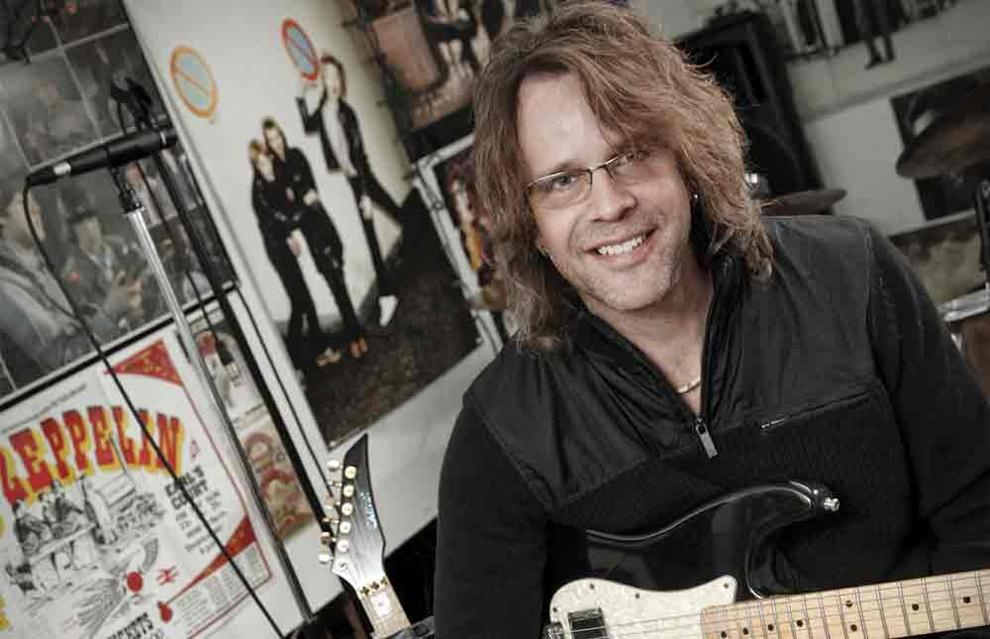 In recent "Soundcheck" commentaries, Miers has covered the politics of booking Ted Nugent, Allentown Art Festival busking, the importance of baseball, and how to make big music festivals sustainable. And that's only one month's worth. Once a week, Miers provides about 600 thoughtful, well-informed, and (often) provocative words on topics that need to be discussed. Cultural observation of this caliber is growing all too rare.
Best Curator
Aaron Ott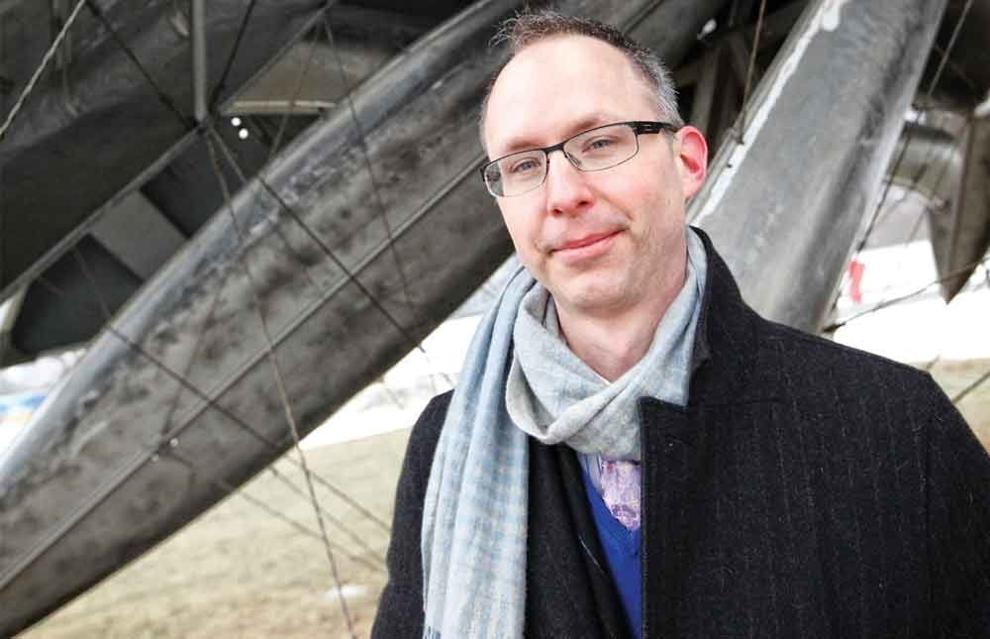 Thanks to the Albright-Knox's public art initiative, more than twenty-five murals, sculptures, and installations have popped up around the city, taking art outside of the gallery and into diverse spaces across our community—from downtown to the East Side and even into the subway. For all of these projects, the man behind the curtain is Aaron Ott, the museum's first-ever public art curator and one of the few public art curators at an American art museum. Ott arrived in 2014, and within a few months, the once-ubiquitous "You are beautiful" billboards and stickers by Matthew Hoffman were appearing all over town. In leading the ambitious public-private initiative, Ott has helped bring art to many who may never enter the museum and enriched our vibrant community.
albrightknox.org/community/ak-public-art
Best Facebooker
Frits Abell
Though we admit to feeling just a bit of dread when we see that signature phrase, "Let's discuss," it's a fact that the Facebook groups Abell co-administrates—including Design Block, Preservation-Ready Sites, and Buffalo Building Porn—do host important discussions about the future of Buffalo and its built environment. These groups are where architects (real and armchair), developers, activists, and others get together to critique projects, share information, and plan events. If you're wondering about what's happening with a building site or want to protest a possible demolition, you'll likely get the facts and support you need from one of these groups.
Best Friend of the Arts
Marty Boratin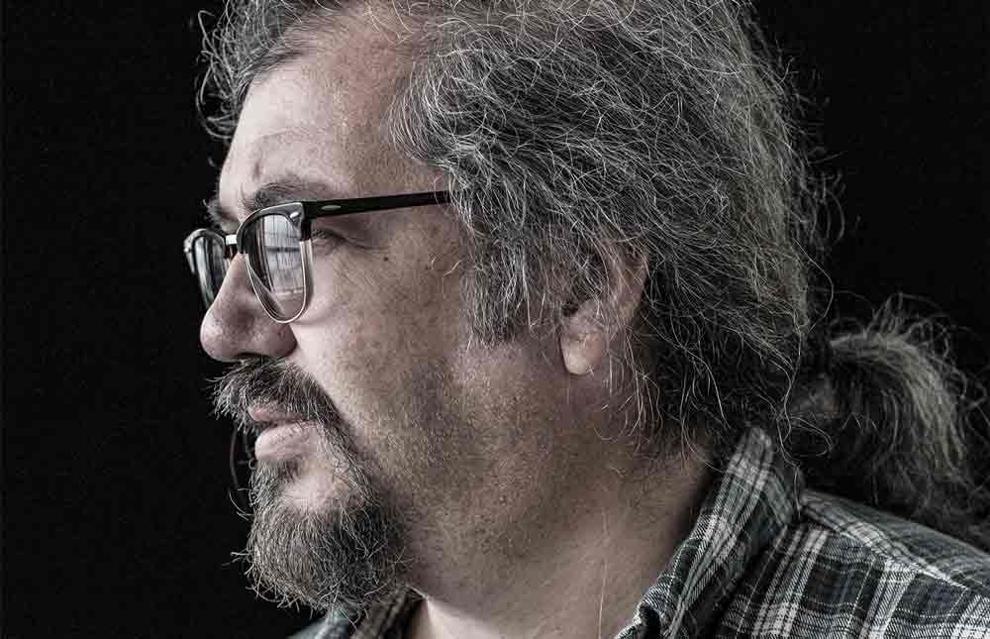 Whether you know him from his decades booking acts at Mohawk Place and other venues throughout the area, his tireless volunteer work with the Buffalo Infringement Festival, the fabled summer house concerts he and late wife Susan Tanner brought to the lawn of their Hamburg property (a new season is currently in progress), or even his long-ago days as every customer's best friend at New World Records, if you are a Western New Yorker who is passionate about music, you have surely crossed paths with the pony-tailed, Hawaiian-shirt-sporting, professional archeologist Marty Boratin. And you're not alone: touring musicians from around the world have long looked to Boratin for a home-cooked gourmet meal and a place to crash, even when they're not playing our area. He's always been one of a kind, and we've always been lucky to have him.
Best Instagrammer
Sirius Black
With 18.4k followers, this sleek Savannah-breed's posts are an inspiration to housebound tabbies everywhere. Sirius is always a show-off—whether he's wading through streams in nature preserves, climbing trees, or lounging in his catio. He's even been known to take the odd modeling gig now and then. The famous feline resides in Allentown between adventures.
@siriusblack.adventurecat
Best Local Music Act
Drea d'Nur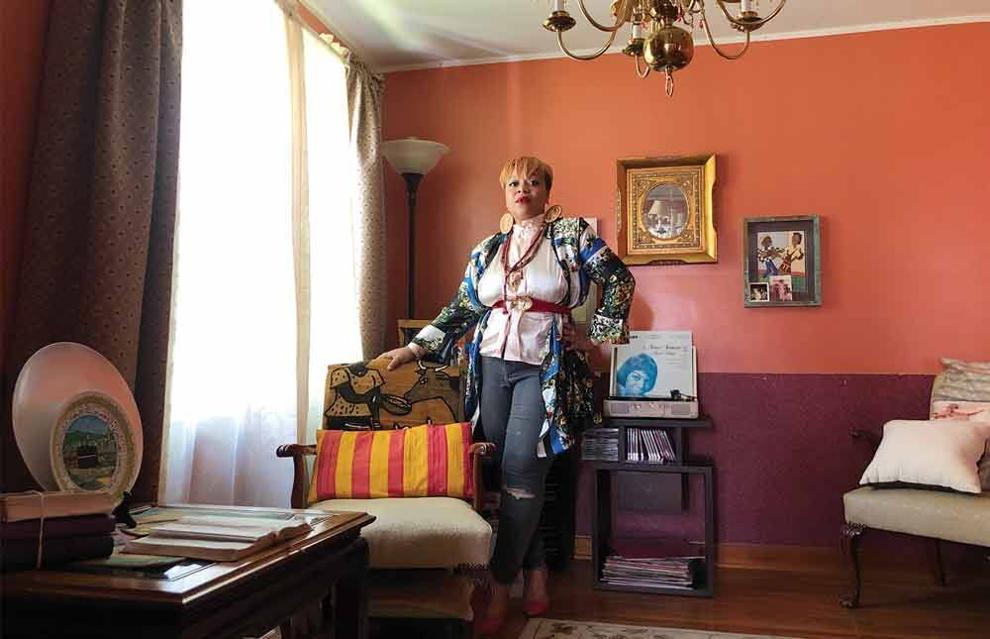 If you've caught one of Buffalo-based singer/songwriter/pianist/activist Drea d'Nur's performances, you know just how unique and far-ranging her talent is. Her current ever-evolving tribute to Nina Simone first took shape a few years ago at an epic sold-out Kleinhans show featuring a full jazz band, actors, dancers, film, and live painting during which—no exaggeration—every single number was greeted with a lengthy standing ovation. Subsequent scaled-down iterations at the Albright-Knox, the Burchfield Penney, PAUSA, MusicalFare, and NYC's Schomburg Center have only intensified the acclaim. Meanwhile, D'Nur has been developing a vastly different project: Healing Songs in Beautiful Spaces, a participatory sound-and-movement workshop.
Best Local Politician
Brian Higgins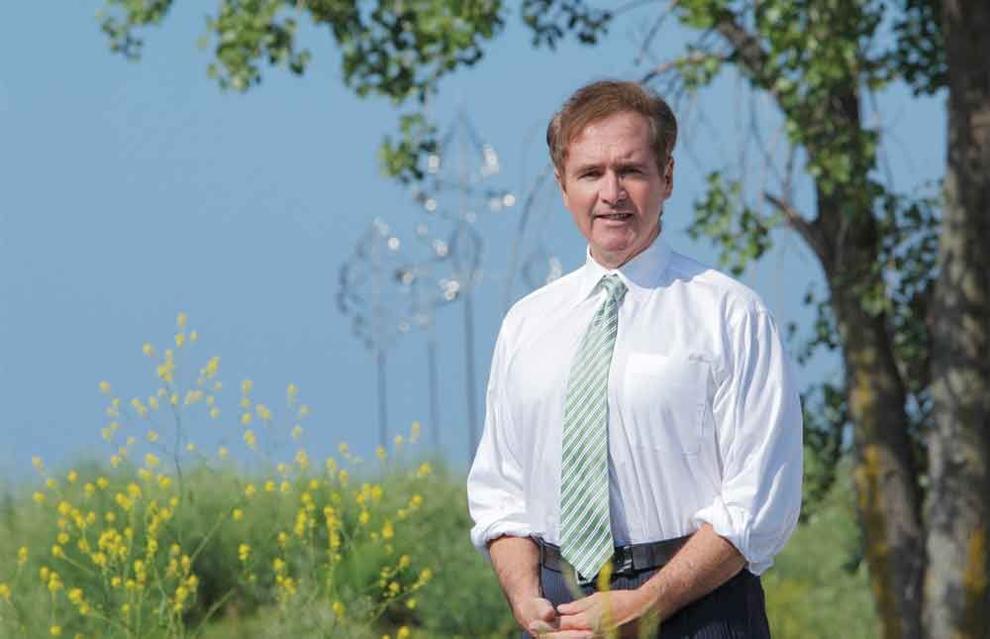 Higgins has evolved from a solid, if unspectacular, constituent service sort of congressman into something far more valuable: a politician with a regional vision. This is something rare and worthy of praise, particularly in Western New York, where it can sometimes seem as though petty agendas are prioritized over the serious, day-to-day concerns that affect our lives. Higgins also deserves credit for taking leadership roles on environmental issues, particularly climate change policy.
Best Local Sports Team
UB Men's and Women's Basketball
When it comes to sports, all Western New Yorkers really want is to be included in the conversation. Although we once had a solid hoops tradition, it's been a while since Bob Lanier prowled the local hardwood. This year, both the Lady Bulls and the men's teams were favorite sleeper picks in the NCAA Tournament among the touts and cognoscenti, and in office pools everywhere. There's a special thrill when you can put a local team in your office bracket. Thanks for that, UB!
Best Local Scandal
Chris Collins indictment
This one is like the solution to a game of Clue: Chris Collins, on the White House Lawn, insider trading, with his cellphone. What makes it so great is that we don't have to say "Allegedly." There it is, on video. Representative Collins's lawyers don't dispute the evidence of our eyes: the defense is that the investigation violated the Speech and Debate clause of the Constitution. Maybe so, or maybe the Congressman from Spaulding Lake is just saying, "Don't you know who I am?" Yeah, Chris. We know. (Runner-up: Chris Collins re-elected.)
Best Newly Elected Official
Pat Burke
Last spring, former county legislator Pat Burke ran in a special election for New York State Assembly—and lost. Undeterred, he was back on the ballot in November, showing again the independent, never-give-up attitude he became known for as he fought for children, the environment, and local businesses in the Erie County Legislature. That time, he won and is now in Albany representing South Buffalo, Lackawanna, West Seneca, and Orchard Park in the Assembly. In the first half of 2019, he introduced and passed legislation supporting child victims, and continued his environmental advocacy as chair of the subcommittee that oversees the Department of Environmental Conservation—and he's just getting started.
Best Power Couple
Tony Chase and Javier Bustillos
It's not an exaggeration to say that Chase and Bustillos are Buffalo's most recognizable theater royalty. Chase cofounded Buffalo's Artie theater awards as well as WBFO's Theater Talk, which he cohosts every Friday morning. Bustillos founded the Buffalo United Artists theater company, now in its third decade, and writes an equally long-running theater news column, "Stagefright." The affable pair can be seen regularly at openings and LGBTQ events; they are (mostly inadvertently) role models for what it means to be out, active, and successful.
Best Reporter
[broadcast]
Charlie Specht
In addition to providing vital information, journalism, at its core, should hold the powerful accountable. During the last year, groundbreaking reporting by WKBW investigative journalist Charlie Specht—as well as photojournalist Jeff Wick—did just that, uncovering decades of abuse by dozens of Catholic priests within the Buffalo Diocese. Honored recently with a regional Edward R. Murrow Award, the series has resulted in numerous calls for Bishop Richard Malone to resign, and launched investigations by the state attorney general and FBI. More than that, in an age of "fake news," Specht underscored, once again, the critical role a free press plays in our society.
Best Reporter
[print]
Caitlin Dewey Rainwater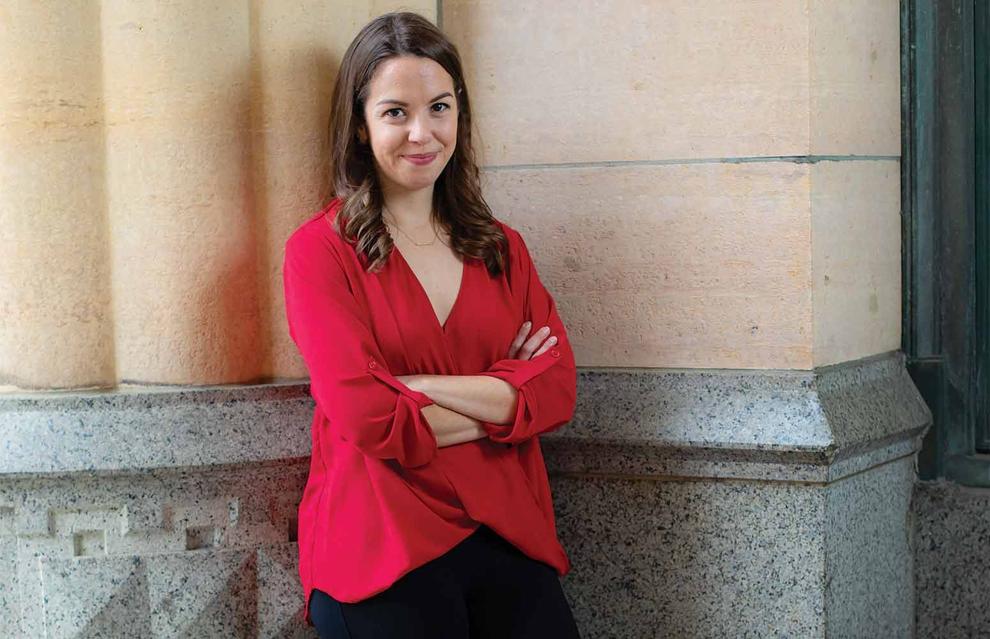 Before returning to the Queen City last year, Caitlin Dewey Rainwater spent six years at the Washington Post. Now an enterprise reporter for the Buffalo News, Rainwater compiles vast amounts of data into easy-to-read stories that illuminate key trends. Among other long-reads, she has cataloged Erie County's extensive digital deserts just weeks before County Executive Mark Poloncarz announced his ErieNet initiative, interviewed twenty-plus investors and economists about breakout startup ACV Auctions, and showed how Google literally wiped the Fruit Belt neighborhood from the map. We're glad this expat in back in town.
buffalonews.com, caitlindewey.com
Best Social Justice Group
Volunteer Lawyers Project
This group and its founder Robert Elardo do more good for people in WNY than most people can imagine, because they do their work for people who mostly don't get noticed. For over thirty years, director Robert M. Elardo and the staff and volunteers at VLP have counseled the overlooked by providing free civil legal services to persons facing eviction, deportation, or bankruptcy, among other crises. It is important work that might otherwise fall between the cracks in the system. VLP exists to see that people who otherwise would have no access to justice and fair treatment in the legal system have a place where they can turn, which, in turn, means that the system can operate fairly and justly.
Best Sports Good News
The Buffalo Beauts' success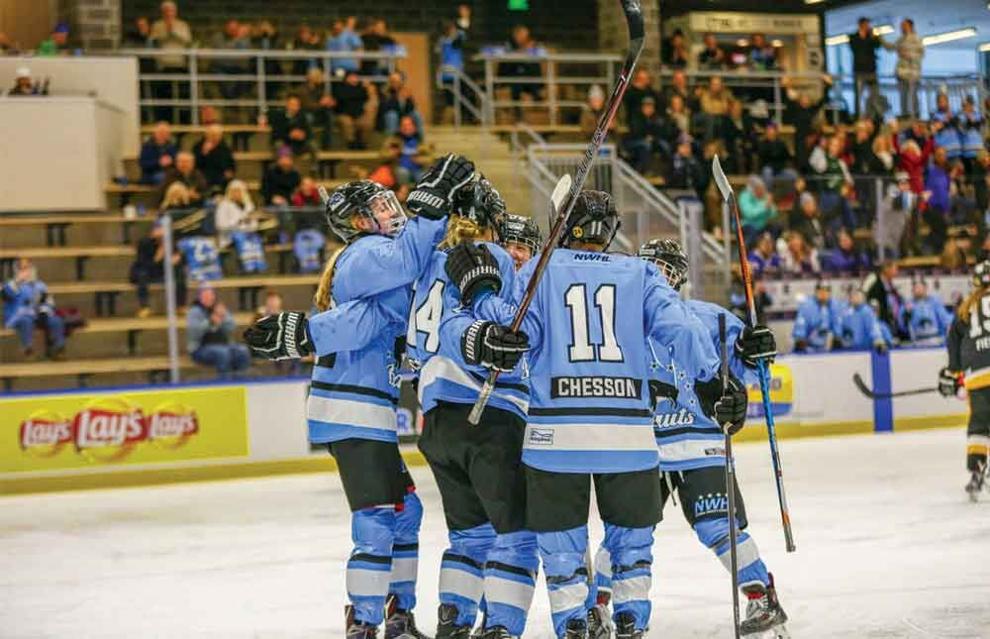 Only one local team has made the championships in each of its past four seasons—and it certainly isn't the Bills or Sabres. It's the Buffalo Beauts, which advanced to the Isobel Cup finals in all four seasons the National Women's Hockey League has been in existence and brought the cup home to Buffalo in 2017. The team has set apparel sales records for the league and quietly developed a dedicated local following for its family-friendly home games at HarborCenter. Off the ice, the team is facing some challenges, as Pegula Sports and Entertainment relinquished ownership in May amid a players' strike. But on the ice, the Beauts is a gem of Buffalo sports—a team that excites fans, wins games, and may someday earn a spot in the pantheon of local sports history.
Best Tweeter
@HeyRaChaCha
This pseudonymous provocateur's Twitter handle may salute his Monroe County origins, but the focus of his feed is all the things about his adopted home that make him (and the rest of us) laugh, cry, scream, or maybe just sigh—with a generous helping of state and national politics on the side. A typical day's topics might include long-lost bike trails, current art exhibitions, local history, and live tweeting from a city planning meeting, all rendered with care and a genuine commitment to sparking intelligent, informed discussion and debate.
Keep up with the movers and shakers in WNY — subscribe to Buffalo Spree today!
LOOKING GOOD
Best Building Makeover
Shea's Seneca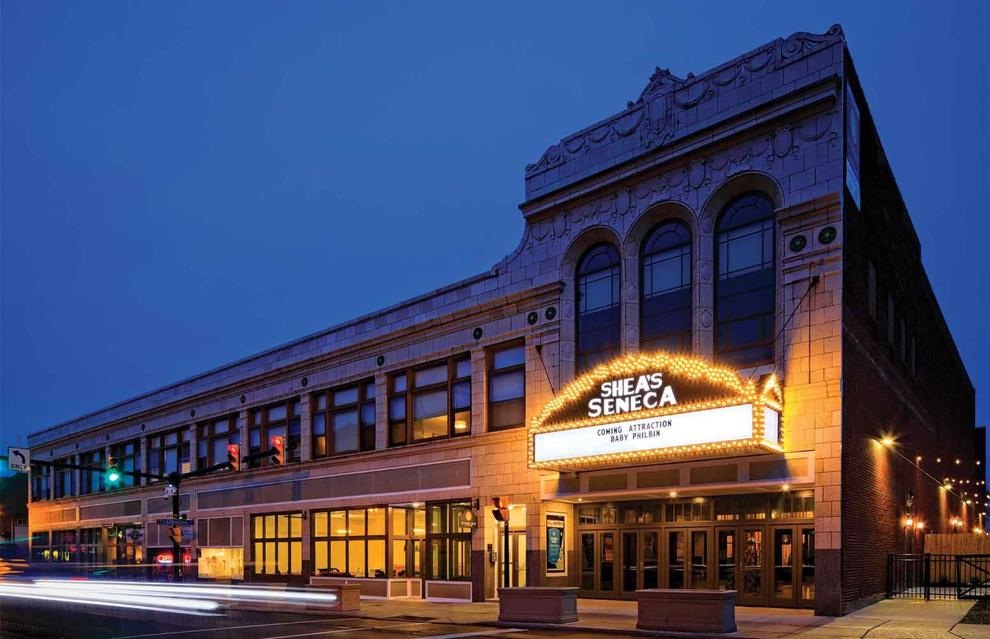 This one was a long time coming. Though it has been occupied to some degree over the years, South Buffalo's grand movie palace, built in 1929 by William Spann for impresario Michael Shea, lost most of its original luster in the seventies, when its large auditorium was demolished. Thanks to Schneider Development, however, the complex has been brought back to life in a restoration/reuse project started in 2015 and completed this year. The lobby has been returned to its original glory, ready for special events, while storefronts and apartments fill the rest of the structure, in a transformation fully embraced by the surrounding community.
2178 Seneca Street; 923-7000, schneiderdevelopmentservices.com
Best Looking New Building
Linwood/Lafayette Apartments, People Inc.
Any new construction on Linwood has a high bar to meet: Linwood is lined with some of Buffalo's most distinctive residential architecture and is now a historic district. It's not surprising that the first designs for this thirty-seven-unit senior apartment building were met with some critical feedback from neighbors, but revisions were made and the result is a stately facility, with inviting balconies and other welcome amenities, including green space, a courtyard, and 24/7 emergency service. Kudos to Long Associate Architects, TM Montante Construction, and, of course, stellar social services agency People Inc. for this development win.
637 Linwood Avenue; 880-3890, people-inc.org
Best Mixed-Use Development
Chandler Street projects
A new destination to eat, drink, shop, and play is emerging in Black Rock. So far, there's a brewery, a salon, a gym, a cidery, a pickling palace, and a pizzeria, but much more is planned by Rocco Termini's Signature Development for the cluster of former industrial structures on Chandler Street. We're guessing a choice between Larkinville and Chandlerville will be the new date night conundrum.
Best New Construction
City Mission Expansion 
The current City Mission expansion could as easily be called a block takeover (in the most positive of ways) along East Tupper Street at East North Street. Designed by local architectural and engineering firm Carmina Wood Morris, the $15-million construction project, which broke ground in September 2018, will be a community center for the city's homeless population with 75,000 square feet allocated for overnight lodging and emergency housing. Included in the plans are drop-in medical and psychological services clinics, the former run by Jericho Road Community Health Center. Slated for completion in 2020, the four-story structure will also provide transitional housing with a computer lab, classroom spaces, and food and clothing pantries—all while still serving meals 365 days a year.
100 East Tupper Street; 854-8181, buffalocitymission.org
Best Preservation Project
Graycliff
Darwin and Isabelle Martin's summer home in Derby is often overlooked amid the Martin House buzz, but it's time for serious attention to be paid. More than ninety-five percent of all necessary restoration has been completed on the dramatically situated property, both inside and out. When you consider that only a couple decades ago, the architecture was obscured by unsympathetic additions and endangered by poor maintenance, this is a huge accomplishment. It was recognized this year by both the Preservation League of New York State and Preservation Buffalo Niagara.
6472 Old Lake Shore Road, Derby; 947-9217, experiencegraycliff.org
Best Public Art
[outdoor]
Hertel Avenue Murals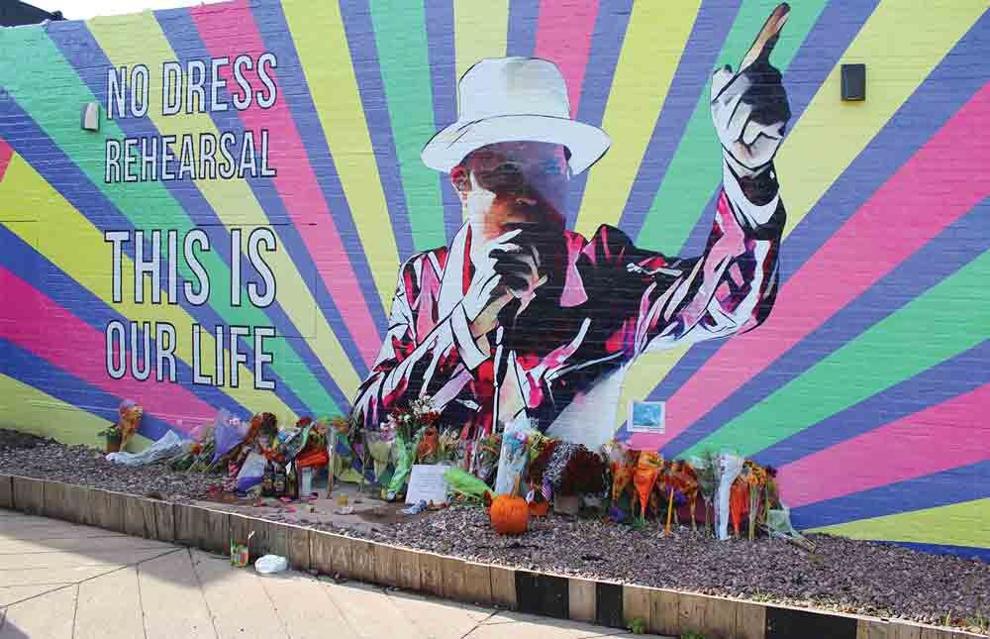 Hertel Avenue from Colvin to Starin has become an outdoor gallery of vibrant, selfie-ready murals by an array of artists. Mosey along the avenue and check out Casey Milbrand's Lookin' Good on the side of CRAVing Restaurant, Bunnie Reiss's Magic Buffalo wrapping Joe's Deli at Colvin, and Rory Allen's tribute to Gord Downie, late of Tragically Hip fame, on Hertel Liquor Library's shop. And be sure to not miss Chuck Tingley and Matthew Grote's (Ogre) fantastical collaboration weego at 1503. The murals have been sponsored by local businesses, the North Buffalo Organization, and the Albright-Knox Art Gallery public art team; they are a stunning visual treat along this successful urban destination.
Best Sight You Won't See Anywhere But Here
Robert Indiana Sculptures on the Outer Harbor
Make no mistake: These ten massive Cor-Ten sculptures would create an indelible impact no matter where they were placed. Officially titled NUMBERS ONE Through ZERO, each number is eight feet high. Perched in a semicircle on Wilkeson Pointe, their drama is increased by the backdrop of Lake Erie, several grain elevators, and the Skyway. The stuff of which selfies are made, you can also stand on them, sit on them, and look through them. The beautiful rusty patina of the Cor-Ten allows the sculptures to interact in subtle ways with their environment, avoiding the clash that more typically Pop primary coloring might have. Don't let the summer go by without visiting them; they leave the waterfront at the end of September. This is another stunning public art placement by the Albright-Knox Art Gallery.
albrightknox.org/community/ak-public-art
Best Storefront Display
TIE:
Bureau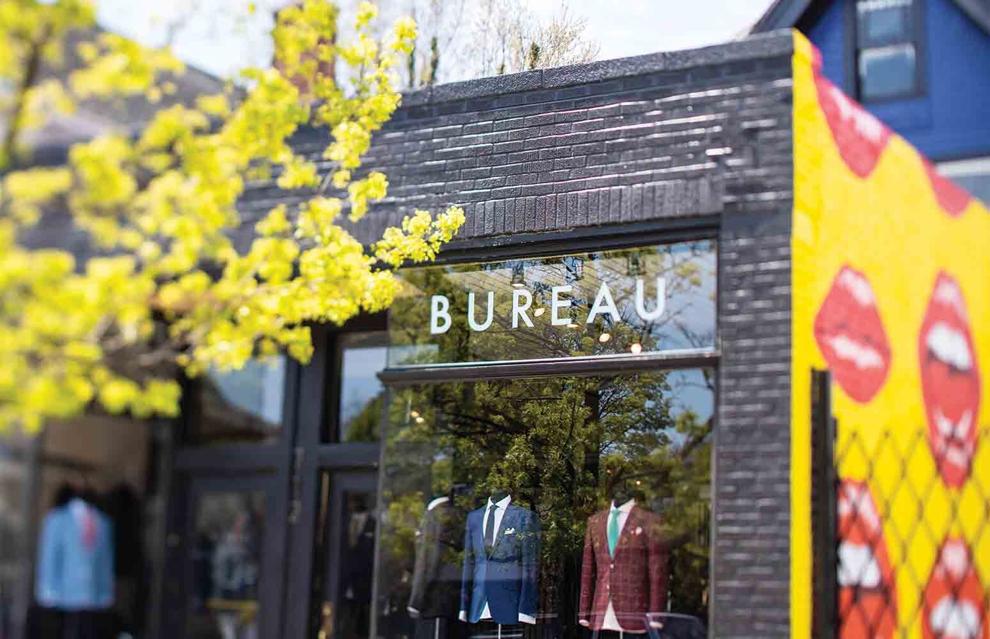 A recent move to busier section of Elmwood throws the spotlight squarely on the great stuff that co-owners Jon Eisenberg and Joe Stocker are doing with their bespoke and (expanding) ready-to-wear men's shop in the Elmwood Village. With artist/designer David Mitchell as part of their team (his hot red lips mural on the north side of their building is an Instagram hit), the cleverly divided space is a hip destination for men of all ages to get measured and fit for a custom shirt, pants, or suit. Check out the line of Bureau-branded items, like handsome leather weekend bags, pocket squares, and pillows.
712 Elmwood Avenue; 259-8141, bureaumade.com
Beulah's General Store
Owner Heather Sprague, calling herself the CEB (chief executive Beulah), set out to create a modern take on a general store, inspired by historic Roycroft artisan and East Aurora merchant Beulah Hood. She's done just that: the charming little store, steps from the gigantic Vidler's, contains an array of items that reflect her taste in athleisurewear, and her sense of humor (PG-13 for many of the sassy kitchen towels and socks). The cute storefront features a rotating display of gifts, artisan items, and bath/body products all channeled through her vision of the shop as a warm gathering place.
726 Main Street, East Aurora; 714-9322, beulahsgeneralstore.com
Best Sustainable Project
Buffalo Niagara Waterkeeper Habitat Projects
Everyone is a winner when there's a healthy landscape, and that's what we all, who have grown all too accustomed to being surrounded by concrete and asphalt, need to keep in mind. Over the decades, Buffalo Niagara Waterkeeper has grown from a one-river cleanup group to an organization with the mission to restore and protect all of Western New York's water and surrounding ecosystems. Its current Living Shorelines project is an excellent example of how land bordering water can be restored to a condition where it can support both wildlife and human recreation in a sustainable fashion.
Best Waterfront Renovation
Removal of Robert Moses Parkway from Niagara Falls (Main Street to Findlay Drive)
It's difficult to enjoy the waterfront when a wide strip of barely used expressway is in the way. The fact that the waterfront in question includes a beloved American natural wonder testifies to the arrogance of New York Power Authority head Robert Moses and his midcentury times. Cars and fuel were valued over people. These priorities are now being slightly adjusted, with the return of two miles of Niagara River waterfront (from downtown Niagara Falls to DeVeaux State Park) to parkland and pedestrian amenities.
Best Wildlife Habitat Project
Forest Lawn Cemetery
While the cemetery probably doesn't consider itself in the middle of a wildlife project, in effect, it has become one of the most reliable places to see local and visiting wildlife in Western New York. Besides several herds of deer, the cemetery is a stopping place for beautiful migrating birds and home to hawks, herons, owls, and many other species. A recent visitor made the news, which prompted SPCA director Gina Browning to say, "The fact that coyotes are even there shows that Forest Lawn is a thriving wildlife habitat."
1411 Delaware Avenue; forest-lawn.com
Best Public Art (Indoors)
Metro Rail art
We can't always give kudos to the maintenance of Metro Rail's public art program, which has been in place for three decades now, but it is still the best place to see impressive indoor public art installations for free. Our favorites: Joyce Kozloff's mosaics in Humboldt-Hospital, Robert Lobe's sculpture in Amherst, and Craig Langager's mysterious figures in Utica.
Best Public Garden
Erie Basin Marina Test Garden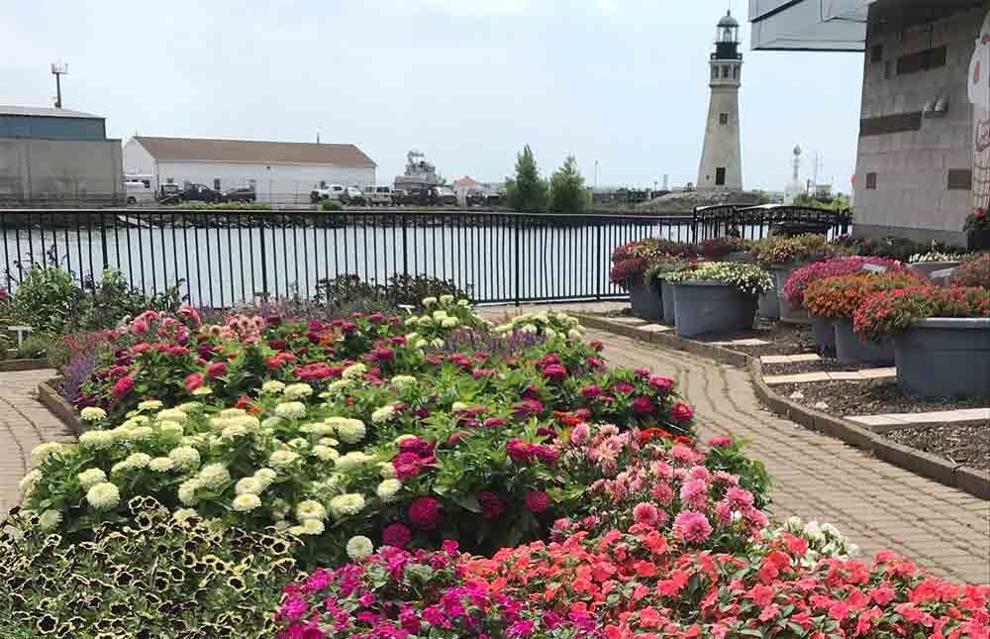 Think of these gardens as a type of fashion show, signaling what the hot new plants will be for 2020 and 2021. Since 1970, seed and plant companies like Ball and Proven Winners have been sending new introduction to Buffalo, to see how they will withstand the conditions of the Buffalo waterfront. That is why there are beautiful flower beds and planters all along the Marina every summer. For many decades, horticulturalist Stan Swisher has been in charge of the program; he does a magnificent job.
Best Use of Taxpayer Dollars
Rails to Trails
Located mostly in the North Buffalo and Tonawanda areas, with a stretch in Cheektowaga, Western New York's growing Rails to Trails infrastructure has been getting glowing reviews from walkers, joggers, and bicyclists since the first completions in 2016. Extensions of this trail system are planned, including a new, twenty-seven-mile multi-use trail connecting Orchard Park, Aurora, West Falls, Springville, Colden, Concord, and West Valley. Check this website for all the WNY Rails to Trails.
Keep up with the changes and growth in our community — subscribe to Buffalo Spree today!
BODY BASICS
Best Blow Out
Elle Aire
From straight and sleek (the Isabelle) to beachy and textured (the Giselle), visit Elle Aire for a guaranteed good hair day. Even little girls can get in on the fun with the Cinderella, offering glitter and curls for princess-approved style.
8212 Main Street, Williamsville; 276-9679, elleairebuffalo.com
Best Customer Service Salon & Best Spa Treatment
Excuria Salon & Spa
The pampering starts from the moment you walk in the door at Excuria. Its menu offers a wide variety of treatments to cleanse, nourish, and hydrate the skin, and services are provided in a tranquil, private treatment space. Relax and recharge at Excuria—and be sure to take advantage of the loyalty points program.
5725 Main Street, Williamsville; 839-3106, excuriaspa.com
Best Facial
Susan Naturally Day Spa
Susan Ciminelli has traveled the world to provide holistic treatments to celebrity clients, and now her signature A-list glow is available right here in WNY. Thanks to Susan's holistic approach to beauty, her clients get more than a great facial; they leave with an overall sense of balance and peace.
3965 Main Street, Amherst; 398-5250, susannaturally.com
Best Fitness Classes
Revolution Buffalo
An Ignite Buffalo Grant from 43 North and Facebook catapulted Revolution to the next level of fitness classes. The grant allowed Revolution to renovate the second floor of its building, expanding its usable space to over 8,000 feet, a change that enabled it to offer seventy fitness classes per week. Though Revolution began as a cycling studio, it now also offers TRX, HIIT, rowing, running, kettlebell, and boxing workouts, along with private personal training sessions..
1716 Main Street; 908-0622, revolutionbuffalo.com
Best Hair Color
Chez Ann Salon
From a subtle, sun-kissed balayage to major color correction, the staff at Chez Ann has a reputation for meticulous work and great service. A commitment to education keeps stylists at the top of their game.
5140 Main Street, Williamsville; 632-2258, chezannsalon.com
Best Make-Up Services & Best Salon for Weddings
Salon Elizabeth
Everybody loves Lizzy. Whether you're looking for on-site or in-salon services, bold glamor, or natural beauty, enlist makeup services from Salon Elizabeth for that special occasion. Not only are owner Lizzy Dugan and her team of beauty pros talented, they also make wedding day preparations fun and relaxing. The gorgeous salon features a elegant private bridal suite and marble garden patio, perfect for pre-wedding photos.
720 Jamison Road, Elma; 863-8489, lizzydugan.com
Best Manicure
Capello Salon & Spa
Attention to detail is everything in a good manicure, and the team at Capello Salon & Spa understands this. You'll leave with smooth hands, glossy nails, and a smile on your face. Since its establishment in the Village of Williamsville in 1970, the Capello family of ever-evolving salons has grown to three WNY locations offering a full range of salon and spa services.
Multiple locations; capellosalon.com
Best Massage
TIE
Trés Auraé Spa
Choose from a variety of customized therapeutic, prenatal, oncologic, and relaxation treatments, or let the experienced massage therapists make a recommendation. These treatments help the body and mind.
Wyndham Lobby, 5195 Main Street, Suite 1B, Williamsville; GR8-SKIN, spabuffalo.com
The Woodhouse Day Spa
This resort-style day spa provides a tranquil escape without leaving town. Woodhouse offers dozens of therapeutic massage options, each geared toward tension release, circulation enhancement, and overall wellness. Bonus: a foot cleansing ritual and essential oil treatment is included with each treatment.
5933 Main Street, Williamsville; 458-5700, buffalo.woodhousespas.com
Best MediSpa
TIE
Spa Niagara
6932 Williams Road, Suite 1700, Niagara Falls; 205-0039, spaniagarausa.com
WNY Plastic Surgery Medical Spa
Looking for transformative results, without invasive surgery? These two well known, longstanding medispas offer top-notch service and treatments for a wide range of skin care concerns. Results-driven treatments are customized to client needs and are overseen by medical professionals.
7 Hopkins Road, Williamsville; 202-8409, wnyplasticsurgery.com/medical-spa
Best Men's Haircut
District Barber Shop
District is all about building community. Sure, you'll leave with a great haircut, but the priority for owner Paul Laurie is that his clients look good, feel good, and have a great experience.
338 Seneca Street; 322-6706, districtbarbers.com
Best New Work Out Spot
F45 Training Black Rock
Located within the up-and-coming Chandler Street developments, F45 provides the ultimate gym experience by combining cutting edge techniques with high grade equipment and friendly, supportive staff. The gym offers 45-minute high-intensity, circuit training workout classes, so you can get in, feel the burn, and get out in less than an hour.
166 Chandler Street; 525-0009, f45training.com
Best Pedicure
[Northtowns]
Serendipity Salon & Day Spa
There is nothing more relaxing than a perfectly executed pedicure, and the experienced team at Serendipity has this sandal-season necessity down to a science. Enjoy a cozy, comfortable environment and leave with baby-soft, perfectly polished toes and pep in your step.
466 Evans Road, Williamsville; 634-4058, serendipitysalononevans.com
Best Pedicure
[Southtowns]
Corto's Salon & Seasons Day Spa
Getting a pedicure with a friend can be a great opportunity to relax and catch up while your feet receive the royal treatment. Corto's Hamburg location offers eight pedicure chairs, perfect for a day out with the girls. Looking for a quiet, exclusive experience? Book an appointment at the Orchard Park spa. Signature, essential, or wellness treatments are available, as well as a junior pedicure for those twelve and under.
multiple locations, cortossalonandspa.com
Best Tattoos
Hand of Doom Tattoo
Owner Jon Mirro and long-time artists—including Josh Schlageter, Chris Lombardi, and Kyle Sajban—are consistently touted by fans as good people and great artists who price affordably and run a clean, caring business. Their styles all vary, and so do their customers, from older women getting their first tiny tat to seriously inked guys or gals completing a full back or sleeve design with customized or fantasy artwork. Now located in the heart of Elmwood Village, the shop has been around since 2001, giving it plenty of time to build a stellar reputation.
734 Elmwood Avenue; 881-4424, handofdoomtattoos.com
Best Women's Haircut
Studio M hair design
A great haircut is the start of every good hair day. For more than fifty years, Michael Bryant has traveled for clients all over the country, and continues to provide unmatched service and friendship to his Buffalo clientele. Michael and daughter Nicole Bryant-Lupas use their artistic flair and years of experience to create the perfect cut for your hair type and lifestyle.
5987 Main Street, Williamsville; 632-9670, studiomhairdesign.com
Best Yoga
Power Yoga Buffalo
Hot and sweaty, that's how Baptiste yogis like their yoga. PYB is a Baptiste Power Yoga affiliate that practices a Vinyasa-style-flow sequenced class, practiced in a toasty room heated to ninety degrees Fahrenheit. Founded by Jamie Pearson, PYB began in a little storefront space in Snyder. It soon outgrew that space, and now PYB occupies three locations with over forty Baptiste certified instructors. Countless classes, workshops, twenty-one-day challenges, and special events all make PYB a favorite yoga studio for many in Western New York.
Multiple locations, poweryogabuffalo.com
Follow the best for your body — subscribe to Buffalo Spree today!
SHOP
Best Art and Crafts Supply Store
Hyatt's all things creative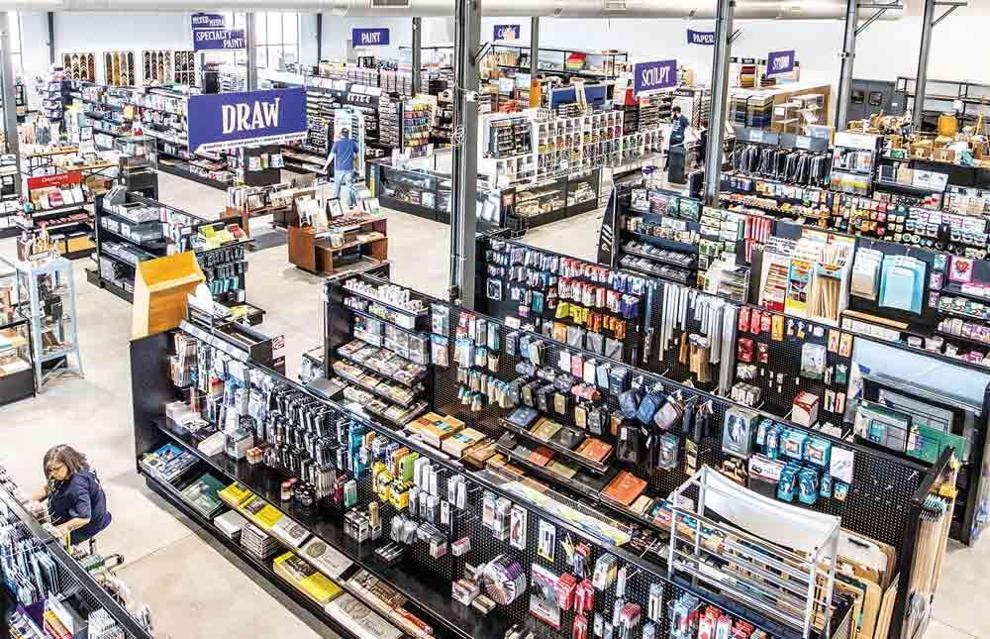 Hyatt's full name–Hyatt's All Things Creative–says it all. For six decades, family-owned Hyatt's has been a bastion of the Buffalo creative scene, and its thriving online sales division has spread this great inventory all over the world. Now headquartered in new, 40,000 square foot digs (store plus warehouse) on Elmwood Avenue, just north of Hertel, Hyatt's is still perfect for personal and school project supplies, DIY crafts, and fun gifts for adults and kids. Additionally, art framing, kids' weeklong summer arts camps, and other creative workshops are all available.
1941 Elmwood Avenue; 884-8900, hyatts.com
Best Athletic Wear
Fleet Feet sports
Runners know they can come here to get the best shoe for their gait, pronation, and experience level. But Fleet Feet offers much more than running shoes. Racks of tanks, sports bras, shorts, tights, jackets, hoodies, insoles, socks, and anything else runners and athletes need to move comfortably and fast can be found here.
2290 Delaware Avenue; 332-3501, fleetfeetbuffalo.com
Best Boutique Wine/Liquor Store  
Paradise Wine
Paula Paradise fans rejoiced when the former chef and longtime Premier Liquor wine expert finally opened her shop. Along with business partner and bestie Lauren Kostek (well-known West Side realtor), she's created a community and a reputation for being approachable, while growing her base to encompass chefs, restaurateurs, wine reps, and makers from far and wide. With her investigative approach to sourcing sustainably made wines by talented winemakers at a great value (most are under $20), she's part of the reason Buffalo's become more visible on the national food and beverage stage.
435 Rhode Island Street; 322-5396, paradisewinebuffalo.com
Best Clothing Boutique
[Established]
TIE:
Half & Half
Mère et fille Jennifer and Kilby Bronstein have stocked this multilevel store with seasonal items and accessories, shoes and home goods. There's an emphasis on customer service, with staff always ready to help you accessorize with a necklace or a scarf. Don't be surprised if you go in looking for one thing and come out with a smartly curated outfit or two.
1088 Elmwood Avenue; 881-4147, halfandhalfboutique.com
Mabel Danahy Inc.
One the most beloved boutiques in the area has a well-deserved reputation for both its inventory of wearable designer clothing and its excellent service. Danahy's was founded in 1925 and has thrived over the decades. You'll be treated well, whether you're a first timer or a third-generation shopper. Find clothes for all ages, with some surprisingly edgy pieces among the cruise-, casual- and formal wear that's featured in a nice range of sizes. Jewelry is similarly chic, and the shop carries some fun lines of bags and accessories.
3206 Sheridan Drive, Amherst;  831-0773, mabeldanahy.com
Best Custom Framer
Meibohm Fine Arts
You would expect a business that has been framing artworks for more than 100 years to have it figured out; Meibohm's fulfills this expectation, and then some, adding expertise in conservation and a thriving gallery to the mix.
478 Main Street, East Aurora; 652-0940, meibohmfinearts.com
Best Customer Service
Tony Walker & Co
Tony Walker's recent expansion has resulted in a premier fashion activity center offering a shopping experience like no other in Western New York. When you enter Tony Walker, you are greeted and treated to a glass of champagne or flavored water, after which sales consultants can guide you through the series of departments. With everything from beauty products to footwear, Tony Walker can outfit and accessorize you from head to toe. Individualized consultations are available as well.
5110 Main Street, Williamsville; 626-3280, tonywalker.com
Best Cycle Shop
Campus Wheelworks
This all-purpose, full-service bicycle and outdoor shop offers bike sales, rentals, repairs, classes, riding groups, and anything a casual or avid cyclist desires to be happy on two wheels.
744 Elmwood Avenue; 881-3613, campuswheelworks.com
Best Formal Wear
[Women]
The Jacqueline Shoppe
This venerable shop has been around for over forty-five years. When the second Jackie (Blemel) to own it announced that she'd be closing the store in the spring of 2018, the generations who have depended on the Williamsville staple for mother of the bride, prom, and other special-occasion dresses must have collectively gone into shock. Happily, she was able to reopen and is still going strong. Carrying brands like Jovani, Sherri Hill, and Faviana, the shop offers a range of styles from traditional to modern.
5522 Main Street, Williamsville; 631-2722, jacquelineshoppe.biz
Best Funky Accessories
Cats Like Us
This little shop and website features new, retro, and vintage clothing in styles described as reminiscent of rockabilly, classic pinup, or vintage-inspired Hollywood. Accessories include fun ties (fifties-style skinny, anyone?), a huge selection of novelty socks and stockings, vintage and new jewelry to suit many styles, clutch and tote bags like the popular kitty/pom pom bag, and decorative headbands and hair designs, plus hats, inexpensive sunglasses, and plenty of tiki- and Grease-themed items.
67 Main Street, Tonawanda; 694-6600, catslikeus.com
Best Furniture
Ethan Allen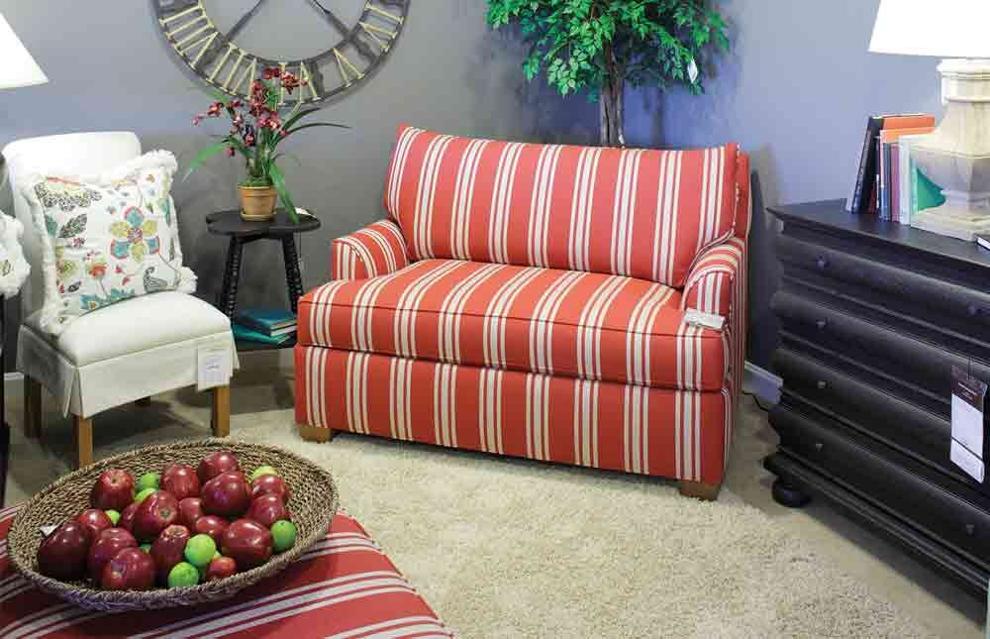 Sure, the selection is great, the pieces are high quality, and the groupings are inspirational, but what we really love are the free design services. Ethan Allen has what it takes to make a room sing.
3875 Sheridan Drive; 839-4484, ethanallen.com
Best Garden Store
[Big]
Lockwood's Garden Center
Just when we thought Lockwood's had everything, it adds a new department or makes another one even bigger. This is the place to get all the crazy new petunias or the most improved hydrangea cultivars. It's also the place to find a friendly, knowledgeable staff.
4484 Clark Street, Hamburg; 649-4684, weknowplants.com
Best Garden Store
[Small]
Urban Roots Cooperative Garden market
It opened as a way for underserved city dwellers to get gardening supplies, but now Urban Roots is a destination for any Western New York gardener. Its selection of garden décor, interesting native plants, organic supplies, garden-related gifts, and pots surpasses many of the larger garden centers.
428 Rhode Island Street; 362-8982, urbanroots.org
Best Handmade Jewelry
Wild Things
An artisan collective anchored by jewelry makers Stephanie Robb and Karol Kirberger, the store also features jewelry by several other artists. (Robb also owns Turnstyle Boutique four doors up the road.) If you drop in to shop, you'll find something to love among the variety of necklaces and earrings in semiprecious stones, metals, and other materials. One of the store's specialties is working with brides and bridal parties to customize jewelry for that special day. The gallery also features artists' works in a variety of other media, including ceramics, textiles, prints, and photography.
224 Lexington Avenue; 882-3324, wildthingsartisans.com
Best Home Decor
Hertel Home Consignment
Owner Michael Chamberlain's strong design background is obvious at his high-end furniture and accent gallery at Hertel Home Consignment. Chamberlain personally chooses each item—in styles ranging from mid-century modern to classic traditional—all carefully and thoughtfully displayed in the 6,000-square-foot showroom. Everything from lighting to furniture can be found at affordable prices, making elegant home decor accessible to everyone. These unique home furnishings also make great gifts.
1390 Hertel Avenue; 248-2588, hertelhomeconsignment.com
Best Liquor/Wine Store
Premier Wine and Spirits
It's unquestionably the biggest, with the largest square footage of wine and spirits in the US. Check out the reserve room and the gigantic selection of artisanal spirits. Tastings are always fun here.
3900 Maple Road, Amherst; 873-6688, premierwines.com
Best Men's Formal Wear
Tom Barnett New York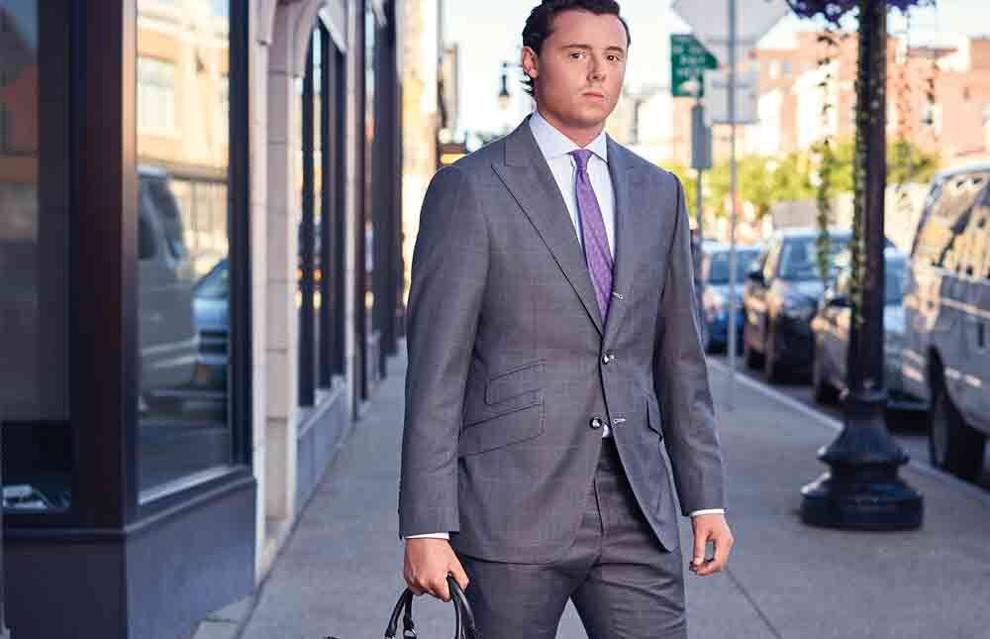 Tom Barnett has stores in Beverly Hills, Manhattan, and Washington, DC. The Buffalo Bungalow, which opened this year in Snyder, is its newest location. Specializing in one-of-a-kind hand-tailored bespoke suits for men, this is the go-to shop to outfit a wedding party or to suit up for a special occasion, particularly if you want a look that will make an impression. Tom Barnett prides itself on the experience of having a suit custom-made as much as the end result. Barnett's slogan is, "I have it made," and you'll agree when wearing a Tom Barnett suit at your next formal event.
3997 Main Street, Snyder; 839-0424, tombarnettcustom.com
Best Men's Gifts
Riverside Men's Shop
From a Buffalo bow tie to a Ralph Lauren blazer, this trusted haberdashery has been providing quality men's goods for more than 100 years.
6470 Transit Road, Depew; 833-8401, riversidemens.com
Best New Small Retail Business 
[2018-2019]
Nigh Road Farmhouse 
Located in an old and rehabbed nineteenth-century house on Main Street, the new and vintage home décor and gift shop also features a collection of baby and nursery items and objets d'art perfect for rustic or modern homes. Additionally, owner Vanessa Fermani hosts occasional workshops on topics like how to paint furniture..
319 Main Street, East Aurora, 655-6444, nighroad.com
Best Place for Organic Food
Lexington Cooperative Market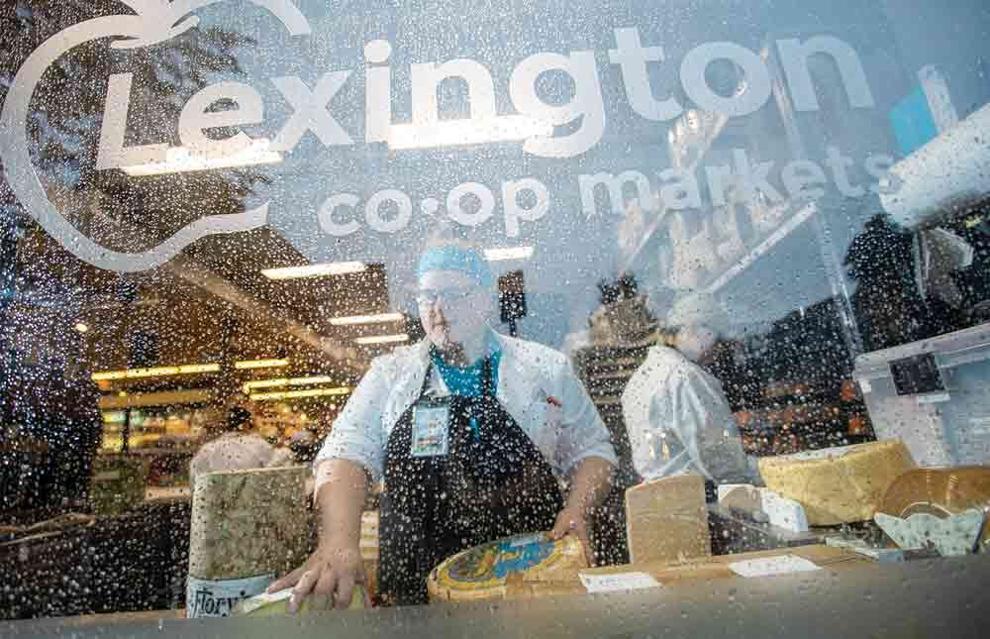 It has more competition these days, but we still prefer our homegrown market—now with two locations—for organic, often-local produce and meats, great prepared items, bulk items, quality baked goods, and much more. No need to be a member, despite the name, to shop at these two pleasant and accommodating stores.
807 Elmwood Avenue and 1678 Hertel Avenue; lexington.coop
Best Place for Wine Tasting
Winkler & Samuels
Located in the trendy 500 Seneca Building, Winkler & Samuels sells interesting and delicious biodynamic wines from around the world. Its wine cellar and tasting room is the perfect setting to sample unique wines or to take part in monthly wine education classes. Classes are taught by owner and sommelier Melissa Winkler and feature six tastings of wine from a particular region, along with cheese and appetizer pairings. Cellar memberships are available with lots of perks, including wine lockers with perfect storage conditions, invitations to wine tastings, discounts on education classes, and more.
500 Seneca Street; 235-8121, winklerandsamuels.com
Best Vintage Furniture
John Marfoglia/Queen City Antiques
Known as a "dealer's dealer" (it's a compliment—it means that his prices are fair and you can even get a bargain once in a while), Marfoglia is a true generalist. His keen eye for everything from couches and lamps to fine art and antiques makes every trip to his large Hertel Avenue store a potential-filled adventure. As with most vintage and antique shops, you are advised to strike while the iron is hot. If you head home to "think about it," it's likely that someone else will have snapped it up in the meanwhile.
1484 Hertel Avenue; 913-8549, @queencityantiques
Best Sporting/Outdoor Life Store
Gear for Adventure
Owning your own paddling equipment frees you to explore local waterways on your own terms. Camping equipment opens up another world of adventure. Or how about a disc golf course in the back yard? This place has it all and more.
305 Buffalo Street, Hamburg or 3906 Maple Road, Amherst; 646-4327, gearforadventure.com
Best Thrift Shop
Savers 
It's one of the most organized thrift stores in the area. Savers always seems to yield something great for seekers of clothing, housewares, or maybe a surprising haul of bagged and themed goodies and trinkets. Buffalo is fortunate to have two Savers locations, in Hamburg and Tonawanda. Savers is a national business, with 300 stores hither and yon. Other fine features include friendly staff and that a portion of all purchases benefit a local non-profit.
3701 McKinley Parkway, Hamburg and 2309 Eggert Road, Tonawanda, savers.com
Best Traditional Gifts
Abino Mills 
Mother and son team of Connie and Ted Constantine are the masterminds behind this crystal glass giftware shop. Formerly located in Williamsville, the duo moved their business to Delaware Avenue near Chippewa Street across from The Westin Buffalo for more visibility. The elegant showroom, welcoming by day, glimmers at night with spotlights on the large inventory of customizable, monogram-ready stemware, vases, decanters, and more.
255 Delaware Avenue, 844-8299, abinomills.co
Best Traditional Jewelry Store
Bomi 
Whether shopping for a yellow diamond solitaire, a traditional string of pearls, or a semiprecious stone brooch, this unobtrusive jewelry store should be on your list. Since 1935, the store, run by the Grelick family along with an expert team of gemologists and benchmen, has long been a purveyor of engagement and wedding rings and statement jewelry. Bomi offers bedazzling showcases of treasures, many featured on their website and in its printed and online catalogues.
4574 Main Street, Amherst; 839-4300, bomijewelers.com
Best Unique Gifts
Thin Ice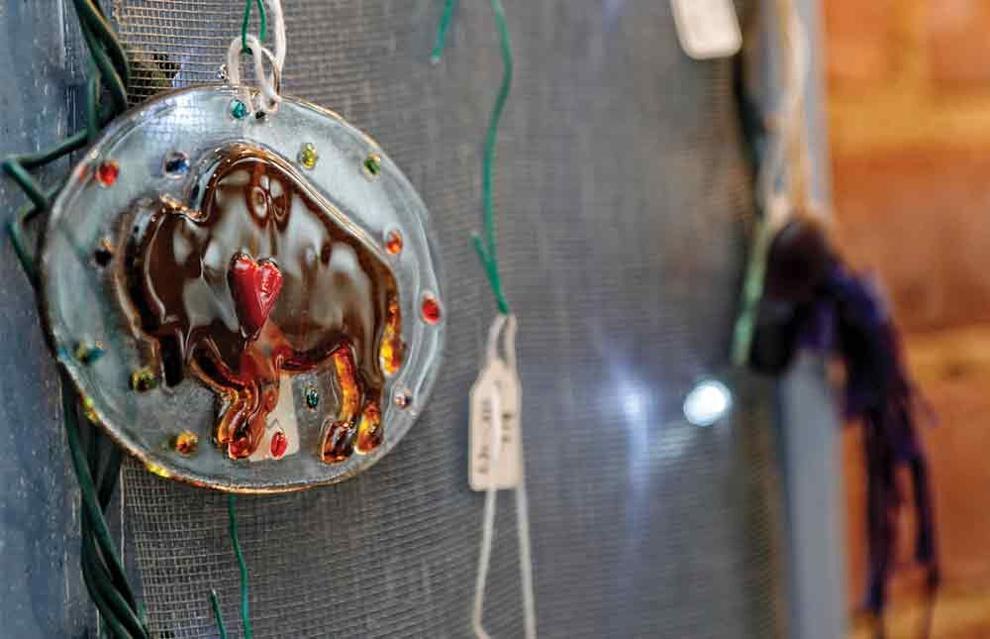 If supporting local artisans and finding fun, unique gifts are what you're after, walk in the door of this charming Elmwood Village shop. You'll find home goods, books, artworks, pottery, cards, and all manner of baubles and trinkets, most made locally. The popular retailer sells wares from more than 190 WNY artists.
719 Elmwood Avenue; 881-4321, thiniceonline.com
Best Women's Gifts
Lace & Day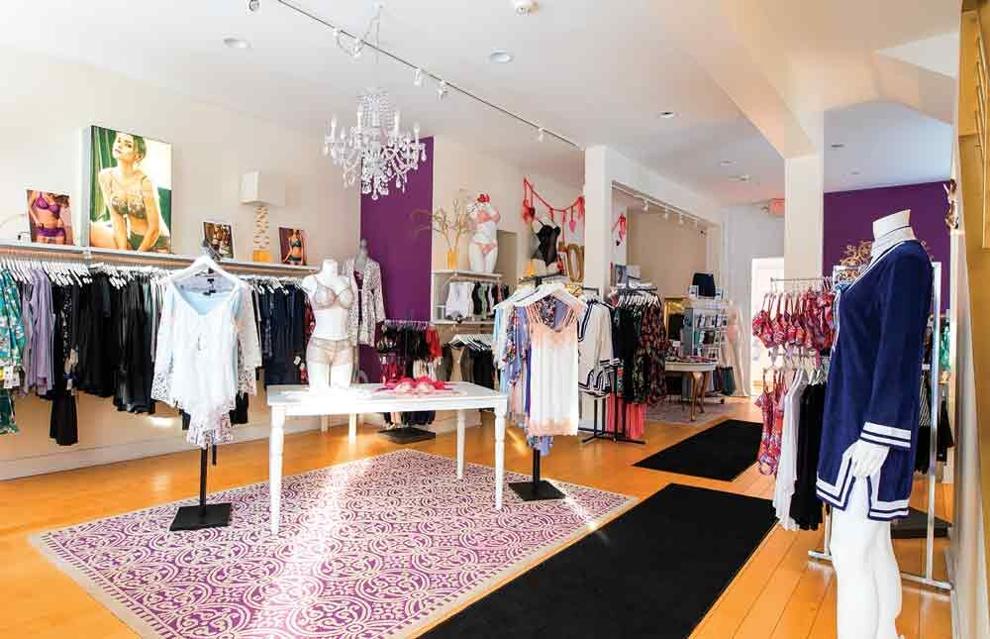 Much more than an underwear shop, Lace & Day provides caring, personalized service with a beautiful, perfectly fitting garment at the end of it. There are also quick and easy gift selections on the first floor.
445 Franklin Street; 884-1580, laceandday.com
Best Women's Shoe Store
ShoeFly buffalo
Sue Marfino opened ShoeFly in 2002, offering shoes that were not available anywhere else in Western New York. She continues that business model, stocking sought-after name brands like Fly London, Seychelles, Irregular Choice, Seavees, and Blundstone. Prices range from as low as $20 (for a cute pair of sandals) up to $350 for brands like AS98. Along with great shoes, Marfino carries eclectic jewelry, purses, and hats.
801 Elmwood Avenue; 886-3595
Most Environmentally Conscious Retail Business
Reuse Action
This is the go-to for reclaimed materials (check out the barnwood), architectural elements, insulation, even entire deconstructed buildings, if you can imagine such a thing. There is no excuse not to reuse!
980 Northampton Street; 894-3366, reuseaction.com
Most Fun Place to Shop
Vidler's
We're always dumbfounded by the bizarre items we find here, no matter how many times we've been. But that's what makes it fun. Try downstairs in the cooking section for supplies that you'll actually use—at great prices, too.
676-694 E. Main Street, East Aurora; 652-0481, vidlers5and10.com
Stay in the know for the best shopping experiences — subscribe to Buffalo Spree today