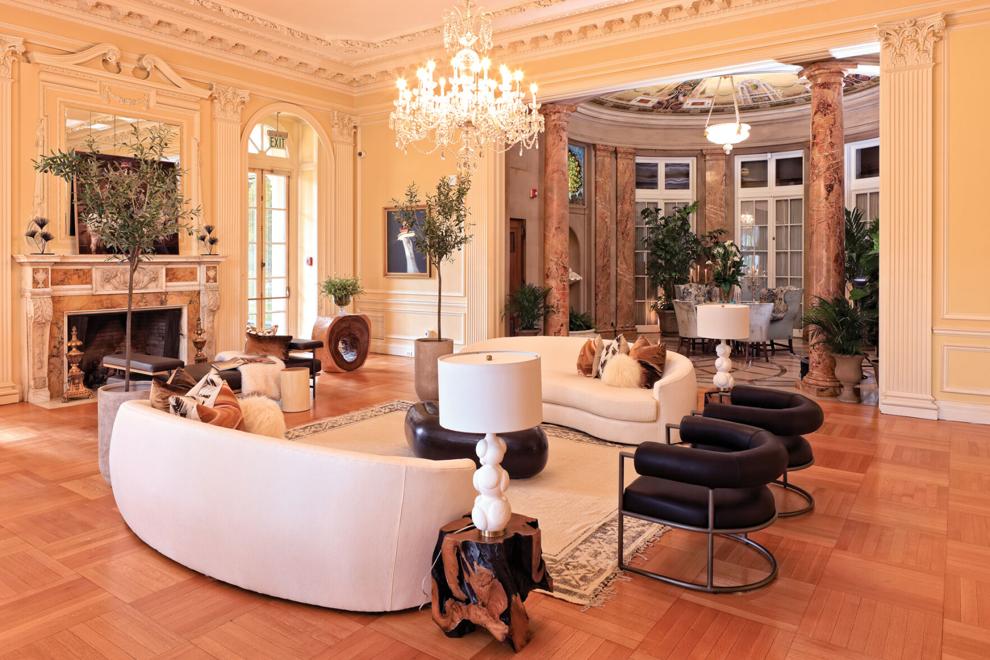 Upon walking through the door of the Grace Millard Knox House, it's clear that architecture is always the star regardless of decoration. Many would say one look at the mansion's exterior façade makes that obvious, but, too often, imposing facades give way to terrible interior renovations that have obscured or even destroyed a structure's original beauty. That is not the case here. 
The interior remains just as impressive as when the Knox family built the mansion in 1915–18, and, with its transformation into a Show House, it's easier to imagine the gracious lifestyle of the home's original period.
A large foyer, paneled in marble, is dominated by a grand marble and bronze staircase with contrasting marble pilasters. This grand entrance is minimally decorated with framed panels of Red Disk wallpaper designed by Charles Burchfield (Rose Bouquet) and images of past Show Houses. 
A small room off the foyer presents an interesting contrast to the house's period style with a midcentury modern library. Millington Lockwood designers Melanie Biggs and Deanna Ernst have integrated classic Eames and Geiger pieces into this quiet, wood-paneled room with great success.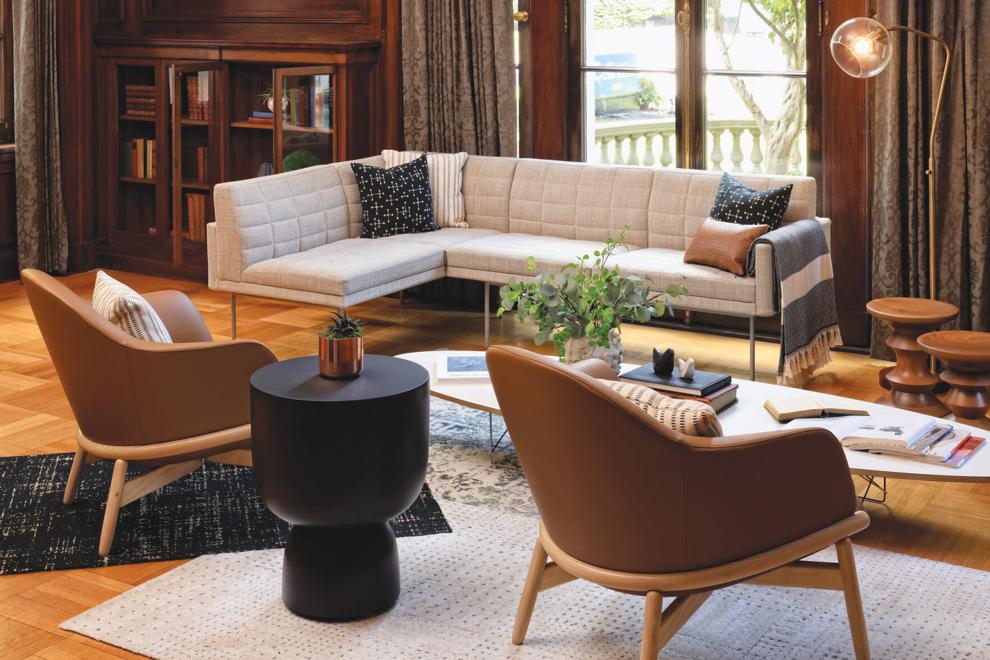 After this understated beginning, visitors pass into Conley Interior's lavishly appointed music room, which also looks like it could serve as a grand hangout space; it's anchored by a Tiftickjian rug, with furniture ranging from traditional to whimsical spread about the vast space. A dog cushion and a row of neatly placed newspapers give the room a slightly lived-in air.
Michael P's drawing room uses a fairly traditional layout, centered by the immense marble fireplace (echoing those in other rooms), but the furniture, accessories, and artwork he has chosen are anything but ordinary. Occasional and coffee tables feature shapes and materials from nature—rocks, trees—while the larger pieces, including the gently rounded pair of sofas also echo the organic theme. The artworks—prints of paintings the designer saw in London—have garnered a good deal of attention. The traditional-seeming portraits have all been dramatically altered with splashes of color or other interventions obscuring the images.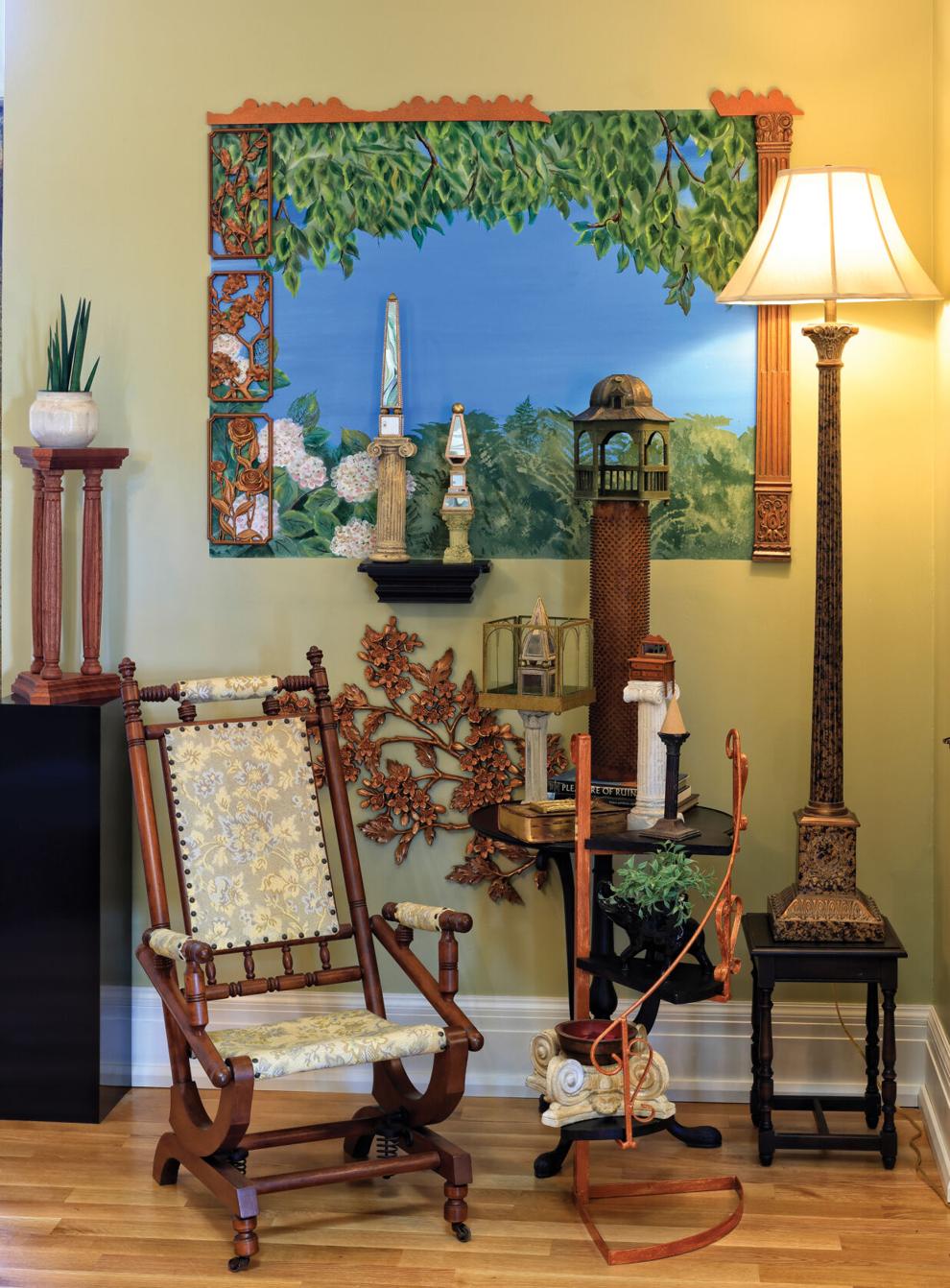 Mark Taylor Interior's equally imposing dining room (it's tough to decide which of the three downstairs reception rooms is the most magnificent) features a completely set twelve-foot mahogany dining table, Chippendale-style chairs, and an antique Persian from Markarian, just to name three elements. 
Finally, intriguing details from two of the many second floor rooms deserve mention; they help lighten the mood of the intimidating space. Creative Storage's spacious closet featured more Red Disk wallpaper, this time an original design, Forever In Vogue by fashion illustrator Patricia Roberts. In the hallway, there's work from a name we don't expect to see featured in Show Houses, artist/architect Dennis Maher, who is founder and director of the innovative workshop/creation space Assembly 250. 
The Junior League of Buffalo's Buffalo News Decorators' Show House was on view August 21–September 18. Proceeds from the biennial Show House projects benefit local nonprofits.