Pressed to define our regional style, publisher Paul Kelly from St. Lynn's Press characterized Buffalo-style gardens as "quirky." He observed how our gardeners use original art and repurposed objects—things like ladders, doors, mirrors, and windows—more in the Buffalo area than other places. If you visited Open Gardens this season (a garden tour opportunity offered by Gardens Buffalo Niagara), you saw creatively placed items that make gardens memorable beyond great plants.
……………
These Buffalo-style gardens use repurposed windows as decor and more:
Quartararo garden (Buffalo, Cottage District)
Robert Then garden (Buffalo, Parkside)
Joe Hopkins stained glass (Buffalo, Cottage District)
DiMino garden (Lockport)
……………
The DiMinos' windows
Many ideas come to gardeners from their travels. Barbara DiMino of Lockport developed an interest in stained glass windows during three years in Germany, when she visited hundreds of churches and castles. Back in the US, she couldn't resist salvaging eight such windows that were formerly part of an old church. Then came the project, no small matter: "I removed the lead because it was so old. The putty in between had crumbled and the windows were buckled. Out of eight windows, I saved seven, which I cleaned, put back together, copper foiled, soldered, and put a lead frame around the outside."
Those windows now hang in the DiMinos' home and mark the start of her window collecting. "When my husband and I were walking around gardens in Niagara-on-the-Lake, I saw windows painted all different colors hanging on the fences," DiMino says. "I thought it was a neat idea. A few weeks later, we are driving, and what do I see but windows left by the side of the road for trash pick-up. I asked my husband to go back and pick them up, and that set of windows were painted and graced our patio."
In 2019, Barbara spotted another set of windows on a roadside. Now, they are painted blue and hang on the patio for a change of color. "Next year, I am thinking of putting mirror behind another set we found and putting them in the woods near the fire pit," DiMino shares. "Next, it will be shutters and doors. I just saw an old door with bird houses attached to it hanging in a garden, and I thought this could be the next project. So many ideas come from the gardens we have visited and the gardeners who share their gardens with us."
That's how the magic happens. Watch for gardeners eyeing discards. Perhaps we'll need bumper stickers: "I brake for windows and doors."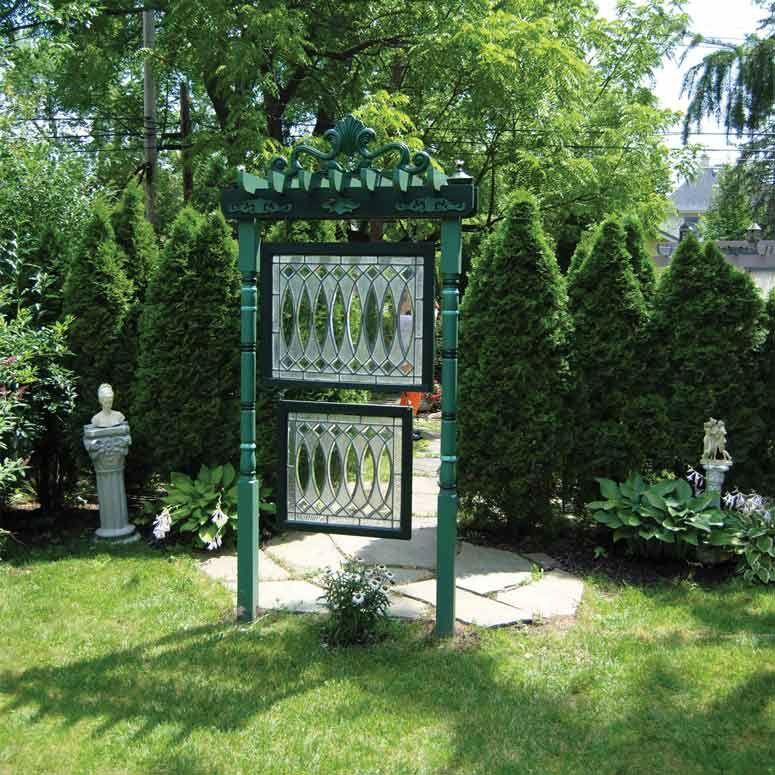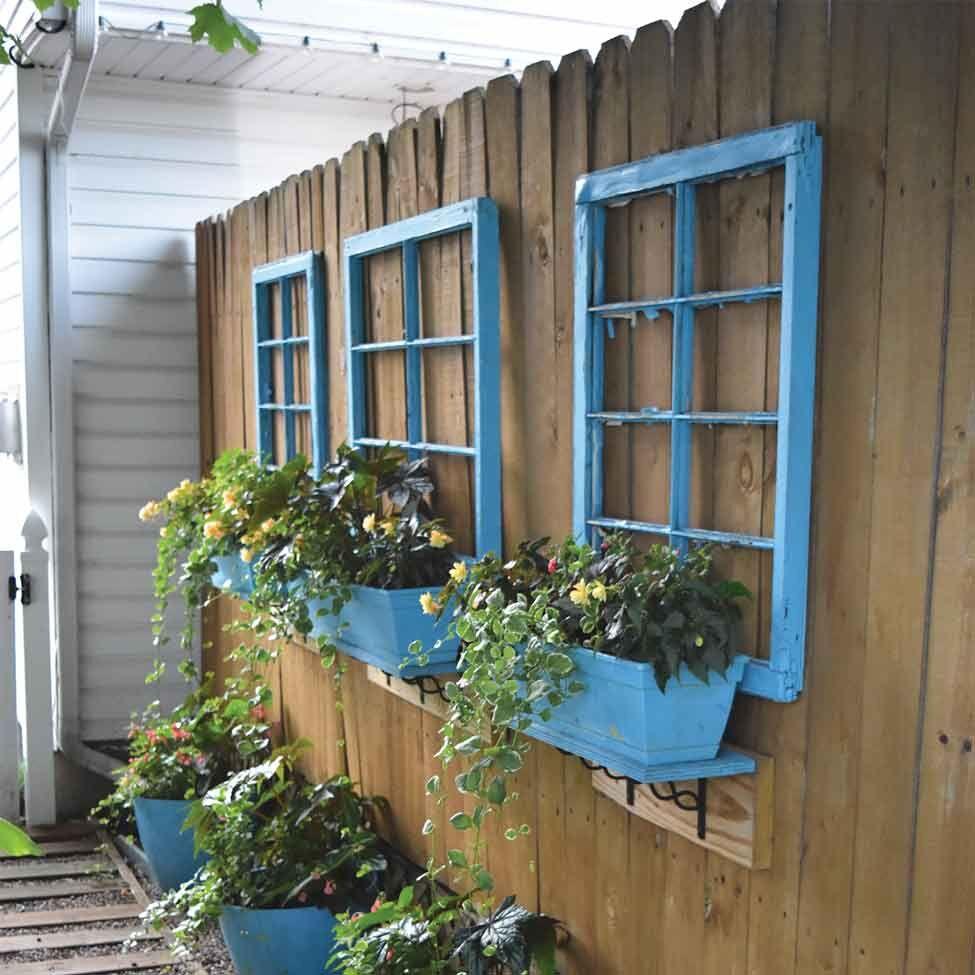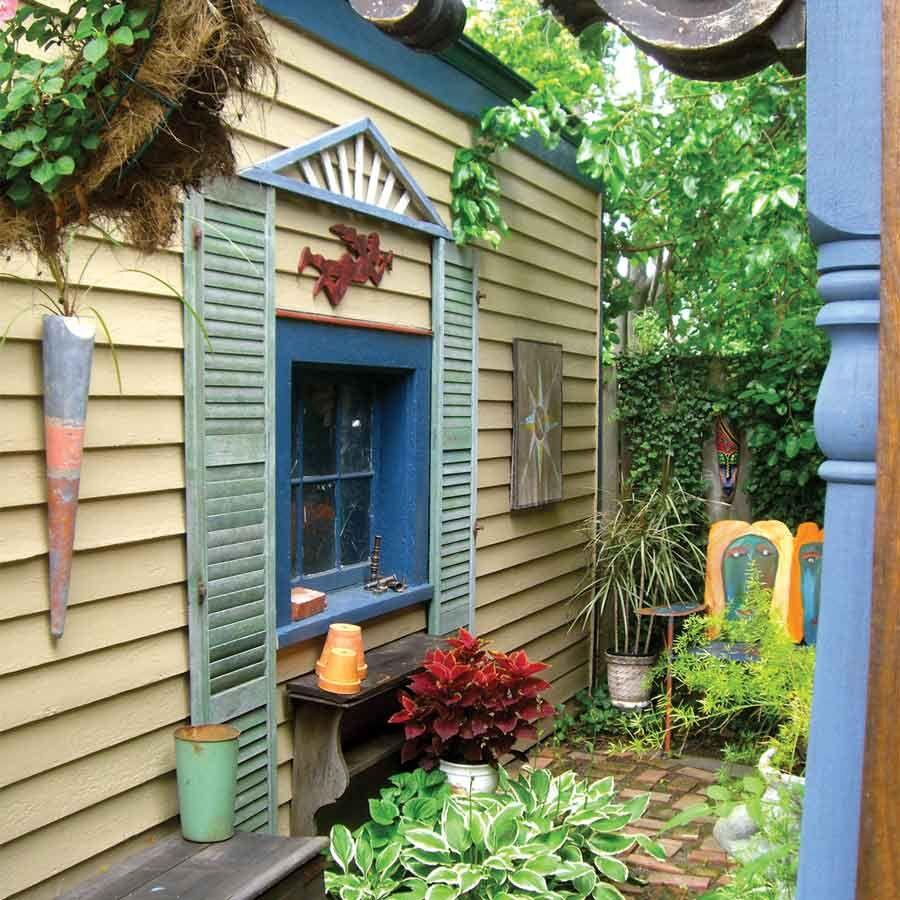 Many ways to use windows
In the quirky, creative gardening culture of Western New York, you'll see windows used in unexpected places. In the garden of Susan Hough (Garden Walk Buffalo), look up and see a picture-book treehouse complete with pink-shuttered windows, skirted by delicate window boxes—all built by her talented husband Miro. Hough balances the yard with a set of generously overflowing window boxes on the driveway fence.
In Parkside, artist Robert Then created wood-paneled walls around a ceiling-less room to fashion a quiet sitting area and showplace for original metal pieces and found objects. On the wall hang windows painted lime green and backed by mirrors.
Some gardeners use a freestanding wall or fence to create rooms in their own yards, or to separate their space from neighbors' yards. Windows or window boxes personalize the walls and complete the definition of the designated areas, as do the stunning blue wall in Jim Ecker's Johnson Park garden and in the multi-layered flower-filled boxes in the Ryan garden in Tonawanda.
The Buffalo garden of Michele, Peter, and Hans Quartararo is the epitome of artistic use of found objects. Michele took things—stove parts, bicycles, bed poles, and windows—from the family's multi-generational basement and attic collections. She repainted them and, knowing just where to place them, created a yard that is beautiful, fun, and unforgettable. The many whimsically placed Qs—it's a scavenger hunt—represent Quartararo, but they could equally stand for Quirky in this quintessential Buffalo-style garden.
Many of the gardens described and shown here may be found in the book, Buffalo-Style Gardens by Sally Cunnningham and Jim Charlier (St. Lynn's Press, 2019), available from GardensBuffaloNiagara.com.