As I write this, the soap aisle in my closest grocery store is bare and many local businesses are struggling. Thankfully, plenty of bath and skincare product makers in Buffalo area make soap and supporting them with our dollars is a good choice for our community, our economy, and our environment. In addition to helping small businesses stay afloat, shopping local still helps cut emissions and protect our ecosystem from harmful toxins and chemicals.
Vintage House Soap Factory
1168 Orchard Park Road in West Seneca and at vintagehousesoap.com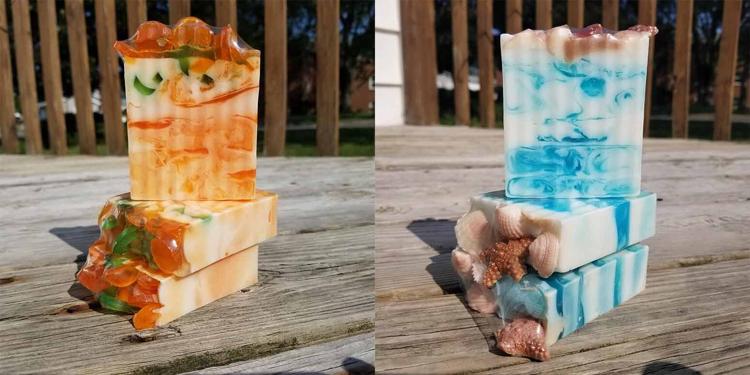 In 2007, when Constance Rogers' son, Benjamin, developed health issues, doctors suspected allergies. She immediately set out to remove common allergens from their home—a tall order, as many traditional bath and body products are loaded with synthetic chemicals and fillers.
So, using recipes she'd collected over the years, Rogers started making her own. Eventually, her small-batch techniques spawned an entire business: Vintage House Soap Factory, a wholesale supplier to stores locally and statewide, with a West Seneca shop that opened this past year.
Vintage's signature products are artisan olive oil soaps and therapeutic bar soaps, in an array of scents, including birchwood, eucalyptus mint, lemon rose, honeycomb, and berries and cream. For your four-legged family members, there's even a bar filled with lavender and peppermint essential oils, thought to be natural tick repellants.
How the company goes green: "We take our environmental footprint very seriously. Surfactants and detergents are at fault for decreasing the ability for aquatic organisms to breed. Phosphates and detergents also cause freshwater algae blooms, [which] release toxins and deplete oxygen for aquatic life. By utilizing all-natural ingredients in our products, we eliminate the use of these harmful chemicals. Alongside this, Vintage House Soap Factory works toward a greener future through our use of reusable jars, bottles, bags, and biodegradable containers."
Dirty Bitch Soap Co.
etsy.com/shop/DirtyBitchSoapCo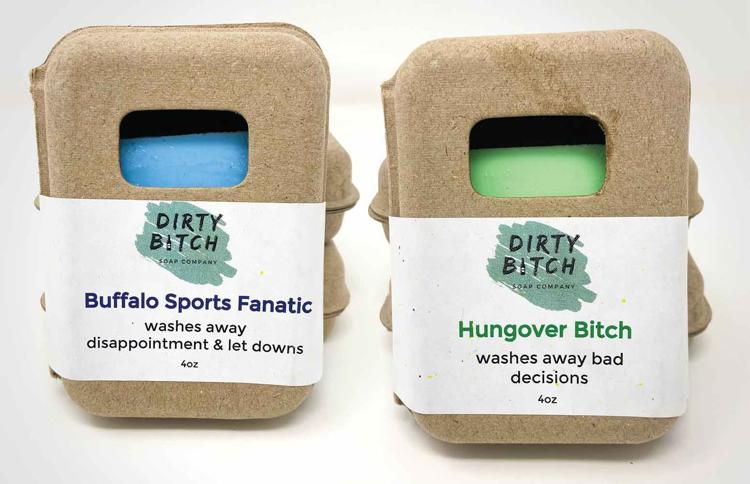 Lindsay Sullivan began formulating skincare products nearly a decade ago. Since then, she's co-founded Bee Maternal Organics—a pregnancy and postpartum skincare brand in stores nationwide—and launched her side hustle, Dirty Bitch Soap Co., a fun and natural skincare line that's sure to leave an impression.
On their packaging, Sullivan's soaps promise to wash away disappointment and letdowns ("Buffalo Sports Fanatic"), bad decisions ("Hungover Bitch"), and drunk texts and dials ("The Ex-Factor"). And, they have ingredients to match: "peppermint, ginger, and lavender essential oils bring together a unique blend to soothe your mind and body after a particularly overindulgent night out on the town," Sullivan says of one bar.
What inspires her: "While it's easy to say that I find inspiration through humor—we love our sports teams; sorry guys, it's not personal—or needs of the consumer—a unique gift that's both fun and functional—the truth is that I'm most inspired by stepping away from the lab. Inspiration truly is everywhere."
How the company goes green: "I am proud to say the soaps are packaged in USDA-certified bio-based boxes, and the labels are a 100 percent recyclable material. Other materials used for these products are carefully selected using companies that are Fair Trade certified."
Alpine Made
Local stores (including Wegmans) and alpinemade.com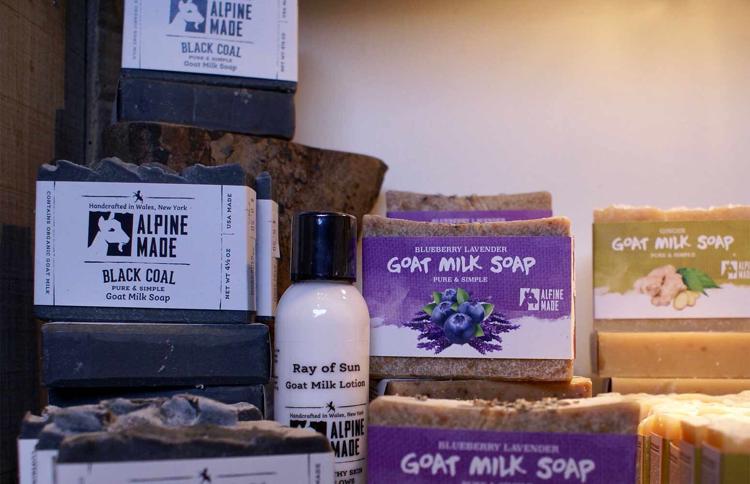 With bachelor's and master's degrees in environmental biology, Kerry Planck strives to treat the environment the same way she treats her children—with as much love and care as possible. It was a desire to merge work, family life, and environmental stewardship that drove Planck to found Alpine Made, a goat milk skincare line, on her family's organic farm in Wales.
Planck says her best-selling products are the oatmeal lavender and black coal soap bars, but her favorite is the small-batch colostrum serum, an anti-aging cream made from goat colostrum that's left over after feeding kid goats.
What inspires her: "Our mission is to create awareness of the new paradigm that supports healthy, clean, and sustainable living."
How the company goes green: "We strive to reduce our environmental impact by never using fertilizers, pesticides, or herbicides on our land or with our animals. We are a certified organic farm operation, and every acre of land we convert over from 'conventional farming practice' to organic farming takes three years to transition—essentially, giving the land a few years to heal from the effects of high chemical use on the soil."
15 Mile Soapery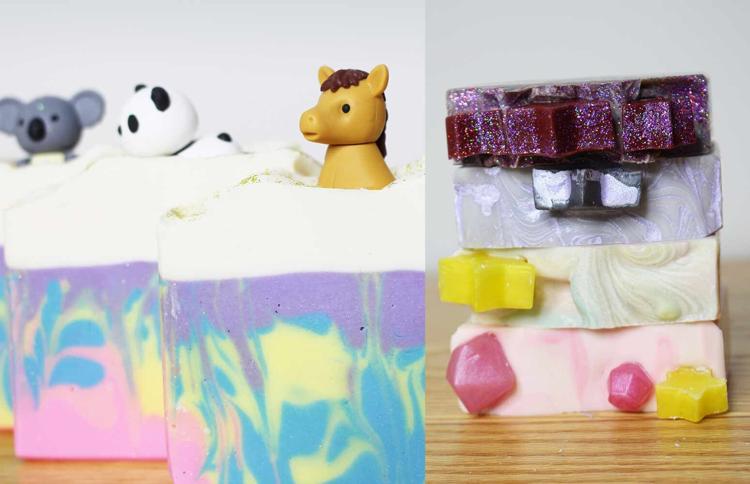 After leaving her job in 2018, Alyssa Radigan found herself on YouTube, looking for anything that might spark creativity. Soap-making turned out to be just the thing she needed.
Now, while working at Medaille College and pursuing her master's degree in organizational leadership, Radigan sells more than twenty varieties of soap from her Etsy shop, 15 Mile Soapery. Many of her products are inspired by pop culture and television, including Spyro the Dragon, She-Ra and the Princesses of Power, and Radigan's personal favorite, Steven Universe and the Crystal Gems.
What inspires her: "Following people making art in other mediums is also a good source of inspiration. As someone interested in the nerdier side of things, I'm also influenced and excited by games, movies, and shows that are popular or I love."
How the company goes green: "Before I order supplies, I always check to see if it's being sustainably sourced. All my glitter is biodegradable, and all my melt-and-pour soap toppers are plant based. In addition, I also make sure I label my ingredients very carefully and stay away from tree nut additives as I suffer from those allergies."
Martinsville Soapworks
88 Webster Street in North Tonawanda and martinsvillesoapworks.com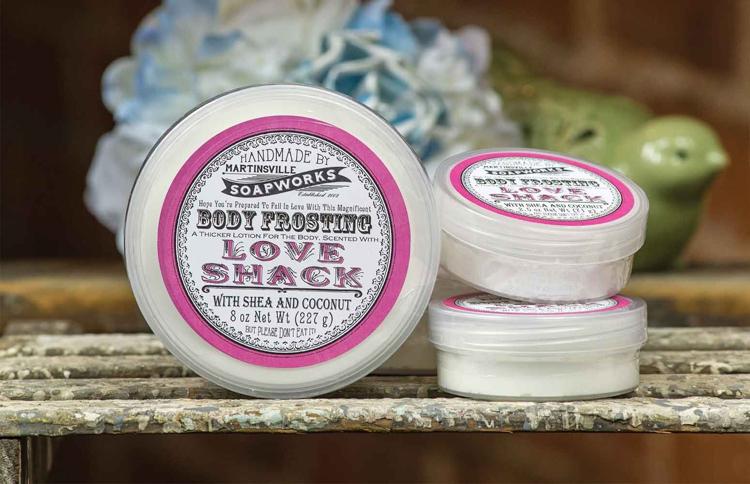 After an automobile accident damaged her neck and hampered her sewing ability, Heather Kalisiak made the difficult decision to give up her cloth-diaper-making business. On a whim, she bought a block of melt-and-pour glycerin soap from a craft store—and found her next venture. Beginning in 2003, Kalisiak started making and selling soap at craft shows, finally opening her shop, Martinsville Soapworks, in 2013.
Today, she still produces her soap with her original six-oil formula and it's still her top-selling product, with scents like cherry blossom, patchouli, vanilla custard, and wild elderberry. Other favorite products include sugar scrub cubes, "body frosting," and an array of lip balms in seasonal scents.
What inspires her: "Self-care is such a trendy idea, but it really is important. I want you to claim that ten minutes in the shower for yourself, and make it the most luxurious, fragrant ten minutes of your day."
How the company goes green: "I use a simple 'cigar band' style wrapper that I print in-house on recycled paper. I source my ingredients and materials as close as possible to cut down on transit time."
Aremel Soaps and ThatSoapBuffalo
etsy.com/shop/AremelSoaps, etsy.com/shop/ThatSoapBuffalo, and local shops (including Village Artisans and Thin Ice)
Longtime Buffalo Spree staffer Robin Lenhard has been making soap for more than twenty years, eventually opening two Etsy shops: ThatSoapBuffalo for Buffalo-themed bars, and Aremel Soaps, which draws its name from Lenhard's initials, RML.
Lenhard says novelty soaps are often her most popular, especially for gifts. Under the Aremel brand, you'll find bars shaped like Lego bricks, coffee beans, cherry blossoms, and the Moai statues of Easter Island. Over at ThatSoapBuffalo, Lenhard creates soaps shaped like butter lambs and buffalo, in scents that range from cabernet sauvignon, fresh-cut grass, cotton candy, and summer ale.
What inspires her: "Soap doesn't have to be just utilitarian. I'm always exploring new fragrance combinations and seeking out unique molds to introduce fun new designs. People often choose my soaps because the 'theme' speaks to them, makes them smile, or would make a great gift for someone they know."
How the company goes green: "I strive to ensure that my soaps are as clean as possible by using only phthalate-free fragrances or essential oils, and natural pigments whenever possible. My soaps are also free of sulfates and parabens. Wherever possible, I use recycled or recyclable materials for wrapping and in shipping mail orders."
Honest Apothic
Two stores (Market Arcade and 262 Bryant Street in Buffalo) and honestapothic.com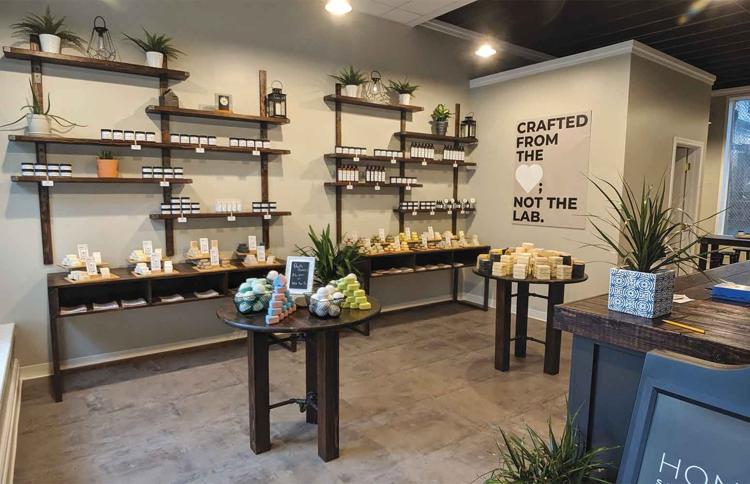 Sean Ralston created Honest Apothic to be, well, honest, both about the ingredients in his skincare products and the impact those products have on the planet. With each product, the former professional cook starts by identifying a problem and then mixes and tests ingredients until the ratio—and result—is right.
Today, with two local shops and an online store, Honest Apothic carries two handmade brands. There's BAR Apothic, which nixes the harmful plastic packaging in favor of bars—everything from shampoo and conditioner to lotion, face cream, shaving cream and, of course, soap in bar form. Meanwhile, Ralston's Spruce Up Soap Co. line includes other all-natural soaps, beard products, bath bombs, and more.
What inspires him: "A community-minded commitment to less packaging and simple, clean, and cruelty-free ingredients is why we wake up every day and do what we do."
How the company goes green: "We created our BAR Apothic line with the goal to help reduce plastic waste and overuse of much-needed fresh water. Each BAR Apothic package uses an OXO-biodegradable, food-grade, and acid-free wrap that is guaranteed to decompose within eighteen months even under the harshest of conditions that exist in landfills. Up next, we are going to be converting all of our Spruce Up Soap Co. packaging to glass."