Students, homeowners, and restaurant owners needed to take the party outside this past winter, and they learned to do it better—and more quickly—than we could have expected. All around the region, plastic bubbles and igloos, wooden sheds, heated pergolas, and firepits popped up in time to warm our toes (and food) and to bring cheer to our hearts in a dark time. At the very least, a family could make a firepit, set up camp chairs, wrap up in parkas and blankets, and grill something. 
While feisty Western New Yorkers did manage the recent winter's leisure well enough, now is the time to rethink, redesign, and build the kind of outdoor spaces that you really want to enjoy in future seasons, even when it's not mandatory.  
A place for students
Landscape architect Molly Vendura (RLA, ASLA, LEED AP) is building a multi-purpose space for student enjoyment and special events at St. Bonaventure University. It includes an  open air shelter, gas grills, and gas fire pits—exactly what students need to relieve exam time pressure or to chase away loneliness when they can't return to hearth and home.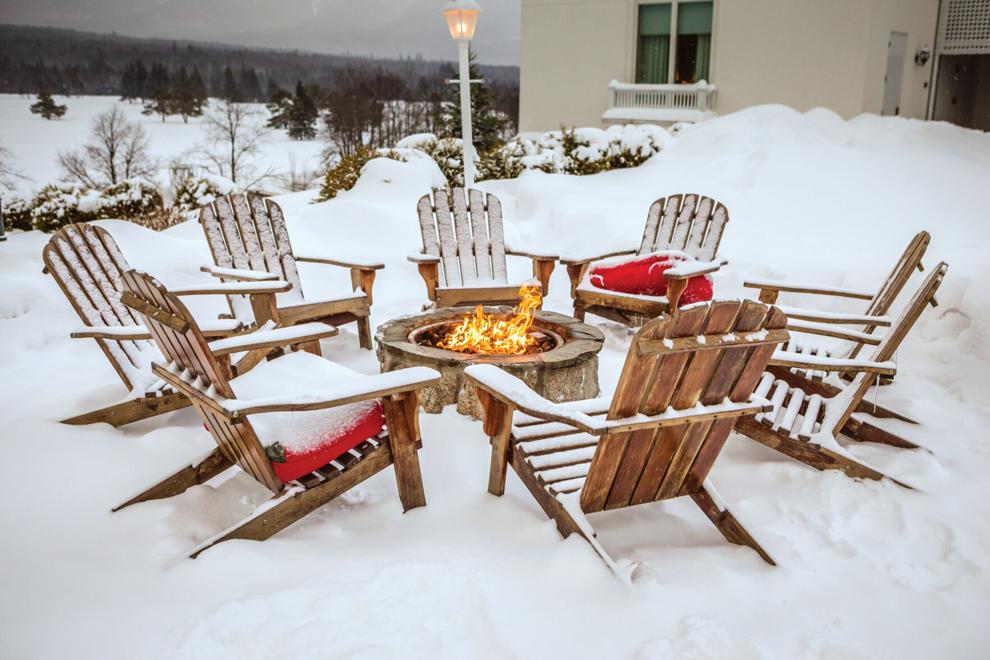 Breweries and restaurants warming up
Every brewery that could, including the Ellicottville Brewing Company and 42 North (East Aurora), used every inch of outdoor space available to create properly distanced outdoor dining and drinking. Restaurants from Tappo and The Place in Buffalo to The Old Orchard in East Aurora added heaters to stretch the weeks for outdoor dining. Many made huge investments, aware that fall and winter 2020 sounded ominous. All these efforts are reason enough for us to support our restaurants as soon and as often as we can safely do so. 
Rusty Nickel Brewing Company (West Seneca) committed to outdoor celebrations big-time, even before COVID-19 influenced the plans. After growing the West Seneca location for six years, owner-operator Jason Havens noticed the pull of the patio. "If there is one thing Western New Yorkers want, it's being outside," Havens says. So he and his partners gave the people what they wanted. First they added a pond; Havens noticed the calming effect on his guests. Then they added seating near the pond, complemented by pots filled with flowers. Next came fencing to support the grapevines, which became a green wall that provided a backdrop for dining and relaxation areas. They also built a pergola, with a sixty-by-twenty-foot roof and lights. Havens attests, "This expansion outside was the best thing we ever did." 
As Rusty Nickel's spaces for socializing spread, plants took on important roles. With design advice and plants from Bengert Greenhouses (West Seneca), the planners removed lawn and added pocket gardens, herb and vegetable beds, and flowering baskets and planters to add beauty and relaxation to the seating areas. As Mike Bengert says, "Nothing makes a cool beer better than being surrounded by flowers!" 
With winter approaching, Rusty Nickel added slate fire pits, fireplaces, and walkways, with clusters of seating spaced well apart for groups of all sizes, from baby showers to graduations. In distinct areas (such as the back patio, side patio, and "lower bowl"), the brewery can host a range of events. A stage built into the hillside allows for bands, talks, and craft demonstrations. While not all WNY venues have as much space, the Rusty Nickel brand of ingenuity should inspire similar creativity to help others get the people outdoors. It's truly good for business. 
The hygge factor
The Danish term hygge may not have an exact translation, but we get the concept. It's all about coziness, comfort, and creating spaces that feel warm and welcoming—think candles, warm baked goods, and hot drinks.  Elm Street Bakery has captured the hygge feeling in its courtyard with fire pits, friendly clusters of chairs and tree stumps for seating, and a rustic looking shed with windows that open onto a friendly bar. It's been a super place for wrapping in a blanket, devouring the brick-oven pizza, and indulging in a hot toddy, hot buttered rum, or a real chocolate-lover's hot cocoa. 
Landscapers rise to the occasion
Members of PlantWNY, such as Joseph Han (english-gardener.com), may not be able to show their skills at Plantasia this month—another pandemic cancellation—but they are ready and expecting to build cozy places for your outdoor living for many seasons to come. Han says his clients have most loved the duo of radiant heaters under a pergola and snow melt systems for floors, complemented (of course) by plants with winter attractiveness, including evergreens and woody plants with gorgeous bark, berries, or shapes. Radiant heaters provide a warm orange glow. While there are many brands of radiant heaters used in restaurants, yards, or stadiums, the residential units easily warm people and objects eight to twelve feet away.  Snow melt systems  turn on automatically in response to snow.
If you heat it, light it 
Phil Colaruso (Luminated Landscapes) specializes in creative landscape lighting, and he knows what works. First, for a friendly atmosphere—rather than a Halloween-spooky feeling—it helps to see faces lighted softly. Cute solar or electric path lights may lead you somewhere safely, but they only show off your feet. Surround the faces with light, Colaruso says—the right kind of light.
Colaruso explains the meaning of warm and cool when it comes to light: the temperature of light is not measured the same as the color of light. We are accustomed to measuring heat, whether Centigrade or Fahrenheit, with a system in which a high number (ninety degrees) means hot, and a low number (twenty degrees) means cold. Numbers work differently, however, when you are planning for light to be "warm" or "cool." 
In measuring the color of light, professionals use the Kelvin scale, which ranges from a low numbers for warm light (candlelight is 1,700) to high numbers for cooler light such as average sunlight (6,500) or noon on a bright day (13,000). All this explains why we look lovelier in the warm light of sunset. 
New products continue to appear for lighting our outdoor spaces with charm and warmth. Colaruso points out that new LED lamps are designed to look like burning candles. There is also new technology called "Warm to Dim" using LEDs. If you set the lights for "Warm Dim," you will see a comforting amber glow. Great for an outdoor coach light, the new technology doesn't work for low voltage lighting.
Winter returns every year, some years more harshly than others. Since it will be back, why not take some lessons from 2020/21 and plan now to extend the joy of time outside?