It's Easy to plant window boxes on Memorial Day; it's not necessarily easy to keep them healthy and charming throughout August and September. Many gardeners do, and their efforts were particularly appreciated during a garden touring season that limited backyard visits. Here are some secrets that may help you emulate this season's best boxes and explain some disappointments that we hope were not yours.
Tips for window box success:
1) Size of box
Now may be a smart time to find sale-priced window boxes (or other garden props and tools). A beginner's mistake is taking home four-by-four-inch window boxes that are impossible for plants to live in. Choose wider and deeper boxes. Or find the Kinsman company's hay racks, made of sturdy steel bars coated in black plastic, used with coco-fiber liners. Then you can grow something worthy!
2) The potting mix
Quality potting mix from a professional garden center will likely satisfy the nutritional needs of annual or tropical plants. Such mixes are light, retain moisture well, drain well, and start plants with balanced nutrition. The right mix will include enough nutrients to get your display going but you will need to use a balanced fertilizer, labeled specifically for houseplants or container plants, every few weeks or so. Follow label instructions, but experts suggest using slightly less than recommended unless your hobby is clipping and deadheading.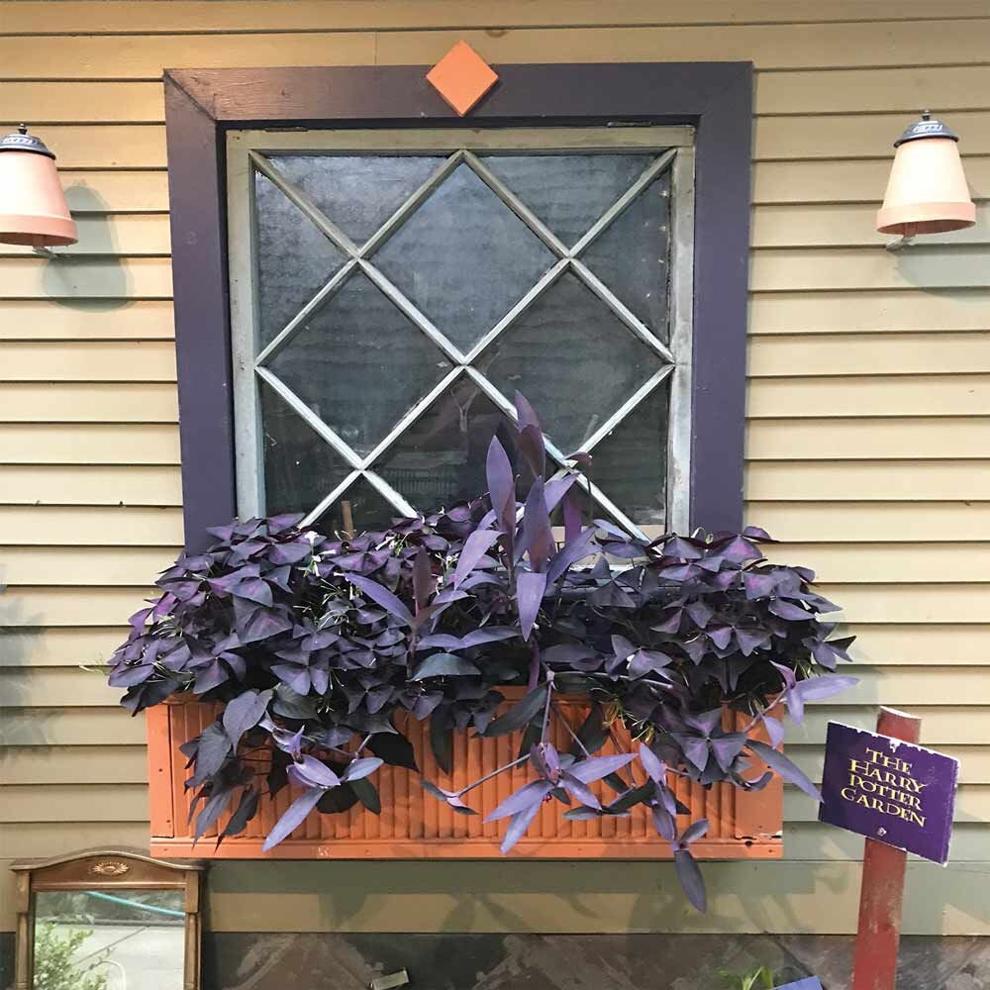 3) Location from the plant point-of-view
Analyze the site to see how much and for how many hours direct sun hits the spot. Is the shade constant or dappled all day? Notice if wind hits that side of the house, or if deer walk right up, as if to a salad bar. Those factors determine what you can plant.
Cascading plants draw the eye upward.
4) Location from your point-of-view
Once you've planted and hung a window box, your biggest job will be tending to it, so err on the side of easy to get to. For watering—the biggest maintenance job—does your hose nozzle reach the box or do you need to use a watering can from inside the window? How much tending do the plants require? Lots of deadheading?  Cutting back often? Pest-picking? Jim Charlier (his window boxes pictured) waters from inside and admits he chose coleus because it doesn't need constant deadheading as he leans out the window.
5) Keeping them pretty
Many plants sold for containers are cultivars that were developed to need little or no deadheading. Some grow to just the right size without frequent clipping. But, look at the boxes and notice whether some grooming could improve the look. If some of the plants are sunburned, oversized, or unattractive, pluck them out and replace them. (It's a reason to keep some of the planting mix available.)
As seasons change, add whatever plants suit the month. Stick in mums in September or October, with other cool-weather plants such as Osteospermum (Cape Daisies), Calibrachoa (Million Bells), or Heucheras (Coral  Bells). If you acquired cold-weather plants that fade in summer heat—Lobularia (fragrant white alyssum) for instance—bring them out and refertilize them so they can perform into the autumn months. Even in winter, window boxes enhance a home's appearance if you fill them with evergreen boughs, red-twigged dogwood, pine cones, berries, or baubles and bows.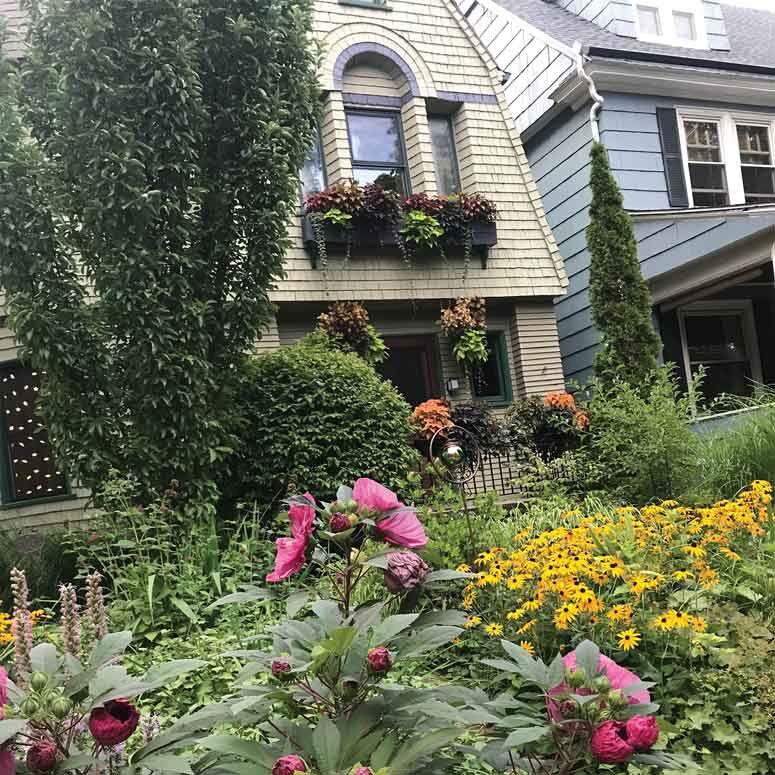 6) Plant choices
Your garden center will suggest best choices of sun-loving or shade-preferring plants, but be armed with answers to the following: What size and habit will suit this window box? (Habit is the way the plant grows: upright, cascading, round and full, etc.) How tall can the plants grow before they block the view from inside the house? How far over the edge of the box can draping plants extend without hitting something or being blocked by shrubs in the landscape bed? Read plant tags to understand eventual size and behavior (habit) of the plants. Many container plant teachers suggest a mix of "thrillers [upright], fillers, and spillers [cascading]" but they all need to suit the window box and the window it complements. Watch what you choose for the thrillers.
Winning window box beauties
Teresa Buchanan of Lockwood's Greenhouses is past president of PlantWNY. She observed that it was an odd season for most garden centers, as shopping was restricted for COVID-19 reasons, and cold weather inhibited buyers well into June. Then, people played a vigorous game of catch-up, wanting to fill containers and window boxes to dress up the yard and garden. Tried-and-true favorites, past and currently, are cascading ivy geraniums (as widely used in Europe) and Dragon-wing begonias, often combined with sweet potato vines. Calibrachoas, Supertunias (many Proven Winner hybrids), are often mixed with vinca vines, scaevola, and lantanas. For a shadier location, Streptocarpus plants (also great as houseplants) are long-flowering, perhaps paired with the trailing Lysimachia 'Goldilocks' or an ivy. Take recommendations from growers or experts at your preferred garden center.
Success with window boxes depends upon the box, the soil, plant selection, and you.