It's still too early
A look at the coming week's weather tells the story. Lows are in the low–mid thirties and highs are in the forties and fifties. This is not the kind of weather amenable to setting out hanging baskets; planting tender tomato, cucumber, and pepper plants; or filling outdoor containers with annuals like petunias and sweet potato vine. That will all come in good time, but, unless you enjoy seeing plants shriveled, discolored, or even killed by cold temps (sometimes, it doesn't even take a true frost), you must hold off. In the meantime, enjoy your spring bulbs; continue with cold weather veggies like arugula, kale, beets, and many others (here's a good guide for seed and seedling timing ); and plan.
What to do while you're waiting
Weed beds: Now is the time, when it's still possible to see them clearly, Here's a Facebook album of the common weeds of Western New York. Here's another illustrated list of plants deemed invasive and prohibited by by New York's Department of Environmental Conservation. Don't be surprised if you find a few of these on your property. They're good at invading; hence, the name.
There are many homemade remedies for getting rid of weeds. We have news for you; they all suck. The best way is to just pull them out by the roots and cover the area with a layer of mulch—wood chips are best. There are also commercial remedies that have been rigorously tested by professionals. Use these sparingly, carefully, and only if you have a serious weed infestation.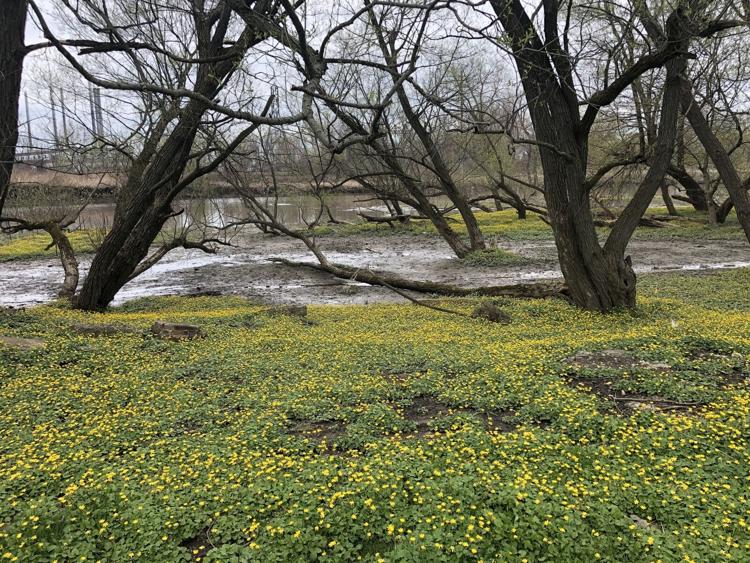 Speaking of serious weed infestation, if you have Lesser Celandine, which is blooming now (see above), get rid of it. It's on the DEC invasive list, and is able to engulf acres.
Prepare beds, but don't overthink it
Sometimes it's good to add compost and other amendments to beds to prepare them for later planting, but make sure these are really necessary. How? Do a soil test; these can be purchased locally or ordered online. They tell gardeners if their soils have the basic nutrients needed to grow plants successfully. If the soil tests out Ok (right amount of nitrogen, etc.), additives might not be needed. 
Plant sales continue
Food, flower, and herb seedlings are available from Massachusetts Avenue Project. Plants can be preordered through Wednesday (5/6) for pickup Saturday, May 9. There is also some limited delivery. Get all the info here.
Hawk Creek Wildlife Center has a benefit perennial sale every year, with a few annuals and vegetables as well. The list of perennials available is quite extensive, with many lovely native plants included.
Don't forget the flowers.
While many gardeners, as Spree writer Bruce Adams reports, are maintaining a hard focus on food growing, remember that it's important to feed all the senses. Be sure to have some colorful pots of annuals and a few hardy perennials. Daylilies, Joe Pye weed, hostas, and rudbeckia are in my top four for quick growth and low maintenance. Two are natives.