"Our crystal ball is shining," answers Mark Yadon of Mischler's Florist and Greenhouse. The question was: what are garden centers and nurseries prepared for, and what are you expecting from customers in the unpredictable season ahead? According to Yadon, just as home gardening thrived in a stay-at-home season, so, too,  is holiday decorating, especially with plants. He points out what we know to be true: holiday travels, whether for vacations or to visit relatives, will be less common, so the thinking is, "Why not make home as pretty and welcoming as possible?" 
At Russell's Tree and Shrub Farm (East Amherst), staffer Chris Zeisz says he is "cautiously optimistic" about the holiday season. Over its twenty-nine years, Russell's has seen many changes and crises but, in recent years, holiday shopping for plants and trees has steadily increased. That is likely to remain the case—but the shopping will be handled differently.
What may be different?
Several garden center managers and owners report changes to holiday shopping, such as: 
•Garden centers require mask-wearing and offer hand sanitizer.
•Displays are farther apart with more room for customer circulation.
•Customer traffic guidelines are clearly marked and enforced.
•Stores are offering curbside pickup or delivery from telephone orders.
•The number of people in the store at one time is limited.
•Fewer or no fundraising holiday plant sales are expected. 
•Busy shopping times are likely to spread throughout weekdays, as fewer people maintain nine-to-five lifestyles.
When it comes to plants and products, most familiar items are available. Harry Lockwood (Lockwood's Garden Center, Hamburg) says, "The Christmas trees grown locally are absolutely gorgeous this year!" His team and other local growers have continued to grow top quality poinsettias and have grown or ordered seasonal gift plants. 
But supply chains are iffy, given a wide range of weather patterns affecting some crops, as well as necessary adjustments for employment and travel restrictions. Some venues have been unable to get the popular white gift hydrangeas, which suffered a crop failure this year. Ask retailers for the plants you like; this helps them know what to grow or order in the future. 
Traditions that endure 
Western New Yorkers tend to be traditional in tastes and habits, according to area business owners. While trends come and go, most people return every year to their favorite places for trees, greenery, centerpieces, and gift plants. Garden center customers have a mantra: "The garden center is my happy place; I come here to feel good." It is logical to expect that in a season with limited partying, folks will be looking for "comfort plants." And a nursery or garden center—likely to be open-air or at least well-spaced—feels relatively safe. No crowds. No yelling.
Christmas trees
Nursery staff expect positive Christmas tree sales, and it's not just wishful thinking. The reason: when people travel for Christmas or head to Florida for the winter, they often say, "Why bother to get a tree or decorate the house?" But many are likely to stay home this year. Why not go big with decorating? Christmas tree farming is environmentally friendly, while artificial trees—petroleum-based, imported products—end up in a landfill sooner or later. Shopping for a real tree with the family is a win-win tradition.
Poinsettias
Even as public spaces decorate less, without fundraising events, the poinsettia remains popular, second only to evergreens as the plant of the season. If folks don't receive their usual gift poinsettias, they can find their own. Best advice: buy locally grown poinsettias, displayed and maintained away from doorways and cold areas. Be sure to wrap them and get them home quickly. 
Houseplants
Chris Lavocat (Lavocat's Nursery, East Amherst) reports that houseplants continue to be more popular than ever. Plants add beauty and remind us of our connection with nature throughout the darker months. Children can learn responsibility and some science when they learn about and care for plants. Adding lights to houseplants helps those who suffer from seasonal depression. And we all need some indoor humidity in our heated homes.
Cut flowers and gift plants
Maggie Wittmer at Mischler's affirms the importance of cut flowers and gift plants, especially for those isolated in nursing homes or rehabilitation centers. If you can't have a big holiday gathering, it's nice to have a flower deliverer ring your doorbell. Wittmer's suggestion, for those ordering flowers for Grandma in Florida or elsewhere, especially in a year of uneven supplies and customer service:  contact a professional florist near your loved one, as you may get better service and plant choices than an 800-number service can provide. It's not always possible but, when you can, support local business. Also, give a florist lots of lead time in crunch periods; their holiday rush is pressured, and they are dealing with a fragile commodity.
Other popular plants should be available and make wonderful gifts, as long as you place and maintain them according to their needs. Try amaryllis, paperwhites, Christmas cactus, cyclamen, orchids, and other houseplants—these can all add a bit of happiness before, during, and after holidays.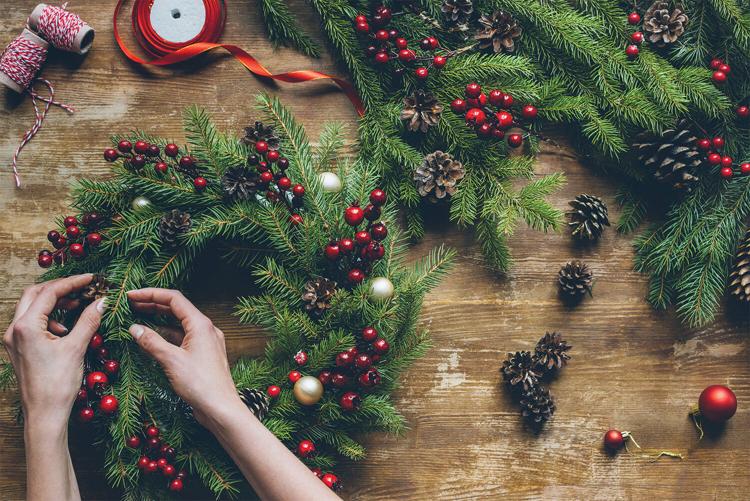 Wreaths and decorating classes
It's a difficult decision whether to hold gatherings of any type, including popular workshops for making wreaths, swags, and centerpieces. So much depends upon air circulation, floor space, and adherence to rules. Teresa Buchanan at Lockwood's Greenhouses has arranged for limited-size workshops to make wreaths and other holiday décor within the garden center's generous spaces. The Buffalo and Erie County Botanical Gardens also holds decorating classes; check Spree's Agenda on page 38.
No matter the project or shopping experience, expect to find shoppers, wreath-makers, and participants spaced well apart. Everyone in the industry wants customers and clients to be safe throughout the season.
Shop early
A couple of warnings: supply chains are iffy, even for some of the most common props, plants, and supplies. For instance, some types of fir trees have been jeopardized. Some foliage plants from Florida may have had setbacks because of weather extremes, although wonderful Florida plants remain a staple in our houseplant world. Prepare to be flexible if you can't find your must-have tree or door hanging.
Public behavior is also a variable: which favorite plants or Christmas trees will be swept off the shelves before you've even thought about decorating? Did the shops that offer homemade wreaths, Christmas trees, or fresh arrangements guess correctly, so they have what you want? Did they plan and time staffing to take orders, give advice, or handle deliveries? 
Finally, an idea that's either boring or best ever: garden center or nursery gift certificates. It's the gift that will pay off sometime next spring, when everything is sunny again.
Fill the house with color
1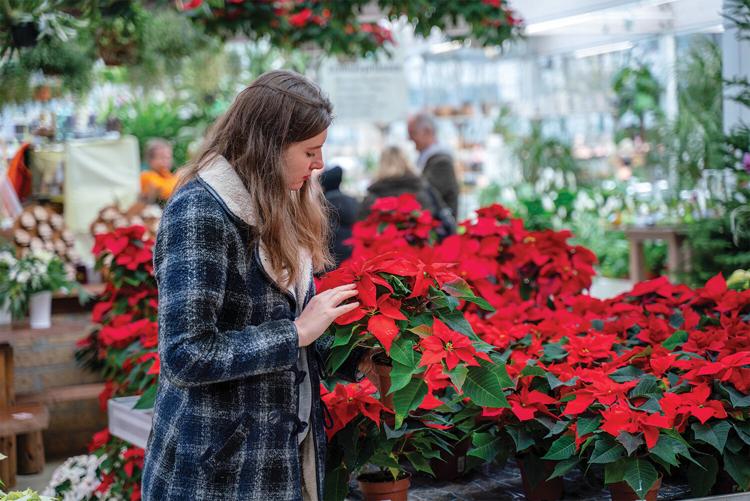 Poinsettias
These come in lovely colors, naturally—no need for glitter or dye!
2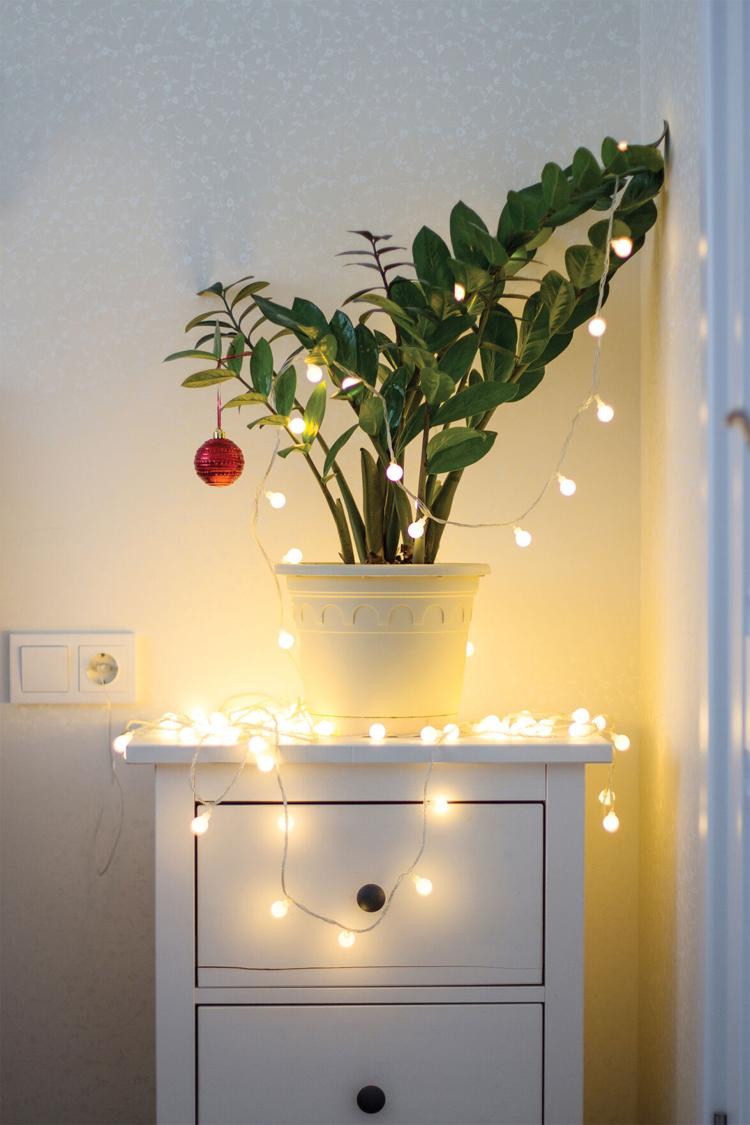 Houseplants
These can be decorated in many inventive ways.
3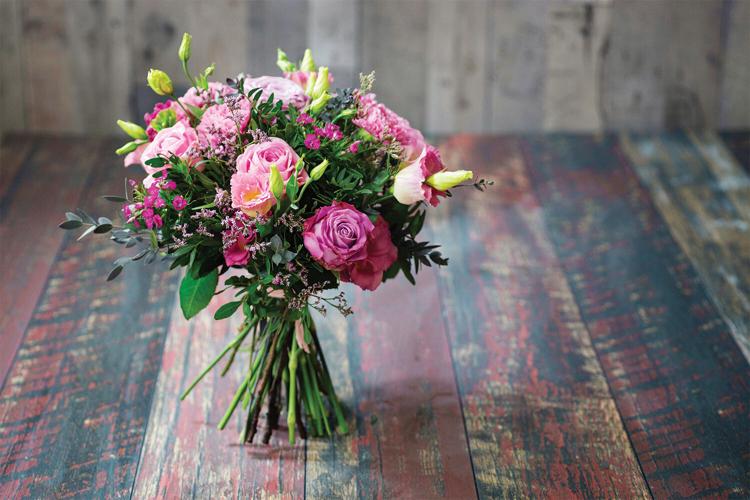 Cut flowers and gift plants
Orchids, amaryllis, and cut flowers in jewel tones add elegance and warmth.
Mind your Pets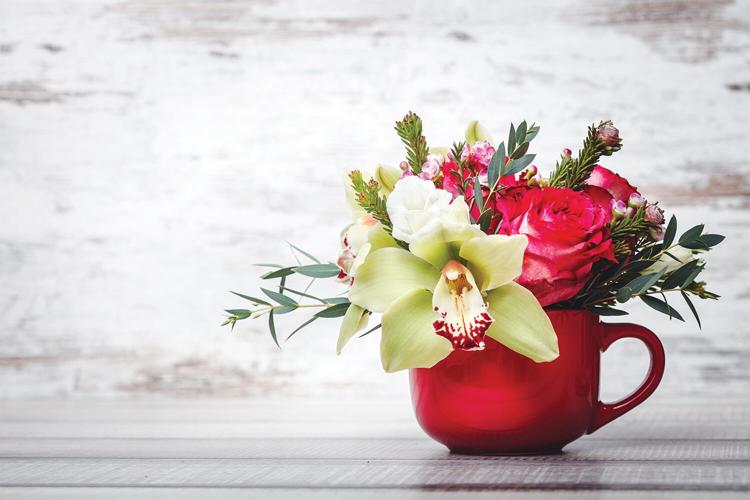 Anything new in the house can inspire a dog or cat to chew (or get tangled or cut or choked), as vets will tell you. Many plants are mildly toxic, or at least induce vomiting. Poinsettias are not toxic; this is proven scientifically, but rampant rumors persist. Do not have real mistletoe berries near any pets or children, and watch out for berries in general. Avoid lilies in cut flower arrangements. If a pet shows signs of illness or has eaten a large amount of something new, call the vet.