Opening this Friday, October 14, at Will Faller Fine Art & Antiques in East Aurora, is "Buffalo in Art," a show and sale of artwork featuring the architecture of Buffalo and Western New York. It's intended to complement the National Trust visit. Proprietor Will Faller, 44, has been around galleries, art, and photography his entire life.
Jana Eisenberg: Your mother and stepfather, Marion Faller and Hollis Frampton, were innovative artists/photographers ... what was it like growing up in that milieu?
Will Faller: Actually both my parents were photographers—they divorced when I was very young, and both remarried—my mother to Hollis, and my father, to someone who owned a gallery. I liked it in the beginning, but eventually got tired of being dragged to galleries.
JE: So, how did you end up in East Aurora with a fine art and antique shop?
WF: After high school in Buffalo, I wandered for a decade or so. When my wife and I got married, we lived down in NYC. We moved back to Buffalo when our daughter Emma was born. We started looking for schools for her—my wife's father had taught at East Aurora High. We loved [the town] and wound up out here.
JE: And the arts and antique business?
WF: Well, I had been dabbling, on and off, for the last 15 years. I always collected, and am fascinated with the art world and antiques. I was buying, selling, and collecting. I amassed a lot of artwork and "stuff"; I needed to either continue it as a serious hobby, or turn it into career. I opened the first shop almost five years ago—we moved on to the main street a couple of years ago.
JE: What other jobs have you had?
WF: I was a bicycle messenger in Manhattan. I did airline customer service. I was a chef at Colter Bay for almost 10 years—that was back in my younger, heavier-drinking days.
JE: The show will feature works by a range of artists—including well-known members of the vaunted Buffalo Print Club like William Schwanekamp, Kevin O'Callahan and Carlo Nisita, plus paintings, drawings and photographs by artists such as Joseph Eger and Alexander Levy. How did you get this notion?
WF: It's been in the back of my mind to do it. I've been collecting paintings of Buffalo scenes, and I started setting things aside a while ago. I planned the date to coincide with the National Trust conference.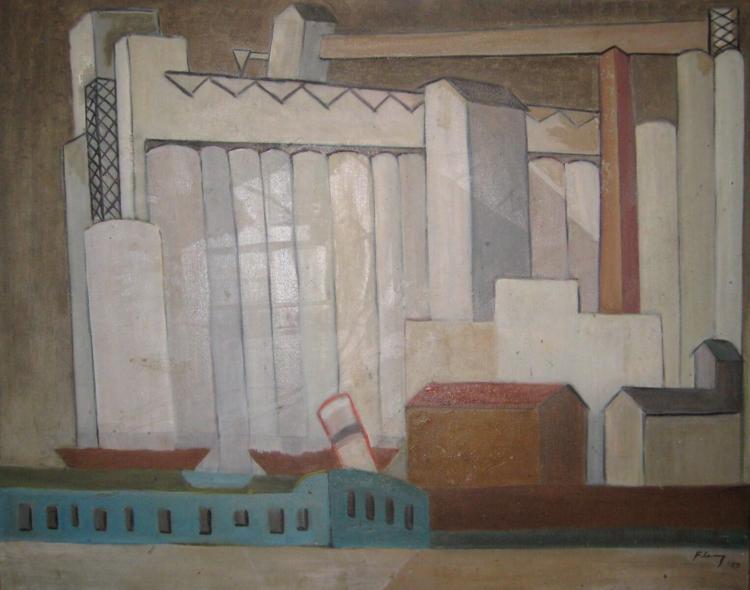 JE: Why do you think so many artists represent Buffalo scenes and landmarks?
WF: There's a lot of interesting architecture in Buffalo. Industrial subjects show up a lot in the era that I like, from the WPA to modernism. People take pride in our landmarks. Especially when the city is struggling; it's something that's a common denominator.
JE: When you were a boy, your mother did a series of photographs documenting what was in your pockets. So, what's in your pocket right now?
WF: Two checkbooks, a "smallet" (small wallet patented by my father-in-law), a little bit of cash, some change, a jeweler's loupe, and a small, soapstone Mayan head.
Will Faller Fine Art & Antiques 

576 Main St.
East Aurora NY 14052
716-430-1762