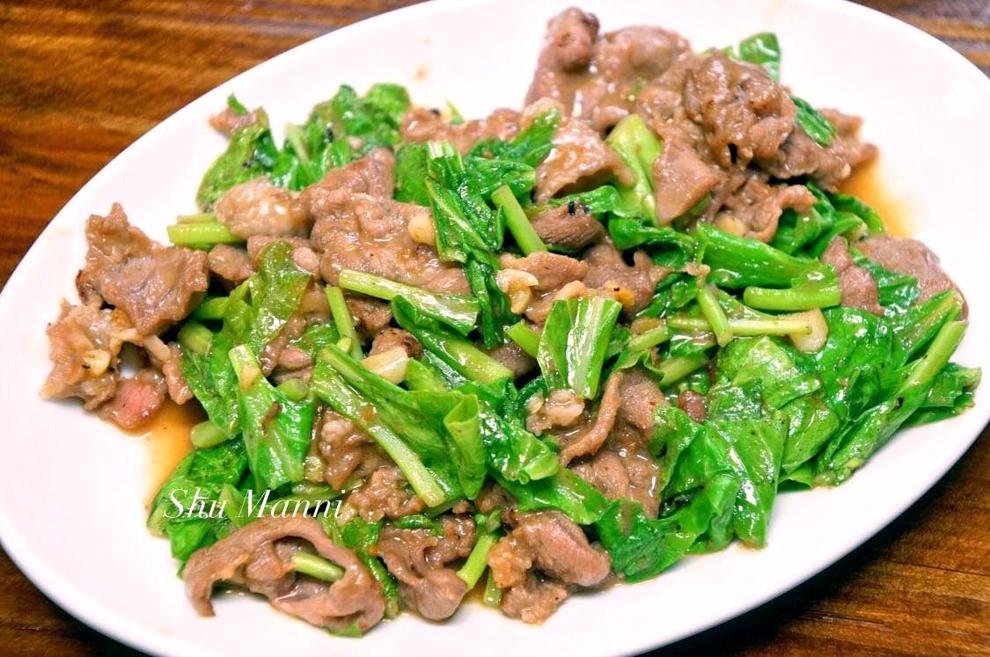 Dish from Fujian cuisine. It is made with beef, Shacha sauce, vegetables, and other spices. It is really easy to make and is savory delicious.
Ingredients
A handful Chinese Kale ( Chinese broccoli )
250 grams tender beef ( thinly sliced against the grain; can use flank steak or sirloin)
2 cloves, minced
1 Tbsp Shacha sauce ( 沙茶酱) Chinese BBQ Sauce
1 Tbsp Rice wine
1 Tbsp light soy sauce
1 Tbsp Oyster sauce
1 Tbsp Cornstarch
Instructions
1。Wash the kale and tear off the hard fibers in sections
2。Add rice wine and soy sauce to the beef , mixed well and marinate for one hour. Add cornstarch before cooking.
3。Heat your wok over high heat until smoking. Add 1 Tbsp of vegetable oil, and sear the beef until it just turns opaque (it can still be slightly pink). Remove the beef from the wok and set aside.
4。Reduce the heat to medium, and add 1/2 Tbsp of oil to the wok. Add minced garlic and sauté, add kale and stir-fry for 1 -2 minutes.
5。Finally, add the beef back to the wok, add Shacha sauce and oyster sauce. Increase the heat to high, and stir-fry for 1 minute. Enjoy.
Note: Shacha sauce is a mixture of shallots, garlic, dried shrimp, fish, and chilies. It may not exactly sound all that appetizing, but it's a vaguely seafood-y, umami-laden condiment. 
Shared by Shu Manni from  https://www.facebook.com/groups/ChineseCooking