This is chef James Roberts' Simple Herb Roast Half Chicken with Vegetables. Roberts is the chef/owner of downtown restaurants Toutant and Dobutsu.
Herb Roast Half Chicken & Vegetables
With a little preparation and patience, this simple meal will warm your home. —JR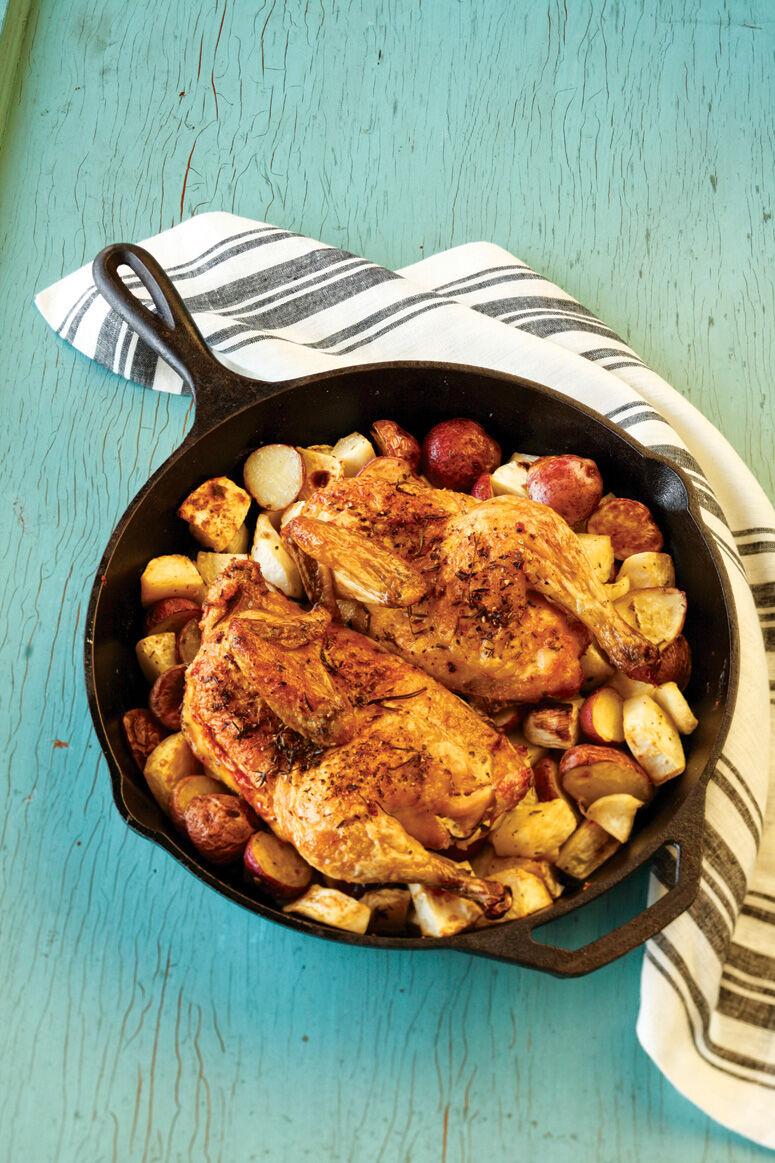 inexpensive olive oil
    1     roasting chicken* (see end of story)
    1     sprig flat leaf parsley, chopped
    1     sprig thyme, chopped
    1     sprig rosemary, chopped (optional)
    1½  teaspoons coarse kosher salt or sea salt
    ½    teaspoon coarse black pepper
    1     teaspoon espellette pepper or mild paprika
Preheat oven to 300° degrees. Cut the chicken in half. Combine herbs, salt, and pepper in a small bowl and set aside. Rub the chicken with oil and cover with herb and salt combination.
Prepare the following.
           inexpensive extra virgin olive oil
    3     cups small red potatoes, washed
    2     cups seasonal vegetables
(Suggestion: green beans in the summer, large diced rutabaga or turnips in the winter)
Toss potatoes and vegetables in oil. Spread potatoes and vegetables evenly in the bottom of an ovenproof baking dish or cast iron pan. Place both chicken halves (skin side up, with wing tucked back behind drummette) next to one another directly on top of the potatoes and vegetables.
Place in oven and roast until both the breast and thickest part of the thigh register an internal temperature of at least 155° degrees.
During roasting, turn and tilt the pan to gather juices with a spoon and baste the top of the bird. When the chicken is fully cooked and tender, remove to a serving platter or cutting board to rest.
Heat a heavy bottom skillet to medium high. Remove the potatoes and vegetables from the baking dish and place in the hot pan to caramelize the potatoes and to brown the vegetables. Serve the roasted chicken over the caramelized potatoes and vegetables, adding juices from the pan.