Inspired by "DIY style, individuality, and a little youthful rebellion," Blank NYC is a denim designer that envelops the effortless style that New York fashion is known for. Ripped and tattered or ironed, studded, and seamed, their denim spans a variety of looks. Buyers will find classic jeans, trendy jeans, even jeans that are a little punk rock. Blank NYC makes literal everyday, anyone jeans.
Sure Blank NYC is a brand you don't want to overlook, but it may be easy to miss as it's only sold in a few stores in our area, including Research & Design in Orchard Park. R&D owner Dennis Salemi is intimate with the Blank NYC brand. He once worked closely with Blank's current president, Will Redgate, when Redgate worked for DL1961, another denim line. Blank didn't sell that well initially, in Salemi's experience. "Consumers didn't think they were getting a deal by buying a $100 pair of jeans instead of a $160 pair," Salemi said. "People actually thought there was something wrong with them because they were less expensive."
But a couple of things fell into place for Blank: Redgate left DL1961 for Blank NYC, and took a new denim technology called XL Lycra along with him. (That's what makes your jeans fit so perfectly and stretch at every curve.) Then the economy crashed and consumers started looking for deals. Since then the brand has really blown up—it's worn by a range of celebrities and sold in large, high-end retail stores such as Nieman Marcus and Bloomingdale's. Even now, in 2014, it's an incredibly affordable pair of jeans, whether you're looking for something classic or extremely trendy. Blank's prices range from $78 to their most expensive, detailed pair at about $120, and for jeans that are going to fit like a glove, they are worth every penny.
Follow their Instagram or Tumblr, and you'll notice a distinct Francoise Hardy/Jane Birkin feel to their fashion sense—tight jeans, loose buttondown men's shirts, a little tomboy, but also fiercely feminine and sexy. "The aesthetic of their designers and staff, on up through the company to the owner, Albert Shehebar, is one word—Brooklyn," remarked Salemi.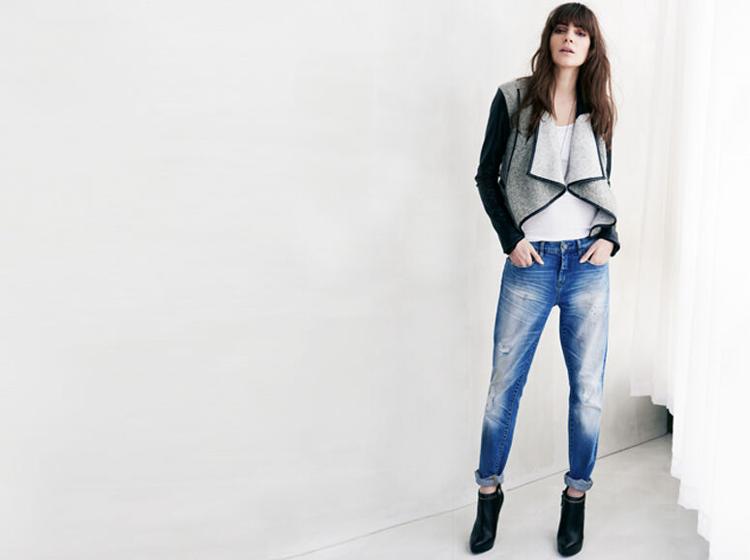 Blank NYC's outerwear is becoming a big part of their collection, too, from faux silk anoraks to denim and vegan leather moto jackets. Skirts, a few shirts, and a selection of other, more random pieces, like overalls, are also offered. 
Research & Design serves as a "retail incubator" for Blank NYC. The store carries a considerable selection from the brand's line and, in turn, gives feedback to Blank about who's buying, what they're buying, and other general perceptions of the brand. This information is extremely valuable to manufacturers when they don't have their own brick and mortar retail spaces.
The life force of the Blank brand is being on trend, value, and quality. What's in style, right now, in the denim world? Anything ripped. But people don't want to break the bank for a fleeting trend. Company's like Blank makes it possible to feel and look up to the minute without having buyer's remorse.
And it must be working. According to Salemi, girls in high school, trendy moms, and those who fall in between are buying it up. Between Blank's knack for fitting a woman's body and its attitude toward unapologetically selling the trendiest pair of jeans next to the most classic pair of blues, we should expect this brand to stick around for quite a while.
Jessica Railey is a freelance writer.