As Buffalonians we will always follow the charge to "honor thy Wegmans," but nothing holds a candle (or a shopper's club card) to the aisles of the fanciest grocery store in the world—the Chanel Shopping Center.
Chanel's Autumn/Winter 2014 runway show, held March 4, was one of the most creative shows the fashion industry has ever seen. By dreaming up the ideal shopping experience, the brand presented a grocery store with its own twist on non-perishable goods. Chanel was on the label of every item in the store from cereal to mineral water. 
Karl Lagerfeld displayed mastery in the art of consumerism by transforming what could be considered the everyday errand for many into one of the most glamorous and theatrical experiences in Fashion Week history.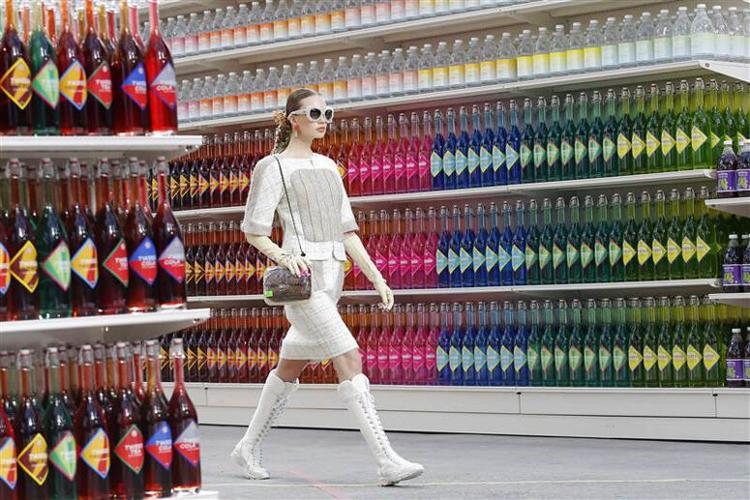 Located at the Grand Palais, the Chanel Shopping Center was developed with the audience in mind, but also the fashion world's players. Models were encouraged to walk the runway as if they were just strolling through the store like it were any radnom day of the week. Browsing the aisles, stopping to glance at the Pantone display of flawlessly arranged Chanel-labeled sodas—this vision allowed both the model and the media to play with the composition Lagerfeld set out to demonstrate. 
The collection was "On-The-Go Sophistication," crossing traditional Chanel tweed jackets and dresses with casual items such as leggings and sneakers. This layered look placed even more emphasis on the show's root concept. Many of the models had their hair pulled back into an everyday ponytail, interwoven with pieces of Chanel's luxurious trademark tweed.
After the show, attendees looted the store for items stamped with the Chanel brand, from toast to chocolate bars and sacks of flour. Post-show reports varied, some stated that pillaged goods were confiscated, as they are intended for use in Chanel displays across the country, other articles state that items not removed by attendees were donated to a local shelter in Paris.
Price check? I'd rather not.
Laura P. Robinson; Instagram: Sneakylulee