Leslie Friedman released the first collection (Spring/Summer 2013) of her clothing label, Buchanan, in February of this year. Ms. Friedman, originally from the south, places emphasis on both classiness and "mommy-friendliness" in the clothing and accessories she designs. She is currently located in Fredonia, NY.
What sets Buchanan apart from other options women have?
I purposefully design clean, streamlined looks for women who love the simplicity of designers like Jil Sander, Calvin Klein, and Celine, but want something more versatile and affordable. There aren't a lot of other brands in that market. The ones that are have almost overwhelmingly large collections. I seek to simplify the chaos and give the customer highly curated collections just like a boutique would. So instead of offering 50 looks that are nice, I whittle it down to 10-15 looks that are stellar.  These pieces are all designed to fit with each other, so you are guaranteed to have a great outfit every time. Since I keep my brand small, I personally am able to help with any customer issues.  A lot of my competitors are so large that the customer is an afterthought. Here at Buchanan, we can make minor alterations easily and cut out the middleman. I like to think of it as hometown luxury: all the looks of a high-priced line, but with the care and customer service you would expect from a neighbor.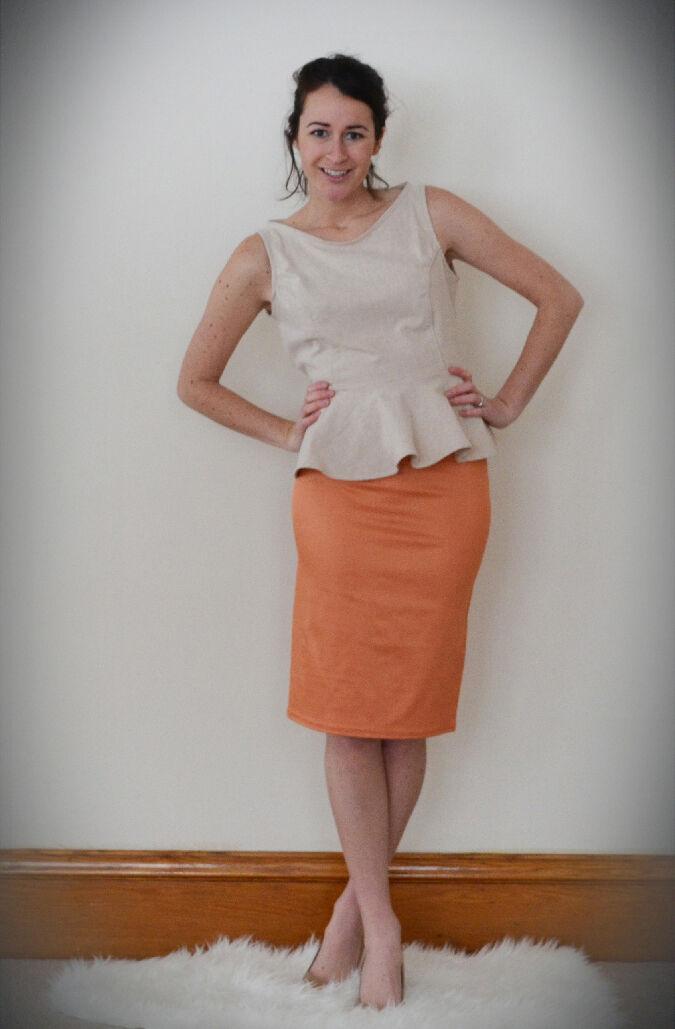 Where does your line fit into Western New York's fashion scene?  How does it compare to that of other local designers?
It seems to me that there is a heavy emphasis on vintage and clothing reconstruction among other designers in the Buffalo area. While I love vintage and up-cycling, it is not my main focus. I want to give women who are not necessarily as into vintage or full couture the opportunity to buy quality, locally designed clothing.
Because of your designs' simplicity, some might balk at the prices your items are listed at.  Can you discuss the factors that go into setting the prices for your clothing? 
Pricing is a tricky thing: if you price something too low you won't make any money and people will doubt its quality, but if you price it too high you will miss your market and never sell anything. Before you know how I price things, it's important to understand where I fall price-wise. The general categories for fashion are: budget (Old Navy), moderate (The Gap), better (Banana Republic), bridge (Marc by Marc), designer (Marc Jacobs), and couture. Buchanan falls into the bridge category.  It's actually more expensive for me to produce than other bridge companies, like DKNY, Elizabeth and James, and Vince, because I don't have the ability to buy in huge bulk quantities.  Essentially, the average garment's price is made up of: fabric (and other supplies), labor, and a small amount of built-in retail markup.  Fabric is probably the most expensive part—one yard of fabric could cost up to $50! Although the fabrics I choose may look simple, I go through great efforts to find the best materials each season.  I keep my labor costs down considerably by doing a lot of the work myself and putting that money back into the company for future production costs.  The people I do hire, I pay well above minimum wage. Skilled seamstresses are becoming few and far between in the U.S. and I do my best to support them.  I could send my clothes abroad to be manufactured, but I feel strongly about having things made in America without tragedies like the Bangladesh Factory Fire looming over my conscience. If you live in New York State and you buy from Buchanan, you are helping someone else live and work in New York State—it's as easy as that! All in all, price is a very personal thing for people depending on how they've chosen to use their finances. I know people who never eat out and spend that money on clothes. Or people who would rather buy an expensive dinner over an expensive dinner jacket any day. I can't change how people choose to view the price of my clothing, but I can continue to offer clothes with high quality fabrics, designs, and construction methods.
Do you plan to sell your line through any local boutiques?
I like to start small and build up from there, so I am currently just selling online and not through boutiques. I am hoping to show my Spring/Summer 2014 Collection in Buffalo Fashion Week in the fall and will probably reach out to some of the local boutiques to see if they would like to carry the line. I have my eyes on a couple of stores I think would be a good match, like Tony Walker & Co. and Research and Design.
Where are your favorite places to shop, locally and otherwise?
My favorite store locally is probably Research and Design. My favorite area to go shopping in Buffalo is Williamsville. If I'm looking for a great deal online, I head to Yoox.com. When I'm in New York City I always hit up Barney's and the Tibi store. When I'm back home in the South, I like to swing by Charleston and browse all the boutiques on King Street.
Clothing from the Buchanan line can be viewed and purchased at lesliebuchanan.com. The Buchanan Fall/Winter Collection for 2013 will be released in late summer.